Calling all margarita lovers! Our list of 7 Flavorful Recipes for Fresh Margaritas on the Rocks is a tasty way to kick off your summer cocktail sipping season. Try one or - better yet - try them all!
Although margaritas can always be enjoyed year-round (and we definitely follow that rule), many people see May as the kickoff to margarita season.
With warm summer weather and Cinco de Mayo just around the corner, we could think of no better way to honor one of our favorite cocktails than with a collection of 7 of our recipes for Fresh Margaritas on the Rocks.
You'll find no blenders and no bottled mixers here. Just the freshest, most flavorful ingredients for your summer sipper.
Stick with the tried and true fresh margaritas on the rocks recipe (straight from the bartender of our favorite Mexican vacation resort) or sample one of our other flavorful combinations like blueberry, elderflower and key lime. There are no wrong choices here; just a lot of opportunities for delicious "experimentation". (Tough gig, I know.)
Golden Margarita
You only need four ingredients for these spectacular margaritas!
Get the Recipe
1. We kick off our fresh margaritas on the rocks collection with a Golden Margarita recipe that Lisa discovered on vacation in Mexico. It doesn't get more authentic than that. This Golden Margarita is our official "house margarita" recipe and might quickly become yours, too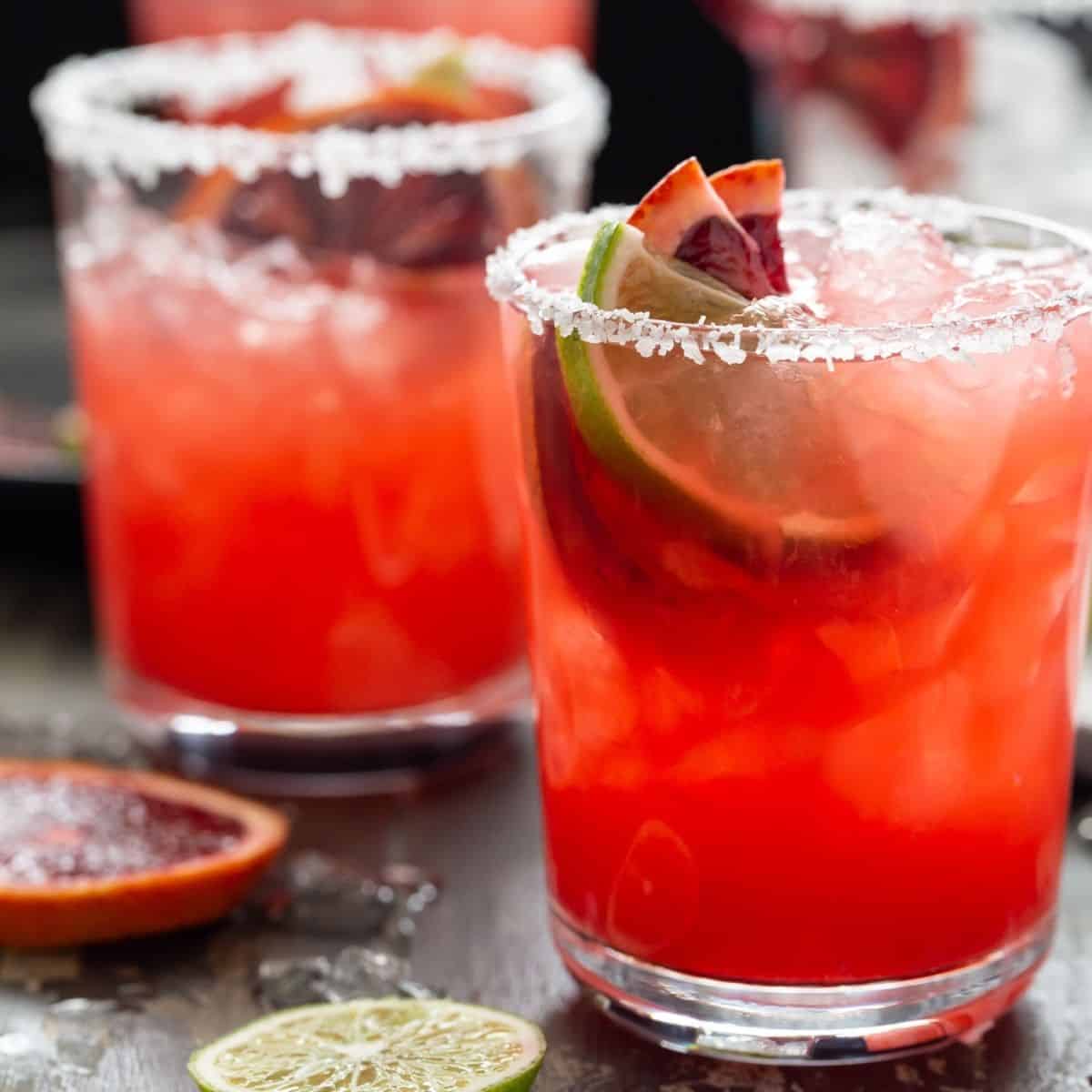 Blood Orange Margaritas
Add a colorful, seasonal spin to everyone's favorite tequila drink with this recipe for perfectly balanced Blood Orange Margaritas.
Get the Recipe
2. The gorgeous scarlet color of these Blood Orange Margaritas for a Crowd are irresistible. This citrus twist on a classic lime margarita has a just a hint of berry flavor and is a show-stopping option to serve your guests.
Beer Margaritas
Skeptical of beer in a margarita? We were, too, until we tasted this 3-ingredient recipe for Beer Margaritas. Now it's an easy signature cocktail for our March Madness party (or any party, for that matter)!
Get the Recipe
3. Need to please a group of beer drinkers, too? Give them a glass of these 3-ingredient Beer Margaritas and turn those suds-loving souls into margarita fans after just one sip.
Elderflower Margarita
Today's 3-ingredient Elderflower Margarita recipe is brought to you just in time for summer sipping season. Cheers!
4. Although we love elderflower liqueur in many different cocktails (our Elderflower Vodka Lemonade might just be our second favorite summer cocktail), we were skeptical of including it in a margarita. Silly us. The slightly sweet and floral notes of the elderflower liqueur take the place of simple syrup in this recipe and are the perfect balance to the strongly flavored reposado tequila. The Elderflower Margarita is a must try.
Texas Margarita
This Spicy Margarita is a perfect summer sipper!
Get the Recipe
5. Craving a little kick in your cocktail? This Texas Margarita is for you. Pineapple juice and muddled jalapeño tickle your taste buds in this bold beverage - in a very good way.
Blueberry Margaritas
Don't let the gorgeous color fool you into thinking this is a super sweet drink! Easy to make as a batch cocktail, these Blueberry Margaritas are my new favorite summer drink.
Get the Recipe
6. These fuschia-hued beauties may look sickly sweet, but the truth is our Blueberry Margaritas are far from overbearing. Fresh mint keeps the flavors in these margaritas light and bright while the blueberries lend their own natural sweetness to the mix resulting in a well-balanced drink that goes down far too easily.
Key Lime Margaritas
Update your traditional margarita with these 4 ingredient Key Lime Margaritas!
Get the Recipe
7. We know you guys are crazy about our Easy Key Lime Pie recipe, but we didn't know how you would feel about adding that sweet-tart key lime flavor to a margarita. We shouldn't have worried. Judging by your response, these 4-ingredient Key Lime Margaritas are tops on your cocktail list, too.