Need a cocktail for your upcoming Super Bowl party? You can't go wrong with this Tequila Old Fashioned.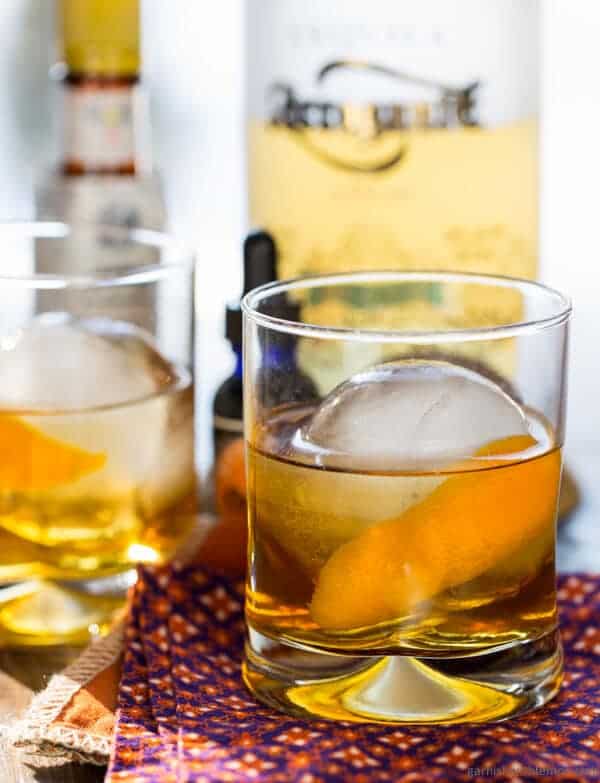 Full disclosure: I was inspired to recreate this recipe at my nine-year old's birthday party.
Honestly, it's not as bad as it sounds.
Granted, there have been days when Grady has driven me to imbibe at 5pm, but this was not one of those occasions. In fact, we were out to dinner with my mom and my older brother to celebrate Grady's 9th birthday. Drinks were ordered (root beer for the birthday boy), and my mom's cocktail caught my eye across the table. Naturally I asked for a taste (we're family; germs don't matter), and I was blown away by this Tequila Old Fashioned. In fact, it might just be my new drink of choice for some time to come.
I'm a big tequila fan, but most of my taste for this liquor comes from really good margaritas or palomas - never straight-up tequila. That's about to change now that I've gotten to know my new friend, añejo tequila. Soft, smooth and perfectly sippable, añejo tequila is a must have for this cocktail. I'll caution you that good añejo can be a bit pricey, but please don't subject yourself to cheap tequila. Your head will thank me in the morning.
The ice spheres are not necessary for this drink (you can always use regular ice cubes), but we've used the Tovolo ice molds that I bought Pat for Christmas numerous times already. They instantly elevate any cocktail to "special" status. And although there is nothing super fancy about most football parties, you can bet that I'll be sipping one of these Tequila Old Fashioneds as I jockey for the most coveted spot on the couch on Super Bowl Sunday. I hope you'll join me!
Looking for more party cocktails? We've got 'em!
Meyer Lemon Whiskey Sours
Perfect Manhattan Cocktail
Yield: 1 cocktail
Tequila Old Fashioned
A smooth tequila drink with orange.
Prep Time 5 minutes
Total Time 5 minutes
Ingredients
3 ounces añejo tequila
½ ounce agave syrup
3 dashes Angostura bitters
4 drops orange bitters
orange peel, optional
Instructions
Place tequila, agave syrup and bitters in a small glass with ice cubes.
Stir gently to combine.
Strain into another glass filled with ice and garnish with an orange peel, if desired.
Nutrition Information:
Yield:
1
Serving Size:
1
Amount Per Serving: Calories: 600Total Fat: 1gSaturated Fat: 0gTrans Fat: 0gUnsaturated Fat: 0gCholesterol: 0mgSodium: 7mgCarbohydrates: 85gFiber: 13gSugar: 59gProtein: 5g