Instantly transport yourself to a tropical island with this easy & refreshing Mango Margarita recipe - no airport connections or layovers required.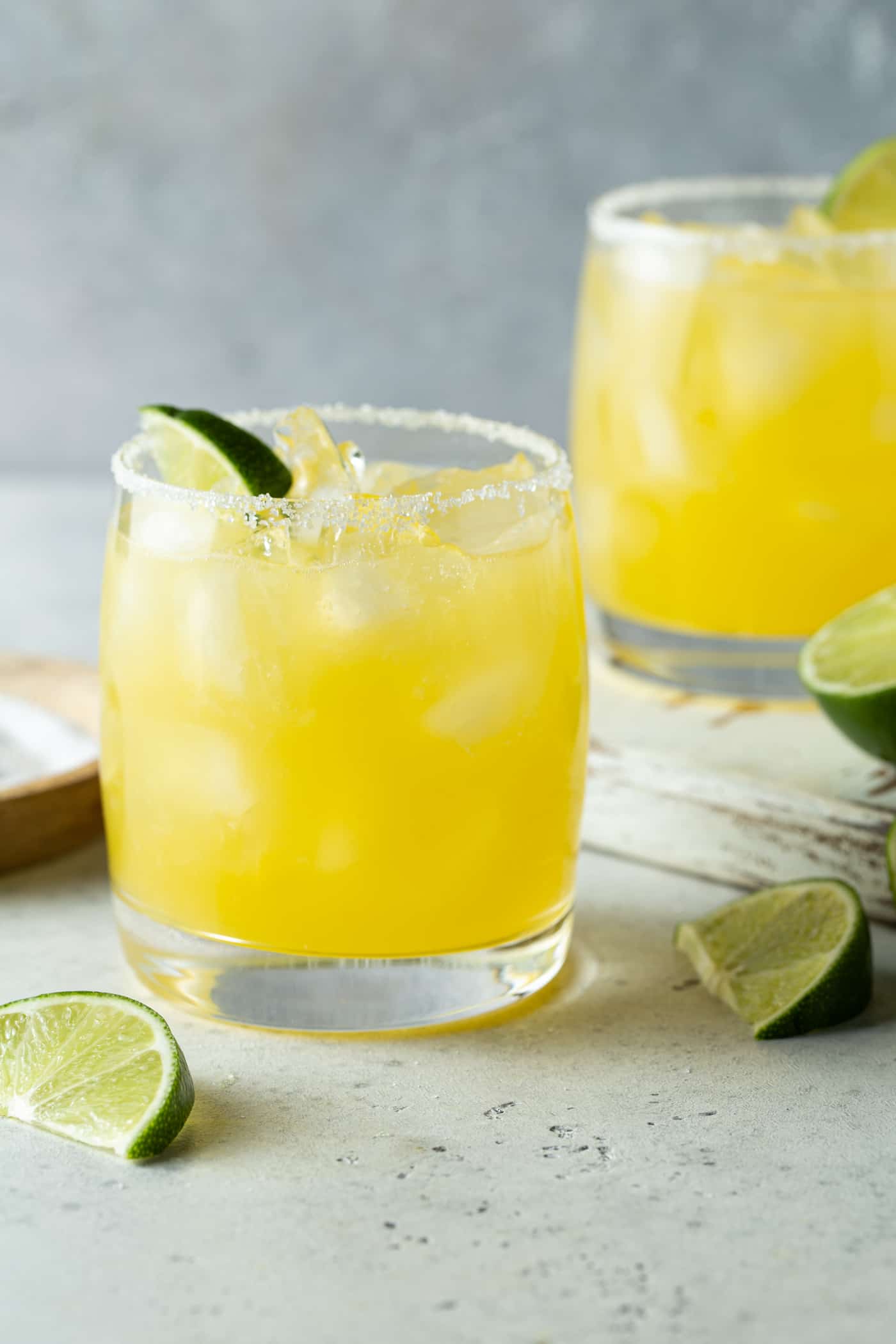 No beach vacation planned? You don't have to wait for your next warm-weather escape to enjoy a tropical cocktail. This quick & easy Mango Margarita recipe makes you feel like you could sipping it poolside at your favorite resort - all from the comfort of your home.
Best of all? There's no fancy blender required. This beauty is served on the rocks which means all you need to do is measure, shake and pour.
Margarita on the rocks
No disrespect to frozen margarita lovers out there, but I prefer all my cocktails over ice instead of blended with them. The only exception I make to this rule is this recipe for Easy Peach Frosé (also known as frozen rosé wine slushies). There is NOTHING more refreshing than a glass of frosé on a hot, humid summer day!
Margarita ingredients
This mango margarita has only 5 ingredients:
Silver tequila
Cointreau (or other orange liqueur)
Fresh lime juice
Simple syrup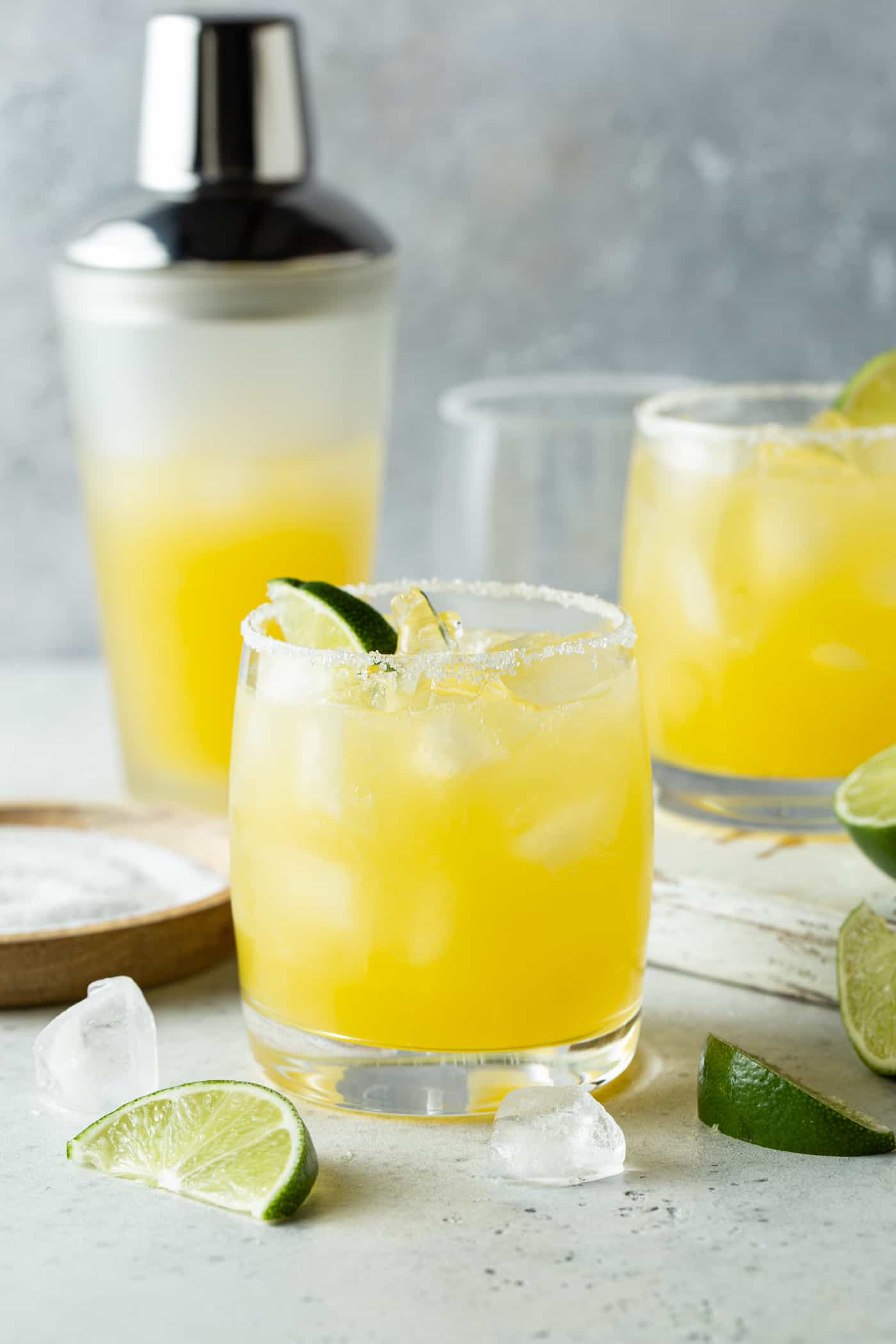 Best tequila for margaritas
If you've ever wondered which type of tequila to use in a margarita, you're not alone. The rows and rows of tequila at the liquor store can be confusing, so let's keep it simple: different types of tequila are classified based on how long they are aged before bottling. The longer the age, the darker the color.
Here's a quick breakdown:
Blanco (or silver) tequila - This clear, unaged tequila mixes well with nearly any ingredient and is the most common of all types of tequila. We think it's the best choice for most margaritas. You'll find it in several of our citrusy drinks, including this blood orange margarita recipe and this spicy grapefruit margarita recipe.
Reposado tequila - This tequila is "rested" for up to one year. It takes on an amber hue after aging in wood barrels and has stronger flavors of oak and vanilla. Reposado can work well in margaritas - like this Golden Margarita - but you'll also find it in mixed drinks with heavier alcohols.
Añejo tequila - After one year, a reposado tequila becomes an añejo tequila. It's aged for up to three years in barrels and develops more color and a deeper flavor. It's definitely more of a sipping liquor, so you'll most often see it in sipping cocktails like this Tequila Old Fashioned or even by itself on the rocks.
Orange Liqueur for Margaritas: Cointreau or Triple Sec or Grand Marnier?
Nearly every margarita recipe calls for orange liqueur. But like tequila, the options available can be overwhelming. You'll most often see margarita recipes with the following three orange liqueurs:
Triple Sec - Most generic orange liqueurs are known as triple sec. You'll find a variety of price points of triple sec but most are very affordable though quality can vary among brands. Some are cloyingly sweet while others are more balanced in flavor. If you're looking for a standard, all-purpose orange liqueur for most mixed drinks, you can't go wrong with basic triple sec.
Cointreau - Cointreau is actually just a fancy French triple sec whose exact recipe is closely guarded. Bartenders often reach for Cointreau because its reliably crisp, smooth orange flavor works well in a variety of cocktails. It is more expensive that generic triple sec but many claim its superior flavor is worth it.
Grand Marnier - Like Cointreau, Grand Marnier is also made in France. It can be mixed into cocktails or served neat (or over ice) as an after dinner drink. The flavor of Grand Marnier is unique to other orange liqueurs because it is made with cognac. This makes it taste a bit heavier, sweeter and more robust. If you've ever ordered a top shelf margarita, chances are it included Grand Marnier.
I used Cointreau in this Mango Margarita, but feel free to use whatever orange liqueur you have on hand.
Tip: If you don't want to buy a big bottle of Cointreau or Grand Marnier because of the cost, many liquor stores offer the mini bottles at much friendlier price points. Conduct an experiment: make margaritas using each of the three orange liqueurs and see which one you like best!
What is Simple Syrup?
Simple syrup is a 50/50 mix of sugar and water that has been boiled until the sugar melts. The result is basically sugar water!
You can buy a bottle of simple syrup at the liquor store, but you can also make your own at home. It's super easy to do and way less expensive. After making it once and seeing how simple it is, you'll wonder why you didn't do it sooner!
How to make simple syrup:
Step 1: Place equal amounts of sugar and water in a saucepan.
Step 2: Bring the mixture to a low boil over medium heat and cook until sugar is completely dissolved.
Step 3: Remove the pan from heat and allow syrup to cool before placing in an airtight container in the refrigerator for up to one month. (Mason jars are great for storage.)
Shake or stir?
It's tempting to just dump ingredients into a glass and call it good, but there are actually good reasons why you should take the time to use a cocktail shaker:
Ingredients like fruit juice and simple syrup have different densities than alcohol. Shaking them together ensures they are thoroughly combined.
Shaking gives drinks like margaritas a light, frothy texture because of the air bubbles produced during shaking.
A short spin in a cocktail shaker ensures a drink is thoroughly chilled and just slightly diluted before it is served to ensure balanced flavor from the first sip.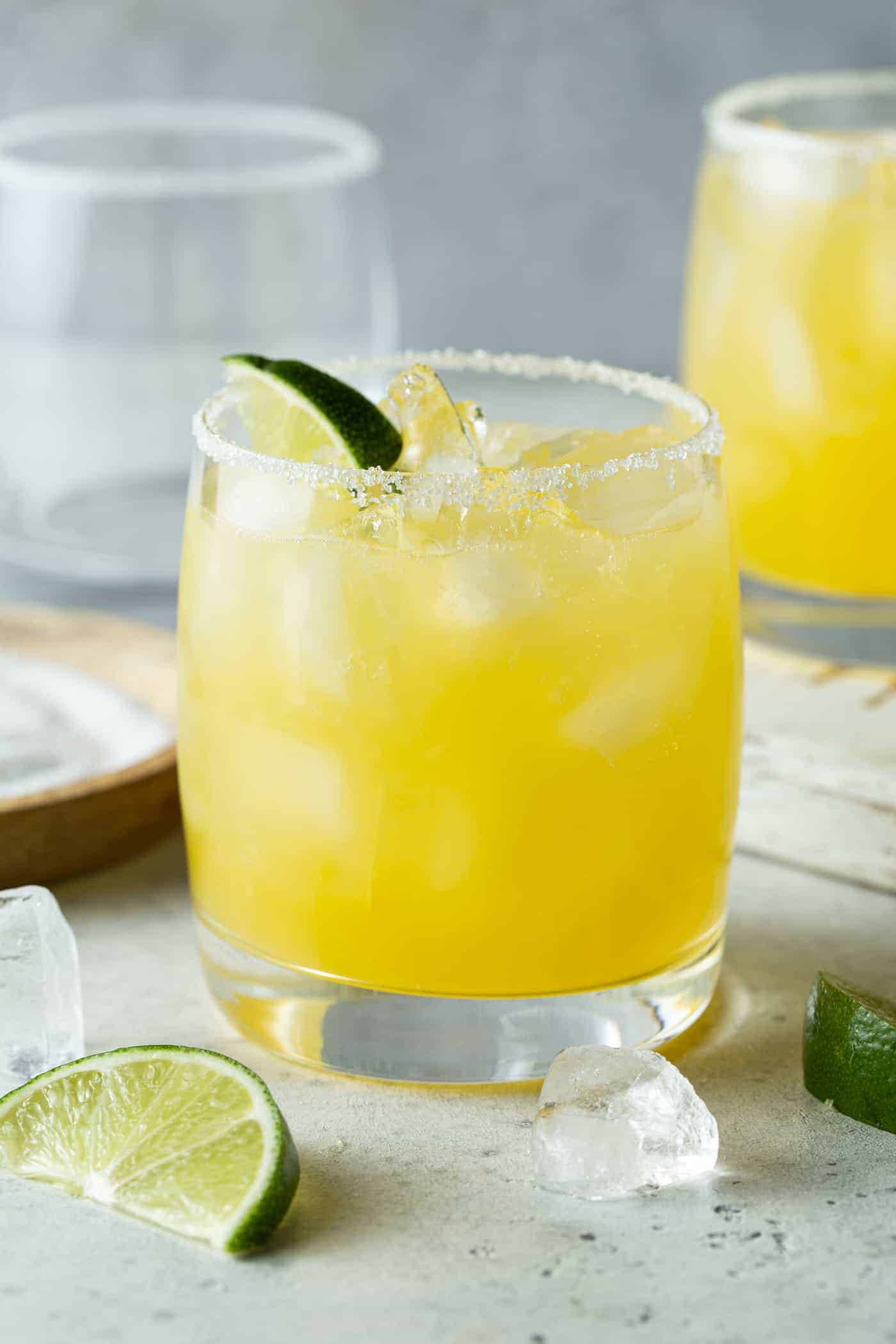 How to make a Mango Margarita
It takes just a few minutes to whip up a margarita on the rocks. Super easy!
Add ice to a cocktail shaker.
Measure all ingredients into cocktail shaker, cover and shake vigorously.
Pour margarita into a salt-rimmed cocktail or margarita glass. Enjoy!
How to rim your glass with margarita salt
A salted rim is such a simple garnish but adds a major flavor boost to this drink:
Choose your salt. There are loads of resources on the internet for making your own customized margarita salt, but we think that inexpensive kosher salt is the best choice. It has just the right-sized crystals and a crisp, clean flavor that works well with margaritas. (Whatever you do, don't reach for iodized table salt. Waaaaaaay too salty!)
Pour a small amount of salt into a shallow bowl (or a small plate) and pat it into an even layer.
Cut a lime wedge and gently run it around the rims of your glasses.
Dip the juice-rimmed edges of the glasses in the salt, rotating glasses to make sure the entire rim is covered.
Tip: Want to spice up your margarita? Use a combination of chile powder and salt on the rim to give each sip a bit of a kick. Or maybe you have a bit of a sweet tooth? Use superfine sugar instead of salt to rim the glasses.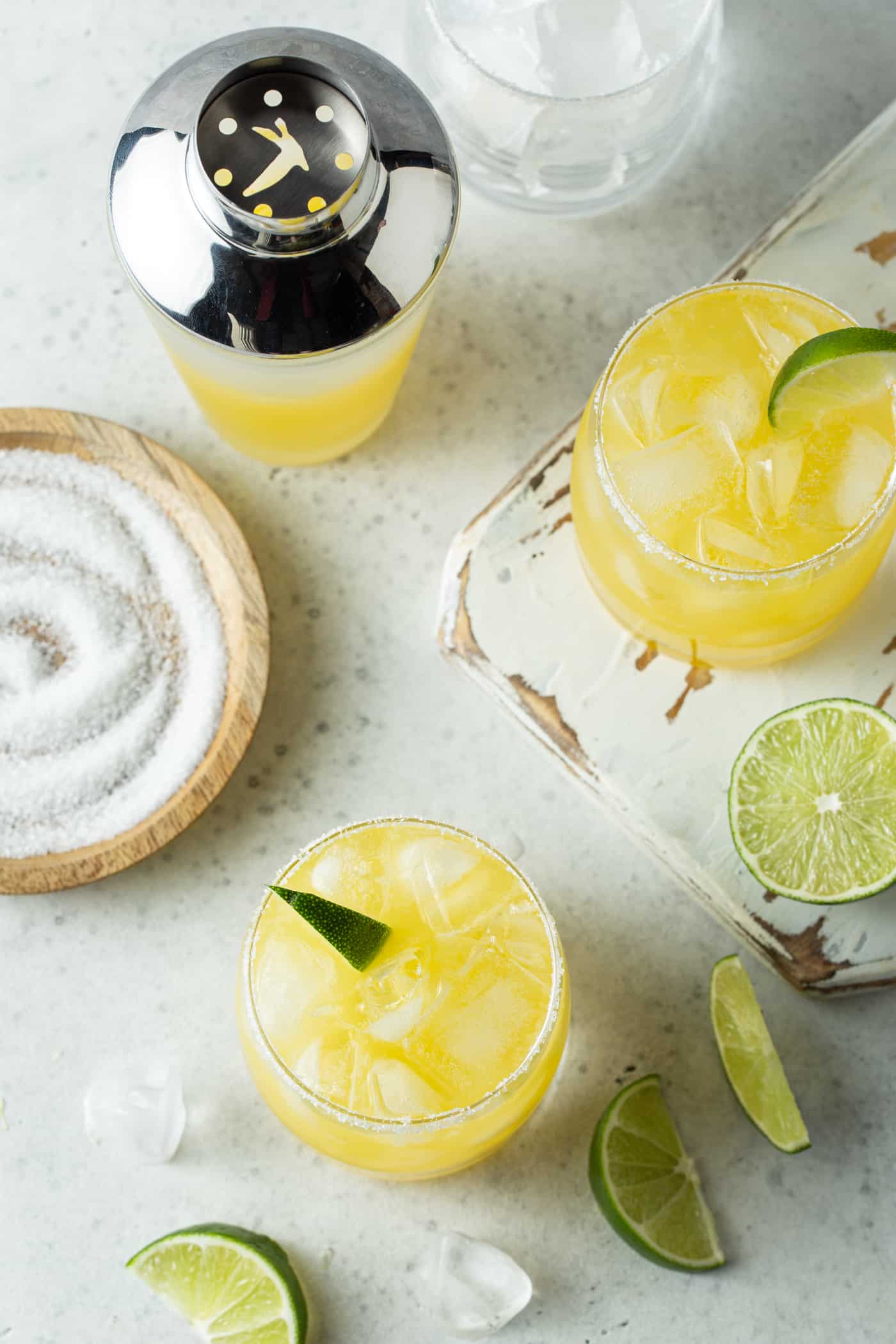 Do I need special margarita glasses?
We registered for margarita glasses when we were married, and I think we've used them twice in over 20 years of marriage. I much prefer my margaritas in lowballs on the rocks.
Traditional margarita glasses are tough to mingle with at a party because of their wide mouths and risk of spilling. By all means, if you love your marg glasses, use them. They are just not for me.
Virgin Margaritas
Whether you are doing a Dry January, a Sober October or just wanting to reduce or eliminate alcohol in your life, it's easy to turn these mango margaritas into virgin margaritas. Simply omit the tequila and orange liqueur, slightly increase the amount of mango nectar and add a bit of lime or mango flavored seltzer water (or even plain club soda) to the remaining ingredients.
Margaritas for a Crowd
No one wants to play bartender all night for their friends, so making a large batch of these mango margaritas is perfect for a party. Multiply the recipe by the number of guests and pour all ingredients into a large pitcher. Stir and refrigerate for a few hours.
When the party starts, all you need to do is set out an ice bucket, the pitcher of margaritas and a salt (or sugar) rimming station for guests to build their own cocktail!
More tequila cocktails:
Tequila not your thing? We've got recipes for some of the best vodka drinks, too, including this popular Lemon Drop Martini as well as some fun rum cocktails like our refreshing Watermelon Mojito recipe.
Yield: Makes 1 cocktail
Easy Mango Margarita Recipe (on the rocks)
Relive that relaxing beach vacation with this smooth Mango Margarita recipe. Mix them up in minutes to get your margarita fix anytime - no blender required!  
Ingredients
2 ounces mango nectar
1 ½ ounces silver tequila
½ ounce Cointreau (or other orange liqueur)
1 ounce fresh lime juice
¾ ounce simple syrup
lime wedges and kosher salt, for rimming the glasses
Instructions
Rim the glass:
Run a lime wedge around the rim of a glass. Invert glass and dip rim in a shallow plate of kosher salt until entire rim is covered in salt. Set aside.
Make the margarita:
Place mango nectar, tequila, Cointreau, lime juice and simple syrup in a cocktail shaker filled with ice. Shake vigorously.
Pour margarita into prepared glass. Garnish with additional lime wedge, if desired.


Notes
Want to make more than one margarita? Simply multiply the ingredients by the number of servings needed. You can even make a pitcher of these mango margaritas ahead of time and store in the refrigerator until guests arrive. Don't forget to give the pitcher a good stir before serving.
Recommended Products
As an Amazon Associate and member of other affiliate programs, I earn from qualifying purchases.
Nutrition Information:
Yield:
1 cocktail
Serving Size:
1
Amount Per Serving:
Calories:

237
Total Fat:

0g
Saturated Fat:

0g
Trans Fat:

0g
Unsaturated Fat:

0g
Cholesterol:

0mg
Sodium:

587mg
Carbohydrates:

31g
Fiber:

2g
Sugar:

23g
Protein:

1g
You'll be instantly transported to the tropics with this Mango Margarita recipe. Quick, easy and super refreshing, this tequila cocktail is perfect for parties. A margarita on the rocks means no blender required!