Hello!
We're Lisa and Anna, the faces behind Garnish with Lemon.
We make doable recipes and shake up creative cocktails for people who love good food.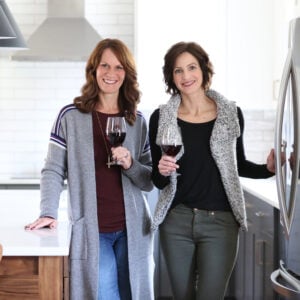 "Garnish with Lemon is a destination for home cooks who want all the rewards of cooking for their favorite people without any of the stress. Whether we're throwing a holiday party or having a few people over to watch the game, we firmly believe that bringing family and friends together doesn't have to be a big or formal production. All it takes is a little planning and preparation—and a few time-saving tricks."
As friends who share a passion for cooking and casual entertaining, our story began in an unlikely place: a church preschool. It was here that our sons met and bonded over the most important part of any day – snack time. (Guess the apple doesn't fall far from the tree!) Our sons are still friends today, as are our daughters and husbands, who just so happen to be our biggest fans.
The idea to create a website for our entertaining know-how was born out of SOS texts from friends for recipe ideas: "I have to bring an appetizer to book club on Thursday. Help!" Or "My whole family is coming for brunch next weekend. What should I make?".
The volume and regularity of requests opened our eyes to the number of time-starved people who want to feel more confident in the kitchen and invite friends and family to their homes more often but are utterly overwhelmed by the details.
So we created a resource – Garnish with Lemon – where we celebrate our love of good food and hosting. It's where we share the wisdom we've gained from our own homes to help you entertain with ease and confidence.
But let's be clear; we are NOT about perfection. In fact, our no-fuss approach to entertaining means we'll happily take smart shortcuts to get the job done and let things get a little messy in the process. Our priority is not to be flawless; it's about getting people in the door, eating well and enjoying the company.
Like what you see? If you're new to our site, don't miss our Start Here section. Our list of Frequently Asked Questions might be helpful for you, too. And if all else fails, you can always send us a note via our Contact page.
Thanks for stopping by. We're so glad you're here!
Lisa & Anna
Garnish with Lemon Founders