Gooey and crunchy, these Bacon Cream Cheese Bites will steal the show at any party. Guaranteed. 

People always go crazy for bacon, right? I have a the perfect party food for you today that is just 4 ingredients, family friendly and incredibly easy.  These Bacon Cream Cheese Bites are in no way, shape or form healthy, but they are a simple indulgence, and I know you will be thanking me for them later.
Trust me on this one.
I make a double (sometimes triple) batch every year for our holiday party, and they never even make it to the buffet table. 
Now be prepared; these Bacon Cream Cheese Bites filled with cheesy, crunchy goodness are literally show stoppers. I came across the recipe about 8 years ago when I was prepping for a party.
I was chatting with my cousin, Sara, and I was concerned that I didn't have enough food.  She told me to make these Bacon Cream Cheese Bites. Her words,  "Trust me. My mom has been making them for years. Everyone will LOVE them." And she was 100% correct.
Fast forward to today, and people actually time their arrival at our party to be sure they can get their share of Bacon Cream Cheese Bites. Or if they know they are going to be late, they ask if I can set a few aside for them. Because they don't want to miss them.  That, my friends, is what you call good party food. And good party food that involves bacon and is easy to make? What can I say? My job here is done.
Make ahead tip: Prep these the morning of the party, place in a plastic container and cover tightly. Refrigerate until ready to bake. 
Are you following us on Pinterest? We have a bunch of party ready foods waiting for you!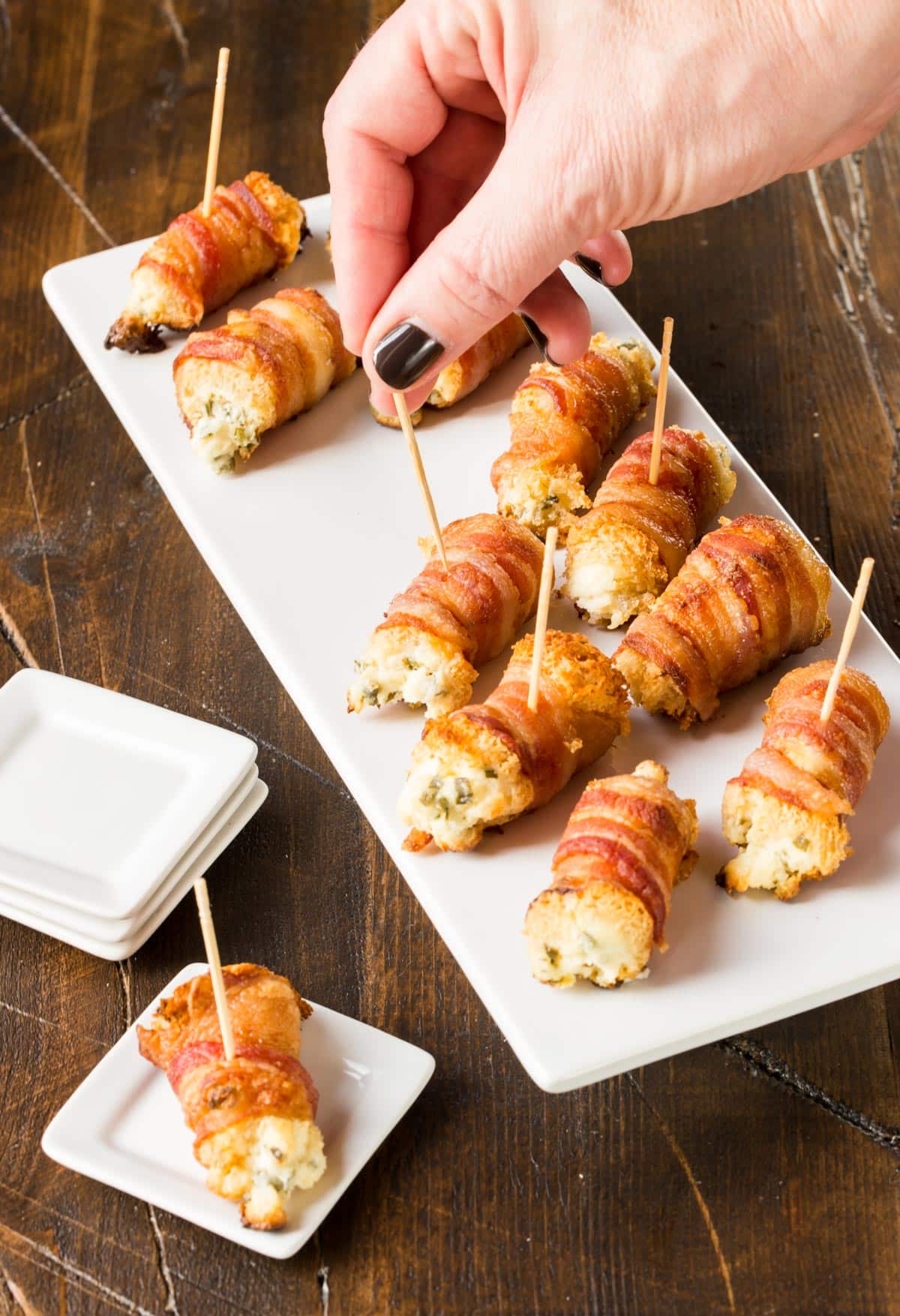 12
adjust servings
Bacon cream cheese bites are a crowd favorite at every party.
Ingredients
1

loaf English Muffin Bread or Pepperidge Farm Original White Bread, crusts cut off

1

(12-ounce) tub reduced fat cream cheese spread

1/2

cup chopped fresh chives

1

pound bacon (regular thickness)
Instructions
Preheat oven to 400 degrees. Line a baking sheet with aluminum foil. Set aside.
Spread a thin layer of cream cheese on each slice of bread. Sprinkle 1/2 teaspoon of chives on top of cream cheese. Starting at one end, roll each slice of bread into a tight cylinder. Wrap a slice of bacon around each cylinder, spiraling to cover the whole piece of bread. Cut each cylinder in half. (I use my kitchen shears.)
Place on baking sheet and bake until crispy and bacon is cooked through, about 20-30 minutes. Serve warm.
Did you make this recipe? We'd love to see it! Snap a pic of your creation and tag it #GarnishWithLemon. We might even feature your photo on social media!
Everyone loves bacon. Here are some more bacon appetizer recipes to try at your next party!
Warm Gruyere, Bacon, and Caramelized Onion Dip – Garnish with Lemon
Pumpkin, Bacon and Goat Cheese Dip – Living Locurto
Bacon Appetizer Crescents– Taste and Tell
Candied Bacon– Garnish with Lemon
Cheddar, Blue Cheese, and Bacon Stuffed Phyllo Mushroom Appetizers – The Little Kitchen
Recommended Equipment