This decadent Chocolate Martini recipe is one of our favorite ways to celebrate special occasions. Rich & creamy, this drink is the best "adult" chocolate milk you've ever had! 
Easy Chocolate Martini Recipe
There is nothing that says special occasion like chocolate.
So why not add even more special to the holidays and celebrate with an easy Chocolate Martini recipe?
Our recipe is so smooth, it almost tastes like chocolate milk with a little kick. This recipe has been in our house for a while, and these dessert martinis are always a hit whenever they are served.
There are a lot of Chocolate Martini recipes out there. What makes this one special?
I'm pretty particular about my martinis, and I've seen so many chocolate martini recipes that have Irish Cream in them.
Not this one.
I'm a purist, so no Irish Cream in a chocolate martini for me.
But that's not to say I don't love Irish Cream, just not in this cocktail. If you are looking for a martini with chocolate and Irish Cream in them, we have some great ones to try:
No matter the season or what strikes your fancy, we have a cocktail for everyone!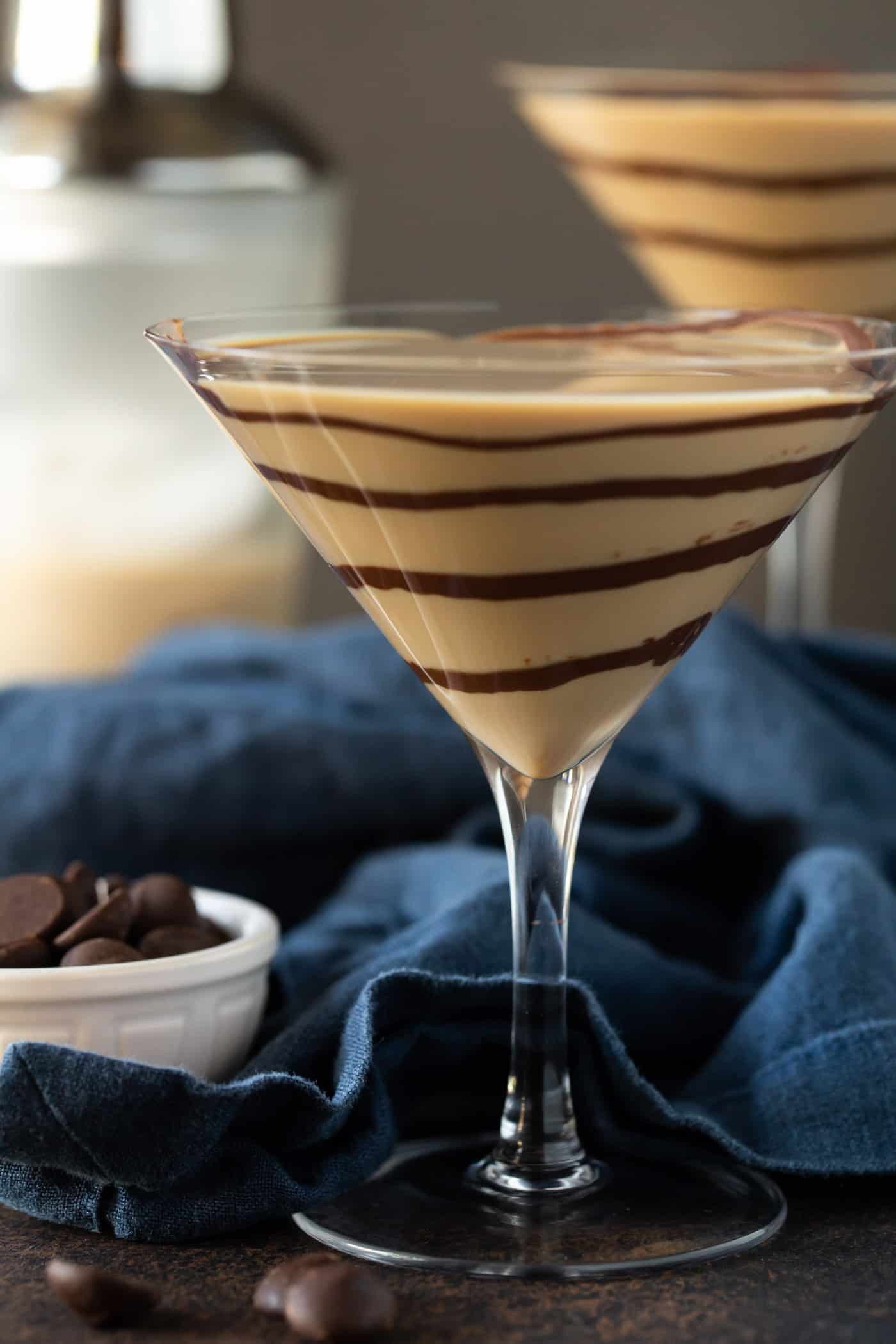 What ingredients do you need for this chocolate martini recipe?
The ingredient list is short which makes it seem like a pretty straight forward recipe, but getting the proportions right took a little perfecting.
Not that is was a tough job, but someone had to do it! 
Before you make this drink, make sure you have these ingredients:
chocolate

liqueur

Créme de Cocoa liqueur

v

anilla vodka

milk 

chocolate sauce
Does it matter if I use dark or light Créme de Cocoa for this chocolate cocktail?
Not at all! it is completely a matter of personal preference. The tastes of dark and light créme de cocoa are the same, but the color of your drink with be a little darker if you use the dark-colored liqueur.
Vanilla vodka in a chocolate martini
Ever made a chocolate dessert? The recipe will often call for a bit of vanilla extract. The smoothness that vanilla adds to chocolate is amazing.
The secret ingredient in this chocolate martini is definitely the vanilla vodka. There isn't a large quantity of vanilla vodka but just enough to make a difference. 
So please, please promise me you will use vanilla vodka. It's definitely a drink changer. 
Do yourself a favor and grab a bottle the next time you're at the liquor store! You won't regret it.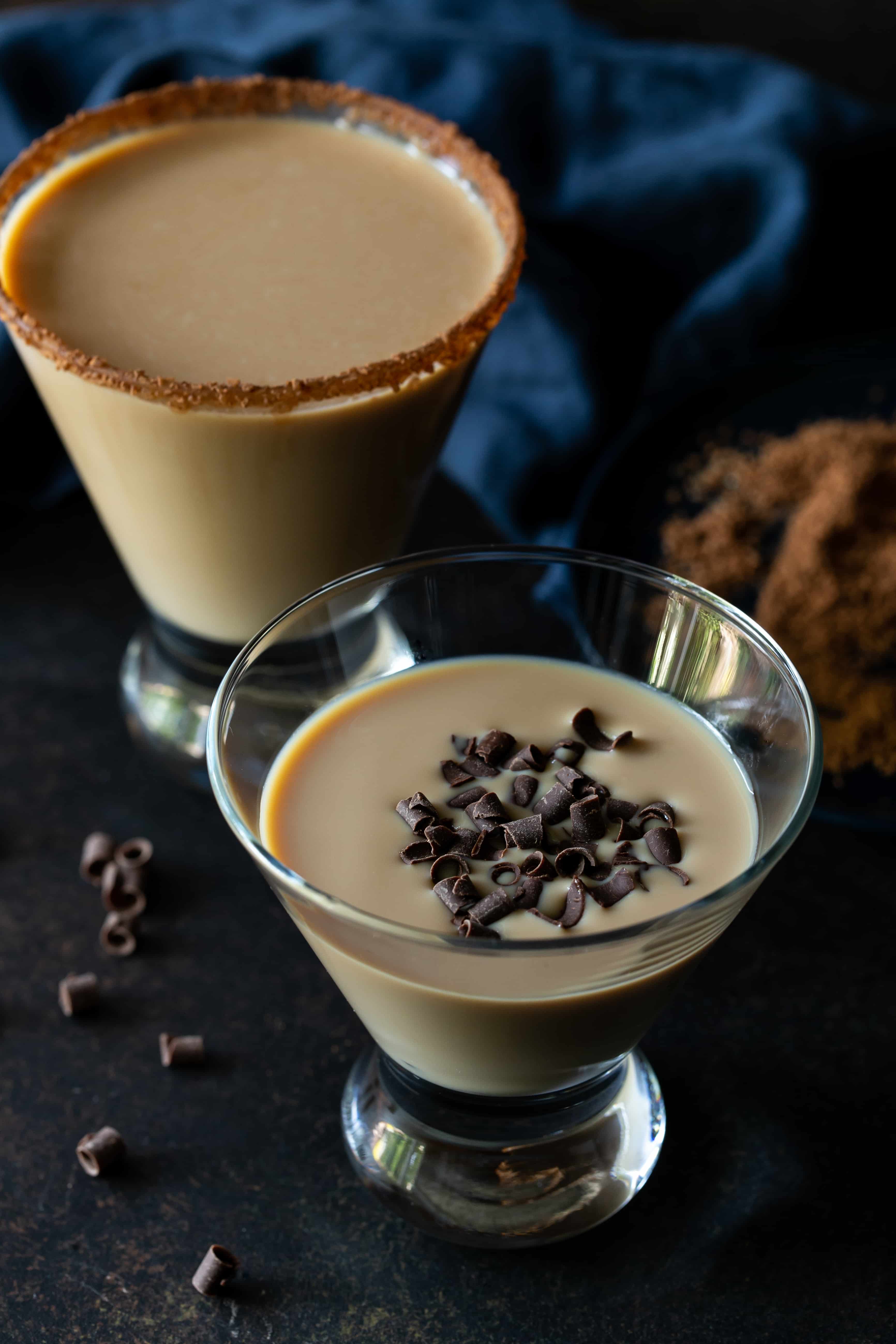 Three ways to garnish a chocolate martini
The sky is the limit on how to finish these tasty chocolate drinks. Here are three different ways to garnish this cocktail:
Float a few chocolate curls on top,
Rim the glass with cocoa sugar, or
Add a chocolate swirl to the glass!
Really, there is no wrong choice here. They all result in getting to sip on a decadent chocolate martini...how can you go wrong?

How to rim a glass with cocoa
Rimming a glass in cocoa is an easy way to add a special touch to any dessert cocktail.
Follow these easy steps to get a cocoa sugar-rimmed glass:
In a small bowl, mix one tablespoon of cocoa with 1/2 cup of sugar in the raw until combined.
Pour 2 tablespoons of simple syrup on a small plate and the cocoa sugar mixture on another plate.
Invert the rim of the martini glass into the simple syrup and let the excess drip off.
Dip the rim into the cocoa sugar.
Hold the glass over the cocoa sugar for 30 seconds to prevent dripping.
Set aside and repeat the process with additional glasses.
Boom! Pretty glasses ready to go!
How to swirl the chocolate in a glass
Making a chocolate swirl in a glass can be intimidating, but I have a few tips for making this fancy garnish easier: 
If you want to garnish the glasses ahead of time so they are ready when guests arrive, melt chocolate chips and a bit of coconut oil together. (The coconut oil keeps the chocolate smooth). The chocolate will set and stay for hours.

I definitely recommend using these mini-bottles to swirl the chocolate into the glass. The small tip gives you so much more control over the flow of chocolate (and thus the size of the swirl). 
You can also pop the melted chocolate in a plastic bag, cut off a corner to use as a tip and swirl it into the glass.
If you run short on time, simply break out the Hershey's chocolate syrup! Swirl it into the glass, fill it with the cocktail and serve immediately. It's not visually as pretty but it's still darn tasty!
Can I make this chocolate martini a batch cocktail?
Yes! After all, who likes to drink a chocolate martini alone? These cocktails pretty much have party written all over them. We have several different shakers that we love but this one is large enough to make martinis for 5 people.
Want to save this Chocolate Martini recipe for later?  Pin it to your favorite board!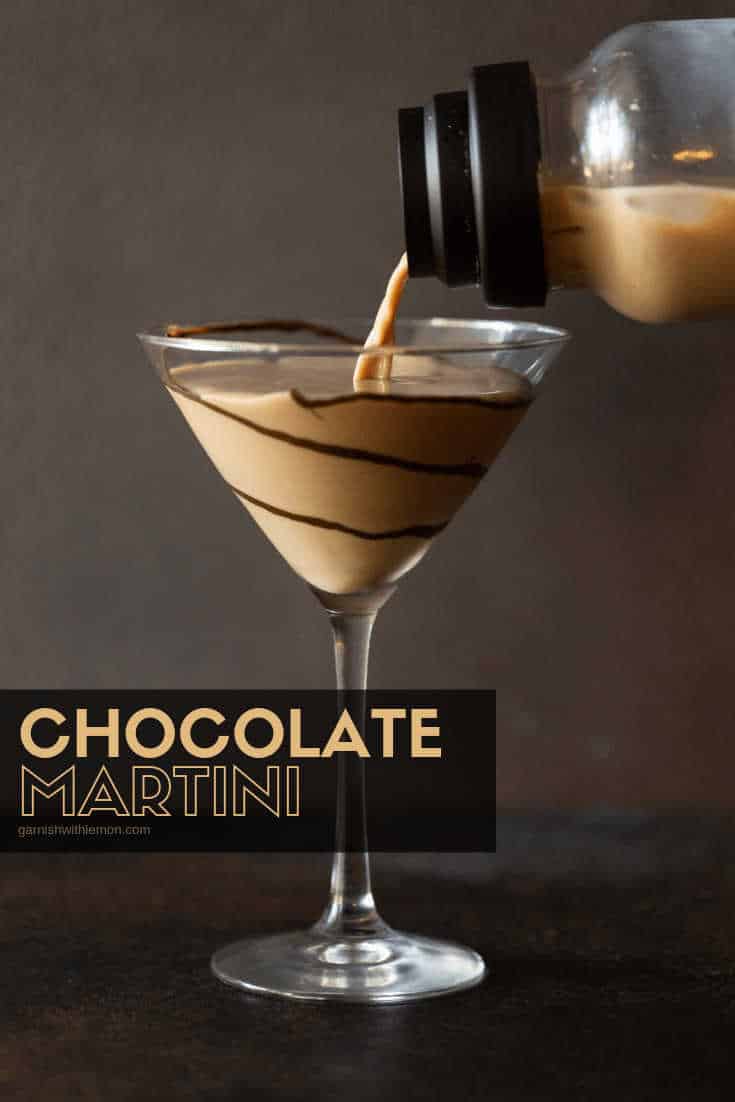 Looking for the perfect sweet nightcap?  Shake up one of these fabulous dessert cocktail recipes.
Easy Lemon Drop Martini
Vodka Soda with Elderflower Liqueur
Check out all of our Cocktail Recipes HERE!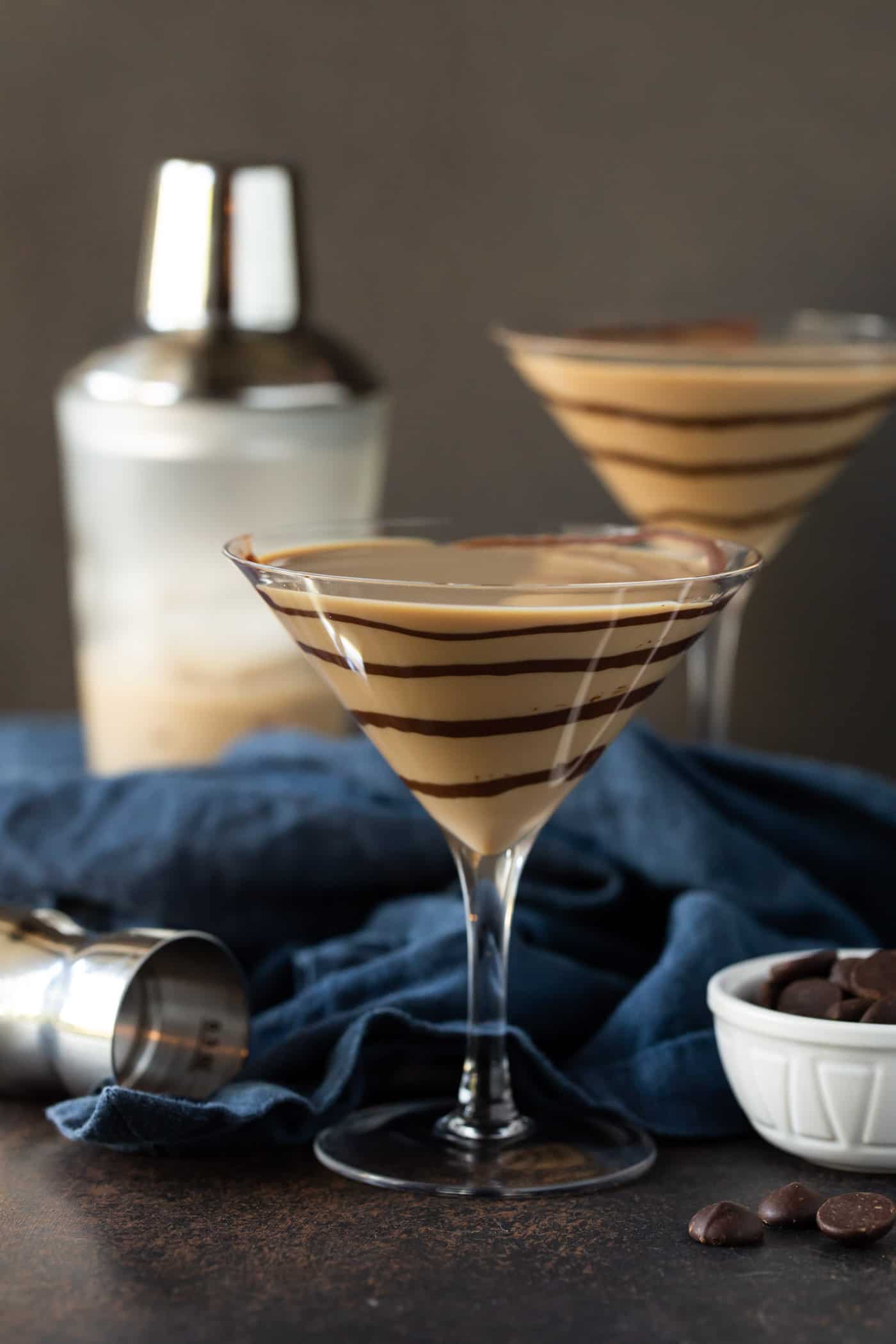 Yield: Makes one cocktail
Chocolate Martini Recipe
A smooth Chocolate Martini recipe made with chocolate liqueur, creme de cocoa and vanilla vodka. The perfect dessert drink for your next party!
Ingredients
1 1/2 ounces Godiva chocolate liqueur
1 1/2 ounces Créme de Cocoa
1/2 ounce vanilla vodka
2 1/2 ounces milk
Instructions
Fill a martini shaker half full with ice and add the Godiva Liqueur, Creme de Cocoa, vanilla vodka and milk. Shake vigorously.
Swirl the inside of the martini glass with the Hershey's syrup and then strain the chocolate martini into the glass.
Serve immediately.
Notes
You can also garnish this drink with either chocolate curls or a cocoa sugar rim in lieu of the chocolate syrup. See tips for garnishing with a cocoa sugar rim in the post above.
Recommended Products
As an Amazon Associate and member of other affiliate programs, I earn from qualifying purchases.
Nutrition Information:
Yield:
1
Serving Size:
6 ounces
Amount Per Serving:
Calories:

432
Total Fat:

6g
Saturated Fat:

1g
Trans Fat:

0g
Unsaturated Fat:

1g
Cholesterol:

6mg
Sodium:

61mg
Carbohydrates:

63g
Fiber:

9g
Sugar:

30g
Protein:

12g
This Chocolate Martini Recipe filled with chocolate, vanilla vodka and chocolate liqueur is an easy, make-ahead dessert cocktail that everyone will love!