Hot summer weather is no match for these refreshing, 5-ingredient Watermelon Margaritas! Loaded with vitamin-rich watermelon juice, these cocktails are a healthier choice for happy hour and come together in minutes to make the BEST summer drink for long, lazy nights on the patio.
Few fruits are more refreshing than watermelon. So what happens when you cross juicy watermelon with everyone's favorite summer cocktail? These crave-worthy Watermelon Margaritas!
Jump to:
Why you'll love this drink:
They are healthy-ish. Watermelons are nearly 90% water which makes them a natural thirst-quencher, but did you also know they are loaded with vitamins and potassium? We can't claim that these watermelon margaritas are health-conscious drinks, but the addition of fresh watermelon makes them a better choice than many other cocktails.
No added sugars. Watermelon juice is also naturally sweet and low in calories. Most margarita recipes call for simple syrup, but if you choose a juicy, ripe melon, simple syrup is completely optional in this recipe.
Easy to make it a mocktail. Avoiding alcohol? It's easy to enjoy the flavor of these refreshing Watermelon Margaritas without the booze using a few simple substitutions. Keep this recipe on hand and offer both options for backyard BBQ parties in the summer. You'll please everyone!
Ingredients
This simple recipe has only 5 ingredients.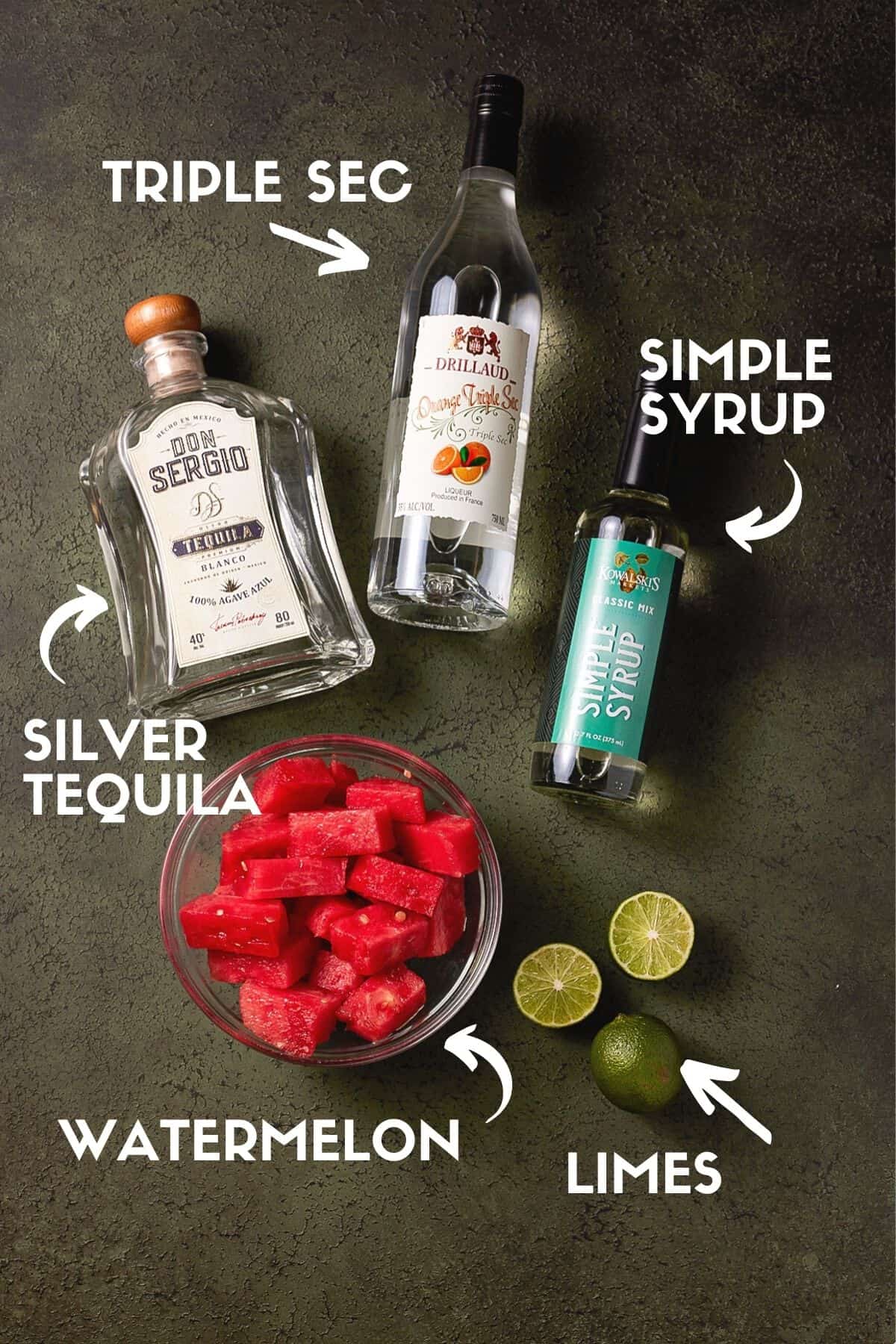 A few ingredient notes:
Watermelon juice is nothing more than fresh chunks of watermelon processed in the blender until completely pureed. Straining the pulp is completely optional but does result in a smoother drink.
Always choose a silver tequila that is 100% agave. (Otherwise, it's not real tequila!)
Triple Sec, Cointreau, or Grand Marnier are all great orange liqueur choices. (I used Triple Sec in this recipe.)
Instructions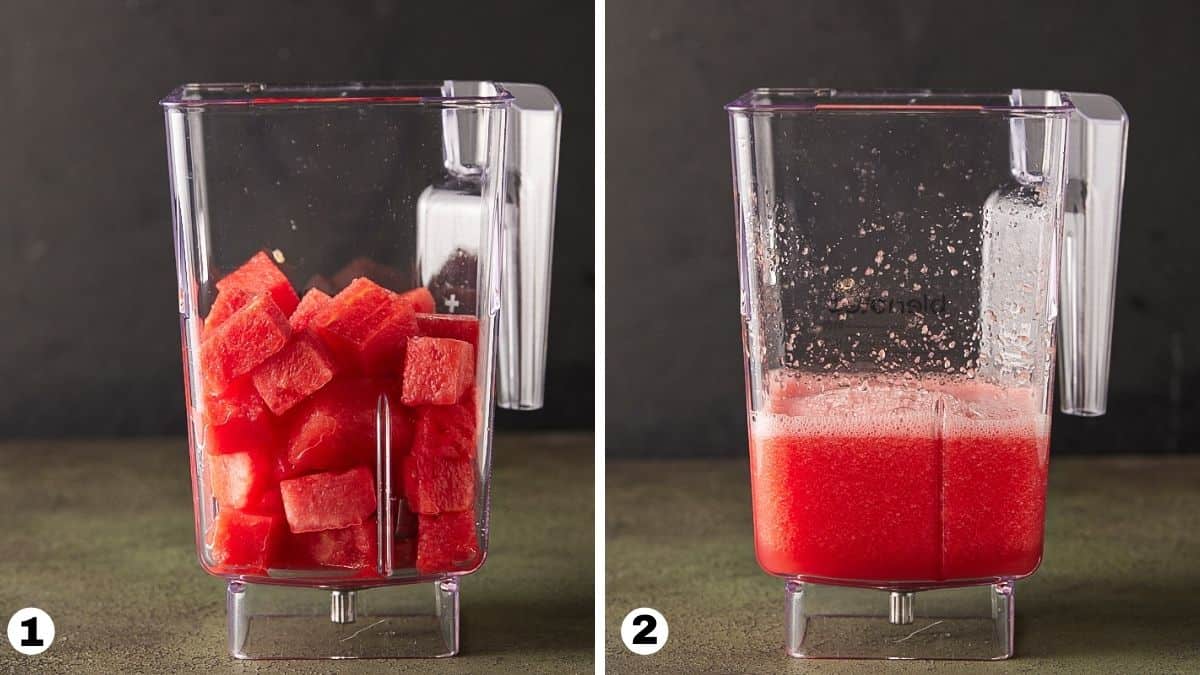 Add cubed watermelon to a blender and puree until smooth. OPTIONAL: you can strain the watermelon puree through a fine mesh sieve.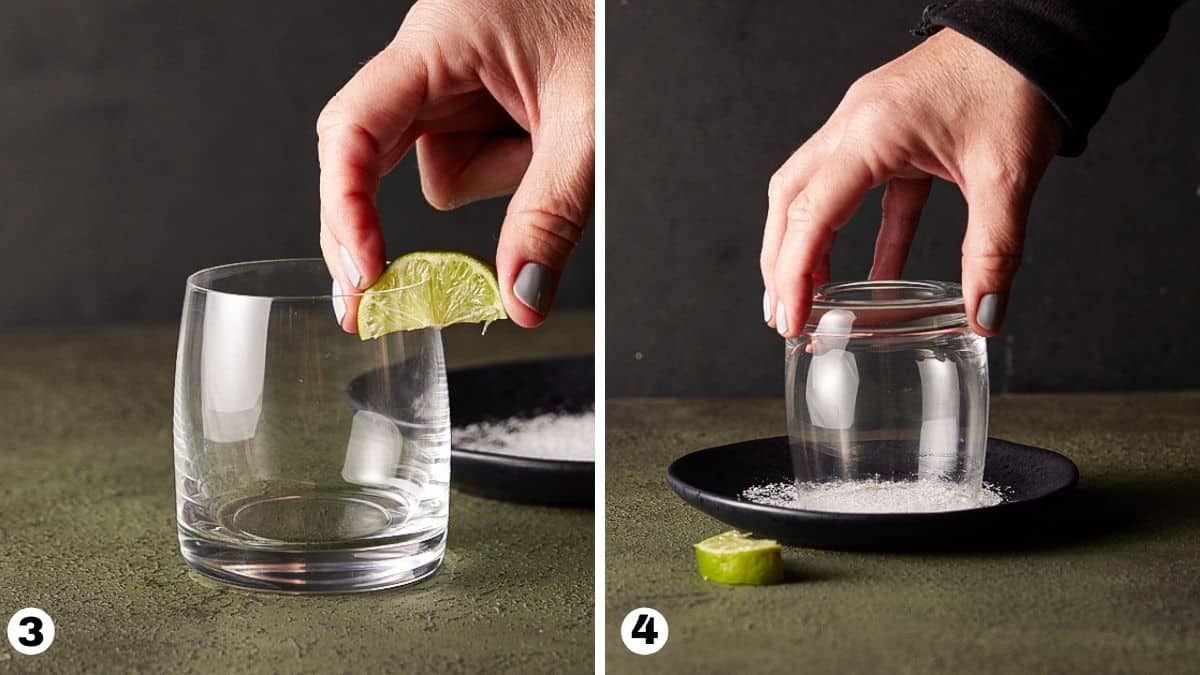 Rim your cocktail glass with lime juice and dip in salt.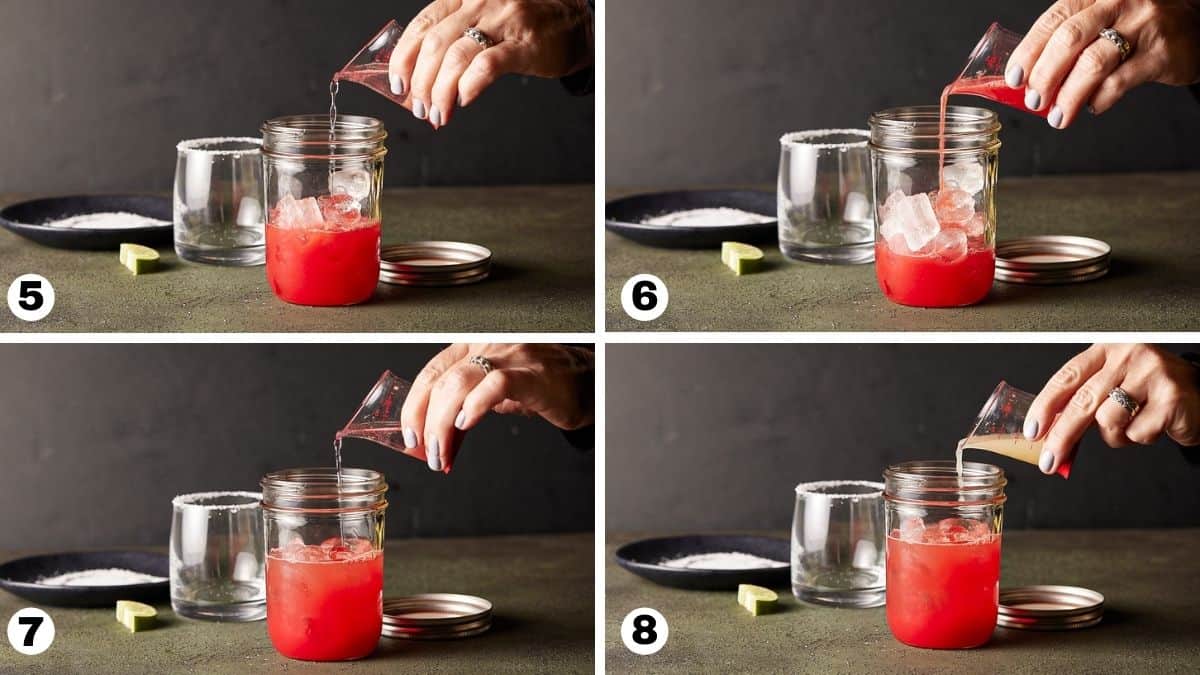 Fill a cocktail shaker with ice. Add all ingredients to the shaker, cover, and shake vigorously for 20 seconds.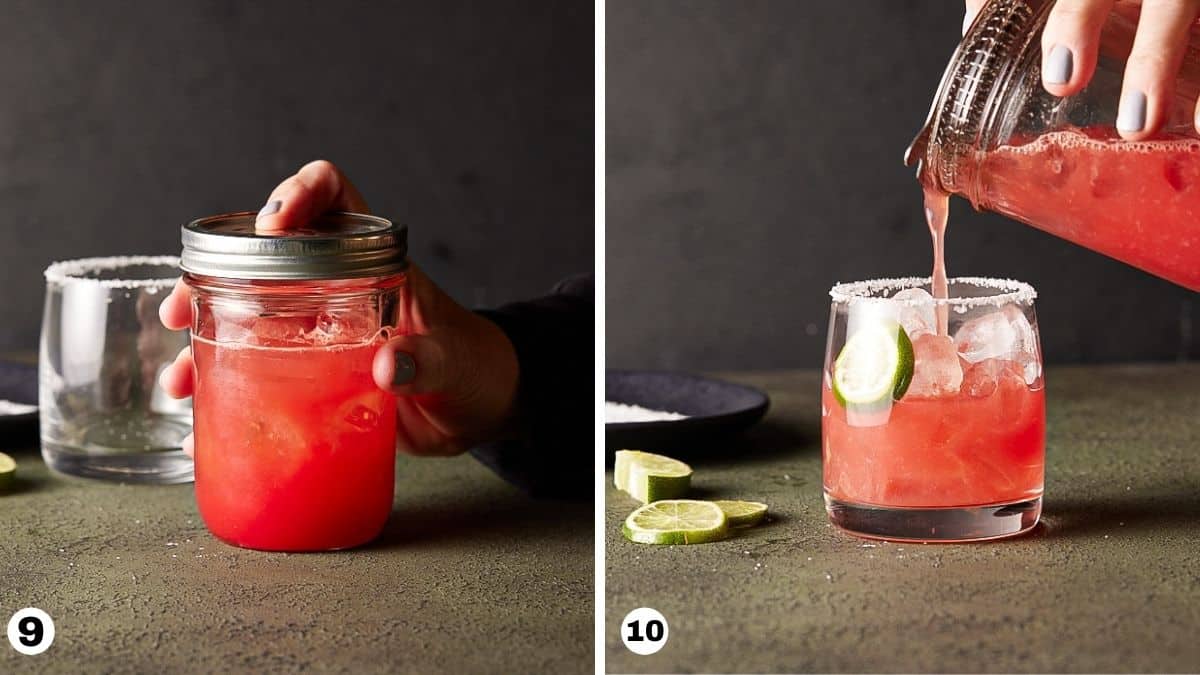 Pour drink into prepared glass. Garnish your watermelon margaritas with lime wheels and watermelon slices, if desired. Cheers!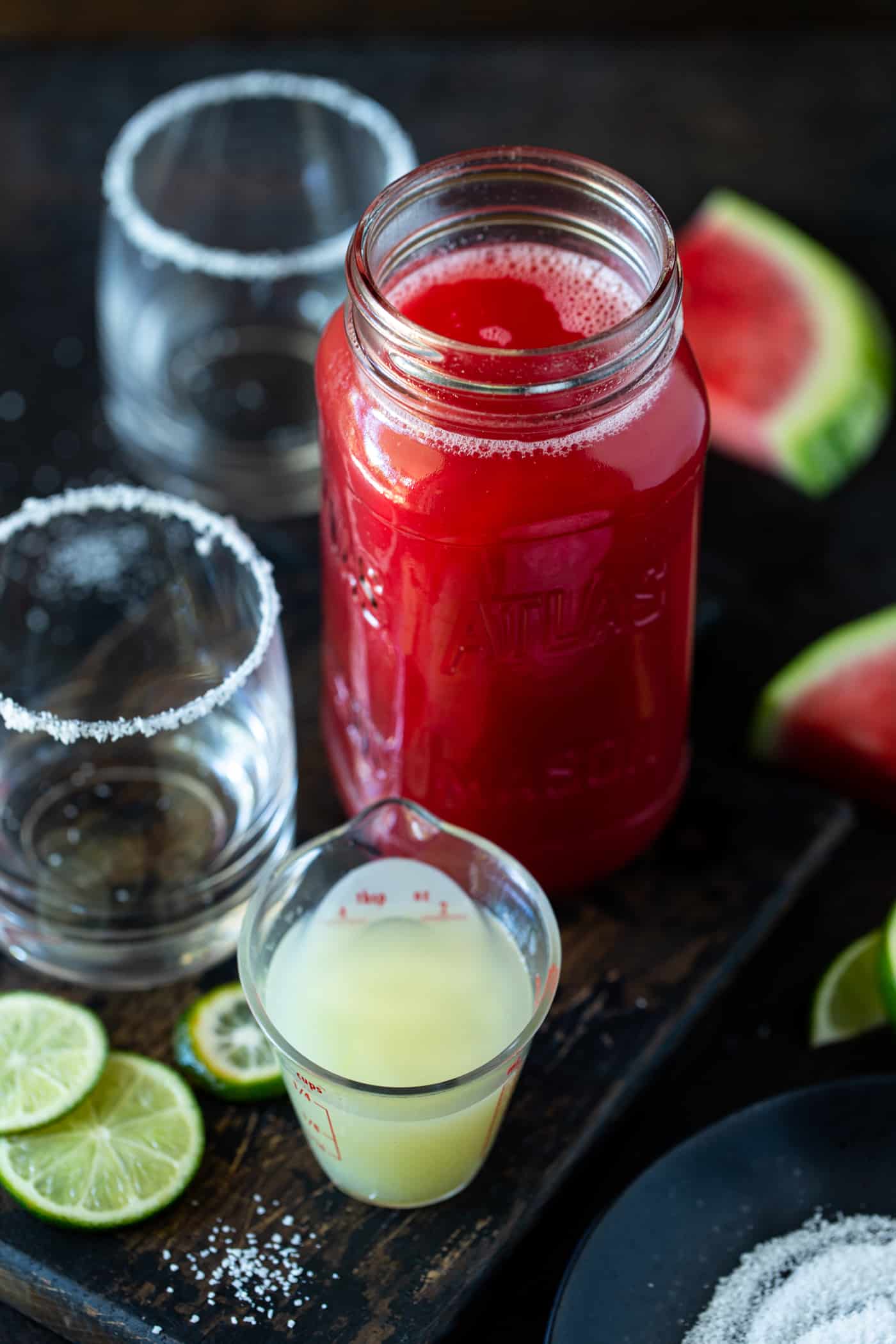 How to Make Watermelon Juice
You don't need a fancy juicer to make delicious juice for your watermelon margaritas! A blender or food processor will work perfectly.
Cut watermelon into 2-inch chunks until you have about 6 cups worth.
Blend watermelon until smooth for about 30 seconds to a minute.
Use a fine-mesh sieve and strain juice, using a spoon or a spatula to press pulp and extracting as much juice as possible.
Add a tiny pinch of salt to your fresh juice as a flavor enhancer.
Be sure to stir watermelon juice before serving or making margaritas, as the juice will separate after sitting.
Store leftovers in the fridge.
Tip: Have leftover watermelon? This Watermelon Feta Salad is one of our all time FAVORITE summer recipes. A little bit sweet, a little bit salty and with only 4 ingredients, this side dish always disappears!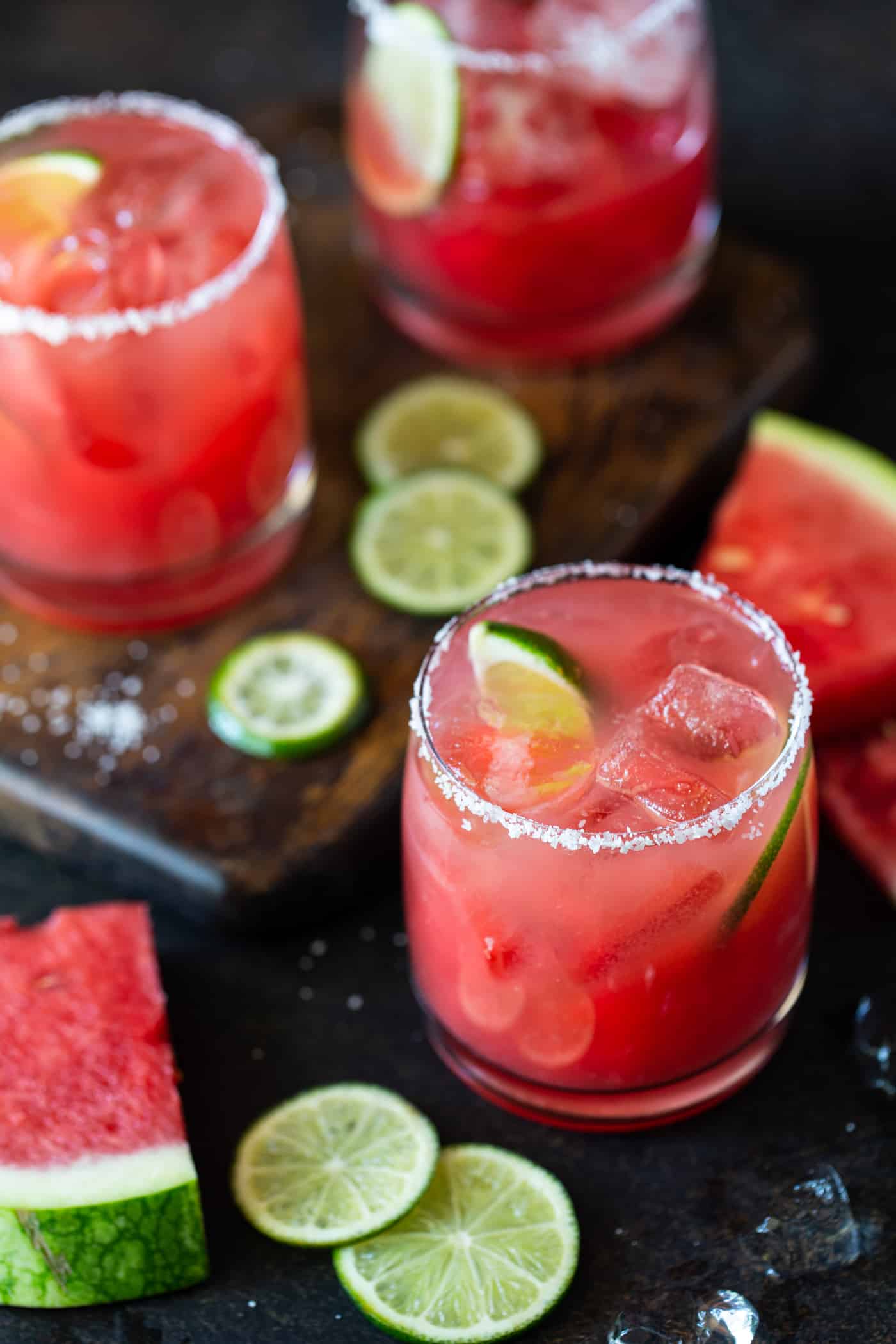 FAQs
Can I use store-bought watermelon juice?

Sure! However, you will save a lot of money making your own juice for this watermelon margarita recipe. Store-bought juice will likely have added sugars. We always say fresh is best!
Can I use other melons in this margarita recipe?

Cantaloupe or honeydew would also make amazing margaritas! We say yay!
How do I pick the best watermelon?

Ripe, juicy watermelons should feel heavy for their size and give a hollow sound when thumped. In general, round melons tend to be sweeter than oblong shaped melons. A yellow bottomed melon (also known as a field spot) with some webbing (they look like brown scars on the outside of the watermelon) is also more likely to be sweet and juicy.
How can I make this a virgin margarita?

Eliminate the liquor and add flavored sparkling water or club soda for the
most refreshing drink!
Expert tips for making watermelon margaritas
Fresh lime juice is always best in cocktails. Bottled lime juice contains preservatives that dull the flavor and can create an imbalanced drink.
Simple syrup is listed as an ingredient but is completely optional. Shake up your margarita and taste it. Watermelons that are ripe and in-season are usually sweet enough that you don't need to add any additional sugar to this drink. If you taste your margarita and it's not sweet enough for you, add the simple syrup.
Short on time? Buy pre-cut watermelon at the grocery store. Some stores, like Fresh Thyme, even carry fresh watermelon juice.
Make the watermelon juice up to 3 days ahead of time. Refrigerate until ready to use.
Serving a crowd? Simply multiply the ingredients by the number of drinks needed and serve in a pitcher instead of shaking drinks individually. Perfect batch cocktail for summer BBQs!
Have leftover watermelon juice? Sip it by itself with a squeeze of lime juice or stirred into sparkling water for an amazingly refreshing non-alcoholic drink. It's the perfect thirst-quencher after a long, hot summer day!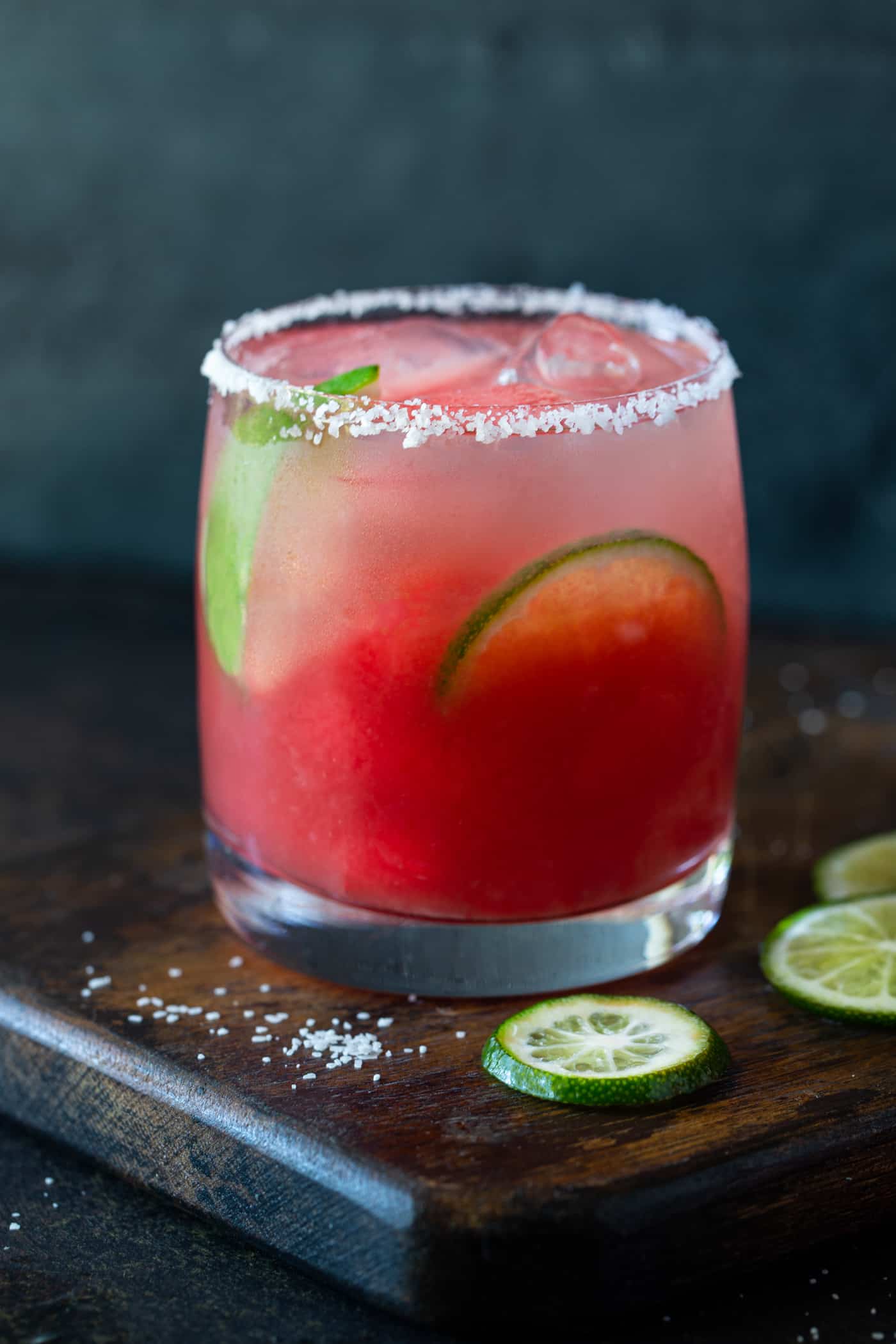 More margarita recipes
You can find many more tequila drinks in our archives, including a few more margaritas!



Did you make this recipe? We'd love to hear your thoughts! 

Please rate the recipe and leave a comment below. Your feedback helps us and your fellow readers! 



Recipe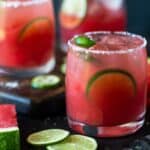 Watermelon Margaritas
Summer's heat & humidity are no match for this thirst-quenching Watermelon Margarita recipe. Quick & easy to make at home for yourself or for a crowd!
Ingredients
Watermelon Juice
6

cups

cubed seedless watermelon

½

teaspoon

kosher salt
Watermelon Margarita
3

ounces

watermelon juice

¾

ounce

lime juice

2

ounces

silver tequila

1

ounce

orange liqueur

such as Triple Sec or Cointreau

½

ounce

simple syrup

(optional)
Instructions
To make watermelon juice:
Place watermelon cubes in the jar of a blender. Process until smooth.

Strain watermelon puree through a fine mesh sieve, pushing pulp against sieve with a spatula or back of a large spoon to extract as much juice as possible. Discard pulp.

Stir in salt, if desired, and refrigerate if not using immediately. Makes approximately 3 cups of watermelon juice. Drink it plain, as the base for mocktails (see ideas below) or use it to make 8 watermelon margaritas.
Rim margarita glass:
Place a small amount of kosher salt on a shallow plate.

Run a lime wedge around the rim of the glass.

Dip the rim in the salt, rotating the glass as needed to cover the entire rim.
To make one margarita:
Fill cocktail shaker and prepared glass with ice.

Add all ingredients to the cocktail shaker (except simple syrup if you have a very sweet melon), cover and shake vigorously for at least 20 seconds.

Pour margarita into prepared glass.

Notes
Simple syrup is optional. Omit the simple syrup until you shake up your margarita and taste it. Most in-season watermelons are sweet enough on their own that you don't need the added sugar. Add the simple syrup only if you discover your melon is not as sweet as you thought and you need a touch of syrup to round out the flavor of the cocktail.  Making margaritas for a crowd? Simply multiply the recipe by the number of drinks needed. Mix all ingredients together in a large pitcher and refrigerate. Give the pitcher a good stir before setting out with an ice bucket and a salt rimming station for guests to build their own cocktail. Non alcoholic watermelon margarita: Offer fresh watermelon juice with any number of mix-ins, including lemon lime soda, watermelon or lime flavored seltzer water or even club soda. Make ahead instructions: Prepare the watermelon juice and refrigerate up to three days in advance. When ready to make a margarita, dump ingredients into shaker and shake for at least 20 seconds before straining into an ice-filled glass.  Have leftover watermelon juice? Sip it by itself with a squeeze of lime juice for an amazingly refreshing non-alcoholic drink. It's the perfect thirst-quencher after a long, hot summer day!
Nutrition
Serving:
8
ounces
Calories:
228
kcal
Carbohydrates:
18
g
Protein:
1
g
Sodium:
2
mg
Sugar:
16
g
Nutrition info not guaranteed to be accurate.