Hot summer weather is no match for these refreshing Watermelon Margaritas. Easy to make at home for yourself or for your next backyard BBQ!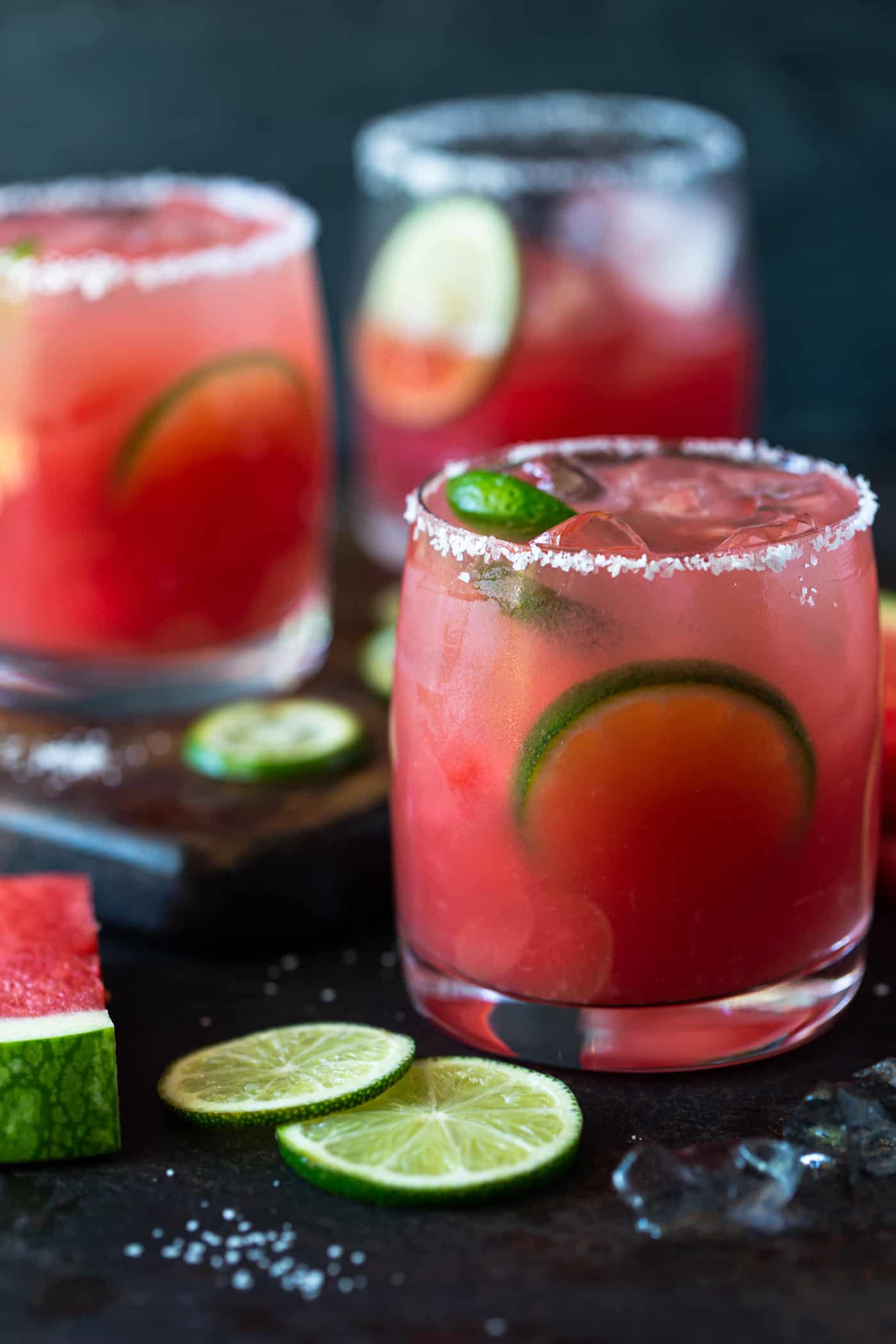 Are margaritas the official drink of summer?
If not, they should be. Or at least these Watermelon Margaritas should be.
A steamy summer day is no match for this fresh cocktail recipe. You get all the juicy refreshment of summer's best melon with a tequila kick.
Love margaritas? This easy, refreshing drink is just for you.
Jump to:
Ingredients
This simple recipe has only 5 ingredients:
Watermelon juice - Never made it? If you have watermelon and a blender, you can make watermelon juice. Follow my tips below for perfect watermelon juice every time.
Lime juice - Fresh is always best. Period.
Silver tequila - Not sure which tequila is best for your margarita? Scroll down for some advice in one of the next sections.
Orange liqueur - Triple Sec, Cointreau or Grand Marnier are all great choices (I used Cointreau in this recipe).
Simple syrup - Optional, but a touch of simple syrup is nice to add if you end up with a watermelon that is juicy but not overly sweet (I know you've picked a bum melon before!) Check out my tips below for how to pick a ripe watermelon.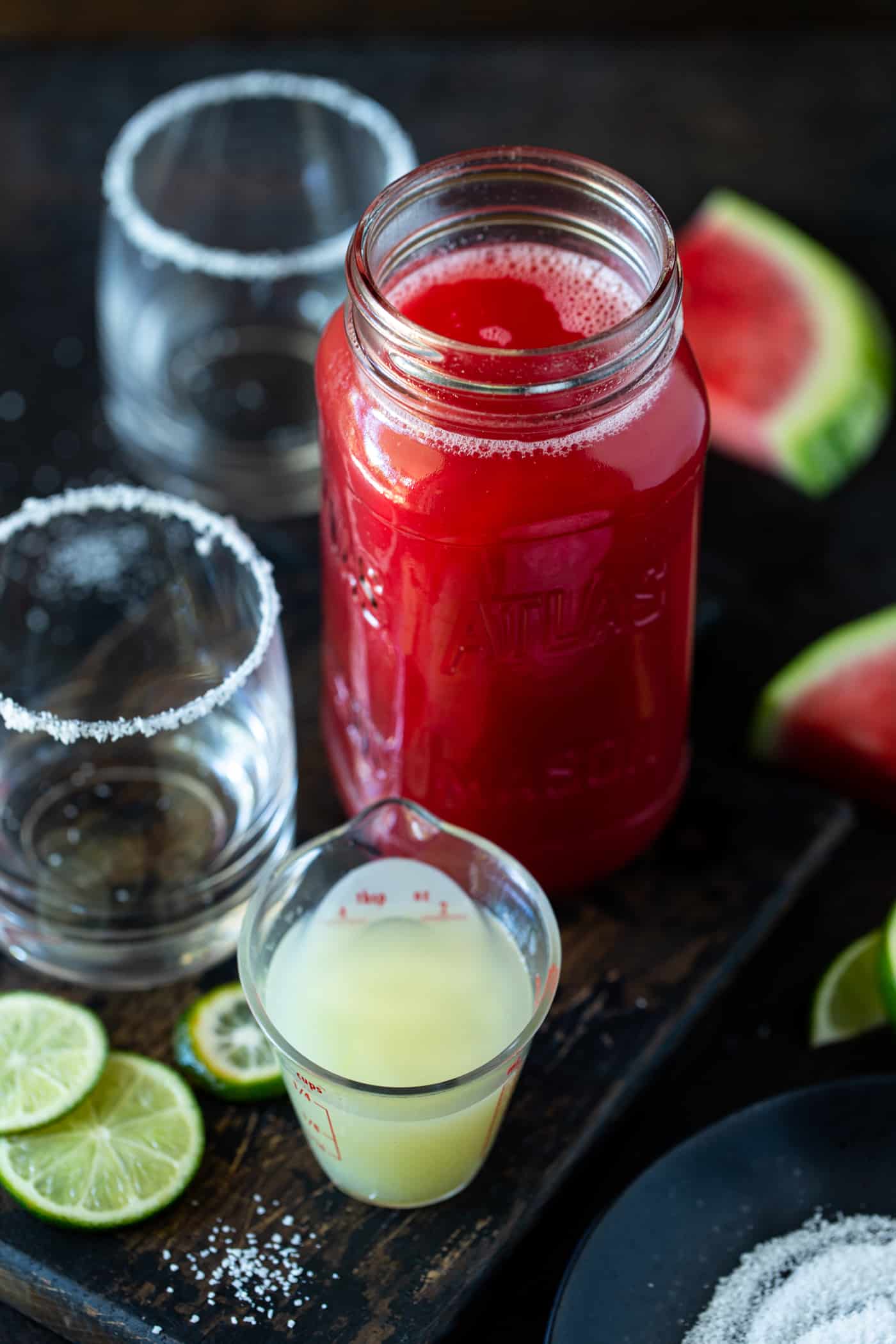 Instructions
Rim your cocktail glass with salt. Add ice to your glass and set aside.
Fill a cocktail shaker with ice. Add all ingredients to the shaker (except simple syrup if you have a very sweet melon), cover and shake vigorously for 20 seconds.
Pour drink into prepared glass. Garnish your watermelon margarita with lime wheels and watermelon slices, if desired. Cheers!
Tip: Serving a crowd? Simply multiply the ingredients by the number of drinks needed. You can even make these in a pitcher to have guests help themselves.
When the party starts, all you need to do is set out an ice bucket, the pitcher of watermelon margaritas and a salt rimming station for guests to build their own cocktail!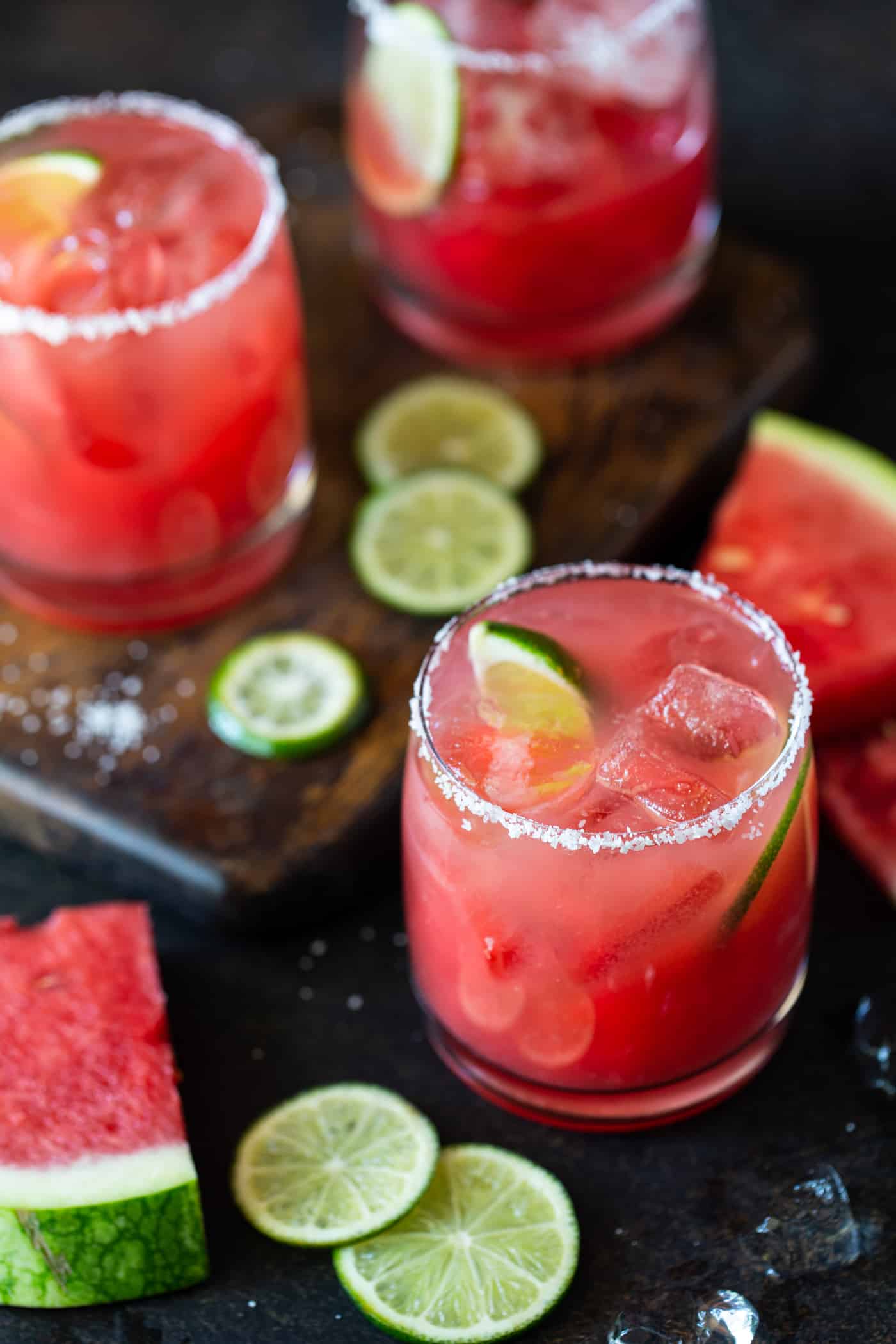 FAQs
How to make fresh watermelon juice


Obviously watermelon juice is a key ingredient in this cocktail. It sounds so fancy but making your own watermelon juice couldn't be easier. All you need is a blender.

Step one: Cube 6 cups of seedless watermelon flesh and place in a blender.

Step two: Blend until smooth. (This is the blender I have. Yes, it's expensive, but it's also one of the top most-used appliances in my kitchen.) 

Step three: Strain the juice through a fine mesh sieve. Use a silicone spatula to press the pulp into the sieve. This makes sure you get as much juice as possible. 

Step four: This step is optional, but if you've ever put salt on watermelon, then you'll know why I added a bit of salt to the watermelon juice. (There is something crazy addicting to that salty-sweet combination. Our recipe for Watermelon Feta Salad is a perfect example of how to serve watermelon in a savory way.) Feel free skip this step if you prefer. 

You can make the juice a few days ahead of time. Pop it in a lidded container and keep it in the fridge. You'll notice that it separates after it sits. That's completely normal. Just give it a good shake before you use it and the juice will come back together again. 

Note: This recipe makes about 3 cups of watermelon juice so you'll obviously have some leftover if you're not making margaritas for a crowd. Many people drink watermelon juice by itself because it's rich in antioxidants, vitamins and is 92% water (naturally hydrating). It's also a fun, flavorful base for mocktails. More on that below.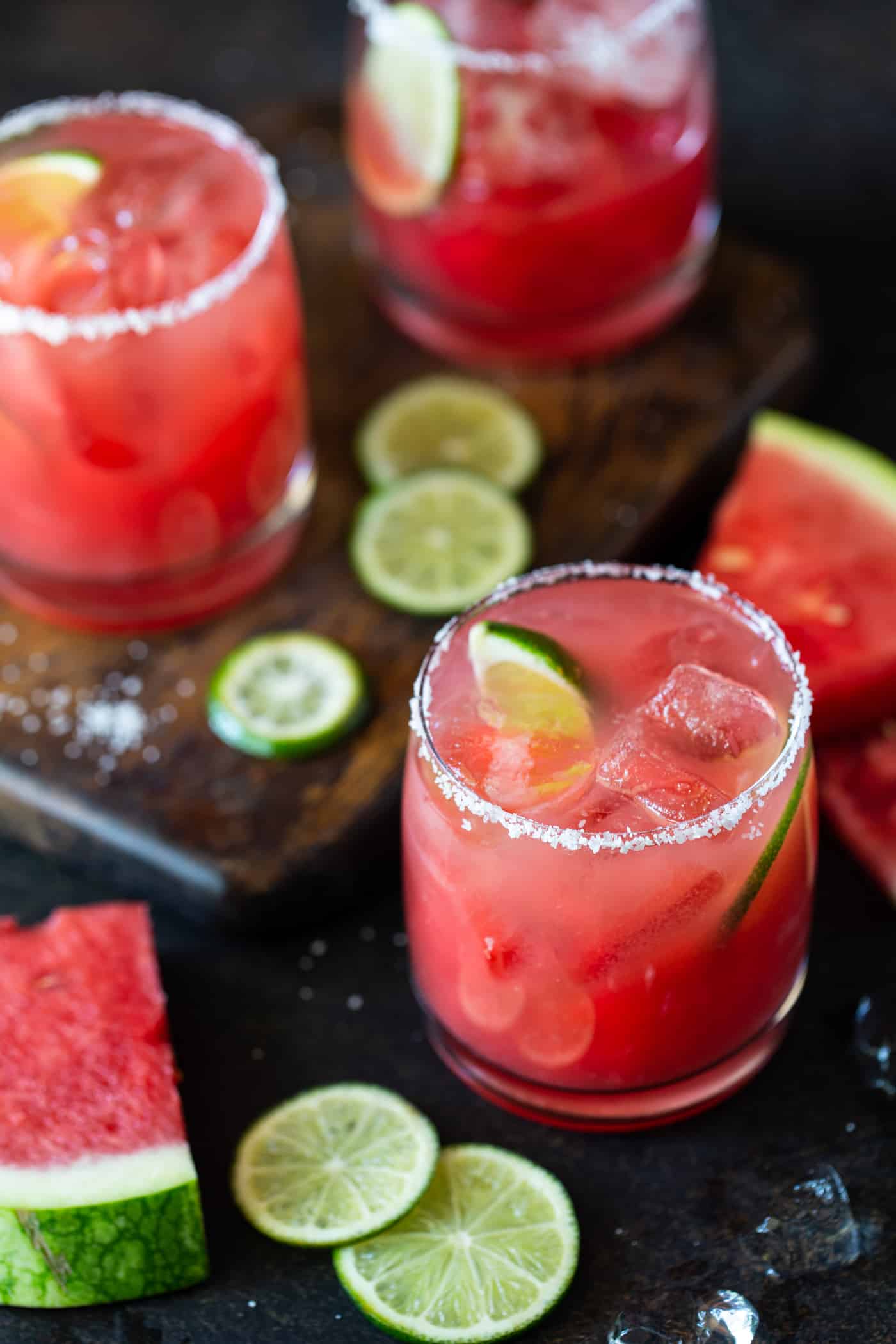 How to pick a ripe watermelon


* The watermelon should feel heavy for its size. A heavy melon is usually a very juicy melon.
* Look at the underbelly of the melon where it has been sitting in the field. You want a creamy yellow color. Any other color (green or white) means it's not fully ripened yet.
* Give the melon a good thump. If it has a full, hollow sound, you're in for some sweet, juicy melon. If you hear a dull thud, the melon will not likely be as ripe.

Tip: Have a super sweet melon? You might find that you don't even need the simple syrup in the recipe. Go ahead and omit it the first time you make the drink if you're dealing with a very flavorful melon. You can always add it in afterwards. 
Best tequila for margaritas

Different types of tequila are classified based on how long they are aged before bottling. The longer the age, the darker the color.

Here's a quick breakdown:

Blanco (or silver) tequila – This clear, unaged tequila is what I recommend for these watermelon margaritas. It mixes well with nearly any ingredient and is the most common of all types of tequila. We think it's the best choice for most margaritas. You'll find it in several of our citrusy drinks, including this blood orange margarita recipe, our mango margaritas and this spicy grapefruit margarita recipe.

Reposado tequila – This tequila is "rested" for up to one year. It takes on an amber hue after aging in wood barrels and has stronger flavors of oak and vanilla. Reposado can work well in margaritas – like this Golden Margarita – but you'll also find it in mixed drinks with heavier alcohols.

Añejo tequila – After one year, a reposado tequila becomes an añejo tequila. It's aged for up to three years in barrels and develops more color and a deeper flavor. It's definitely more of a sipping liquor, so you'll most often see it in sipping cocktails like this Tequila Old Fashioned or even by itself on the rocks.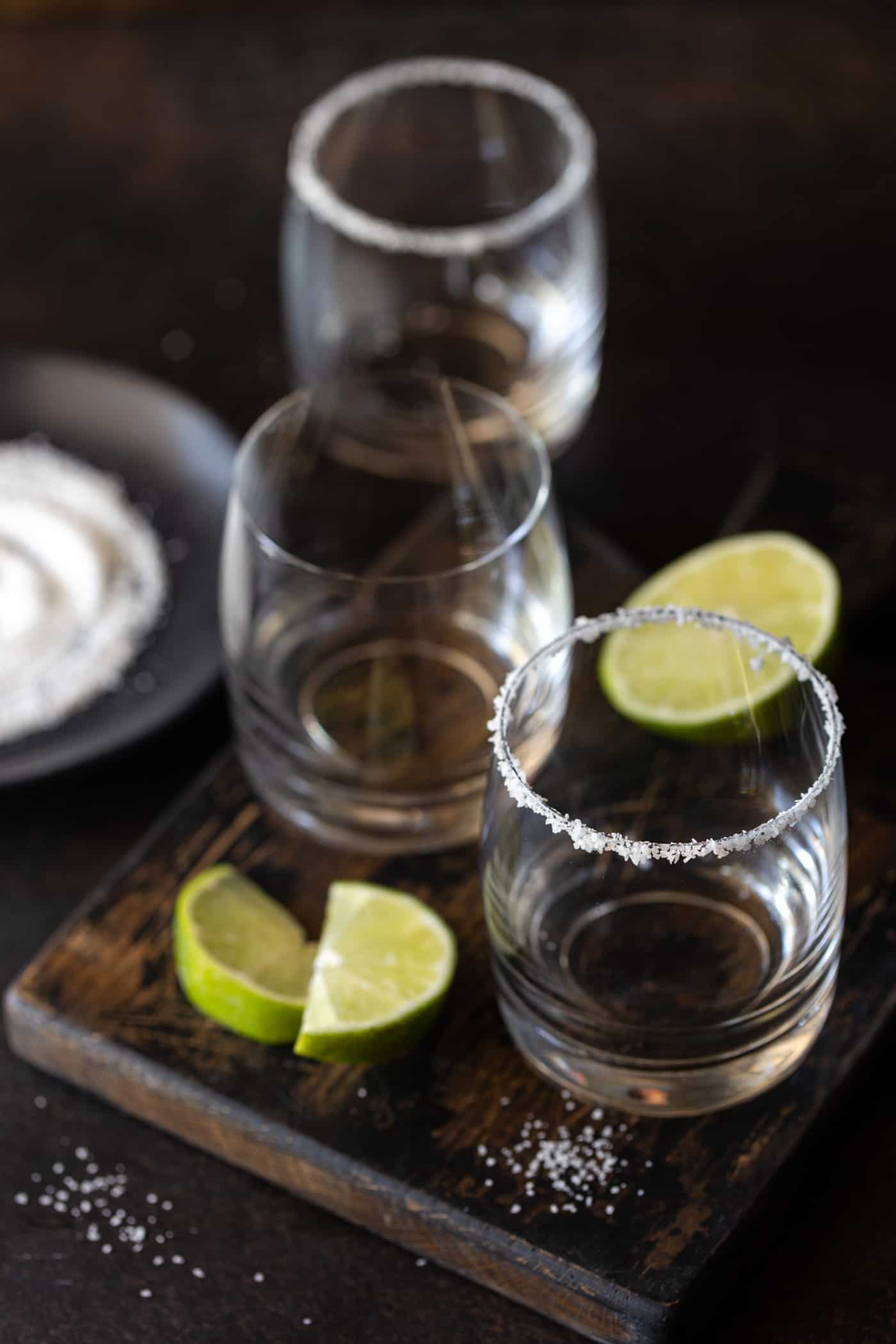 How to rim a glass with salt


Step one: Choose your salt. There are loads of resources on the internet for making your own customized margarita salt, but we think that inexpensive kosher salt is the most convenient choice. It is our go-to salt in the kitchen because it has just the right-sized crystals and a crisp, clean flavor that works well with just about any recipe - margaritas included. (Whatever you do, don't reach for iodized table salt. Waaaaaaay too salty!)

Step two: Pour a small amount of salt into a shallow bowl (or a small plate) and pat it into an even layer.

Step three: Cut a lime wedge and gently run it around the rims of your glasses. You're looking for a light coating of juice right on the rims. 

Step four: Dip the juice-rimmed edges of the glasses in the salt, rotating glasses to make sure the entire rim is covered.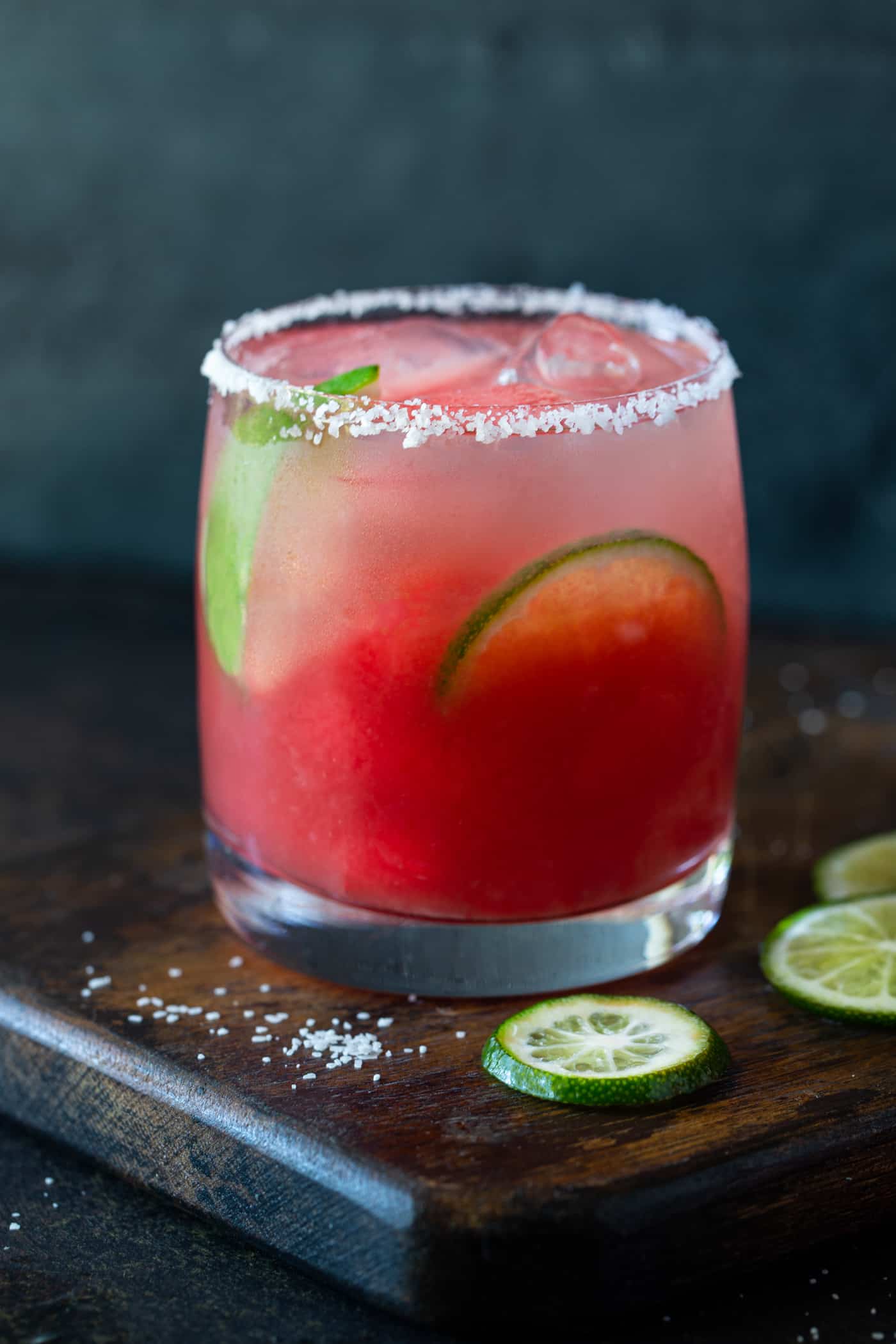 Non Alcoholic Margarita
The vibrant flavor of the watermelon juice makes it a tasty option to offer for guests who want a non alcoholic drink. Offer the juice with any number of mix ins, including lemon lime soda, watermelon or lime flavored seltzer water or even plain club soda for a refreshing and flavorful mocktail.
Check out Recipe Girl's Virgin Margarita recipe if you're looking for more traditional margarita flavor sans alcohol.
More easy margaritas
Margaritas happen to be one of our favorite cocktails: You don't want to miss any of these tasty tequila drinks:
Tequila not your thing? We've got recipes for some of the Best Vodka Drinks around, including this easy Lemon Drop Martini as well as some unique Gin Mixed Drinks, like this Aperol Gin Cocktail.
Recipe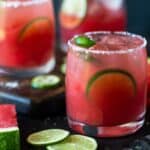 Watermelon Margaritas
Summer's heat & humidity are no match for this thirst-quenching Watermelon Margarita recipe. Quick & easy to make at home for yourself or for a crowd!
Ingredients
Watermelon Juice
6

cups

cubed seedless watermelon

½

teaspoon

kosher salt
Watermelon Margarita
3

ounces

watermelon juice

¾

ounce

lime juice

2

ounces

silver tequila

1

ounce

orange liqueur

such as Triple Sec or Cointreau

½

ounce

simple syrup

(optional)
Instructions
To make watermelon juice:
Place watermelon cubes in the jar of a blender. Process until smooth.

Strain watermelon puree through a fine mesh sieve, pushing pulp against sieve with a spatula or back of a large spoon to extract as much juice as possible. Discard pulp.

Stir in salt, if desired, and refrigerate if not using immediately. Makes approximately 3 cups of watermelon juice. Drink it plain, as the base for mocktails (see ideas below) or use it to make 8 watermelon margaritas.
Rim margarita glass:
Place a small amount of kosher salt on a shallow plate.

Run a lime wedge around the rim of the glass.

Dip the rim in the salt, rotating the glass as needed to cover the entire rim.
To make one margarita:
Fill cocktail shaker and prepared glass with ice.

Add all ingredients to the cocktail shaker (except simple syrup if you have a very sweet melon), cover and shake vigorously for at least 20 seconds.

Pour margarita into prepared glass.

Notes
Simple syrup is optional. Omit the simple syrup until you shake up your margarita and taste it. Most in-season watermelons are sweet enough on their own that you don't need the added sugar. Add the simple syrup only if you discover your melon is not as sweet as you thought and you need a touch of syrup to round out the flavor of the cocktail.  Making margaritas for a crowd? Simply multiply the recipe by the number of drinks needed. Mix all ingredients together in a large pitcher and refrigerate. Give the pitcher a good stir before setting out with an ice bucket and a salt rimming station for guests to build their own cocktail. Non alcoholic watermelon margarita: Offer fresh watermelon juice with any number of mix-ins, including lemon lime soda, watermelon or lime flavored seltzer water or even club soda. Make ahead instructions: Prepare the watermelon juice and refrigerate up to three days in advance. When ready to make a margarita, dump ingredients into shaker and shake for at least 20 seconds before straining into an ice-filled glass.  Have leftover watermelon juice? Sip it by itself with a squeeze of lime juice for an amazingly refreshing non-alcoholic drink. It's the perfect thirst-quencher after a long, hot summer day!
Nutrition
Serving:
8
ounces
Calories:
228
kcal
Carbohydrates:
18
g
Protein:
1
g
Sodium:
2
mg
Sugar:
16
g
Nutrition info not guaranteed to be accurate.
There is nothing more refreshing on a hot summer day than a cool cocktail. You'll want to add this recipe for juicy Watermelon Margaritas to your summer drinks list ASAP.