Need a batch cocktail for your big game party? Look no further than these gorgeous Blood Orange Margaritas for a Crowd. 
Even if you're not a sports fan, you'll want to throw a party just to make a pitcher of these irresistible Blood Orange Margaritas. The beautiful color and unique flavor of blood oranges brings a fun, seasonal twist to what is always a crowd-pleasing cocktail. 
What are blood oranges?
Blood oranges have a similar taste to a navel orange with a hint of berry and a stunningly colored flesh.
You might see them labeled as Moro oranges at the store right now.
They are in season December through March, so grab them while you can! (Update: I saw blood oranges at the grocery store in May, so it appears that blood orange season is longer than it used to be.)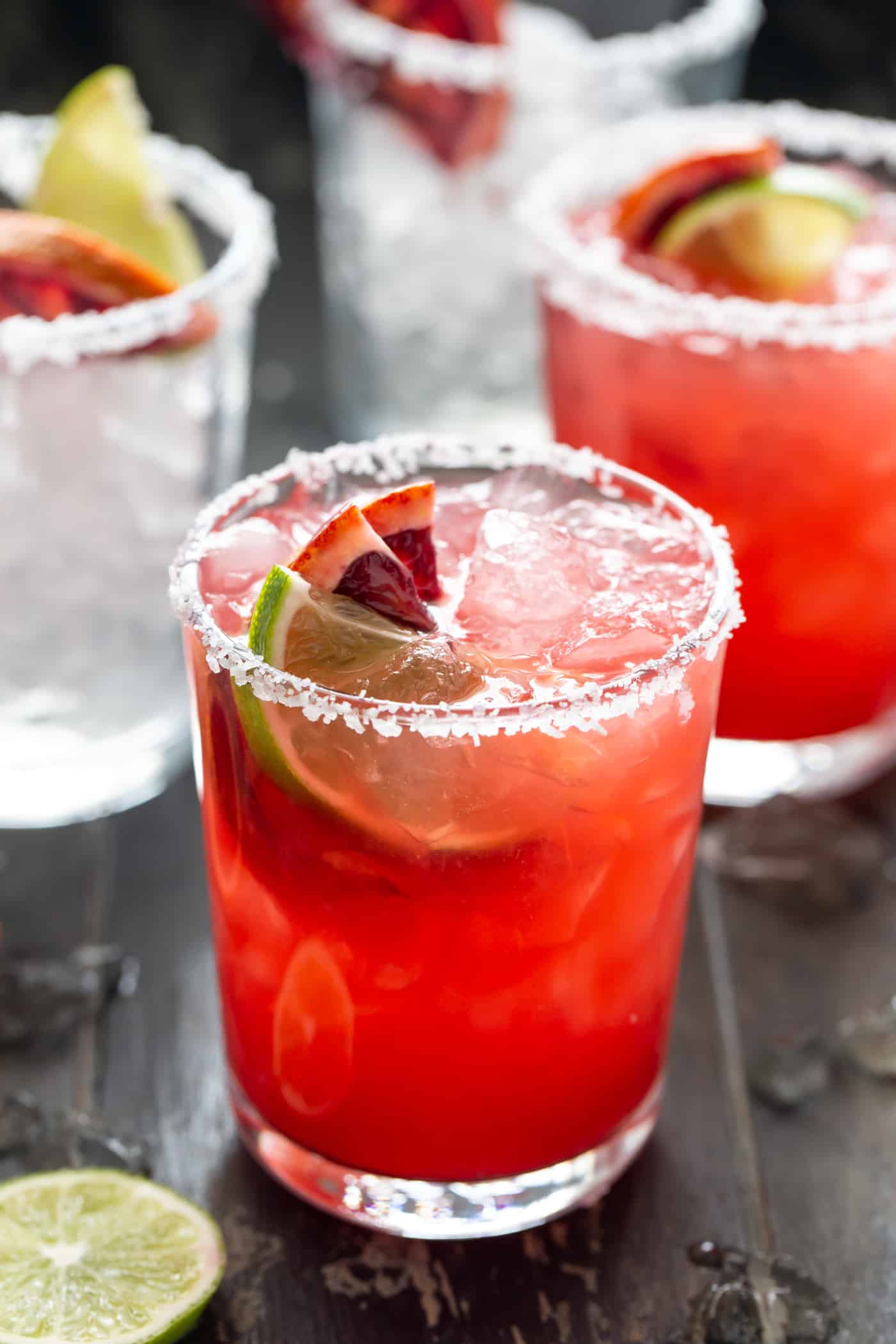 I can't find blood oranges. Can I substitute another orange in this margarita recipe?
I only make this margarita recipe when blood oranges are in season, so I haven't tried substituting another variety.
That said, Cara Cara oranges have a red flesh that would at least be similar in color to the striking appearance of the blood oranges. If you give it a try, we'd love to hear how it turns out!
Tip: This recipe calls for four cups of blood orange juice and another cup of lime juice. Not into squeezing that much juice by hand? Give this juicer a try. It makes quick work of sizable amount of fresh juice. Plus the parts are dishwasher safe! 

What kind of tequila do you use in this recipe for blood orange margaritas?
I don't like to muddy the gorgeous color of these beauties, so I always opt for silver or blanco tequila. It's a young tequila that is not aged, which also makes it less expensive than a reposado or anejo tequila. Perfect for mixed drinks!
How do you salt the rim of a margarita glass?
It make feel like an unnecessary extra step, but salting a cocktail glass is super easy and adds polish to any cocktail, especially margaritas.
Simply place salt on a small plate. Run a lime wedge around the edge of the glass so it is coated in juice. Then turn the glass upside down and dip it into salt on the plate.
You may need to tip and turn the glass a bit to make sure the entire rim gets coated in salt, but you'll get the hang of it after a few tries.
You can use the same technique for sugaring a rim, too, like we do in our Gin, Elderflower and Prosecco Cocktails. Simply swap the sugar for the salt and follow the same dipping technique.
What kind of salt do you use to rim the glass?
Our "house" brand of salt is Diamond Crystal Kosher Salt, so that's most often what I use for margaritas because it's what I have on hand.
Big salt fan? You can also use a coarser grained sea salt for a bigger wow factor.
Or fancy up your drink (and add a bit of kick) by including any number of dried herbs or spices in your salt rim like we do with chili powder in our Spicy Grapefruit Margaritas.
Can I make just one blood orange margarita instead of a batch of them?
Sure! This recipe is written for a pitcher full of cocktails, but feel free to scale the recipe for yourself. Simply divide the ingredients by however many servings you need (no judgment here!).
Searching for a seasonal cocktail to banish the winter blahs? Look no further than these eye-catching Blood Orange Margaritas for a Crowd!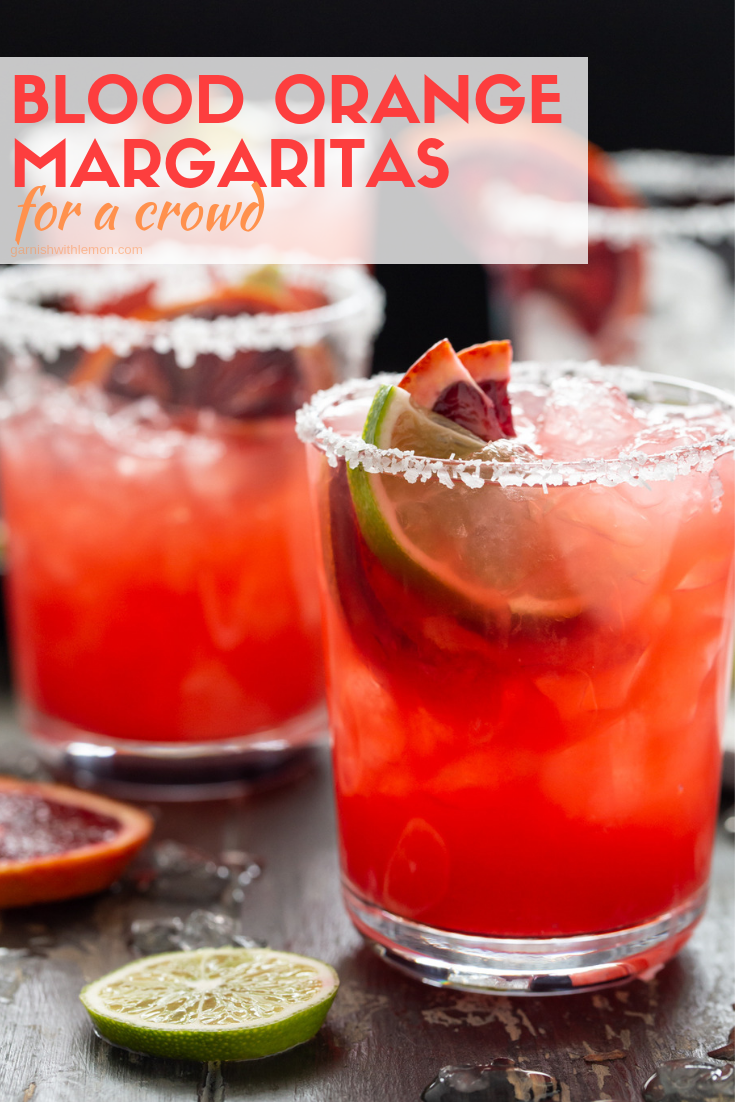 We looooove our margaritas here at Garnish with Lemon! Don't miss some of our other favorite margarita recipes:
Classic Golden Margarita - Garnish with Lemon®
Prosecco Margaritas - A Farmgirl's Dabbles
Blueberry Margaritas - Garnish with Lemon®
Blackberry Lemonade Margaritas - From Valerie's Kitchen
Key Lime Margaritas - Garnish with Lemon®
Yield: 10
Blood Orange Margaritas
Need a batch cocktail for your big game party? Look no further than these gorgeous Blood Orange Margaritas for a Crowd. 
Total Time
2 hours
20 minutes
Ingredients
4 cups fresh blood orange juice
1 cup fresh lime juice
3 cups silver tequila
1 1/2 cups triple sec (or other orange flavored liqueur)
1/4 cup superfine sugar
lime wedges
kosher salt
blood orange and lime slices (optional)
Instructions
Place juices, tequila, triple sec and sugar in a large pitcher. Stir until sugar is dissolved and refrigerate for at least 2 hours.
Rim edges of glass with lime wedge and salt. Divide margaritas among ice-filled glasses and garnish with blood orange slices, if desired.
Notes
Total time includes refrigeration.
Nutrition Information:
Yield:
10
Serving Size:
8 ounces
Amount Per Serving:
Calories:

292
Total Fat:

0g
Saturated Fat:

0g
Trans Fat:

0g
Unsaturated Fat:

0g
Cholesterol:

0mg
Sodium:

62mg
Carbohydrates:

32g
Fiber:

1g
Sugar:

25g
Protein:

1g