Nothing screams spring like fun cocktails! Light and refreshing, this Lemon Drop Martini recipe is just what your next happy hour needs.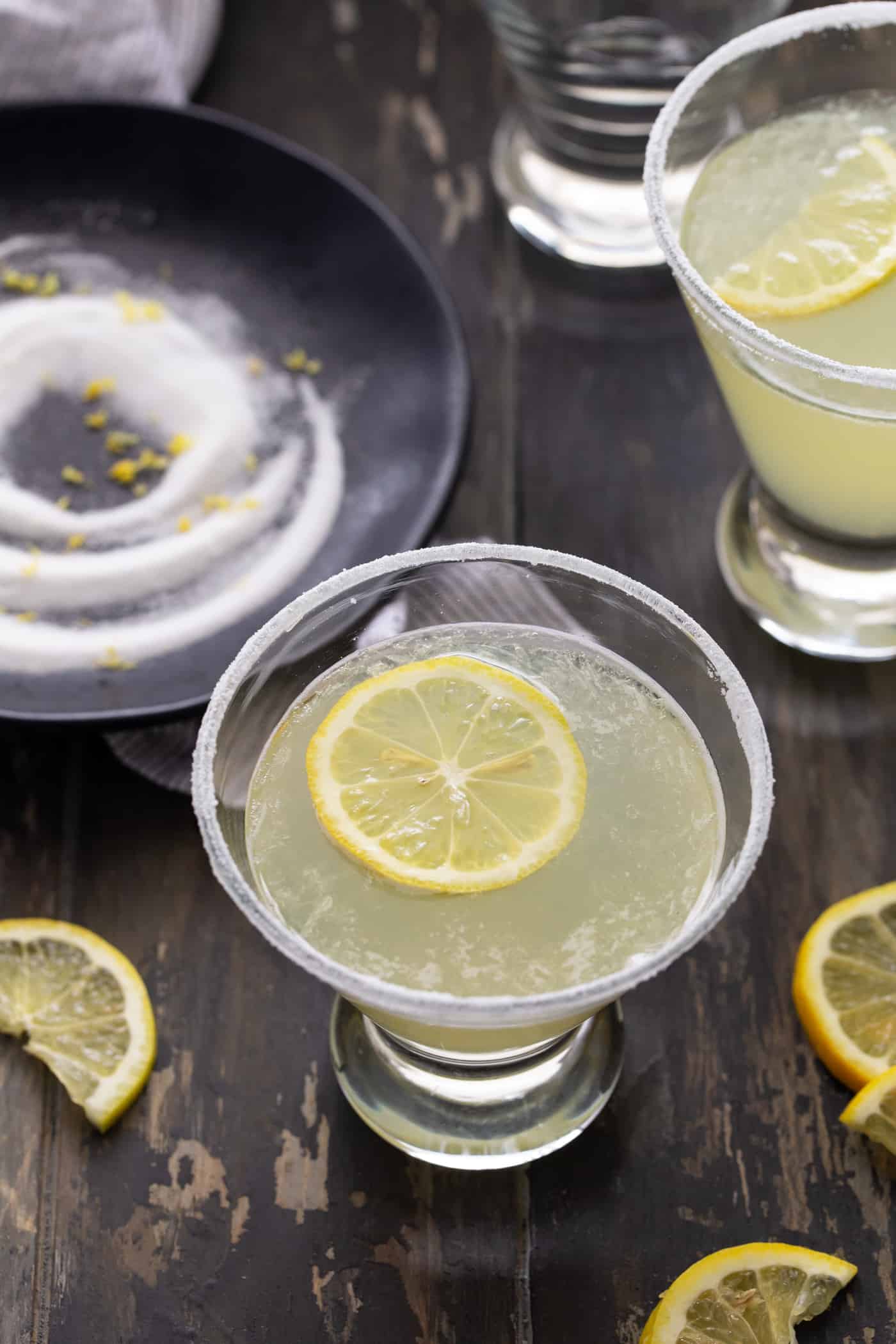 Spring has sprung which can only mean it is time for some fun cocktails, and this Lemon Drop Martini recipe is a perfect place to start! Perfectly balanced between sweet and tart, this lemon martini is an easy happy hour sipper that your friends will fall in love with.
So we are going to celebrate all things spring by planning a happy hour, and you can bet this Lemon Drop Martini will be on the menu.
What makes a Lemon Drop Martini so good?
As with all cocktails, they are only going to be as good as the individual ingredients. That's why we start with high-quality vodka. And for this martini, make sure it's a citrus flavor. I tried it with plain vodka and it's good, but the citrus vodka makes it fabulous.
And for this cocktail, please only use fresh lemon juice. Leave the stuff in the bottle for another time. This reamer is one of my favorite kitchen tools! It takes minimal effort to squeeze the lemon but the taste differential is monumental.
Promise.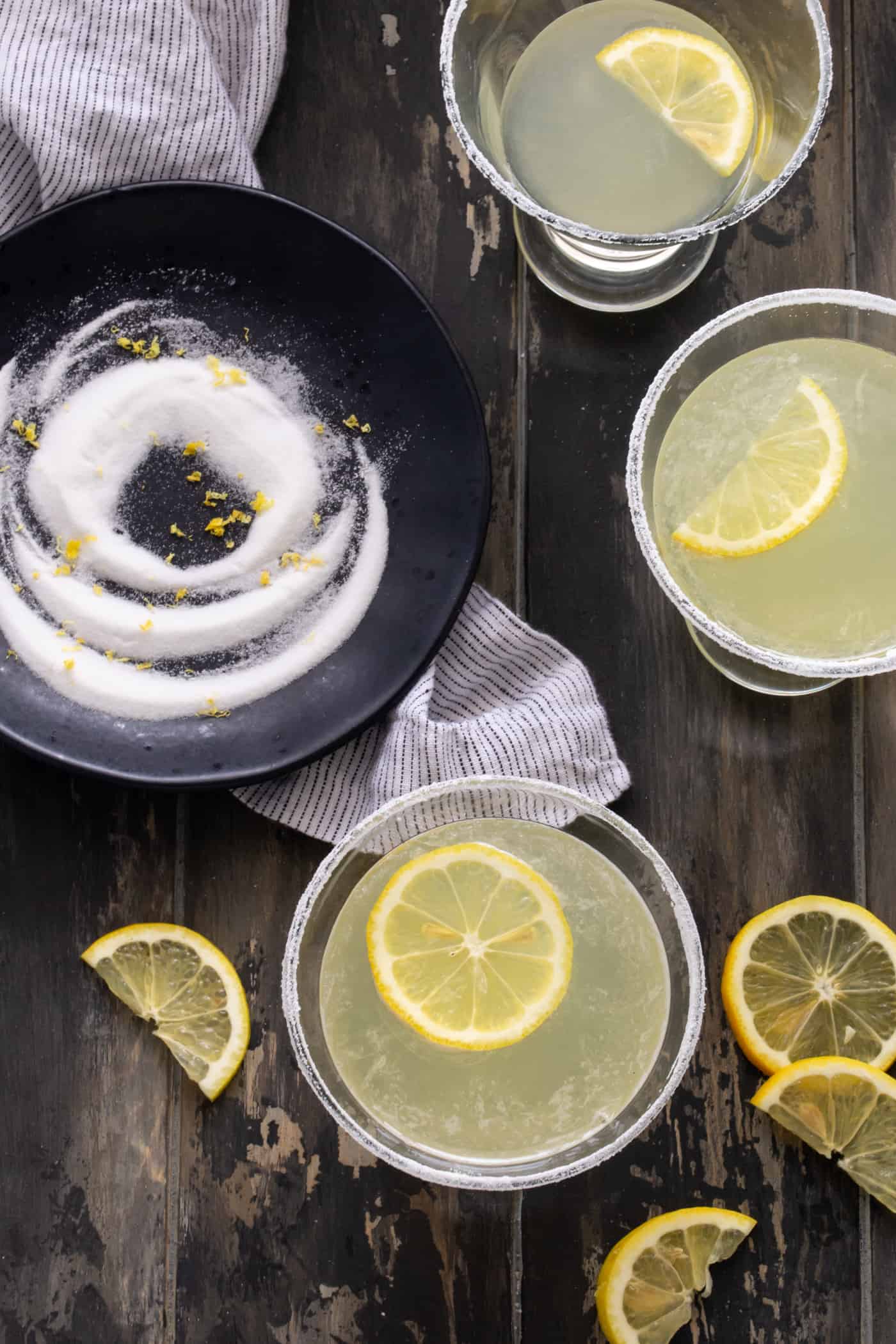 How do I make a sugared rim?
It's easy peasy and absolutely essential for this martini recipe. The little touches like this sugared rim are what make fun cocktails even more special.
The 30 seconds it takes to rim the glass with a lemon wedge and dip it in sugar is the difference between a good cocktail and one that your friends will be talking about.
What is simple syrup?
Simple syrup is a sweetener that is super easy to make at home. Just take equal parts sugar and water boil until the sugar dissolves. Boom. Done. And it keeps in the refrigerator which is great since so many cocktails call for it.
FYI, you can also buy it at the liquor store. No judgment here either way.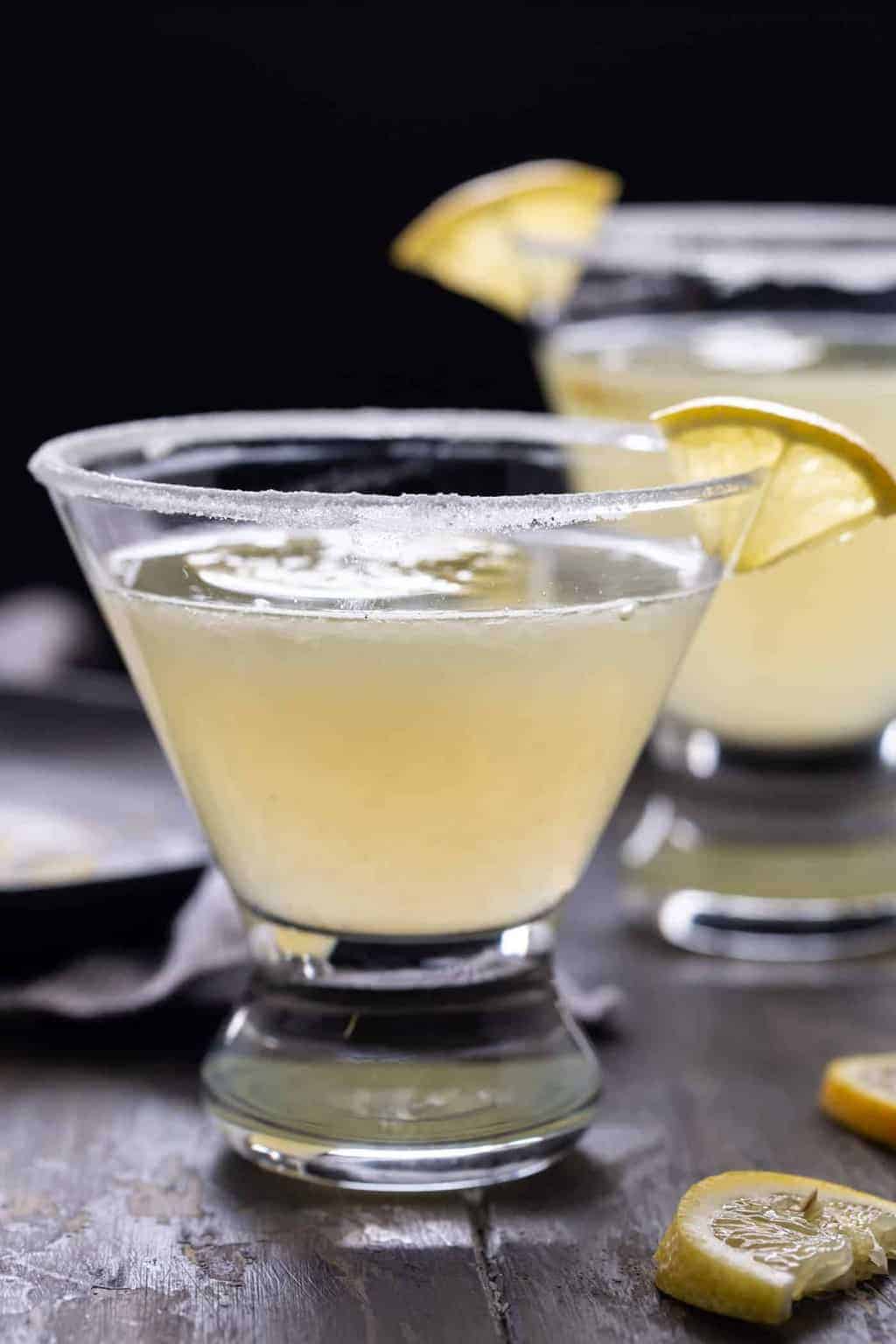 Can I make this lemon drop martini recipe into a batch cocktail?
Absolutely!! Make-ahead cocktails are music to my ears! I hate to miss out on time with my friends while I am working in the kitchen.
To make this cocktail as a bigger batch, just multiply the quantities by the desired number of cocktails and put them in a huge shaker or mason jar., Shake it well and keep refrigerated until serving. Shake again before serving and don't forget the sugared rims!
Happy Hours are always better when martinis are a part of the menu. Check out some of our other favorites!
Elderflower Martini – Garnish with Lemon®
Orange Martini– Crazy for Crust
Blueberry Martini– Garnish with Lemon®
Pomegranate Martini– Foodie Crush
Metropolitan Cranberry Martini– Garnish with Lemon®
Yield: 2 cocktails
Lemon Drop Martini Recipe
Light and refreshing this Lemon Drop Martini recipe is a fabulous happy hour sipper.
Ingredients
4 ounces Citrus Vodka
2 ounces Triple Sec
3 ounces fresh lemon juice
lemon wedges
Instructions
Place super fine sugar on a small plate.
Run a lemon wedge around the edge of the martini glasses and invert glass in the superfine sugar to coat the rim.
Fill a shaker with ice and add vodka, Triple Sec, simple syrup and lemon juice. Shake well.
Strain into glasses and serve immediately.
Nutrition Information:
Yield:
2
Serving Size:
5.5 ounces
Amount Per Serving:
Calories:

246
Total Fat:

0g
Saturated Fat:

0g
Trans Fat:

0g
Unsaturated Fat:

0g
Cholesterol:

0mg
Sodium:

3mg
Carbohydrates:

124g
Fiber:

1g
Sugar:

119g
Protein:

1g