Nothing screams party like fun cocktails! Light and refreshing, this Lemon Drop Martini recipe is just what your next happy hour needs.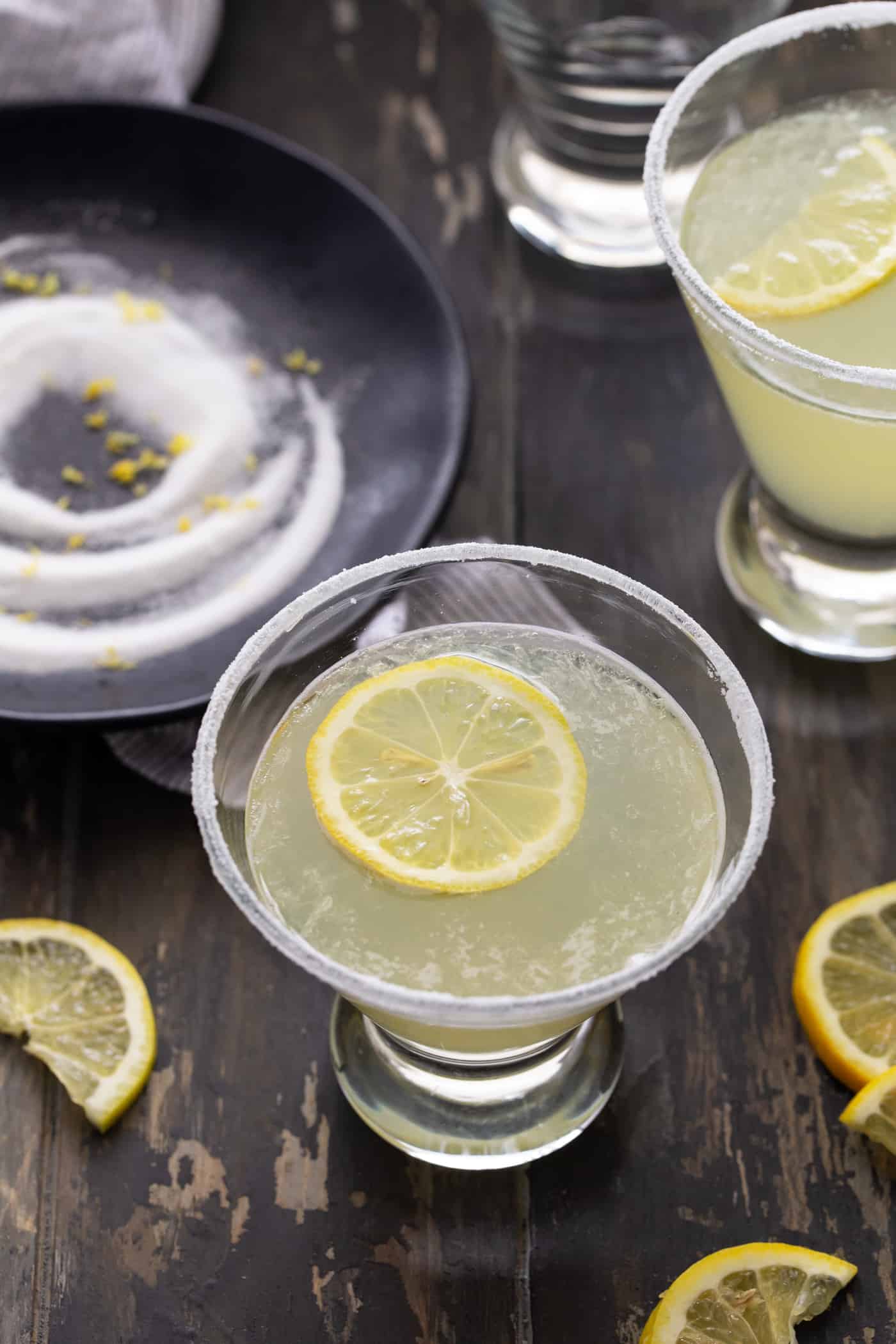 Winter, spring, summer or fall parties are always more fun when they include a signature cocktail, and this Lemon Drop Martini recipe is a tasty place to start! Perfectly balanced between sweet and tart, this lemon martini is an easy happy hour sipper that your friends will fall in love with.
So what are you waiting for? Plan your next happy hour, and add this Lemon Drop Martini to your menu. Just be warned. Once your friends sip on this fun cocktail, no other lemon drop martini will compare so be prepared to make them frequently. The good news? They are super easy and ao delicious that they are worth every second it takes to make them.
What is the best vodka for a Lemon Drop Martini?
As with all cocktails, they are only going to be as good as the individual ingredients. That's why we start with high-quality vodka. And for this martini, make sure it's a citrus flavor. I tried it with plain vodka and it's good, but the citrus vodka makes it fabulous.
Citrus Vodka is easy to find. I used Absolut Citron, but Belvedere, Grey Goose, and Stolichnaya also make citrus vodka.
Does fresh citrus juice make a difference in drinks?
YES! And for this cocktail, please only use fresh lemon juice. Leave the stuff in the bottle for another time. This reamer is one of my favorite kitchen tools! It takes minimal effort to squeeze the lemon but the taste differential is monumental.
Promise.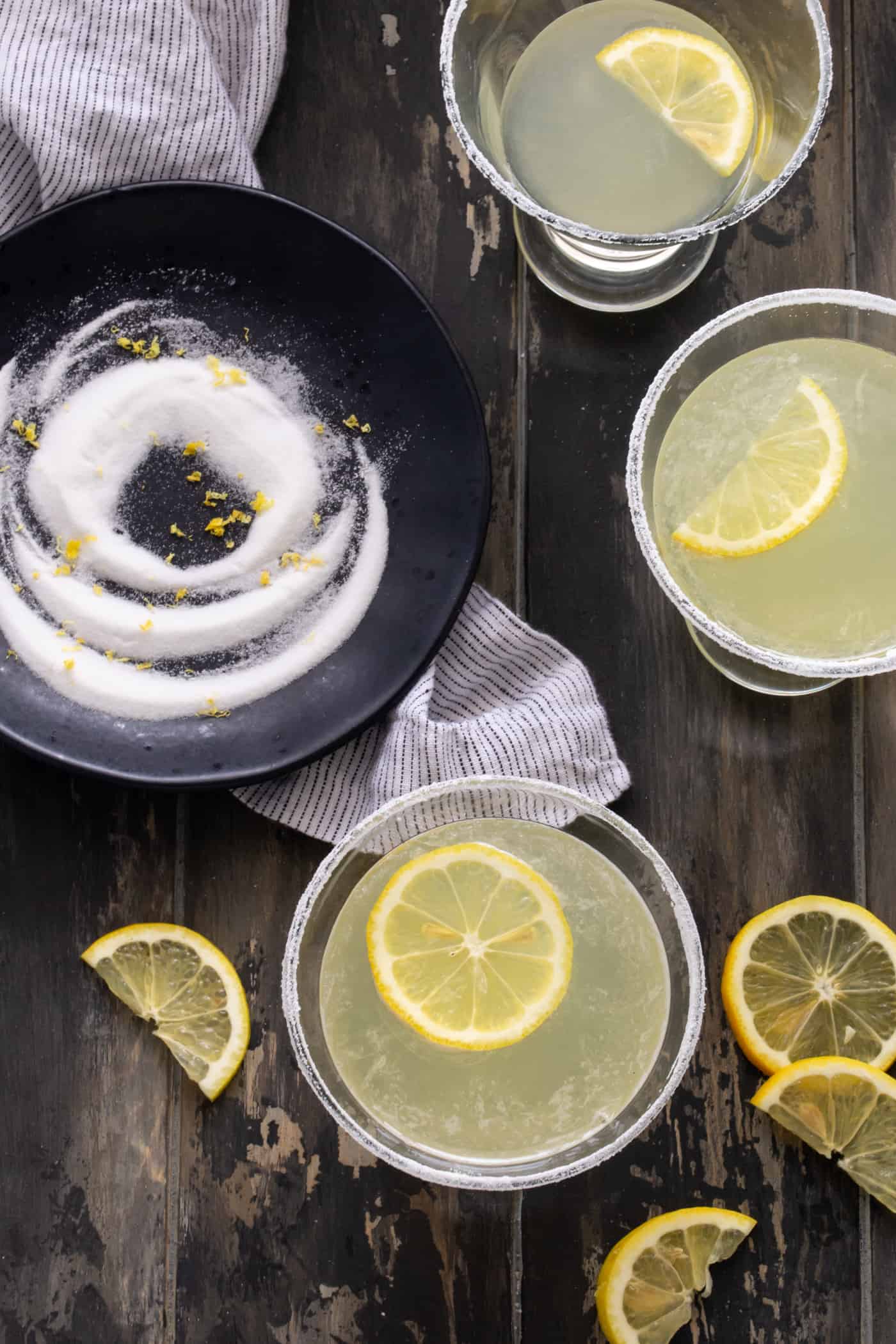 What are the ingredients for a Lemon Drop Martini?
Superfine Sugar
Lemons
Citrus Vodka
Simple Syrup
Triple Sec
What is superfine sugar?
Many cocktail recipes call for superfine sugar. Every well-stocked bar/kitchen should have some on hand because it does make a difference in your drinks.
Superfine sugar is simply granulated sugar that is a finer grain allowing it to dissolve faster. It sweetens without the grainy residue that regular sugar can leave behind.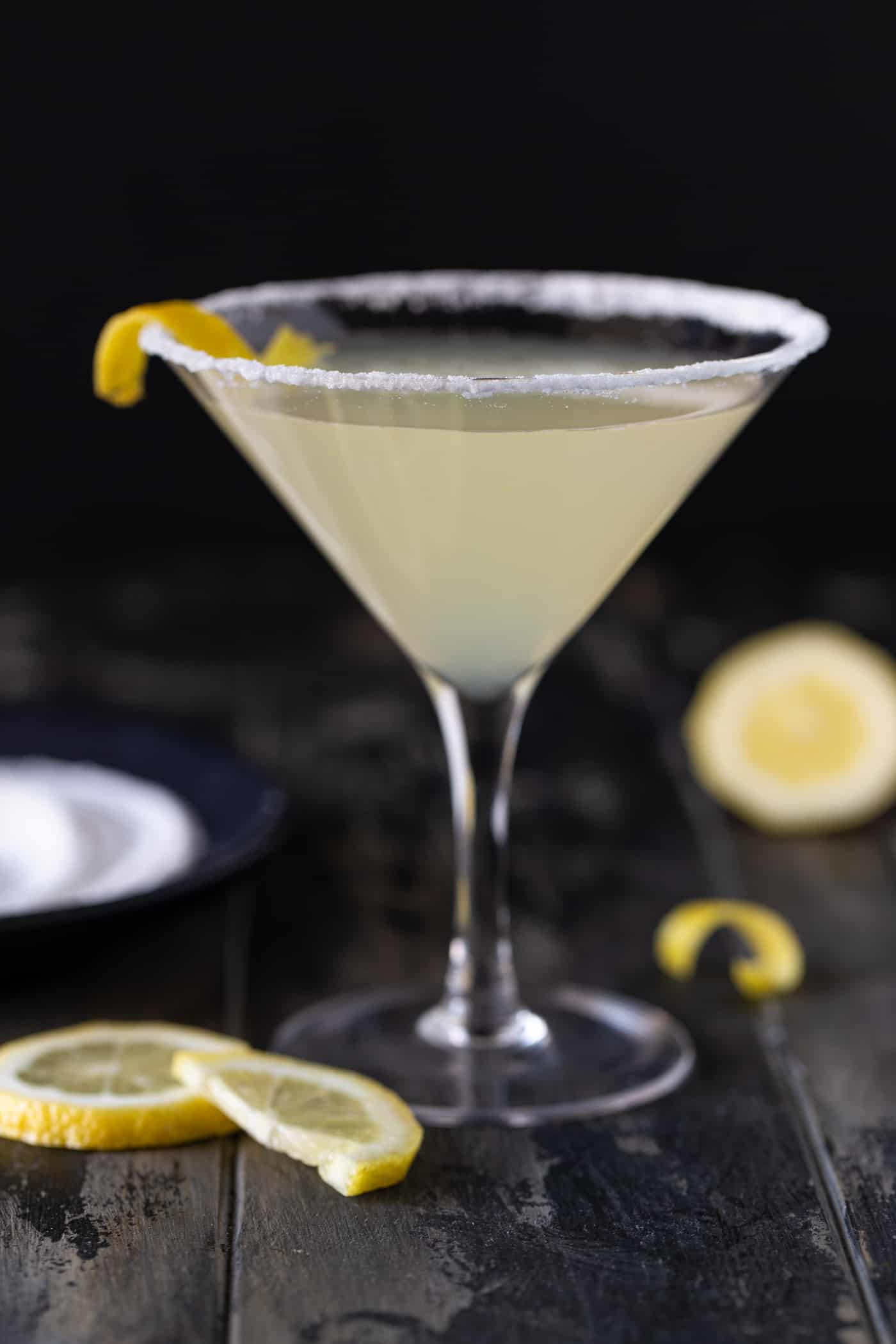 Where can I find superfine sugar?
It's also called Caster Sugar, Baker's Sugar, white cane super quick dissolve sugar or just Superfine Sugar.
It's easy to find. You can order it online or find it in the baking aisle of any grocery store. If you don't have any on hand, it's easy to make your own. Simply put a cup of granulated sugar in a food processor and pulse until almost smooth. Store in an airtight container for another use.
How do I make a sugared rim?
It's easy peasy and absolutely essential for this martini recipe. The little touches like this sugared rim are what make fun cocktails even more special.
Follow these simple steps to make the sugared rim on the glass.
Pour superfine sugar on to a small plate.
Cut a lemon into wedges and run a wedge around the rim of the martini glass to moisten the edge.
Invert the rim into the superfine sugar until evenly coated.
Turn the glass over and set aside until ready to use.
The 30 seconds it takes to rim the glass with a lemon wedge and dip it in sugar is the difference between a good cocktail and one that your friends will be talking about.
What is simple syrup and how do I make it?
Simple syrup is a sweetener that is super easy to make at home.
Take equal parts sugar and water and add to a small saucepan
Heat over medium heat until it boils.
Boil for 3 minutes or until the sugar dissolves.
Let syrup cool and pour into an airtight container. (I love to use mason jars)
Boom. Done.
The best news? You can make this a couple of days ahead of time so there is less work the day of your party, Simple syrup keeps in the refrigerator for up to two weeks, which is great since so many cocktails call for it.
FYI, you can also buy simple syrup at the liquor store. Look for it in the aisle with all of the mixers. No judgment here either way. I've used store-bought plenty of times, but once you find how easy it is to make, you might change your mind.
What other vodka cocktails can I make with simple syrup?
Now that you have a batch of simple syrup on hand, check out these other vodka cocktails that you can make!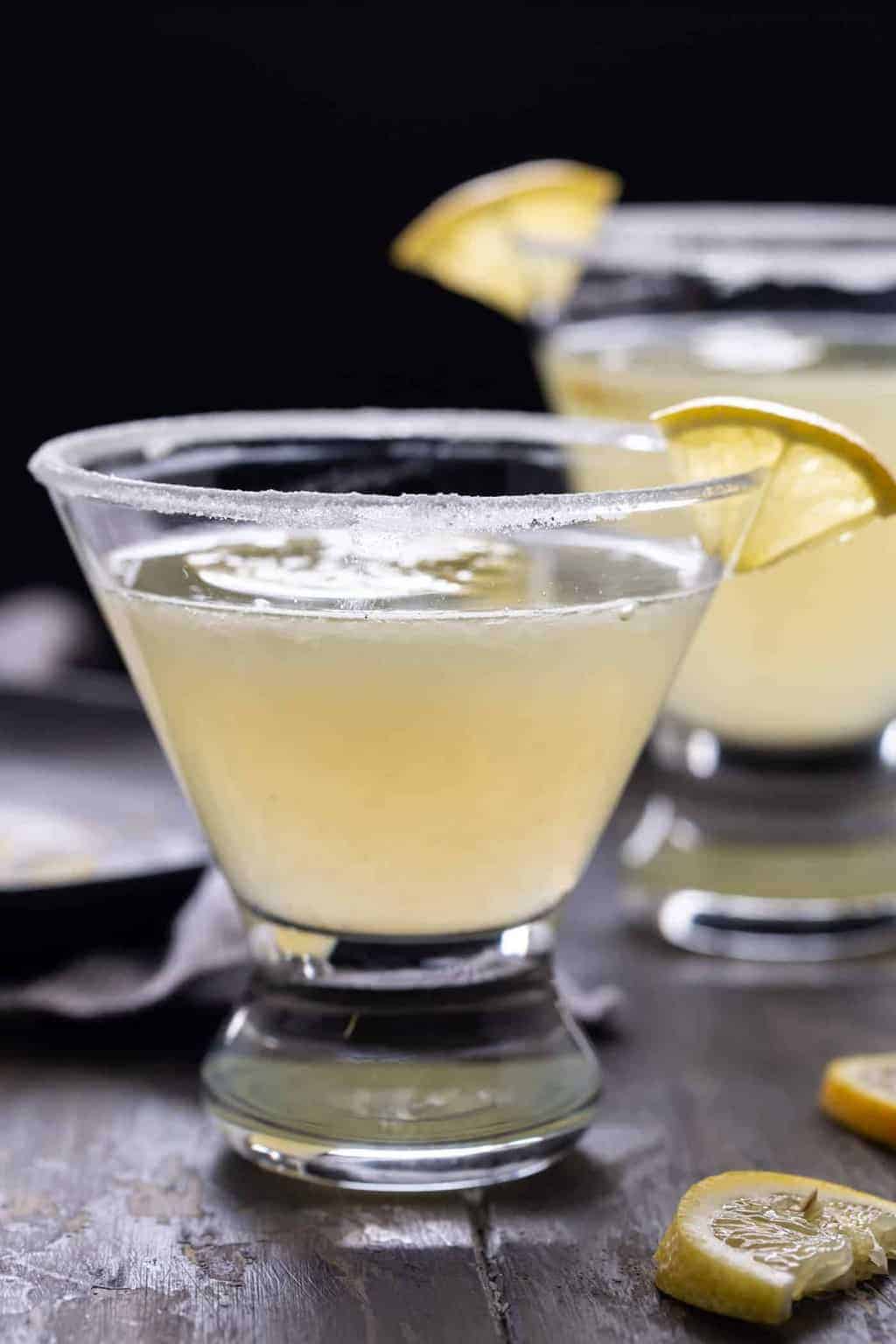 When do I shake or stir a cocktail?
Here's a quick cheat sheet: Shake Citrus, Stir Alcohol.
Drinks that have citrus juice in them need to be shaken, not stirred. Shaking a cocktail with citrus breaks down the citrus juice and makes the cocktail light and refreshing instead of acrid and acidic.
Citrus juice and alcohol have different densities and won't mix easily unless they are shaken together.
However, if a drink is all liquor, like an old fashioned, manhattan or negroni, stirring is the way to go.
Can I make this lemon drop martini recipe into a batch cocktail?
Absolutely!! Make-ahead cocktails are music to my ears! I hate to miss out on time with my friends while I am working in the kitchen.
Follow these simple steps to make this martini recipe into a batch cocktail!
Simply multiply the quantities by the desired number of cocktails.
Put them in a huge shaker or mason jar.
Shake it well
Keep refrigerated until serving.
Shake again before serving
Don't forget the sugared rims!
Cocktails are always a priority on Garnish with Lemon. Check out all of our cocktail recipes to find some new favorites!
Happy Hours are always better when martinis are a part of the menu. Check out some of our other favorites!
Elderflower Martini – Garnish with Lemon®
Orange Martini– Crazy for Crust
Blueberry Martini– Garnish with Lemon®
Pomegranate Martini– Foodie Crush
Metropolitan Cranberry Martini– Garnish with Lemon®
You can't host a happy hour without snacks! Check out our favorite easy, make-ahead appetizer recipes!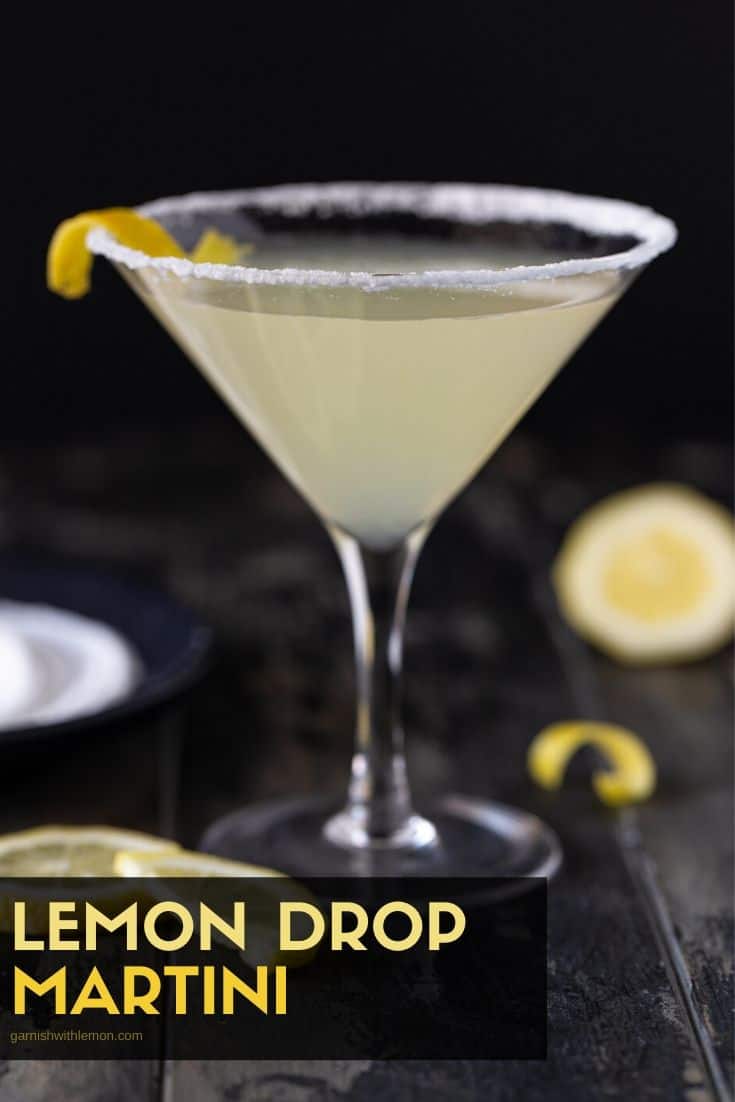 Yield: 2 cocktails
Lemon Drop Martini Recipe
Light and refreshing this Lemon Drop Martini recipe is a fabulous happy hour sipper.
Ingredients
4 ounces Citrus Vodka
2 ounces Triple Sec
3 ounces fresh lemon juice
lemon wedges
Instructions
Place super fine sugar on a small plate.
Run a lemon wedge around the edge of the martini glasses and invert glass in the superfine sugar to coat the rim.
Fill a shaker with ice and add vodka, Triple Sec, simple syrup and lemon juice. Shake well.
Strain into glasses and serve immediately.
Recommended Products
As an Amazon Associate and member of other affiliate programs, I earn from qualifying purchases.
Nutrition Information:
Yield:
2
Serving Size:
5.5 ounces
Amount Per Serving:
Calories:

246
Total Fat:

0g
Saturated Fat:

0g
Trans Fat:

0g
Unsaturated Fat:

0g
Cholesterol:

0mg
Sodium:

3mg
Carbohydrates:

124g
Fiber:

1g
Sugar:

119g
Protein:

1g
Simple and refreshing this 4 ingredient Lemon Drop Martini recipe will quickly become your go-to happy hour cocktail!