Look like a master bartender with this Lemon Drop Martini recipe! This easy vodka cocktail is the perfect balance of sweet and sour and is guaranteed to be a hit!
This post was originally published on 4/22/19 and updated with new content on 1/29/20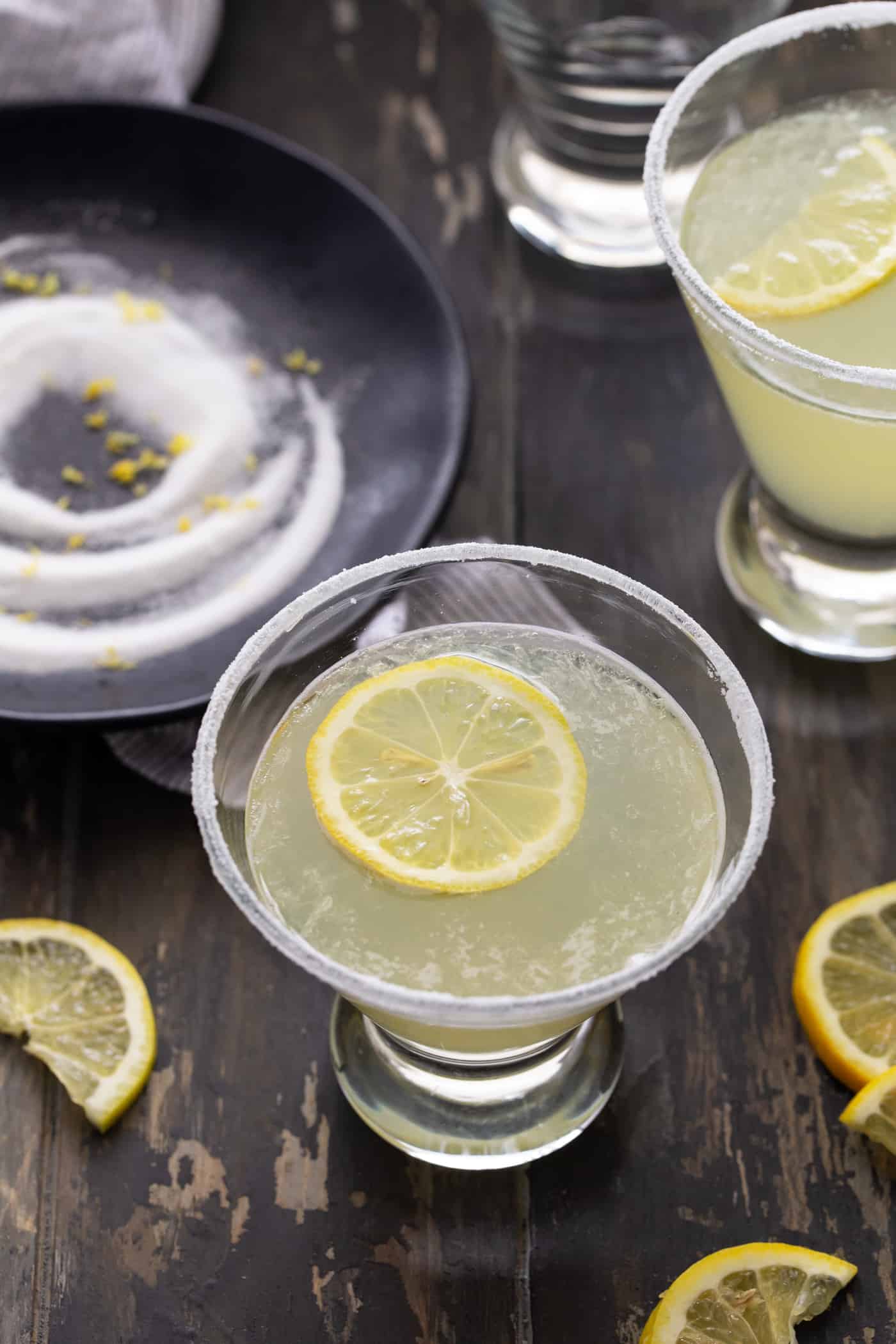 Bright and refreshing, this Lemon Drop Martini recipe is the perfect balance of sweet and sour!  This easy vodka cocktail will make you look like a master bartender and is the special (but EASY) touch your next happy hour needs.
Have you ever had a fabulous cocktail out at a restaurant, tried to recreate it and ended up disappointed?
After all, parties are always more fun when they include a signature cocktail, and this Lemon Drop Martini recipe is a tasty place to start!
Perfectly balanced between sweet and tart, this lemon martini is an easy happy hour sipper that your friends will fall in love with.
What is the best vodka for a Lemon Drop Martini?
And for this martini, make sure it's a citrus flavor. I tried it with plain vodka and it's good, but the citrus vodka makes it fabulous. 
Citrus vodka is easy to find. I used Absolut Citron, but Belvedere, Grey Goose, and Stolichnaya also make citrus vodka.
Does fresh citrus juice make a difference in drinks?
YES! And for this cocktail, please only use fresh lemon juice. Leave the stuff in the bottle for another time.
This reamer is one of my favorite kitchen tools!  It takes minimal effort to squeeze the lemon but the taste differential is monumental. 
Promise.
Ingredients
Superfine Sugar

Lemon Juice-fresh is best! Save the bottle for another time.

Citrus Vodka

Triple Sec
What is superfine sugar?
Many cocktail recipes call for superfine sugar. Every well-stocked bar/kitchen should have some on hand because it does make a difference in your drinks.
Superfine sugar is simply granulated sugar that is a finer grain allowing it to dissolve faster. It sweetens without the grainy residue that regular sugar can leave behind.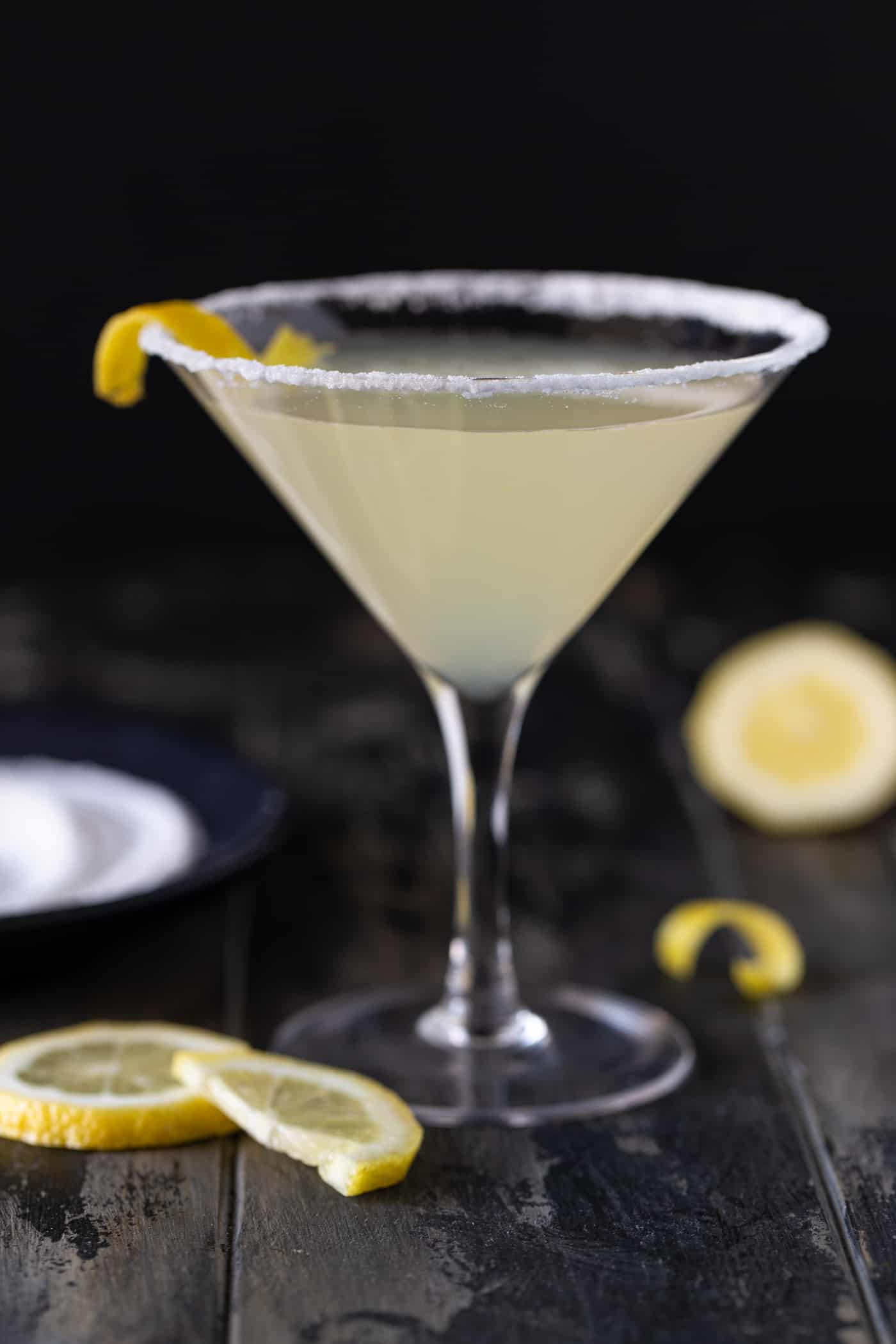 Where can I find superfine sugar?
It's also called Caster Sugar, Baker's Sugar, white cane super quick dissolve sugar or just Superfine Sugar.
If you don't have any on hand, it's easy to make your own.
Simply put a cup of granulated sugar in a food processor and pulse until almost smooth. Store in an airtight container for another use.
How to rim a glass with sugar
It's easy peasy and absolutely essential for this martini recipe. The little touches like this sugared rim are what make fun cocktails even more special.
Follow these simple steps to rim the martini glass with sugar.
The 30 seconds it takes to rim the glass with a lemon wedge and dip it in sugar is the difference between a good cocktail and one that your friends will be talking about.
What is simple syrup and how do I make it?
Simple syrup is a sweetener made from dissolving sugar and water together. It's super easy to make at home.
(I love to use mason jars)
Boom. Done.
The best news? You can make this a couple of days ahead of time so there is less work the day of your party, Simple syrup keeps in the refrigerator for up to two weeks, which is great since so many cocktails call for it.
FYI, you can also buy simple syrup at the liquor store. Look for it in the aisle with all of the mixers. No judgment here either way. I've used store-bought plenty of times, but once you find how easy it is to make, you might change your mind.
What is Triple Sec?
Triple sec is a clear, slightly sweet orange liqueur that is commonly used in cocktails. Other Orange Liqueurs are Cointreau and Grand Marnier.
You can easily find Triple Sec in the liqueur aisle where alcohol is sold.
When do I shake or stir a cocktail?
Here's an easy way to remember: Shake Citrus, Stir Alcohol.
Drinks that have citrus juice in them need to be shaken, not stirred and here's why:
1. Shaking a cocktail with citrus breaks down the citrus juice and makes the cocktail light and refreshing instead of acrid and acidic. 
2. Citrus juice and alcohol have different densities and won't mix easily unless they are shaken together.
Can I make this lemon drop martini recipe into a batch cocktail?
Make-ahead cocktails are music to my ears! I hate to miss out on time with my friends while I am working in the kitchen. 
Follow these simple steps to make this martini recipe into a batch cocktail!
Simply multiply the quantities by the desired number of cocktails.
Put them in a huge shaker or mason jar WITHOUT ice. (otherwise you end up with a watered down drink and no one wants that.)
Shake it well
Keep refrigerated until serving.
Shake again before serving
Don't forget the sugared rims!
DIY Lemon Drop Sour Mix
If you don't want to make the whole cocktail ahead of time you can make the mix. To do this simply mix together the lemon juice and the simple syrup (2:1 ratio)  and you will have a Fresh Lemon Sour Mix.
(enough for 8 lemon drops)
12 ounces fresh lemon juice
6 ounces simple syrup
Shake together and store in the refrigerator for up to 3 days.
Make your Lemon Drop Martini a Mocktail
Mocktails are always a great option to offer at parties.  Not everyone chooses to drink alcohol but that doesn't mean that you have to miss out on the fun cocktails.
You can still enjoy the flavor of a delicious lemon drop martini. Simply omit the alcohol and use club soda in its place. Serve it with a sugared rim and no one will know the difference!
So what are you waiting for?
Plan your next happy hour, and add this Lemon Drop Martini to your menu.
Just be warned. Once your friends sip on this fun cocktail, no other lemon drop martini will compare so be prepared to make them all the time. 
The good news? They are super easy and so delicious that they are worth every second it takes to make them. 
What other vodka cocktails can I make with simple syrup?
Now that you have a batch of simple syrup on hand, check out these other vodka cocktails that you can make!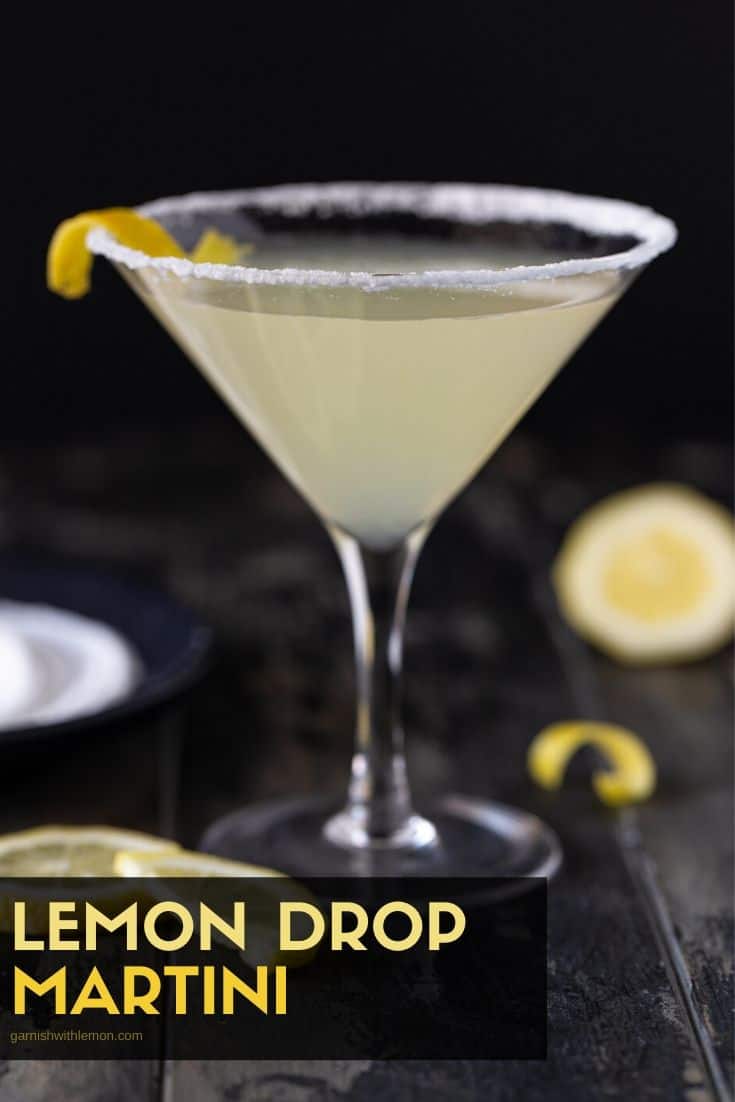 Happy Hours are always better when fun cocktails are a part of the menu.
You can't host a happy hour without snacks! Check out our favorite easy, make-ahead appetizer recipes that pair perfectly with cocktails!
Simple and refreshing this 4 ingredient Lemon Drop Martini recipe will quickly become your go-to happy hour cocktail!