Perfectly balanced between sweet and tart, this Metropolitan Cranberry Martini recipe is a tasty twist on your traditional Cosmo. And it's easy to shake for one or make a batch for a crowd!
Metropolitan Cranberry Martini
Now there are many martini recipes out there that I adore, especially when we are entertaining friends
These, these and these often make an appearance at our gatherings. But this Metropolitan Cranberry Martini recipe is one of our go-tos. 
Every time I drink one, I wonder why it's been so long since I've sipped on one. And then it dawned on me that I haven't shared this easy martini recipe with you yet!
Filled with cranberry and lime flavors and perfectly balanced between sweet and tart, this Metropolitan Cranberry Martini recipe needs to be added to your cocktail files. 
What ingredients do I need to make a Vodka Cranberry Martini?
cranberry juice
fresh lime juice
blackberry vodka
triple sec
fresh cranberries for garnish (optional)
Does it matter if I use blackberry vodka or plain vodka?
Yes, it does! A lot! Even though it is a small amount, the blackberry vodka gives this drink it's berry flavor and adds a lot of depth to the cranberry and orange.
So save your plain vodka for some of our other martinis, like the Elderflower Martini, and pick up a small bottle of blackberry vodka for this one. You won't regret it.
What is the difference between Triple Sec, Cointreau and Grand Marnier?
They are all orange liqueurs but all have a different flavor profile, alcohol content and price.
Triple Sec is a drier style of orange liqueur with a lower alcohol content than Cointreau or Grand Marnier. It's versatile and adds orange flavor and sweetness without the hefty price tag. You can pick up a bottle of triple sec for anywhere from $5.99- $15.99
Cointreau has a crisp smooth orange flavor and can be served on the rocks or mixed in cocktails. Its alcohol content is 80 proof and is about $25 a bottle.
Grand Marnier is a mix of brandy, orange essence, and sugar. It's very smooth and drinkable but will change the flavor of a drink especially since it has the brandy in it. We love to add it to our margaritas for special occasions. But be careful, it packs some punch at 80 proof and around $30 a bottle.
Unsweetened cranberry juice vs. cranberry juice cocktail
You'll notice that this recipe calls for sweetened cranberry juice and ask yourself if it's really necessary.
Unsweetened cranberry juice means no additional sugars have been added to the juice where the sweetened varieties often combine additional fruit juices and sugars to mellow the naturally tart flavor of the cranberries (think apple, pear, and even grape juice concentrates).
Because you aren't adding any additional simple syrup, definitely seek out the sweetened cranberry juice. If you try to use unsweetened cranberry juice, the cocktail will be too tart.
What's the difference between a Cosmopolitan martini and a Metropolitan Cranberry Martini?
How many Cosmo lovers are out there?
Let me introduce to her much smoother sister, the Metropolitan Martini recipe. Just looking at this pretty cocktail, you would think it's a Cosmopolitan martini, but there is a small yet significant difference between the two: the vodka.
The Metropolitan uses blackberry vodka instead of plain vodka and that, in my opinion, makes for a much more delicious cocktail.Your friends and family will ooh and ahh over it.
Don't believe me?
Try the two - the Metropolitan and the Cosmo - side by side and decide for yourself. And then I promise I won't say "I told you so" when you are done.
Batch Cocktail Tip:
This makes a great batch cocktail. We use our
giant shaker
to mix them all at once!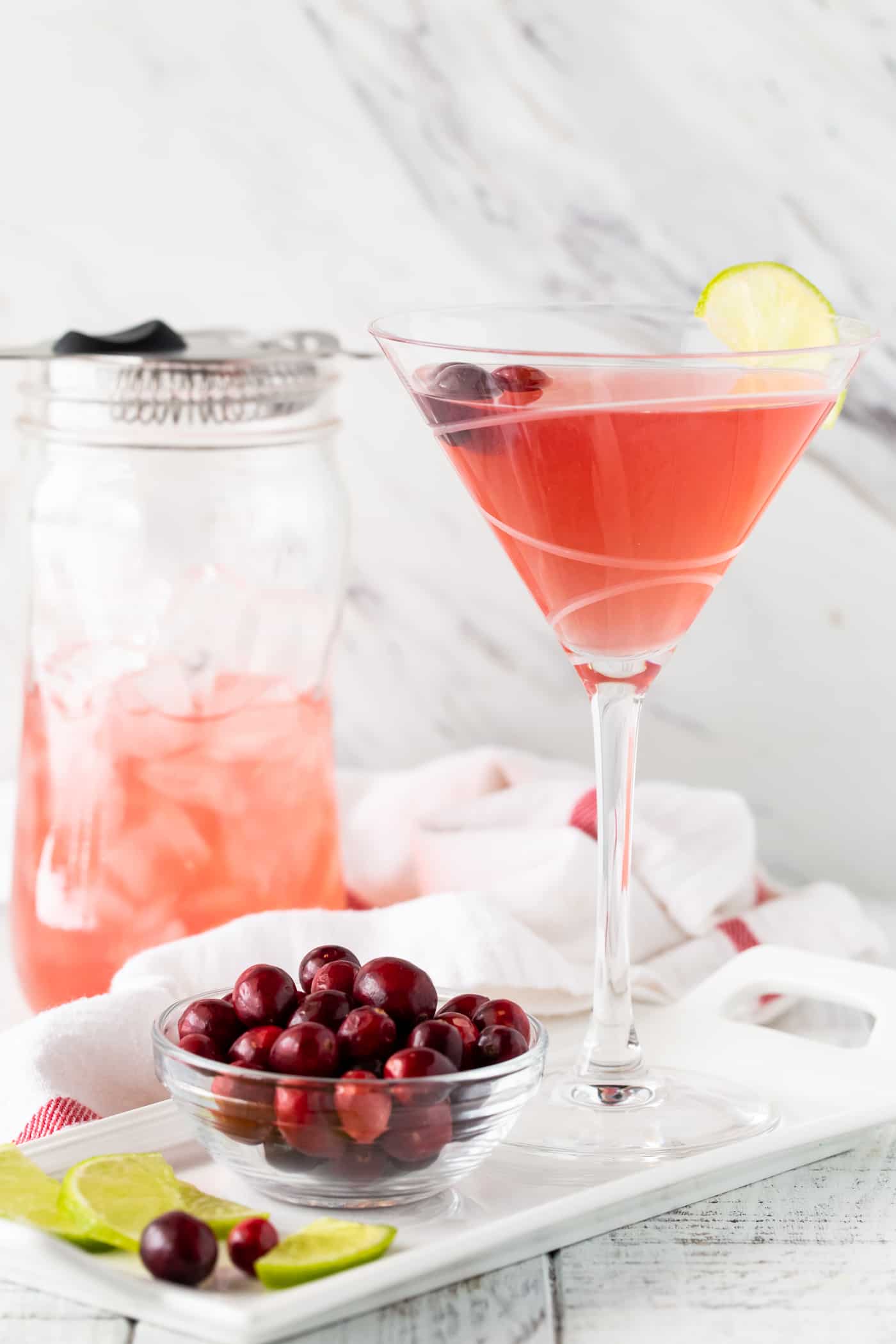 What equipment do I need to make a vodka martini?
Every good home bar has a well-stocked bar with the following items in it
Martini shaker and strainer
Jiggers
Bar spoon
Muddler
Variety of cocktail glasses.
Looking for more suggestions? Check out our  5 part series of How to Stock your Home bar. It answers all of your questions.
Best Way to Make Cranberry Martinis
Here's a quick cheat sheet: Shake Citrus, Stir Alcohol.
Drinks that have citrus juice in them need to be shaken, not stirred. Shaking a cocktail with citrus breaks down the citrus juice and makes the cocktail light and refreshing instead of acrid and acidic.
Citrus juice and alcohol have different densities and won't mix easily unless they are shaken together.
However, if a drink is all liquor, like an old fashioned, manhattan or negroni, stirring is the way to go.
DIY Martini Bar for Easy Entertaining 
To make entertaining easier, we set up a self-service martini bar for our guests which has become a signature feature at our holiday party and it's such a fun addition to any gathering.
People always ask to help the hosts, and making their own cocktails is the perfect job to give them.
We set up several different martini stations around a table and include recipe cards with a few signature martinis, all of the alcohol needed for those drinks and a couple of trusty martini shakers. This way we get to enjoy the party and not play bartender all night. Genius, right?
Lucky for us, our friends haven't figured out that we are actually putting them to work. Let's hope it stays that way.
After all, who wants to host a party and not enjoy it?
Martinis are always hit with a group! Check out some of our favorites!
Yield: 1
Metropolitan Cranberry Martini
Perfectly balanced between sweet and tart this Metropolitan Cranberry Martini is an updated twist on the traditional cosmo!
Ingredients
2 ounces Blackberry Vodka
2 ounces Triple Sec
1 ounce Cranberry juice
1 ounce Lime juice
Fresh cranberries or lime wedge for garnish (optional)
Instructions
Place vodka, triple sec, cranberry juice and lime juice in a shaker with ice.
Shake well and strain into martini glass.
Nutrition Information:
Yield:
1
Serving Size:
6 ounces
Amount Per Serving:
Calories:

350
Total Fat:

1g
Saturated Fat:

0g
Trans Fat:

0g
Unsaturated Fat:

0g
Cholesterol:

0mg
Sodium:

7mg
Carbohydrates:

46g
Fiber:

9g
Sugar:

27g
Protein:

2g
The Metropolitan Cranberry Martini is a tasty twist on a traditional cosmopolitan martini and is made with blackberry vodka, cranberry juice and lime juice.