These easy Apple Crisp Bars taste just like a classic apple crisp but in portable form making them a delicious fall dessert recipe for potlucks.
Once we start picking apples in the fall, I'm on the hunt for all the apple recipes I can find.
We have our favorites, of course - like these ooey-gooey Caramel Apple Cinnamon Rolls, this irresistible Apple Cinnamon Pull Apart Bread and a crazy good Easy Apple Cream Cheese Danish - but straight up apple crisp is always requested, too.
The bummer about apple crisp, though, is that it's not portable. I can't enjoy a big bowl of it when I'm camped along the sidelines during my kids weekend athletic events (well, not gracefully anyway).
These Apple Crisp Bars are the perfect solution: all the fall flavor of apple crisp (especially the crunchy topping everyone loves) in a go-anywhere form.
Apple Crisp Bars recipe
Most people have a favorite apple crisp recipe. Some have shortbread crusts, some use oats and others just flour. Some are simply flavored with sugar and cinnamon while others go all in with spices like nutmeg, cloves and even ginger.
These apple squares may more closely resemble apple pie bars because of the thick layer of sliced apples, but the oat and flour crust and topping decidedly land these bars in the apple crisp category.
This recipe for Apple Crisp Bars is adapted from a book called One Bowl Baking by Yvonne Ruperti. Whenever I do my library run with the kids, I often spend a few moments cruising around in the cookbook section to see what catches my eye.
Yvonne's simplified approach to baking where you mix everything in one bowl or pan was my cookbook pick during last week's library visit, and these easy, aromatic Apple Crisp Bars are the result.
The crust and the topping are the same oat mixture, separated by a layer of sweet, seasoned apples, and the result is a double dose of the crunchy topping that everyone always fights for anyway.
What type of apples are best for Apple Crisp Bars?
Apple varieties vary by region. Here in Minnesota, my go-to baking apple during apple season is a Haralson apple. They are crisp, juicy and hold their shape well when baked. 
If the apple crisp craving strikes and Haralsons are not in season, I often reach for Granny Smith apples because they are available year round.
I've also had good success mixing a few types of apples in this recipe (Honeycrisp and Haralson, for example). They key here is to make sure you choose apples that have a firm texture and retain their shape when baked. Apples that are a bit softer will not stand up when cut into bar form. 
I also suggest that you taste your apples before baking and adjust the sugar as needed to hit the perfect "sweet spot", especially if baking with local apples or a combination of apples. 
Can I make gluten-free Apple Crisp Bars?
Yes!
Apple crisp as a whole is a fairly forgiving recipe, and adding gluten-free ingredients to these bars is no exception. 
I've had success swapping in gluten-free oats and gluten-free flour for the regular oats and all-purpose flour in this recipe. You get the same great flavor with just a few tweaks to accommodate dietary restrictions.
Tip: If you're not used to baking with gluten-free flour, I suggest buying a brand that is labeled as a 1-to-1 replacement for regular flour. Cup 4 Cup and King Arthur's Measure for Measure are both reliable gluten-free flours that don't require you to add any other ingredients to the recipe (like xantham gum).
Can you make these apple bars ahead of time?
I've made these Apple Crisp Bars up to two days ahead of time, and they still have fantastic flavor. I suggest storing the baked bars in a sealed container in the refrigerator until ready to serve.
You can also pop them in the oven to warm them up slightly before serving, especially if topping them with a scoop of vanilla ice cream!
How to freeze Apple Crisp Bars
Apple crisp freezes very well, and these bars are no exception. Follow these quick tips for freezing your apple crisp bars:
Assemble the recipe as directed in a metal pan. Avoid a glass pan as going from freezer to hot oven may cause the pan to shatter.
Wrap tightly in foil and place in freezer for up to two months.
When ready to bake, follow the baking instructions in the recipe and add on an additional 15-30 minutes of baking time. If the top is browning too quickly, tent lightly with foil.

I used the following equipment to make these Apple Crisp Bars:
Tuck these Apple Crisp Bars in a lunch box, bring a pan to a potluck or plate them and serve with a big ol' scoop of ice cream and caramel sauce (just like these Caramel Apple Cheesecake Bars). Or eat one straight up for breakfast.
No judgment here.
Yield: 12 bars
Apple Crisp Bars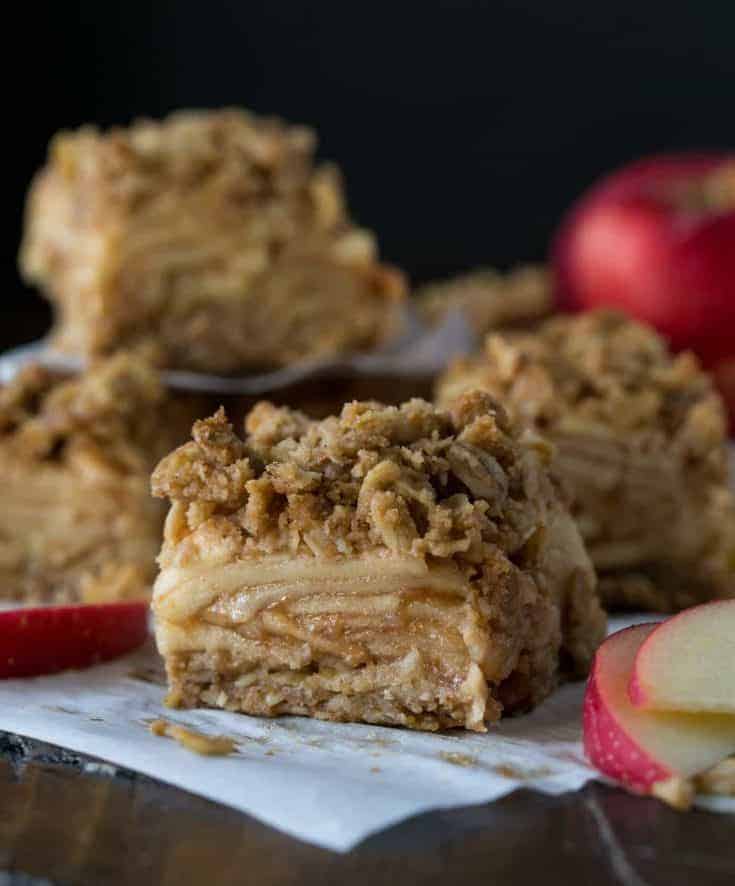 These easy Apple Crisp Bars taste just like a classic apple crisp but in portable form making them a delicious fall dessert recipe for potlucks. 
Total Time
1 hour
20 minutes
Ingredients
1 cup old fashioned oats
1/2 cup plus 2 1/2 tablespoons flour, divided
1/2 cup packed brown sugar
1 1/2 teaspoons ground cinnamon, divided
1/2 teaspoon ground nutmeg, divided
1/2 teaspoon ground cloves, divided
1/4 teaspoon salt
Scant 1/4 teaspoon baking soda
6 tablespoons unsalted butter, melted
6 cups peeled and thinly sliced Granny Smith apples (about 3 large apples)
1/4 cup granulated sugar
1 tablespoon fresh lemon juice
Instructions
Preheat oven to 375 degrees. Line an 8 x 8 baking dish with parchment so the paper hangs over all four sides. Set aside.
Stir together oats, 1/2 cup plus 2 tablespoons flour, brown sugar, 1 teaspoon cinnamon, 1/4 teaspoon nutmeg, 1/4 teaspoon cloves, salt and baking soda in a medium bowl. Pour melted butter into oat mixture and stir to combine. Place 1/2 cup oat mixture aside and press remaining into bottom of baking dish.
Combine apples, granulated sugar, lemon juice, remaining 1/2 tablespoon flour, 1/2 teaspoon cinnamon, 1/4 teaspoon nutmeg and 1/4 teaspoon cloves. Stir to evenly coat. Dump apples on top of crust in baking dish and gently even them out. Crumble remaining 1/2 cup oat mixture on top of apples. Cover foil and bake for 30 minutes. Remove foil and bake for another 25-30 minutes or until crumb is golden brown. Cool on a wire rack.
Slice bars once completely cool and cover loosely until ready to serve.
Recommended Products
As an Amazon Associate and member of other affiliate programs, I earn from qualifying purchases.
Nutrition Information:
Yield:
12
Serving Size:
1 bar
Amount Per Serving:
Calories:

161
Total Fat:

6g
Saturated Fat:

4g
Trans Fat:

0g
Unsaturated Fat:

2g
Cholesterol:

15mg
Sodium:

75mg
Carbohydrates:

25g
Fiber:

2g
Sugar:

17g
Protein:

1g
Love a classic apple crisp? You're going to adore these easy Apple Crisp Bars. They have all the flavor of your favorite fall dessert in portable form!