The best part of any fruit crisp is the crunchy streusel topping, so we added it TWICE to these delicious Cinnamon Apple Bars - in the crust AND the topping. These apple squares are a crowd-pleasing fall dessert recipe for any occasion!.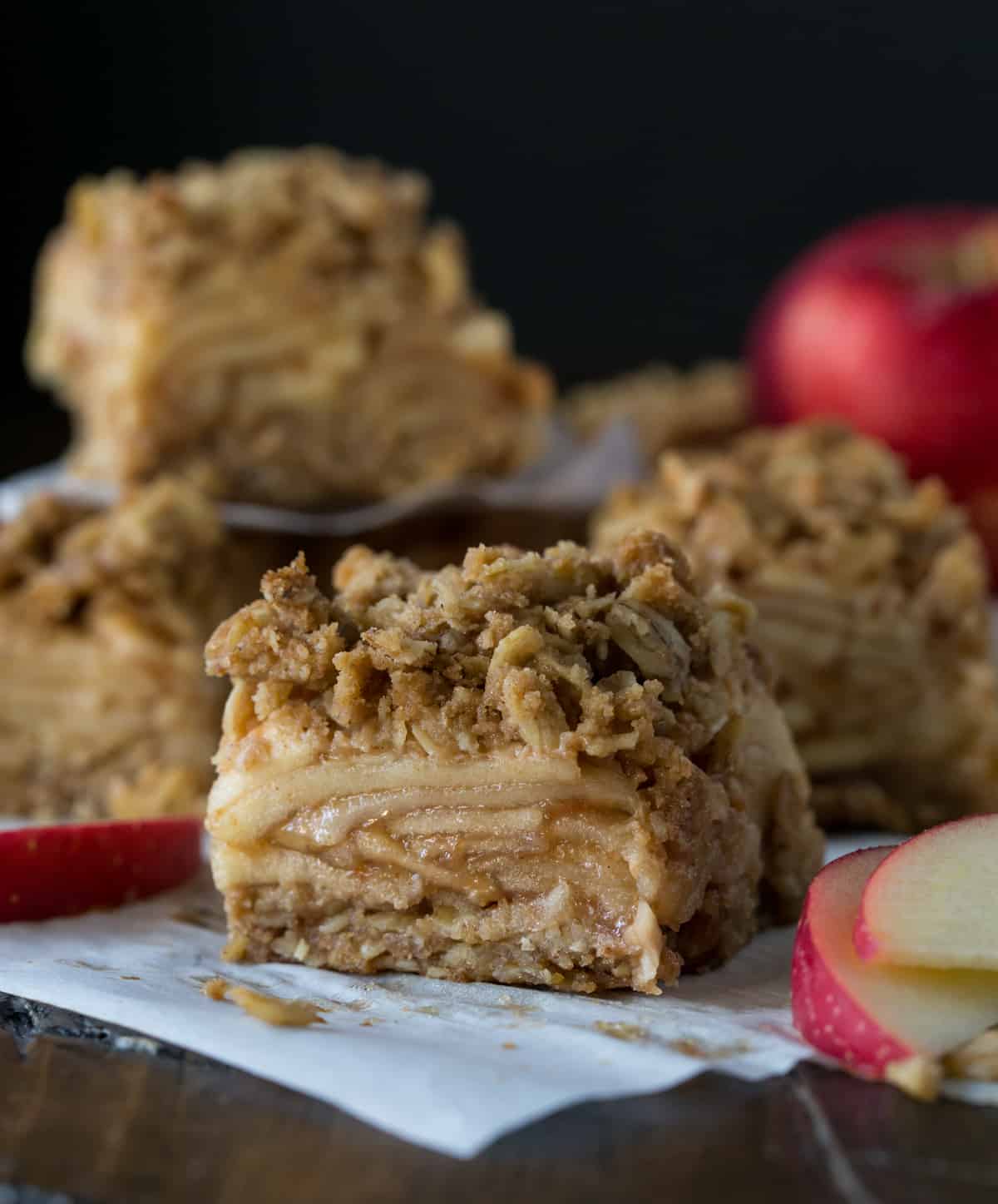 Nothing screams fall like the smell of apples and spices drifting from the kitchen.
When apple season rolls around, these Cinnamon Apple Bars are one of the first things we make with our haul of apples. If you enjoy apple crisp, you're going to love this apple bar recipe.
The crust and the topping are the same oat mixture, separated by a layer of sweet, seasoned apples. The result is a double dose of the crunchy topping that everyone always fights for anyway.
Jump to: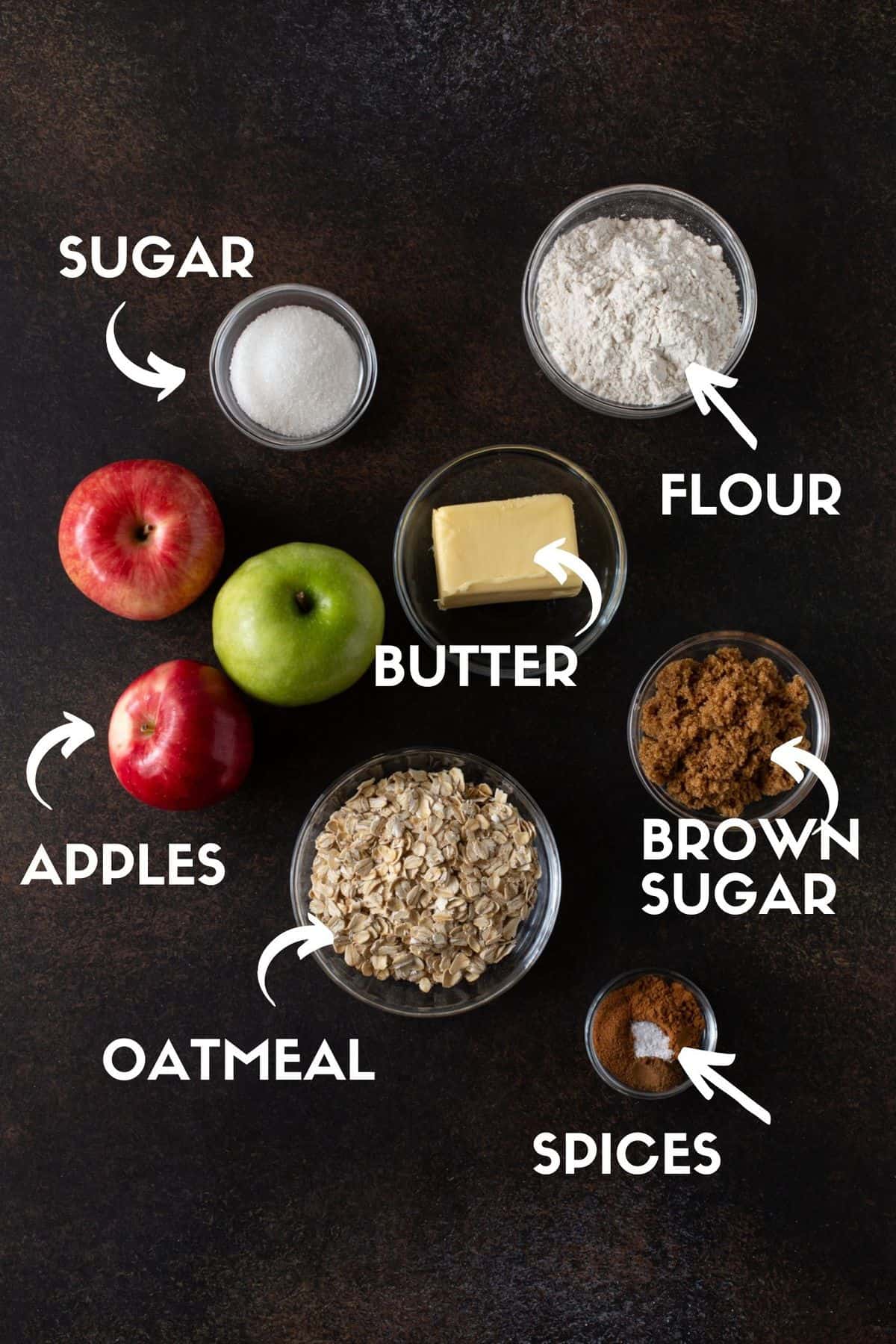 Ingredients
You'll find all the usual ingredients for an apple dessert in this recipe:
Oats
Flour
Brown & white sugars
Spices, including cinnamon, nutmeg and cloves
Baking soda & salt
Butter
Apples
Lemon juice
Caramel sauce and vanilla ice cream (optional but highly recommended!!)
Instructions
Tip: I love using an inexpensive handheld mandoline to slice my peeled apples. It keeps all the apples at an even thickness and makes quick work of all that slicing. Highly recommend!!
Prepare the pan: line an 8 x 8" pan with parchment paper so there is an overhang on all four sides.
Make the crust and topping: Combine the oatmeal, flour, brown sugar, spices, baking soda and salt in a large bowl. Pour in melted butter and stir to combine.
Reserve portion of oatmeal streusel mixture for topping and press remaining streusel evenly into prepared pan.
Stir together apples, cinnamon, granulated sugar and lemon juice until thoroughly mixed. Pour apples on top of crust. You'll probably have to work them around a bit so they are more or less evenly distributed in the pan.
Sprinkle reserved streusel on top of apples. Bake covered for 30 minutes. Remove foil and bake for another 25-30 minutes. Cool completely and slice into squares.
1
Combine oatmeal, flour, brown sugar & spices.
3
Reserve 1 cup streusel & press remaining into bottom of 8x8 pan.
4
Peel & slice apples. Toss with sugar, spices, flour & lemon juice.
6
Top with reserved streusel & bake at 375 degrees for one hour.
7
Serve with vanilla ice cream & caramel sauce.
FAQS
Best apples for baking

Apple varieties vary by region. Here in Minnesota, my go-to baking apple during apple season is a Haralson apple. They are crisp, juicy and hold their shape well when baked.

If the apple crisp craving strikes and Haralsons are not in season, I often reach for Granny Smith apples because they are available year round.

I usually add a few types of apples to this recipe (Honeycrisp and Haralson, for example). They key here is to make sure you choose apples that have a firm texture and retain their shape when baked. Apples that are a bit softer will not stand up when cut into bar form. 

I also suggest that you taste your apples before baking and adjust the sugar as needed to hit the perfect "sweet spot", especially if baking with local apples or a combination of apples. 

Make ahead & Freezing Tips

I've made these bars up to two days ahead of time, and they still have fantastic flavor. I suggest storing the baked bars covered in the refrigerator until ready to serve. The top will start to loose its crunchiness but not its flavor.

You can also pop them in the oven to warm them up slightly before serving, especially if topping them with a scoop of vanilla ice cream or a drizzle of caramel sauce!

If you want to make and freeze your apple crisp bars ahead of time, assemble the recipe as directed in a metal pan. (Avoid a glass pan as going from freezer to hot oven may cause the pan to shatter.) 

Wrap tightly in foil and place in freezer for up to two months. When ready to bake, follow the baking instructions in the recipe and add on an additional 15-30 minutes of baking time. If the top is browning too quickly, tent with foil.

Gluten-free apple bars

Apple crisp as a whole is a fairly forgiving recipe, and adding gluten-free ingredients to these apple bars is no exception. 

Simply swap in gluten-free oats and gluten-free flour for the regular oats and all-purpose flour in this recipe. You get the same great flavor with just a few tweaks to accommodate dietary restrictions.

Tip: If you're not used to baking with gluten-free flour, I suggest buying a brand that is labeled as a 1-to-1 replacement for regular flour. Cup 4 Cup and King Arthur's Measure for Measure are both reliable gluten-free flours that don't require you to add any other ingredients to the recipe (like xantham gum).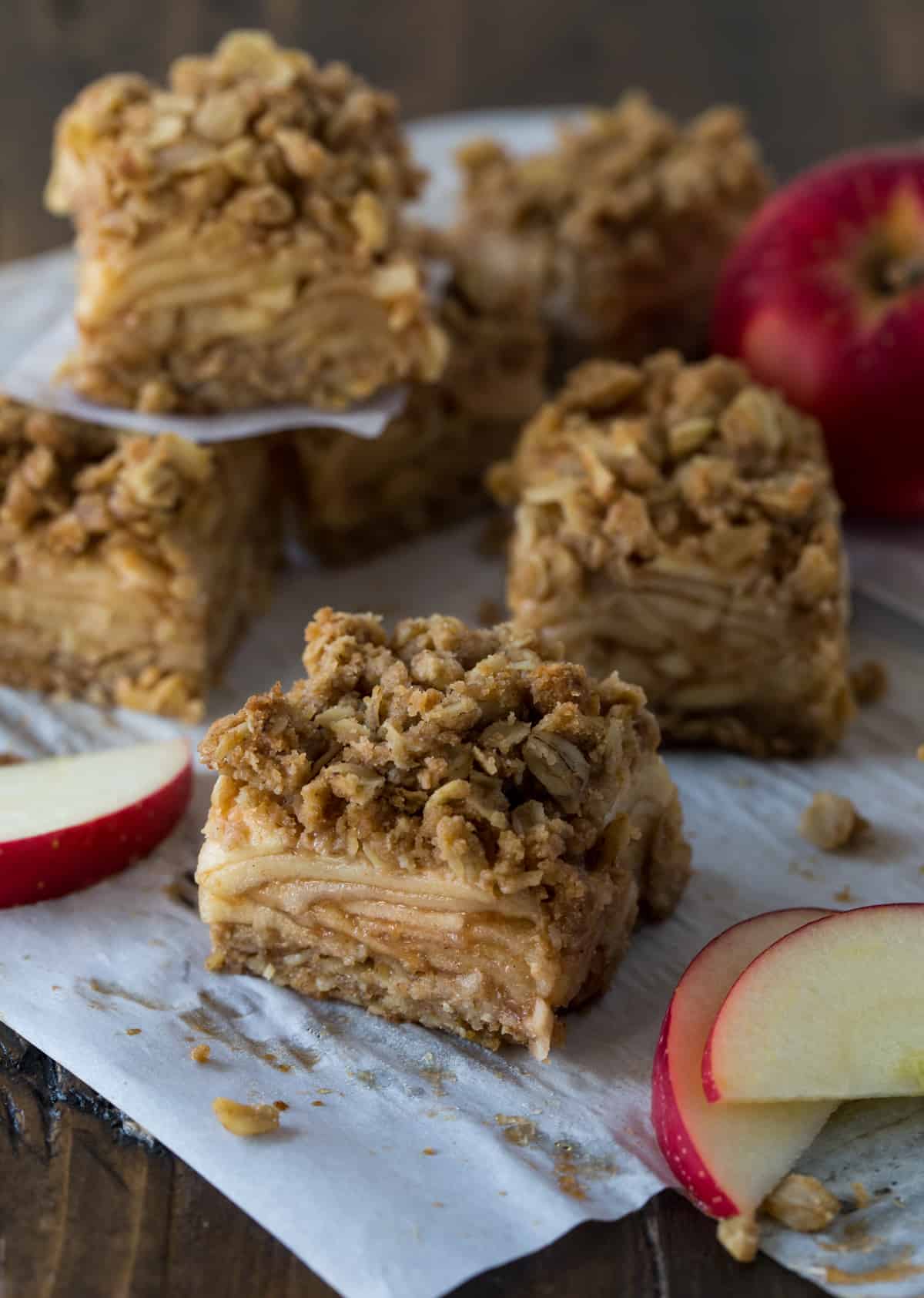 Serving suggestions
Crisp fall nights call for comfort food classics to serve with these Cinnamon Apple Bars:
Our Chicken Taco Soup is always devoured when we lay out a spread of toppings like tortilla chips, shredded cheese and sour cream. Or toast some rolls and be generous with the melted cheese with this easy French Dip recipe. Both recipes earn bonus points for being made in the slow cooker.
Don't forget your greens! Our balsamic vinaigrette recipe goes with nearly any salad but we really love it tossed with spinach, goat cheese and craisins. Or double down on those fresh from the orchard apples with this blue cheese salad that is topped with apples and candied walnuts.
More apple recipes
Not an apple fan? We have a ton of flavorful dessert recipes for any occasion.
Recipe
Yield: Makes 9-12 bars
Cinnamon Apple Bars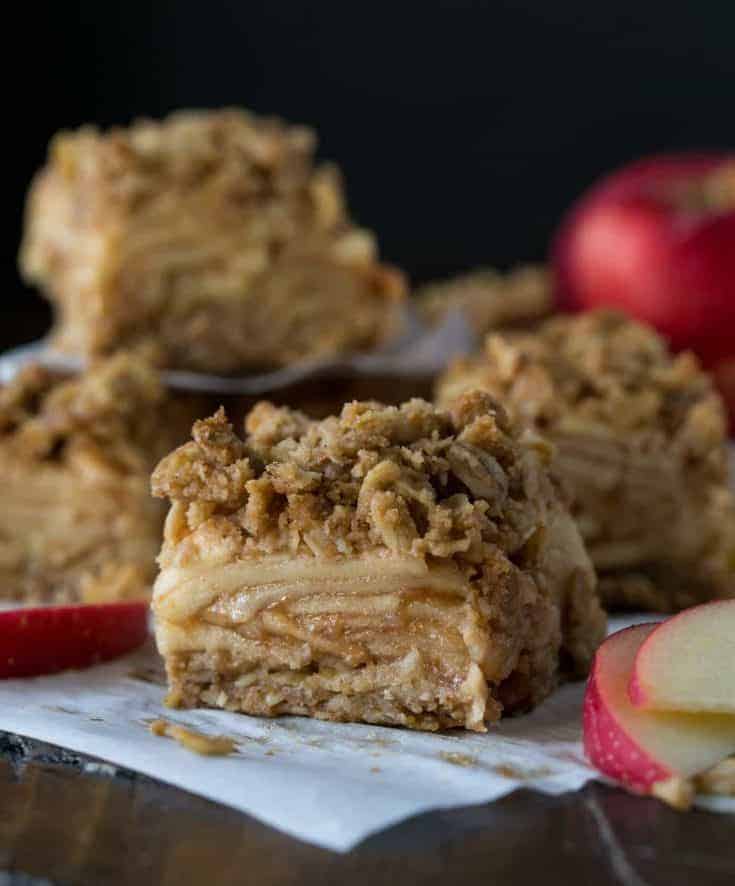 These Cinnamon Apple Bars have TWO layers of the sweet oatmeal streusel that everyone loves best - in the crust & topping. A tasty alternative to pie! 
Total Time
1 hour
25 minutes
Ingredients
1 1/2 cups old fashioned oats
3/4 cup plus 1 tablespoon flour, divided
3/4 cup packed brown sugar
2 teaspoons ground cinnamon, divided
1 teaspoon ground nutmeg, divided
3/4 teaspoon ground cloves, divided
1/2 teaspoon salt
1/2 teaspoon baking soda
8 tablespoons unsalted butter, melted
6 cups peeled and thinly sliced baking apples (about 3 large apples)
1/2 cup granulated sugar
1 tablespoon fresh lemon juice
Instructions
Preheat oven to 375 degrees. Line an 8 x 8 baking dish with parchment so the paper hangs over all four sides. Set aside.
Stir together oats, 3/4 cup flour, brown sugar, 1 teaspoon cinnamon, 1/2 teaspoon nutmeg, 1/2 teaspoon cloves, salt and baking soda in a medium bowl. Pour melted butter into oat mixture and stir to combine. Place 1 cup oat mixture aside and press remaining into bottom of baking dish.
Combine apples, granulated sugar, lemon juice, remaining 1 tablespoon flour, 1 teaspoon cinnamon, 1/2 teaspoon nutmeg and 1/4 teaspoon cloves. Stir to evenly coat. Dump apples on top of crust in baking dish and gently even them out. Crumble remaining 1 cup oat mixture on top of apples. Cover foil and bake for 30 minutes. Remove foil and bake for another 25-30 minutes or until crumb is golden brown. Cool on a wire rack.
Slice bars once completely cool and cover loosely until ready to serve.
Notes
This recipe was adapted from One Bowl Baking by Yvonne Ruperti. Recipe retested and slightly modified in October 2020.
Recommended Products
As an Amazon Associate and member of other affiliate programs, I earn from qualifying purchases.
Nutrition Information:
Yield:
9
Serving Size:
1 bar
Amount Per Serving:
Calories:

291
Total Fat:

11g
Saturated Fat:

7g
Trans Fat:

0g
Unsaturated Fat:

4g
Cholesterol:

27mg
Sodium:

196mg
Carbohydrates:

48g
Fiber:

4g
Sugar:

34g
Protein:

2g
Love apple crisp? You will adore these Oatmeal Cinnamon Apple Bars. A nice alternative to apple pie, these bars are the perfect dessert for any occasion from potlucks to Thanksgiving!