Simple, elegant and EASY, this Baked Brie with Cranberries and Pecans recipe comes together in 15 minutes and is one party appetizer that always disappears.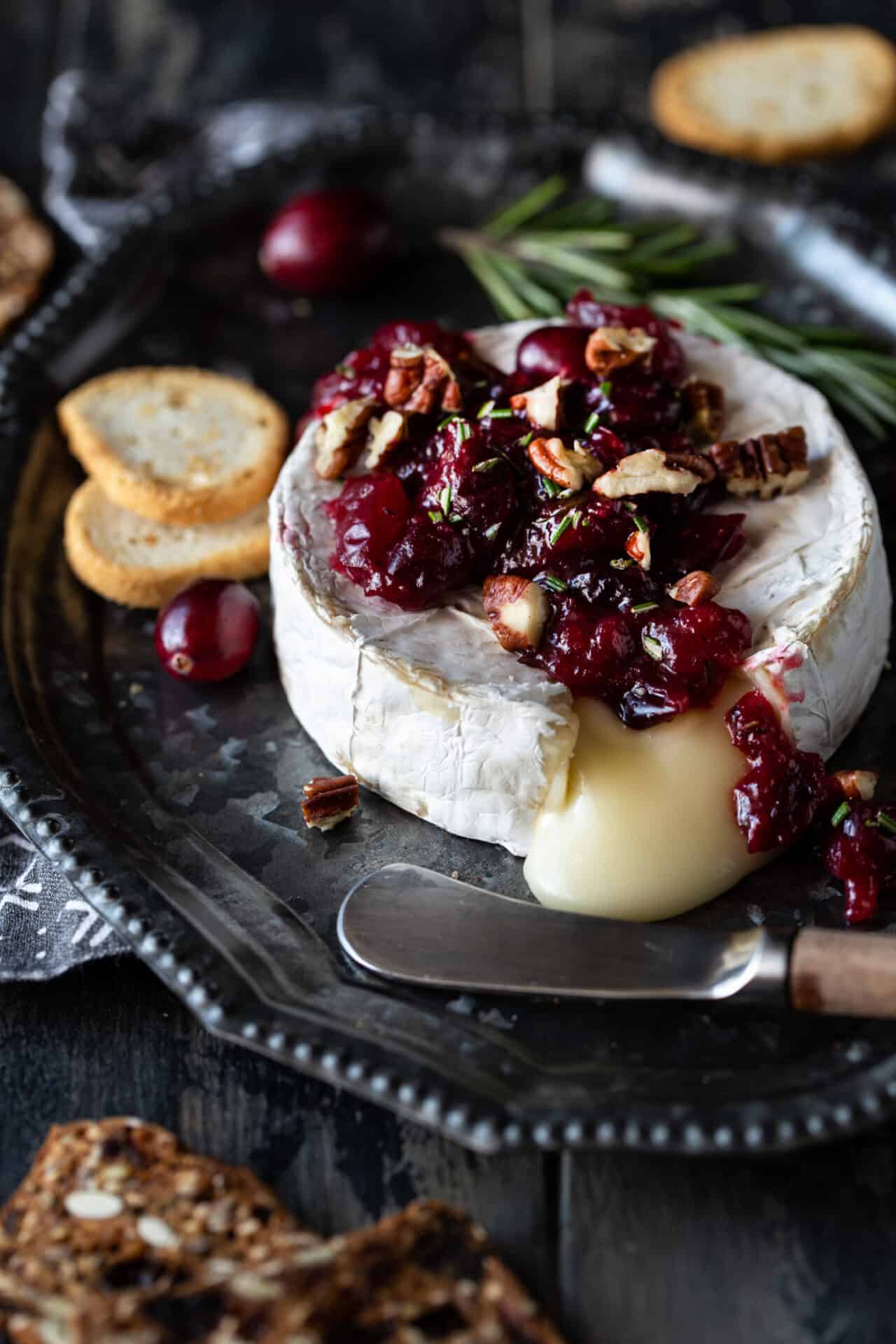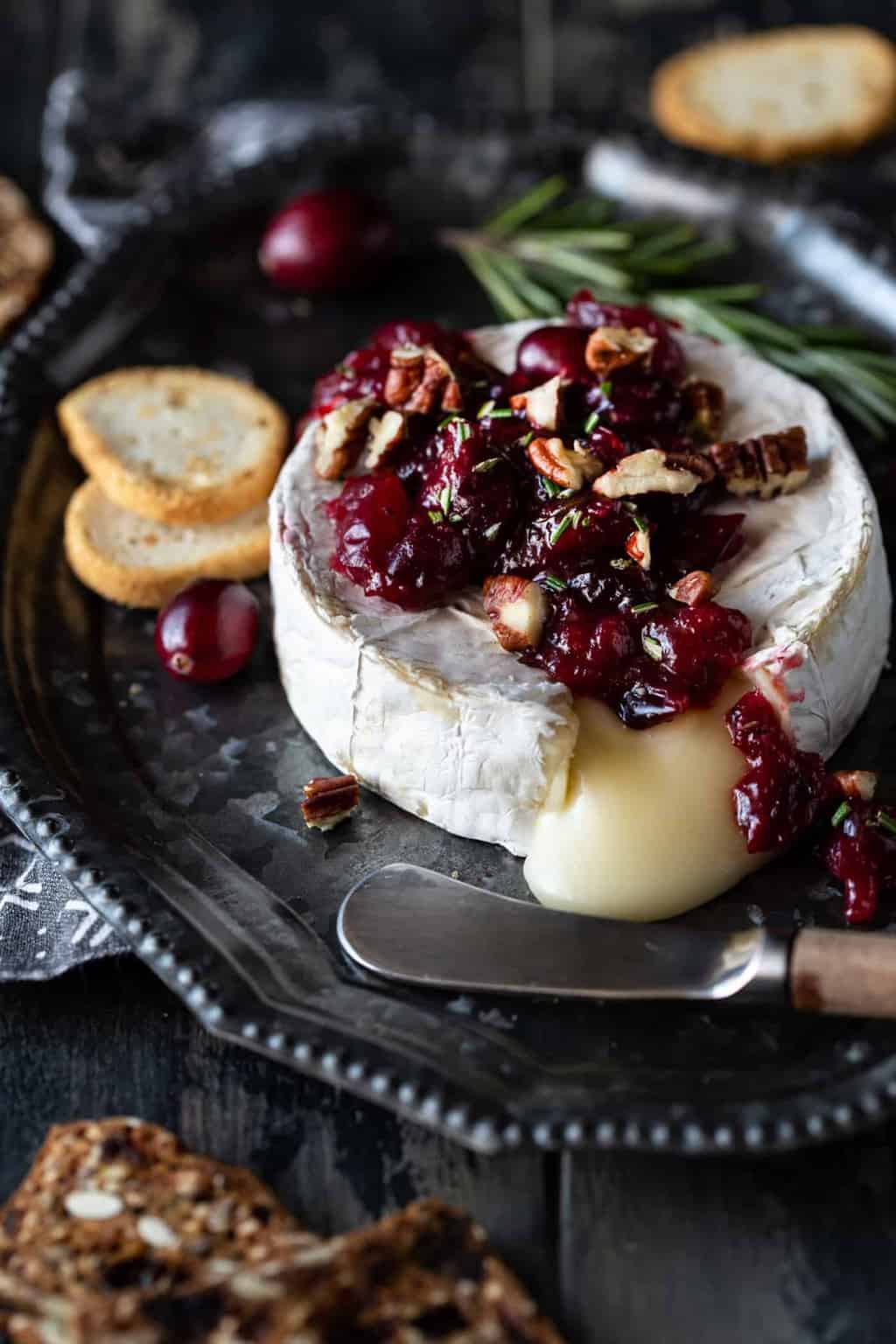 With some much going on during the holidays, no one has time to create the perfect menu. Lucky for you, we have a whole archive of seasonal appetizers that are both quick and easy - recipes like this Baked Brie with Cranberries and Pecans.
Not only is it a flavorful nibble to jumpstart your party, but it comes together in minutes - perfect for spur-of-the-moment get togethers.
Cranberry Baked Brie
Who doesn't like to have a go-to appetizer in their back pocket? This Baked Brie with Cranberries and Pecans recipe is ours during the holidays. Each bite is filled with rich, melty cheese and a sweet and savory cranberry compote.

How to bake brie in the oven
Baked brie always looks so fancy but it might just be one of the easiest appetizers ever. Seriously.
This baked brie recipe is made without puff pastry but that doesn't make it any less delicious. Only less putzy. Follow these tips for perfectly baked brie every time:
Choose your cheese. Wedges might be easier to find but you absolutely need a round of brie cheese for this recipe. You can buy a larger wheel if you're hosting a big crowd or simply buy a few small rounds and bake them at the same time. The baking time will be similar either way. Don't feel like you need to go for a super expensive brie, either. A reliable grocery store wheel of brie will work just fine as it's being combined with the sweet and savory cranberry compote.
Preheat your oven to 350 degrees. Any higher than that and you risk having the cheese get too hot too quickly and ooze out of the rind during baking.
Place your brie on a piece of parchment paper on a sheet pan. Parchment is key to easily transferring the brie to a serving dish after you remove it from the oven. I've tried using a spatula but it tends to stick to the bottom of the rind and not glide easily (again - running the risk sticking to the cheese, tearing the rind and having puddles of hot, oozing cheese everywhere). Alternately, you can also bake this in a small cast iron skillet or other baking dish if you prefer to serve it straight from that vessel.
Bake for 12 - 15 minutes. You'll know the brie is melted through if you touch the top of the rind and it jiggles underneath (think Jell-O).
Allow the brie cool for at least 15 minutes before transferring it to a serving dish. Use the parchment paper as handles to lift the brie up and move it to the dish. You can either cut down the parchment to a more attractive size and leave it underneath the brie or try to slide it out once you've put it on the dish. Either option works just fine.
Spoon your topping of choice over the warm brie and serve with a variety of sturdy crackers or even apple slices. I like to add a spreader and sometimes a small spoon to the brie, too, to make sure I enjoy every last bite of that cranberry cheese goodness.

Do you take the rind off of brie before baking?
This is a very common question. The answer is no, you don't need to remove the rind. If you did, there would be nothing to hold the brie in place when it is heated.
The brie rind is totally edible and adds texture and flavor to the cheese. I have seen some recipes where people will cut just the top off the brie before baking if that are very anti-rind, but I've never tried that so I can't comment if it's successful.
What do I do with leftover baked brie cheese?
Baked brie never lasts at my house, but if you find yourself with a fair amount of leftover brie, feel free to wrap it tightly and pop it in the refrigerator. It can be gently rewarmed in the oven and slathered on crostini or other pieces of hearty bread.
Just know it won't be as visually appealing as when you initially served it, but it can't be beat as a tasty snack for the chef while you're making dinner!

15-minute easy Baked Brie recipe topped with cranberries
The cranberry compote for this easy brie appetizer - made with tart cranberries, sweet maple syrup, crunchy pecans and savory fresh rosemary - is both simple and seasonal at the same time.
A quick simmer on the stove is all the effort it takes to create this topping. Plus the dark ruby color looks absolutely stunning when poured over the snow white brie.
You can either make the compote while the brie is baking or you can even make it a few days ahead of time and simply rewarm it before spooning over the warm brie. Gotta love a shortcut that saves time!
Tip: Don't have fresh cranberries? Frozen cranberries work just as well so stash some berries in the freezer and you can enjoy this tasty snack well beyond fresh cranberry season!

Did you stock up on extra brie? It's always on sale during the holidays. Check out some of these other easy brie recipes made with cranberries (perfect for any leftover cranberry sauce/relish from Thanksgiving):
You can find all of our Appetizer Recipes HERE!
Yield: 8 servings
Baked Brie with Cranberries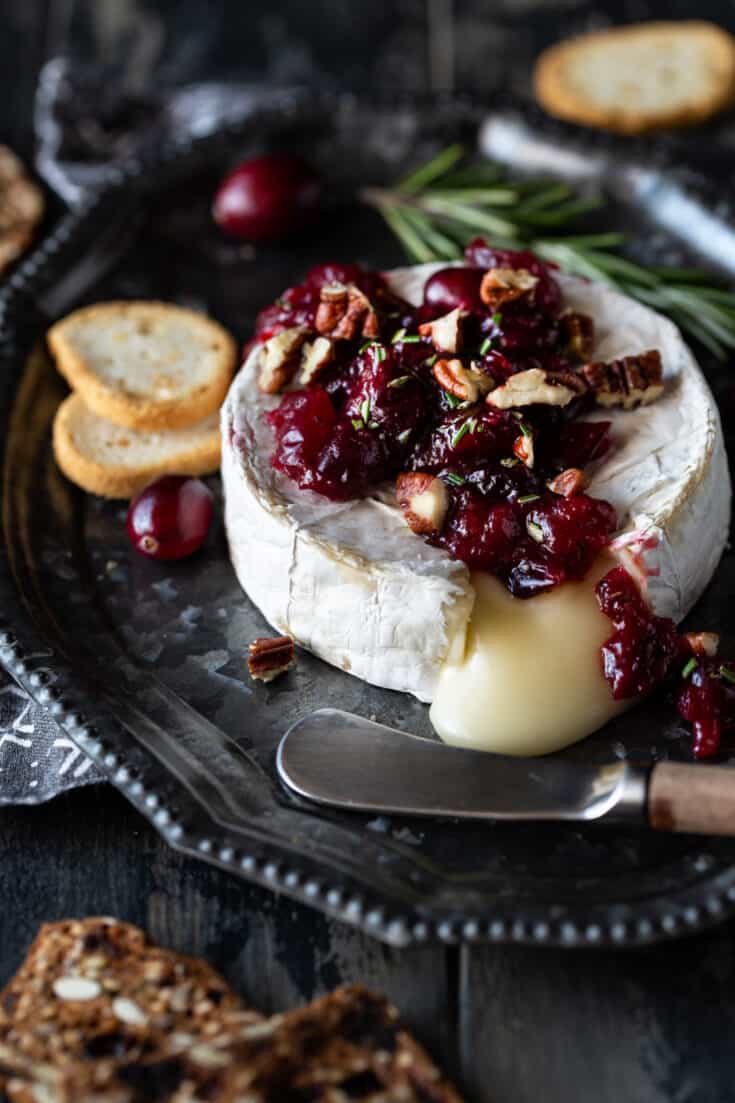 Simple, elegant and EASY, this Baked Brie with Cranberries and Pecans recipe comes together in 15 minutes and is one party appetizer that always disappears.
Ingredients
1 cup fresh or frozen cranberries
1/4 cup pure maple syrup
1 tablespoon butter
1 teaspoon chopped fresh rosemary
1/4 teaspoon salt
1/4 teaspoon pepper
1 teaspoon fresh lime juice
9 ounces brie
1/4 cup chopped toasted pecans
Instructions
Preheat oven to 350 degrees. Line a small baking sheet with parchment.
Place cranberries, maple syrup, butter, rosemary and salt and pepper in a small saucepan. Bring to a boil over medium heat. Boil for 3-5 minutes or until syrupy. Remove from heat and stir in lime juice.
Bake brie for 15 minutes or until soft. Carefully transfer brie to serving dish. Pour cranberry mixture over brie and garnish with chopped pecans. Serve immediately.
Notes
The cranberry mixture can be made a few days ahead of time and stored in the fridge. Warm mixture in the microwave prior to serving. 
Recommended Products
As an Amazon Associate and member of other affiliate programs, I earn from qualifying purchases.
Nutrition Information:
Yield:
8
Serving Size:
1
Amount Per Serving:
Calories:

174
Total Fat:

13g
Saturated Fat:

7g
Trans Fat:

0g
Unsaturated Fat:

5g
Cholesterol:

36mg
Sodium:

280mg
Carbohydrates:

9g
Fiber:

1g
Sugar:

7g
Protein:

7g
Nothing screams party like this warm, melty cheese! This elegant Baked Brie with Cranberries & Pecans recipe is seasonal and seriously tasty. Plus it can be made in 15 minutes - the perfect holiday appetizer!