Add some holiday cheer to your party menu with this Gin, Elderflower and Prosecco Cocktail!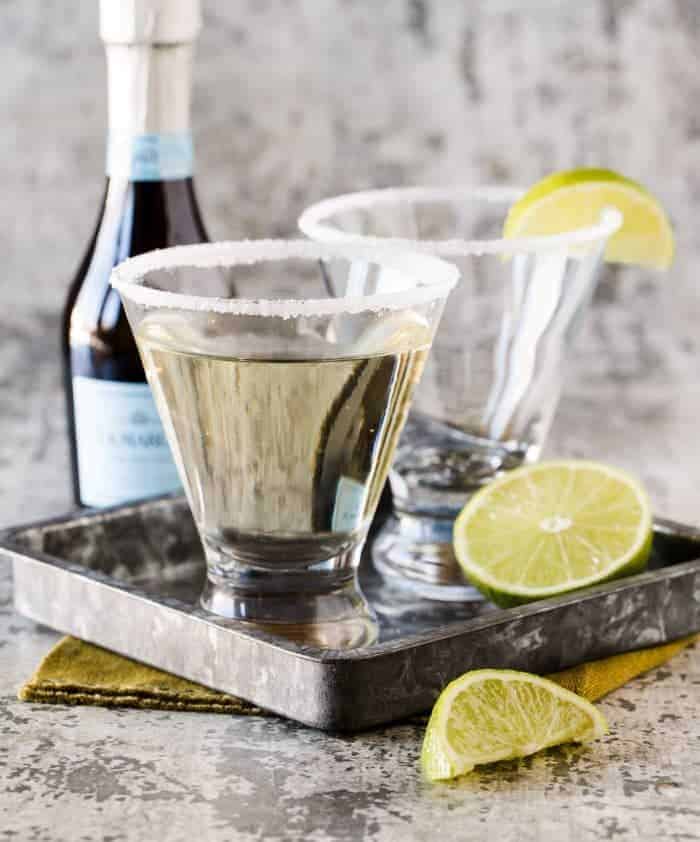 Simple truth: Everyone loves bubbles. And drinking bubbles with friends and family makes them even better.
Ever get tired of the same old drinks, but don't want to serve something that has a ton of ingredients and is putzy to make? Try this Gin, Elderflower and Prosecco Cocktail.
This is my drink of the season, and I definitely think you should add it to your collection. The elderflower adds a subtle, sweet undertone, and the Prosecco bubbles lighten up the drink nicely.
Looking for a stiff drink? Add just a bit of Prosecco. Want a lighter drink? Be generous with your bubbles.
Usually garnishes are just for looks, but this is one drink where they really complete the cocktail. But don't worry, they aren't a lot of work. All you need is a squeeze of lime juice and a fancy sugar-coated rim to make the drink look as impressive as it tastes. Anyway you pour it, you can't go wrong.
Here's hoping that you find an opportunity to share this drink with good friends and family this holiday season. Cheers!
Looking for more ways to use Elderflower liqueur? Check out our
collection.
 Elderflower liqueur is one of our favorites!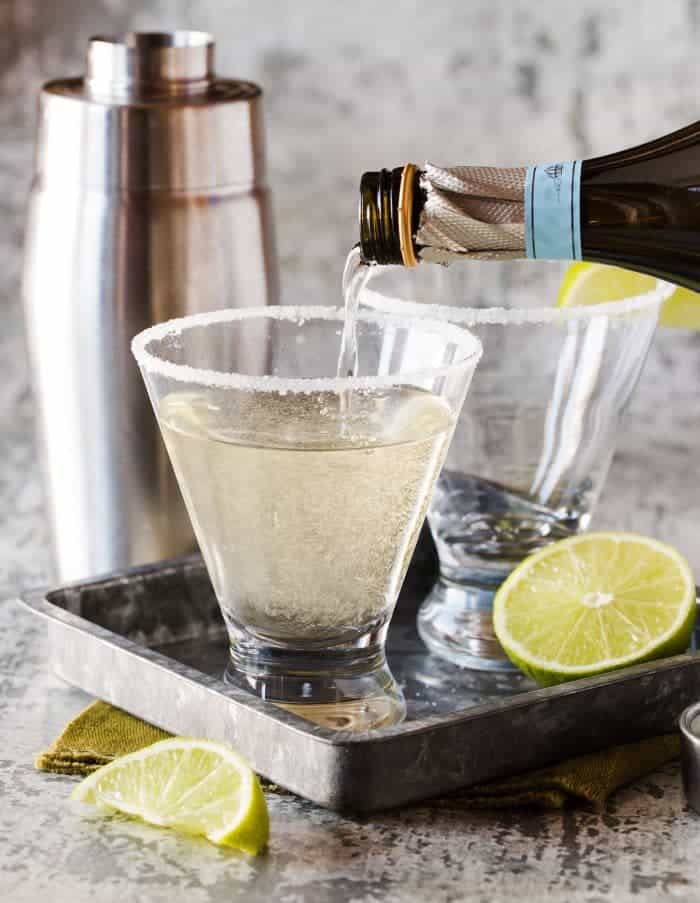 Recommended Equipment
Gin, Elderflower and Prosecco Cocktail
1
adjust servings
Ingredients
2

parts Gin

1

part Elderflower Liqueur

Prosecco

Lime Wedges

Sugar (for the rim of the glass)
Instructions
Fill a shaker with ice and add the Gin and Elderflower Liqueur. Shake to combine.
Place the sugar on a small plate. Run a lime wedge around the rim of a martini glass and press the rim of the martini glass in the sugar to coat.
Strain the contents of the shaker into the glass and top with Prosecco. Squeeze a lime wedge in the drink and garnish with an additional lime wedge.
Serve immediately.
Did you make this recipe? We'd love to see it! Snap a pic of your creation and tag it #GarnishWithLemon. We might even feature your photo on social media!
Bubbles are always a hit! Here are some more cocktails we love!
Classic Champagne Cocktail– Garnish with Lemon
Hawaiian Mimosa– Crazy for Crust
Elderflower French 75– Garnish with Lemon
Mimosa Margarita– Wine and Glue
Sparkling Elderflower Cocktail– Foodie Crush

Looking for more holiday cheer?