Add some cheer to your party menu with this wildly popular Gin, Elderflower and Prosecco Cocktail!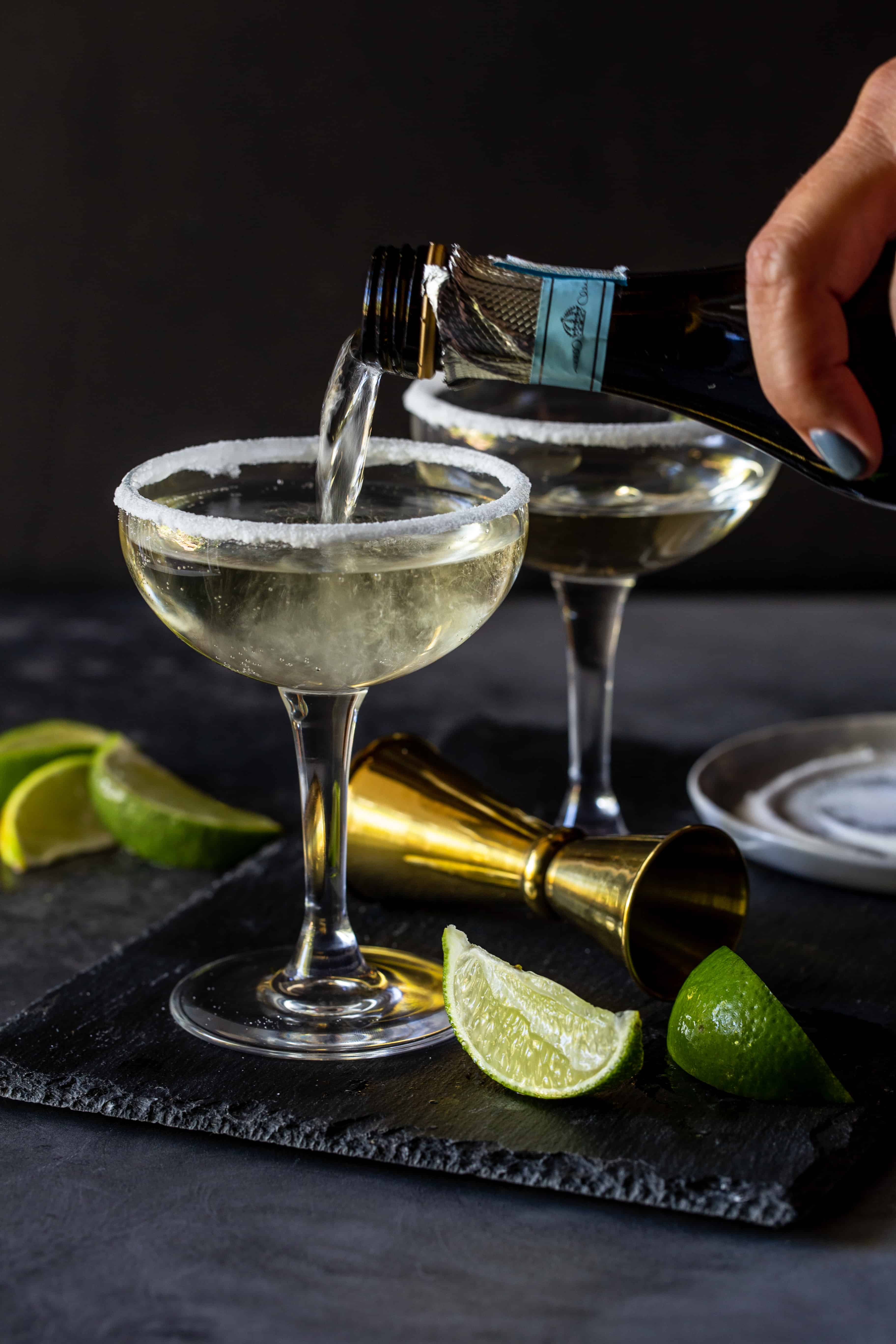 Gin Elderflower Prosecco Cocktail
Simple truth: Everyone loves bubbles. And drinking bubbles with friends and family makes them even better.
This Gin, Elderflower and Prosecco Cocktail is one of our most popular cocktails on Garnish with Lemon.
Ever get tired of the same old drinks, but don't want to serve something that has a ton of ingredients and is putzy to make?
Then this Gin, Elderflower and Prosecco Cocktail is just what you have been looking for. 5 ingredients are all you need before you are on your way to cocktail heaven….and that includes the garnishes!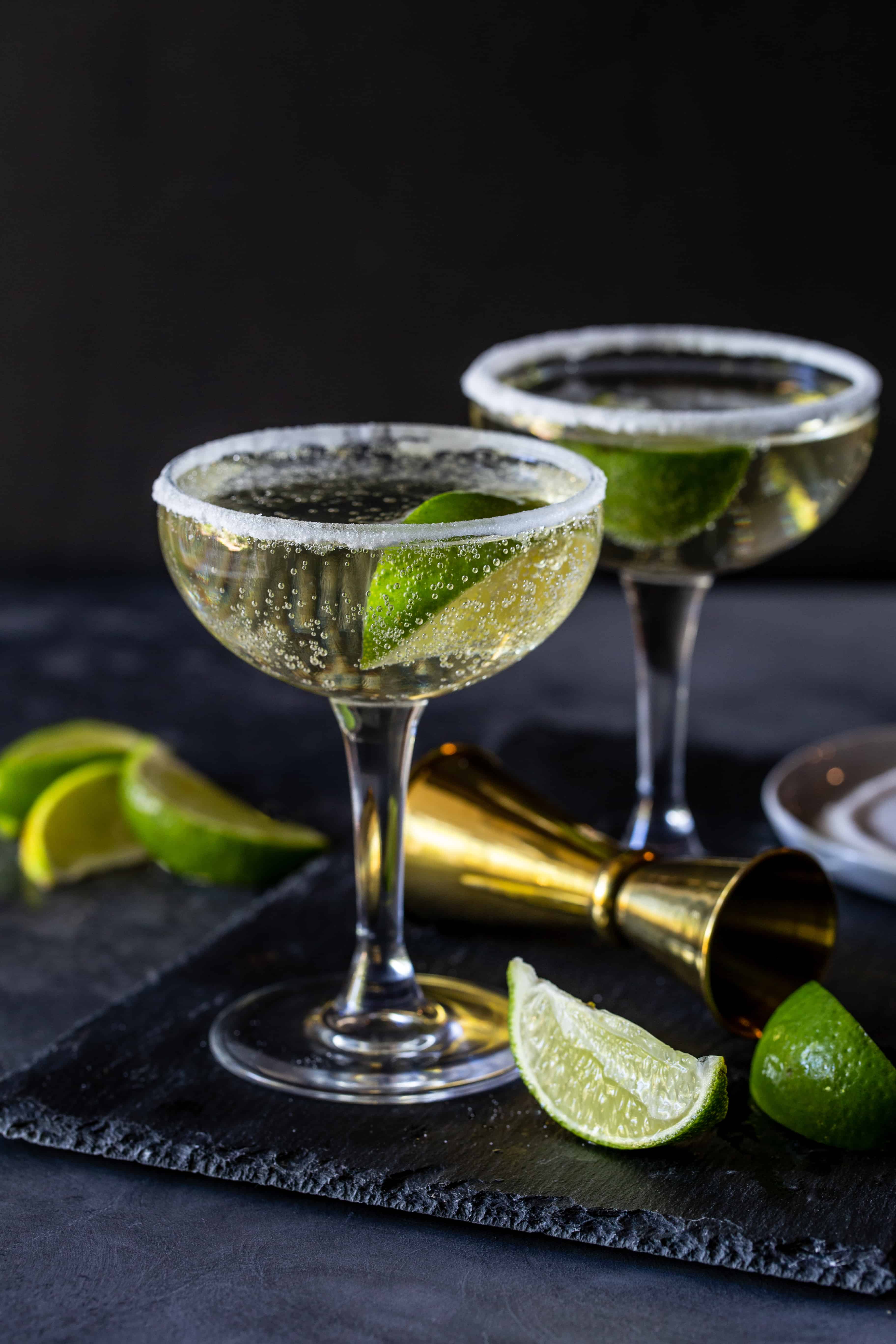 What is Elderflower Liqueur and what does it taste like?
Elderflower liqueur is made from the small, white flowers of the elderflower bush. These blossoms are often handpicked and the liqueur is made with no preservatives or stabilizers (which means it really should be used in about 6 months for best flavor).
The liqueur has a delicate floral flavor that is more subtle than you'd expect.
Since elderflower liqueur is rather sweet, you can easily use it to replace other sweeteners in your cocktail recipes like simple syrup, agave and maple syrup.
Does it matter what kind of gin I use in this cocktail?
Not really. Use your favorite as the taste of it shines through in this drink.
As with all recipes with a short ingredient list, use high-quality gin and leave the less expensive brands for sangria.
Some of our favorites are Norseman, Tanqueray, or Bombay Sapphire.
Why do I need the sugared rim on the martini glass?
Usually, garnishes are just for looks, but this is one drink where the garnishes really complete the cocktail.
That sparkly sip of sugar makes this cocktail extra fancy and the lime juice is the only part of the cocktail that isn't alcohol.
So please don't skimp on it.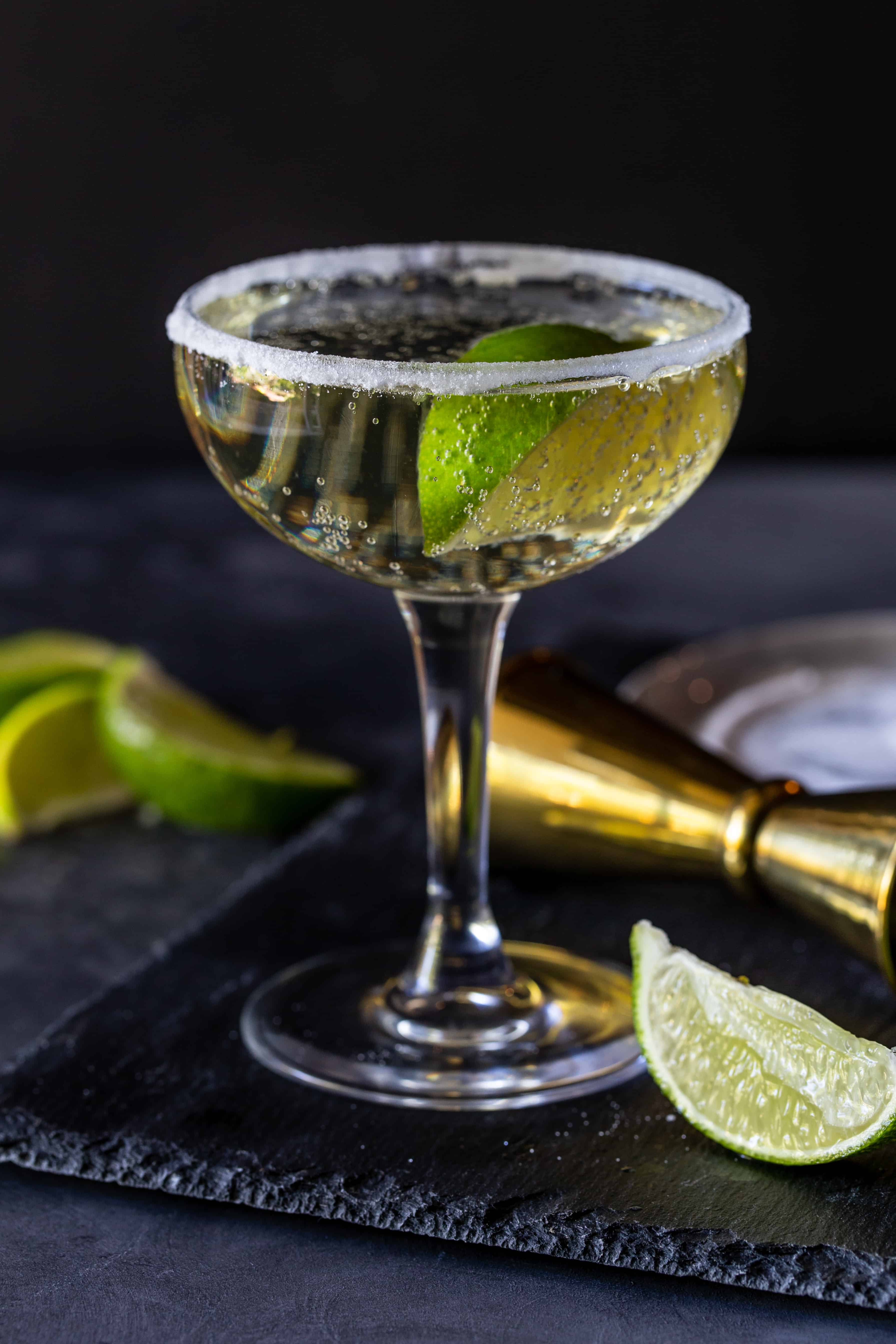 How do I make a sugar-rimmed glass?
Fortunately, sugar garnishes aren't a lot of work. Simply pour sugar on a small plate. Run a lime wedge around the edge of the martini glass and then dip the juice-coated rim in sugar. Voila! Instant sugar rim!
All that's left to do is a squeeze of lime juice and you have fancy-looking cocktails to serve your guests that look as impressive as it tastes.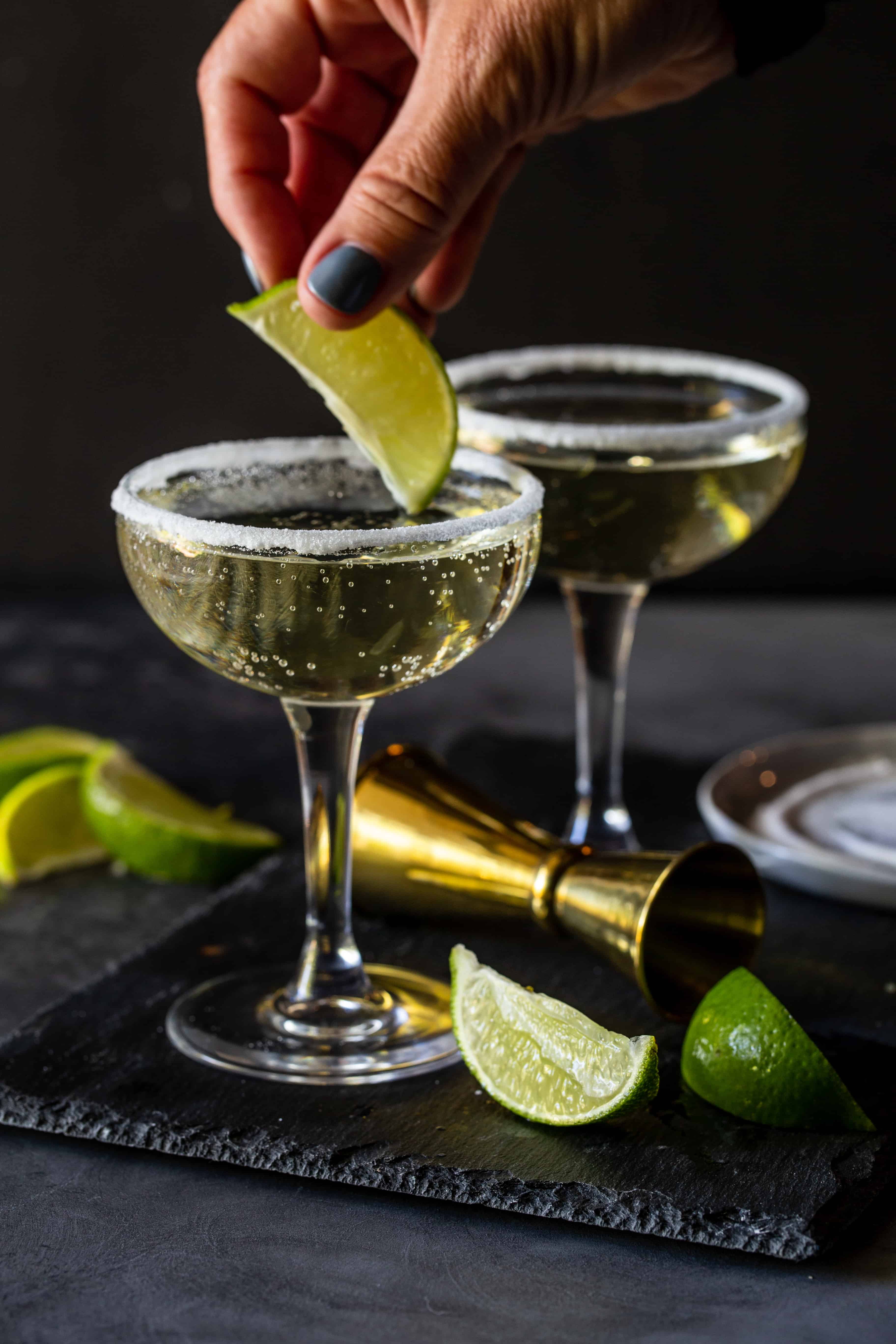 Want to save this Prosecco Cocktail recipe for later? PIN IT here!
What is the difference between Prosecco and Champagne?
Prosecco is Italy's version of Champagne. We love to use Prosecco in our sparkling cocktails for a few reasons:
It's typically less expensive than Champagne making it more cost-effective when you need to buy several bottles of sparkling wine for your guests.
Prosecco often has a lighter, fruitier flavor than Champagne and easily mixes with ingredients like fruit juices and other liquors.
Looking for a stiff drink? Add just a bit of Prosecco.
Want a lighter drink? Be generous with your bubbles. Any way you pour it, you can't go wrong.
Cheers!
What other some other St. Germain Cocktails?
Elderflower is one of our favorite cordials and there isn't a liquor that we haven't added it to. We have something for everyone!
Recommended Equipment

Bubbles are always a hit! Here are some more cocktails we love!
Classic Champagne Cocktail – Garnish with Lemon
Hawaiian Mimosa – Crazy for Crust
Elderflower French 75 – Garnish with Lemon
Mimosa Margarita – Wine and Glue
Sparkling Elderflower Cocktail – Foodie Crush
Yield: makes 1 drink
Gin, Elderflower and Prosecco Cocktail
This Gin, Elderflower Prosecco Cocktail is a smooth sipper that is perfect to celebrate any occasion!
Ingredients
2 parts Gin
1 part Elderflower Liqueur
Prosecco
Lime Wedges
Sugar (for the rim of the glass)
Instructions
Fill a shaker with ice and add the Gin and Elderflower Liqueur. Shake to combine.
Place the sugar on a small plate. Run a lime wedge around the rim of a martini glass and press the rim of the martini glass in the sugar to coat.
Strain the contents of the shaker into the glass and top with Prosecco. Squeeze a lime wedge in the drink and garnish with an additional lime wedge.
Serve immediately.
Recommended Products
As an Amazon Associate and member of other affiliate programs, I earn from qualifying purchases.
Nutrition Information:
Yield:
1 serving
Serving Size:
6 ounces
Amount Per Serving:
Calories:

482
Total Fat:

0g
Saturated Fat:

0g
Trans Fat:

0g
Unsaturated Fat:

0g
Cholesterol:

0mg
Sodium:

10mg
Carbohydrates:

26g
Fiber:

2g
Sugar:

17g
Protein:

1g
This Gin, Elderflower and Prosecco Cocktail is one of our most popular cocktails on Garnish with Lemon. It's filled with gin, elderflower, prosecco and a squeeze of lime juice in a sugar-rimmed martini glass. One sip and you will see why it's the perfect party cocktail.