Toast the season with a glass of these Bourbon Apple Cider Cocktails. Fresh apple cider makes these the perfect fall cocktails! 
It's apple season!
That means two things: chilly fall temperatures and tasty apple cider cocktails!
Since we can't do much about the cold, let's make the most of the changing seasons by toasting the fall colors with a glass of these Bourbon Apple Cider Cocktails.
We always pick up a few gallons of fresh apple cider when we visit the apple orchard every fall, and my kids devour it in quick fashion. But I always make sure to squirrel away enough for Pat and I to enjoy these smooth, spiked apple cider cocktails after a long week.
What's in these Bourbon Apple Cider Cocktails?
A handful of ingredients combine to make these truly crave-worthy apple cider cocktails:
Bourbon
Applejack (I used Laird's Applejack)
Fresh apple cider
Fresh lemon juice
Thyme-infused simple syrup
I usually make the simple syrup a few days in advance and keep it in the fridge until I'm ready to use it to make cocktail hour even easier.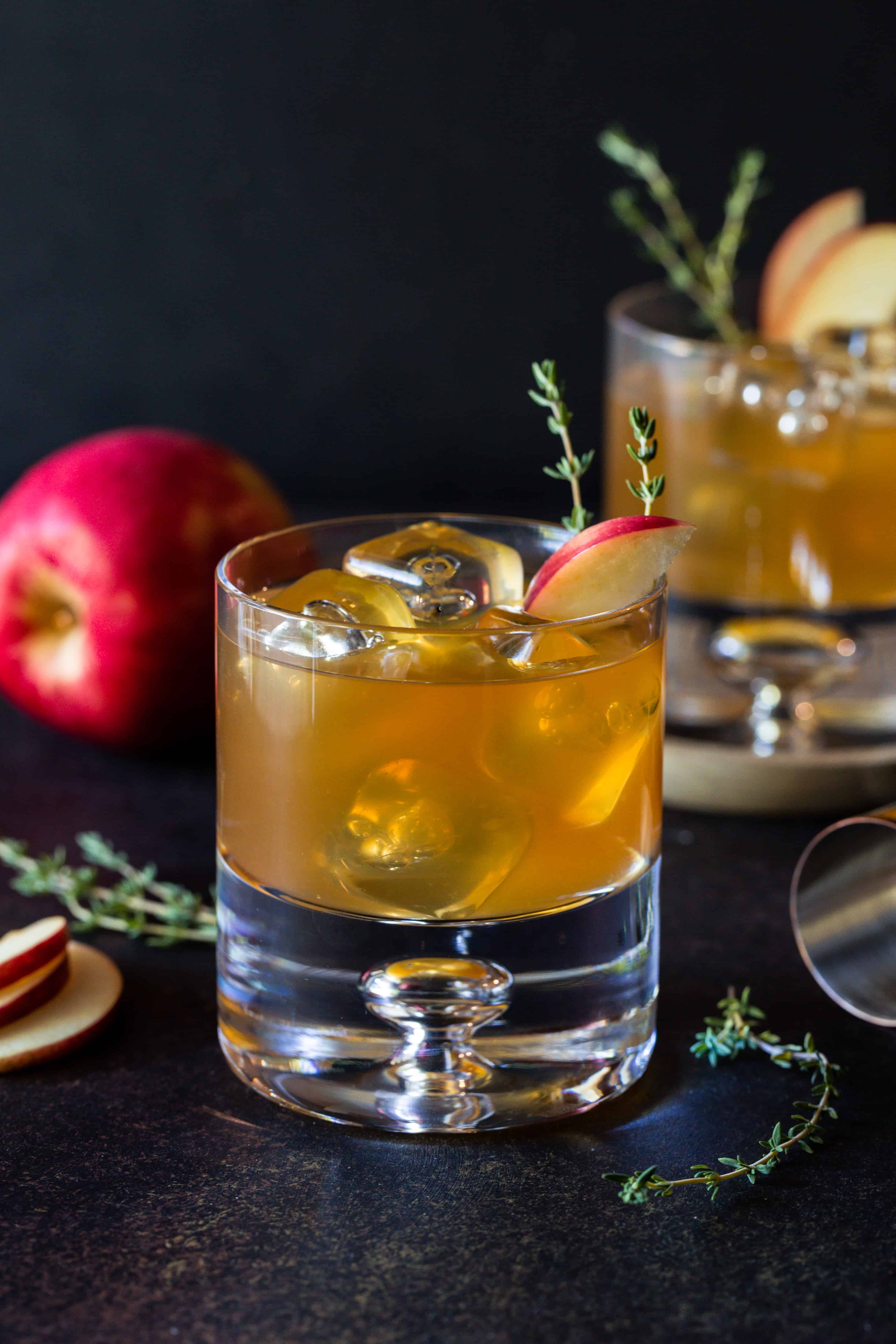 How to make simple syrup:
Yes, you can buy simple syrup at the liquor store (and I've been known to do that in a pinch). But simple syrup is super easy and inexpensive to make at home. After making your first batch, you might kick yourself for not doing it sooner!
Place equal amounts of sugar and water in a saucepan. I usually do one cup of sugar to one cup of water.
Bring the mixture to a low boil over medium heat and cook until sugar is completely dissolved.
Remove the pan from heat and allow syrup to cool before placing in an airtight container in the refrigerator for up to one month.
See how easy it is? Add additional layers of flavor to your simple syrup by infusing it with herbs like in this Bourbon Apple Cider Cocktail (or cranberries like in these Cranberry Whiskey Sours, another one of our favorite fall whiskey cocktails).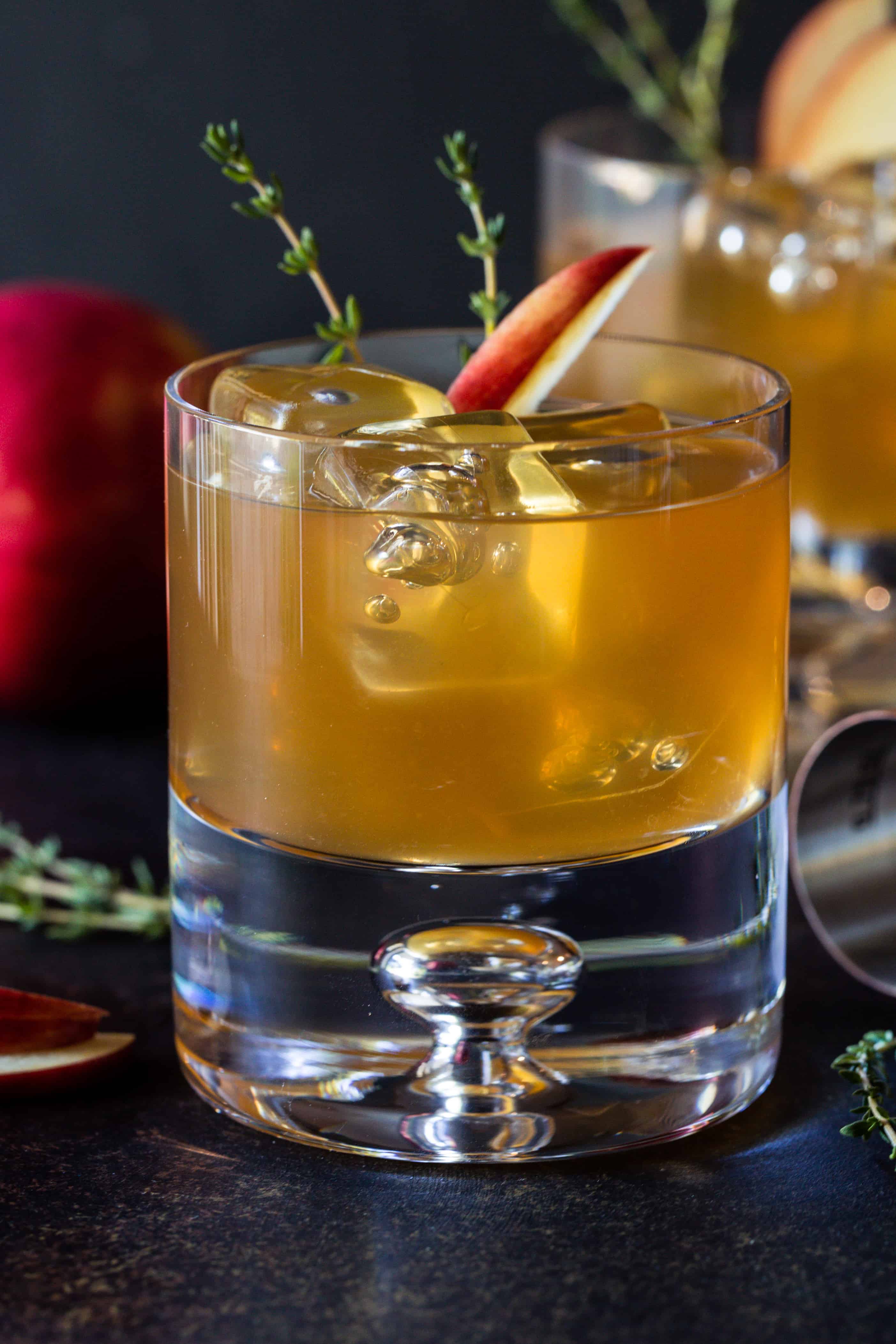 To make herb-infused simple syrup:
Add fresh herbs to the same pan as the simple syrup ingredients and bring to a boil. (You're using fresh thyme sprigs in this cocktail.)

Once the sugar is dissolved, remove the pan from the heat and allow the herbs to steep in the hot syrup for at least 20 minutes.

Strain through a fine mesh strainer and refrigerate.
How long does an infused simple syrup last?
I've found that infused syrups don't stay fresh as long as regular simple syrup. The taste slowly starts to deteriorate after about 2 weeks so try to use your stash before then.
Tip: No time to make the thyme-infused simple syrup? You can also swap in regular simple syrup, and this fall cocktail will still taste great!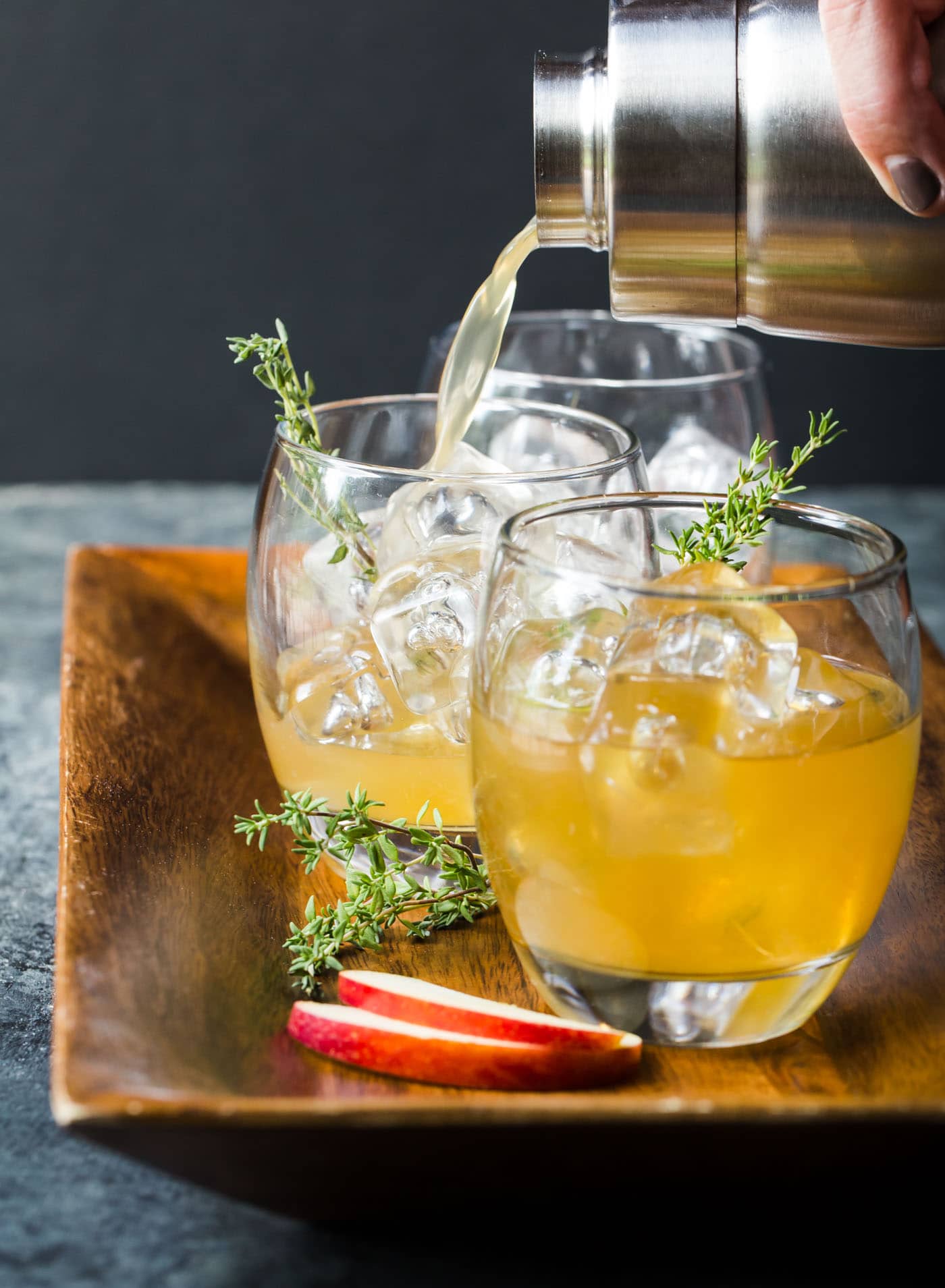 Can I use apple juice instead of apple cider in this cocktail recipe?
The short answer is no, I don't recommend swapping in traditional, clear apple juice for apple cider here.
Apple juice is typically sweeter than fresh apple cider because of added sugar or corn syrup so the resulting cocktail will be far too sweet.
If you absolutely cannot find fresh apple cider, you can try using the Simply Apple Pure Pressed Apple Juice and decrease the simple syrup level if needed. The cocktail won't taste quite the same, but it will be much closer than if you tried to use regular apple juice.
Should I use bourbon or whiskey in this spiked apple cider?
Ah, the age old bourbon vs. whiskey debate. To make things as clear as mud, all bourbon is whiskey but not all whiskey is bourbon (so helpful, right?).
I won't bore you with all the nuances and differences between bourbon and whiskey, but if you're curious, this article from Chowhound does a nice job of explaining it in more detail.
Both bourbon and whiskey work equally well here, so feel free to use your favorite in this cocktail.
Speaking of spirits, what's the difference between applejack and apple brandy?
While there may be flavor differences between applejack and apple brandy, they both have roots in the 17th century.
Early American colonists wanted something a little stronger than just hard apple cider, so they left barrels of cider outside to freeze. This process was called "jacking" because it allowed them to separate the unfrozen alcohol from the ice in the barrels. The result was a higher proof "applejack".
Applejack was the predecessor to apple brandy which is a true, all-fruit brandy (though modern styles of apple brandy range from those you can mix in a cocktail to those you sip neat with a splash of water).
Today's version of applejack has evolved to become a blended version of apple brandy and other neutral grain spirits. The result is a mellower flavor than pure apple brandy and is a fantastic complement to the bourbon in these fall cider cocktails.
Is this bourbon apple cider served hot or cold?
This drink is best served cold over ice. If you're looking for a warm apple cider and whiskey cocktail, check out our Hot Ginger Cider Cocktails made with bourbon and ginger liqueur.
Batch cider cocktails
Hosting a party? These Bourbon Apple Cider Cocktails can easily be multiplied as a batch cocktail for your guests (I highly recommend adding these to your Thanksgiving menu!).
Or tuck a few into a thermos the next time you tailgate for the big game. However you enjoy them, these Bourbon Apple Cider Cocktails have all the markings of a great drink - simple, seasonal and delicious.
Looking for more Apple Cocktails? Check out some of these tasty sips!
Check out all of our cocktail recipes HERE!
Yield: 1 serving
Bourbon Apple Cider Cocktails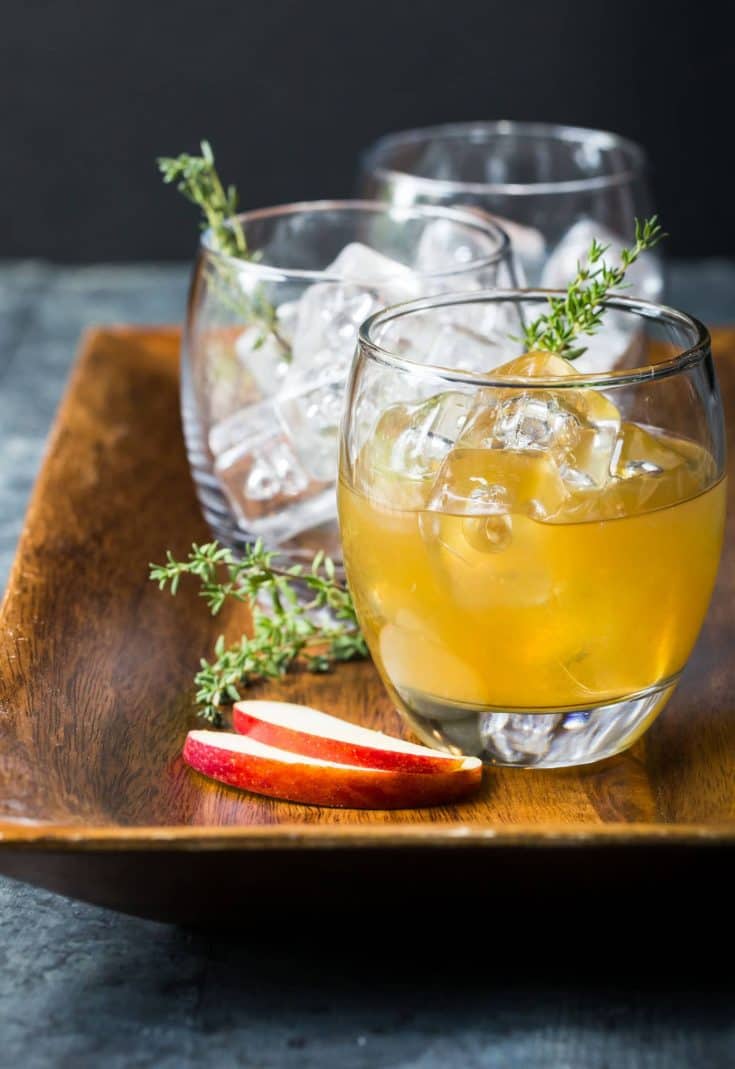 Fresh apple cider shines in these Bourbon Apple Cider Cocktails. The perfect fall cocktail for everything from tailgating to apple picking!
Ingredients
Thyme Simple Syrup:
1/4 cup sugar
1/4 cup water
4 sprigs of fresh thyme
Cocktail:
1 ounce bourbon
1 ounce applejack (I used Laird's Applejack)
1 ounce fresh apple cider
1/2 ounce fresh lemon juice
1/2 ounce thyme simple syrup
Dash Angostura bitters
Instructions
To make the simple syrup:
Combine sugar and water in small saucepan. Stir over medium heat until sugar is dissolved. Remove from heat and add thyme. Allow to steep for 15 minutes. Strain and refrigerate.
To make cocktail:
Fill a cocktail shaker with ice. Add bourbon, applejack, apple cider, lemon juice, simple syrup and bitters. Shake and strain into ice-filled glasses.
Notes
Adapted from Gramercy Tavern
Recommended Products
As an Amazon Associate and member of other affiliate programs, I earn from qualifying purchases.
Nutrition Information:
Yield:
1
Serving Size:
1
Amount Per Serving:
Calories:

125
Total Fat:

1g
Saturated Fat:

0g
Trans Fat:

0g
Unsaturated Fat:

0g
Cholesterol:

0mg
Sodium:

18mg
Carbohydrates:

237g
Fiber:

4g
Sugar:

227g
Protein:

1g
Don't forget the fresh apple cider when you go apple picking so you can make a batch of these Bourbon Apple Cider Cocktails. This is the perfect fall cocktail recipe to toast the season. Perfect for any event from tailgating to Thanksgiving!