Simple Syrup is a staple ingredient for any well stocked home bar. Once you learn how easy it is to make at home, you will never buy it again!
Simple syrup is exactly what is sounds like: a basic syrup made with granulated sugar and water.
The most common way simple syrup is used is in cocktails. Because so many drink recipes include simple syrup, it's definitely a staple for any home bar.
Although it's readily available at any grocery store, once you find out how easy it is to make, you'll never need to rush out to buy it for your favorite drink again.
Lemon drop martini, anyone?
Jump to:
Ingredients
There really isn't much to simple syrup. You only need sugar and water to make it!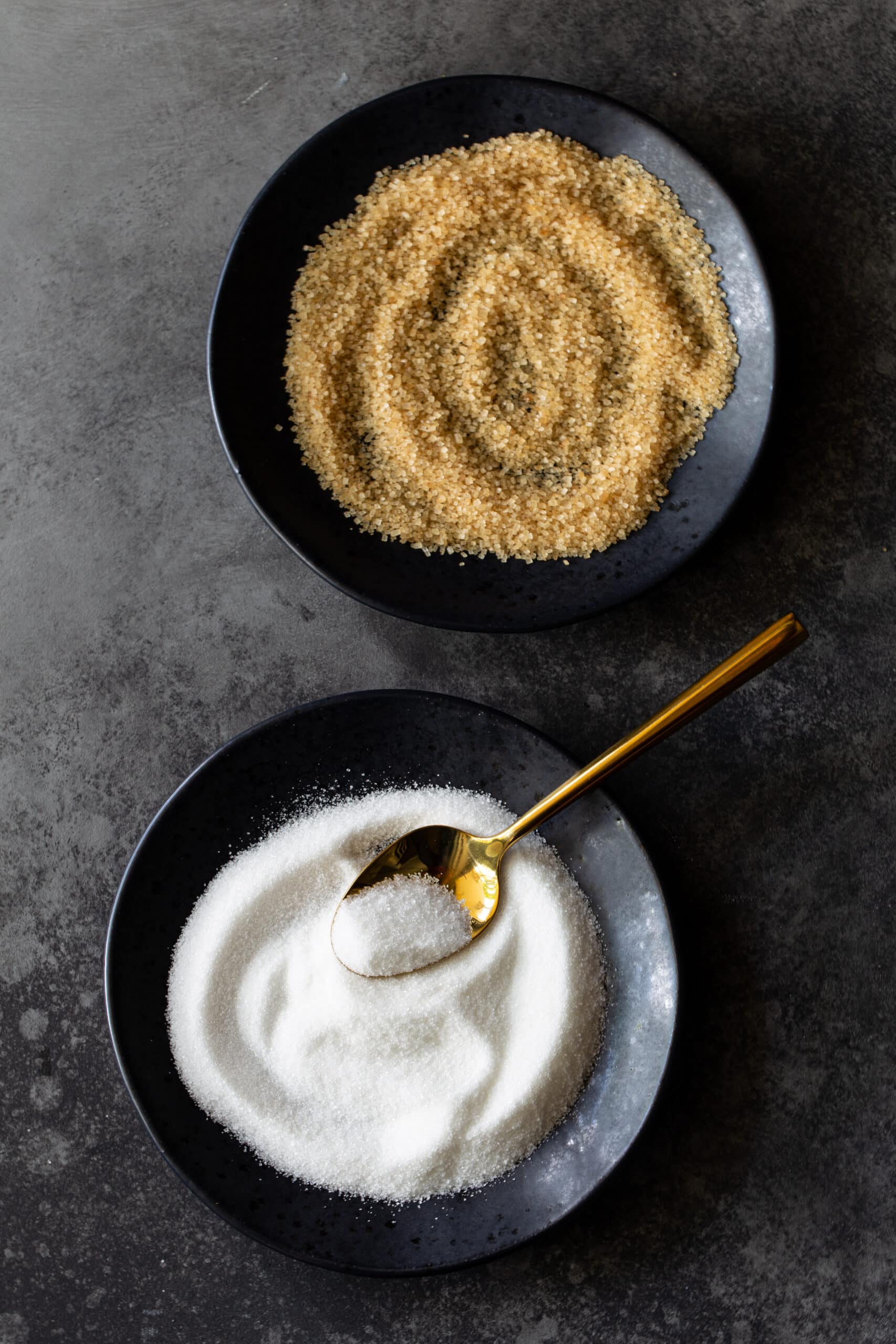 Ingredient Notes:
The type of sugar you use will impact your syrup's flavor.
The most common type is made with regular granulated white sugar. This gives it a clear color and mild sweetness (and what you see bottled at the grocery store).
But you can also make brown simple syrups. Swap the granulated sugar for Turbinado (raw) sugar and you'll get a richer syrup with a hint of caramel flavor (perfect for those fall and winter drinks!).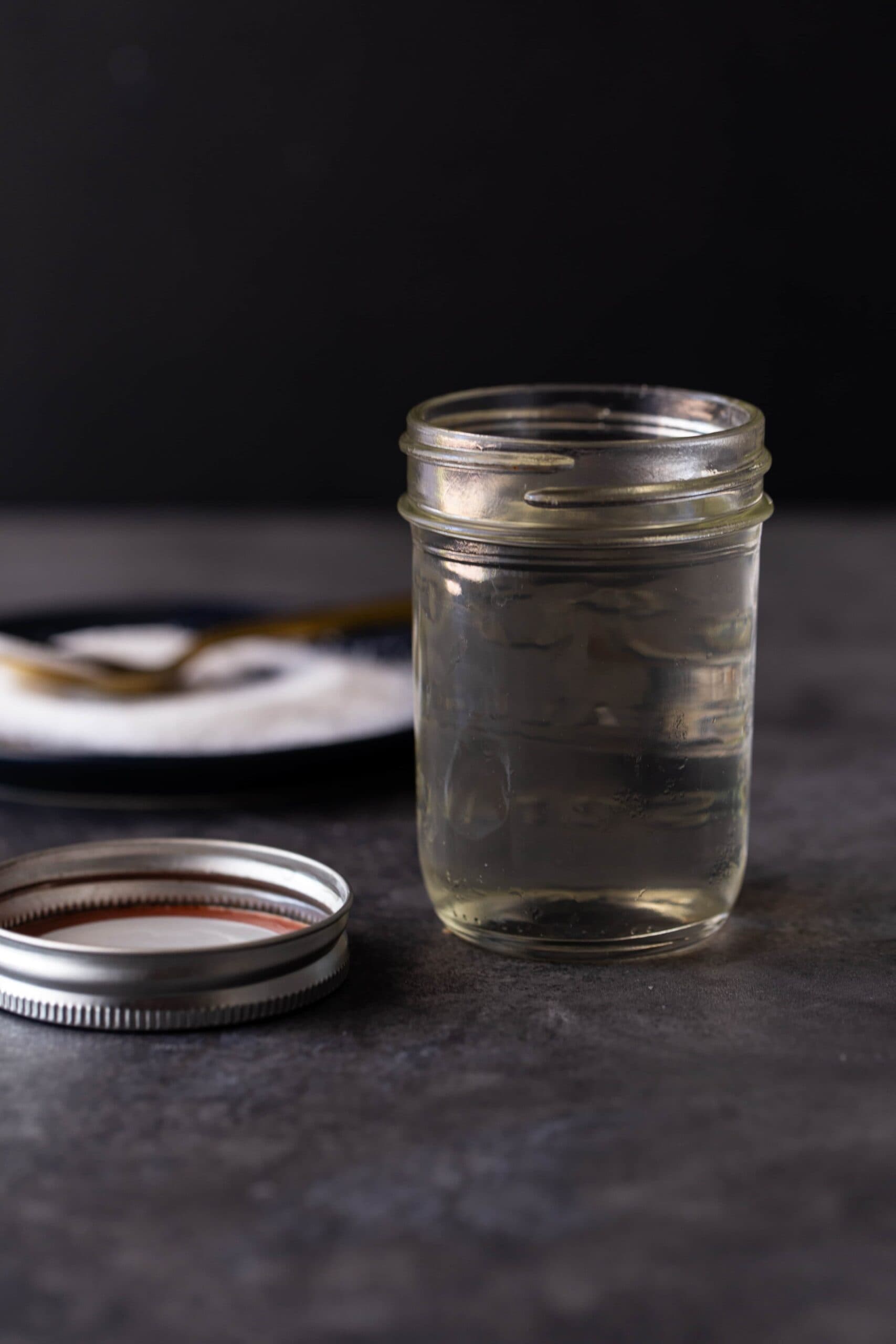 Instructions
Simple syrup is aptly named; it really is simple to make.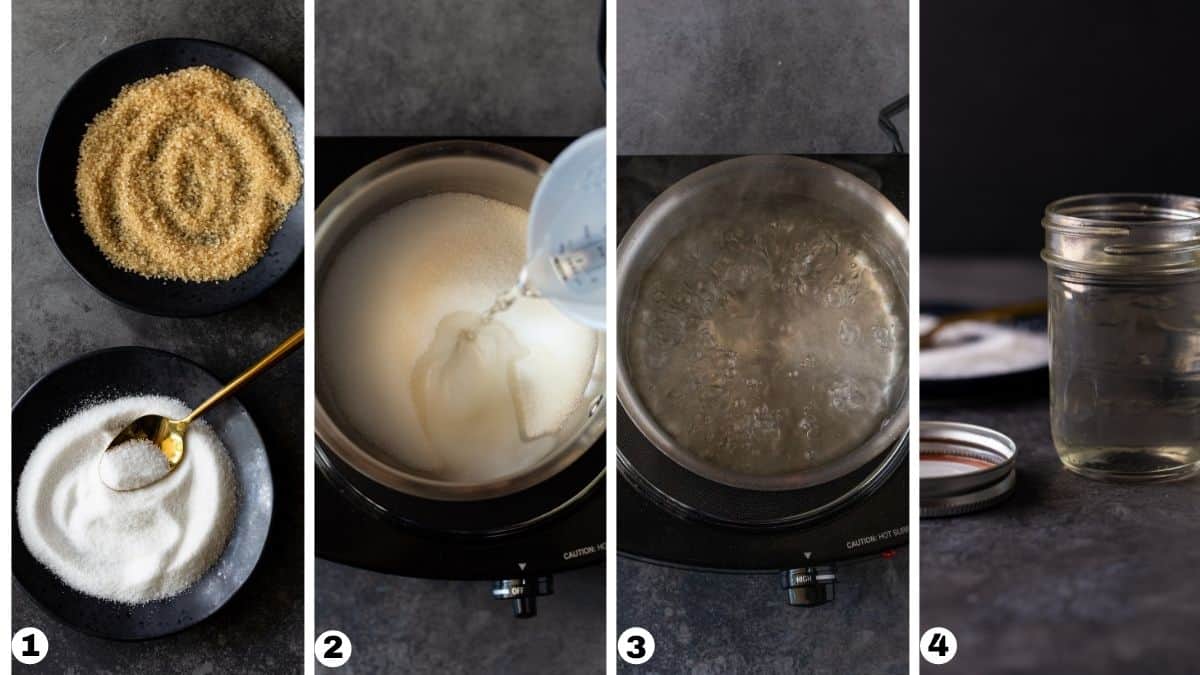 Step 1: Pick your sugar.
Step 2: Place sugar and water in pan.
Step 3: Boil until sugar dissolves.
Step 4: Cool and store in a mason jar.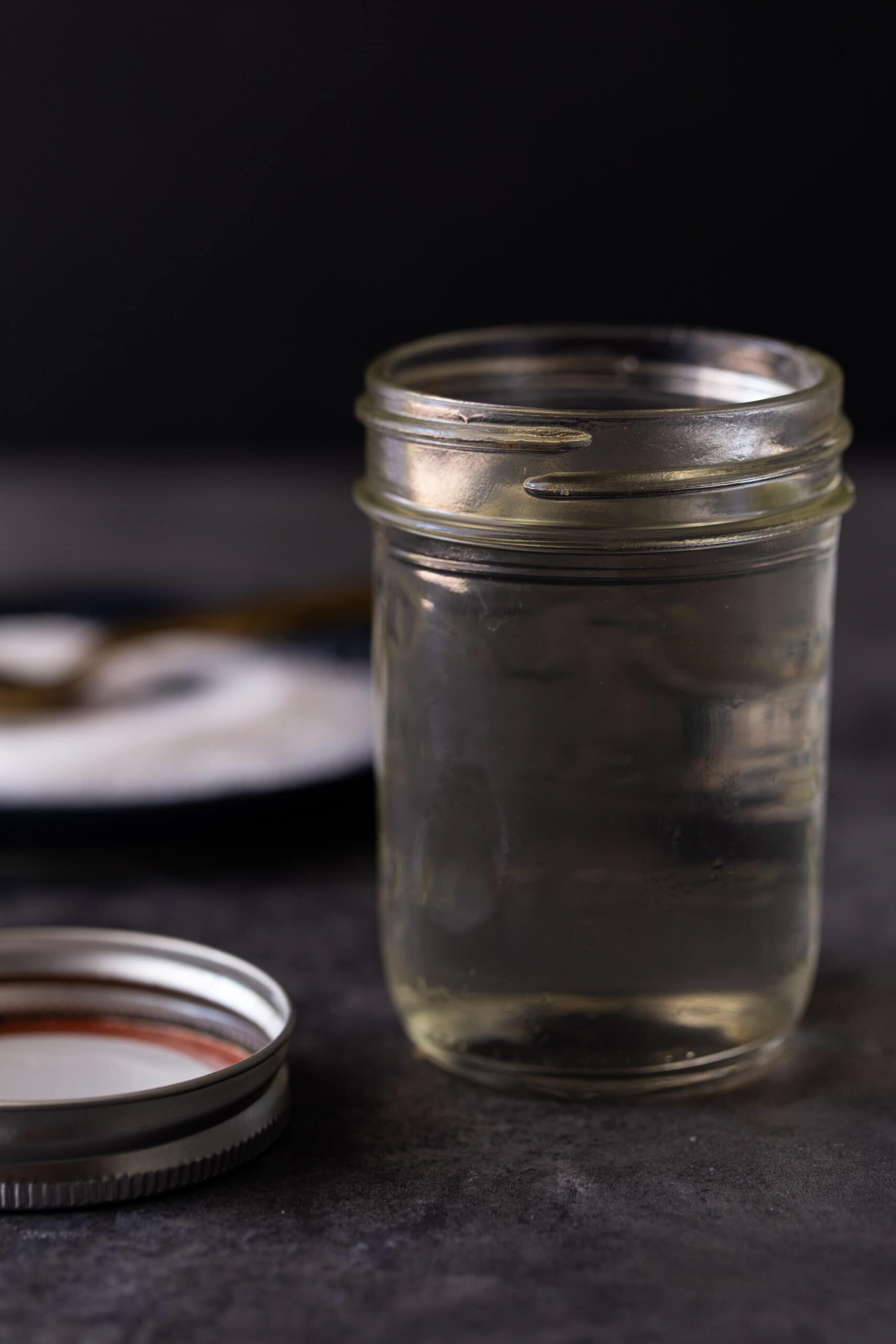 Infused Simple Syrup
Infusing syrup with herbs like basil, rosemary and mint (or even fruits!) gives it a subtle but unique taste that can be a delicious way to put a seasonal spin on your favorite drink recipes.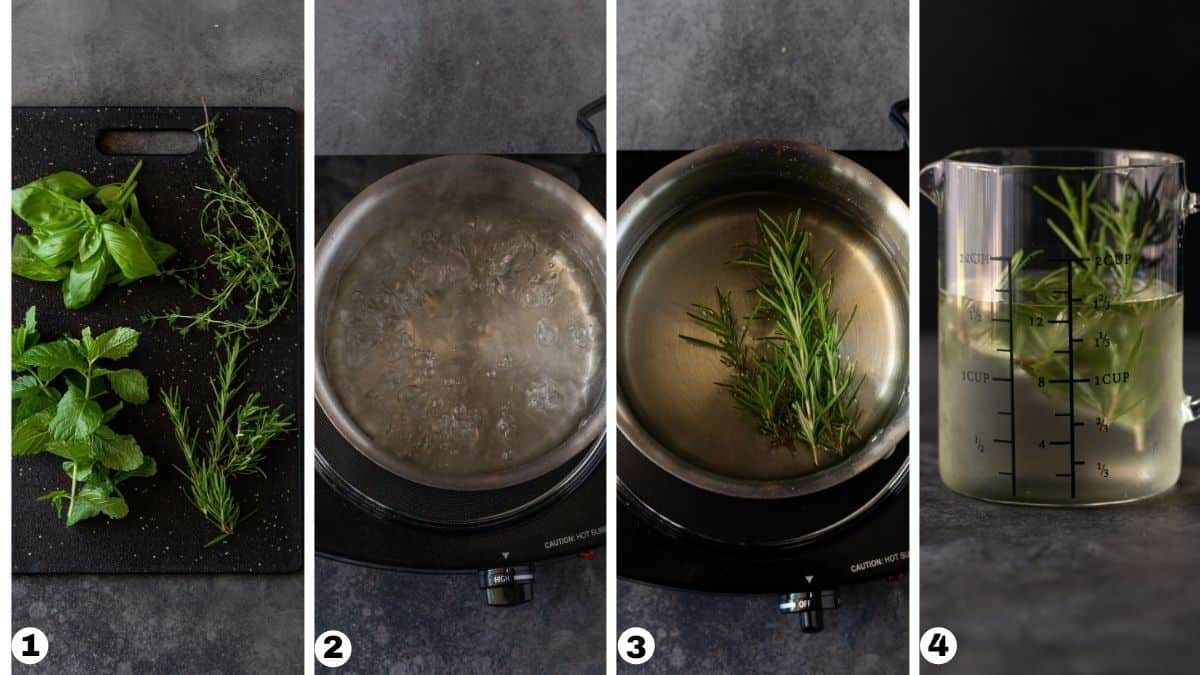 Step 1: Pick your herb
Step 2: Boil sugar and water until sugar is dissolved
Step 3: Remove from heat, add herbs and steep for 1 hour.
Step 4: Cool and store (remove herbs before placing in jar)
FAQs
How long does simple syrup last?
We love to use mason jars to store it after we make it, but you can also use any other glass jar or bottle or even a plastic food storage container.
Stored properly, it will keep for one month.
What is rich simple syrup?
Rich simple syrup uses a 2:1 sugar to water ratio. As the name implies, it is sweeter than regular.
Some bartenders prefer to use it in their cocktails because it is thicker and gives cocktails a little more body and mouthfeel.
Tip: Always use less rich syrup if substituting for regular.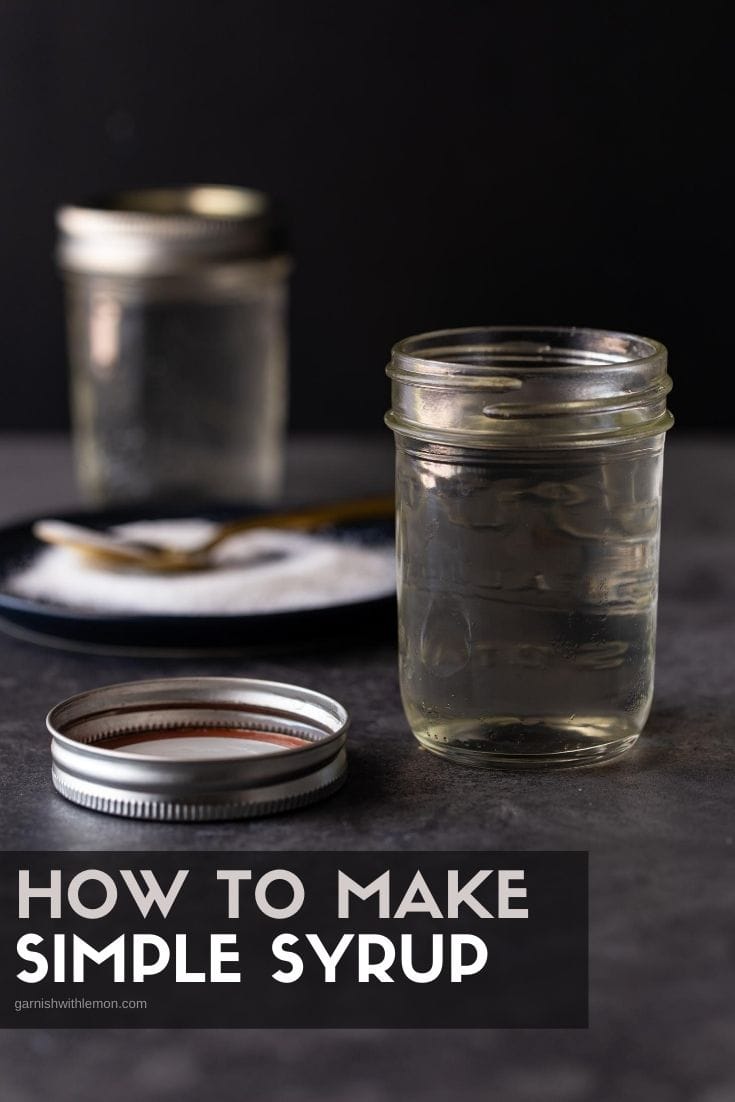 Ways to use it
Looking for more ways to use your simple syrup? You can't go wrong with a margarita!
These cocktail recipes use infused syrup to add subtle flavor:
But it's not just for cocktails. You can also use it to make homemade lemonade, sweet tea, or even as a flavorful dressing for fruit salads.
Recipe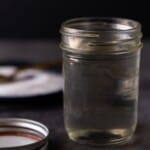 How to Make Simple Syrup
Simple syrup is easy to make at home and only uses 2 ingredients!
Ingredients
1

cup

white granulated sugar

1

cup

water
Instructions
Place sugar and water in small sauce pan over medium heat. Heat until sugar is dissolved, stirring occasionally.

Remove from heat and cool completely. Store in refrigerator.
Notes
To make infused simple syrup:
Add 1 cup of fresh herbs when you remove the syrup from the heat. Let herbs steep for one hour. Strain through a fine mesh sieve and store in refrigerator.
Shelf life:
Plain simple syrup will keep in refrigerator for one month while infused simple syrups should be used within 2 weeks.
Nutrition
Serving:
1
ounce
Calories:
48
kcal
Carbohydrates:
13
g
Sodium:
1
mg
Sugar:
12
g
Nutrition info not guaranteed to be accurate.
It's easy to learn How to Make Simple Syrup. You only need 2 ingredients and 10 minutes to make this essential cocktail ingredient at home!