Simple Syrup is a staple ingredient for any well stocked home bar. Once you learn how easy it is to make at home, you will never buy it again!
Simple syrup is exactly what is sounds like: a basic syrup made with granulated sugar and water.
Ways to Use It
The most common way simple syrup is used is for cocktails. It's used in so many great drinks that it's a staple for any home bar.
Although it's readily available at any grocery store, once you find out how easy it is to make, you'll never need to rush out to buy it for your favorite drink again.
Lemon drop martini, anyone?
But simple syrup is not just for cocktails. You can also use it to make homemade lemonade, sweet tea, or even as a flavorful dressing for fruit salads.
Best sweetener for cocktails
There's a reason that so many cocktails use simple syrup: it's easy to mix with nearly anything.
Yes, you can use regular sugar in your drinks, but dissolving sugar in liquids can be tricky, especially cold liquids.
If you don't stir, whisk or shake enough, you end up with a sugar sludge at the bottom of your glass or shaker and an unevenly flavored cocktail (too tart or too sweet).
Types of Sugar
The type of sugar you use will impact your syrup's flavor.
The most common simple syrup is made with regular granulated white sugar. This gives it a clear color and mild sweetness (and what you see bottled at the grocery store).
But you can also make brown simple syrups. Swap the granulated sugar for Turbinado (raw) sugar and you'll get a richer syrup with a hint of caramel flavor (perfect for those fall and winter drinks!)
Instructions
Simple syrup is made with 2 ingredients: sugar + water.
2
Place sugar and water in pan
3
Boil until sugar is dissolved
Best way to store
We love to use mason jars to store simple syrup after we have made it, but you can also use any other glass jar or bottle or even a plastic food storage container.
The only important tip is to cool and seal tightly before refrigerating.
Refrigerator Life
Even though simple syrup comes together in minutes, it's nice to be able to pull it out of the refrigerator when you want a fun cocktail. We always have a batch of it in the fridge ready to go. After all, Taco Tuesday is way more fun with a margarita.
Plain simple syrup will keep in the refrigerator for up to a month.
But why settle for just plain simple syrup?
Infused simple syrup
Not only is simple syrup super easy to make, you can also infuse it with any number of herbs (or even fruits!) to give it a subtle but unique taste.
Basil, mint and rosemary syrups are a few of our favorite ways to update a classic cocktail with a seasonal twist.
Follow these steps to make an infused simple syrup:
Add granulated sugar and water to a medium pan.
Heat until sugar is dissolved.
Remove from heat and stir in a fistful of fresh herb leaves.
Let herbs steep in syrup for 1 hour.
Strain and refrigerate infused syrup in a mason jar until ready to use.
These cocktail recipes use infused simple syrup to add subtle flavor: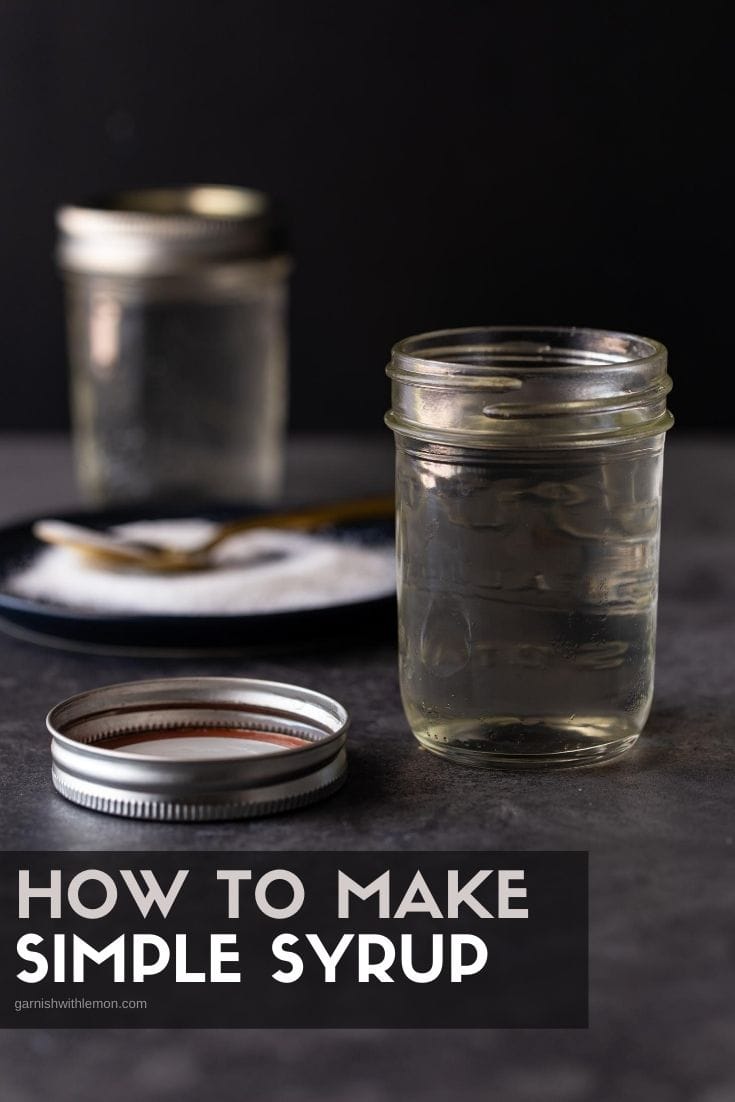 Margarita Recipes
Looking for more ways to use your simple syrup? You can't go wrong with a margarita!
Yield: 1 cup
How to Make Simple Syrup
Simple syrup is easy to make at home and only uses 2 ingredients!
Ingredients
1 cup white granulated sugar
1 cup water
Instructions
Place sugar and water in small sauce pan over medium heat. Heat until sugar is dissolved, stirring occasionally.
Remove from heat and cool completely. Store in refrigerator.
Notes
To make infused simple syrup:
Add 1 cup of fresh herbs when you remove the syrup from the heat. Let herbs steep for one hour. Strain through a fine mesh sieve and store in refrigerator.
Shelf life:
Plain simple syrup will keep in refrigerator for one month while infused simple syrups should be used within 2 weeks.
Nutrition Information:
Yield:
16
Serving Size:
1/2 ounce
Amount Per Serving:
Calories:

48
Total Fat:

0g
Saturated Fat:

0g
Trans Fat:

0g
Unsaturated Fat:

0g
Cholesterol:

0mg
Sodium:

1mg
Carbohydrates:

13g
Fiber:

0g
Sugar:

12g
Protein:

0g
It's easy to learn How to Make Simple Syrup. You only need 2 ingredients and 10 minutes to make this essential cocktail ingredient at home!