Bacon is always a hit with a crowd, and this Candied Bacon is no exception.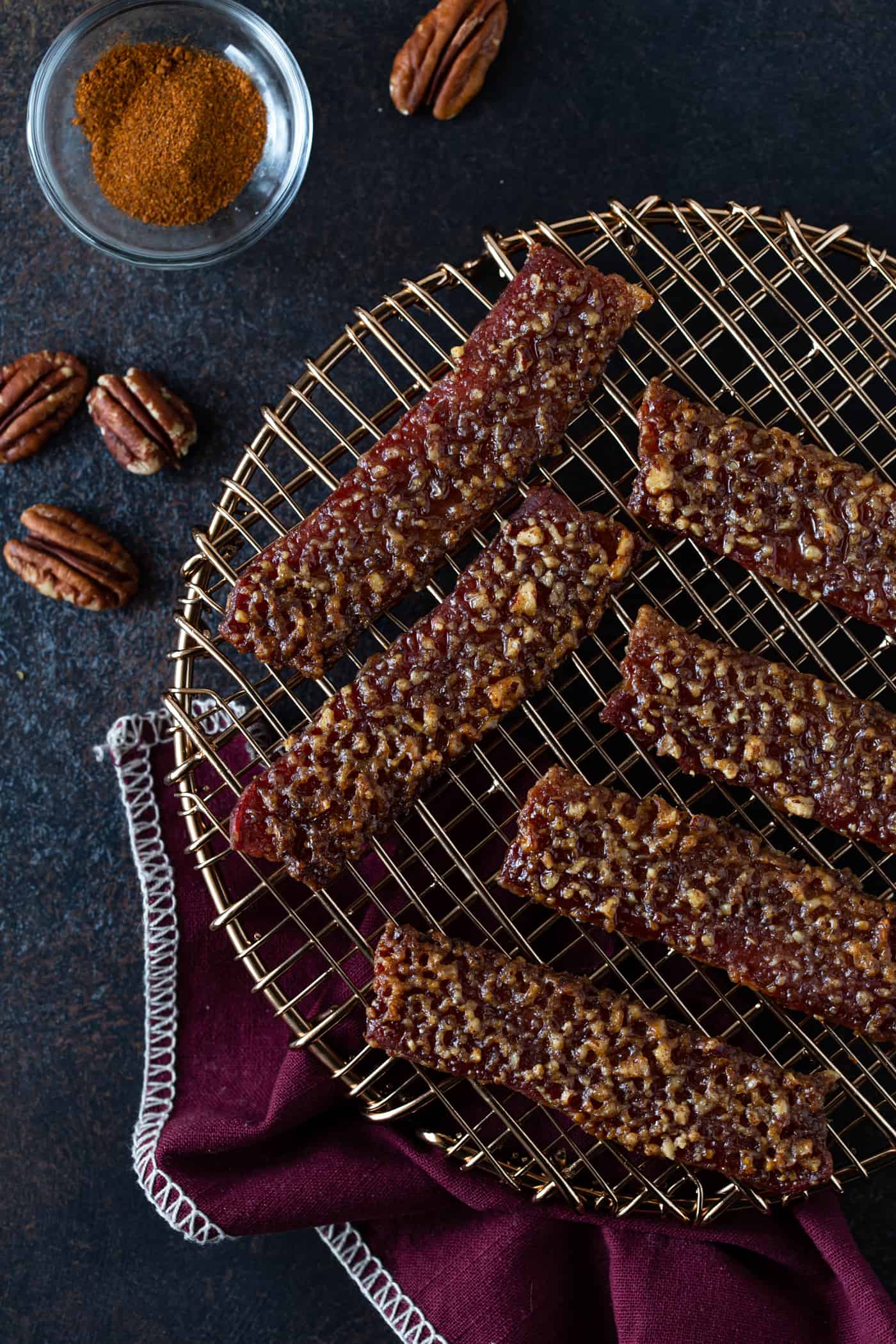 Can someone tell me about the power of bacon? I mean I know it's good and all, and it truly does make everything better. But sometimes it brings out another side of people. We had a party a few weeks ago and the food went fast - faster than any year before.
I went through 4 pounds of bacon! 4 pounds, and there weren't even that many people there. People like their bacon and will fight like mad to get it on their plates and in their bellies. 
There can truly never be enough bacon, especially when it comes to this candied bacon recipe!
You'll love this crispy, and delightfully sweet combination that is absolutely addicting. You might even find yourself eating it for breakfast, lunch, dinner, and everything in between. There is never a wrong time for bacon right?
An added bonus?
The smells of bacon wafting through the house. And when that greets your guests at the door, you know it's going to be a great night. Bacon, cocktails, and friends. A combination that can't be beat.
What is Candied Bacon?
Candied bacon can often go by a few names, like caramelized bacon, bacon candy, brown sugar bacon. No matter what you call it, it's all the same amazing creation we should all be so happy exists!
Candied bacon combines salty, sweet, and crispy to make a combo of flavors that dreams are made of. The ideal candied bacon has crispy edges and a crackly crust from the caramelized sugar that's been baked on top.
It's essentially bacon but taken to the ultimate level!
How Do I Make Candied Bacon?
Making your own candied bacon at home is easy as can be. No need to only indulge when you go out, you can make candied bacon any time you crave it, which will probably be all the time!
The ingredient list is short and prep time even shorter.
To make this recipe you will need:
pecans

cayenne

brown sugar
maple syrup
thick-cut bacon
Pulse the pecans and brown sugar in a food processor, add a little cayenne for some depth and heat.
Put this yummy mixture on top of the bacon, and then drizzle a little pure maple syrup on top and pop it in the oven.
What comes out is a spicy, sweet candied bacon that is guaranteed to be the hit of the party.
What's The Best Kind of Bacon to Use for Candied Bacon?
For this recipe, we love to use thick-cut bacon because it makes it just that much better. You can certainly use other cuts of bacon, just know that if you use thinner slices, you might need to adjust the baking time, and lower it by a few minutes.
You can also use regular bacon alternatives, like turkey bacon if prefer that over regular pork bacon.
How To Store Candied Bacon
If you can't seem to eat all of your spicy candied bacon in one sitting, no worries, it keeps leftover pretty well. Once the bacon is completely cooled, you can wrap each piece in wax paper, place it in a sealed container and store it in the refrigerator for as long as three weeks.
To freeze the caramelized bacon, you prepare it just the same as you would store in the refrigerator, but instead, you'll place it in the freezer for up to 6 months. To eat from frozen, just let the bacon thaw in the refrigerator overnight.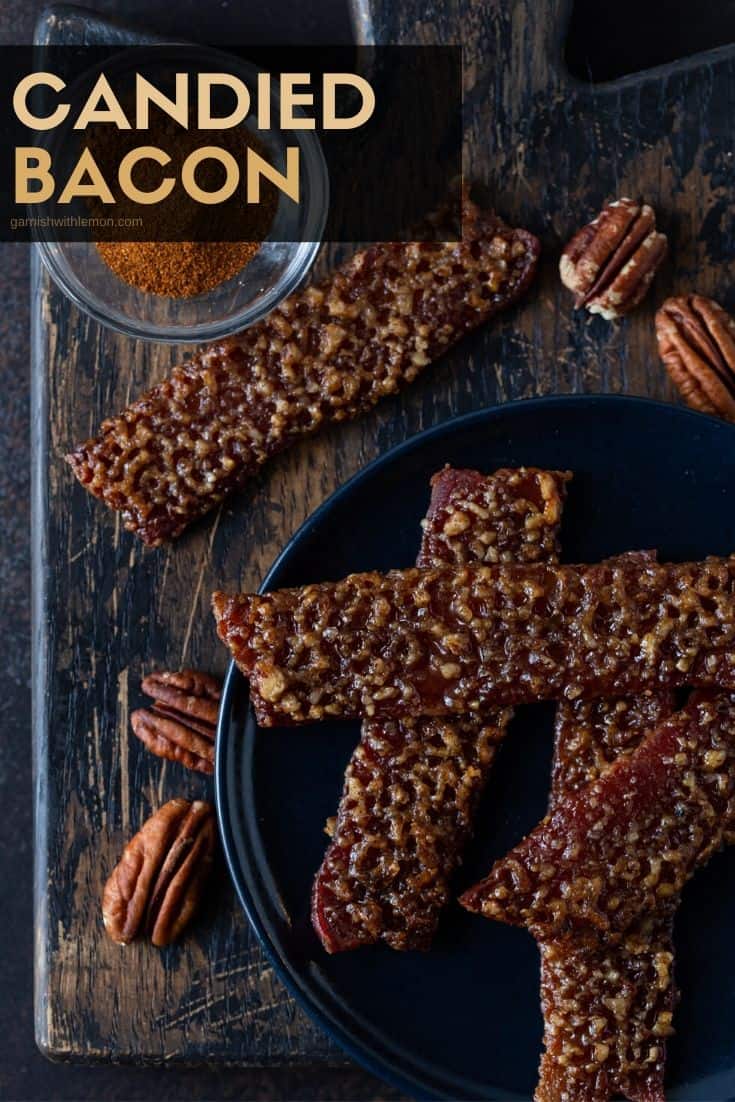 Ways To Serve Candied Bacon
Have you ever had Candied Bacon before? It is simple to make and goes amazingly well with cocktails. Since it's an unexpected appetizer, it's a great treat to serve during the holidays.
But be warned; people will love it. And eat all of it.
There are so many possibilities for this candied bacon recipe. The obvious would be to bake up a fresh batch early in the morning and pair it with your eggs and coffee, but that's not all it's good for.
You can also try crumbling it into a side salad, adding the best BLT, or even using it as a garnish for your at-home bloody mary bar.
Need more ideas for appetizers with bacon? Try these party pleasing favorites!
You can always use more appetizers at a party, so be sure to check out a few of these fan favorites that are always a hit no matter the occasion!
Find all of our appetizer recipes here.
This Candied Bacon is perfect for any holiday party!
Ingredients
1/2 cup light brown sugar, lightly packed
1/2 cup chopped or whole pecans
1/4 teaspoon ground cayenne pepper
2 tablespoons pure maple syrup
1/2 pound thick-sliced bacon
Instructions
Preheat oven to 400 degrees. Line a jelly roll pan with foil and place a baking rack on top. Set aside.
Add brown sugar and pecans to the bowl of a food processor. Pulse until pecans are finely chopped. Add cayenne pepper and pulse again.
Cut bacon in half cross-wise and place on top of rack. Be certain that the slices do not touch each other. Bake for 5 minutes and remove from oven.
Use a spoon to sprinkle the pecan-brown sugar mixture among the slices of bacon.
Drizzle the top with maple syrup.
Bake for 20-25 minutes or until tops are browned but not burned. Remove from oven and place on a paper towel lined plate.
Serve at room temperature.
Notes
Make sure you bake bacon to your desired degree of doneness. If bacon is undercooked, it will not crisp as it cools.
Nutrition Information:
Yield:
16 servings
Serving Size:
1/2 slice
Amount Per Serving:
Calories:

139
Total Fat:

10g
Saturated Fat:

2g
Trans Fat:

0g
Unsaturated Fat:

7g
Cholesterol:

14mg
Sodium:

241mg
Carbohydrates:

8g
Fiber:

1g
Sugar:

7g
Protein:

5g
This Candied Bacon Recipe is an easy, make-ahead appetizer that always disappears at a party.