If you're a margarita fan, you're going to love this Grapefruit Paloma recipe. Tangy grapefruit and lime juices combine with sweet, smooth tequila, agave syrup and bubbly soda water to create a light, refreshing sipper that's perfect for any citrus lover.
Grapefruit Paloma
If you're a tequila lover, you know it can be hard to stray from a good margarita. (We know; we have more than 10 margarita recipes on our site!) But this bubbly, citrusy, super refreshing Grapefruit Paloma should tempt you to try something new.
Smooth silver tequila, tart grapefruit and fragrant lime juices, sparkling water and a bit of agave syrup gives this simple, thirst-quenching cocktail beautiful color and balanced flavor. Make one in minutes!
Jump to:
Why you'll love this recipe
➤ Full of citrus. This drink uses freshly squeezed grapefruit juice and lime juice, both great sources of vitamin C and refreshing ingredients for bubbly mixed drinks.
➤ Gorgeous yet simple drink. Grapefruit juice gives it a gorgeous pink tone that looks super fancy. Looking to impress your guests, or treat yourself to something polished? Try using lime or grapefruit wedges to garnish your glasses, or add citrus rind shavings for a colorful pop.
➤ Great to freeze and serve later. Are grapefruits in season now, but you know you'll be craving this sweet drink in the later months? Freeze some of that prime grapefruit juice and save it for when your craving for a Grapefruit Paloma hits.
➤ Make it a mocktail. Omit the tequila in this drink, and you have a delicious non-alcoholic drink for everyone!
Ingredients and Substitutions
You only need a handful of ingredients for this refreshing mixed drink.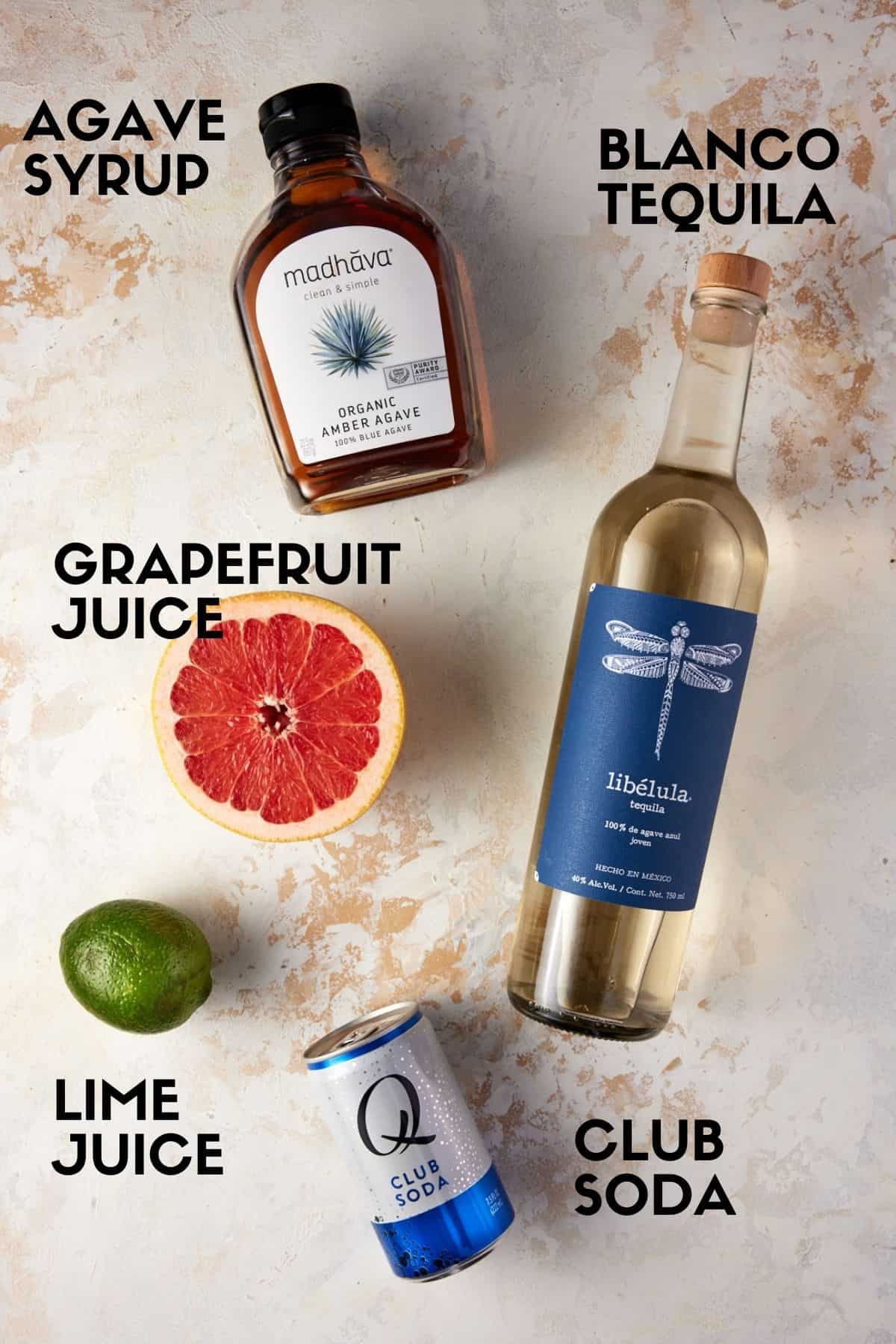 Grapefruit juice: You can't make a Grapefruit Paloma without it. The bright pink color makes for a beautiful drink, and the citrus tang of the fruit gives it some zing.
Lime juice: This is another non-negotiable for a balanced Paloma. Two citrus juices give this cocktail even more flavor.
NOTE: Freshly squeezed juices will always give your drink the best taste. Bottled juices contain preservatives that can impact flavor. It takes just a few moments to squeeze your own juice and will give you restaurant-quality results.
Blanco tequila: While we prefer to make a Paloma with blanco tequila, you can certainly swap in reposado tequila if that's all you have. The important thing is to make sure your tequila is 100% agave — it's less watered down.
Agave syrup: This ingredient adds the perfect amount of sweetness to balance the tangy citrus juices. You can also substitute honey or simple syrup, which you can make at home in minutes - try this super easy simple syrup recipe and see for yourself!
Instructions
Shake up a Grapefruit Paloma in minutes!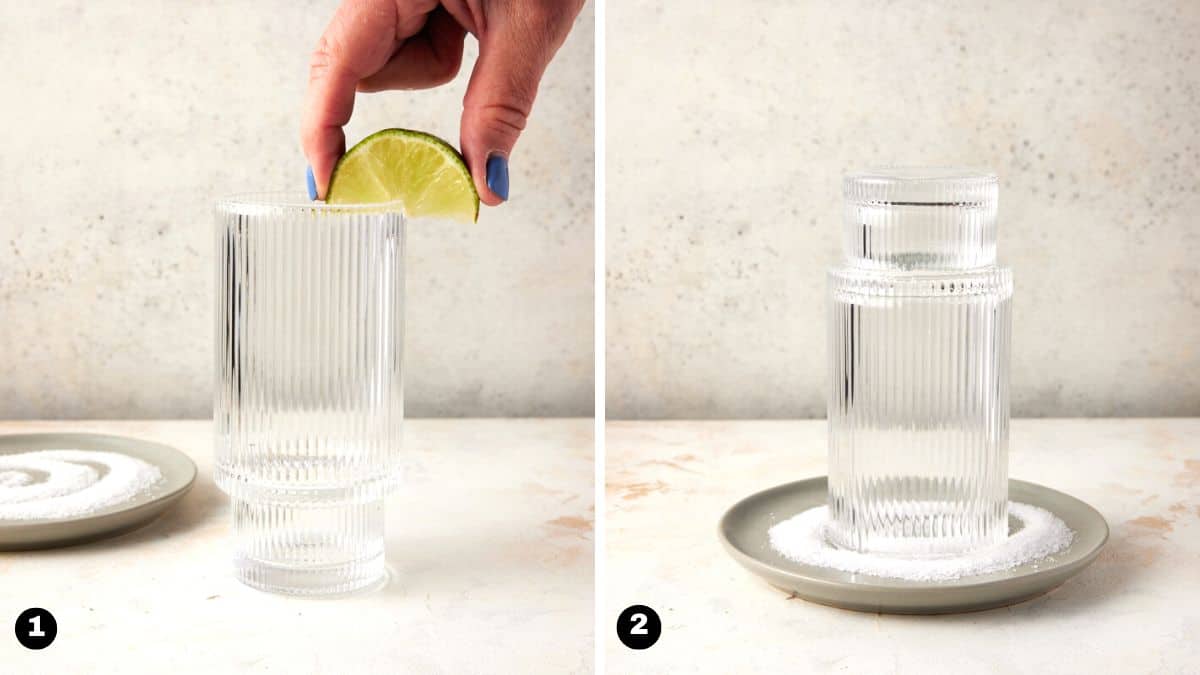 Prepare your glasses: Rim your glass with a lime wedge, then roll the edge in coarse salt. Fill with ice.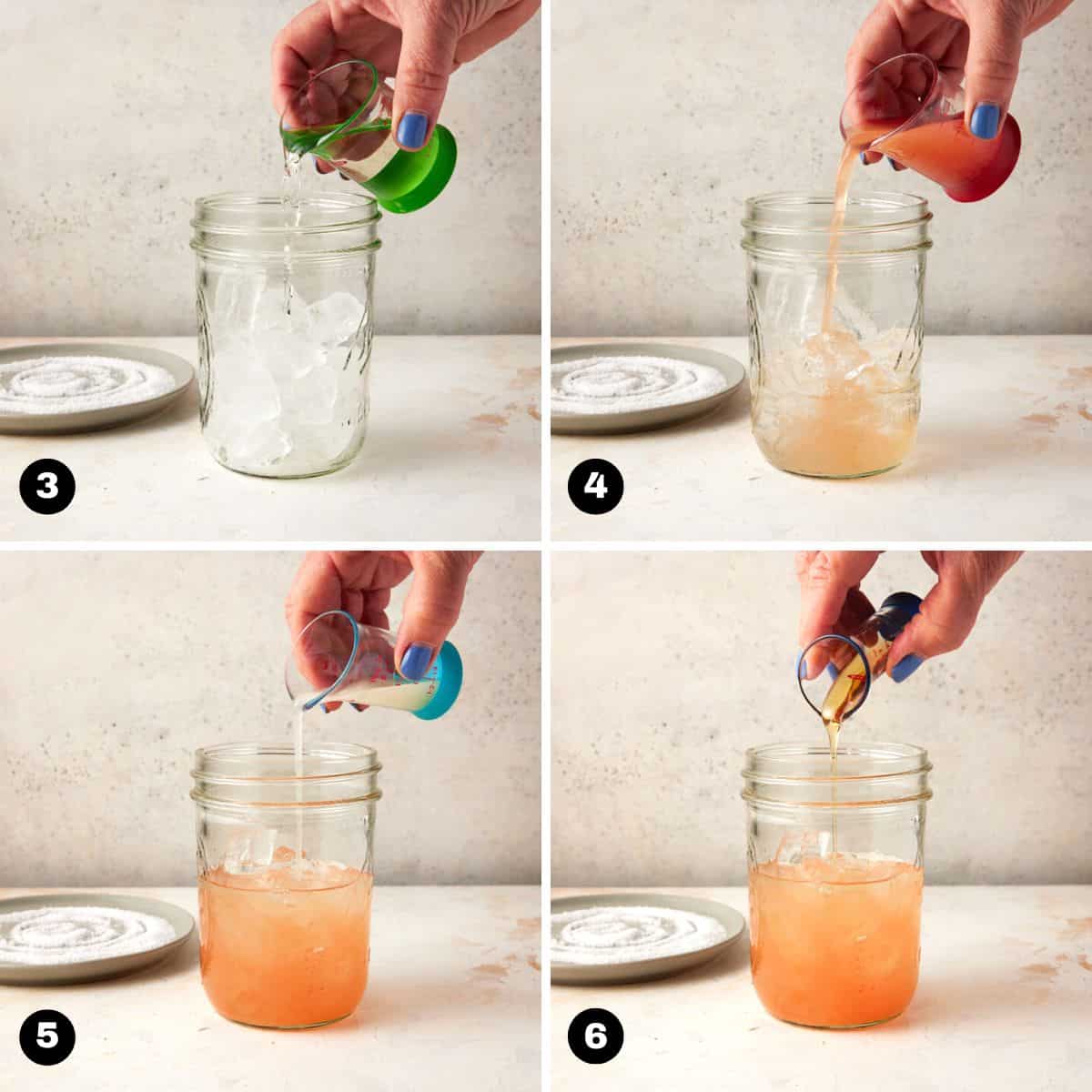 Make your cocktail: Combine your tequila, lime juice, grapefruit juice, and agave syrup in a shaker.
Mix it up: Cover and shake for 20 seconds.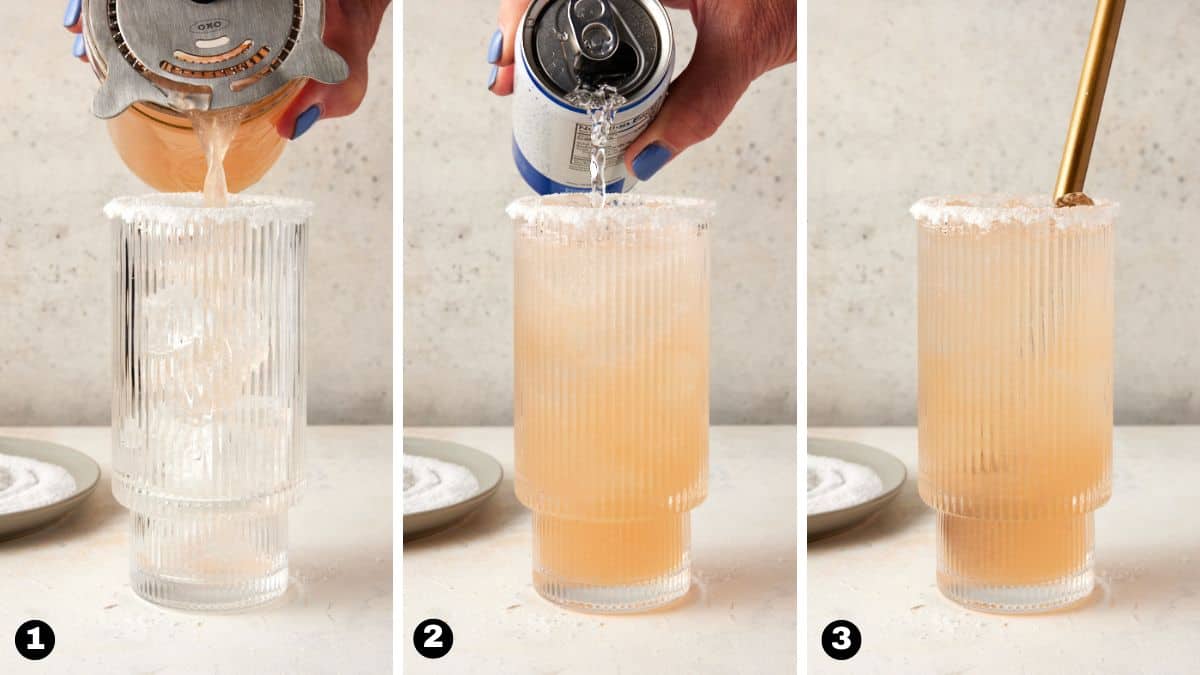 Pour: Strain the drink into the prepared glass. Top with club soda, give it a stir, and garnish to your liking!
FAQs
What is the difference between a margarita and a Paloma?
There are a few key differences between these popular tequila cocktails.

Margaritas can be served frozen or on the rocks, while Palomas are always served over ice.

Pre-made margarita mixes tend to have a higher sugar content. A tequila Paloma, in contrast, can be made with club soda, and you can tone down the sugar level to your own taste for a lighter drink option.
What kind of tequila is best for a Paloma?
We usually use a blanco or silver tequila for this recipe as it has a stronger, purer taste that works well in mixed drinks. We always recommend always recommend using 100% agave tequila for cocktails. If a bottle of tequila uses the word "mixto," it means that some of the agave has been switched out for sugar cane, which is not ideal. These types of tequila are watered down, which will make any tequila Paloma weaker and less flavorful.

What kinds of food pair well with Grapefruit Palomas?
Snacks, snacks and more snacks! If you're keeping with the Mexican theme of tequila, serve recipes like this chunky guacamole, shrimp ceviche and roasted chili corn salsa. They compliment the tangy notes of your cocktails perfectly.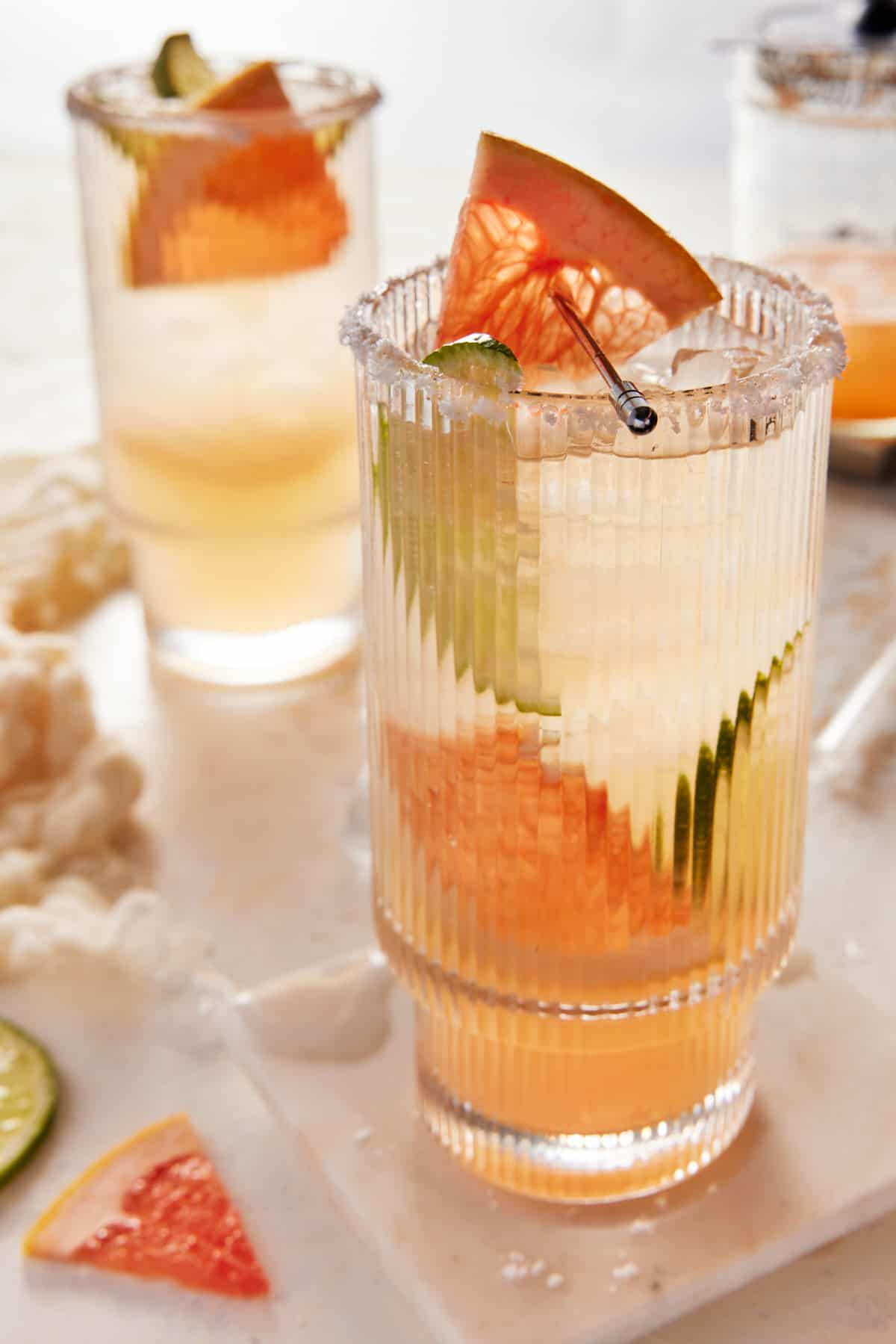 Tips for making a great Grapefruit Paloma
✔︎ Choose citrus fruits that are easy to squeeze. Grapefruits and limes that are rock hard usually do not contain as much juice and you'll need more to make your drinks. Another trick for juicing citrus is to make sure your fruit is at room temperature rather than chilled straight from the fridge. Roll the fruits back and forth on the counter a few times before squeezing every drop out.
✔︎ The sweetness of your grapefruit juice can make a difference in the flavor of your drink. In season fruit will be naturally sweeter. If you have really sour juice, you may need to add more agave syrup to balance the flavors. Taste the recipe as written first and then adjust if needed.
✔︎ Want a spicy paloma? Muddle a few jalapeno slices in the bottom of your glass before adding the rest of the ingredients. Or if you're serving a crowd, try this recipe for spicy raspberry palomas.
More grapefruit cocktails
Love citrus? This Tequila Mojito is one of our favorite thirst-quenchers on a hot day. But if grapefruit is your jam, check out any of these tasty grapefruit cocktails.
Looking for something different? You can find all of our drink recipes in our archives.



Did you make this recipe? We'd love to hear your thoughts! 

Please rate the recipe and leave a comment below. Your feedback helps us and your fellow readers! 



Recipe
Grapefruit Paloma
No sugary soda here! Freshly squeezed citrus juices are mixed with smooth blanco tequila and topped with bubbly sparkling water for a super refreshing cocktail.
Ingredients
coarse salt

2

ounces

blanco tequila,

100% agave

2

ounces

fresh grapefruit juice

½

ounce

fresh lime juice

½

ounce

agave or simple syrup

2

ounces

club soda or sparkling water
Instructions
Run a lime wedge around the rim of a highball glass. Dip glass rim in a shallow plate filled with salt. Fill glass with ice and set aside.

Add tequila, grapefruit and lime juices and agave to a cocktail shaker filled with ice. Cover and shake vigorously for at least 20 seconds.

2 ounces blanco tequila,,

2 ounces fresh grapefruit juice,

½ ounce fresh lime juice,

½ ounce agave or simple syrup

Strain paloma into prepared glass. Top with club soda and stir. Garnish with additional grapefruit and lime slices, if desired.

2 ounces club soda or sparkling water
Notes
Always choose tequila that is 100% agave. 

Freshly squeezed grapefruit juice and lime juice will give you the best tasting cocktail. The bottled stuff contains preservatives that impact flavor.

You can use agave or simple syrup in this recipe. I prefer agave because tequila is made from the agave plant but use whatever you have on hand. 

The sweetness of your grapefruit juice can make a difference in the flavor of your drink. In season fruit will be naturally sweeter. If you have really sour juice, you may need to add more agave syrup to balance the flavors. Taste the recipe as written first and then adjust if needed.
Nutrition
Serving:
1
g
Calories:
205
kcal
Carbohydrates:
18
g
Protein:
0.4
g
Fat:
0.1
g
Sodium:
14
mg
Potassium:
111
mg
Fiber:
0.1
g
Sugar:
16
g
Vitamin A:
11
IU
Vitamin C:
22
mg
Calcium:
9
mg
Iron:
0.3
mg
Nutrition info not guaranteed to be accurate.