Ceviche de Camarón is the perfect, no-cook summer appetizer! This make-ahead shrimp ceviche recipe, packed with fresh shrimp, tomatoes, chili peppers, avocado and lime juice, is light, refreshing and an excellent partner for salty tortilla chips. A tasty way to cool off on steamy summer days!
No one wants a rich, heavy snack when it's hot outside. This bright and lively Ceviche de Camarón (or Shrimp Ceviche) is just what your next summer gathering needs. Fresh shrimp is cured in tangy lime juice and mixed with flavorful herbs and veggies for a healthy, refreshing snack that will be devoured every time the mercury rises.
Jump to:
Why you'll love this recipe
➤ No cooking required: Forget about turning on the oven or firing up the grill. The only things you need to do to whip up a bowl of ceviche goodness are chop, squeeze and stir.
➤ Healthy and delicious: Packed with protein and veggies, this shrimp appetizer is a flavorful, good-for-you snack that's meant to be shared and is perfect for pool parties, backyard BBQs and potlucks.
➤ Easy to customize: Good ceviche is more of about the preparation method rather than a strict recipe. In general, ceviche describes seafood that is "cooked" in citrus juice and mixed with herbs and vegetables. So feel free to take this shrimp ceviche and make it your own. Not a shellfish fan? Use a firm white fish instead. Want to make it extra spicy? Add chili peppers that bring the heat. Got a sweet tooth? Toss in some mango or pineapple. The options are endless!
Ingredients
This shrimp ceviche is packed with fresh, clean ingredients.
A few ingredient notes:
Shrimp: You can use fresh or frozen shrimp that has been defrosted, but since shrimp is the star of the show, spring for high-quality shrimp for best flavor and to avoid any exposure to bacteria. The size isn't as important since the shrimp are chopped into pieces in this ceviche recipe. Any size from medium to extra large works here. I usually buy my shrimp peeled and deveined with the tails off to save some prep time.
Lime Juice: Freshly squeezed juice is the only way to go. The bottled stuff contains preservatives that can impact flavor.
Cucumber: I used an English style cucumber because it has fewer seeds and a milder flavor but any cucumber will work here.
Tomatoes: Nearly any type of tomato can be used in this recipe. I opted for Roma tomatoes. Seeding the tomatoes is optional.
Onion: Red, white or yellow onion all work here. I like red onion for the bit of color it adds to the dish.
Cilantro: I know some people don't like the taste of cilantro. You can try to substitute Thai basil or parsley instead, but you may need to play with the amount as they will make the recipe taste different than what I tested.
Instructions
Grab your sharpest knife and best cutting board for this recipe.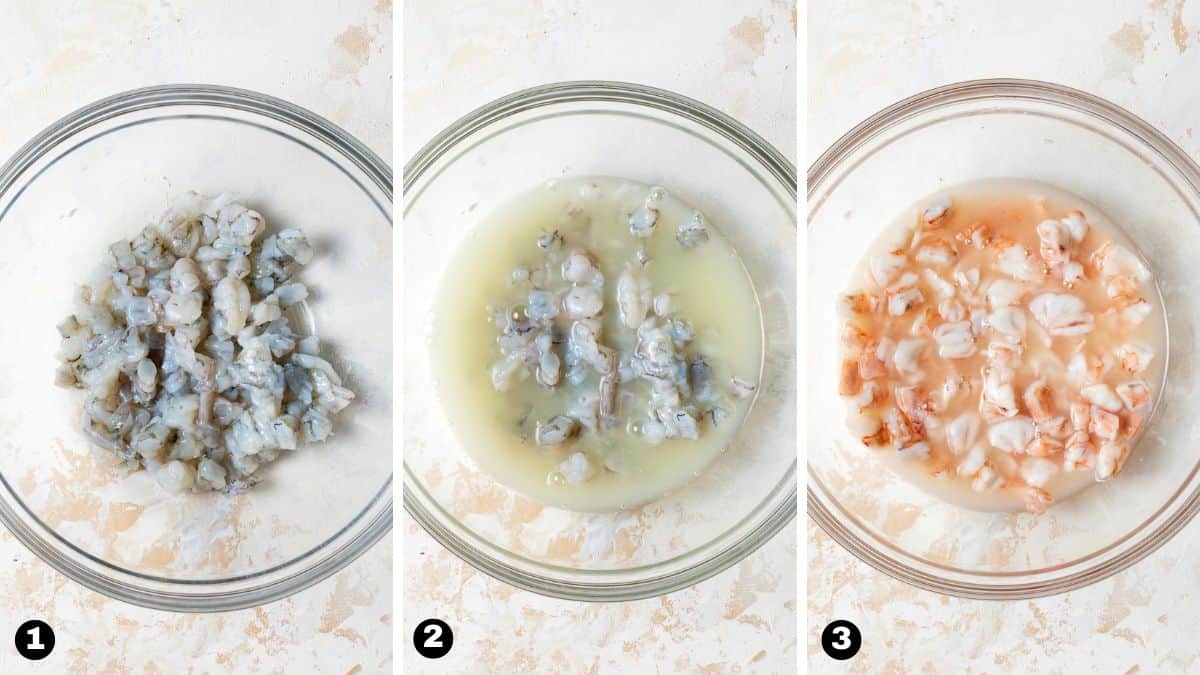 Chop the shrimp into similar sized pieces. Place in a bowl, stir in lime juice and cover. Refrigerate for at least 2 hours. The shrimp will turn pink and opaque when they are ready.
Add chopped tomatoes, cucumbers, onion, jalapeño, cilantro, salt and pepper to the bowl with the shrimp. Stir to combine and adjust seasoning as needed. Refrigerate for at least 20 minutes and up to 1 hour. Stir in avocado just before serving. Serve with tortilla chips.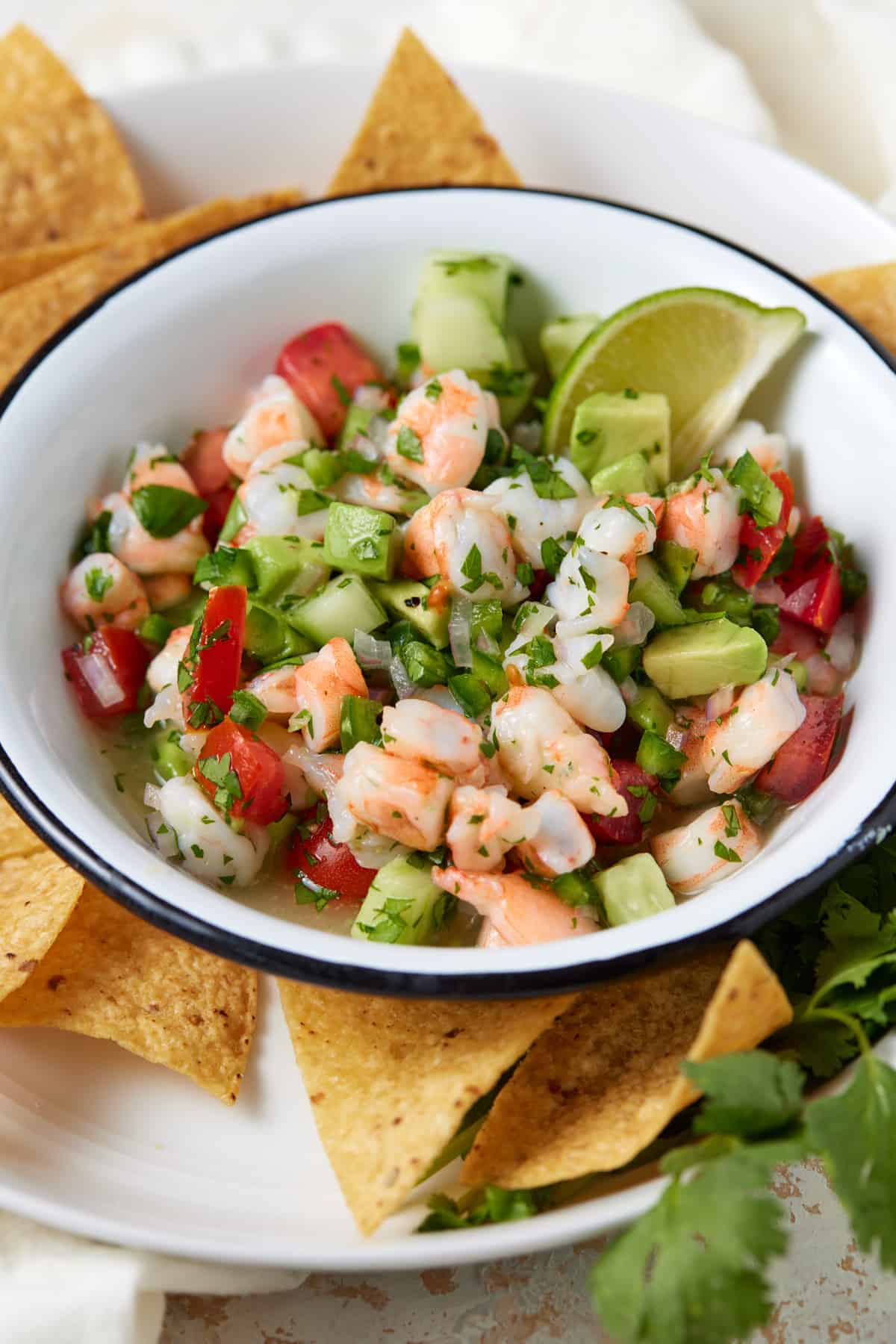 FAQs
Is it safe to use raw shrimp in ceviche?
Yes! Although the shrimp in ceviche is not cooked in a traditional manner, it is "cured" in lime juice in a process called denaturation. The acid in the lime juice breaks down the proteins in shrimp in a similar way that they break down when cooked over heat, which makes it safe to eat. Just like with sushi, always choose the best quality seafood you can from a trusted source when making any recipe that calls for raw fish.
Is ceviche de camarón healthy?
Absolutely! Ceviche is packed with clean, good for you ingredients, including protein-rich shrimp and veggies loaded with vitamins and minerals. It is also naturally low calorie (and low carb, too, if you don't indulge in too many tortilla chips).
What is the difference between shrimp ceviche and shrimp cocktail?
Shrimp ceviche starts with raw chopped shrimp that is "cooked" with lime juice and mixed with vegetables and herbs. It's most often served with tortilla chips as a snack or on tostadas for a light lunch or dinner. Shrimp cocktail is as appetizer made with chilled, cooked whole shrimp and served with cocktail sauce.
Can I make ceviche with fish instead of shrimp?
You can. I recommend using firm, lean white fish such as halibut, grouper or cod. Just like the shrimp, make sure you buy your ceviche fish from a quality, trusted source.
How long can you keep ceviche?
I'm not a fan of leftover ceviche. I know some recipes say you can keep leftover ceviche for up to two days. I find that the longer the shrimp "cooks" in the lime juice, it tends to turn chewy and gray. The lime juice also breaks down the vegetables after prolonged exposure. For these reasons, I recommend only making as much ceviche as you think you'll need in one sitting for best flavor and texture.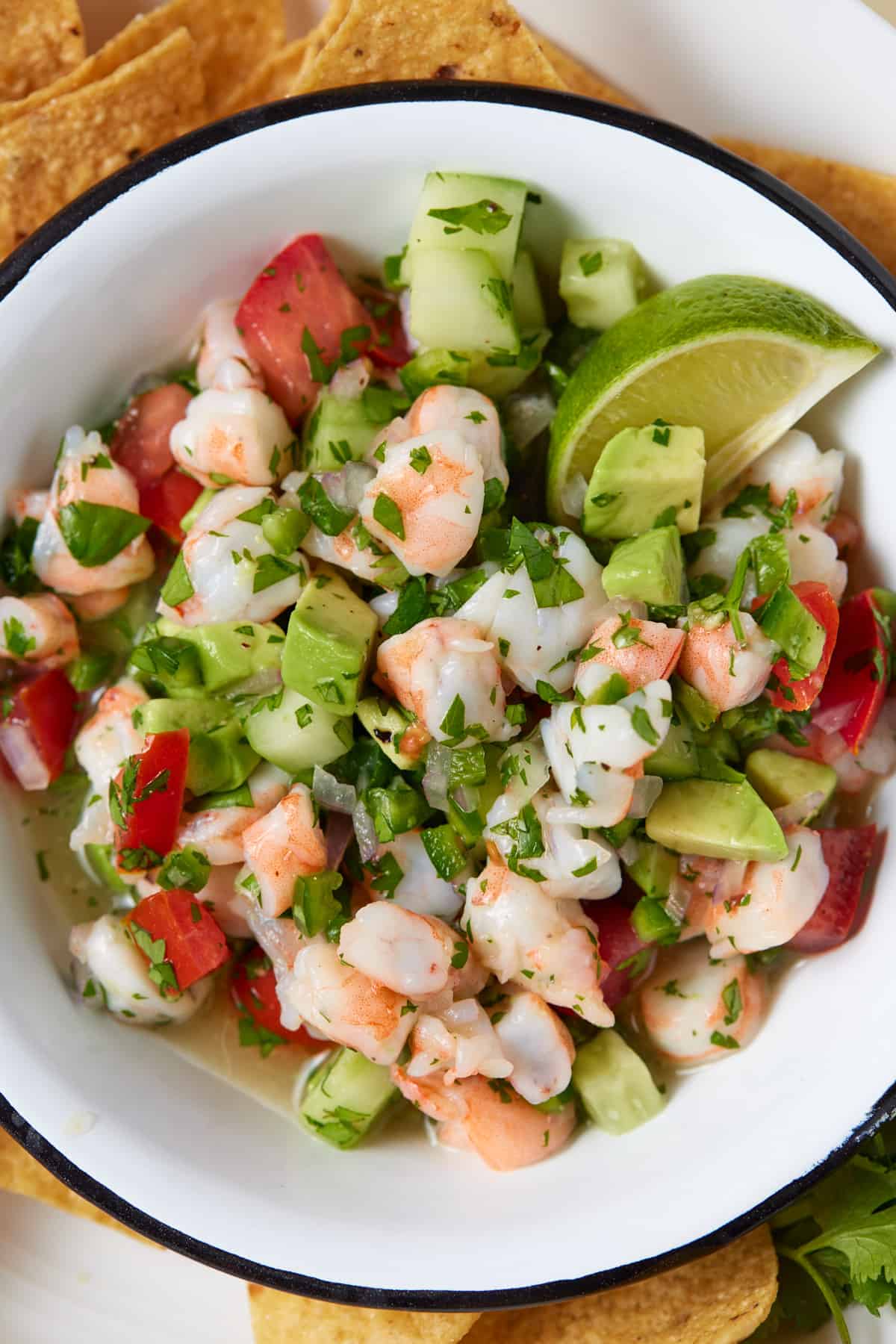 Expert tips for making the best Ceviche de Camarón
✔︎ Buy pre-peeled and deveined shrimp with the tails off to save on prep time.
✔︎ If using frozen shrimp that has been defrosted, rinse under cold water and pat dry before chopping and adding to lime juice.
✔︎ Fresh lime juice is a key ingredient in this recipe. This juicer even measures as you squeeze so you know exactly how much more juice you need.
✔︎ Chop the shrimp, cucumber, onion and tomato into similarly sized pieces to make it easier to scoop and eat.
✔︎ Chill ceviche for at least 20 minutes before serving to allow the flavors to meld together.
✔︎ Want a sweeter ceviche? Add some chopped fresh mango. Craving more heat? Use a serrano pepper instead of a jalapeño or drizzle the ceviche with hot sauce.
✔︎ Serve the ceviche over ice to keep it well chilled. Pair it with some roasted corn salsa and watermelon margaritas for a light and refreshing appetizer spread.
✔︎ Ceviche is best eaten the day it's made. Leftovers do not keep well.
More easy, no-cook appetizers



Did you make this recipe? We'd love to hear your thoughts! 

Please rate the recipe and leave a comment below. Your feedback helps us and your fellow readers! 



Recipe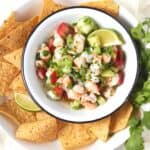 Ceviche de Camarón (Shrimp Ceviche)
This refreshing, no-cook Ceviche de Camarón can be made ahead of time for the ultimate summer shrimp appetizer.
Ingredients
1

pound

raw large shrimp,

peeled, deveined and tails removed

1

cup

freshly squeezed lime juice

1

cup

peeled, diced English cucumber

1

cup

diced tomatoes

1

cup

chopped red onion

1

large jalapeño pepper, minced

½

cup

chopped fresh cilantro

1

teaspoon

kosher salt

½

teaspoon

ground black pepper

1

large avocado
Instructions
Chop shrimp into similar sized pieces and place in bowl. Pour in lime juice. Make sure all of the shrimp is covered with juice. Cover bowl and place in refrigerator for 2-3 hours. The shrimp will turn opaque and pink in color.

1 pound raw large shrimp,,

1 cup freshly squeezed lime juice

Add cucumber, tomatoes, onion, jalapeño, cilantro, salt and pepper to bowl with shrimp and juice. Stir to combine and adjust seasoning if needed. Return to refrigerator for at least 20 minutes and up to one hour.

1 cup peeled, diced English cucumber,

1 cup diced tomatoes,

1 cup chopped red onion,

1 large jalapeño pepper, minced,

½ cup chopped fresh cilantro,

1 teaspoon kosher salt,

½ teaspoon ground black pepper

Dice avocado and stir into ceviche just before serving with tortilla chips.
Notes
Fresh or frozen shrimp that has been defrosted in any size from medium to extra large all work in this recipe. Similar to sushi-grade fish, always buy your ceviche shrimp or fish from a trusted source. 
Use this juicer to make quick work of juicing 1 cup of fresh lime juice. I like to buy the bags of limes at the store when I need a larger quantity of juice. They are usually smaller, but the average cost for a bag is almost always less expensive than buying the same quantity of limes individually. 
Chop the shrimp and other veggies into similarly sized pieces so the ceviche is easier to scoop up with a chip. 
Leftover ceviche does not keep well. The shrimp start to turn a gray color and toughens up after extended time in the acidic lime juice. Try to make only as much as you'll eat in one sitting.
Nutrition
Calories:
140
kcal
Carbohydrates:
12
g
Protein:
12
g
Fat:
6
g
Saturated Fat:
1
g
Polyunsaturated Fat:
1
g
Monounsaturated Fat:
3
g
Trans Fat:
0.01
g
Cholesterol:
95
mg
Sodium:
825
mg
Potassium:
462
mg
Fiber:
4
g
Sugar:
4
g
Vitamin A:
396
IU
Vitamin C:
25
mg
Calcium:
75
mg
Iron:
1
mg
Nutrition info not guaranteed to be accurate.