No need for takeout with this "just like Chipotle" Corn Salsa recipe. Perfect for homemade burrito bowls, a taco bar or plate of nachos & game day dips! 
This post was published in 2016 and updated in 2020.
We're not usually big fans of copycat recipes. They often fall short of the hype. But this Chipotle Corn Salsa recipe? You NEED to make it today. This tex-mex food is totally worth your time.
What makes it so special? It has two kinds of peppers - a roasted poblano and a fresh jalapeño - to give just a bit of kick to every bite, just like the famous restaurant.
Add this easy corn salsa recipe to your homemade burrito bowls & soak in the compliments.
Jump to:
Ingredients
You can get everything you need for this salsa at the grocery store. No tough to find items here!
Sweet corn (fresh or frozen)
Poblano pepper
Jalapeño pepper
Red onion
Fresh cilantro
Fresh lime juice
Olive oil
Sugar
Salt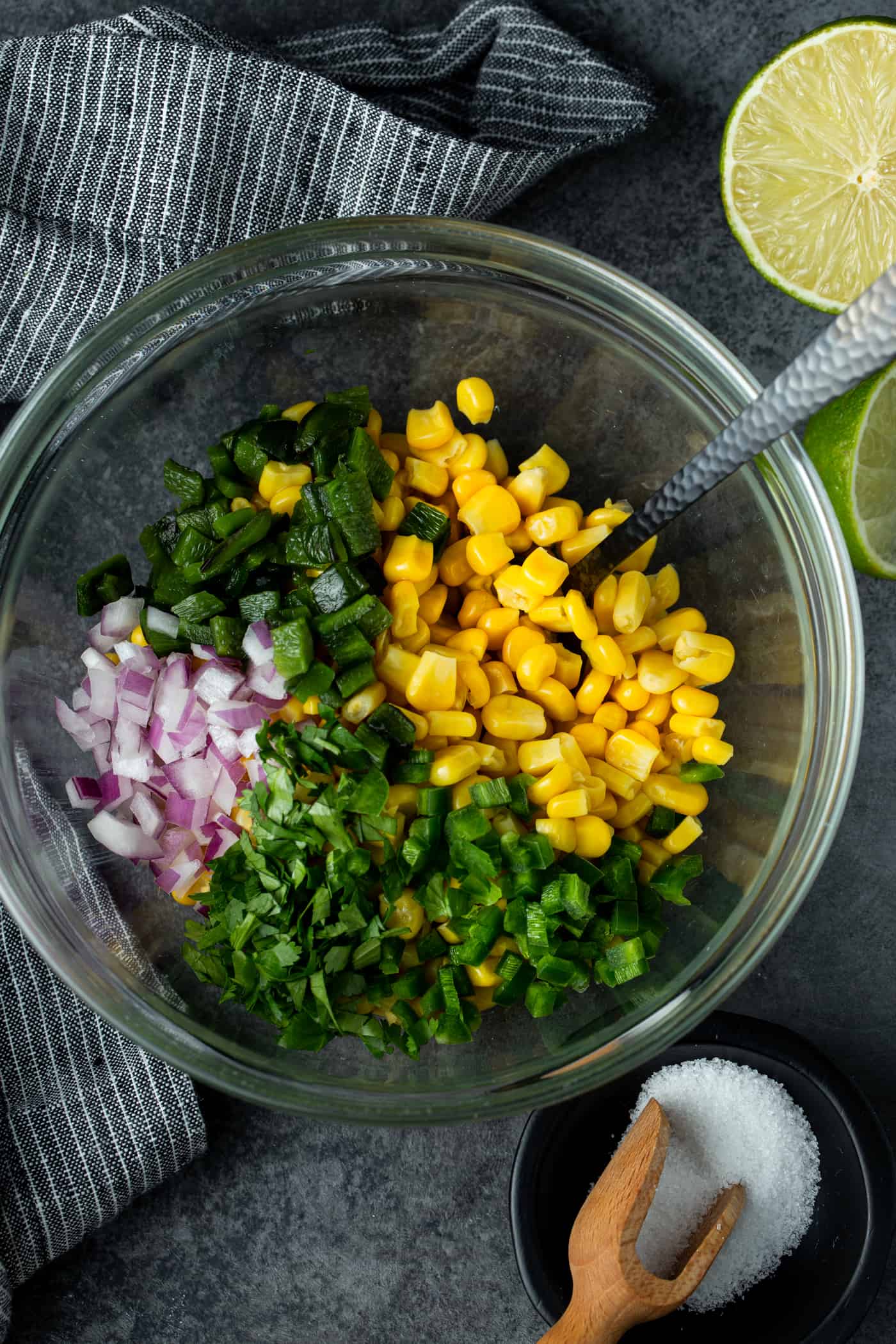 Instructions
Making this roasted chile corn salsa is easy! There really is nothing to mess up here, but I've included a few extra tips below to make sure it turns out perfect every time:
Step 1: Defrost the frozen corn, if using. Fresh corn should be cooked for 2-3 minutes in boiling water or until tender. Drain and set aside.
Step 2: Roast the poblano pepper. (Read the FAQs below for three different ways to roast peppers.) Once cool, peel and chop the pepper.
Step 3: Combine corn, poblano pepper and remaining ingredients in a medium bowl. Stir until combined. Taste and adjust seasoning, if needed.
Step 4: The salsa can be served immediately or refrigerated until ready to use. The flavor is best within the first 24 hours.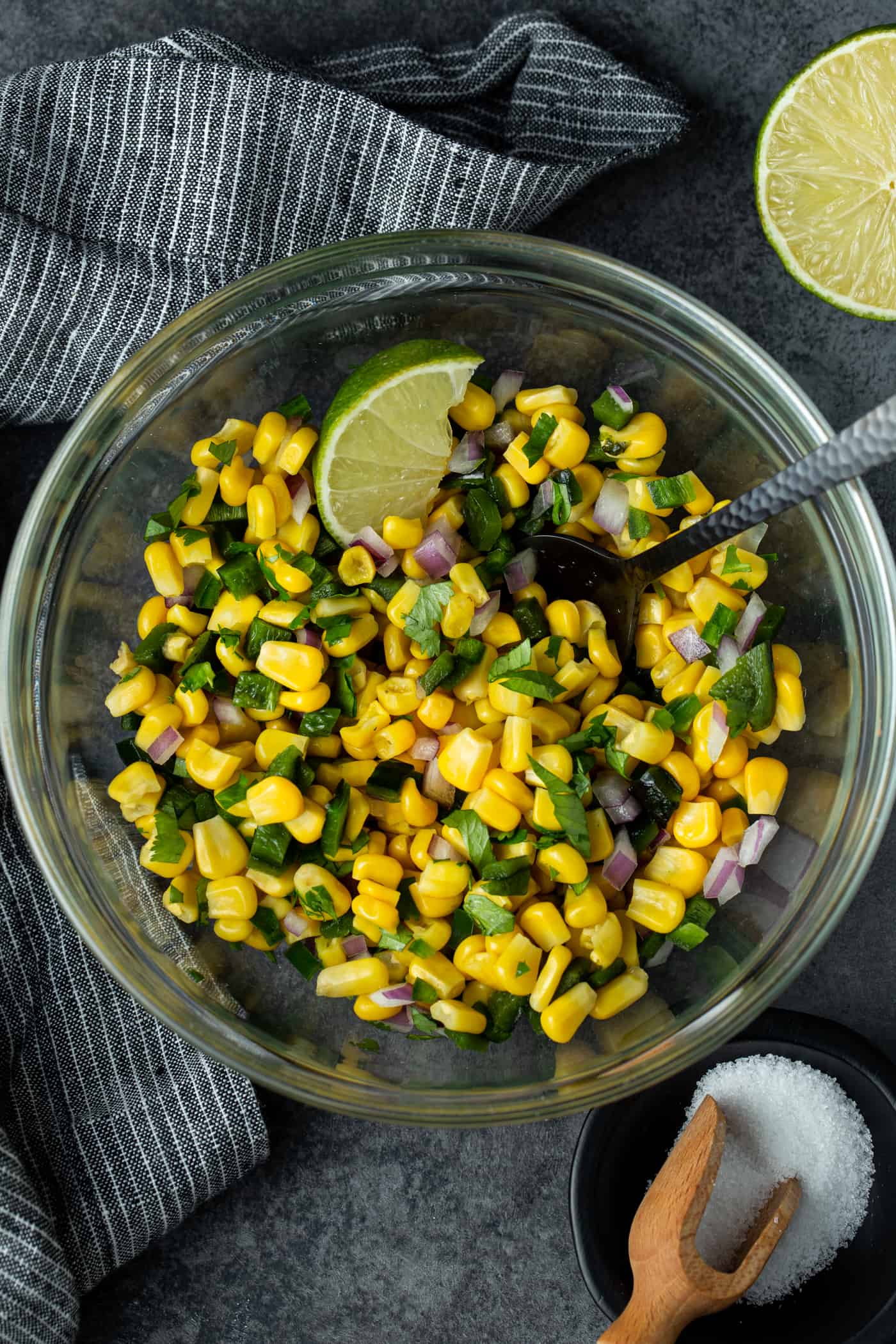 Ways to use it
The obvious way to use this salsa is to put a big scoop on your homemade chipotle burrito bowl. This recipe for grilled chipotle chicken would be an awesome base. (Don't forget the cilantro lime rice!)
But why stop there? Add it to your taco bar for Taco Tuesday, to your brunch buffet for breakfast tacos or as a pop of color and flavor to a plate of nachos. It's really versatile.
You can also just keep it simple and enjoy it with your favorite tortilla chips during the big game. There's no right or wrong here. Just an easy way to indulge your restaurant cravings at home.
FAQS
Salsas, dips, spreads - we've got easy appetizer recipes and tex-mex party snacks for everyone!
Easy tequila drinks are a perfect match for any of these flavorful munchies, especially this blood orange margarita recipe. But if whiskey cocktails are more your speed, then you definitely want to try this easy, 3-ingredient Whiskey Ginger made with ginger ale.
Indulge your restaurant cravings at home with this easy copycat recipe for Chipotle Corn Salsa. Once you add it to burrito bowls, tacos or a cheesy plate of nachos, everyone will want the recipe.