Enjoy the fresh flavors of summer with this quick and easy Greek Cucumber Salad recipe. Full of crisp cucumbers, sweet tomatoes, briny olives, creamy feta cheese and topped with a savory red wine vinaigrette, this colorful side dish pairs with anything off the grill and always disappears!
Greek Cucumber Salad
Looking for something new to serve at your next potluck or barbecue? This tomato cucumber salad recipe is delightfully fresh and comes together in minutes.
A little bit crunchy, a little bit juicy and hugely flavorful, this vibrant, healthy side dish highlights the best of summer produce. Don't count on having leftovers.
If you're looking for dishes to compliment this cucumber tomato salad, try this chilled Lemon Artichoke Dip or these juicy Greek Meatballs.
Jump to:
Why you'll love this recipe
➤ Make it in 25 minutes. This tomato cucumber salad may look refined, but it's actually surprisingly simple to make.
➤ Great vegetarian dish. This salad is tangy, sweet, and crunchy all at the same time - far from being a boring vegetarian option.
➤ Can be dairy free. This salad uses feta cheese for some creaminess. If you or your guests are dairy free, skip the feta or swap it out with dairy-free feta.
Ingredients and Substitutions
Summer's best produce is on full display in this salad recipe.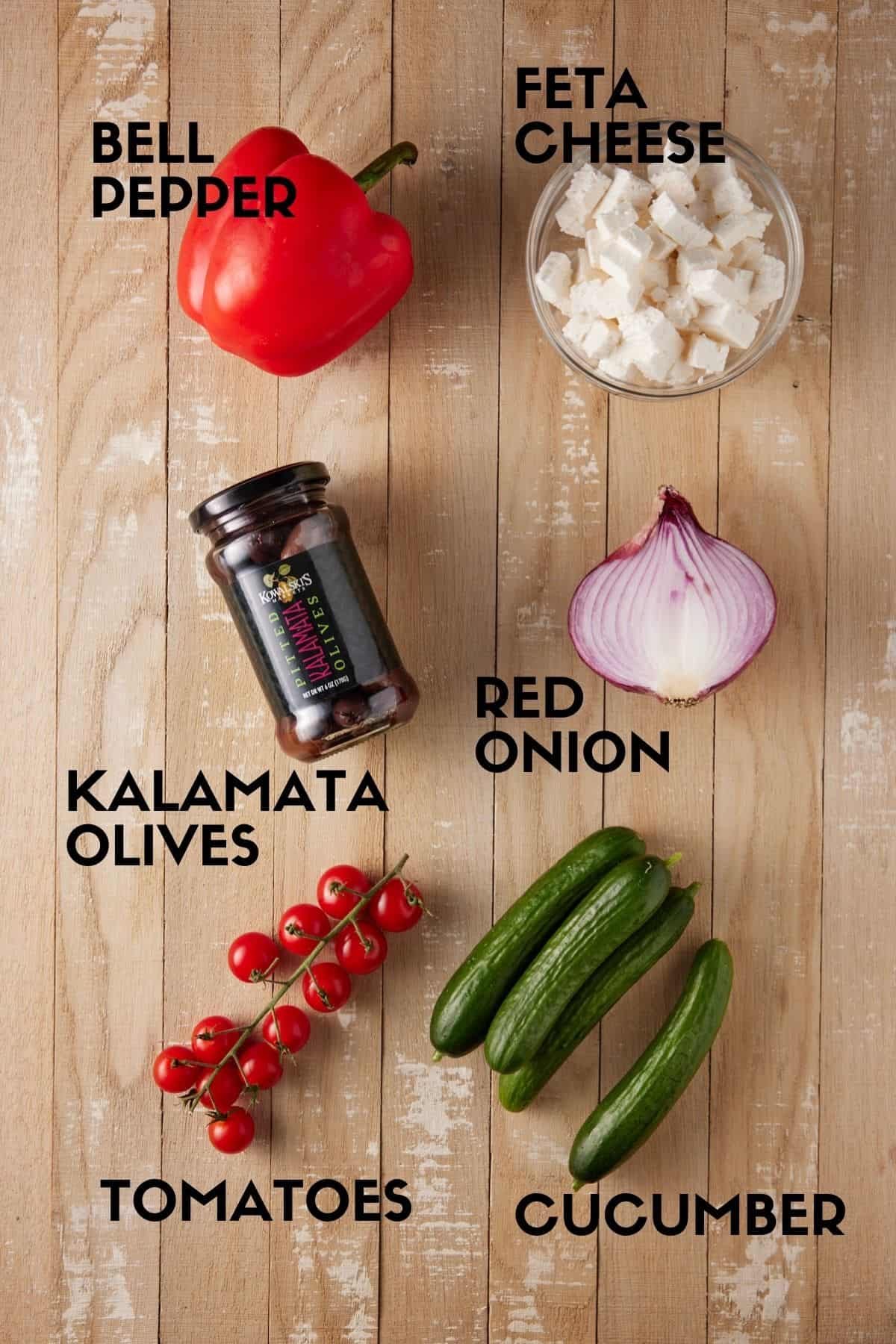 Cucumbers: Mini cucumbers are the crunchiest (and my favorite) option for this tomato cucumber salad recipe, but seeded hothouse cucumbers or English cucumbers also work great. Avoid garden cucumbers, unless they are thoroughly seeded — they are much more watery, which can make your salad have a soggy consistency.
Tomatoes: Feel free to get creative with your tomatoes in your tomato cucumber salad, or add in multiple different types. I'd recommend using grape and cherry tomatoes, which are already bite-sized and consistently sweet. If using garden tomatoes, make sure to seed them well, as they carry more water.
Feta cheese: I prefer the block variety of this cheese over the pre-crumbled kind. The block tends to have a more robust flavor. Also, to keep your cucumber tomato salad from becoming watery, squeeze your feta block out before chopping it up. This allows the dressing to really stick to the cheese in your Greek cucumber salad. Dairy-free feta is also available at specialty grocery stores for a vegan version of this already vegetarian dish.
Olives: Kalamata olives are the tastiest in this tomato cucumber salad recipe, but they can be substituted with capers or green olives. Avoid using black olives, as they carry a different flavor profile that doesn't always complement the other ingredients in this dish.
Also, make sure to use firm olives. These will carry less water and make your salad as fresh as possible. The bottled variety of Kalamata tend to be softer, so I'd recommend going to the salad bar to get these.
Red onion: This adds even more color to this side dish but feel free to swap in yellow, white or even a sweet onion if that's what you have on hand.
Red bell pepper: Another color preference. You can also use a yellow or orange bell pepper, if you prefer.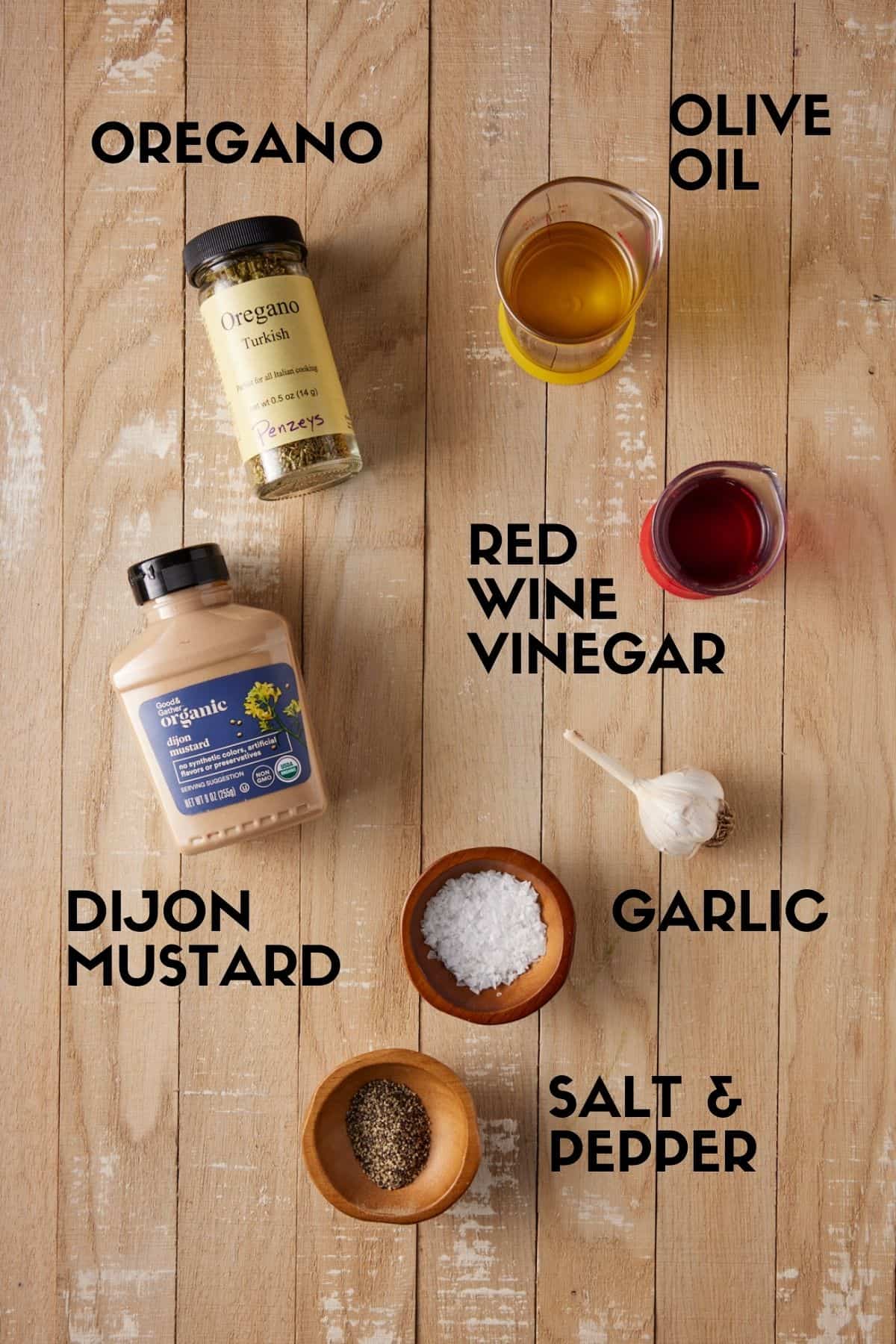 Red Wine Vinegar: This is a staple ingredient in most Mediterranean cooking. You can also use white wine vinegar but the flavor will be a little bit softer.
Mustard: I use dijon mustard in almost all of my salad dressings but regular yellow mustard will also work in a pinch.
Instructions
If you can chop a cucumber, you can make this salad.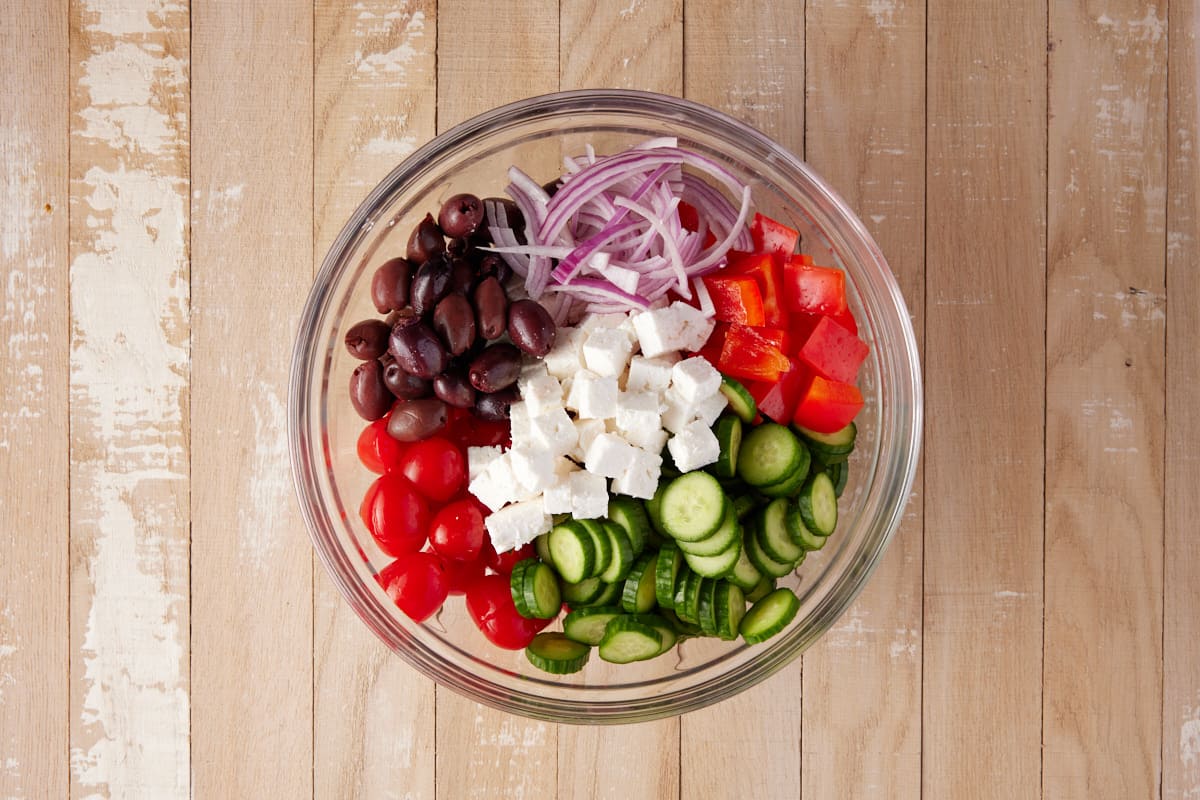 Chop and stir. Chop up all of your cucumbers, tomatoes, olives, bell peppers, and red onions, making sure to rid the seeds from your cucumbers and tomatoes if you are using the garden variety of either. Add your veggies to a large bowl, and stir.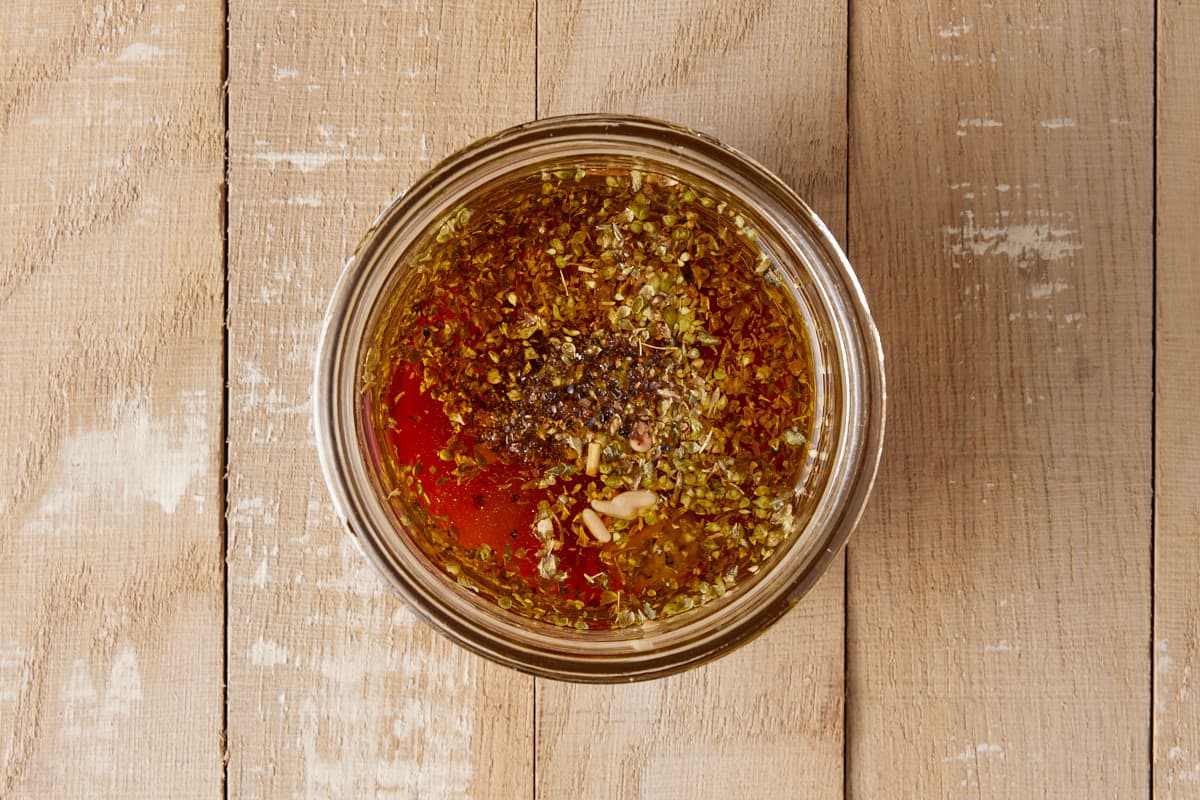 Make the dressing. Combine olive oil, red wine vinegar, garlic, oregano, dijon mustard, kosher salt, and ground black pepper in a mason jar. Shake until a consistent dressing is made.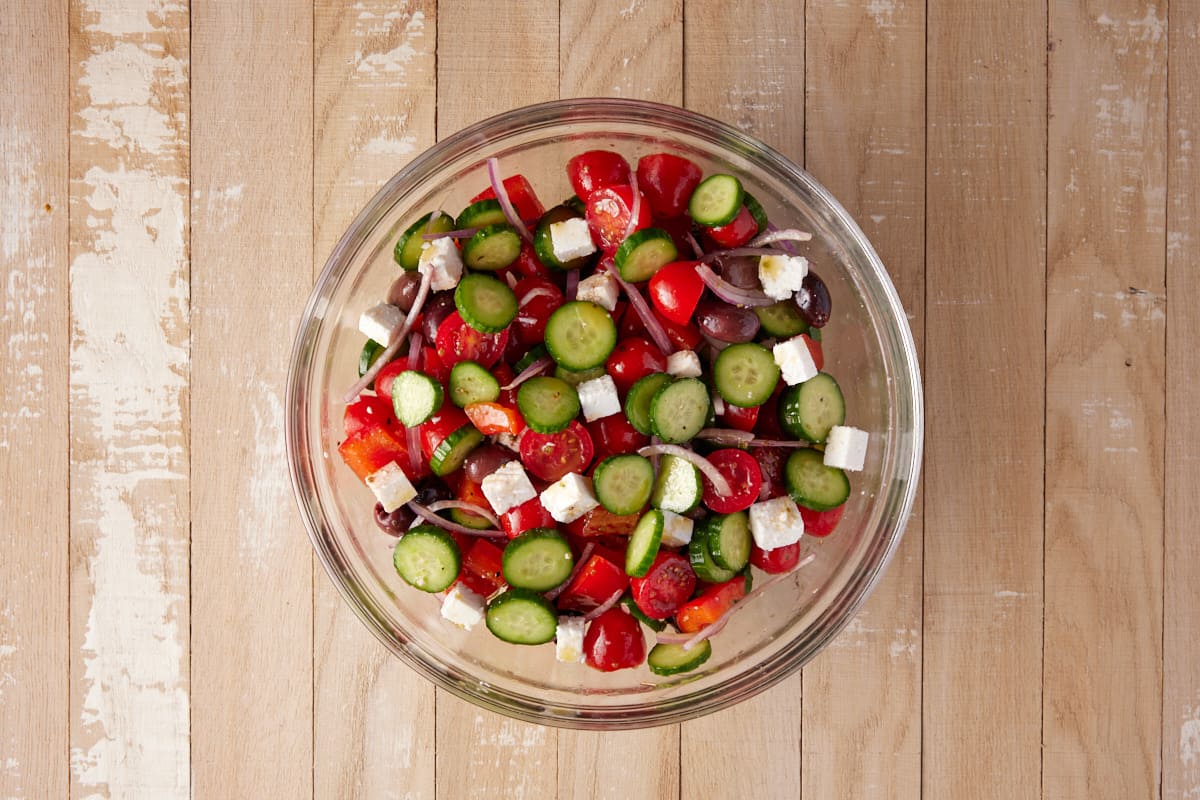 Combine and serve. Pour ⅔ of your dressing to the veggies, mix, and sample it. If you need more, add away! This part is completely up to your taste. Now, you're ready to serve your Greek cucumber salad!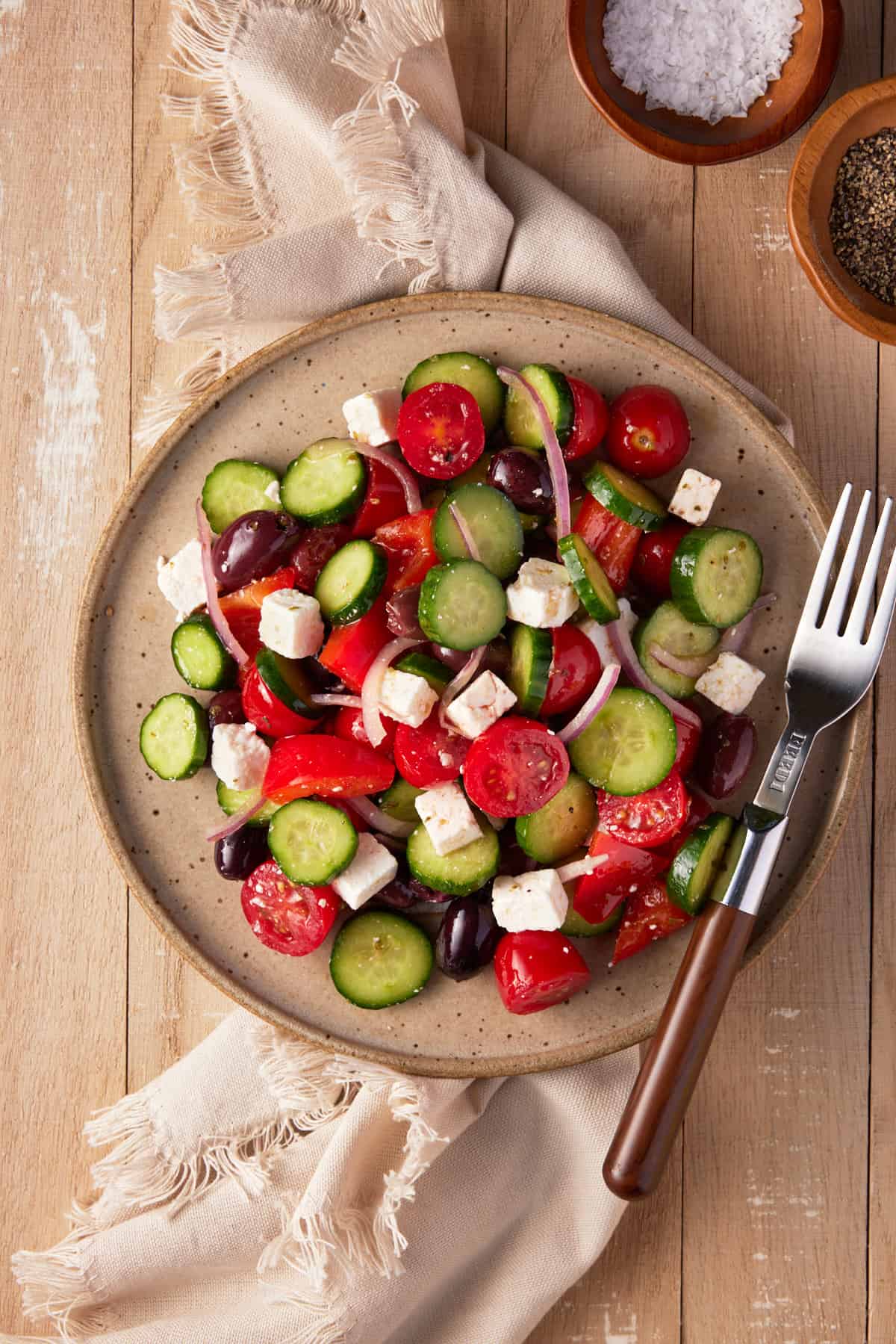 FAQs
What is the difference between a Greek salad and a Mediterranean salad?
These regions have a lot of similarities in their cuisine, and in many cases, Greek cucumber salads are very similar to their Mediterranean counterparts! 

The main difference lies in the dressing. Greek salads tend to use an oil and vinegar-based dressing, while Mediterranean salads will often use a tzatziki-based dressing.

Is eating cucumber and tomato salad healthy?
You'll get plenty of vitamins A, E, and C from the olives and tomatoes. Additionally, the olive oil has antioxidant properties, and the cucumbers are full of hydrating water. This tomato cucumber salad really packs a nutritional punch.
Can I use lettuce in a Greek cucumber salad?
While this may not be the traditional route, it's your salad! If you love your leafy greens, feel free to add them. Some chopped spinach, lettuce, or arugula would work wonderfully in this tomato cucumber salad recipe. Just make sure your greens are chopped small enough to allow them to fully incorporate with the rest of the ingredients.
Tips for making the best Greek Cucumber Salad
✔︎ Can be made ahead of time. This tomato cucumber salad can be prepared up to eight hours before serving, as long as it is refrigerated in an airtight container. So, if you're looking to plan ahead for that potluck or barbeque, this recipe is great.
✔︎ Keeps for up to two days. Since so many of your ingredients are fresh, you'll want to eat up this tomato cucumber salad within a few days of preparing it. Otherwise, your veggies will be browning, and less crunchy and fresh.
✔︎ Use the dressing on other salads. The dressing for this dish can easily be paired with all of your other salad favorites and can keep in an airtight container in the refrigerator for up to two weeks.
✔︎ Chop your veggies into similar sizes. For the easiest serving and eating experience, chop up your veggies into small, bite-sized bits. This allows your Greek cucumber salad to mix thoroughly, as bigger bites of veggies will be harder to distribute evenly. Also, the smaller pieces will make this tomato cucumber salad recipe less messy to eat.
More Greek recipes
If you love the flavors in this tomato cucumber salad, you need to check out these other Greek-inspired dishes.
Find even more tasty recipes in our archives.



Did you make this recipe? We'd love to hear your thoughts! 

Please rate the recipe and leave a comment below. Your feedback helps us and your fellow readers! 



Recipe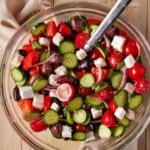 Greek Cucumber Salad
Light, crisp and refreshing, this easy cucumber salad is packed with summer's best produce. Perfect for your next BBQ or potluck!
Ingredients
For the salad:
5

mini cucumbers,

halved

1

pint

cherry tomatoes,

halved

1

red bell pepper,

seeded and chopped

¾

cup

Kalamata olives

4

oz

diced feta cheese

¼

cup

thinly sliced red onion
For the dressing:
¼

cup

extra virgin olive oil

2

tablespoons

red wine vinegar

1

garlic clove,

minced

½

teaspoon

dried oregano

¼

teaspoon

dijon mustard

½

teaspoon

kosher salt

¼

teaspoon

ground black pepper
Instructions
Stir together the cucumbers, tomatoes, bell pepper, olives, feta cheese and onions together in a large bowl. Set aside.

5 mini cucumbers,,

1 pint cherry tomatoes,,

1 red bell pepper,,

¾ cup Kalamata olives,

4 oz diced feta cheese,

¼ cup thinly sliced red onion

In a mason jar, add the oil, vinegar, garlic, oregano, mustard, salt and pepper. Shake vigorously until completely emulsified.

¼ cup extra virgin olive oil,

2 tablespoons red wine vinegar,

1 garlic clove,,

½ teaspoon dried oregano,

¼ teaspoon dijon mustard,

½ teaspoon kosher salt,

¼ teaspoon ground black pepper

Add ⅔ of the dressing to the cucumber mixture and stir to coat. Add rest of dressing, if desired. Serve immediately or refrigerate covered for up to 8 hours. Stir before serving.
Notes
Ingredients:
Use any variety of grape, cherry or garden tomatoes. If using garden tomatoes, mostly seed them to avoid a runny salad. 

I like to use mini cucumbers but you can also use a seeded hothouse/English cucumber. Avoid garden cucumbers unless you thoroughly seed them as they end up releasing a lot of liquid into the salad. 

Your kalamata olives should be firm. I find the bottled variety to be a bit softer than the ones you can buy from the olive bar in the grocery store, so spring for those if you have the chance.

Not all feta is created equal. I prefer block of feta cheese rather than the pre-crumbled version. I It's easier to cut and does not crumble into tiny bits as easily. I also think it has a more robust flavor.
Tips: 
Cut your ingredients into similar sizes so the salad is easy to eat. 

Squeeze the excess moisture off the block of feta before cutting it so the dressing adheres to the cubed cheese better.

Start by adding about ⅔ of the dressing, taste, and add more to get

your

perfectly dressed salad. Any leftover dressing is delicious on leafy green salads and will keep for up to two weeks in the fridge. 

This salad can be made up to 8 hours in advance. Store in an airtight container in the fridge. Leftovers are best eaten within two days. 

Omit the feta entirely for a dairy-free cucumber salad. 
Recipe adapted from Ina Garten. 
Nutrition
Serving:
1
cup
Calories:
178
kcal
Carbohydrates:
7
g
Protein:
4
g
Fat:
16
g
Saturated Fat:
4
g
Polyunsaturated Fat:
1
g
Monounsaturated Fat:
9
g
Cholesterol:
17
mg
Sodium:
685
mg
Potassium:
248
mg
Fiber:
2
g
Sugar:
3
g
Vitamin A:
1156
IU
Vitamin C:
44
mg
Calcium:
117
mg
Iron:
1
mg
Nutrition info not guaranteed to be accurate.