Can't decide between pico and guac? Why choose? This Pico Guacamole recipe combines both pico de gallo and guacamole in one delicious appetizer recipe!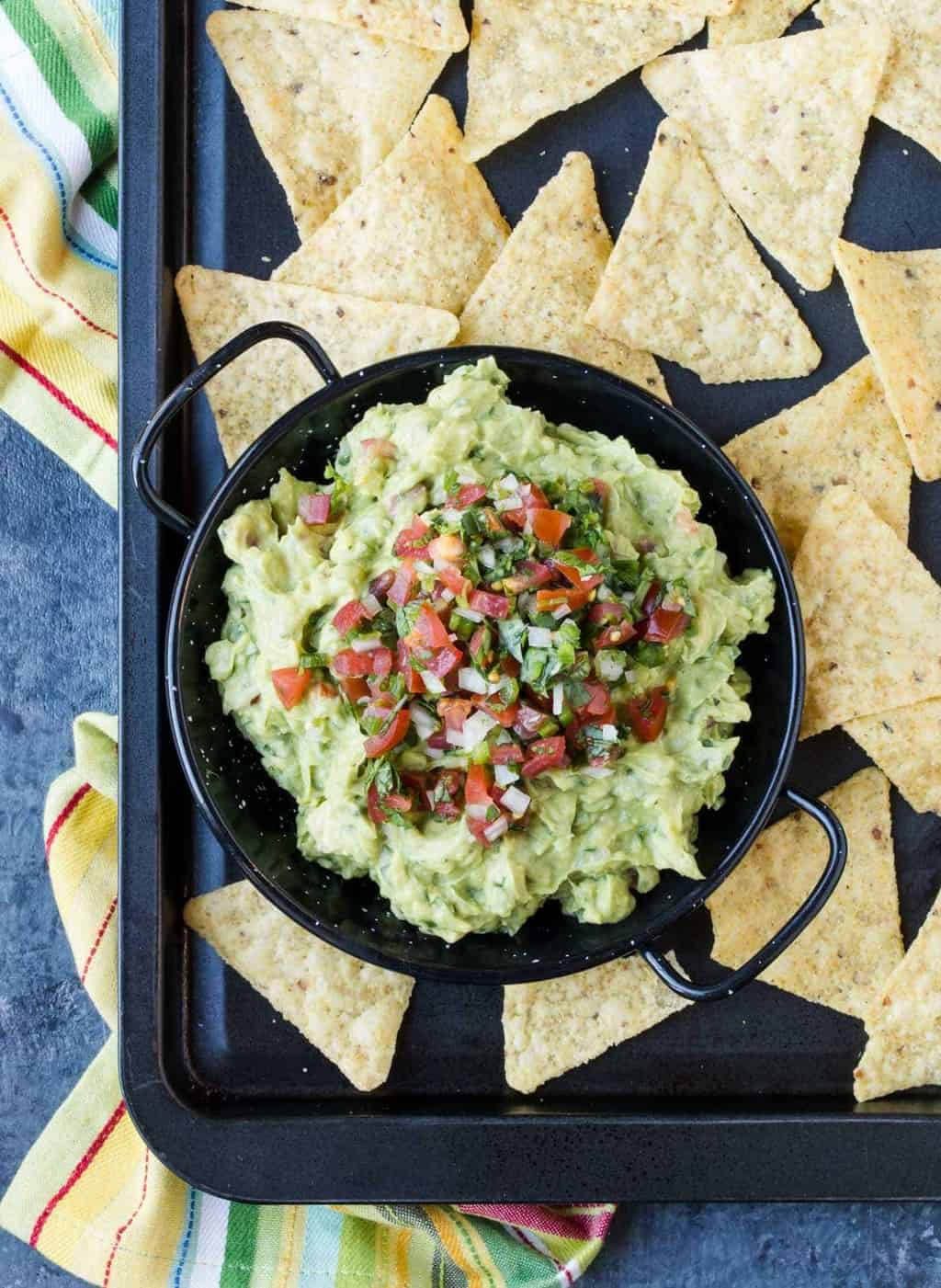 You can never go wrong serving chips and guacamole as a party appetizer. But this Pico Guacamole recipe takes a tried and true favorite (guacamole) and adds just a little bit of fresh salsa (pico de gallo) to the mix. The result is one heavenly bite that is tough to stop eating!
Now I realize most everyone has their favorite style of guacamole. There are the purists who believe tomatoes have no place in guac. Me? I adore chunky guacamole, which is why salsa Fresca (another name for pico de gallo) is such a perfect partner in this Pico Guacamole recipe.
I like to mix half of the pico in with the guac and then pile the other half on top of the dish for some visual flair, but feel free to mix everything together if you prefer. Really, there are no rules with guacamole (except no hogging the bowl).
Tip: Looking to make this in advance? Lisa has a fabulous tip to keep your avocado from browning: "Did you know if you microwave mashed avocado for 25 seconds before you mix in the rest of the guacamole ingredients, the avocado won't turn brown? My parents brought that tidbit back from a cooking class they took in Mexico, and I have used it ever since."
Double the batch, and you have an awesome snack to munch on while watching the big game. Have a bit left over? (Never in my house, but there are some people…) Slather it on sandwiches the next day or make avocado toast for breakfast. Just make sure to press the plastic wrap right up to the surface of the guacamole to prevent any excess air from sneaking in.
Need more dips for your chips? Check out some of these just-made-for-chips choices:
Almost-Chipotle's Corn and Roasted Poblano Salsa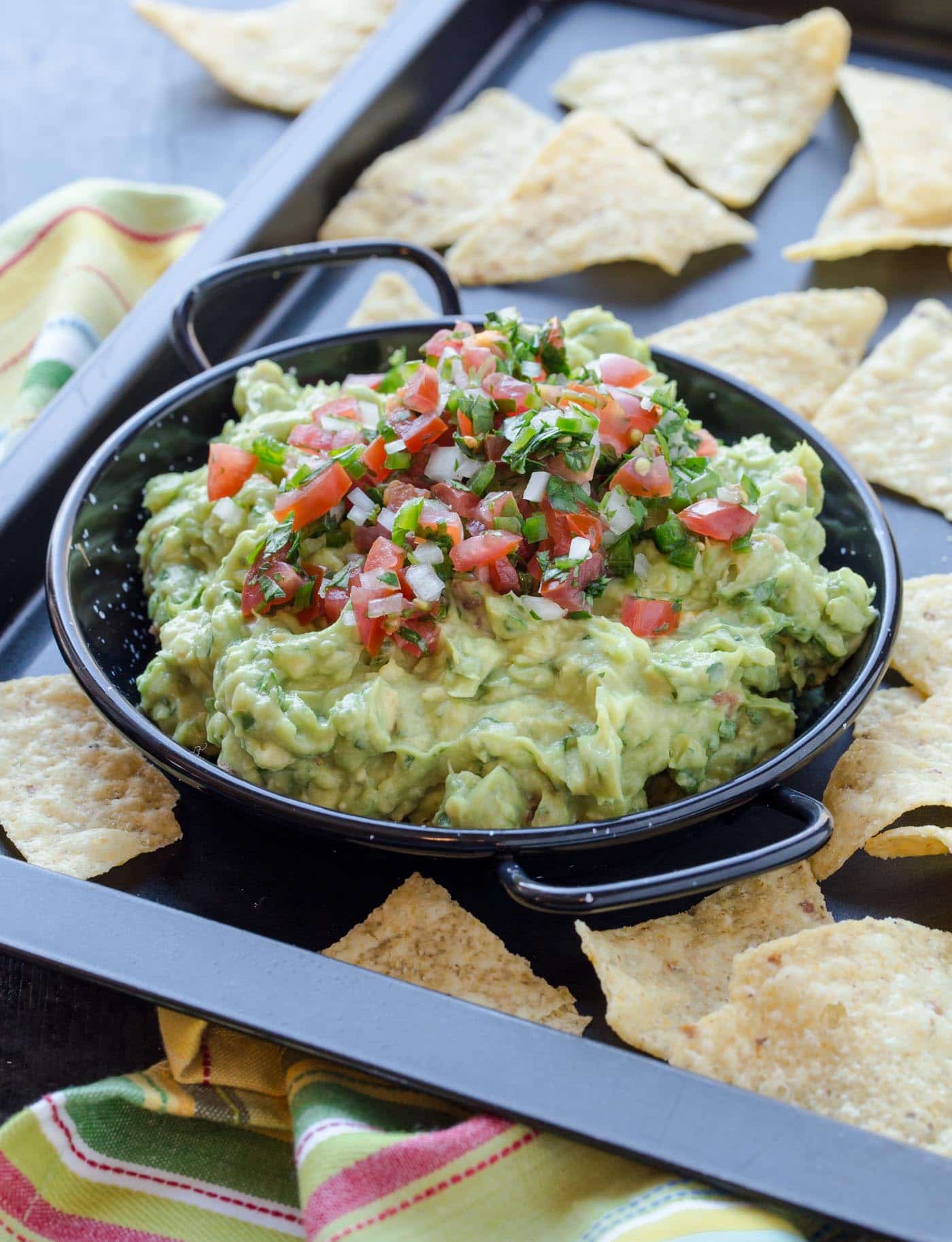 Recommended Equipment
Yield: 2 cups
Pico Guacamole
You don't have to pick betoween guac and pico when you combine them into this pico guacamole dip!
Ingredients
Pico de gallo:
3 tablespoons finely diced onion
6 tablespoons diced Roma tomatoes
4 tablespoons finely chopped cilantro
2 tablespoons finely chopped jalapeno pepper
Juice of 1 lime, divided
Guacamole:
2 ripe avocados, mashed
Salt to taste
Instructions
To make the Pico de gallo:
Mix together onion, tomatoes, cilantro, jalapeno pepper and half of lime juice in small bowl. Set aside.
To make the Guacamole:
In another small bowl, combine the remaining lime juice and avocados. Salt to taste. Stir in half of the pico de gallo into the avocado mixture until thoroughly combined. Top with remaining pico and serve.
Nutrition Information:
Yield:
8
Serving Size:
1
Amount Per Serving:
Calories:

86
Total Fat:

7g
Saturated Fat:

1g
Trans Fat:

0g
Unsaturated Fat:

6g
Cholesterol:

0mg
Sodium:

77mg
Carbohydrates:

6g
Fiber:

4g
Sugar:

1g
Protein:

1g