This Chunky Guacamole with Pico de Gallo is my go-to guacamole recipe. Loaded with creamy avocados, juicy tomatoes, spicy jalapeño, fresh cilantro, tangy lime juice and chopped onion, it's the best version of the classic guacamole dip that always disappears.
Fresh, easy and authentic, this Chunky Guacamole recipe is the real deal. It combines the irresistible flavors of ripe, creamy avocados and fresh pico de gallo. The result is a well-seasoned, perfectly tangy, perfectly salted homemade guacamole that's quick and easy to make at home. The best partner for tortilla chips and Golden Margaritas!
Jump to:
Why you'll love this recipe
➤ Restaurant-quality: Only a handful of ingredients keeps the dip as fresh tasting as possible, just like they make table side at your favorite Mexican restaurant. No fillers or strange additives needed for delicious flavor.
➤ Easy to make: Aside from some chopping, this homemade guac comes together quickly. Stirring and salting and tasting is part of the fun!
➤ Versatile: Guacamole is a popular party appetizer that's served with tortilla chips but it's also delicious on top of tacos and burritos (along with this Roasted Chili Corn Salsa).
Ingredients
The freshest ingredients make the most flavorful guacamole.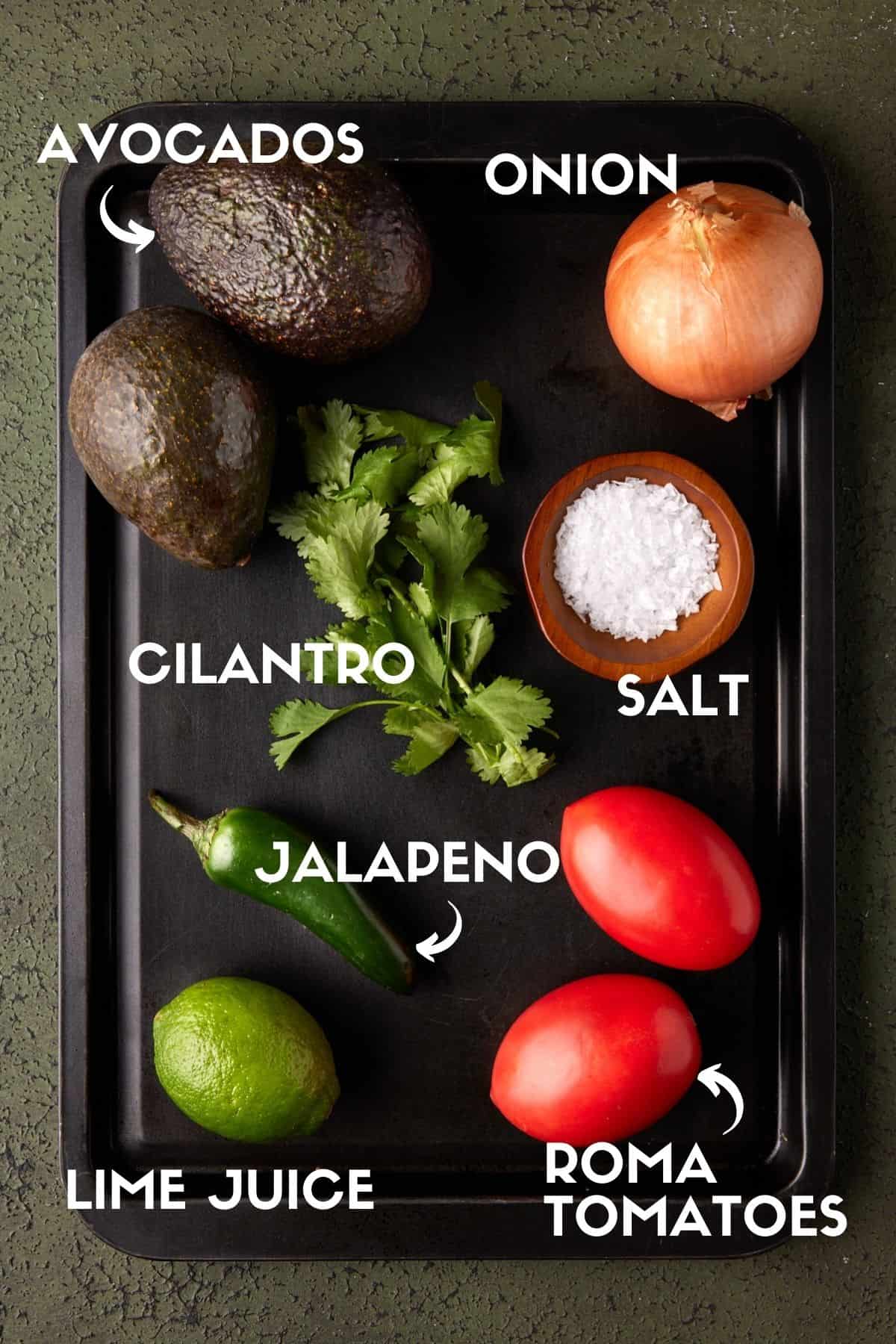 A few ingredient notes:
Avocados - Ripe avocados are key to making the best guac. Choose brown, textured avocados that give slightly when pressed.
Tomatoes - I prefer using Roma tomatoes as they don't contain as much liquid, but feel free to use what you have on hand. If your tomatoes are especially juicy, try draining them for 5 minutes before adding so your guac doesn't get runny.
Onion - You can use red or white onion in this recipe.
Lime juice - Freshly squeezed juice is the best here and should not be substituted. Don't be tempted to use bottled juice as it contains preservatives that can impact the flavor of the guacamole. Juicing your own citrus fruits is so easy! This inexpensive handheld juicer is our favorite. It even has a measuring cup so you know exactly how much you've squeezed!
Instructions
This chunky guacamole comes together quickly.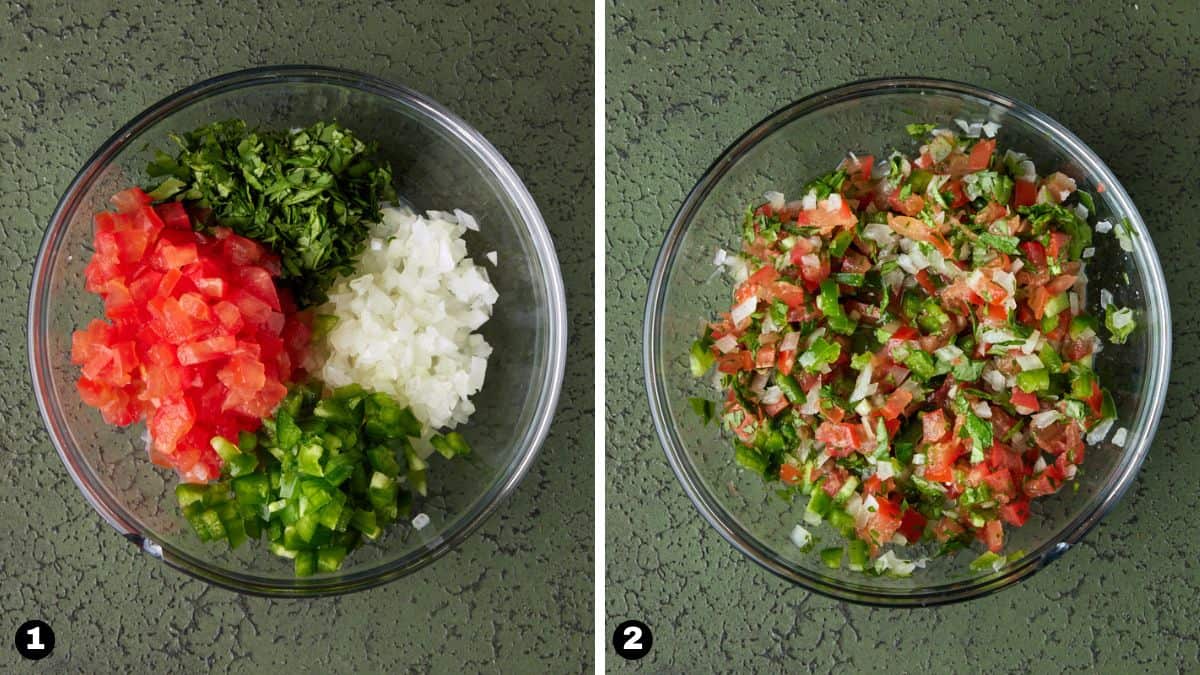 Place onions, tomatoes, cilantro, jalapeño pepper and half of lime juice in a small, glass bowl (avoid a reactive bowl like stainless steel). Stir to combine and set aside.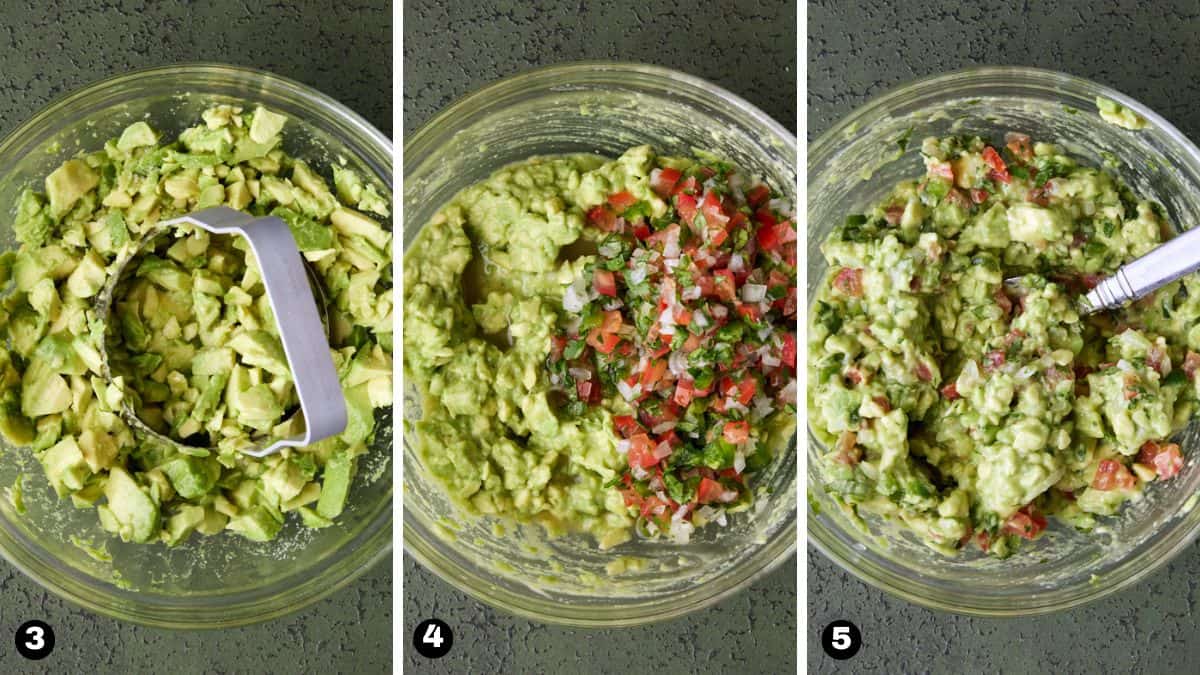 Slice avocados in half, remove pit and scoop out flesh. Coarsely chop. Stir in remaining lime juice and season with salt. Add half of pico de gallo to avocado mixture. Stir to combine. Taste and season with more salt and lime juice, if necessary.
FAQs
What's the difference between guacamole and pico de gallo?
Guacamole is primarily an avocado-based dip while pico de gallo is tomato-based. You get the best of both worlds when you combine the two into this irresistible Chunky Guacamole recipe.
How long does guacamole last?
Homemade guacamole will last up to one day in the fridge if you flatten the top of the guacamole and press plastic wrap over the surface to keep it airtight. That said, the best flavor is almost always the day you make it. I like to pop my guac in the fridge for 30 minutes before serving to slightly chill the dip. Something about cold guacamole and salty chips is the the perfect combination for me.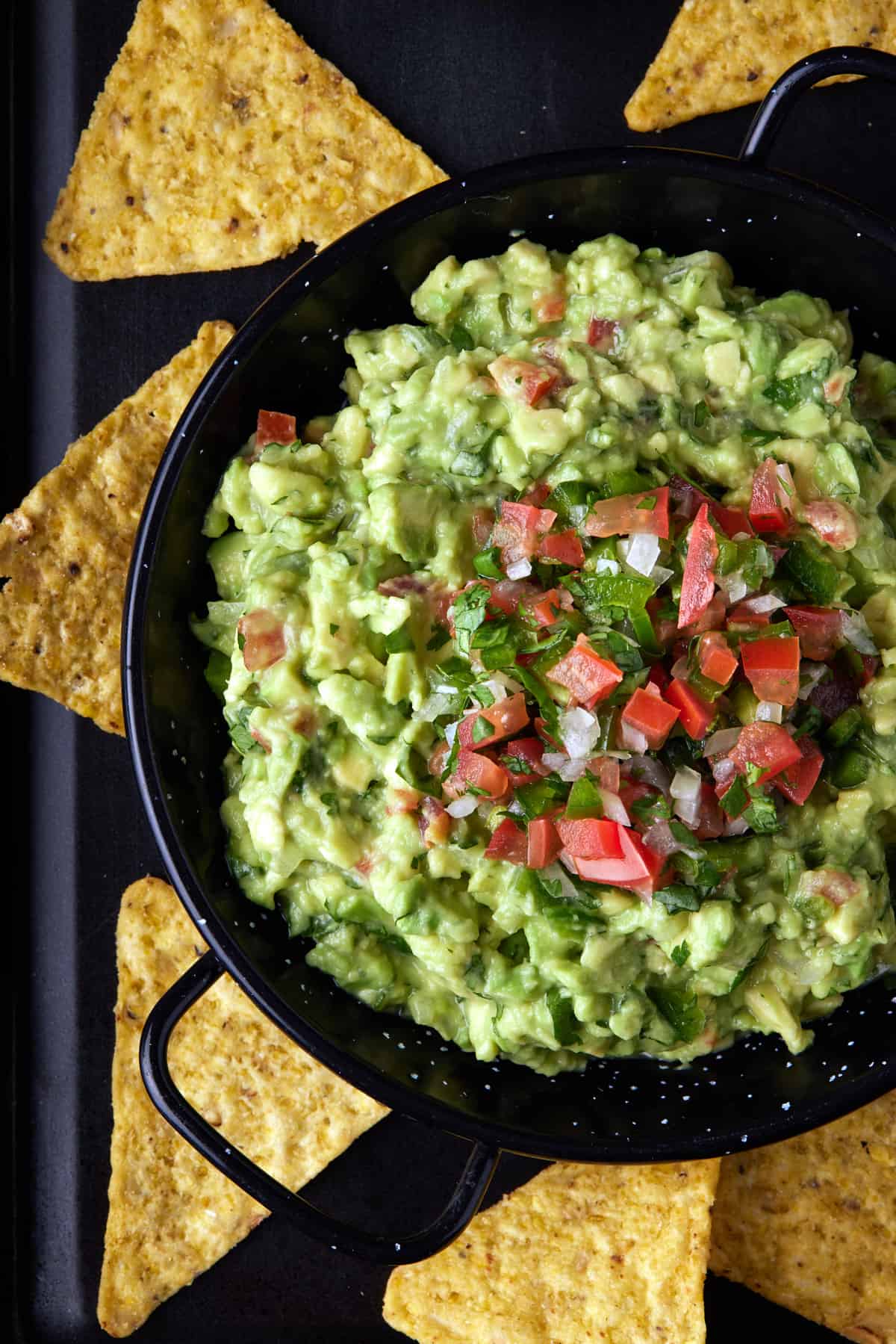 Tips for making the BEST chunky guacamole
✔︎ You can't make flavorful guacamole without ripe avocados. The most common variety available at the grocery store is the Hass avocado. Look for avocados that have a deep greenish-brown color and that give slightly when pressed.
✔︎ This food masher is one of my favorite kitchen tools. It's sharp edge makes mashing the avocados a breeze. Works really well to mash hard boiled eggs for egg salad, too!
✔︎ Fresh lime juice prevents the avocado from oxidizing and turning brown. Use it generously!
✔︎ Use quality salt. The little things quickly elevate the flavor of this dish: ripe tomatoes and avocados, fresh cilantro, freshly squeezed lime juice and good salt. You can use table salt, but if you want to up your game, try kosher salt or - even better - flaky sea salt for a top-shelf guacamole.
✔︎ Can't tolerate raw onion? Try soaking it in in ice cold water for 15 minutes to mellow the flavor. Drain well and add to the recipe as directed.
✔︎ Make and taste. I find that if your guacamole doesn't taste quite right, it's because you didn't add enough salt or lime juice. Both are important to balance all the strong flavors in this guacamole. So make, taste and add salt and/or lime juice as needed. You usually need more than you think you do.
✔︎ If you're serving this guacamole with tortilla chips, taste it with tortilla chips. The saltiness of your chips makes a difference in how much salt you add to your guac.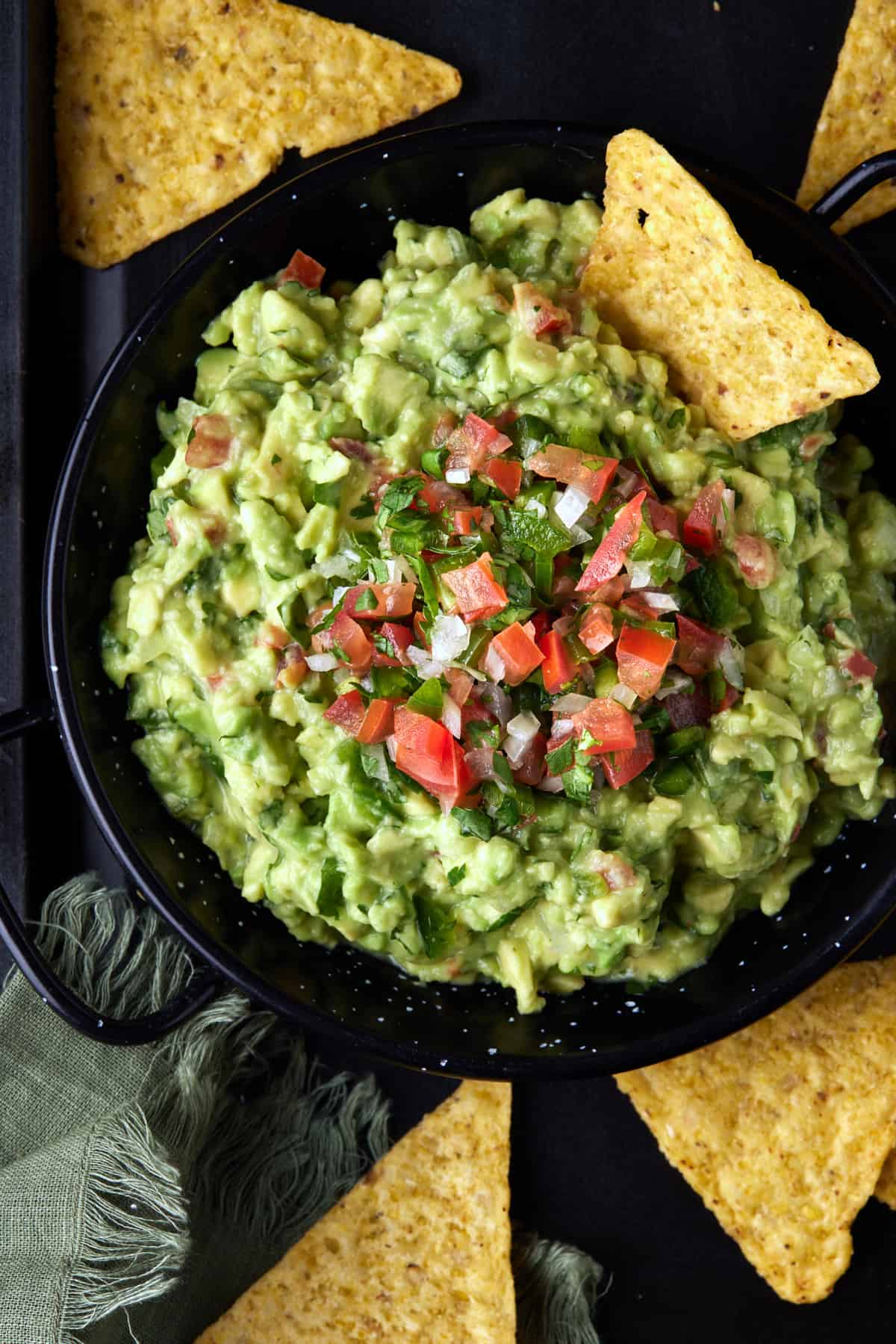 Shortcuts & Substitutions
✘ The pico de gallo can be made up to two days in advance and stored in the fridge until ready to make the guacamole.
✘ Want a spicier guacamole? Use a serrano pepper in place of the jalapeño. Or stir in some hot sauce instead.



Did you make this recipe? We'd love to hear your thoughts! 

Please rate the recipe and leave a comment below. Your feedback helps us and your fellow readers! 



Recipe
Easy Homemade Chunky Guacamole
Fresh, easy and authentic, this Chunky Guacamole recipe is the real deal.
Ingredients
Pico de gallo:
3

tablespoons

finely diced onion

6

tablespoons

diced Roma tomatoes

4

tablespoons

finely chopped cilantro

2

tablespoons

finely chopped jalapeño pepper

Juice of 1 large lime,

divided
Guacamole:
2

ripe avocados,

chopped

Salt to taste
Instructions
To make the Pico de gallo:
Mix together onion, tomatoes, cilantro, jalapeño pepper and half of lime juice in small bowl. Set aside.

3 tablespoons finely diced onion,

6 tablespoons diced Roma tomatoes,

4 tablespoons finely chopped cilantro,

2 tablespoons finely chopped jalapeño pepper,

Juice of 1 large lime,
To make the Guacamole:
In another small bowl, combine the remaining lime juice and avocados. Salt to taste. Stir in half of the pico de gallo into the avocado mixture until thoroughly combined. Top with remaining pico and serve.

2 ripe avocados,,

Salt to taste,

Juice of 1 large lime,
Notes
Ingredients:
Ripe avocados make the best guac. Choose avocados that are a dark green/brown color and give slightly when pressed. 
Any type of tomato can be used. I prefer Romas as they have the least liquid. If using garden tomatoes, drain well before adding to the recipe. 
Red or white onion work well in guacamole.
Love spice and heat? Add hot sauce and/or a serrano pepper in place of the jalapeño. 
Freshly squeezed lime juice gives the best flavor. It takes just a minute to juice and makes a big difference in the quality of your guacamole. 
Taste the guacamole as you make it and add extra salt and lime juice if needed (you need more than you think). If serving with tortilla chips, sample the guac with tortilla chips to get the right seasoning. 
Make ahead and storage tips: 
You can make the pico de gallo up to two days ahead of time.
Guacamole keeps up to one day in the fridge. Level the surface of the guacamole and press plastic wrap over the surface so it's completely covered and airtight. 
Nutrition
Serving:
0.5
cup
Calories:
340
kcal
Carbohydrates:
21
g
Protein:
5
g
Fat:
30
g
Saturated Fat:
4
g
Polyunsaturated Fat:
4
g
Monounsaturated Fat:
20
g
Sodium:
18
mg
Potassium:
1143
mg
Fiber:
15
g
Sugar:
4
g
Vitamin A:
879
IU
Vitamin C:
45
mg
Calcium:
34
mg
Iron:
1
mg
Nutrition info not guaranteed to be accurate.