Smooth elderflower liqueur adds a tasty twist to a traditional cocktail in this Elderflower Gin Gimlet recipe - proof positive that you CAN improve upon the classics.
Some recipes are standards for a reason. They have stood the test of time and never seem to lose their popularity. In the cocktail world, think of recipes like a classic martini recipe. Or the perfect Manhattan.
Add a gimlet to that list of time-honored cocktails. But if we never tinkered with classic recipes, would we ever enjoy new flavors?
Even the best of the best deserve a bit of an update now and then, and this 4-ingredient Elderflower Gin Gimlet recipe is the perfect example.
The addition of smooth elderflower liqueur to a gin gimlet gives this slightly sweet, slightly tart cocktail just a little something extra that you didn't know was missing.
So grab your shaker and let's get busy!
Jump to: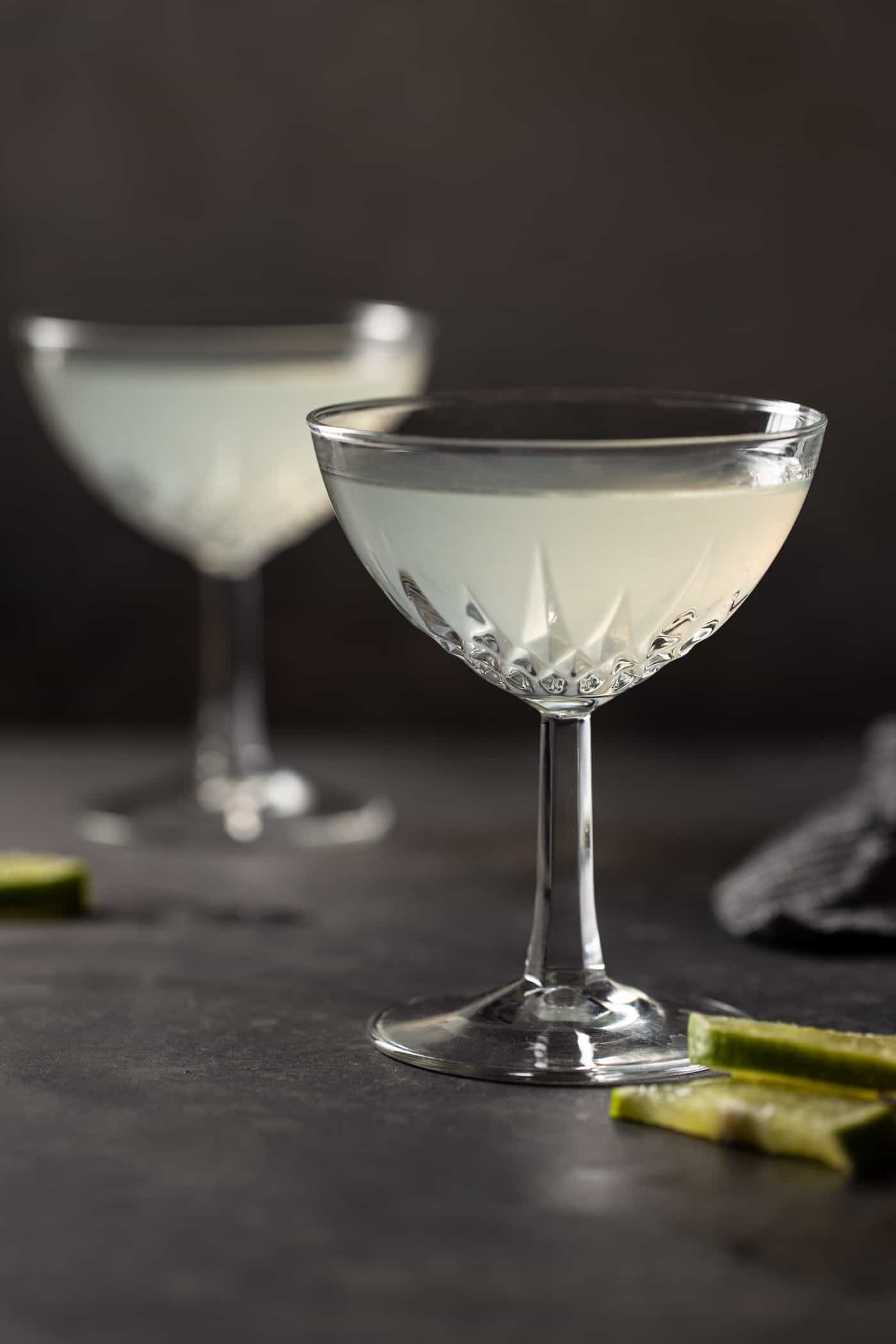 What is a gimlet?
Never heard of a gimlet cocktail before? The exact history of this drink is not definitive. There are a few theories out there, but one of the most popular has roots in the British navy.
Back in the 1800s, British navy sailors were encouraged to drink lime juice (and other citrus fruit juice) with their liquor to prevent scurvy (a disease that results from a lack of vitamin C) during long sea voyages.
Since a gimlet is also a tool used on naval ships to bore holes into wooden barrels (mostly of booze), the name of that tool naturally became associated with the related cocktail.
Ingredients
If you made this drink in the 1800s, you'd enjoy a combination of straight gin and lime juice. Wowza! Bring on the pucker face!
Thankfully the gimlet recipe has evolved over the years and become more well-rounded and balanced. Our smooth and refreshing Elderflower Gin Gimlet has 4 ingredients:
Gin
Fresh lime juice (no bottled stuff here, please)
Simple syrup
Elderflower liqueur
Note: Not familiar with elderflower liqueur? We have a whole post about it to get you up to speed in no time flat! Click through the link to learn more about what it is, what it tastes like and ideas for other elderflower cocktail recipes.
Instructions
I'm not kidding here when I say this is a simple cocktail.
Pour all ingredients into a cocktail shaker filled with ice.
Shake for at least 30 seconds. Since a gimlet is traditionally served straight up, you want to give the cocktail plenty of time to chill while it's being shaken with ice. Thirty seconds may seem like a long time while you're shaking it, but your cocktail will stay chilled for far longer than if you only shake it for a shorter amount of time.
Strain gimlet into glass and serve immediately. Garnishes are optional but if you're feeling extra fancy, a small lime slice can be added to the side of the glass.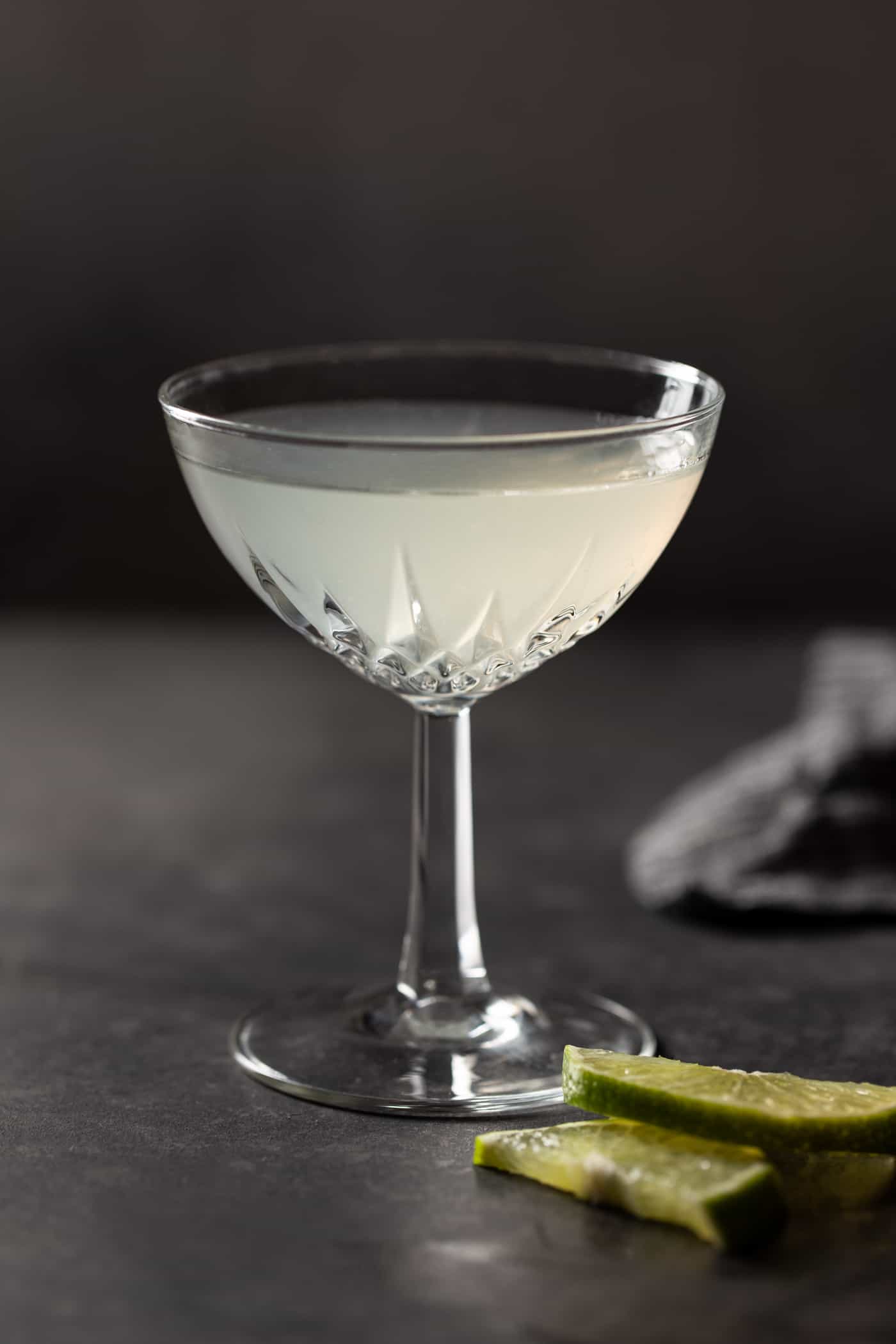 Spirit to Use
I get it; not everyone likes gin. For you diehard vodka fans out there, feel free to swap in vodka for the gin in this cocktail. The results will still be delicious.
Want some vodka gimlet inspiration? Try our refreshing Cucumber Vodka Gimlet or our seasonal Cranberry Vodka Gimlet recipes and see what you think!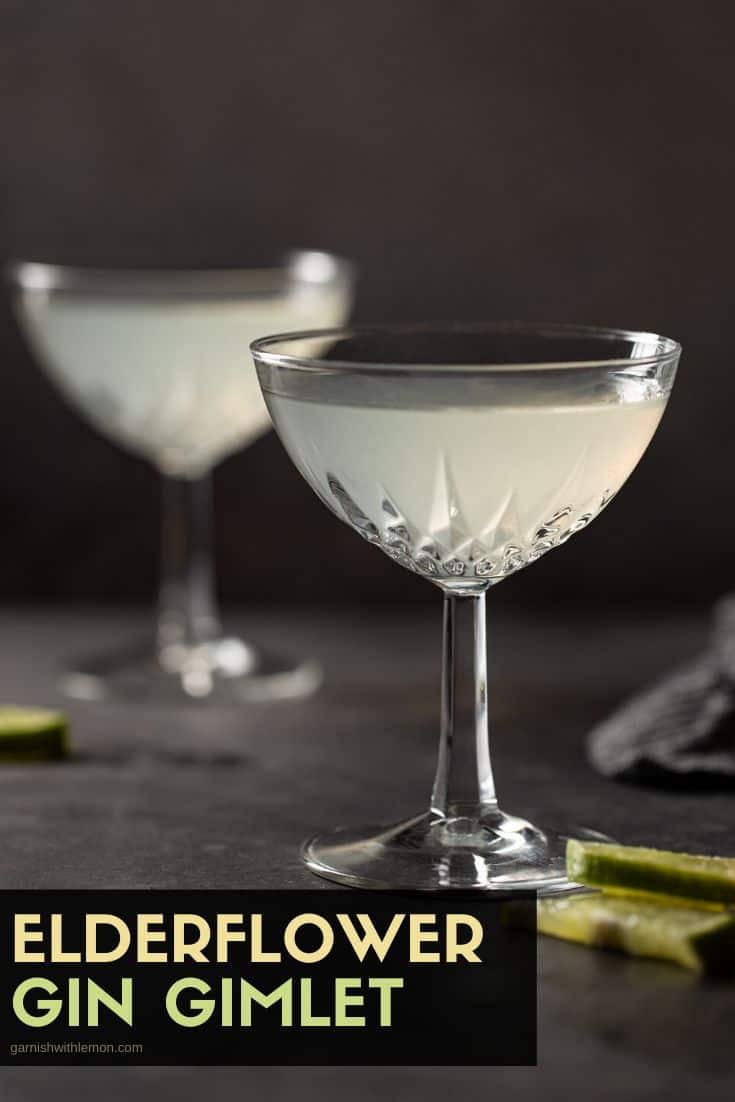 You can find all of our cocktail recipes!
Recipe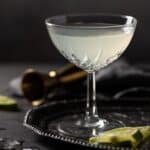 Elderflower Gin Gimlet
This from-scratch Elderflower Gin Gimlet recipe is the best of both worlds: a classic cocktail with a modern, elderflower twist. Everyone who tries it loves it! 
Ingredients
2

ounces

gin

¾

ounce

elderflower liqueur

½

ounce

fresh lime juice

½

ounce

simple syrup
Instructions
Place all ingredients in a cocktail shaker filled with ice and shake vigorously for at least 30 seconds.

Strain into a coupe glass and serve immediately.
Notes
Fresh lime juice is a must in this cocktail. Don't try to use bottled juice or you will change the flavor of the drink.
Simple syrup is easy to make at home! Follow our instructions in the post. Leftovers keep for weeks in the fridge.
Nutrition
Serving:
4
ounces
Calories:
223
kcal
Carbohydrates:
13
g
Sodium:
1
mg
Sugar:
12
g
Nutrition info not guaranteed to be accurate.
A splash of elderflower liqueur adds a smooth, rich taste to a classic cocktail in this 4-ingredient Elderflower Gin Gimlet recipe!