This light and bright Elderflower Martini needs to go to the top of your must-make list. One sip of this delicious drink and you will understand why it's one of our most popular cocktail recipes! 
You know we love our cocktails, right?
And we have some hugely popular cocktails on Garnish with Lemon, like this Gin, Elderflower and Prosecco Cocktail and the Elderflower Margarita, but this Elderflower Martini recipe is one of our all-time favorite cocktails.
One sip of this mouthwatering cocktail and you will be on Team Elderflower, too. 

What is Elderflower Liqueur?
Elderflower liqueur is made from the small, white flowers of the elderflower bush. These blossoms are often handpicked and the liqueur is made with no preservatives or stabilizers (which means it really should be used in about 6 months for best flavor).
It adds such a great flavor to so many different drinks and has become one of our favorites so finishing a bottle never seems to be a problem for us.
What other some other St. Germain Cocktails?
Elderflower is one of our favorite cordials and there isn't a liquor that we haven't added it to. We have something for everyone!
If you need more recipes to finish your bottle check out all of our elderflower cocktails!
You want me to use how many kinds of alcohol in this cocktail?
Now don't get freaked out by the fact that this cocktail has vodka and gin in the ingredients. Odd combination, I know, but it totally works.
I love to make mine with Tanqueray Gin and Tito's Vodka, but feel free to use your favorite.
Every time I have one, I am reminded of just how much I love this drink. It's not too sweet, not too tart, just a perfect balance of flavors.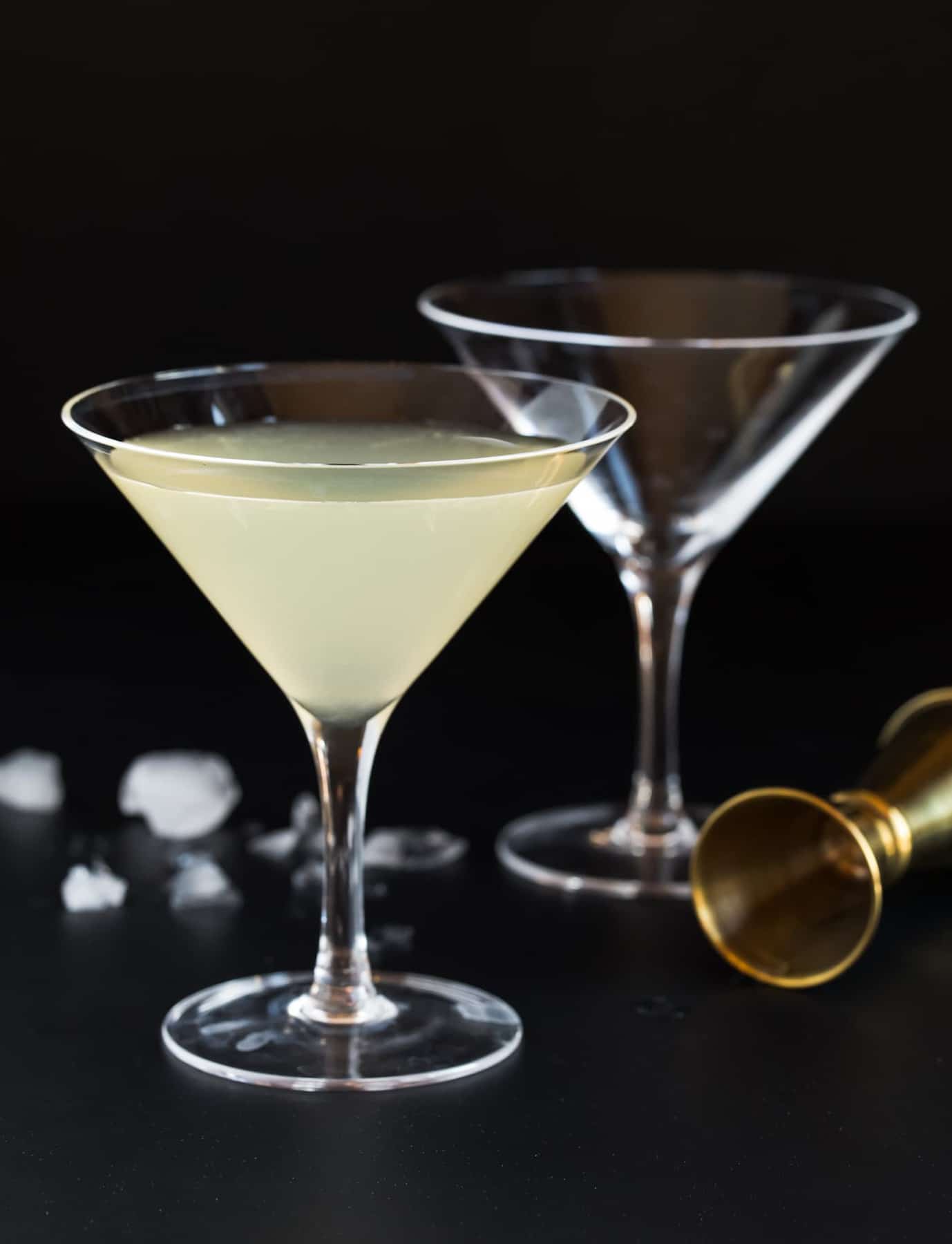 What makes this elderflower liqueur cocktail so good?
The key to this Elderflower Martini is the homemade sweet and sour, and it is totally worth the extra work. Trust me on this one. You may never go back to the bottled mix again.
I use this juicer to make quick work of making the homemade sweet and sour mix. But don't get me wrong, I have made it plenty of times using a reamer too.
Don't let the fact you don't own a juicer stop you from making this martini!
In fact, once you taste it in this drink, you'll enjoy juicing those lemons and limes so much you will probably keep a batch on hand. Happy hour anyone?

How to make homemade sweet and sour
Sometimes the color of my sweet and sour mix varies, don't stress, it just has to do with the variety of your lemon or limes. But whatever you do…please don't sub in bottled juice.
If you are lucky, your grocery store carries fresh-squeezed juice in their produce section. Ours does and it is amazing! Such a time saver.
But if I don't want to splurge on the short cut, I always squeeze my own juice for this recipe.
I use this juicer to make quick work of making the homemade sweet and sour mix. But don't get me wrong, I have made it plenty of times using a reamer too.
Don't let the fact you don't own a juicer stop you from making this martini!
Because this sweet and sour mix needs the fresh stuff. Promise. 
Once you make homemade sweet and sour, you will never, ever buy the bottled mix again.
What equipment do I need to make a martini?
Every good home bar has a well-stocked bar with the following items in it
Martini shaker and strainer

Jiggers

Bar spoon

Muddler

Variety of cocktail glasses.
Looking for more suggestions? Check out our  5 part series of How to Stock your Home bar. It answers all of your questions.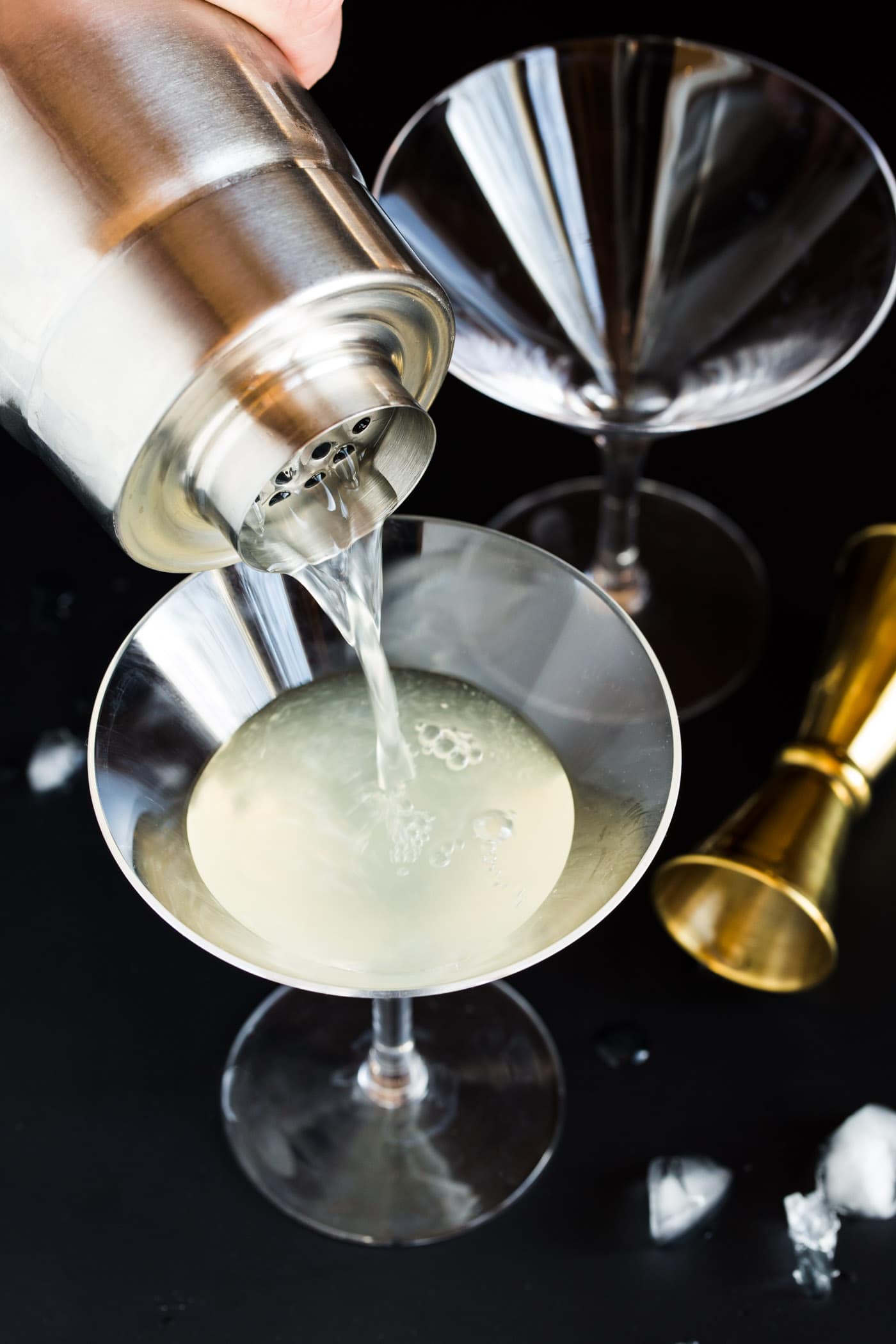 When do I shake or stir a martini?
Here's a quick cheat sheet: Shake Citrus, Stir Alcohol.
Drinks that have citrus juice in them need to be shaken, not stirred. Shaking a cocktail with citrus breaks down the citrus juice and makes the cocktail light and refreshing instead of acrid and acidic.
Citrus juice and alcohol have different densities and won't mix easily unless they are shaken together.
However, if a drink is all liquor, like an old fashioned, manhattan or negroni, stirring is the way to go.
Can I make this St. Germain Cocktail as a batch recipe for a party?
That's another great thing about this martini? It's easy to make a batch cocktail.
So if you are hosting a gathering for any occasion, hanging out with friends, or just because it's the weekend,  it always fits right in.
This Elderflower Martini just might become your new go-to batch or anytime cocktail.
I'll drink to that.
Cheers!
Recommended Equipment

Want to make this drink later? PIN IT to save!
Want another way to use elderflower? Try some of these yummy elderflower cocktail recipes!
Elderflower Sangria- Wanderlust Kitchen
Peach Rose Sangria– Garnish with Lemon®
Gin, Elderflower and Prosecco Cocktail– Garnish with Lemon®
Earl Grey Elderflower Sparkler– Boulder Locavore
Elderflower Vodka Lemonade– Garnish with Lemon®
We LOVE cocktails! Check out all of our drink recipes!
Yield: 1
Elderflower Martini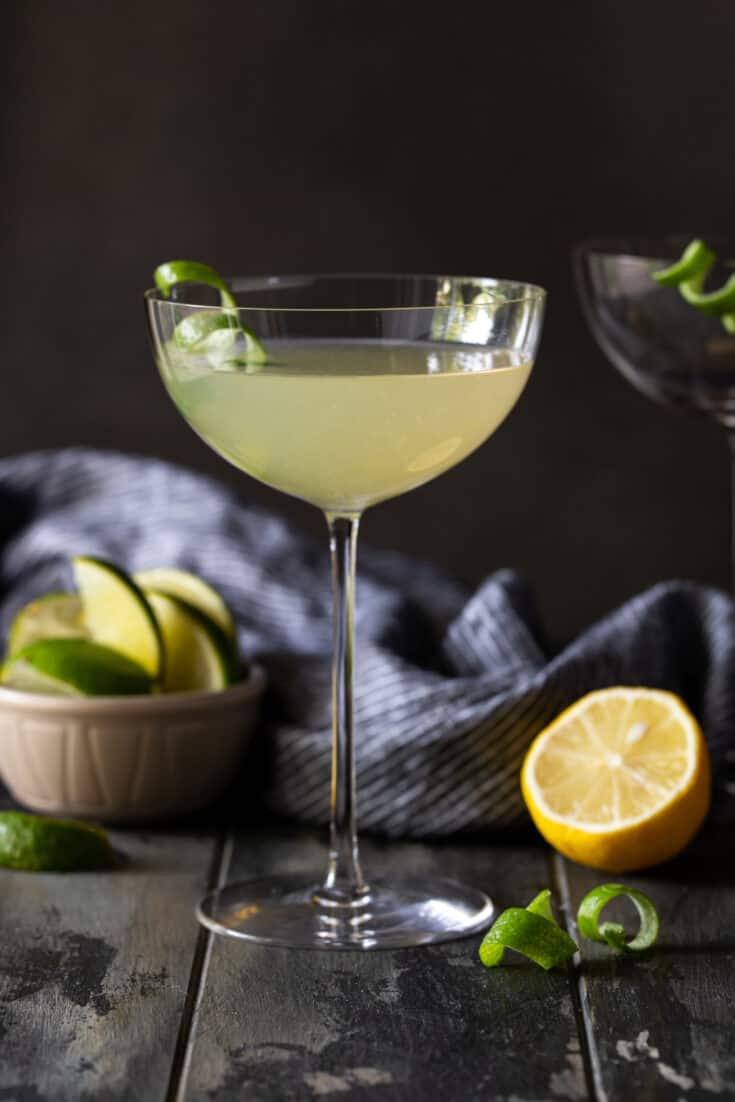 The homemade sweet and sour is the game-changer in this Elderflower Martini recipe.
Ingredients
Homemade Sweet and Sour Mix:
1 cup freshly squeezed lemon juice
1 cup freshly squeezed lime juice
1 3/4 cup simple syrup
Martini:
1 ounce gin
1 ounce vodka
1 ounce St. Germain Elderflower Liqueur
2 ounces homemade sweet and sour
Lime wedges
Instructions
To make the sweet and sour:
Combine sweet and sour mix ingredients in a mason jar and shake to combine. Keep chilled until ready to use.
To make the martini:
Pour gin, vodka, St. Germain and sweet and sour into a martini shaker filled with ice and shake vigorously to combine. Squeeze a wedge of lime into a martini glass and strain the contents of the shaker into the glass.
Serve immediately.
Notes
The sweet and sour mix will keep for 2 weeks in the refrigerator.
Recommended Products
As an Amazon Associate and member of other affiliate programs, I earn from qualifying purchases.
Nutrition Information:
Yield:
12
Serving Size:
5 ounces
Amount Per Serving:
Calories:

120
Total Fat:

0g
Saturated Fat:

0g
Trans Fat:

0g
Unsaturated Fat:

0g
Cholesterol:

0mg
Sodium:

23mg
Carbohydrates:

28g
Fiber:

0g
Sugar:

24g
Protein:

0g
This light and bright Elderflower Martini Recipe is a great cocktail for parties! Find out why this gin elderflower cocktail is one of our favorites!