Toast the holiday season with these easy, 4-ingredient Pomegranate Gin Cocktails!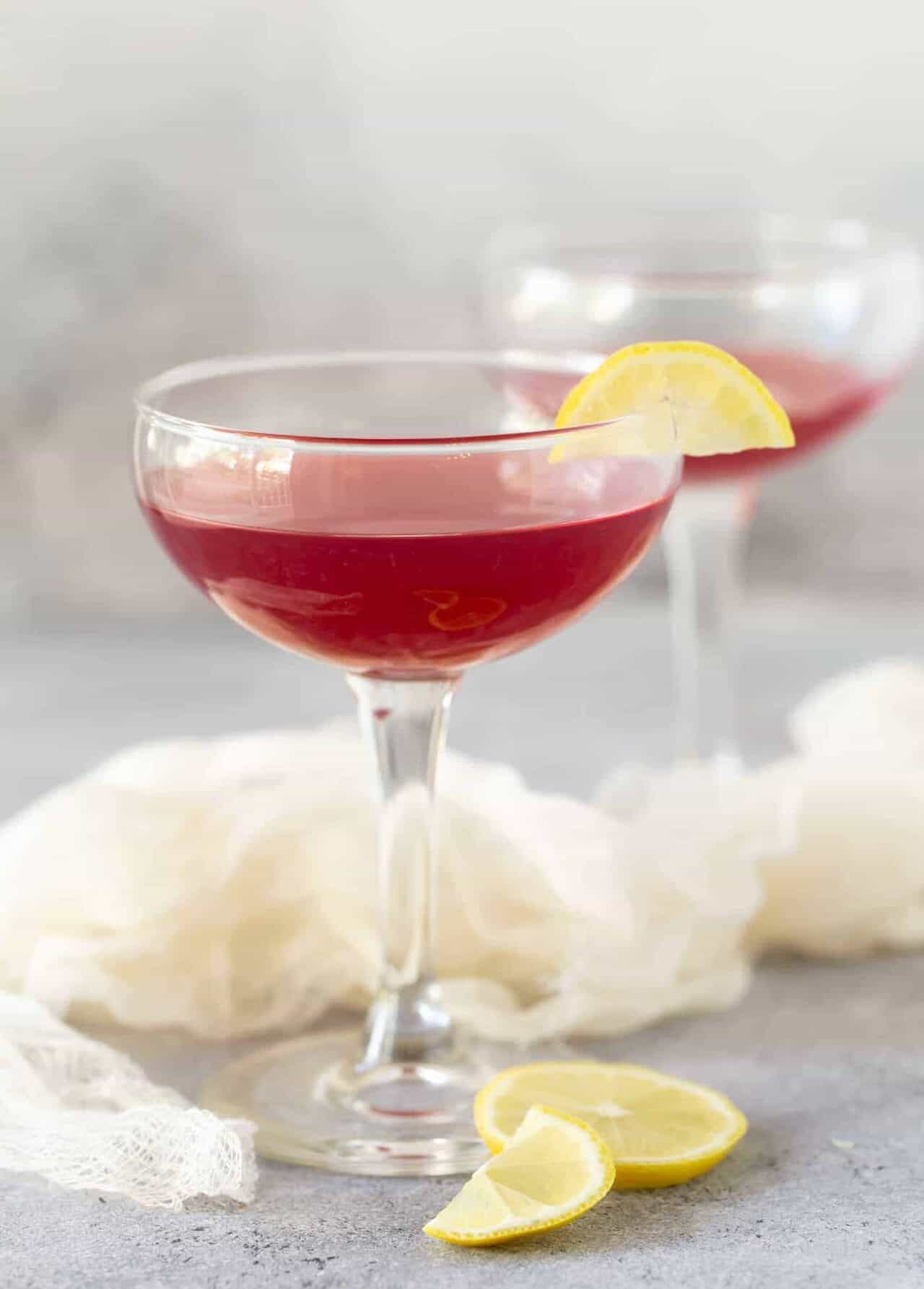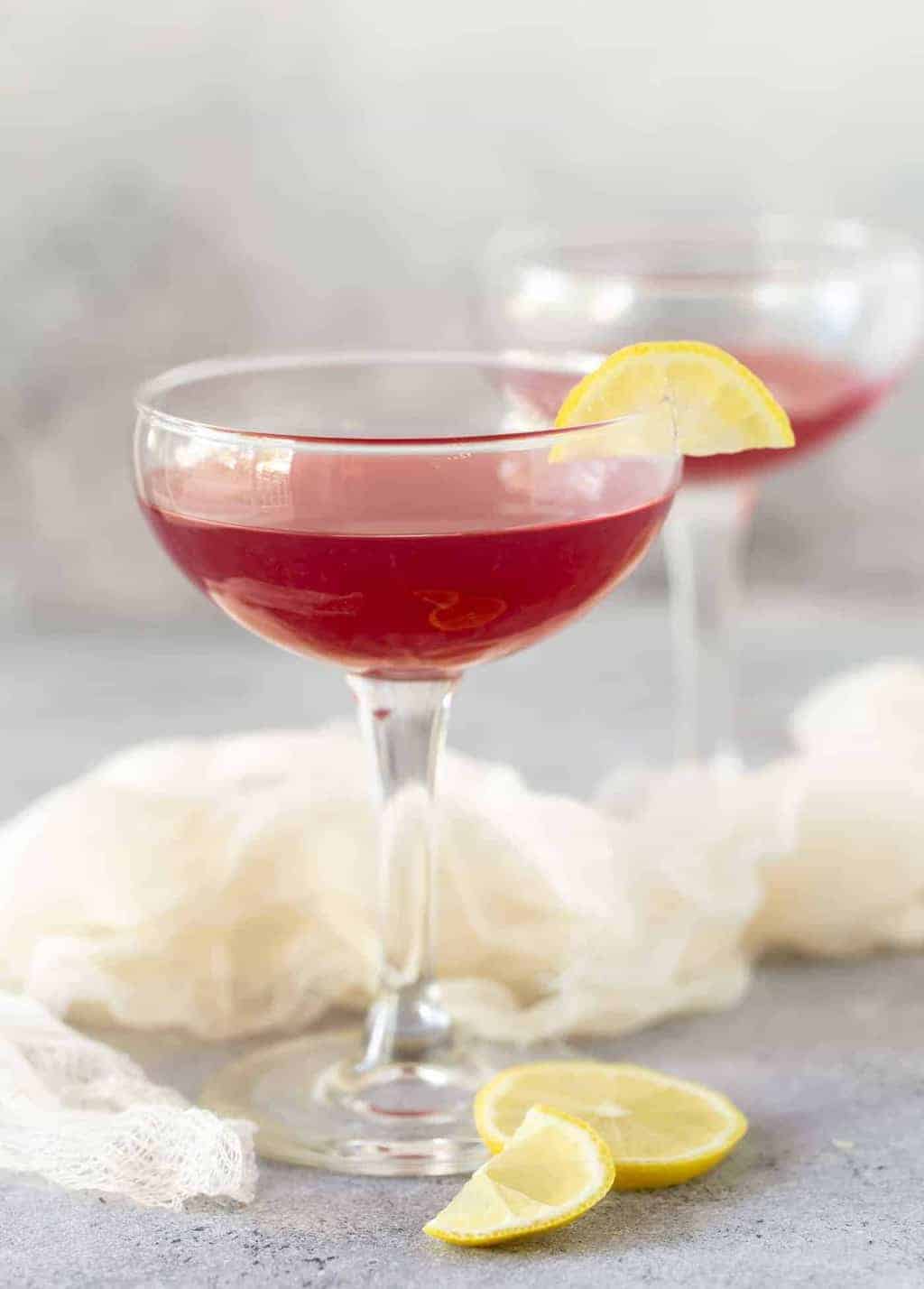 There are no shortage of celebratory occasions during the holidays, so why not add even more festive color and flavor to them with these 4-ingredient Pomegranate Gin Cocktails?
Move over cranberries.
It seems like cranberries get all the love this time of year. They are everywhere, starting with their place of honor at the Thanksgiving table. But they also pop up in lots of seasonal cocktails like this Sparkling Cranberry Gin Cocktail, these Cranberry Whiskey Sours and this Cranberry Gimlet.
In my book, nothing beats a pomegranate if you're looking for a unique, colorful cocktail during the holidays. These quick and easy Pomegranate Gin Cocktails come together in minutes but the result is irresistible enough to make all season long.
What ingredients do I need to make these Pomegranate Gin Cocktails?
That's easy: gin, elderflower liqueur, fresh lemon juice and pomegranate juice. You might even have most or all of them on hand right now. Not sure what elderflower liqueur is? Check out our handy guide to one of our favorite liqueurs.
If you're feeling fancy, you can also add some lemon slices or a lemon twist to your cocktail as a contrasting garnish. Or float a few pomegranate seeds in each glass.
I'm not a huge gin fan. Can I use vodka in these pomegranate cocktails instead?
We get that substitution question a lot here.
I love gin, so I don't often swap in other spirits to take its place, but I know many of you do. If you give it a go, please stop back and let us know how it turned out!
I'm hosting a large cocktail party. Can I make these Pomegranate Gin Cocktails ahead of time?
Absolutely!
These Pomegranate Gin Cocktails are easy to multiply and make as a batch cocktail. Simply mix your ingredients together in a large pitcher and keep chilled until party time. Give your pitcher a quick stir before serving.
Make merry this holiday season with a round of these easy, 4-ingredient Pomegranate Gin Cocktails!

Love
pomegranates? You need to try some of these other pomegranate cocktails for the holidays!
Pomegranate Martini - Garnish with Lemon®
Pomegranate Rum Cocktail - Aggie's Kitchen
Pomegranate Prosecco Cocktail - Garnish with Lemon®
Sparkling Pomegranate Vodka Punch - From Valerie's Kitchen
Yield: 1
Pomegranate Gin Cocktails
Gin, elderflower and pomegranate juice make the perfect winter cocktail!
Ingredients
1 1/2 ounces gin
1/2 ounce elderflower liqueur
1/2 ounce freshly squeezed lemon juice
1 ounce pomegranate juice
Instructions
Combine all ingredients in a cocktail shaker filled with ice. Shake vigorously until well-chilled. Pour into coupe glass. Garnish with optional lemon slice, if desired.
Nutrition Information:
Yield:
1
Serving Size:
1
Amount Per Serving:
Calories:

159
Total Fat:

0g
Saturated Fat:

0g
Trans Fat:

0g
Unsaturated Fat:

0g
Cholesterol:

0mg
Sodium:

7mg
Carbohydrates:

8g
Fiber:

0g
Sugar:

8g
Protein:

0g