There is a reason this Chipped Beef Dip recipe has been around for years. Classic appetizer recipes never go out of style!
Chipped Beef Dip
You know those foods that your family has been making for years, the ones that bring back lots of good memories?
This Chipped Beef Dip recipe is one of those appetizers in our house.
My husband grew up with it, and it has turned into one of my go-to dips when entertaining. And why wouldn't it? It's easy to make, great hot or cold, and gives me a reason to eat Fritos

What is Chipped Beef?
If you're unfamiliar with the exact definition of chipped beef, or where to find it, here's a little run down to give you some clarity.
Chipped beef is a form of pressed, salted and dried beef that has been sliced into thin pieces. While the meat is dried, it's not nearly as dry as beef jerky and has a much lower fat content than beef jerky.
Where to Find Chipped Beef
You can find chipped beef sold in small jars, cans or pouches. They will typically be sold in the refrigerated deli section with other prepackaged deli meats.
Don't be alarmed if you can't find anything that says "chipped beef", it can also come labeled as "dried beef". So if you spot either of those terms, you'll be in good shape.
How To Make Chipped Beef Dip
I originally got this recipe for Chipped Beef Dip from my mother-in-law but have since tweaked it a little. Don't worry, this dip is still really close to the original, but this "beefed up" version is my favorite.
To make this recipe you'll preheat oven to 350 degrees and place the cream cheese and sour cream in a medium bowl and mix until smooth. Next, add garlic powder and Worcestershire sauce and mix well. Then you'll add in the beef and onions and mix until combined.
Lastly, place the mixture in a pie plate and bake until the dip is hot and bubbly. Serve with Fritos or other corn chips and enjoy!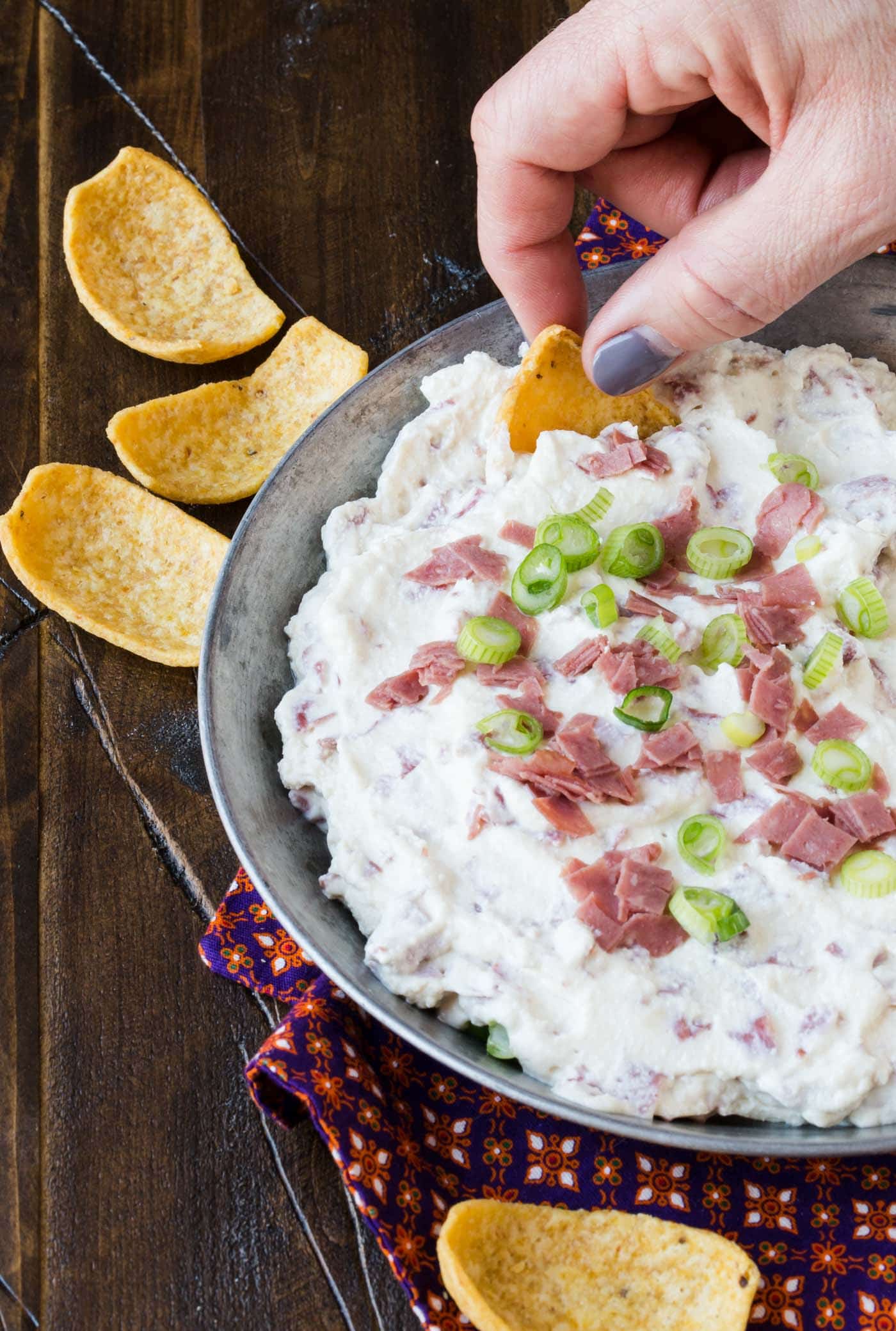 Tips for making Chipped Beef Dip:
This Chipped Beef Dip recipe only has 6 ingredients and comes together in minutes. The original recipe calls for chopped green pepper but I omitted that and swapped the chopped onion for green onion.
This way the dip still has a pretty green color sprinkled throughout, but now the garlic flavor really shines through.
But don't worry if you love green pepper. Feel free to throw it in. This dip will still taste amazing!
Dips that are easy to make your own are my favorite - especially when they involve Fritos. And the way this one disappears every time I make it shows me I'm not alone!
Make-Ahead Tip: This dip can easily be made ahead of time. Just let it come to room temperature before putting in the oven or add additional baking time to compensate.
No Party is Complete Without Chipped Beef Dip
You know how some parties just feel like they are missing something? You're surrounded by great people, sipping on some amazing drinks but something is just missing. Then you realize its the food table... Every party goes nightmare is when the food is sub-par.
Make sure you never run into that catastrophe the next time you're hosting or attending an event. Showing up with this chipped beef dip will make everyone's eyes light up. Trust me, you won't be leaving with any leftovers, so maybe it's best to make a double batch.
Chipped Beef Dip Pairings
The only thing that can make a good dip recipe even better, is pairing it with a spread of food that's equally as tasty. This party staple goes well with so many dishes that it's almost impossible to go wrong.
If you're the one hosting the next gathering, here are a few recommendations to help make your food table the talk of the party.
Blood Orange Margaritas for a Crowd
Deep Dish Chocolate Chip Skillet Cookie
RECOMMENDED EQUIPMENT
Here are Even More of The Best Dips Ever
As mentioned above, I am a little Frito obsessed, meaning dip recipes are my weakness because then I can pull out that beloved Fritos.
Since you can never have too many ways to eat Fritos, you need to always have a new recipe on hand to serve as your excuse to eat them even more.
Here are a few of my favorites right now: 
Cheesy Sausage Dip- Garnish with Lemon®
Neiman-Marcus Inspired Dip- Brown Eyed Baker
Beer Cheese Dip- Garnish with Lemon®
Ninfa's Green Sauce-Foodie with Family
Easy Buffalo Chicken Dip- Garnish with Lemon®
There's Never a Wrong Time For Dip
Yes, this dip is the PERFECT recipe for all of your gatherings from small to large, why should we only save it for special occasions? That just seems like we wouldn't be doing this recipe justice. It deserves to be a "just because" staple too.
The next time you're craving something a little different from your normal routine, whip up a batch of this chipped beef dip, and you won't regret it. The original recipe does make enough for 8, but it can easily be cut in half to make it perfect for just a few people to enjoy without any going to waste.
Once you make the recipe, don't forget to let me know your thoughts in the comments below!
Yield: 10 servings
Chipped Beef Dip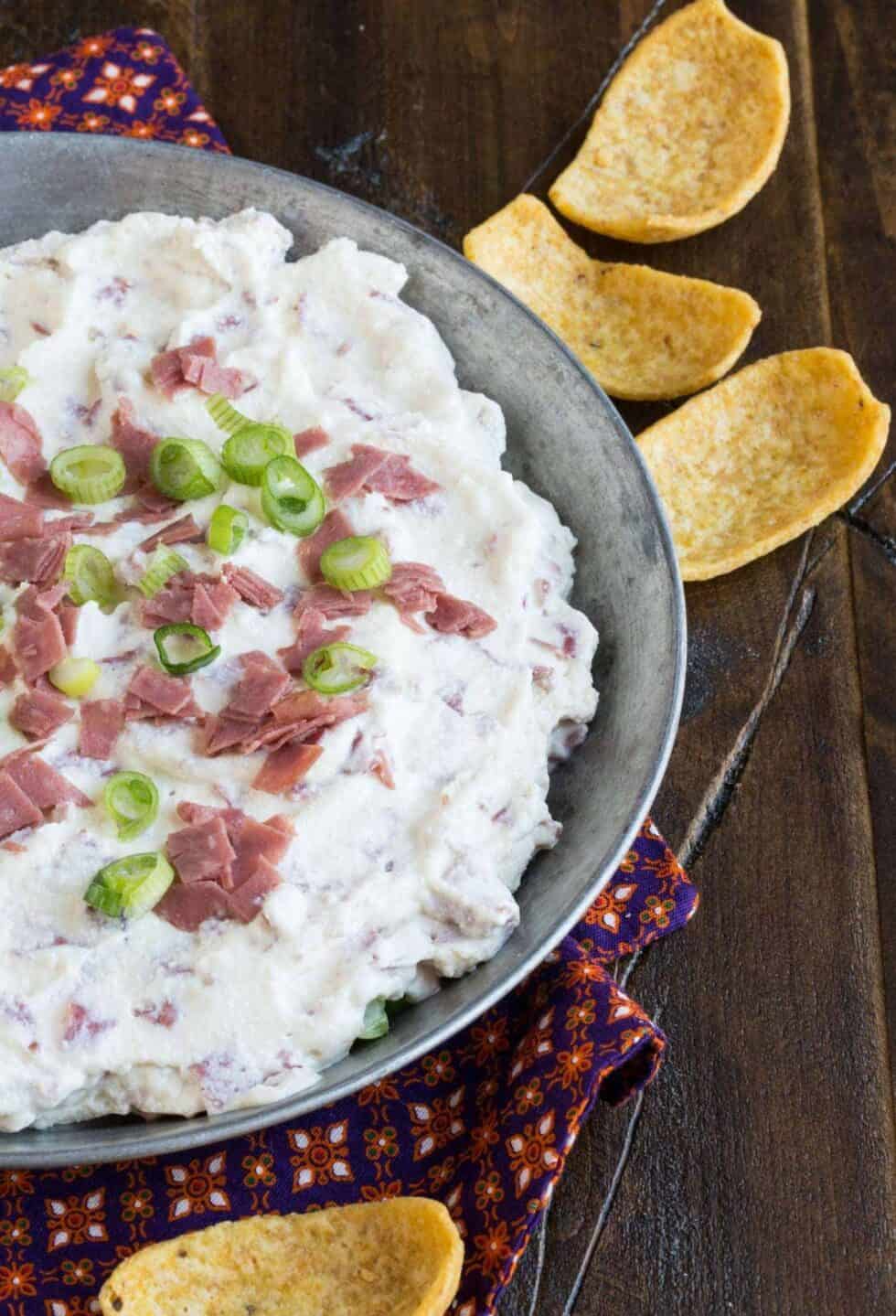 This classic Chipped Beef Dip recipe is always a hit at a party!
Ingredients
8 ounces cream cheese, softened
8 ounces sour cream
2-3 teaspoons Worcestershire sauce
1 teaspoon garlic powder
4 ounces Buddig beef, diced
4 green onions, sliced
Instructions
Preheat oven to 350 degrees.
Place cream cheese and sour cream in a medium bowl and mix until smooth. Add garlic powder and Worcestershire sauce and mix well.
Add beef and onions and mix until combined.
Place in pie plate and bake for 20-30 minutes or until dip is hot and bubbly.
Serve with Fritos or other corn chips.

Recommended Products
As an Amazon Associate and member of other affiliate programs, I earn from qualifying purchases.
Nutrition Information:
Yield:
10 servings
Serving Size:
1/2 cup
Amount Per Serving:
Calories:

162
Total Fat:

14g
Saturated Fat:

8g
Trans Fat:

0g
Unsaturated Fat:

5g
Cholesterol:

46mg
Sodium:

103mg
Carbohydrates:

3g
Fiber:

0g
Sugar:

2g
Protein:

5g