Think a classic cocktail like a gin and tonic can't get better? Think again! A splash of elderflower liqueur adds an unexpected & flavorful twist to this tried and true drink. Not only is it completely refreshing, our Elderflower Gin and Tonic recipe is super easy. Make one at home in minutes with only four ingredients!
I'm a firm proponent of the saying, "don't mess with a good thing".
Why screw up something that's already solid?
You might argue that a classic Gin and Tonic is practically perfect the way it is. I don't disagree, but I can guarantee the addition of elderflower liqueur takes your average G&T to a new level of refreshment. It's a small change, but it makes an outsized difference, the perfect drink for steamy summer happy hours.
Jump to:
Why you'll love this Elderflower Gin and Tonic:
➤ It's perfectly balanced: A gin and tonic can be great or it can be awful. The key to an outstanding drink is to balance the flavors of the dry gin with the bitter tonic. Adding elderflower liqueur to the mix ensures all the flavors are in sync, and you never taste one more than the others.
➤ It's familiar and unfussy: With only four ingredients, this drink requires no fancy equipment or mixology skills. You can make it at home in minutes.
Ingredients
This gin mixed drink is only as good as the ingredients you put into it, so make sure you're using quality brands you enjoy.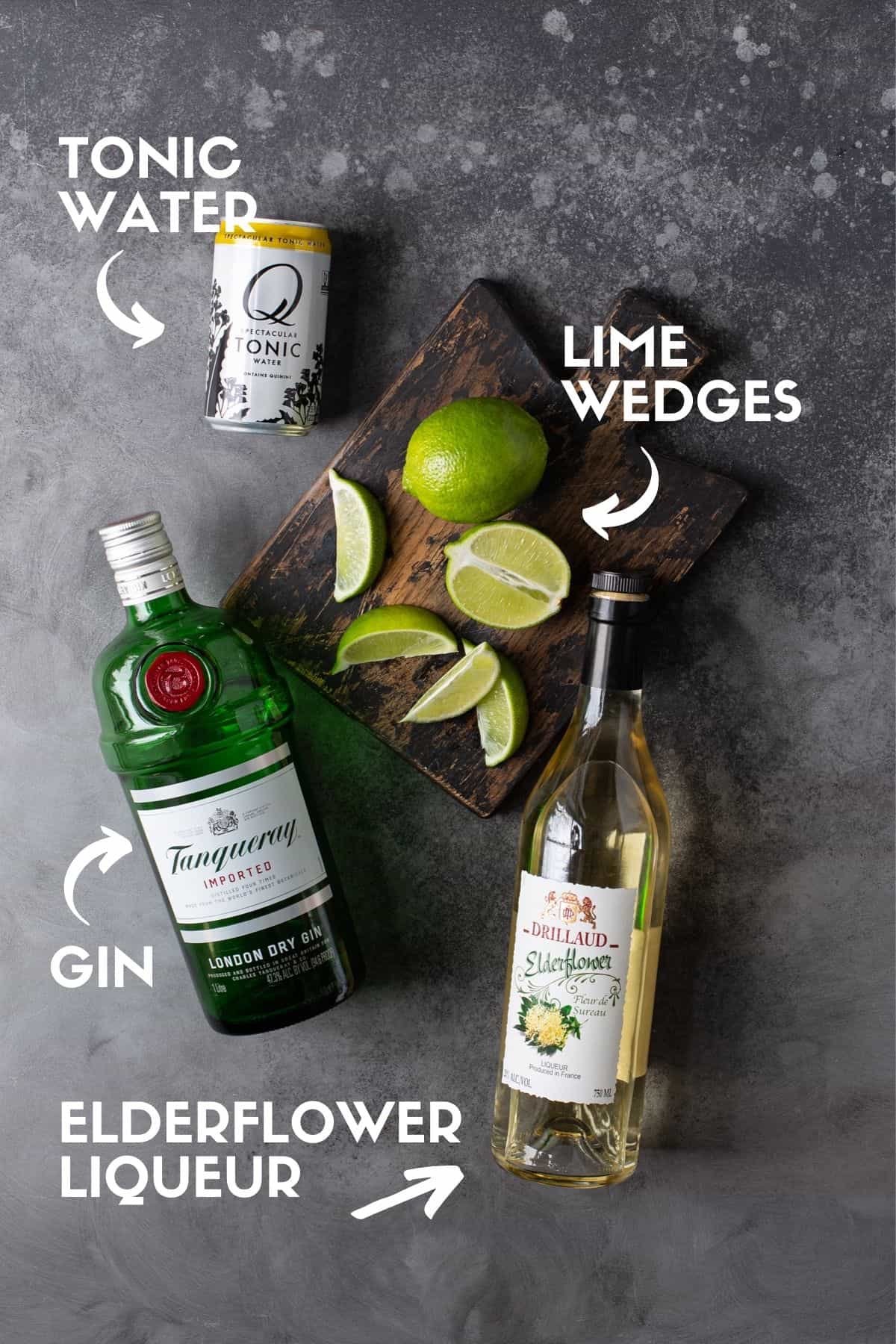 A few ingredient notes:
✔︎ Gin: There are many gins with unique flavor profiles out there but, in our opinion, a London dry gin makes the best gin and tonic. We nearly always use Tanqueray.
✔︎ Elderflower liqueur: St. Germain is the most well known elderflower liqueur. It has great flavor but that flavor comes at a price. If you're lucky enough to have a Total Wine near you, check out the Elderflower Liqueur made by Drillaud. It's the best dupe for St. Germain we've found at a fraction of the cost.
✔︎ Tonic water: It may feel hard to justify the higher price of quality tonic waters like Fever Tree and Q Mixers, but trust us, you'll notice the flavor difference after one sip.
Instructions
Making a good G&T isn't rocket science, but everyone likes their cocktail a little bit differently. Here's my perfect gin & tonic recipe made with a splash of with elderflower liqueur: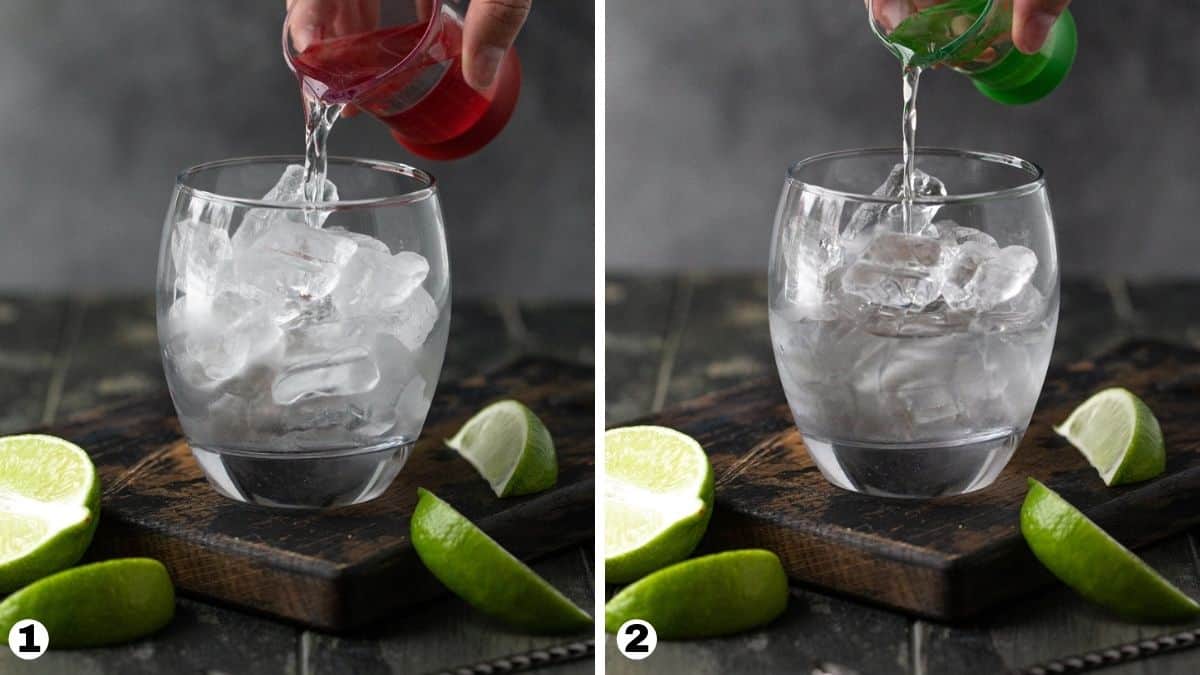 Fill lowball glass with ice. Add 2 ounces of gin and 1 ounce of elderflower liqueur.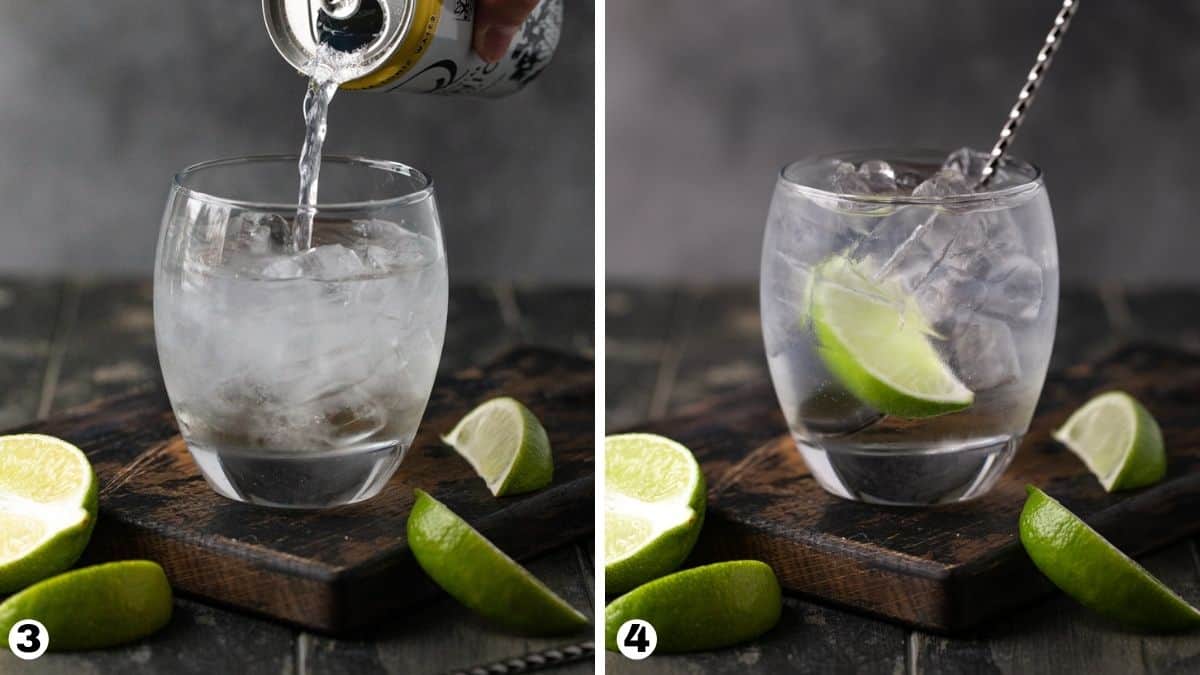 Top with 2-3 ounces of quality tonic water, squeeze a lime wedge into the glass and stir to combine.
FAQs
What's the best gin for a gin and tonic?

A classic cocktail like a gin and tonic begs for a timeless spirit like the juniper-forward, London Dry gin. Our go-to is Tanqueray because it is reliable and readily available but don't forget to check out your local distilleries for quality options, too.

My husband and I took a weekend road trip to Duluth, Minnesota, a few years ago and fell in love with Vikre Distillery's Boreal Juniper Gin, so we often have that on hand regularly.  
What tonic water is best for gin?

Schweppes and Canada Dry are your standard grocery store tonic waters. You'll see them everywhere, and it's often what you'll get if you order a drink at a bar. They are dependable options.  

But if you really want to elevate your G&T game, reach for either Q or Fever-Tree tonic waters. Made with natural quinine (not artificial flavors), these two tonic waters are more expensive than the grocery store brands, but you'll be surprised how much they enhance the flavor of your drink. 
What garnish goes with a gin and tonic?

I'm firmly in camp lime wedge for my drink but feel free to shake it up if you want some variety.

You can do lemon or orange wedges, cucumber slices, edible flowers or any variety of fresh herbs for a pretty presentation. 
What is the correct glass to serve a gin and tonic?

You'll see a variety of glasses used in other recipes - everything from highball/collins glasses to large globe wine glasses.

Personally, I always grab a lowball glass for this drink. It holds the recipe ingredient amounts perfectly.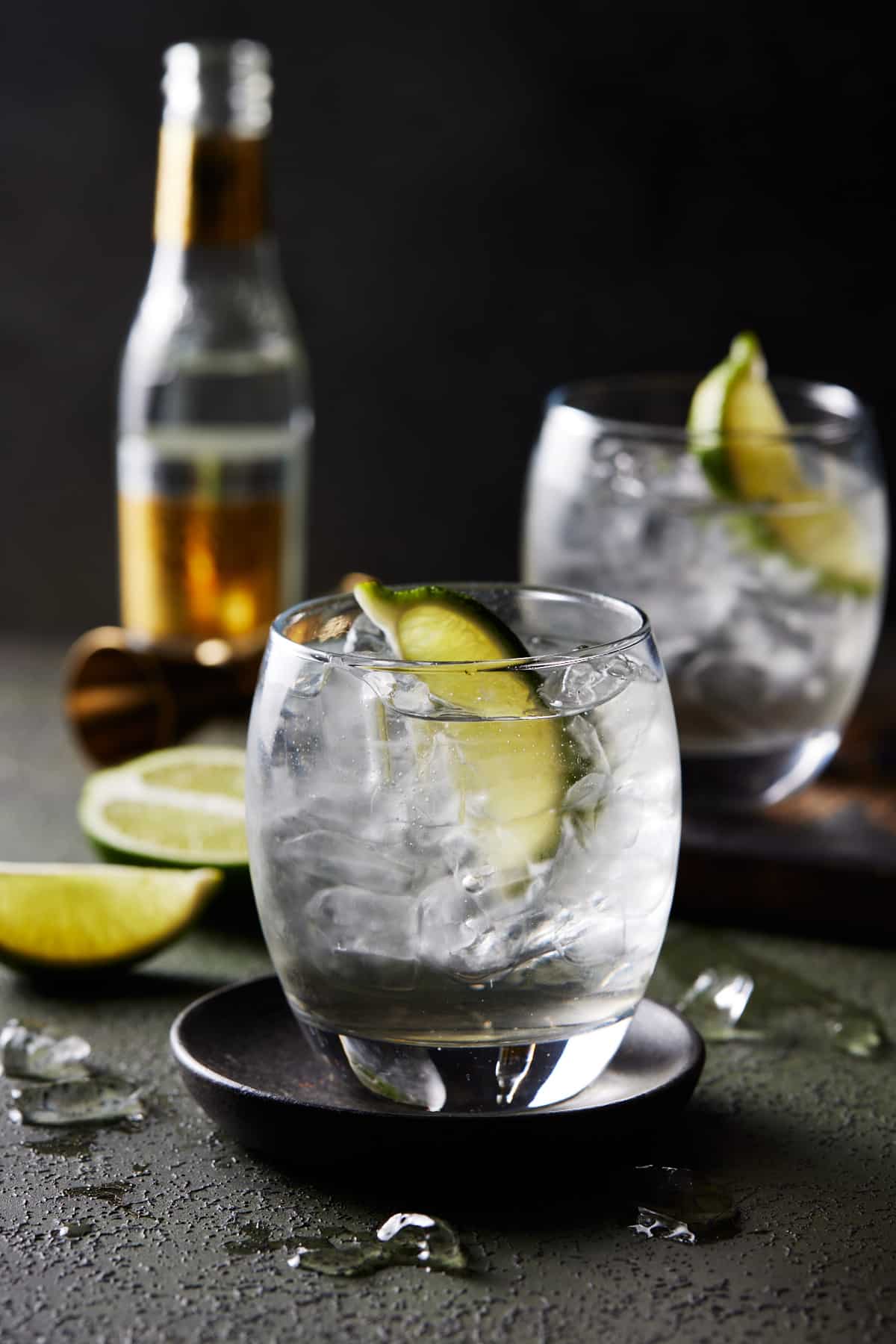 Tips for making the best Gin and Tonic
➤ Use quality ingredients. The saying, "quality in, quality out" definitely holds true for drinks with minimal ingredients like this. It's the difference between an average gin and tonic and an outstanding cocktail. Check out our ingredient notes for brand suggestions.
➤ Don't forget to stir your drink. It's an easy oversight to make, but for the best flavor, you need to stir your drink before you enjoy it. Otherwise you'll end up with a bitter, tonic-heavy cocktail at the start followed by a strong liquor finish.
➤ The garnish isn't just for looks. Squeeze the lime into the drink rather than just plopping it in there (or omitting it entirely). The hint of citrus and acid from the lime juice is a great complement to the floral elderflower liqueur.
➤ Offer a non-alcoholic gin & tonic option. Guests always appreciate a tasty non alcoholic cocktail option, and you can offer a refreshing mocktail with a few substitutions. Ask at your liquor store for their best selling brand on non-alcoholic "gin". Then substitute elderflower cordial for the elderflower liqueur and top with tonic water as directed. The cordial has the same floral notes of elderflower liqueur without the alcohol, so that's an easy substitution.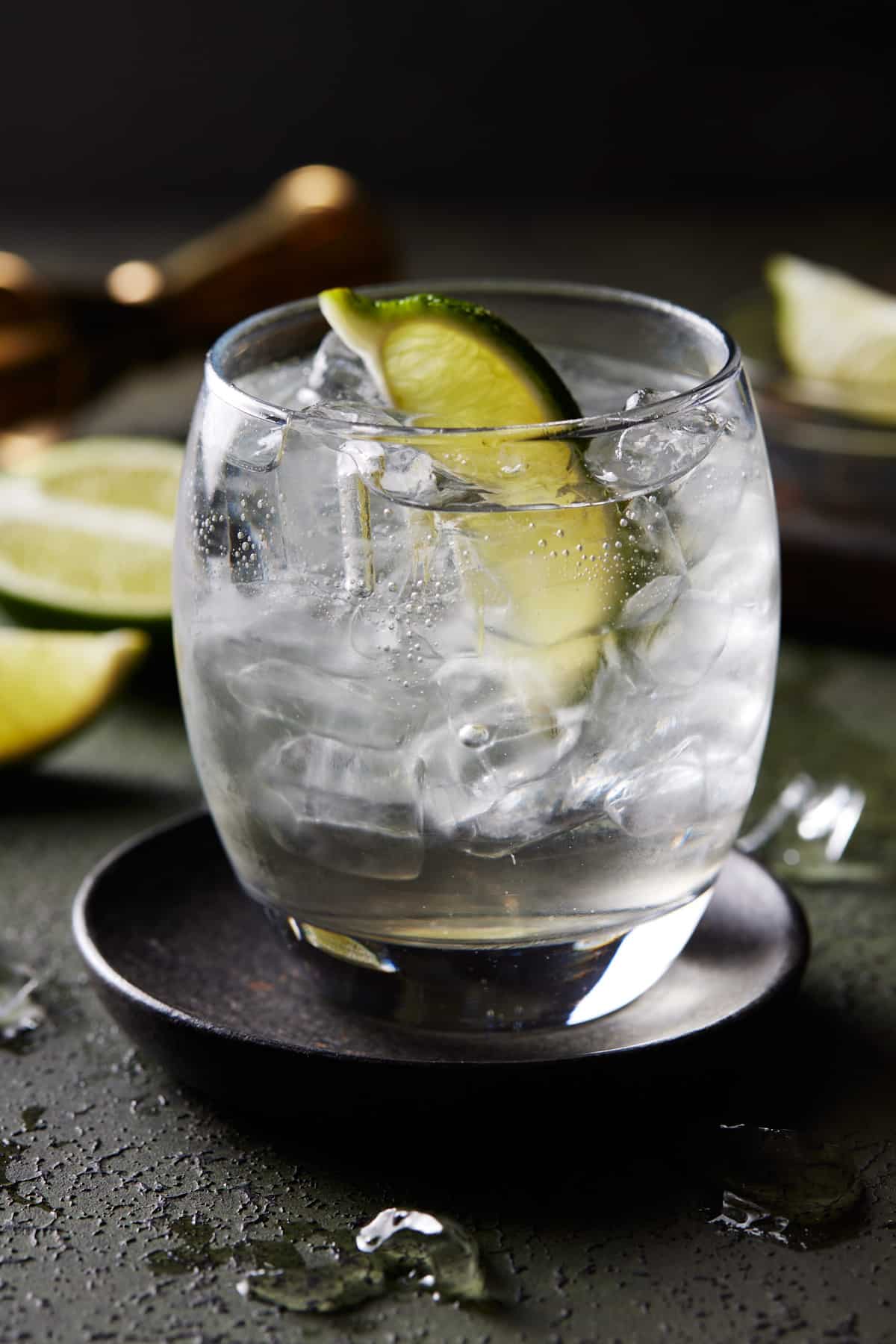 More elderflower and gin drinks
Or check out this Spanish Gin & Tonic made with purple Empress Gin. Want more? We have pages of gin drinks in our archives.



Did you make this recipe? We'd love to hear your thoughts! 

Please rate the recipe and leave a comment below. Your feedback helps us and your fellow readers! 



Recipe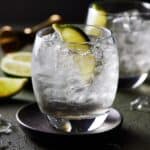 Elderflower Gin and Tonic
Change up a classic. A splash of elderflower liqueur takes this Gin and Tonic recipe from average to outstanding!
Ingredients
2

ounces

gin

1

ounce

elderflower liqueur

2-3

ounces

tonic water

lime wedge
Instructions
Fill a lowball glass with ice. Pour in gin and elderflower liqueur.

2 ounces gin,

1 ounce elderflower liqueur

Top with tonic water. Squeeze lime wedge into glass, stir and serve. 

2-3 ounces tonic water,

lime wedge
Notes
Best gin to use: A London dry gin makes the best gin and tonic. We nearly always use Tanqueray. 
Best elderflower liqueur: St. Germain is the most popular but we also love Drillaud. It's similar in flavor for a fraction of the price. 
Best tonic water: Skip the grocery store brands and go with Q Mixers or Fever Tree tonic waters. Their superior flavor makes a big difference.
Squeeze that lime wedge! The lime wedge is not just for looks. Make sure you squeeze it into your drink to release its juice. 
Stir before serving. It's easy to overlook this step but if you do, you'll immediately notice how unbalanced your drink is. 
Non alcoholic option: Substitute a non alcoholic "gin-like" spirit for the gin and elderflower cordial for the elderflower liqueur to make an alcohol-free drink.
Nutrition
Serving:
1
g
Calories:
298
kcal
Carbohydrates:
30
g
Sodium:
24
mg
Fiber:
2
g
Sugar:
24
g
Nutrition info not guaranteed to be accurate.