Watch heads turn after one sip of this Gin & Tonic recipe with Elderflower Liqueur! The simple addition of elderflower adds an unexpected twist to a classic cocktail.
This post was published in 2018 and updated in 2020.
Elderflower Gin & Tonic recipe
I'm a firm proponent of the saying, "don't mess with a good thing". 
Why screw up something that's already solid? 
You might argue that a gin and tonic is practically perfect the way it is, but I challenge you to think outside the box just a bit and give this Elderflower Gin and Tonic recipe a try. It has all the traditional flavors that G&T lovers adore but adds a summery, refreshing twist with the addition of elderflower liqueur.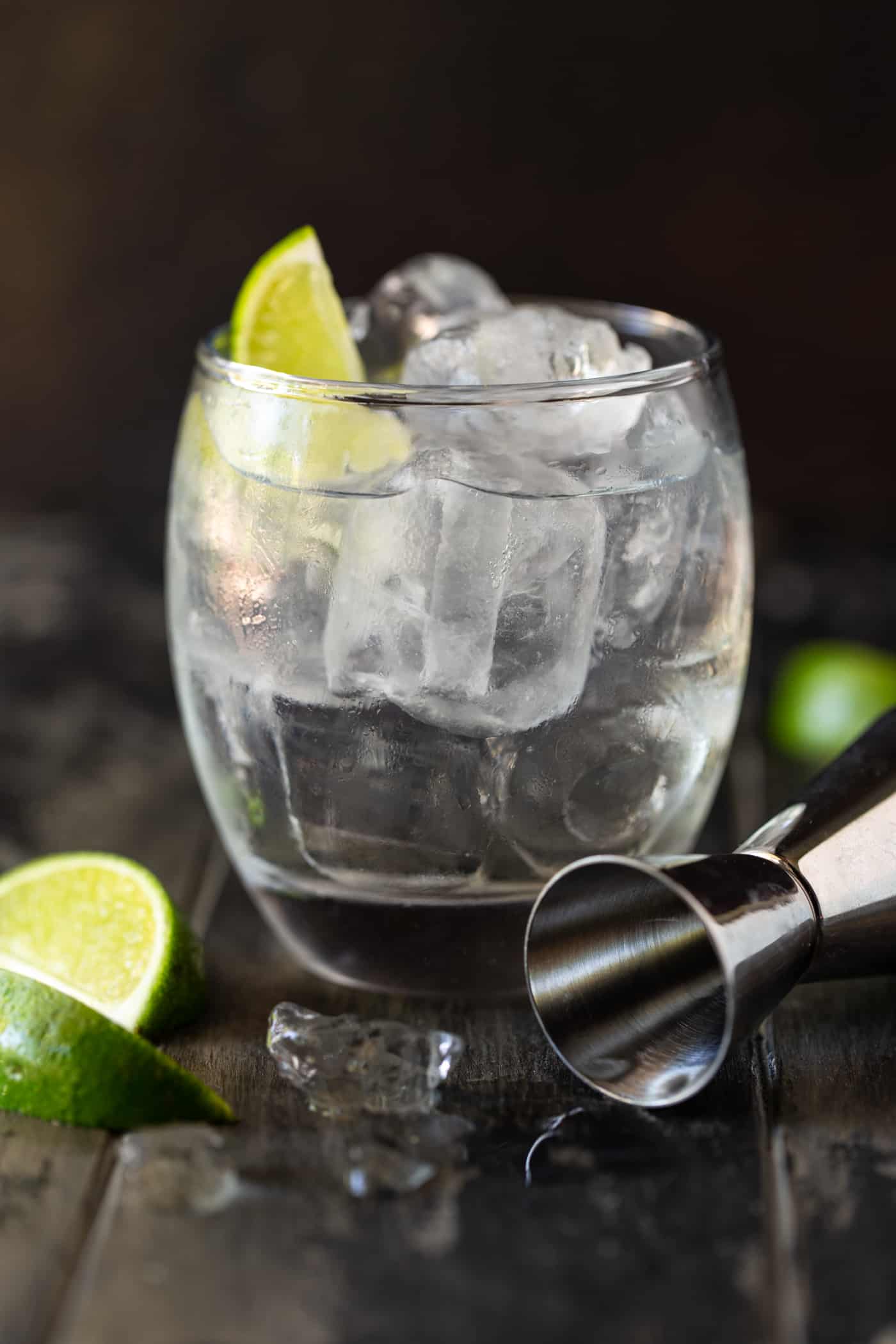 Ingredients
This 3-ingredient gin mixed drink is only as good as the ingredients you put into it, so make sure you're using quality brands you enjoy: 
Gin
Elderflower Liqueur - Not familiar with this liqueur? Check out our guide to Elderflower Liqueur to learn all about it!  
Tonic Water
Fruit garnish (optional but I can't imagine having my G&T without a fresh lime wedge)
Best gin for a Gin & Tonic
Take a spin down the gin aisle at the liquor store and be prepared for your eyes to glaze over. The sheer number of options can be overwhelming. But it doesn't have to be. 
A classic cocktail like a gin & tonic begs for a classic style spirit like the juniper-forward, London Dry gin. Our go-to is Tanqueray because it is reliable and readily available but don't forget to check out your local distilleries for quality options, too.
My husband and I were in Duluth, Minnesota, a few years ago and fell in love with Vikre Distillery's Boreal Juniper Gin, so we often have that on hand regularly, too.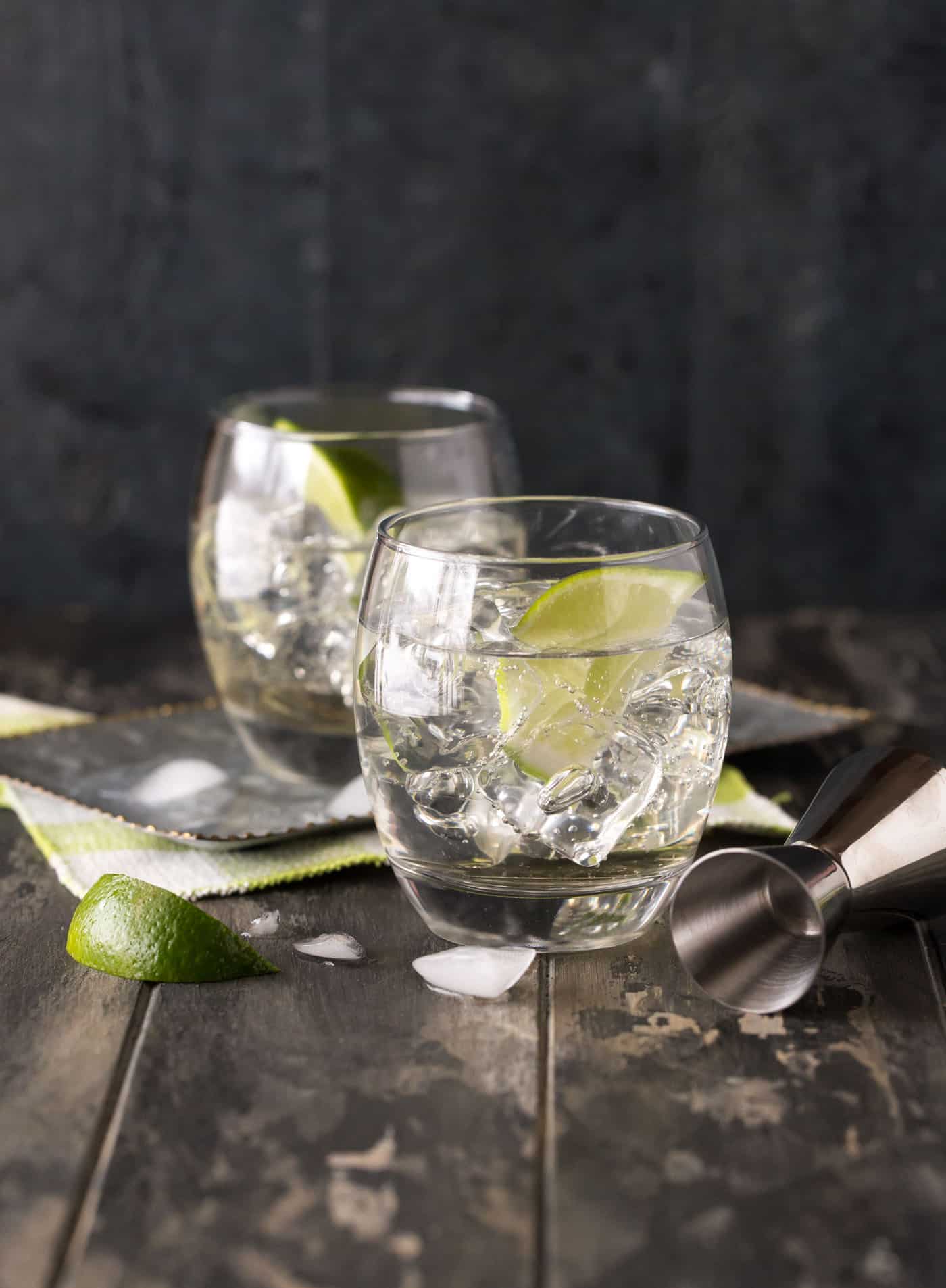 Best brand of tonic water
You may think that all tonic waters are created equal, but after taste testing many of them, I can assure you that's not always the case.
Schweppes and Canada Dry are your standard grocery store tonic waters. You'll see them everywhere, and it's often what you'll get if you order a drink at a bar. They are solid and dependable options.  
But if you really want to elevate your G&T game, reach for either Q or Fever-Tree tonic waters. Made with natural quinine (not artificial flavors), these two tonic waters are more expensive than the grocery store brands, but you'll be surprised how much they enhance the flavor of your drink. 
Gin & Tonic glasses
You'll see a variety of glasses used with gin and tonic recipes - everything from highball/collins glasses to large globe wine glasses.
Personally, I always grab a lowball glass for this drink. It's the perfect size to balance the ice and cocktail proportions. 
Garnishes
I'm forever and ever in camp lime wedge for my g&t but feel free to shake it up if you want some variety.
You can do lemon or orange wedges, cucumber slices, edible flowers or any variety of fresh herbs for a pretty presentation. 
Gin & Tonic Recipe - How-To:
Making a good gin & tonic isn't rocket science, but I do find that everyone likes their cocktail a little bit different. Here's my version of a perfect gin & tonic with elderflower liqueur: 
Fill lowball glass with ice.
Add two ounces of London Dry gin to glass.
Add one ounce of elderflower liqueur to glass.
Top with quality tonic water.
Squeeze a lime wedge into the glass and stir to combine.
Like I said, this is my "perfect" recipe but feel free to play with the alcohol ratios so they work for you.
Add more or less gin. Do the same with the elderflower liqueur.
Love limes? Toss in two (or more) wedges.
Want a lighter cocktail? Pour the ingredients into a high ball glass and add a generous amount of tonic water. 
Cheers to your unique creation!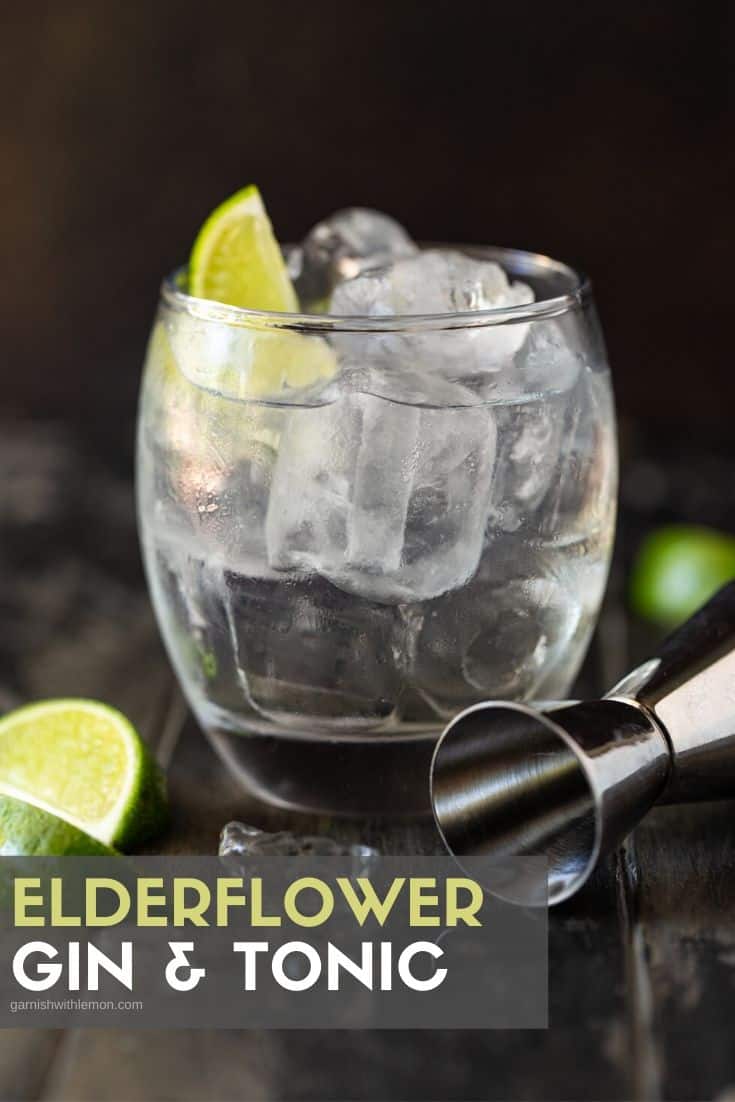 Non alcoholic cocktail option
Guests always appreciate a tasty non alcoholic cocktail option, and you can get pretty close to the flavors of a gin and tonic with a few easy substitutions. 
A quick google search yields a number of alcohol-free "spirits" that mimic the botanical flavors of gin. If you're not familiar with the options, ask at your liquor store for their best selling brand.
Elderflower cordial has the same floral notes of elderflower liqueur without the alcohol, so that's an easy substitution.
Tip: You can also combine elderflower cordial with soda water for a unique and refreshing summer soda! 
Love the elderflower gin combo? We have a handful of drink recipes with similar flavors:
Gin works well in so many cocktail recipes. Here are some of our favorites:  
Go beyond the bloody mary and serve this Greyhound Cocktail at your next brunch. 
Summer was made for backyards and batch cocktails like this Easy Punch Recipe made with gin and fresh watermelon.  
This Aperol Cocktail with gin is going bananas on Pinterest right now. Check it out to see what the hype is about!
Don't miss the whole collection of our gin drinks in our archives.
Not a gin fan? Try our Vodka Soda with Elderflower or this Bourbon Mixed Drink with Elderflower liqueur instead!
Yield: 1 drink
Gin and Tonic recipe with Elderflower
Change up a classic! A splash of elderflower liqueur takes this Gin and Tonic recipe from average to outstanding!
Ingredients
2 ounces gin
1 ounce elderflower liqueur
2-3 ounces tonic water
lime wedge
Instructions
Fill a lowball glass with ice.
Pour in gin and elderflower liqueur.
Top with tonic water.
Squeeze lime wedge into glass, stir and serve.
Notes
Non alcoholic option:
Substitute a non alcoholic "gin-like" spirit for the gin and elderflower cordial for the elderflower liqueur to make an alcohol-free drink.

Nutrition Information:
Yield:
1
Serving Size:
1
Amount Per Serving:
Calories:

298
Total Fat:

0g
Saturated Fat:

0g
Trans Fat:

0g
Unsaturated Fat:

0g
Cholesterol:

0mg
Sodium:

24mg
Carbohydrates:

30g
Fiber:

2g
Sugar:

24g
Protein:

0g
Upgrade your happy hour with the BEST Gin & Tonic recipe! A quick splash of elderflower liqueur takes your G&T from average to outstanding. Your friends will definitely want the recipe.