These easy, pretty-in-pink Sparkling Cranberry Gin Cocktails are the perfect holiday drink for any occasion from Thanksgiving to Christmas!
Now that bags of cranberries are all over the grocery stores, my thoughts can't help but turn to the holidays and ALL.THE.THINGS that need to be done. From cooking to baking to shopping, the to-do list never seems to get any shorter.
Cause for anxiety? Maybe a little. But cranberry season also paves the way for another of my favorite times of year - Christmas cocktails - and I can think of no more festive way to toast the upcoming holidays than with a glass (or two) of these perfectly pink Sparkling Cranberry Gin Cocktails!
What's in a cranberry gin cocktail?
Do you have a signature holiday cocktail? Maybe this Christmas gin cocktail can be yours! With only five ingredients, this gin and cranberry drink recipe comes together in a snap:
Gin
Cranberry juice (sweetened)
Simple syrup
Fresh lime juice
Prosecco (or other sparkling wine)

What kind of sparkling wine do you recommend for this bubbly cocktail?
Prosecco, an Italian sparkling wine, is often my go-to for any cocktail that calls for bubbles. (This Elderflower French 75 and Pomegranate Prosecco Cocktails are great examples.) But you can also swap in Cava, a Spanish version of bubbles, or an American sparkling wine, too.
No need to break the bank here. Save that fancy-schmancy bottle of Champagne for when you win the lottery or get the big promotion. You can typically get a decent bottle of sparkling wine for cocktails for around $10.
Organic cranberry juice vs. Cranberry Juice Cocktail - which one to use?
Here's an interesting thing we noticed when making (and remaking) this cocktail: the type of cranberry juice makes a distinct difference in the color of the drink.
The cocktails that are paler in color (almost look like grapefruit juice) were made with organic cranberry juice. The pinker, more vibrant color in some of the images comes from using conventional cranberry juice cocktail.
Is there a taste difference? Nope, not that my unsophisticated palate can detect, but there is definitely a visual difference, so the choice comes down to personal preference.
Also important to note is that this recipe calls for sweetened cranberry juice. You may find some organic cranberry juices that are unsweetened but you definitely need the sweetened version here to keep this Sparkling Cranberry Gin Cocktail balanced. (Otherwise prepare yourself for a pucker face after your first sip.)
How to make simple syrup:
Yes, you can buy simple syrup at the liquor store (and I've been known to do that in a pinch). But simple syrup is super easy and inexpensive to make at home. After making your first batch, you might kick yourself for not doing it sooner!
Step 1: Place equal amounts of sugar and water in a saucepan.
Step 2: Bring the mixture to a low boil over medium heat and cook until sugar is completely dissolved.
Step 3: Remove the pan from heat and allow syrup to cool before placing in an airtight container in the refrigerator for up to one month.
Tips for batching cocktails (like this winter gin cocktail)
Hosting a crowd and don't want to play bartender all evening? Batch cocktails to the rescue! Never made a batch cocktail before? Follow these easy tips for batching your favorite drink:
Do the math to figure out the proper proportions. For the most part, batching cocktails is a numbers game. So make sure you multiply the single cocktail recipe by the number of drinks you think you'll need. The closer you stay to the original recipe's proportions, the more balanced the batched cocktails will be.
Make sure your ingredients are well chilled before combining them. No one likes a room temperature cocktail, so you have two options here: you can either make this cocktail earlier in the day and keep it in the fridge or you can thoroughly chill all the ingredients individually and mix just before guests arrive. Place the pitcher in an ice bath, if possible, so it stays cool throughout the evening.
Have lots of ice. On the topic of keeping things well-chilled, nearly every cocktail needs water, whether it's in the form of ice cubes in a glass or diluted in a shaker filled with ice. To avoid having too much ice melting into your pitcher of batched cocktail and over diluting it, set out an insulated ice bucket with plenty of ice for guests to add to their glasses individually.
Add anything with bubbles (sparkling wine, in this case) just before guests arrive. Or - better yet - leave the bubbles on the table for guests to add themselves.
Signature Cocktails don't need to be complicated. These 5-ingredient Sparkling Cranberry Gin Cocktails take moments to make but look super fancy which makes them a perfect choice for Christmas. They are definitely one of our favorite gin and prosecco cocktails to toast the holidays. Cheers!
More cocktails with cranberry juice:
Metropolitan Cranberry Martini - Garnish with Lemon®
Cranberry Orange Prosecco Cocktail - Garnish with Lemon®
Cranberry Mulled Ale - TidyMom
Find all of our Gin Cocktails HERE. Want even more cocktail ideas? You can browse our extensive cocktail archives HERE, including more cocktails made with sparkling wine.
Yield: Makes 1 cocktail
Sparkling Cranberry Gin Cocktail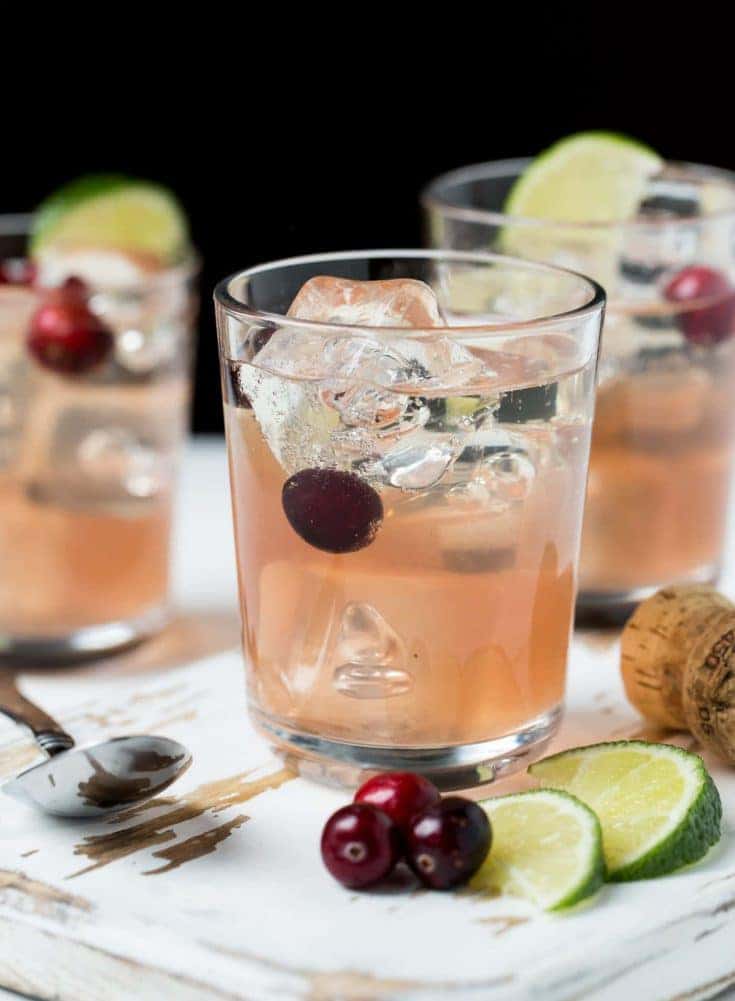 Cranberry juice, Gin and Prosecco make for one gorgeous Christmas cocktail. And with only 5 ingredients, these Sparkling Cranberry Gin Cocktails come together in a snap!
Ingredients
2 ounces sweetened cranberry juice
2 ounces gin
1 ounce simple syrup
3/4 ounce fresh lime juice
1 1/2 ounces Prosecco
Instructions
Add all ingredients to a low ball glass filled with ice. Stir gently. Garnish with fresh cranberries and lime wedges, if desired.
Recommended Products
As an Amazon Associate and member of other affiliate programs, I earn from qualifying purchases.
Nutrition Information:
Yield:
1
Serving Size:
1 glass
Amount Per Serving:
Calories:

247
Total Fat:

0g
Saturated Fat:

0g
Trans Fat:

0g
Unsaturated Fat:

0g
Cholesterol:

0mg
Sodium:

7mg
Carbohydrates:

23g
Fiber:

0g
Sugar:

20g
Protein:

0g
Looking for a signature holiday cocktail? These festive Sparkling Cranberry Gin Cocktails are perfect for any occasion from Thanksgiving to Christmas and are one of our favorite drinks made with cranberry juice.