Calling all whiskey lovers, this one is for you! You can never go wrong with a classic drink, especially when it's this Perfect Manhattan Cocktail recipe.
Classic cocktails are something that everyone should know how to make and this Perfect Manhattan Cocktail recipe is one of our favorites.
If you have never tried to make one at home. We took the guess work out of it and have the perfect recipe.
It's easy to make, fantastic to drink, and so much fun to enjoy with friends. Not to mention, the ability to make bar-worthy classic cocktails at home is the secret to being a great host or hostess.
Jump to: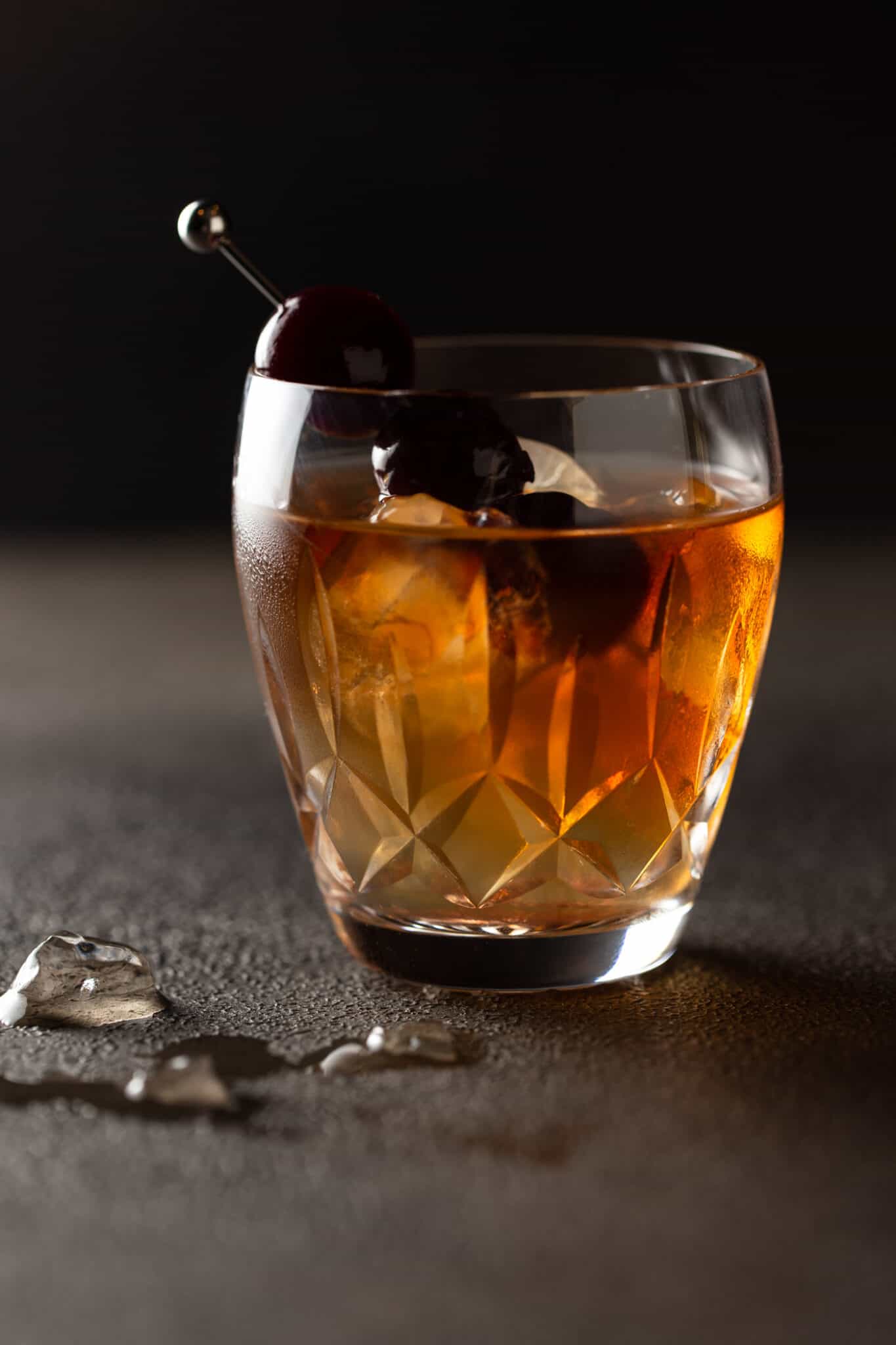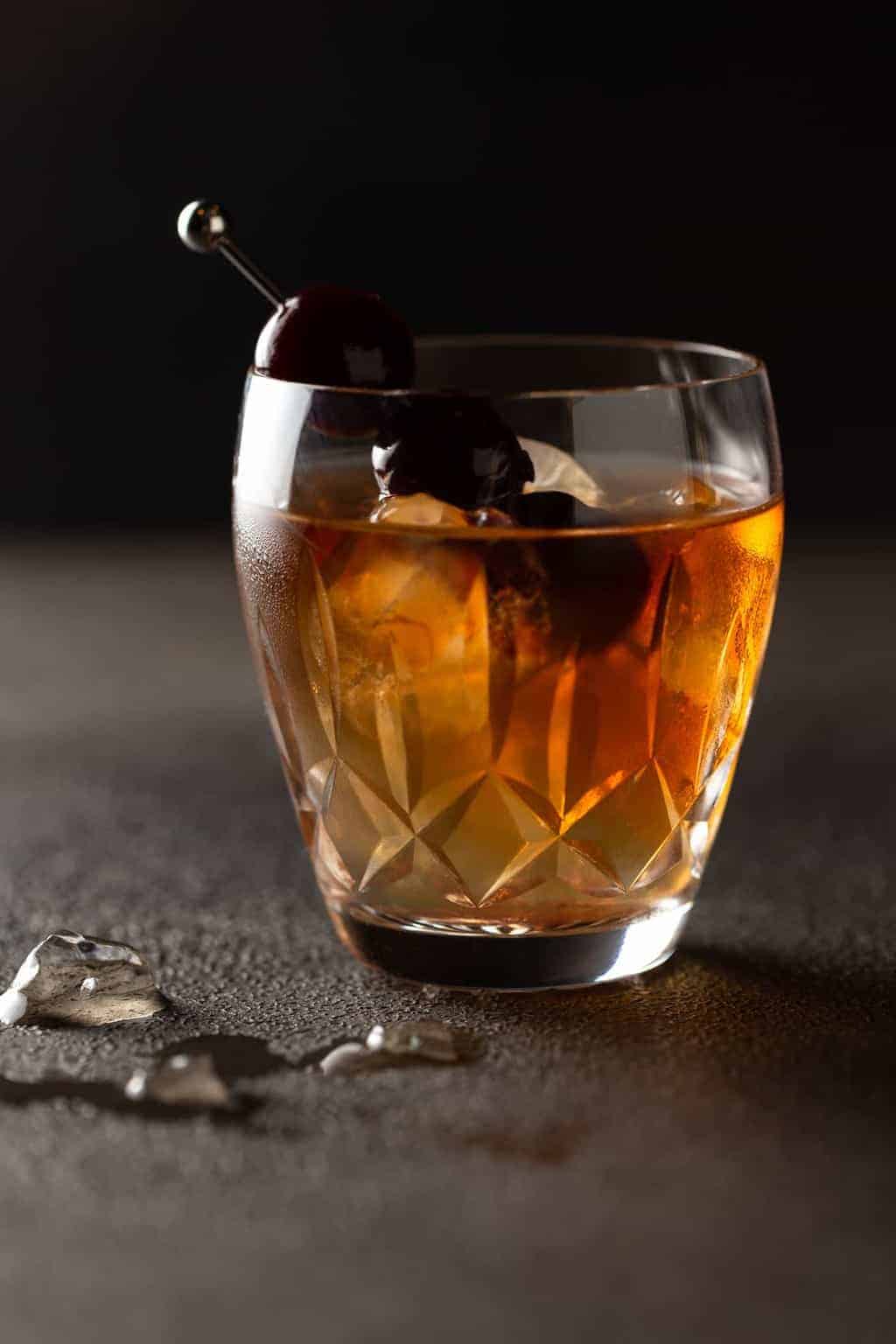 History of the drink
Legend has it that is was invented in the 1870's by Dr. Ian Marshall at the Manhattan Club in New York City for a banquet hosted by Lady Randolph Churchill (the mother of Winston).
After the banquet, the drink became very fashionable. Since it did not have a name, people started referring to it as the Manhattan Cocktail because of the club where it was first served.
Ingredients
Making your own manhattan cocktail is easy. You don't need to have a full professional bar to make this old school cocktail classic. With just a few simple ingredients, you can feel like a sophisticated aristocrat in no time:
whiskey
vermouth
bitters
cherries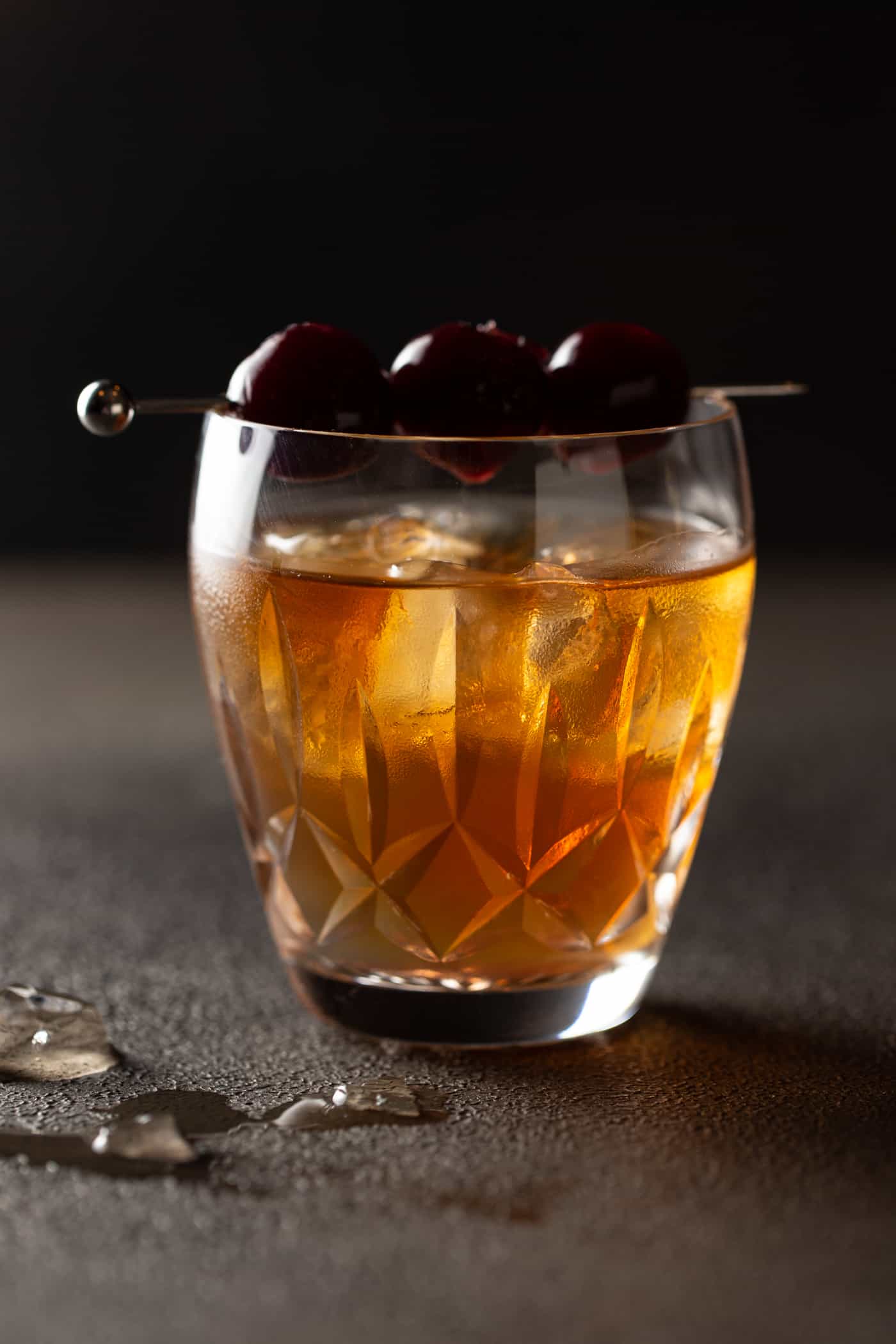 Instructions
You barely need any time to make this Manhattan cocktail recipe. All you need is a few glasses of your choice and a good stir stick, and you're set!
Step 1: Place a few ice cubes in a low ball glass.
Step 2: Add whiskey/bourbon, vermouth, bitter and cherry juice.
Step 3: Stir
Step 4: Garnish with cherries.
Cheers!
That's seriously all you have to do! This cocktail recipe is proof that fun cocktails don't have to be complicated to make.
Tip: Learn How to Cook a Beef Tenderloin and you can have a fabulous date night from the comfort of your own home for a fraction of the price. How is that for a win?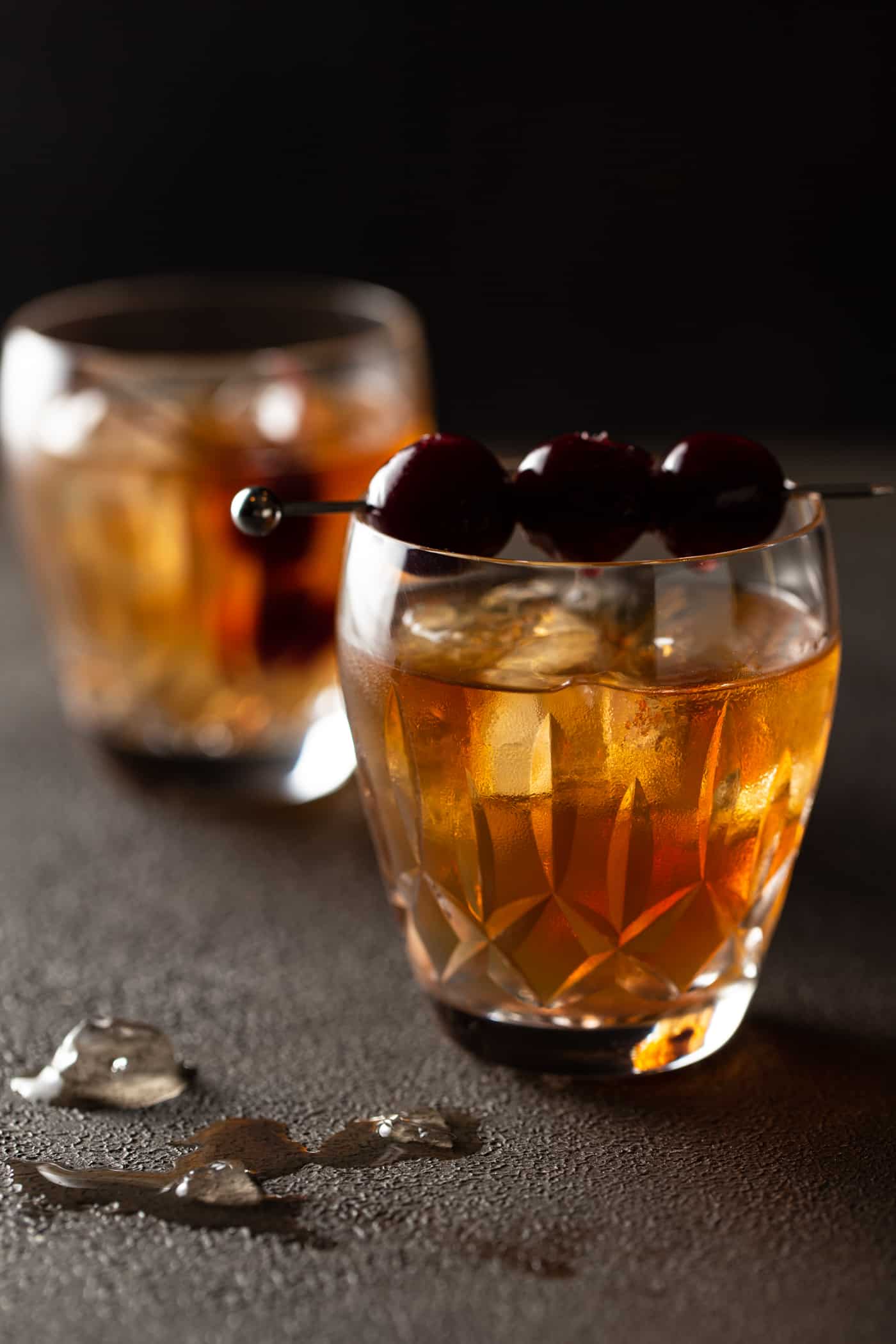 FAQs
What is a Manhattan cocktail?

To put it simply, it's essentially a whiskey martini. There are several variations on the drink, but our personal favorite is this Perfect Manhattan.
What kind of whiskey do you use?

That's easy: pick your favorite. 

You can use Canadian Whisky, American Whiskey (Bourbon or Rye) or even Scotch.

We are partial to bourbon, particularly Maker's Mark, Bulleit, or a new favorite, Rowan's Creek Small Batch Bourbon.

However you pour it you can't go wrong!
What is the difference between whiskey and bourbon?

In simple terms, whiskey is a spirit distilled from fermented grain mash. What makes each type of whiskey different is the type of grain used. The different grains used include wheat, rye, barley, and corn.

Bourbon is considered to be a bit different because it is an American whiskey, and it has its own specifications of what makes it bourbon. It must be made in the US, be 51% corn and not contain any added flavoring, coloring or additives.

Variations
There are several different variations of this classic drink. If you love this whiskey and bourbon, then be sure to try out all the different variations to see which one you love the most.
Perfect Manhattans use both sweet and dry vermouth and garnishes with a cherry.
Dry Manhattans only use dry vermouth and replaces the cherry garnish with a twist.
A Rob Roy uses scotch whiskey.
Brandy Manhattans use brandy instead of whiskey.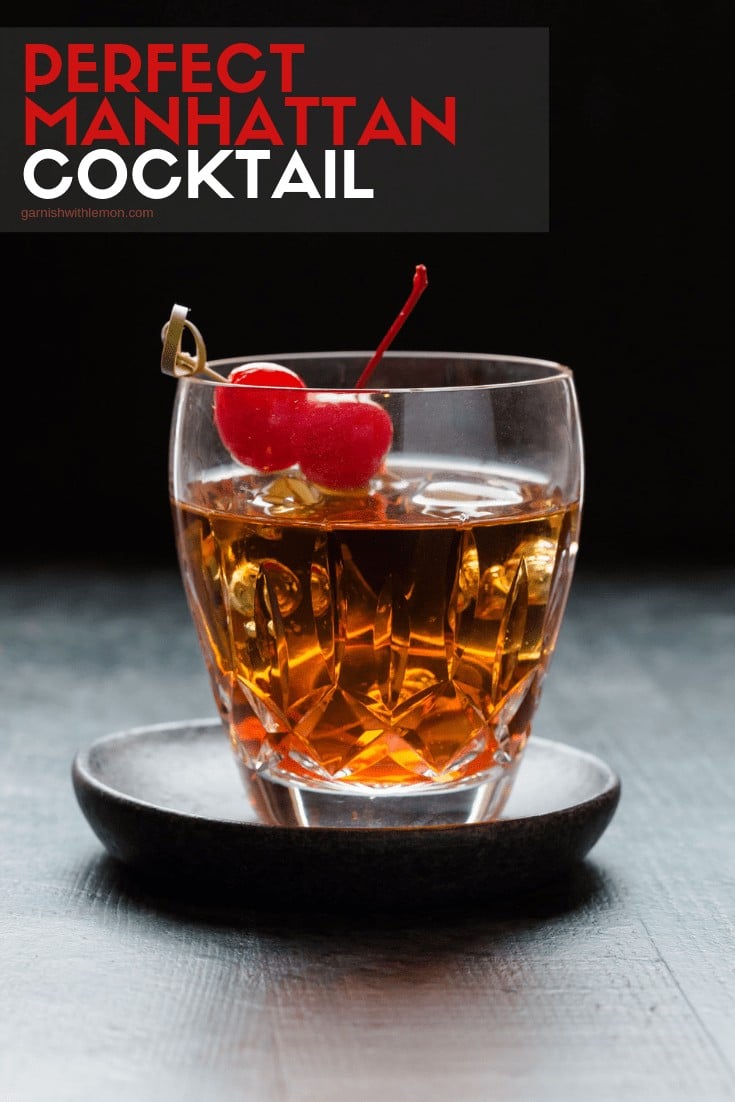 Recipe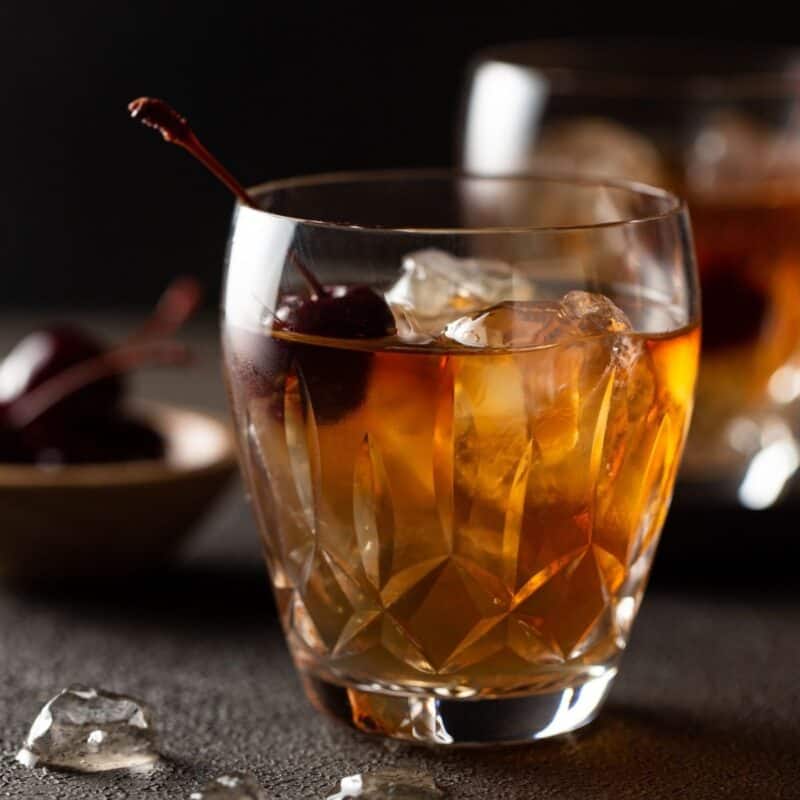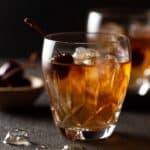 Perfect Manhattan Cocktail
A Perfect Manhattan Cocktail is a classic whiskey drink that never goes out of style.
Ingredients
3

ounces

whiskey or bourbon

½

ounce

dry vermouth

½

ounce

sweet vermouth

2

dashes Angostura bitters

1

bar spoonful cherry juice

from Maraschino or Luxardo cherries

2

Maraschino or Luxardo cherries

for garnish
Instructions
Place ice cubes in a low ball glass and add first five ingredients.

Stir and garnish with cherries.
Notes
This is a great way to experiment with new brands of bourbon!
Nutrition
Serving:
4
ounces
Calories:
265
kcal
Carbohydrates:
10
g
Sodium:
13
mg
Sugar:
7
g
Nutrition info not guaranteed to be accurate.
More Whiskey Cocktails
Try out a few more whiskey drinks that we know you'll love! Here are a few of our personal favorites.
Find all of our whiskey drinks in our archives.
You can never go wrong with a classic. This Manhattan cocktail recipe is filled with Bourbon, cherry, bitters, and vermouth and is always a whiskey lover's favorite cocktail.