Calling all whiskey lovers, this one is for you! You can never go wrong with a classic especially when it is the Perfect Manhattan Cocktail.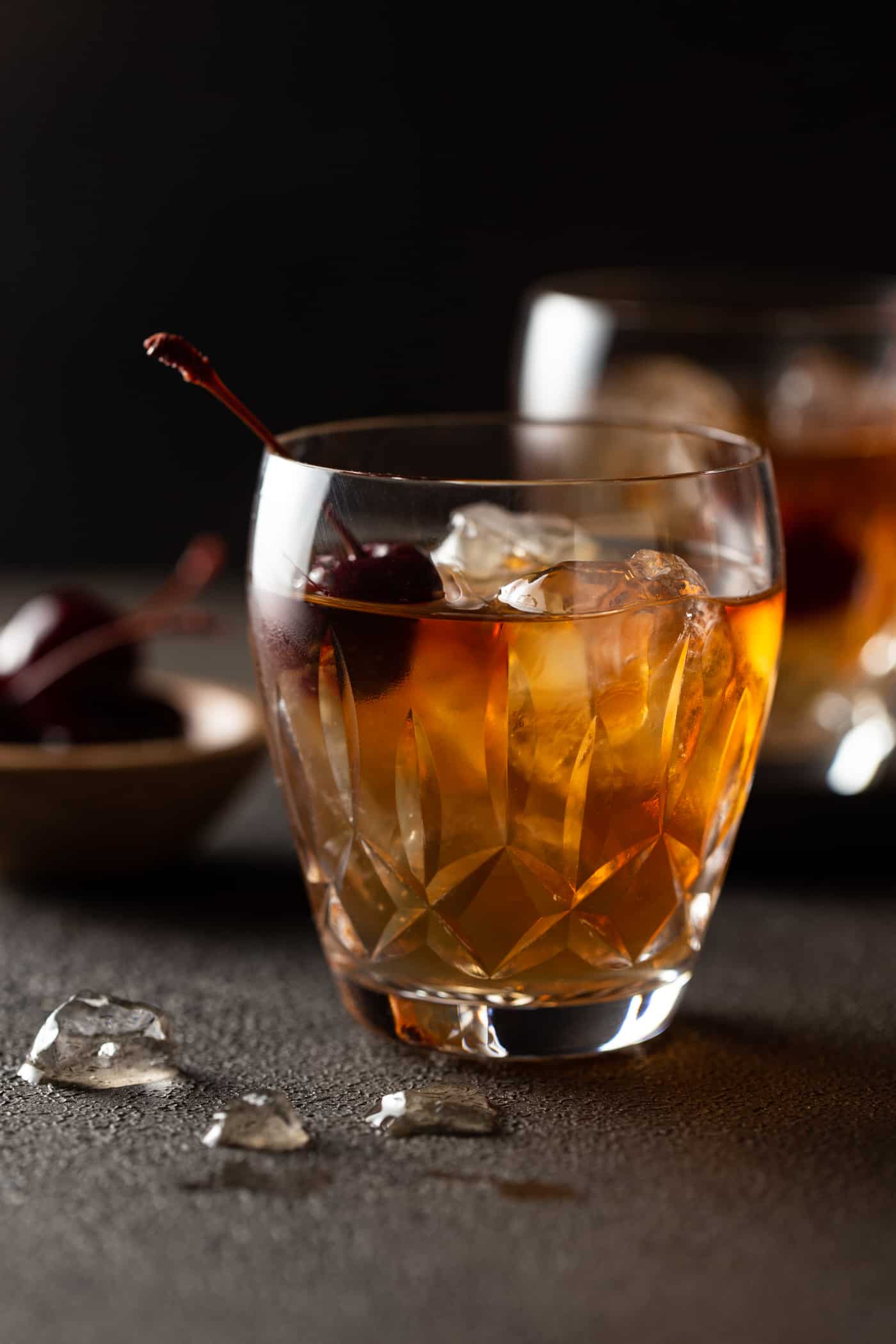 Perfect Manhattan Cocktail
Everyone should know how to serve classic cocktails, even if it isn't your drink of choice. This Perfect Manhattan Cocktail is a great example. 
Now, I'm not a whiskey drinker myself, but I can make a mean Manhattan, and you should be able to as well. After all, being able to serve things you wouldn't drink yourself is a secret to being a great hostess.

No matter how you mix things up, this manhattan is the ideal drink no matter the occasion. Whether you want to impress your friends at your next dinner party, or just want to feel sophisticated on a weeknight at home you'll want to break out this recipe. It's easy to make, fantastic to drink, and so much fun to enjoy with friends.
What is a Manhattan Cocktail?
To put it simply, a Manhattan is essentially a whiskey martini. There are several variations on the Manhattan, but Kevin's personal favorite is this Perfect Manhattan.
Here's a little history on this classic cocktail. Legend has it that the Manhattan Cocktail was invented in the 1870's by Dr. Ian Marshall at The Manhattan Club in New York City at a banquet hosted by Lady Randolph Churchill (the mother of Winston Churchill).
The drink became enormously fashionable as a result of that banquet, and, since the cocktail was not named then, people started referring it to as the Manhattan Cocktail because it was first served at The Manhattan Club.

What ingredients do you need to make a Perfect Manhattan cocktail?
Making your own manhattan cocktail is easy as can be. You don't need to have a full professional bar to make this old school cocktail classic. With just a few simple ingredients you can feel like a sophisticated aristocrat in no time.
Whiskey

Vermouth (Dry and Sweet)

Cherries + Cherry Juice

Bitters
How easy is that?  Only 5 ingredients, all of which we always have in our refrigerator, and you might too! Odds are if you have a basic bar cabinet in your house, you already have all the ingredients on hand, so go make this cocktail now! 
How To Make The Perfect Manhattan
You barely need any time to throw together this perfect manhattan cocktail. No shaker, jigger, or fancy bar tools necessary. Just a few glasses of your choice, a good stir stick and you're set!
To make this recipe just place a few ice cubes in a low ball glass and add the first five ingredients. Then Stir and garnish with cherries.
That's seriously all you have to do! This cocktail recipe is proof that fun cocktails don't have to be complicated to make. You don't have to pay $15 for one out at a bar anymore, because now you can have a dinner and drinks date night from the comfort of your own home for a fraction of the price.
What are the different types of Manhattan recipes?
There are several different variations of this classic drink. If you love this classic recipe, then be sure to try out all the different variations to see which one you love the most. 
Here are a few of the different ways you can mix up a Manhattan recipe: 
Perfect Manhattans use both sweet and dry vermouth and

garnishes

with a cherry

Dry Manhattans only use dry vermouth and replaces the cherry garnish with a twist.

A Rob Roy uses scotch whiskey

Brandy Manhattans use brandy instead of whiskey.
What kind of whiskey do you use in a Perfect Manhattan Cocktail recipe?
That's easy: pick your favorite.  You can use Canadian Whisky, American Whiskey (Bourbon or Rye) or even Scotch.
Kevin is partial to bourbon, particularly Maker's Mark, Bulleit, or his new favorite Rowan's Creek Small Batch Bourbon.
However you pour it, you can't go wrong with a classic.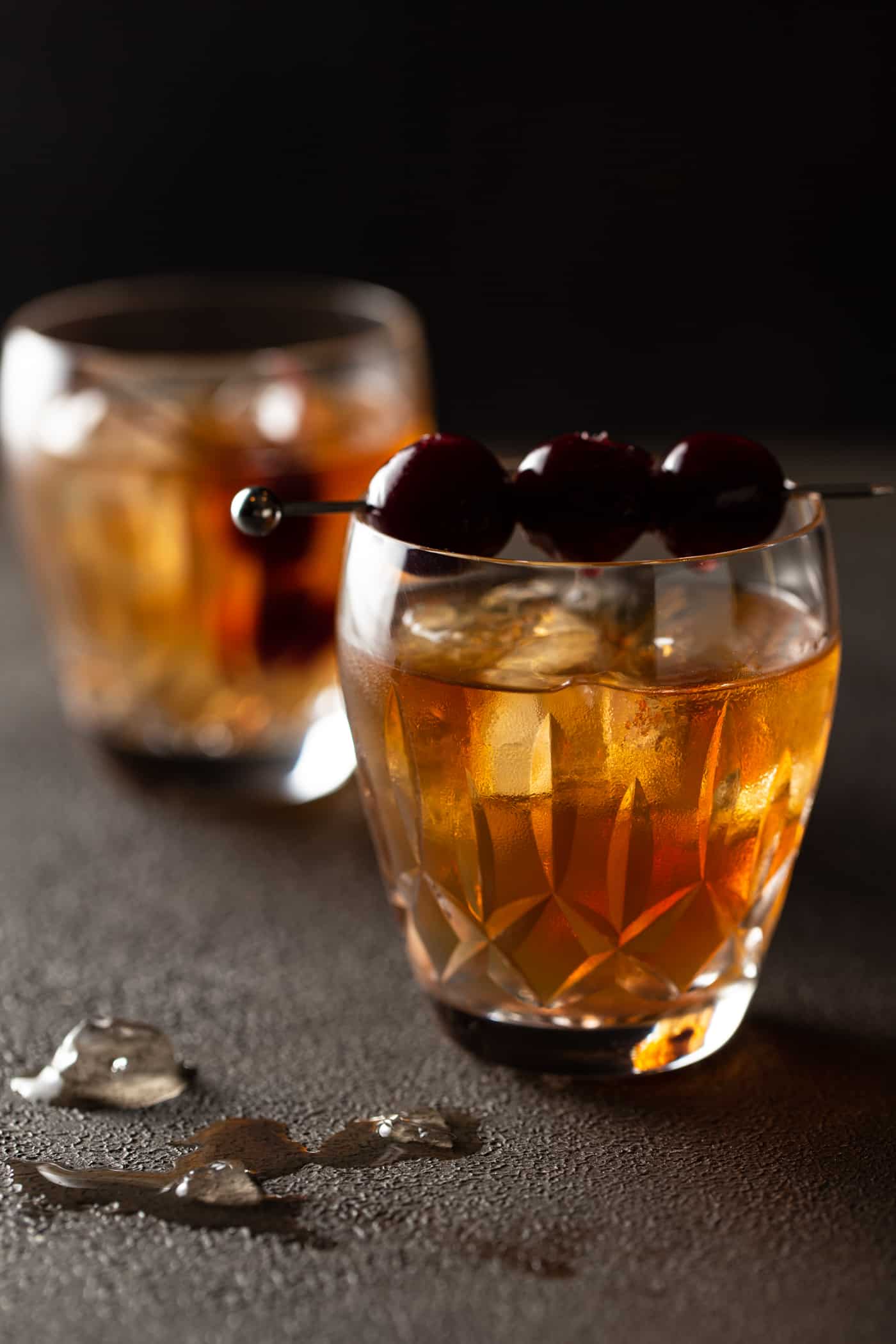 What Is The Difference Between Bourbon and Whiskey?
If you're not familiar with dark liquors it might be a bit confusing stepping into the dark liquor section at the grocery store. There's Irish whiskey, bourbon whiskey, scotch whiskey but what's the difference between all of them? Here's a little break down to hopefully give you a little bit of clarity.
By definition, whiskey is a spirit distilled from fermented grain mash. What makes each type of whiskey different is the type of grain used. The different grains used include wheat, rye, barley, and corn. Whatever grain is chosen is then aged in wooden barrels. Bourbon whiskey is considered to be a bit different because it is an American whiskey, and it has its own specifications of what makes it bourbon.
Bourbon must be:
Made in the United States.
Contain 51% corn.
Aged in new oak-charred barrels.
Distilled to no more than 160 proof and entered into the barrel at 125 proof.
Bottled at no less than 80 proof.
Not contain any added flavoring, coloring or other additives.
More Whiskey Cocktails You'll Go Crazy For!
If you have the bottle of whiskey then why just let it go to waste! Try out a few more whiskey cocktails that we know you'll love! Here are a few of our personal favorites.
Perfect Manhattan Cocktail
Yield: 1
Perfect Manhattan Cocktail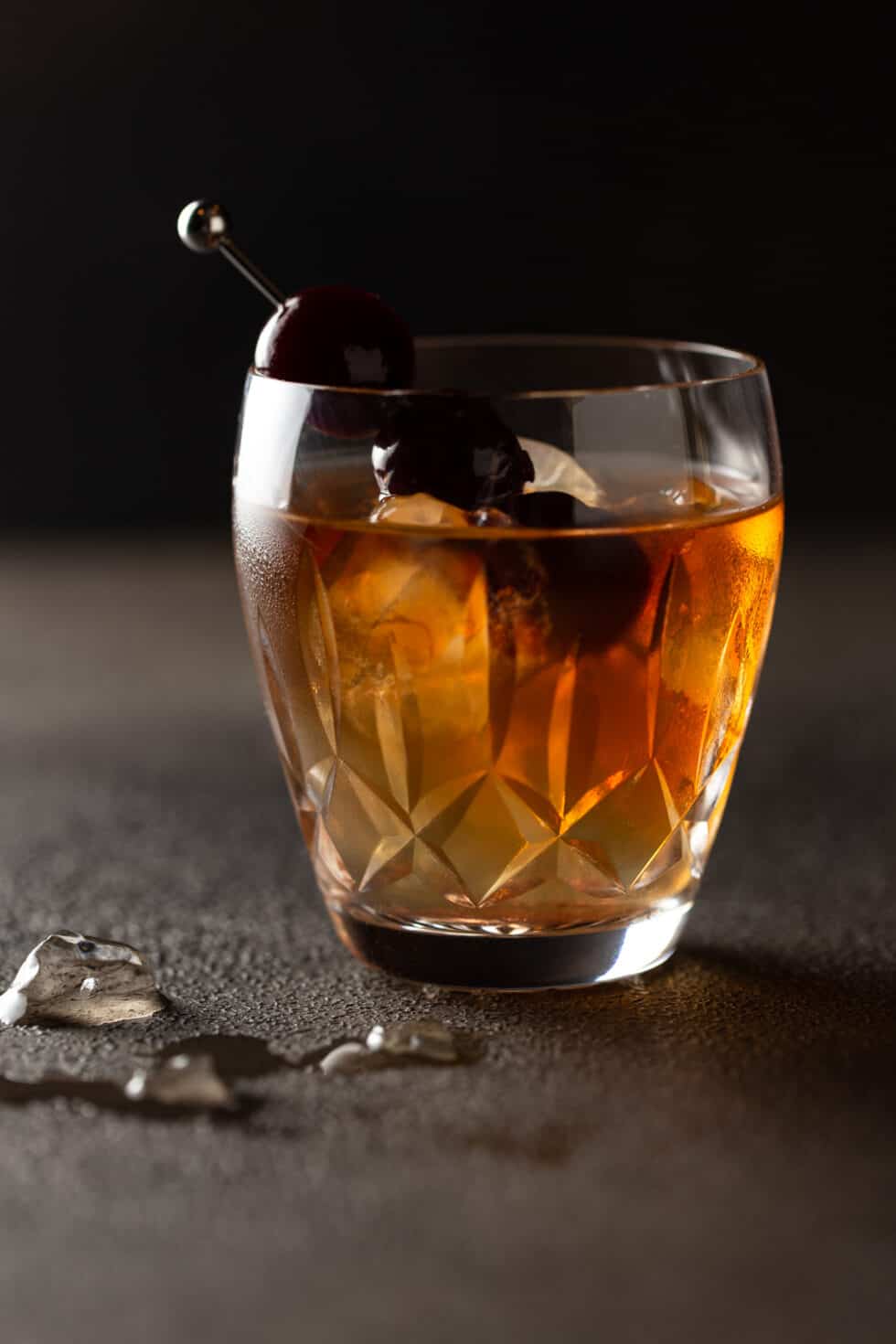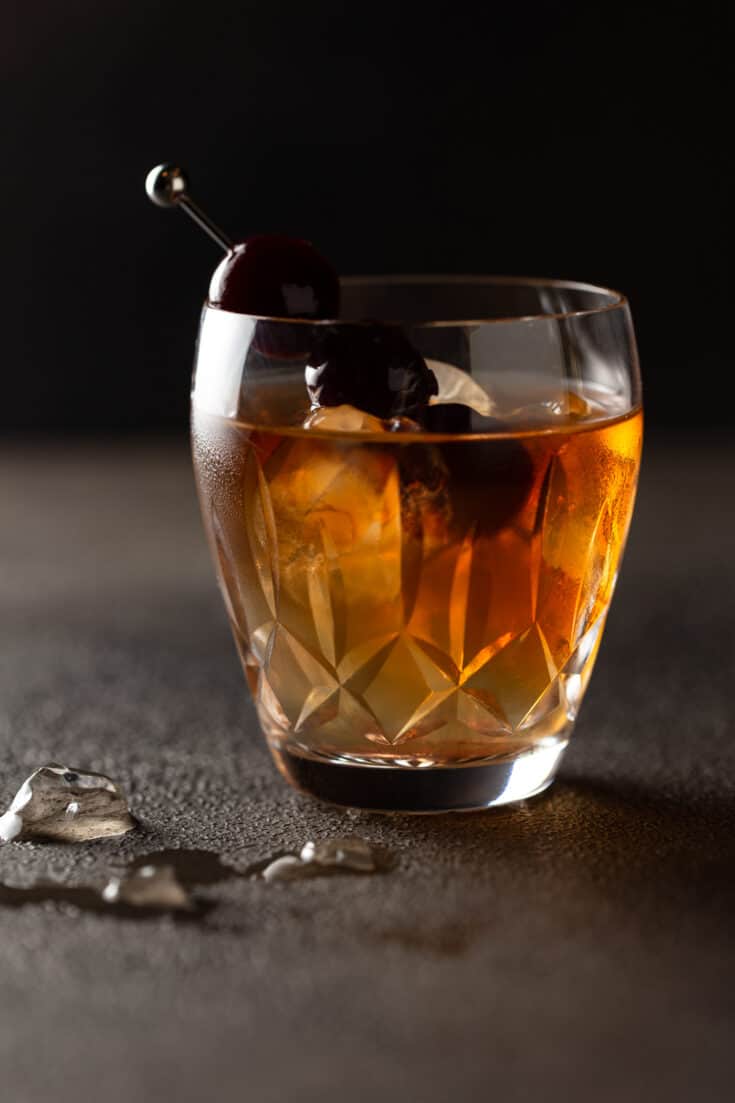 A Classic Perfect Manhattan Cocktail is always a hit.
Ingredients
3 ounces Whiskey (I prefer Bourbon)
1/2 ounce Dry Vermouth
1/2 ounce Sweet Vermouth
2 dashes Angostura Bitters
1 bar spoonful cherry juice (from Maraschino Cherries)
2 Maraschino Cherries, for garnish
Instructions
Place ice cubes in a low ball glass and add first five ingredients.
Stir and garnish with cherries.
Notes
This is a great to experiment with new brands of bourbon!
Recommended Products
As an Amazon Associate and member of other affiliate programs, I earn from qualifying purchases.
Nutrition Information:
Yield:
1 serving
Serving Size:
4 ounces
Amount Per Serving:
Calories:

265
Total Fat:

0g
Saturated Fat:

0g
Trans Fat:

0g
Unsaturated Fat:

0g
Cholesterol:

0mg
Sodium:

13mg
Carbohydrates:

10g
Fiber:

0g
Sugar:

7g
Protein:

0g
This post was originally published on September 29, 2014.
You can never go wrong with a classic. The Manhattan cocktail is filled with Bourbon, cherry, bitters, and vermouth is always a whiskey lover's favorite cocktail.