Calling all whiskey lovers, this one is for you! You can never go wrong with a classic especially when it is the Perfect Manhattan Cocktail.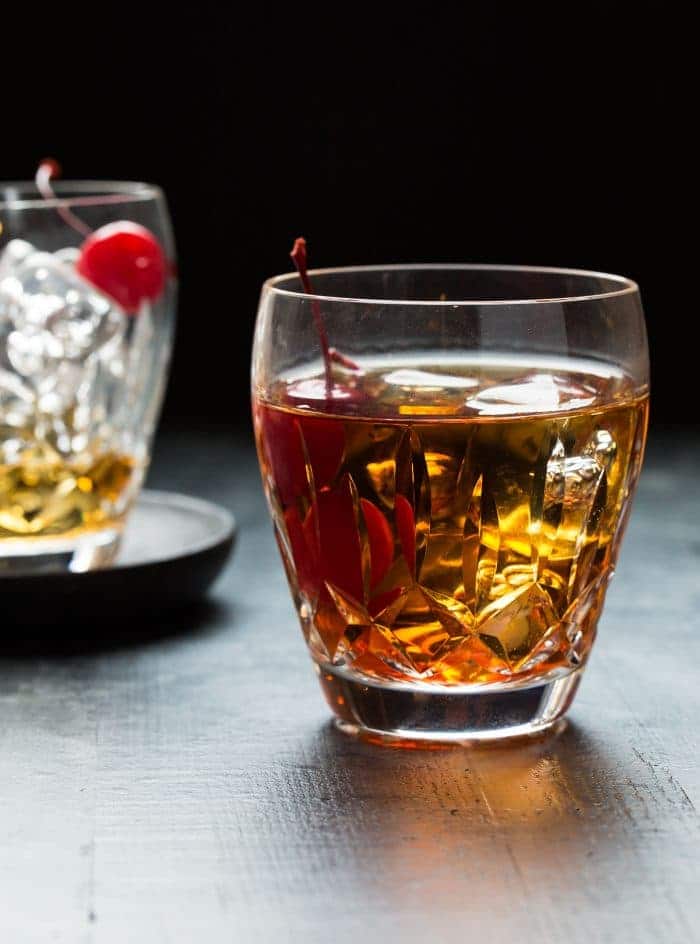 Everyone should know how to serve classic cocktails, even if it isn't your drink of choice. This Perfect Manhattan Cocktail is a great example. Now, I'm not a whiskey drinker myself, but I can make a mean Manhattan, and you should be able to as well. After all, being able to serve things you wouldn't drink yourself is a secret to being a great hostess.
What is a Manhattan Cocktail?
To put it simply, a Manhattan is essentially a whiskey martini. There are several variations on the Manhattan, but Kevin's personal favorite is this Perfect Manhattan.
Here's a little history on this classic cocktail. Legend has it that the Manhattan Cocktail was invented in the 1870's by Dr. Ian Marshall at The Manhattan Club in New York City at a banquet hosted by Lady Randolph Churchill (the mother of Winston Churchill). The drink became enormously fashionable as a result of that banquet, and, since the cocktail was not named then, people started referring it to as the Manhattan Cocktail because it was first served at The Manhattan Club.
What ingredients do you need to make a Perfect Manhattan cocktail?
Whiskey

Vermouth (Dry and Sweet)

Cherries + Cherry Juice

Bitters
How easy is that? Only 5 ingredients, all of which we always have in our refrigerator.
What are the different types of Manhattan recipes?
There are several different variations of this classic drink.
A Perfect Manhattan uses both sweet and dry vermouth and

garnishes

with a cherry

A Dry Manhattan only uses dry vermouth and replaces the cherry garnish with a twist.

A Rob Roy uses scotch whiskey

A Brandy Manhattan uses brandy instead of whiskey.
What kind of whiskey do you use in a Perfect Manhattan Cocktail recipe?
That's easy: pick your favorite. You can use Canadian Whisky, American Whiskey (Bourbon or Rye) or even Scotch.
Kevin is partial to Bourbon, particularly Maker's Mark, Bulleit, or his new favorite Rowan's Creek Small Batch Bourbon.
However you pour it, you can't go wrong with a classic.
Cheers.
Perfect Manhattan Cocktail
Yield: 1
Perfect Manhattan Cocktail
A Classic Perfect Manhattan Cocktail is always a hit.
Ingredients
3 ounces Whiskey (I prefer Bourbon)
1 capful Dry Vermouth
1 capful Sweet Vermouth
1 dash of Angostura Bitters
2 drops of cherry juice (from Maraschino Cherries)
2 Maraschino Cherries, for garnish
Instructions
Place ice cubes in a low ball glass and add first five ingredients.
Stir and garnish with cherries.
Notes
This is a great to experiment with new brands of bourbon!