Looking for a fun cocktail to serve to friends? If you are a gin lover, this cocktail is for you! This Aperol Gin Cocktail is a refreshing drink filled with gin, cucumber and lime.
If you are local to Minneapolis-St. Paul and have been lucky enough to go to The Dining Studio with Philip Dorwart you know how good it is. In addition to the fabulous food, Philip always has great cocktails and one of my favorites is this Aperol Gin Cocktail. It's full of fresh spring flavors, and I can guarantee that you have never had a combo like it before.

Want to save this recipe for later? PIN IT here!
What makes this Aperol Gin Cocktail so special?
For starters, it has Aperol in it, an Italian aperitif, that is very similar in taste to Campari but with half the alcohol. Aperol has a bit of a bitter flavor, so it's not something most people drink straight up or on the rocks. But the low alcohol content of Aperol makes it the perfect mixer for cocktails. Which is why it's the perfect addition to this Aperol Gin Cocktail.
What other ingredients do I need to make this Aperol Cocktail?
Not a lot. Grab some gin, simple syrup, cucumber slices, and fresh lime juice, and you are on your way to creating a winning cocktail.
Does it matter what kind of gin I use in this cocktail?
We always recommend using your favorite. This particular drink pairs really well with Hendrick's Gin, but believe me, I've made it with Tanqueray and Bombay gins as well! Use what you love and your drink will be fabulous!
Can I make this drink ahead of time?
Absolutely! These Aperol Gin cocktails are the perfect addition to your spring party menu. Prep them ahead of time, muddle the cucumber and serve as a batch cocktail. Just wait to add the club soda before serving so they stay bubbly.
Drinks for a crowd just got easy.
So if you are looking for a new spring cocktail, look no further. This one is a winner and oh, so pretty to boot!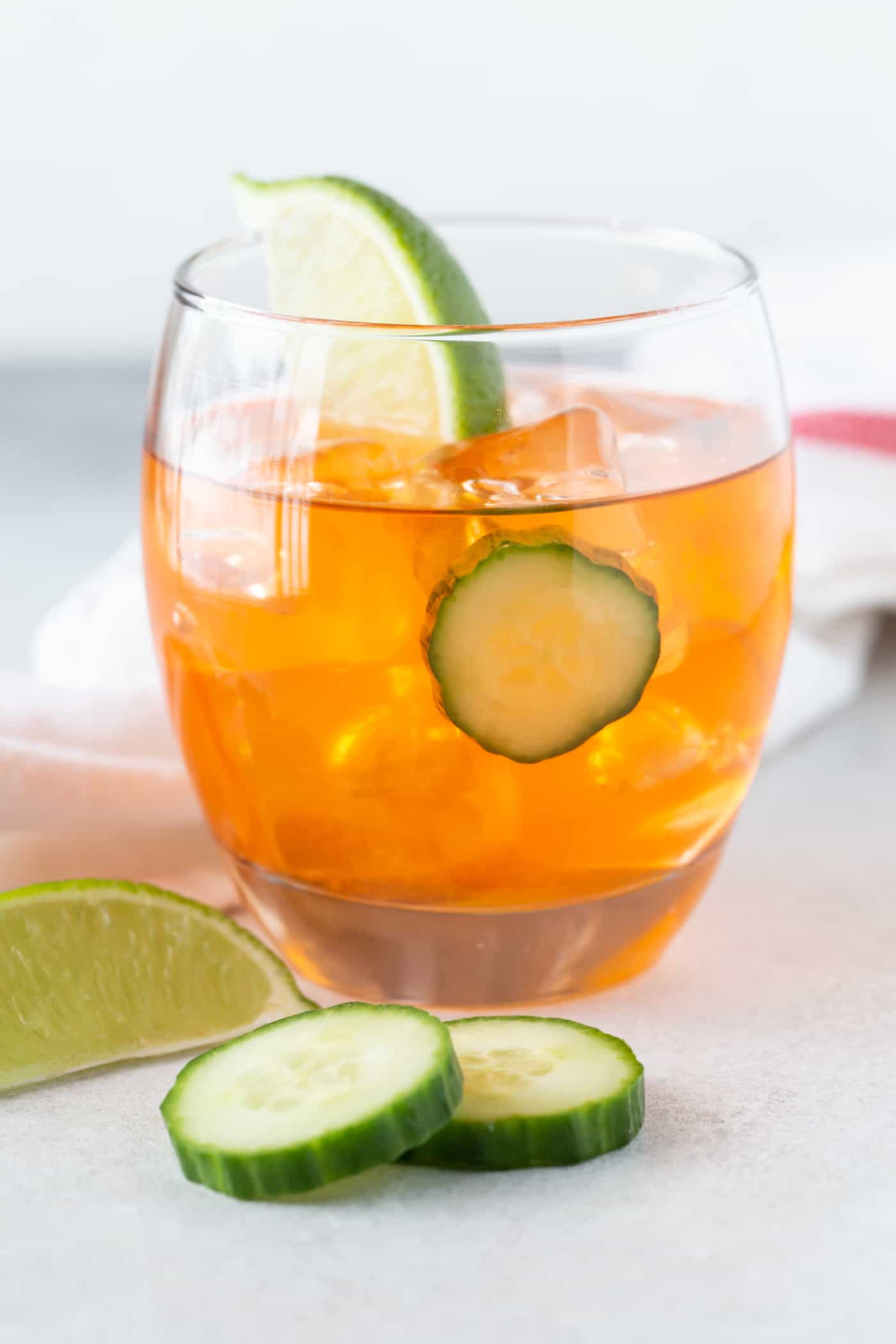 What bar tools do I need to make this cocktail?
A Muddler. A muddler can be used to crush herbs to release their oils as well as squeeze juice from fruit to extract the maximum flavor possible. And this isn't the only drink you can use it for, it's impossible to make a good mojito without one. Trust us.
Cocktail Shaker: All shakers are not created equal, and we love this OXO Cocktail Shaker. It's easy to use and keeps cocktails cold. Plus with the button dispenser, you don't need to worry about leaks and spills. Anything that keeps clean up to a minimum is a win in our book
A hand held juicer: Fresh lime juice takes ordinary cocktails and transform them into amazing cocktails. A Hand Held Juicer does the heavy lifting for you and guarantees to keep your cocktails free from seeds. A great tool for a well-stocked home bar.
What other cocktails can I make with Aperol?
Don't worry! Now that you have invested in that bright orange bottle of liquor we have some options for you to use it up. For all of you tequila fans, these Grapefruit Aperol Cocktails are crazy delicious. Tequila not your thing? Mix up a batch of these Bourbon Aperol Cocktails for your bourbon-loving friends.
And remember, there's no wrong answer. All are tasty options!
Cheers!
Yield: 12 ounces
Aperol Gin Cocktail
Let the flavors of spring shine through in this Aperol GIn Cocktail recipe.
Ingredients
2 slices cumcumber
6 ounces Hendrick's Gin
2 ounces Aperol
2 ounces lime juice
2 ounces simple syrup
splash of club soda
lime for garnish
Instructions
Muddle the cucumber in the bottom of a shaker. Add Aperol, gin, lime juice, and simple syrup. Shake vigorously to combine. Strain into 2 low ball glasses filled with ice.
Top each glass with a splash of club soda, garnish with a lime slice and serve.
Nutrition Information:
Yield:
2
Serving Size:
6 ounces
Amount Per Serving:
Calories:

329
Total Fat:

0g
Saturated Fat:

0g
Trans Fat:

0g
Unsaturated Fat:

0g
Cholesterol:

0mg
Sodium:

3mg
Carbohydrates:

29g
Fiber:

1g
Sugar:

24g
Protein:

0g