Delight all of your guests with this make-ahead, batch cocktail recipe for Meyer Lemon Whiskey Sours!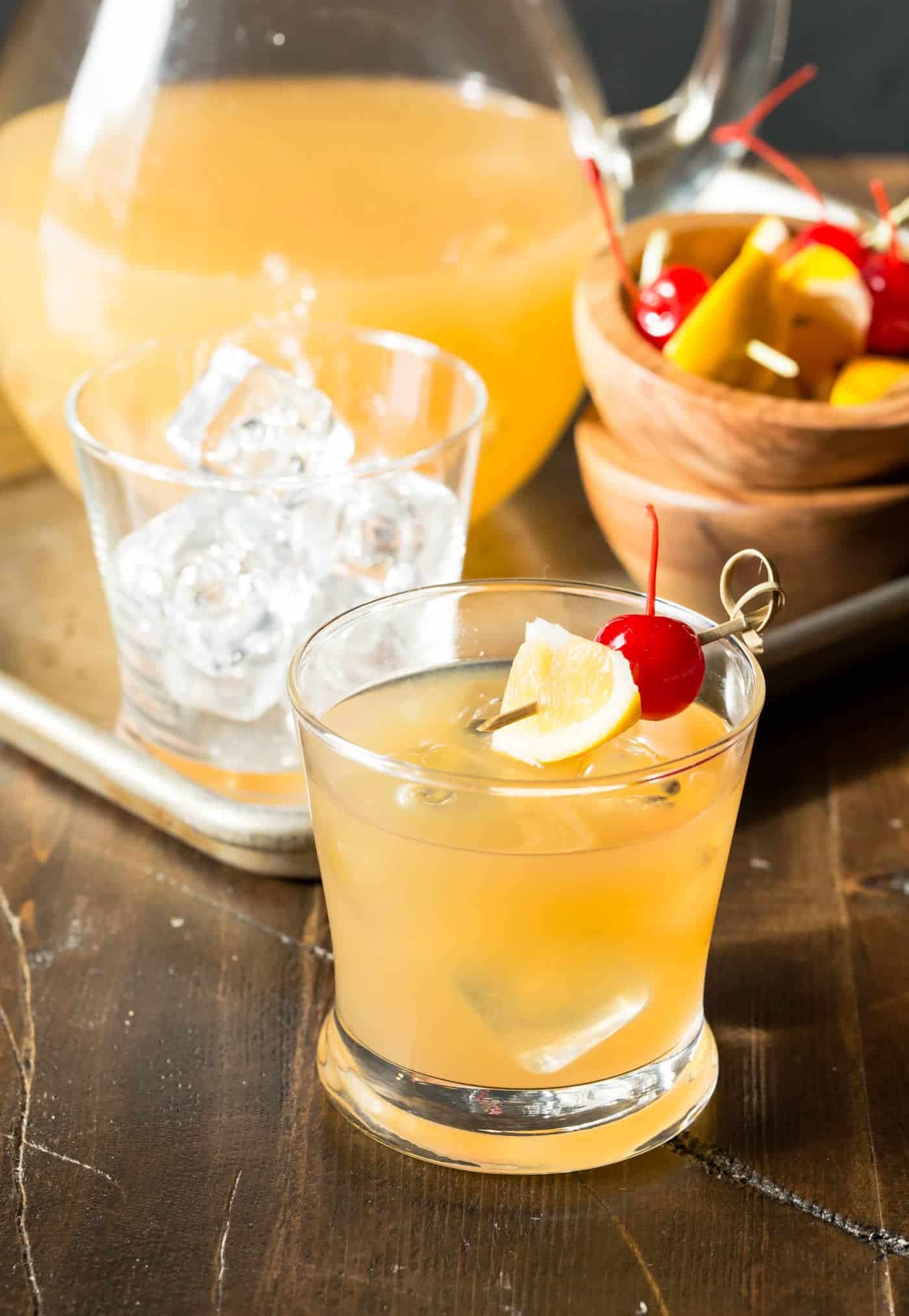 Need an easy batch cocktail for your Big Game party? I've got you covered. These Meyer Lemon Whiskey Sours are simple, seasonal and totally refreshing, especially when paired with some deliciously indulgent game day food.
Whiskey Sours are such refreshing treat this time of year. The tangy combination of citrus and whiskey never fails to brighten a gray day. And the addition of meyer lemons are such a treat in this cocktail. But let's cover a few basics before we jump into the recipe.
What ingredients are in a whiskey sour cocktail?
The ingredient list for these Meyer Lemon Whiskey Sours is short and sweet: whiskey, meyer lemon and lime juices and simple syrup. Plus a few meyer lemon chunks and maraschino cherries for fun garnishes.
What is a meyer lemon?
For those of you who've never enjoyed a meyer lemon, they are a cross between a mandarin orange and a regular lemon.
The rumor mill claims you can eat these like regular fruit as they are sweeter than your average lemon. I'm not sold on that idea (still too much pucker for my taste), but they do make an excellent addition to the sour portion of these Meyer Lemon Whiskey Sours.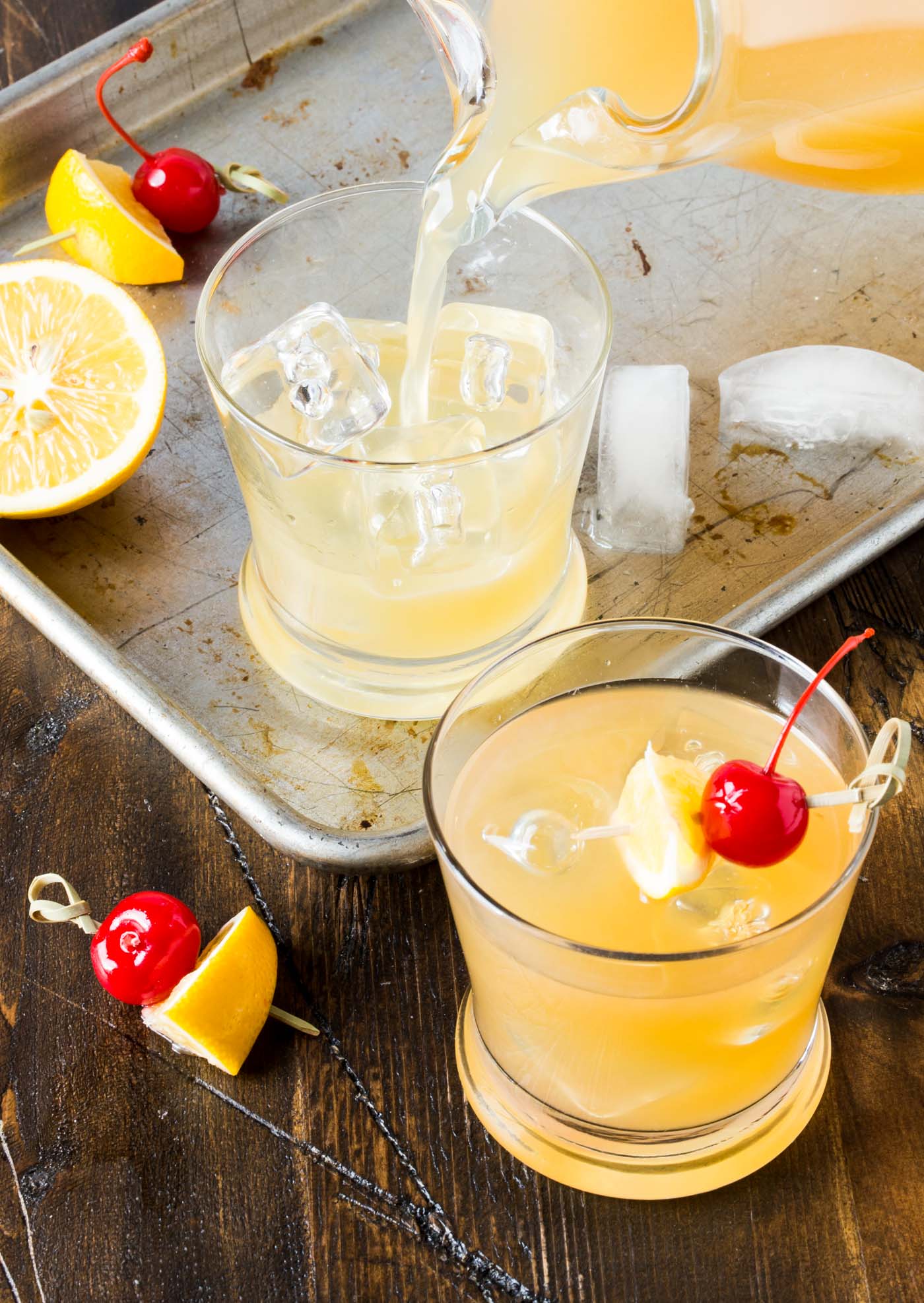 I can't find meyer lemons near me. Can I substitute regular lemons for this Meyer Lemon Whiskey Sour Recipe?
Yes, you can! If you have super tart lemons, you may have to add just a touch more simple syrup to keep the drink from being too tart. Try the recipe as written and then adjust if needed.
What I used to make these Meyer Lemon Whiskey Sours:
This handheld juicer makes juicing your lemons and limes a breeze! Gets every last drop of juice out of those fruits.
I also like to strain my juice through a sieve before adding it to my cocktails. Keeps me and my guests from walking around all night with pulp in our teeth!
These Meyer Lemon Whiskey Sours are a delicious and easy batch cocktail recipe for groups.
Make this whiskey sour recipe in advance to save your sanity before guests arrive. Juice your lemons and limes the morning of your party and combine with simple syrup in a pitcher.
Before your guests arrive, either add the whiskey to the pitcher or set out the bottle for folks to add to their own cocktails. Waaay low maintenance for you and fun for your guests.
Sounds like a winning party to me.
Looking for more Whiskey Sour recipes? Check out some of these tasty sippers!
Cran-Cherry Rye Whiskey Sours – TidyMom®
Cranberry Whiskey Sours – Garnish with Lemon®
Spiced Apple Cider Whiskey Sour – Boulder Locavore®
Yield: 4-6
Meyer Lemon Whiskey Sours
These batch cocktails are great for a crowd!
Ingredients
3/4 cup fresh meyer lemon juice
3/4 cup fresh lime juice
1 cup simple syrup
1 1/4 cups whiskey
Ice cubes
Maraschino cherries
Instructions
Combine juices, simple syrup and whiskey in a small pitcher. Stir gently. Fill low ball glasses with ice and divide cocktail evenly among glasses. Garnish with maraschino cherries.
Notes
This recipe can be easily doubled or tripled. Feel free to tweak the amount of whiskey, too, based on your personal preference.
You can purchase simple syrup or make your own by combining equal amounts of water and sugar in a small pan and heating until the sugar is melted. Cool the syrup before using. It will last for several weeks in the fridge.
Recipe adapted from Ina Garten