This refreshing, 3-ingredient Whiskey Ginger Cocktail is one of the easiest & best whiskey drinks to make at home.
Whiskey Ginger?
Ginger Whiskey?
Big Ginger?
Jameson Ginger?
This 3-ingredient cocktail goes by a slew of names, but I think we can all agree that the combination of whiskey, ginger ale and fresh lime juice makes this easy Whiskey Ginger drink one refreshing libation!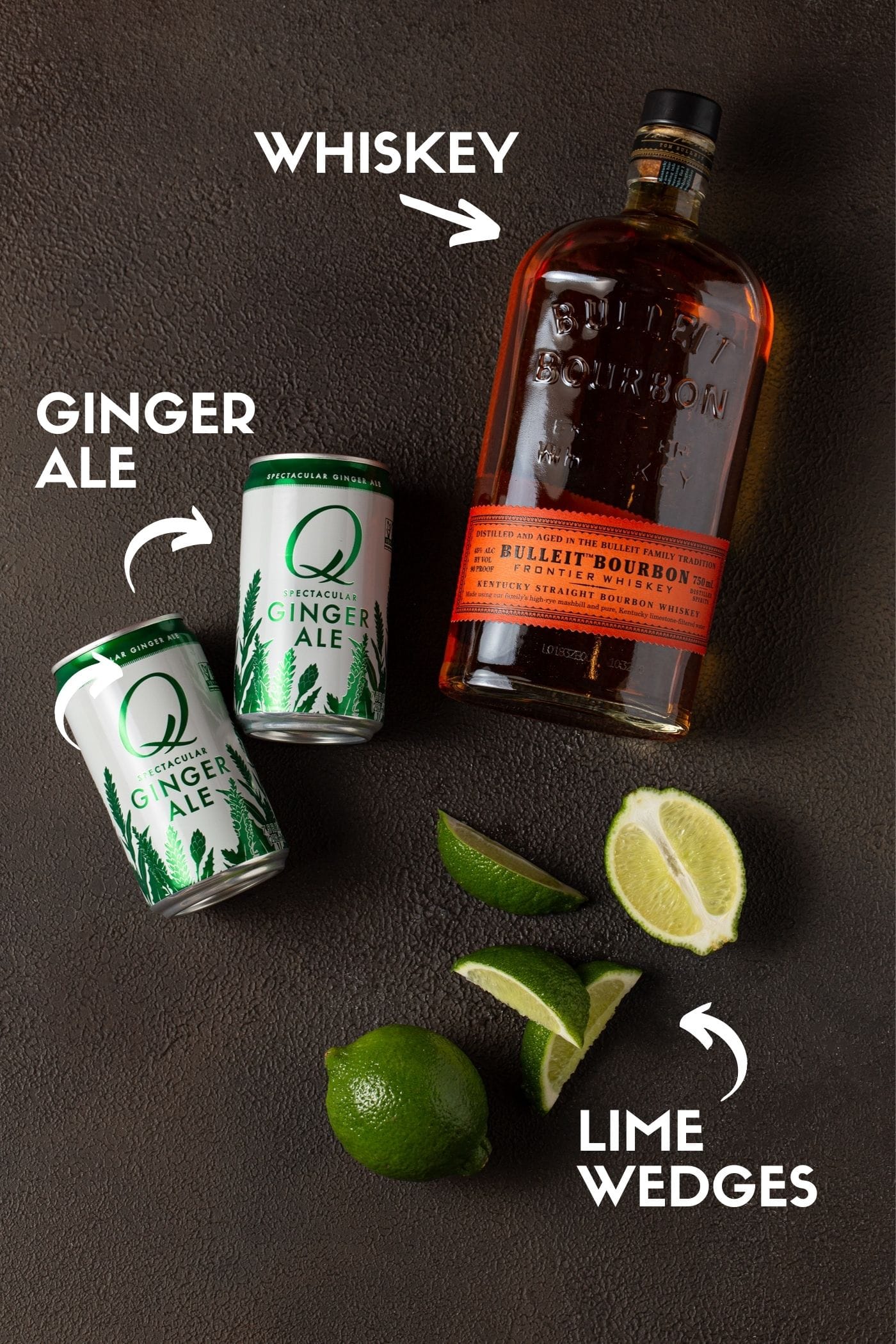 Jump to:
Ingredients
Just because an ingredient list is simple doesn't mean it can't be delicious! There are only three ingredients in this easy drink:
Whiskey
Ginger ale
Lime wedge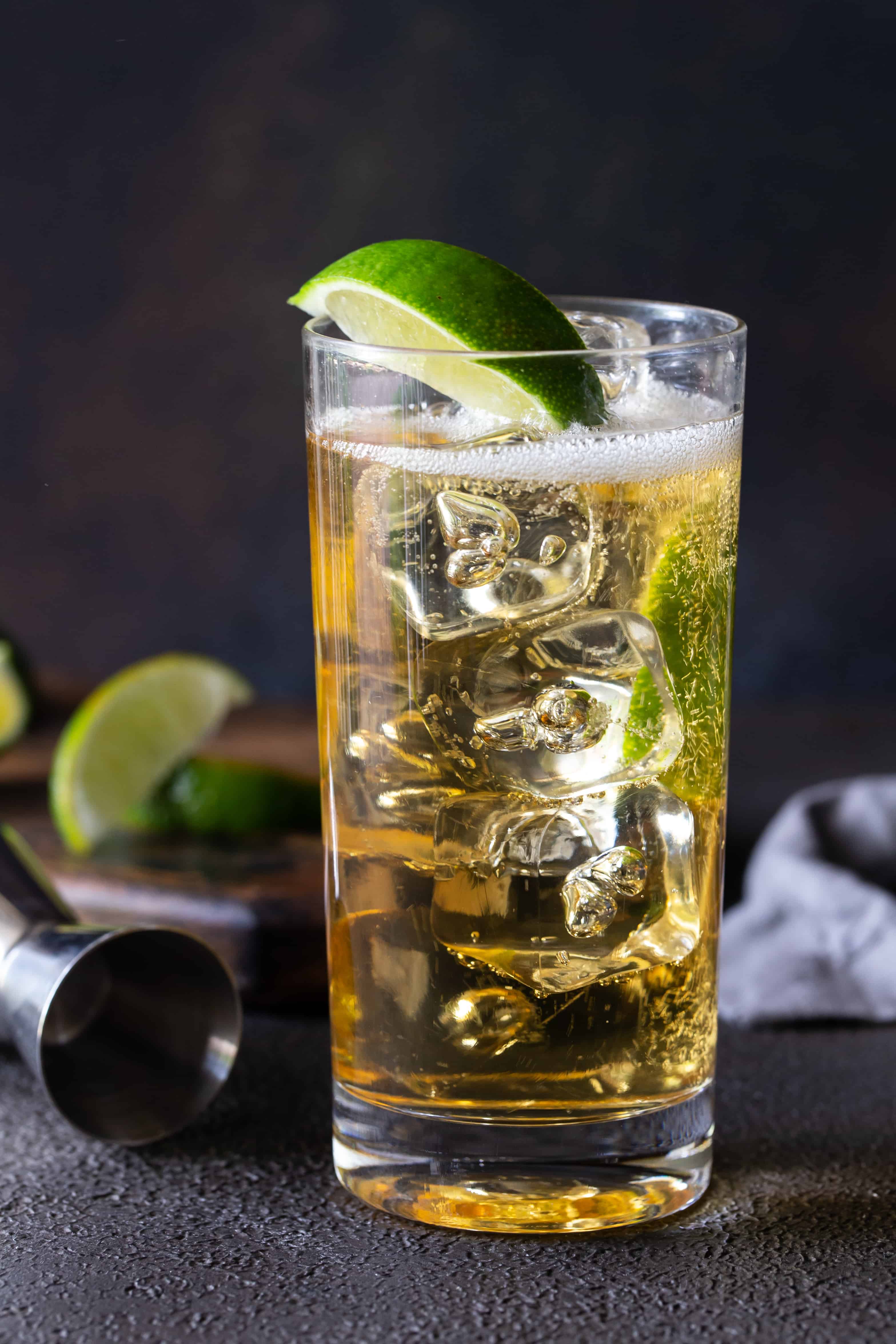 Instructions
Some cocktails are sticklers for proportions. For example, I wouldn't just toss the ingredients for a Perfect Manhattan into a glass and hope for the best.
But this whiskey mixed drink isn't a fussy cocktail at all:
Fill a highball glass with ice.
Measure desired amount of whiskey and add it to the glass. (These beakers are great for measuring liquids, especially for smaller amounts like in cocktails. Definitely one of our favorite kitchen tools!)
Top with ginger ale.
Squeeze the juice from a fresh lime wedge into the glass.
Stir cocktail with straw or a bar spoon.
1
Fill highball glass with ice.
2
Add your favorite whiskey.
4
Garnish with lime wedge.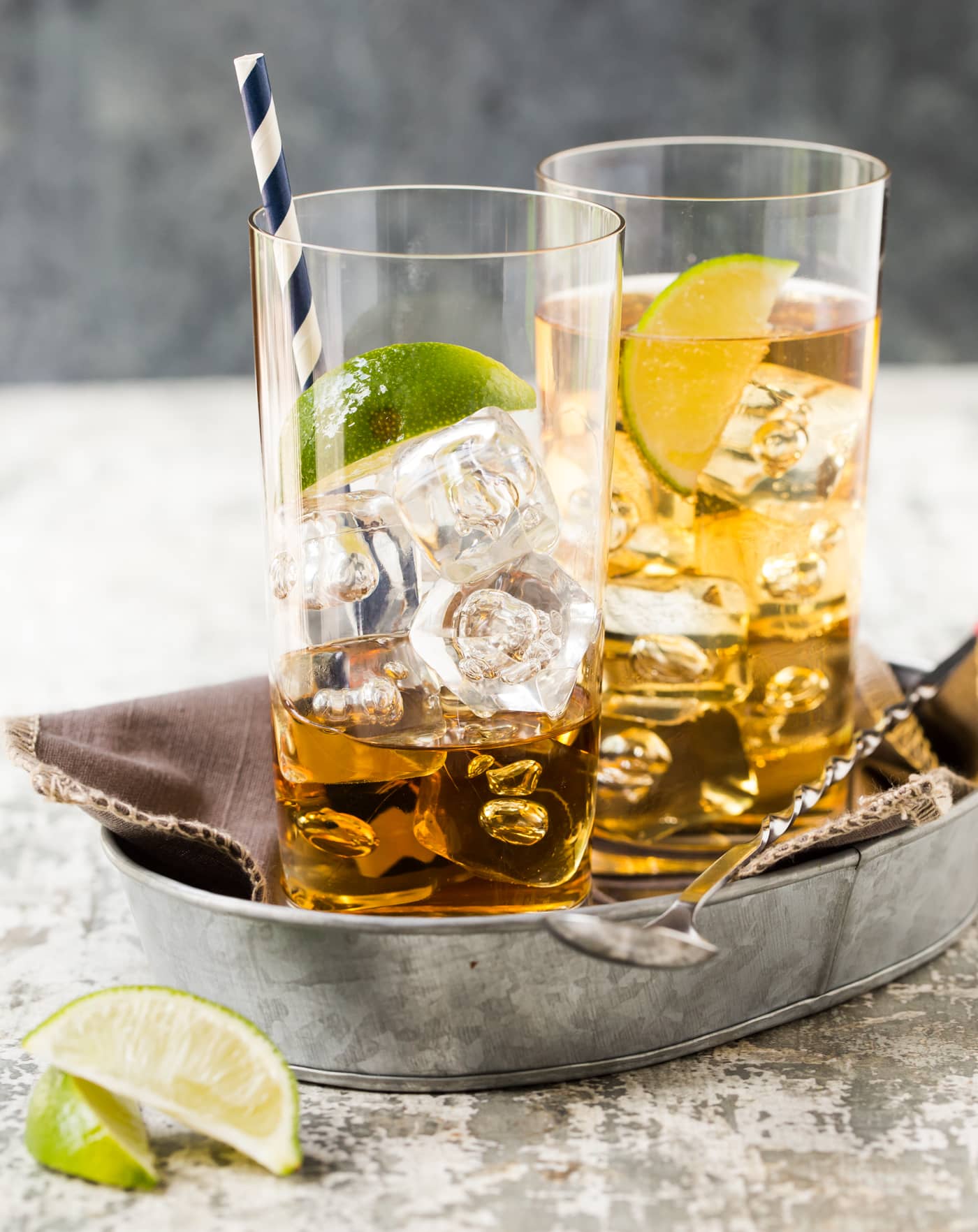 FAQs
Ginger ale vs ginger beer - what's the difference?


It's confusing, I get it. These two mixers look nearly identical so let's set the record straight. 

Ginger beer: Back when ginger beer was invented in 1700s England, it was an alcoholic beverage. Fast forward to today and even though it has "beer" in its name, most ginger beer you buy at the store doesn't actually contain alcohol. 

Ginger ale: Likewise, there is no alcoholic "ale" in ginger ale. It's basically soda (or pop - depending on where you live) - a sweetened carbonated beverage with ginger flavoring. Consider ginger ale a tamer version of ginger beer with a more delicate flavor, a lighter color and more carbonation. 

If you love ginger beer, you can definitely use it in this recipe. Ginger beer will give you a spicier drink while ginger ale gives a sweeter, smoother flavor. I personally prefer using ginger ale in my Whiskey Ginger drinks. 


Can I use bourbon instead of whiskey?


You might have heard that all bourbon is whiskey but not all whiskey is bourbon. That makes the difference as clear as mud, right? 

I couldn't agree more. If you really want to do a deep dive into the nuances between bourbon and whiskey, this article by Chowhound sums it up pretty well.

In a cocktail like this where the strongest flavor comes from the ginger ale (or ginger beer, if you prefer), you can use either bourbon or whiskey. The small difference between the two isn't worth buying a whole separate bottle of something else for this mixed drink.


Best whiskey for ginger ale drinks


Ever browsed the whiskey aisle and experienced sticker shock at the prices of some bottles? There can be a huge range in cost for whiskey and bourbon.

Fortunately you don't need a super expensive bottle of whiskey to make this ginger ale cocktail. Grab a reliable, mid-priced bottle and save the higher-end stuff for sipping on the rocks. A big buck bottle is not needed (though you definitely want to buy something you like the taste of).

The only time I'm a stickler for a certain type of spirit is when St. Patrick's Day rolls around. Ever been in a bar and heard someone order a Jameson and Ginger? It was probably March 17th. Since everyone is a little bit Irish on that holiday, Irish whiskey is a must in this Whiskey Ginger on St. Paddy's Day.


Easy self-serve cocktail
A drink station is the easiest way to make sure you're not tending bar all night at your party. This Whiskey Ginger is a simple ginger ale cocktail that is always a hit.
Place the whiskey, ginger ale and lime wedges on a table along with glasses and ice. Guests can add as much or as little whiskey to their cocktails as they like. Cheers!
Pin this easy Whiskey Ginger Cocktail for later!
Looking for more drink ideas? Check out some of our favorites!
Are you more of a vodka fan? We have loads of easy vodka drinks, including one of our favorites - this vodka soda made with a splash of elderflower liqueur!
And don't forget the snacks! Every party needs easy appetizer recipes. These bacon appetizers disappear EVERY.SINGLE.TIME. Your friends will definitely want the recipe.
Recipe
Yield: makes 1 drink
Whiskey Ginger Cocktail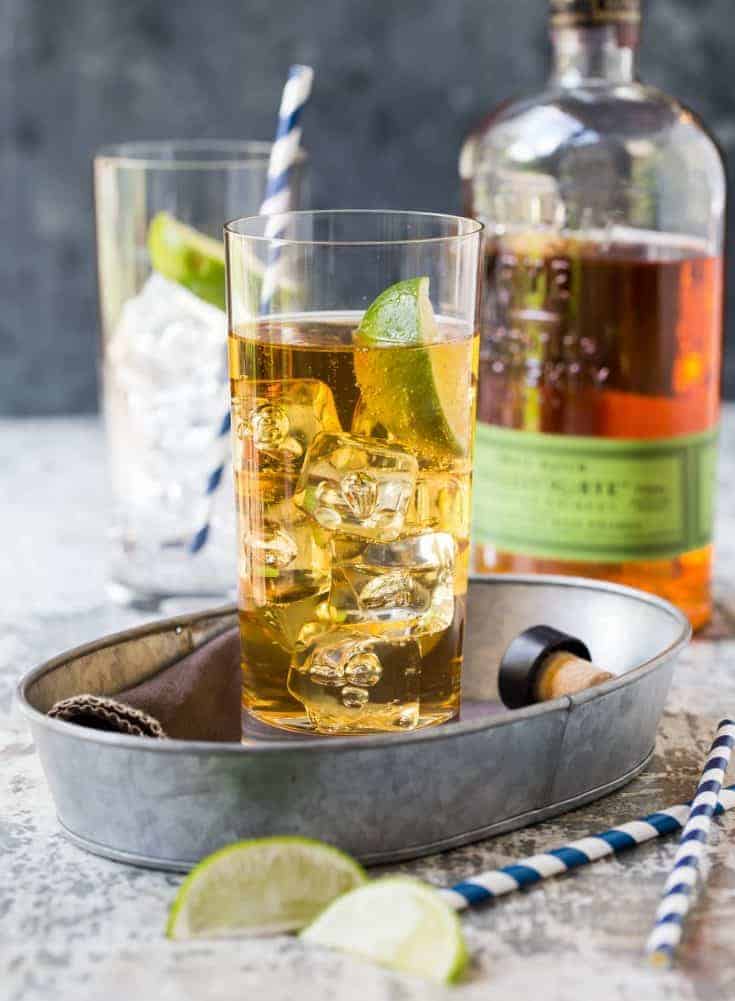 This 3-ingredient Whiskey Ginger is an easy drink to make at home. Perfect for parties or last-minute happy hours!
Ingredients
2 ounces whiskey
5 ounces ginger ale
1 lime wedge
Instructions
Fill a highball glass with ice. Pour whiskey into glass.
Top with ginger ale.
Squeeze and float a lime wedge in the glass.
Notes
The amount of whiskey can vary depending on your personal taste (and size of your glass). Pour in the amount that works for you!
Recommended Products
As an Amazon Associate and member of other affiliate programs, I earn from qualifying purchases.
Nutrition Information:
Yield:
1
Serving Size:
1 cocktail
Amount Per Serving:
Calories:

200
Total Fat:

0g
Saturated Fat:

0g
Trans Fat:

0g
Unsaturated Fat:

0g
Cholesterol:

0mg
Sodium:

13mg
Carbohydrates:

20g
Fiber:

2g
Sugar:

15g
Protein:

0g
Just three ingredients - spicy ginger ale, hearty whiskey and a squeeze of fresh lime juice - make this Whiskey Ginger one of the easiest ginger ale cocktails around! It's super refreshing, comes together in minutes and is a great cocktail recipe for spur of the moment happy hours or large groups as it can also be served batch style.