Not a whiskey fan? Think again! This refreshing, 3-ingredient Ginger Whiskey Cocktail recipe might just change your mind.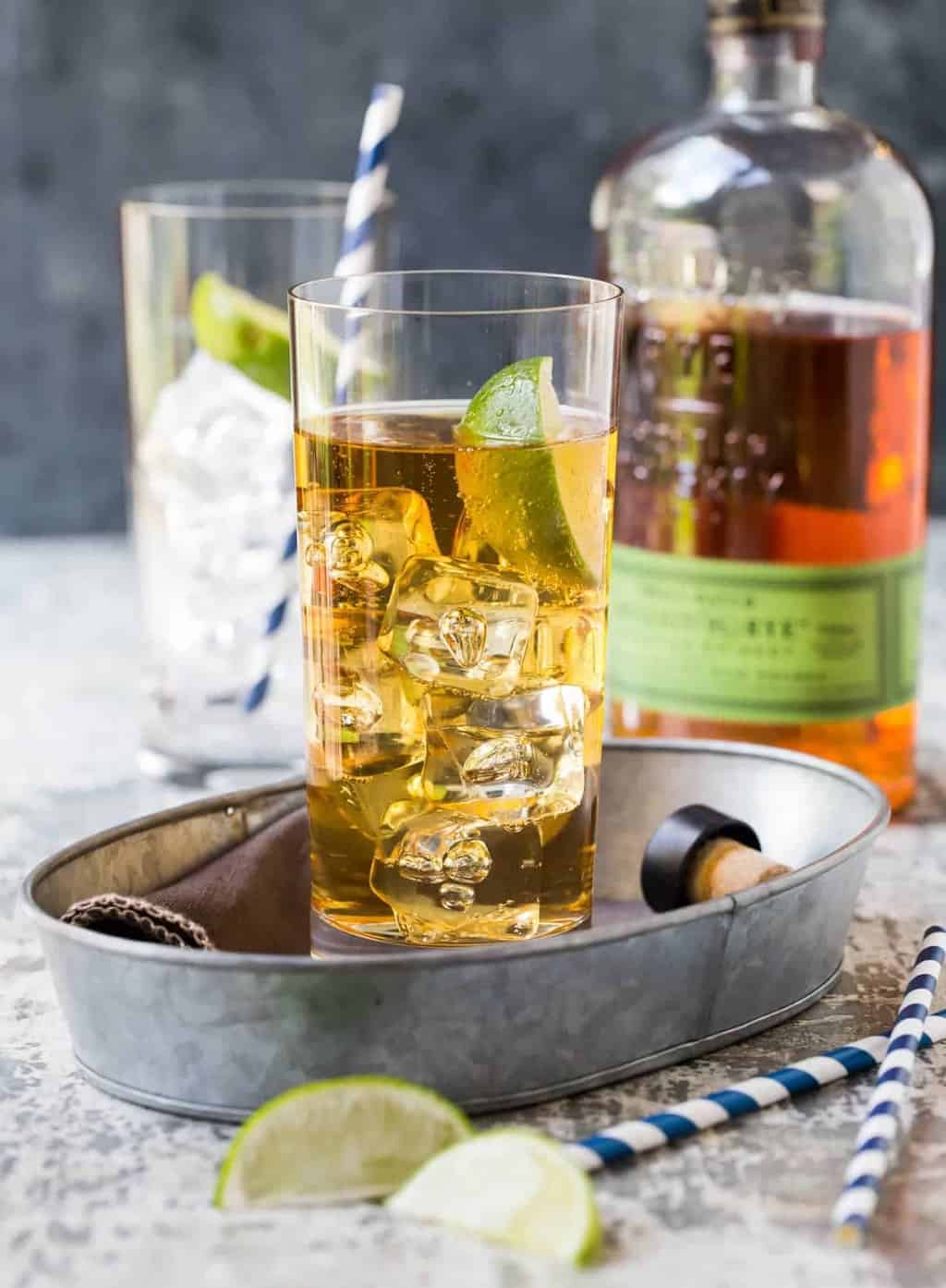 Whiskey Ginger?
Ginger Whiskey?
Big Ginger?
This 3-ingredient cocktail goes by a slew of names, but I think we can all agree that the combination of whiskey, ginger ale and lime wedges makes this Ginger Whiskey Cocktail one refreshing libation!
A tasty whiskey cocktail for summer
No need to give up your favorite brown spirit now that warmer weather has arrived. Don't get me wrong; I love a more whiskey-forward drink when the weather turns cooler, especially these Bourbon Apple Cider Cocktails.
But during shorts season, you can find me reaching for a whiskey-based cocktail with lighter flavors, including these refreshing Bourbon Elderflower Cocktails or this thirst-quenching Ginger Whiskey Cocktail.
How do you make a Ginger Whiskey Cocktail?
There are some cocktails that are sticklers for proportions. For example, I wouldn't just toss the ingredients for these Bourbon Aperol Cocktails into a glass and hope for the best.
But this Ginger Whiskey Cocktail isn't one for details. It's essentially your preferred whiskey to ginger ale ratio with a squeeze of fresh lime.
Consider the whiskey amount in the recipe as a starting point. Feel free to adjust to your own tastes.
Some like their drinks a bit stronger and will go heavier on the whiskey (ahem, my husband) and others a bit lighter on the liquor (me, on a hot summer day). You do you!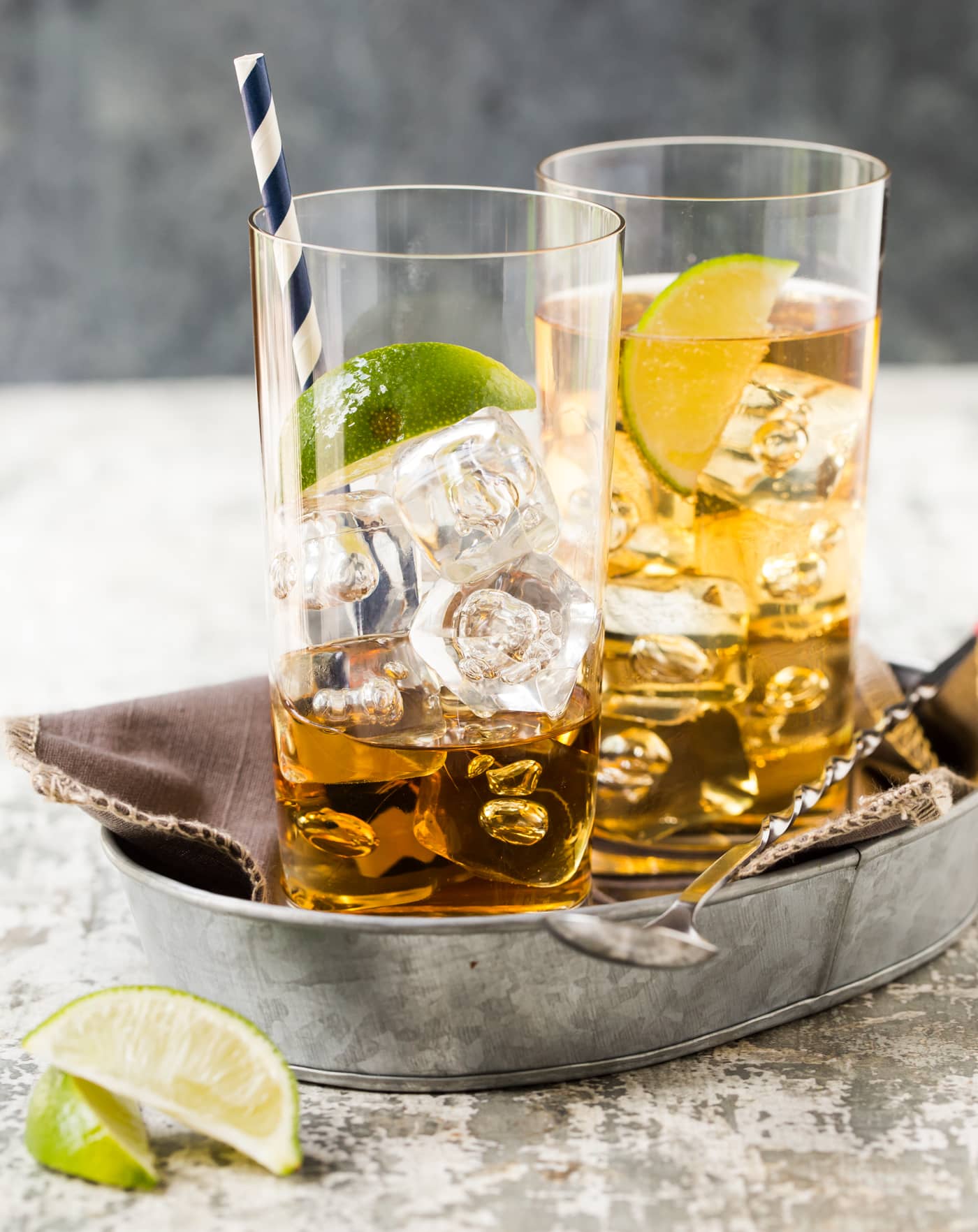 I'm not a huge whiskey fan. Will I like this Ginger Whiskey Cocktail?
Not feeling the whiskey love? I know whiskey can be a bit polarizing. Either you love it or can't stomach it.
I like to think this Ginger Whiskey Cocktail is a happy medium for those non-whiskey lovers out there. The bubbly ginger ale mellows the whiskey and keeps the cocktail's flavor light and bright. Plus the lime juice gives each sip just a nip of freshness.
Is bourbon the same as whiskey? That's all I have. Can I use that instead?
All bourbon is whiskey but not all whiskey is bourbon. Confusing, right?
I couldn't agree more. Let's just say that for sake of simplicity, you can use either bourbon or whiskey in this Ginger Whiskey Cocktail. Both work equally well.
The only time I'm a stickler for a certain type of spirit is when St. Patrick's Day rolls around. Since everyone is a little bit Irish on March 17th, Irish whiskey is a must in this Ginger Whiskey Cocktail on St. Paddy's Day.
What's the best glass for this cocktail?
Definitely a highball glass. The extra capacity allows enough room for plenty of ice and the prescribed amounts of the cocktail ingredients.
Worried about buying glasses for just one cocktail? Mojitos are right at home in a highball glass, especially our Watermelon Mojitos and our Tequila Mojitos.
This Ginger Whiskey Cocktail can also be the star of a DIY drink station.
Make this Ginger Whiskey Cocktail the signature drink for your next party! Simply create a DIY cocktail space so guests can mix up their own beverages.
Place the whiskey, ginger ale and lime wedges on a table along with glasses and ice. Guests can add as much or as little whiskey to their cocktails as they like.
Craving more whiskey cocktail recipes? We've got some tasty options here:
Cranberry Whiskey Sours – Garnish with Lemon®
Sparkling Honey Rye Whiskey Cocktail – Honey and Birch
Gold Rush Cocktail with Bourbon and Ginger Liqueur – Garnish with Lemon®
Whiskey Smash – The Noshery
Perfect Manhattan Cocktail – Garnish with Lemon®
Yield: makes 1 drink
Ginger Whiskey Cocktail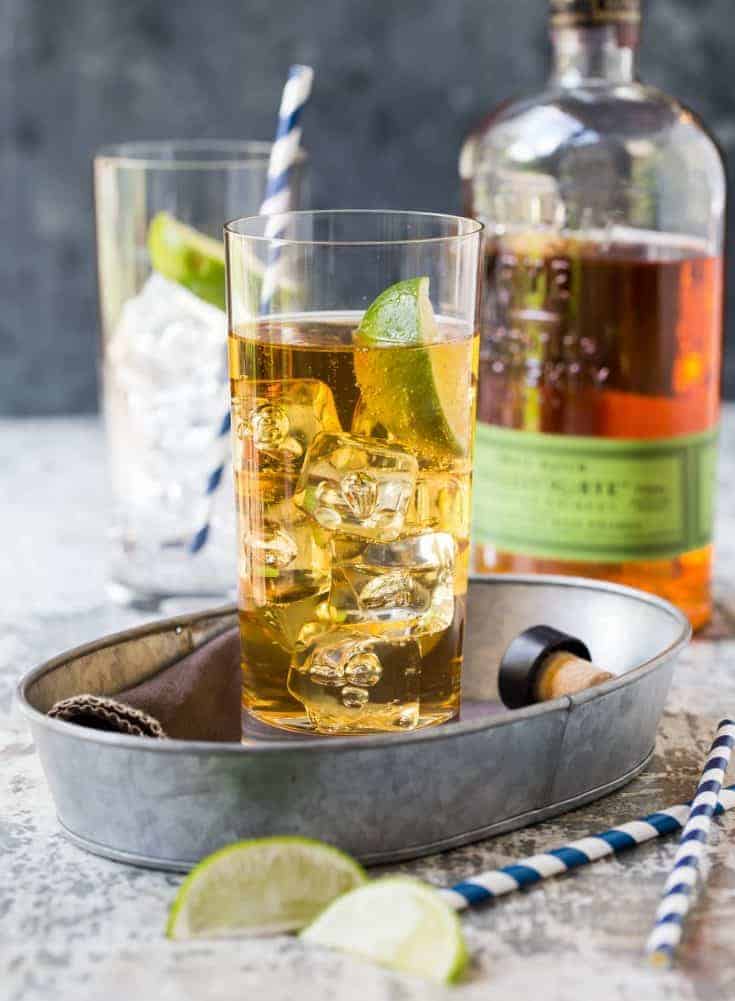 Not a whiskey fan? Think again! This refreshing, 3-ingredient Ginger Whiskey Cocktail recipe might just make you one!
Ingredients
2-3 ounces whiskey
5 ounces ginger ale
lime wedge
Instructions
Fill a highball glass with ice. Pour whiskey into glass. Top with ginger ale. Squeeze and float a lime wedge in the glass.
Notes
The amount of whiskey can vary depending on your personal taste (and size of your glass). Pour in the amount that works for you!
Recommended Products
As an Amazon Associate and member of other affiliate programs, I earn from qualifying purchases.
Nutrition Information:
Yield:
1
Serving Size:
1 glass
Amount Per Serving:
Calories:

457
Total Fat:

0g
Saturated Fat:

0g
Trans Fat:

0g
Unsaturated Fat:

0g
Cholesterol:

0mg
Sodium:

14mg
Carbohydrates:

20g
Fiber:

2g
Sugar:

15g
Protein:

0g