No more guilt about eating cookie dough straight from the bowl! These egg-free Chocolate Chip Cookie Dough Truffles are one of our most requested homemade treats for special occasions!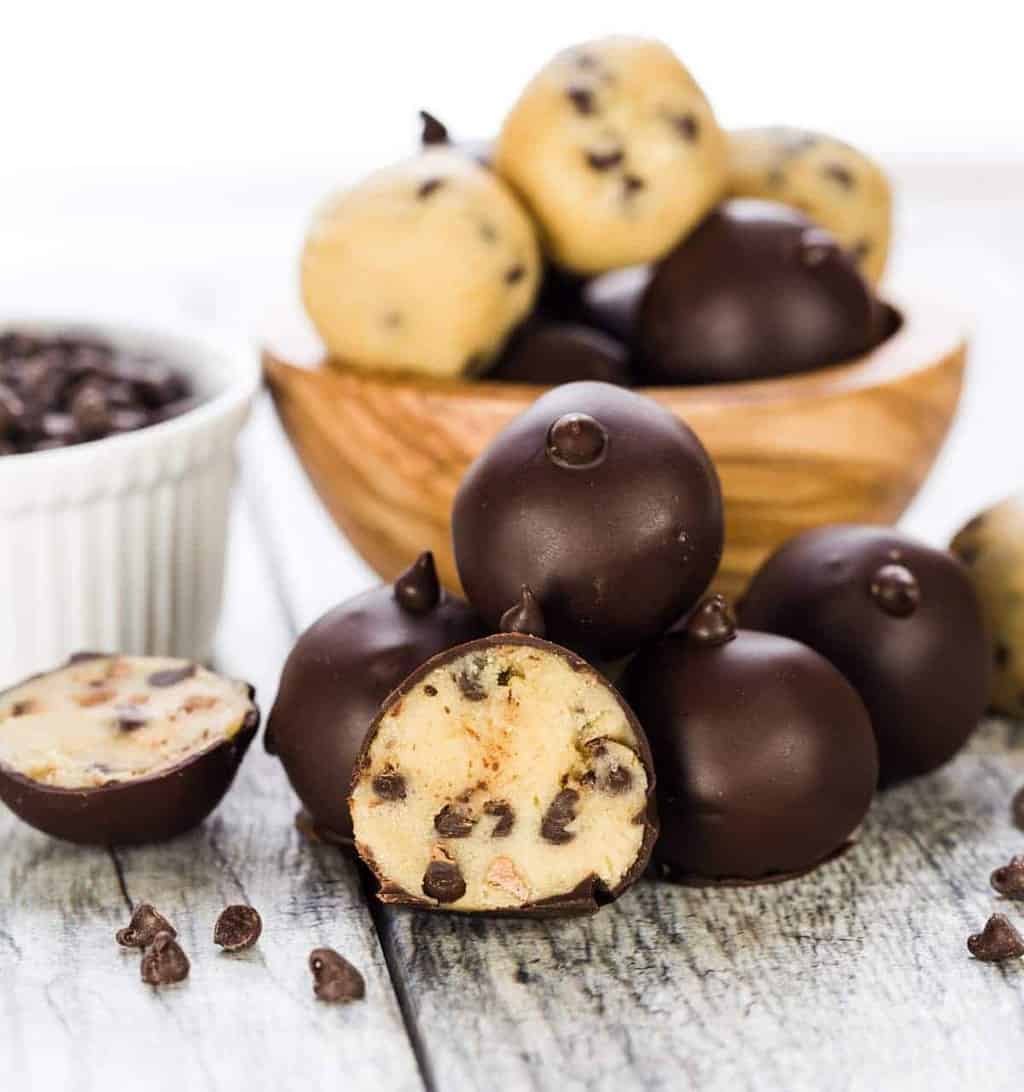 Every year I pull together some delicious homemade goodies for my husband's team at work. Last year I did holiday-themed cake pops. The year before that was a basket filled with delights my mom always made us during the holidays. The centerpieces of this year's treat basket are these little bites of heaven called Chocolate Chip Cookie Dough Truffles.
These truffles taste just like spoonfuls of real cookie dough, but they are made without eggs. No more worrying about salmonella when you sneak a spoonful of dough (or two or three) from the bowl…genius!
Initially I was worried that these would be time-consuming to make, but the cookie dough is super easy to pull together. Even making the little truffle balls is a piece of cake thanks to my favorite NorPro scoop. I admit that the dipping is a little fussy, but the finished product is totally worth it. Once you get a rhythm going, it's pretty slick.
Decorate them with sprinkles or mini-chips while the chocolate coating is still wet or drizzle melted white chocolate on top after they have set. They do need to be refrigerated and will last about a week, but the leftovers didn't make it more than a day in my house.
Time-Saving Tip: If you are short on time and can't make the truffles in one sitting, roll the dough into balls and freeze on cookie sheets. Once they are frozen solid, throw them into a ziploc bag and keep them in the freezer for a few weeks. Simply defrost them in the refrigerator prior to dipping.
Recommended Equipment 
Truffles are great make-ahead desserts for parties! Here are some more great truffle recipes to try!
Dark Chocolate Orange Raisin Truffles– Garnish with Lemon
German Chocolate Cake Truffles– All Day I Dream About Food
Peppermint Truffles– Foodie Crush
Secret Sauce Chocolate Truffles– Garnish with Lemon
Mint Chocolate Chip Truffles – Shugary Sweets

Chocolate Chip Cookie Dough Truffles
24
adjust servings
Ingredients
Truffles
1

stick unsalted butter at room temperature

1/4

cup granulated sugar

1/2

cup packed light brown sugar

2

tablespoons milk

1/2

teaspoon vanilla

1 1/4

cups all purpose flour

1/2

teaspoon salt

1/2

cup mini chocolate chips
Chocolate coating
4

ounces bittersweet chocolate, chopped into small pieces

1/2

teaspoon coconut oil
Instructions
To make the truffles:
In a large bowl, beat butter and sugars with an electric mixer until light and fluffy. Mix in milk and vanilla. Add flour and salt and mix on low until combined. Stir in chocolate chips. Cover with plastic wrap and chill dough in refrigerator for about 30 minutes until firm enough to roll into 1-inch balls.
Place rolled balls on a baking sheet lined with wax paper and place in the freezer for at least 30 minutes so they can firm up.
To dip the truffles:
Place chocolate and coconut oil in a microwave safe bowl and melt for 60 seconds at 50% power. Stir. Repeat for 30 seconds intervals or until chocolate is completely melted. Allow to cool slightly if very hot.
Remove a handful of balls from the freezer at a time and dip in chocolate. Tap off any excess coating and place back on wax paper to set. (Add mini chips while the coating is still wet if desired.)
Refrigerate in an airtight container for up to a week.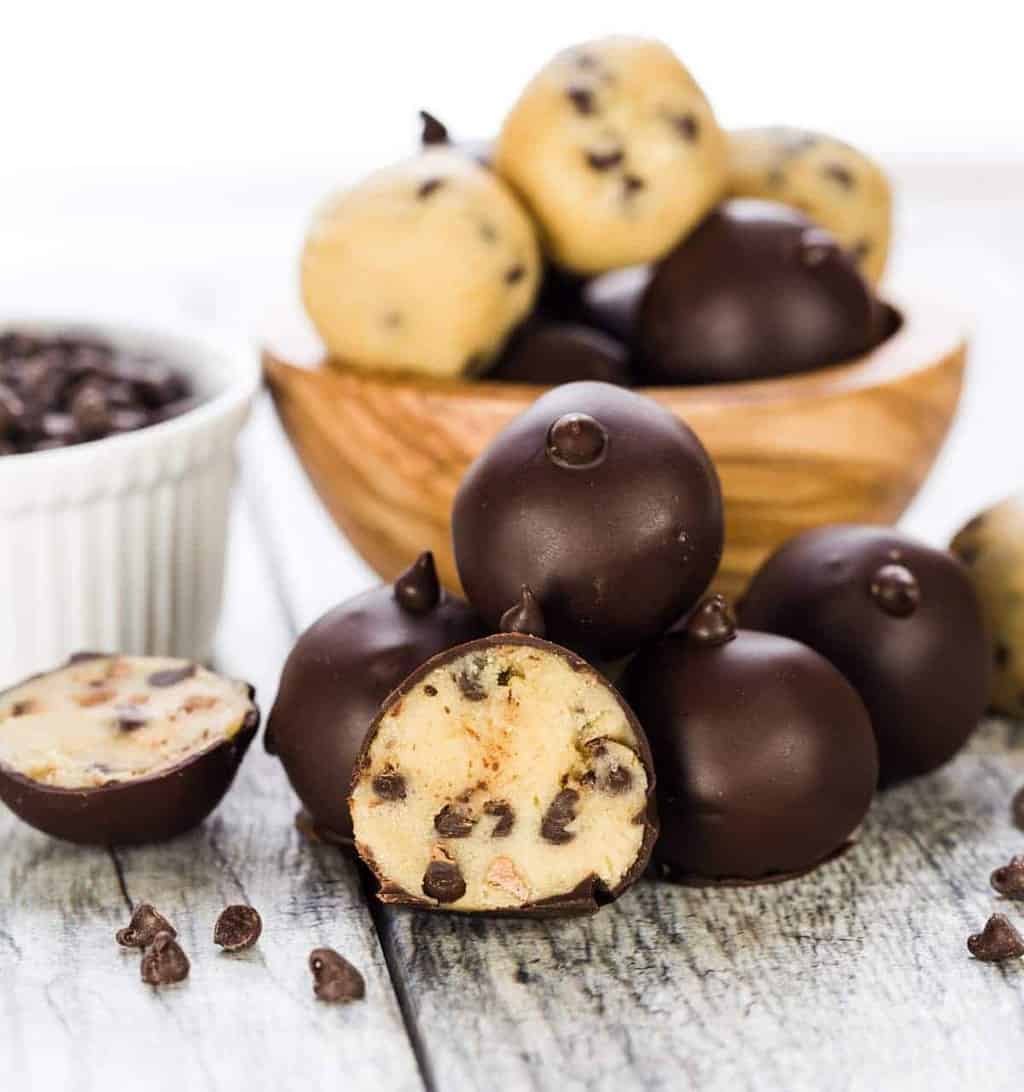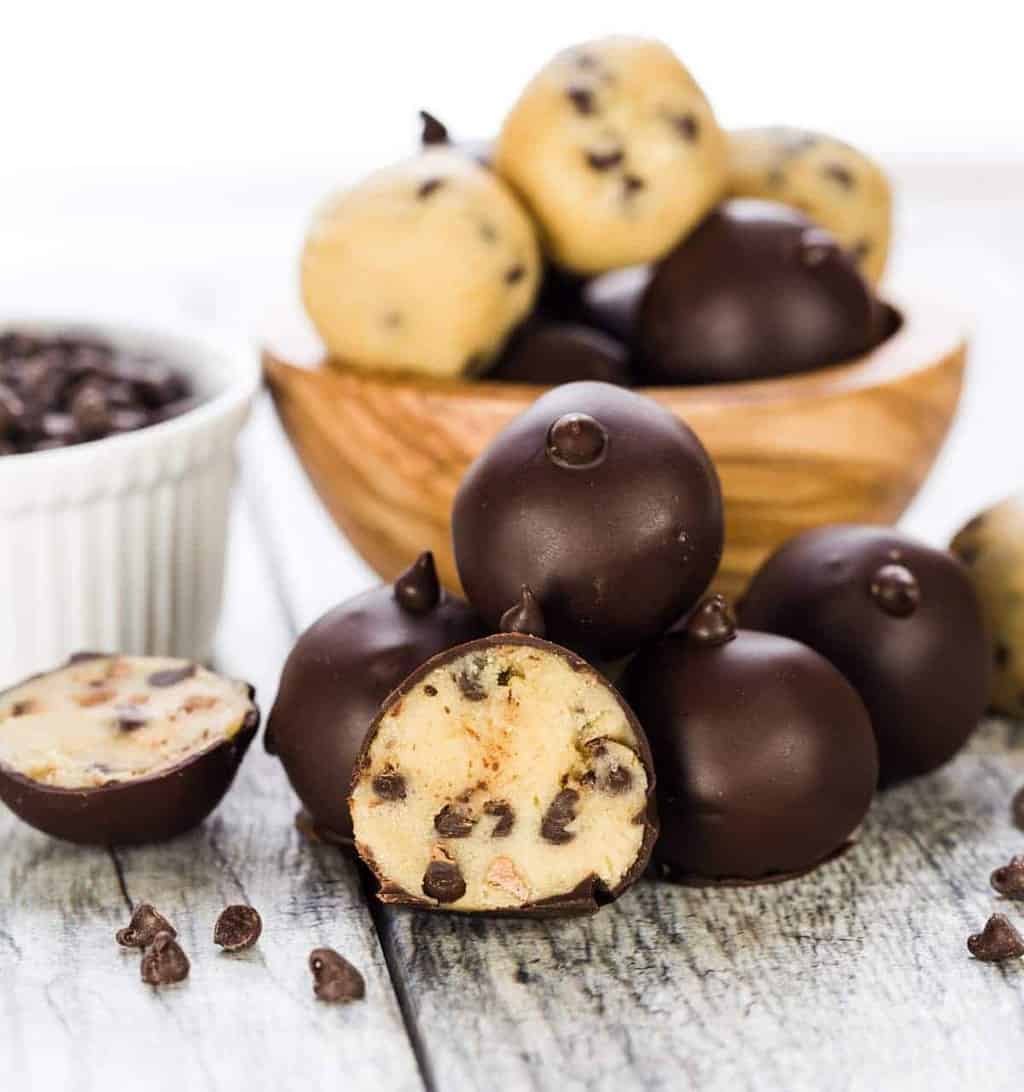 Did you make this recipe? We'd love to see it! Snap a pic of your creation and tag it #GarnishWithLemon. We might even feature your photo on social media!