No more guilt about eating cookie dough straight from the bowl! These Eggless Cookie Dough Truffles with chocolate chips are completely safe to eat & make decadent food gifts.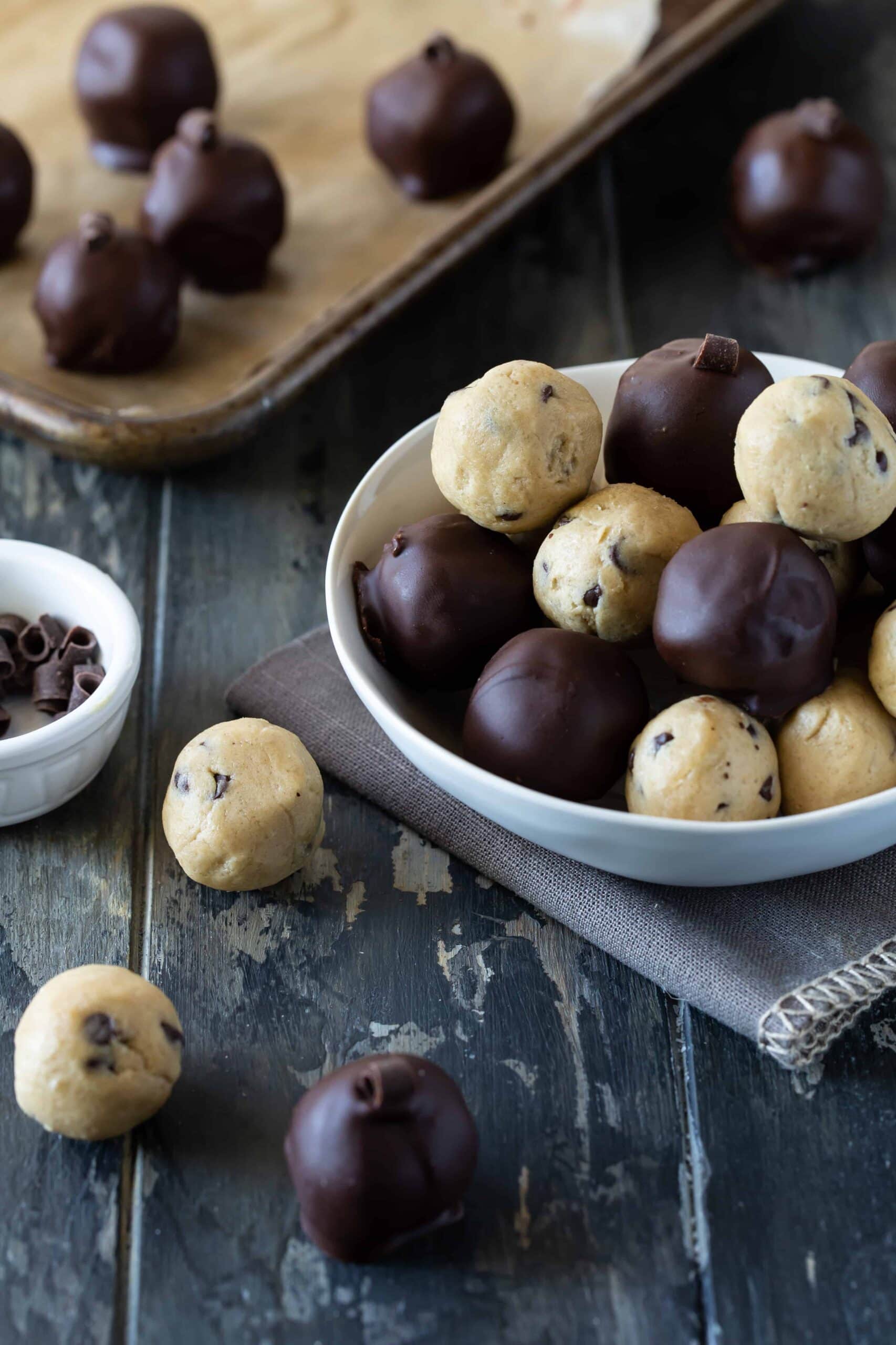 Looking for some extra special food gifts this Christmas? Hands down, no other recipe gets more oohs and aah than these Eggless Cookie Dough Truffles.
It's just like sneaking your spoon into the cookie dough bowl - only better because these truffles are filled with chocolate chips AND covered in chocolate!
Jump to: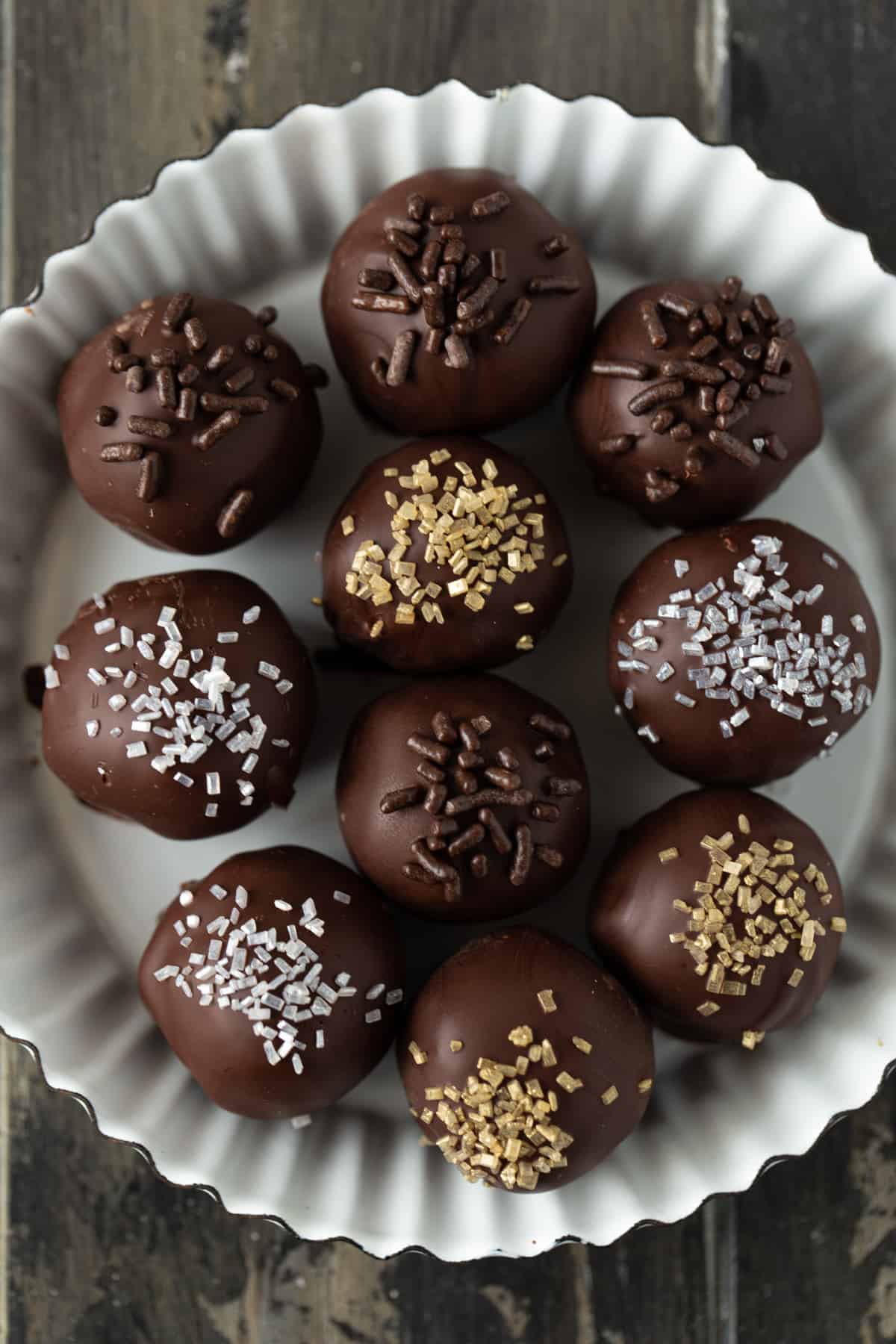 Baked flour
The FDA advises against eating raw flour because of bacteria concerns. But there is a solution to getting that raw cookie dough flavor without using raw flour. The secret? BAKE THE FLOUR before adding it to the recipe.
Simple bake the amount of flour you need for your recipe at 350 degrees for about 5 minutes. Allow to cool completely before adding to the other cookie dough truffle ingredients.
The idea to bake your flour is similar to pasteurized eggs. A short spin in the oven and exposure to high heat kills any bacteria that might be lurking in your flour thus making eating spoonfuls of this cookie dough from the bowl completely safe.
Ingredients
You'll find all the usual ingredients for cookie dough in this edible recipe - except eggs!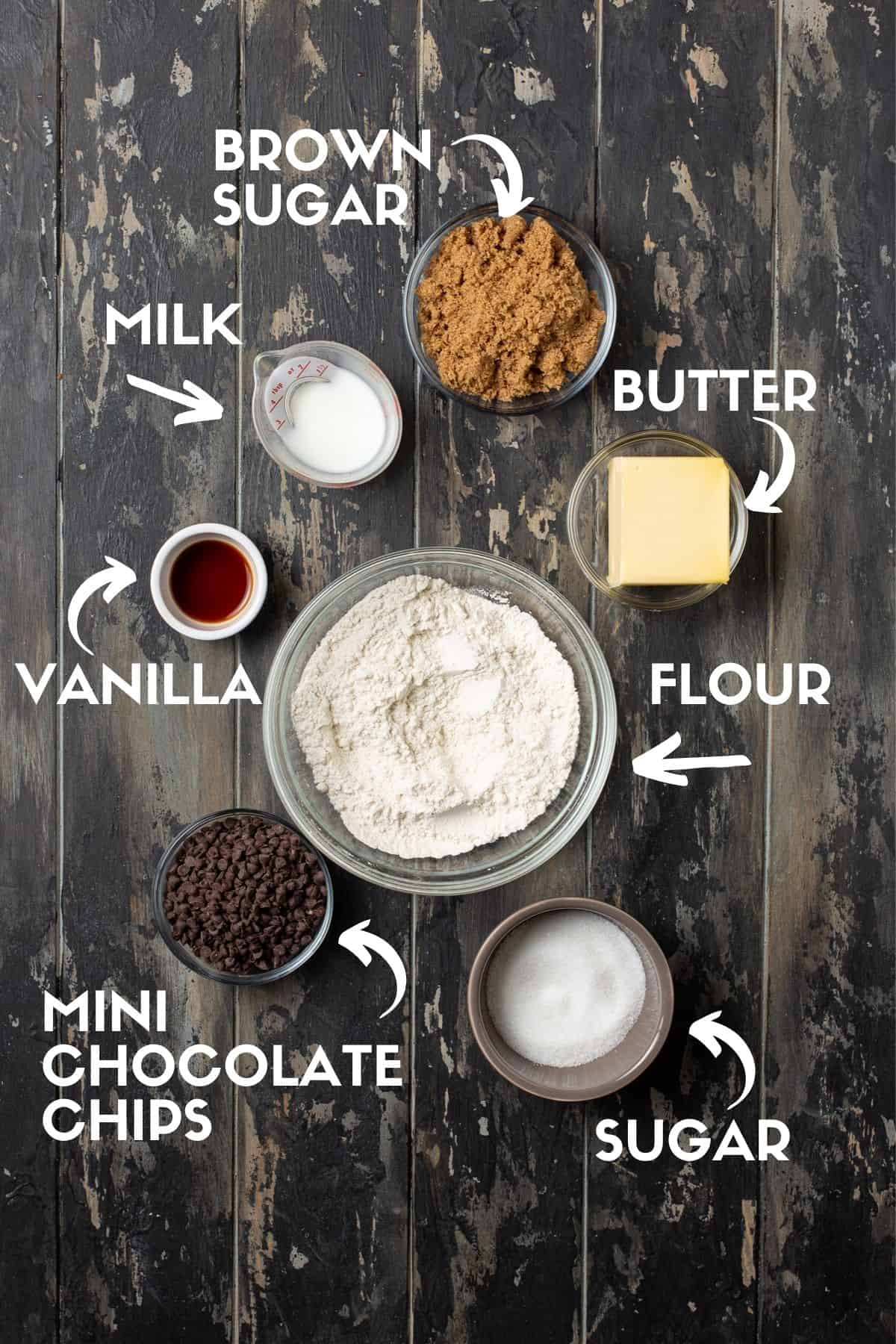 You'll also need bittersweet chocolate and coconut oil for dipping the truffles. Try to find dark chocolate that is at least 70% cacao. The bittersweet coating balances the sweet cookie dough.
The coconut oil makes the chocolate a lot easier to work with when you are dipping as it helps keep it smoother for a longer period of time - perfect for when you aren't an expert candy dipper like me!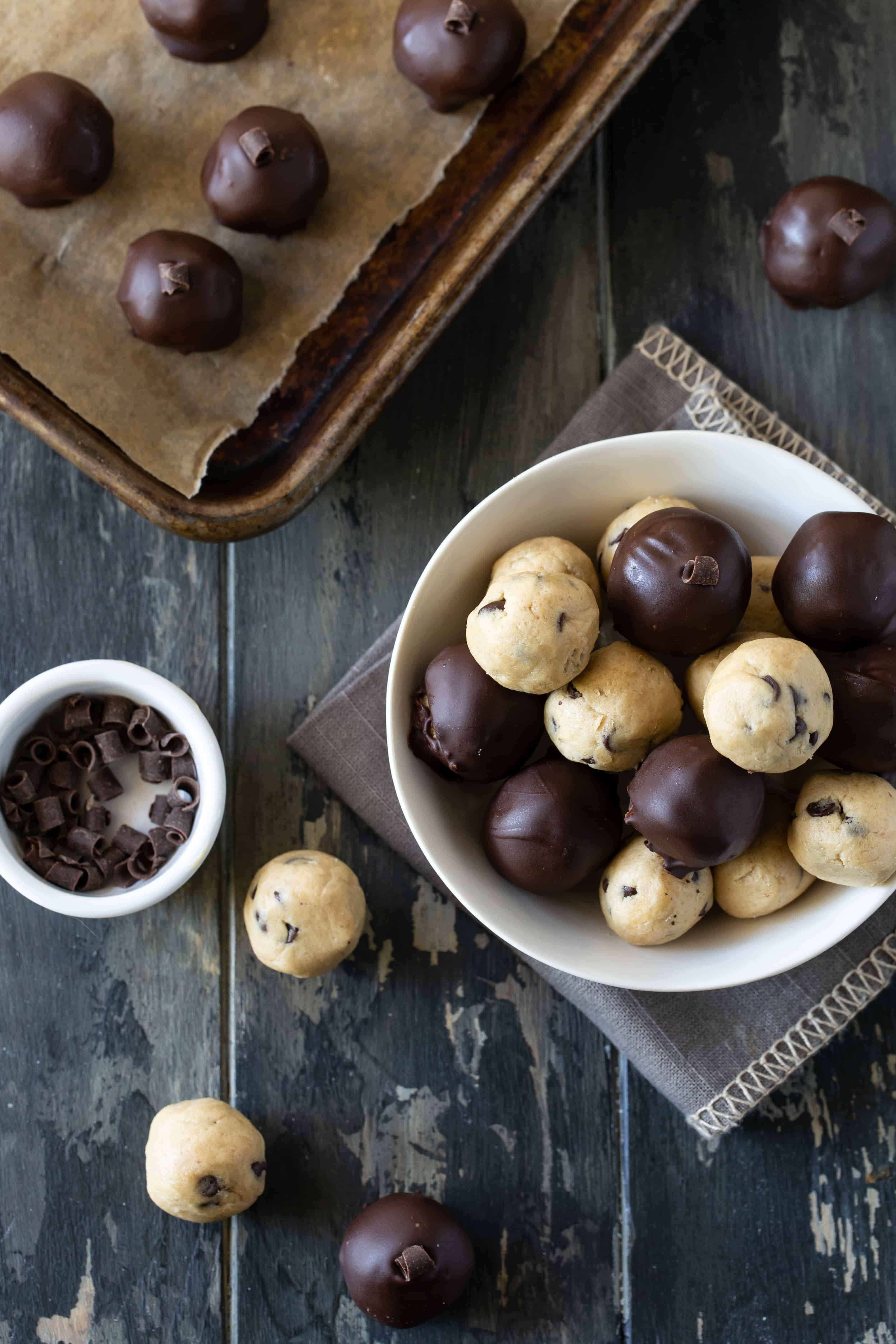 Instructions
The beauty of this recipe is you can use it however you like. Want to eat straight from the bowl? Do it! Add chunks to an ice cream sundae? You can! Or roll them into truffle form like I do for food gifts.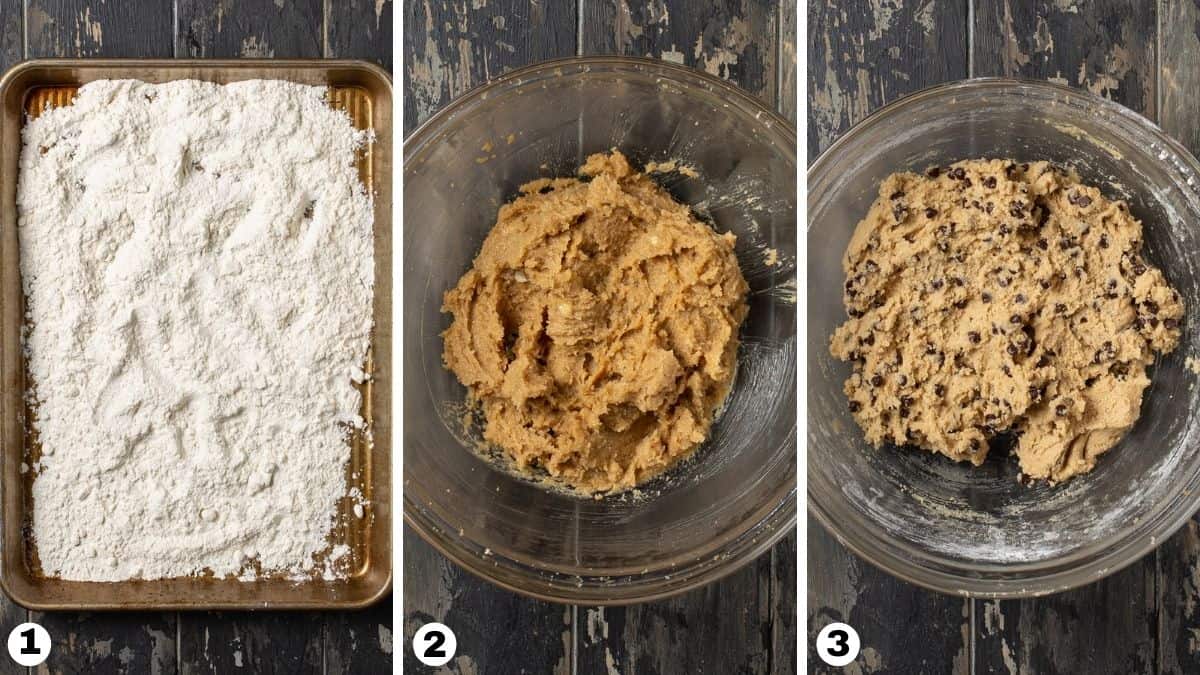 1. Preheat oven to 350°F. Spread flour on a baking sheet. Bake for 5 minutes and cool completely.
2. Beat butter and sugars together well mixed.
3 Beat in milk and vanilla. Add flour and salt and mix until just combined. Stir in chocolate chips and chill dough for at least 30 minutes.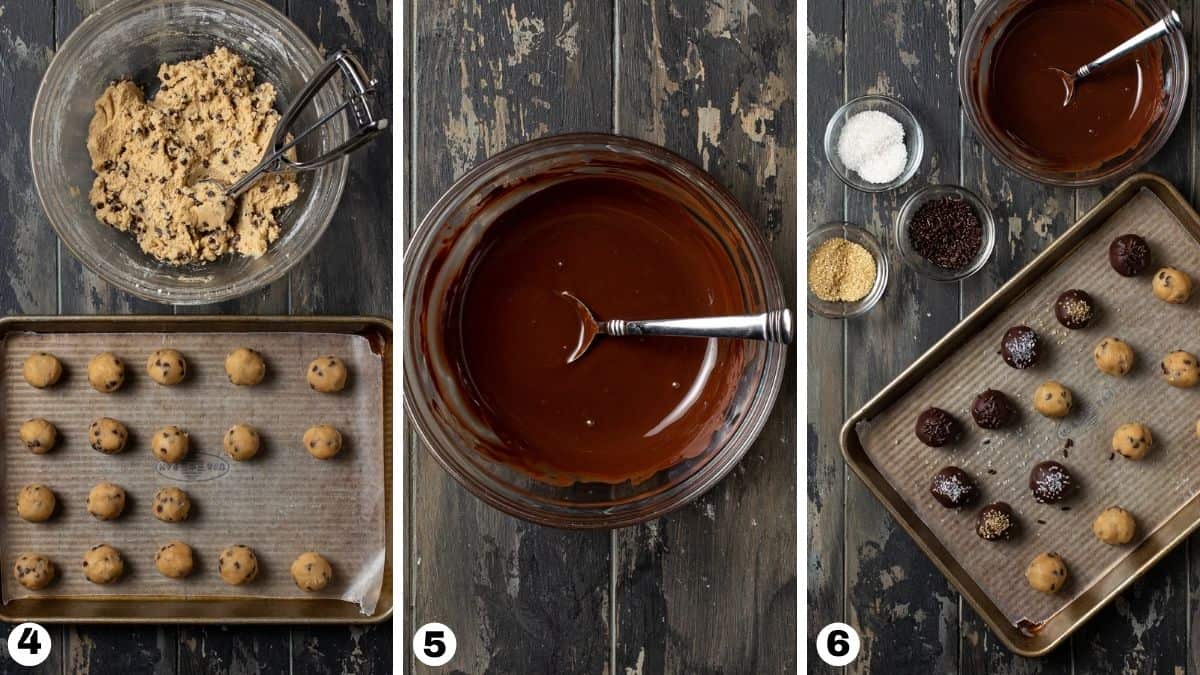 4. Roll dough into balls and place on a parchment or wax paper lined sheet pan. Freeze for 30 minutes or refrigerate for at least 2 hours.
5. When ready to dip truffles, melt half of bittersweet chocolate with half of coconut oil.
6. Working with only a few truffles at a time, dip the dough balls into the melted chocolate and place on another parchment or wax paper lined baking sheet. Repeat with remaining chocolate and dough balls, melting the other half of the chocolate and coconut oil when needed. Garnish with sprinkles, if desired.
Dipping tips
Use a cookie scoop to keep all your truffles the same size.
Melt your chocolate in batches to keep it from hardening before you get all the dough balls coated. The little bit of coconut oil mixed in with the chocolate helps keep it smooth longer, too.
I find the dough balls retain their shape best when frozen or very well chilled, so I only dip a few at a time and keep the rest in the fridge or freezer. You can use two forks for this, but I like using these candy dipping tools. They make handling the truffles and shaking off the excess chocolate much easier.
Place the dipped truffles on parchment or wax paper immediately after dipping so they can be easily removed after the chocolate coating has set.
Decorate them with sprinkles or mini-chips while the chocolate coating is still wet or drizzle melted white chocolate on top after they have set.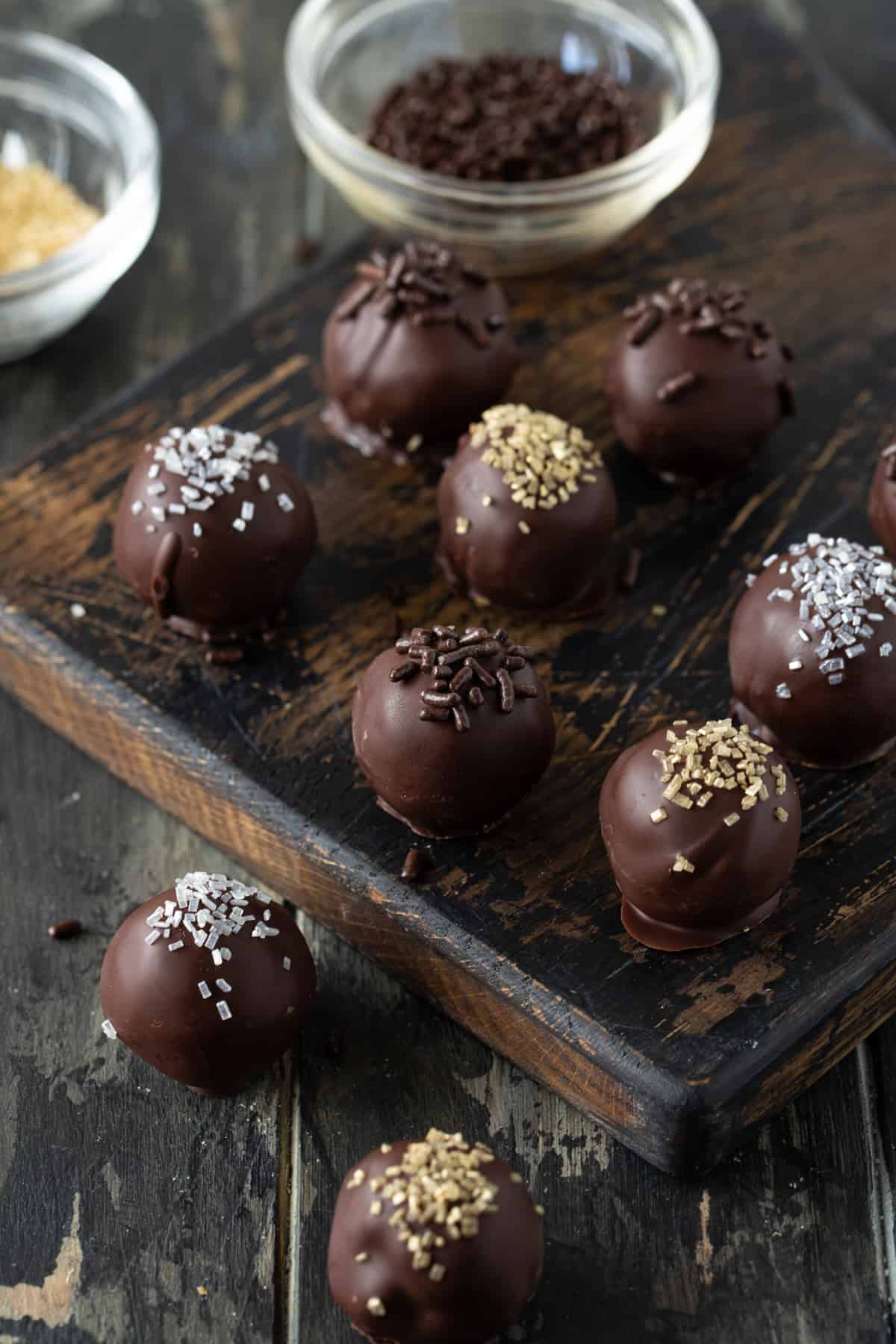 FAQS
Can I bake cookies from this dough?

Unfortunately, no. This dough doesn't have any eggs or leavening agents in it, so they won't bake up like regular cookies. Stick to your favorite chocolate cookie recipe if you're in the mood for baked cookies. 

Can you make these in advance? 

Yes, these truffles keep for up to a week in the fridge. 

If you are short on time and can't make the truffles in one sitting, roll the dough into balls and freeze on cookie sheets. Once they are frozen solid, throw them into a ziploc bag and keep them in the freezer for a few weeks. Simply defrost them in the refrigerator prior to dipping.
More homemade candy recipes
A hint of mint from Irish Cream Liqueur makes these dark chocolate truffles stand out from the rest.
Gifting doesn't get much tastier than this Gingerbread Oreo Truffle Bark.
Think you can't make your own candy? Think again! These homemade turtle candies are made with only three ingredients: pretzels, Rolo candies and pecans.
A crunchy (and boozy) sugar topping gives this easy fudge recipe a double dose of decadent flavor.
Homemade candy not your thing? Click through to find all of our decadent dessert recipes!
Recipe
Eggless Cookie Dough Truffles
Our eggless Cookie Dough Truffles taste just like bites of chocolate chip cookie dough straight from the bowl. A perfect make-ahead dessert for the holidays or a decadent homemade food gift!
Ingredients
Cookie dough:
1 ¼

cups

all purpose flour

1

stick unsalted butter at room temperature

¼

cup

granulated sugar

½

cup

packed light brown sugar

2

tablespoons

milk

½

teaspoon

vanilla

½

teaspoon

salt

½

cup

mini chocolate chips
Chocolate coating:
4

ounces

bittersweet chocolate chopped into small pieces

or 4 ounces bittersweet chocolate chips

1

teaspoon

coconut oil
Instructions
To make the cookie dough:
Preheat oven to 350°F.

Evenly spread flour on a sheet pan and bake for 5 minutes. Allow to cool completely.

In a large bowl, beat butter and sugars with an electric mixer until light and fluffy. Mix in milk and vanilla. Add flour and salt and mix on low until combined. Stir in mini chocolate chips. Cover with plastic wrap and chill dough in refrigerator for about 30 minutes until firm enough to roll into 24 (1-inch) balls.

Place rolled balls on a baking sheet lined with wax paper and place in the freezer for at least 30 minutes so they can firm up.
To dip the truffles:
Place half of bittersweet chocolate and coconut oil in a microwave safe bowl and melt for 60 seconds at 50% power. Stir. Repeat for 30 seconds intervals or until chocolate is completely melted. Allow to cool slightly if very hot.

Remove a handful of balls from the freezer at a time and dip in chocolate. Tap off any excess coating and place back on wax paper to set. (Add mini chips while the coating is still wet if desired.) Repeat with remaining chocolate and dough balls, melting the other half of the chocolate and coconut oil when needed.

Refrigerate in an airtight container for up to a week.
Nutrition
Serving:
1
truffle
Calories:
130
kcal
Carbohydrates:
15
g
Protein:
2
g
Fat:
8
g
Saturated Fat:
5
g
Polyunsaturated Fat:
3
g
Cholesterol:
10
mg
Sodium:
48
mg
Fiber:
1
g
Sugar:
8
g
Nutrition info not guaranteed to be accurate.
Love sneaking bites of cookie dough from the bowl? You'll adore this recipe for Chocolate Chip Cookie Dough Truffles that have been dipped in chocolate. The secret to edible cookie dough? Bake the flour!! Make these ahead of time for a decadent bite-sized dessert or as a swoon-worth homemade food gift for the holidays!