No more guilt about eating bites of cookie dough straight from the bowl! These no-bake, no-egg Chocolate Chip Cookie Dough Truffles are one of our most requested homemade treats for special occasions! 
Looking for some delicious homemade food gifts this holiday season? These Chocolate Chip Cookie Dough Truffles are hugely popular with anyone who tries them because they taste just like bites of real cookie dough. Best of all, they are no-bake, egg-free and completely safe to eat!
Giving (and receiving) both sweet and savory goodies during the holidays is one of my favorite parts of the season. I love sampling cherished recipes from friends that I've never had before.
Likewise, I also love giving some of my favorite homemade treats to others and watching their delighted reactions. Hands down, no other recipe gets more ooohs and aahs than these Chocolate Chip Cookie Dough Truffles. 

But wait! Is it safe to eat the raw flour in these cookie dough balls?
The FDA advises against eating raw flour because of bacteria concerns. But there is a solution to getting that raw cookie dough flavor without using raw flour.
The secret?
BAKING your flour before adding it to the recipe.
How do you bake raw flour?
It's super easy! Simple bake the amount of flour you need for your recipe at 350 degrees for about 5 minutes. Allow to cool completely before adding to the other cookie dough truffle ingredients.
The idea to bake your flour is similar to pasteurized eggs. A short spin in the oven and exposure to high heat kills any bacteria that might be lurking in your flour thus making eating spoonfuls of this cookie dough from the bowl safe.
Can you bake this edible cookie dough like regular cookies?
Unfortunately, no. This dough doesn't have any eggs or leavening agents in it, so they won't bake up like regular cookies. Stick to your favorite chocolate chip cookie recipe if you're in the mood for baked cookies.
Can you freeze these chocolate covered cookie dough balls?
I don't recommend freezing the dough bites after they are dipped in chocolate, but you can easily freeze the edible dough after you've made it.
If you are short on time and can't make the truffles in one sitting, roll the dough into balls and freeze on cookie sheets.
Once they are frozen solid, throw them into a Ziploc bag and keep them in the freezer for up to one month. Simply defrost them in the refrigerator prior to dipping.
Any tips for rolling the egg-free cookie dough into balls?
Make sure your dough is well chilled before you attempt forming the dough into balls. You can make them any size you like, but since they are so rich, I prefer them on the small, easily pop in your mouth size. That's about 1-inch for all of you detail loving readers.
Tip: this cookie scoop makes creating evenly sized truffles a breeze! 
Do you have any other tips for dipping these cookie dough truffles in chocolate?
I'll be honest; the dipping is a little putzy, but the finished product is totally worth it. Once you get a rhythm going, it's pretty slick. A couple suggestions to make the dipping process easier:
Melt your chocolate in batches to keep it from hardening before you get all the dough balls coated. Don't omit the coconut oil. That little bit of oil mixed in with the chocolate helps keep it smooth longer, too.

I find the dough balls retain their shape better when well-chilled, so only remove a few at a time when dipping. You can use two forks for this, but I like using these candy dipping tools. They make handling the truffles and shaking off the excess melted chocolate easier.

Place the dipped truffles on parchment or wax paper immediately after dipping so they can be easily removed after the chocolate coating has set. 

Decorate them with sprinkles or mini-chips while the chocolate coating is still wet or drizzle melted white chocolate on top after they have set.
Note: Don't feel like you HAVE to dip these dough bites in chocolate. They are also tasty without their chocolate robe so feel free to leave them unadorned if you're short on time or don't really care to dip them.

How long do these cookie dough bites last?
These cookie dough truffles need to be refrigerated and will last about a week once dipped. (But they never last more than a few days at my house.)
But like I mentioned earlier, you can get a jump start on the process by making the dough in advance, rolling it into balls and freezing them until you're ready to dip. 
Truffles are great make-ahead desserts for parties! Here are some more great truffle recipes to try!
Gingerbread Oreo Truffle Bark - Inside Bru Crew Life
Dark Chocolate Irish Cream Balls - Garnish with Lemon
Mint Chocolate Chip Truffles - Shugary Sweets
Find all of our dessert recipes HERE!

Yield: 24 truffles
Chocolate Chip Cookie Dough Truffles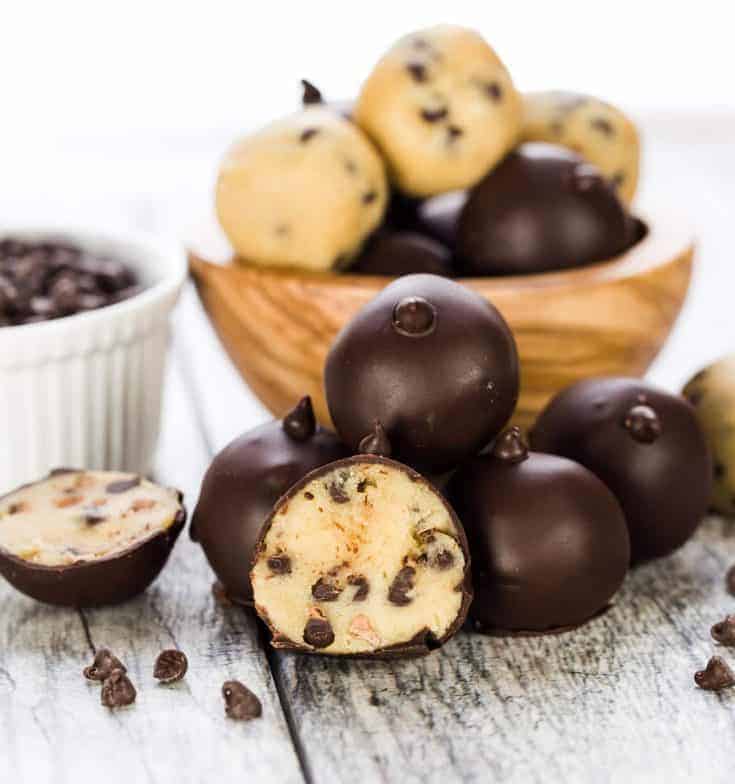 Our edible, egg fee, no bake Chocolate Chip Cookie Dough Truffles taste just like bites of cookie dough straight from the bowl. A perfect make-ahead dessert for the holidays or a delicious homemade food gift!
Total Time
1 hour
30 minutes
Ingredients
Cookie dough:
1 1/4 cups all purpose flour
1 stick unsalted butter at room temperature
1/4 cup granulated sugar
1/2 cup packed light brown sugar
2 tablespoons milk
1/2 teaspoon vanilla
1/2 teaspoon salt
1/2 cup mini chocolate chips
Chocolate coating:
4 ounces bittersweet chocolate, chopped into small pieces
1 teaspoon coconut oil
Instructions
To make the cookie dough:
Preheat oven to 350°.
Evenly spread flour on a sheet pan and bake for 5 minutes. Allow to cool completely.
In a large bowl, beat butter and sugars with an electric mixer until light and fluffy. Mix in milk and vanilla. Add flour and salt and mix on low until combined. Stir in chocolate chips. Cover with plastic wrap and chill dough in refrigerator for about 30 minutes until firm enough to roll into 1-inch balls.
Place rolled balls on a baking sheet lined with wax paper and place in the freezer for at least 30 minutes so they can firm up.
To dip the truffles:
Place half of chocolate and coconut oil in a microwave safe bowl and melt for 60 seconds at 50% power. Stir. Repeat for 30 seconds intervals or until chocolate is completely melted. Allow to cool slightly if very hot.
Remove a handful of balls from the freezer at a time and dip in chocolate. Tap off any excess coating and place back on wax paper to set. (Add mini chips while the coating is still wet if desired.) Repeat with remaining chocolate and dough balls, melting the other half of the chocolate and coconut oil when needed.
Refrigerate in an airtight container for up to a week.
Recommended Products
As an Amazon Associate and member of other affiliate programs, I earn from qualifying purchases.
Nutrition Information:
Yield:
24
Serving Size:
1
Amount Per Serving:
Calories:

130
Total Fat:

8g
Saturated Fat:

5g
Trans Fat:

0g
Unsaturated Fat:

3g
Cholesterol:

10mg
Sodium:

48mg
Carbohydrates:

15g
Fiber:

1g
Sugar:

8g
Protein:

2g
Love sneaking bites of cookie dough from the bowl? You'll adore this recipe for Chocolate Chip Cookie Dough Truffles that have been dipped in chocolate. This no bake recipe has no eggs and recommends baking the flour to ensure your edible cookie dough is completely safe to eat. Plus they make impressive homemade food gifts for the holidays!