Set up a DIY Gin & Tonic Bar and let your guests make their own custom G&T cocktail at your next party!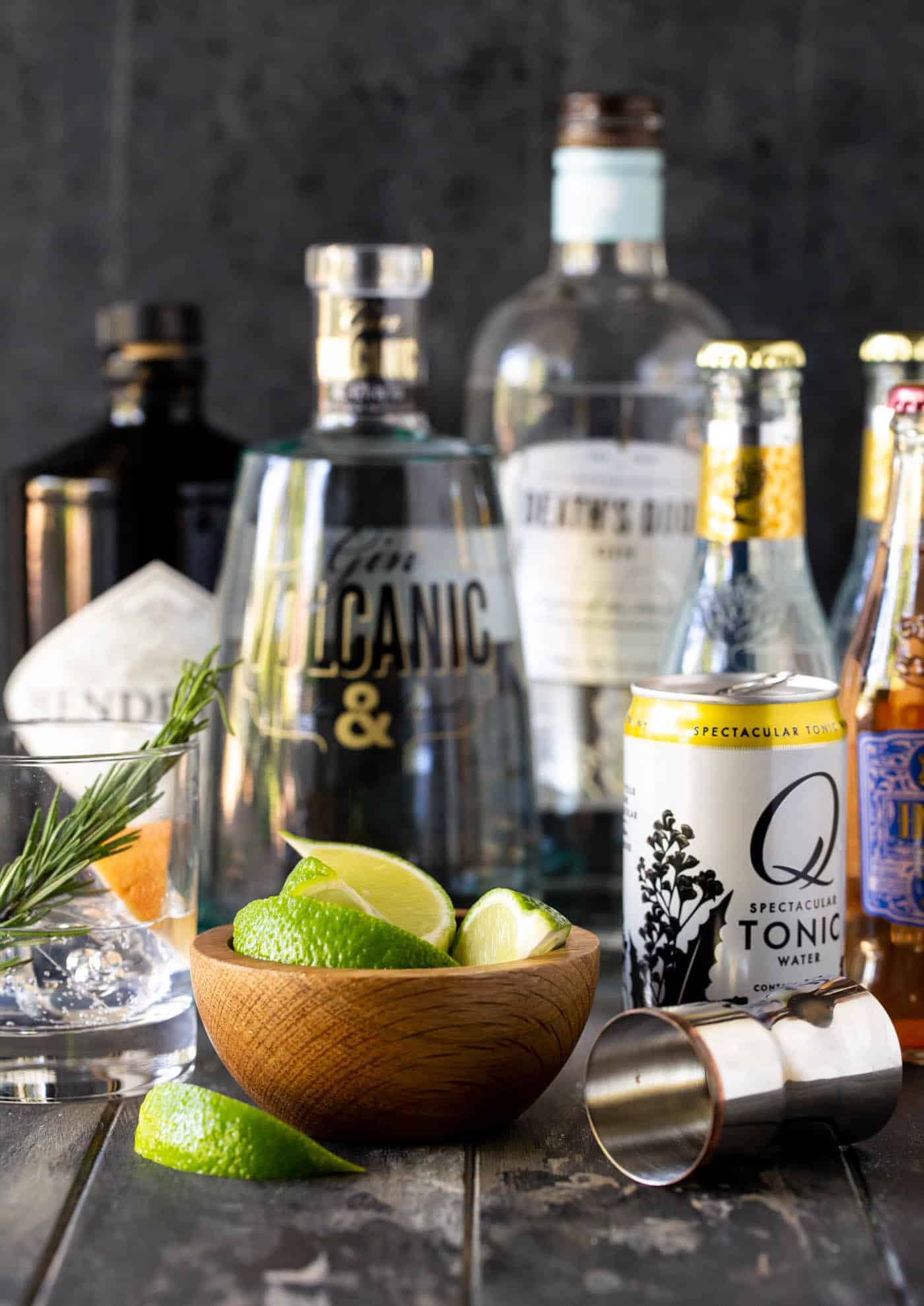 Hosting a crowd this month? You can cross bartending off your entertaining to-do list when you set up a DIY Gin and Tonic Bar. Not only is this a fun way for guests to participate in the party, it saves you a heck of a lot of time mixing drinks for everyone.
Signature batch cocktails like Blood Orange Margaritas and Meyer Lemon Whiskey Sours are entertaining staples around here. We love how they can be made in advance and free us up to mingle with guests. 
A DIY Gin and Tonic Bar is similar to a signature batch cocktail but adds enough variety to keep even the pickiest of guests happy as they mix and match their way to their perfect cocktail.
What do I need to set up a DIY Gin & Tonic Bar?
Not sure where to start? Follow these steps to create an epic cocktail spread! 
Step 1: Buy Gin! (Or shall I say Gins!)
Half the fun of a do-it-yourself gin & tonic is trying some brands you might not normally have at home.
Gins can vary wildly in their flavors based on their botanical ingredients, so grab 3-4 bottles of gin that you know have different flavor profiles. Or ask for recommendations at your local liquor store if you're unsure about a particular brand or bottle.
Better yet, have your guests bring their favorite bottle of gin to add to the spread and sample from there!
Step 2: Add a variety of tonic waters to your DIY Gin and Tonic Bar
You can't have a G&T bar without tonic water. Lucky for us, there are so many different tonic waters on the market today.
We are big fans of Q Tonic and Fever-Tree tonic waters, but there are also some really fun flavored tonic waters (think elderflower or strawberry) that can bring a tasty new twist to your cocktails.
Bottom line? Buy a variety of tonic water - from classic to premium brands - for your guests to use in your DIY G&T Bar.
Step 3: Get your garnish on! What kinds of garnishes do you serve with a Gin and Tonic cocktail?
Don't go crazy with too many choices, or you'll overwhelm your guests. Instead stick with a handful of fresh fruits and veggies that naturally pair well with the flavors in gin like cucumber slices and lime, orange and grapefruit wedges.
We also like to add in some fresh herbs like basil and rosemary sprigs and even pop a few dried star anise on the buffet spread for adventurous guests.
Step 4: What kind of glass do I use for a gin and tonic?
Low ball glasses are our favorites for this type of make-your-own cocktail situation. Smaller glasses allow you to sample a few different flavor combinations rather than commit to a large version in a high ball glass.
Don't have a matching collection of low ball glasses? Use whatever you have or borrow from friends. It doesn't need to be perfectly coordinated.
Step 5: All DIY cocktail spreads need extra ice, jiggers and spoons.
Buy a healthy stash of ice for your evening and place it in an ice bucket next to your cocktail setup. You'll also need a few different jiggers and a handful of stir spoons handy for guests to use when they mix their drinks. And don't forget cocktail napkins!
Step 6: Add a non-alcoholic option to your DIY Gin and Tonic Bar
Someone has to drive home, right? It's always a nice touch to add some "mocktail" makings to your spread. Fresh fruit juices look festive in glass carafes and are easy to mix with tonic waters.
Get some gin and tonic inspiration with these tasty recipes:
Elderflower Gin & Tonic - Garnish with Lemon®
Strawberry Gin & Tonic - The Little Kitchen 
Blackberry Gin & Tonic - Nutmeg Nanny