This vibrant Pear Salad is a tasty mashup of sweet & savory flavors, with Parmesan cheese, candied pecans, juicy pears, crisp greens and a maple vinaigrette. Everyone LOVES this fall salad recipe!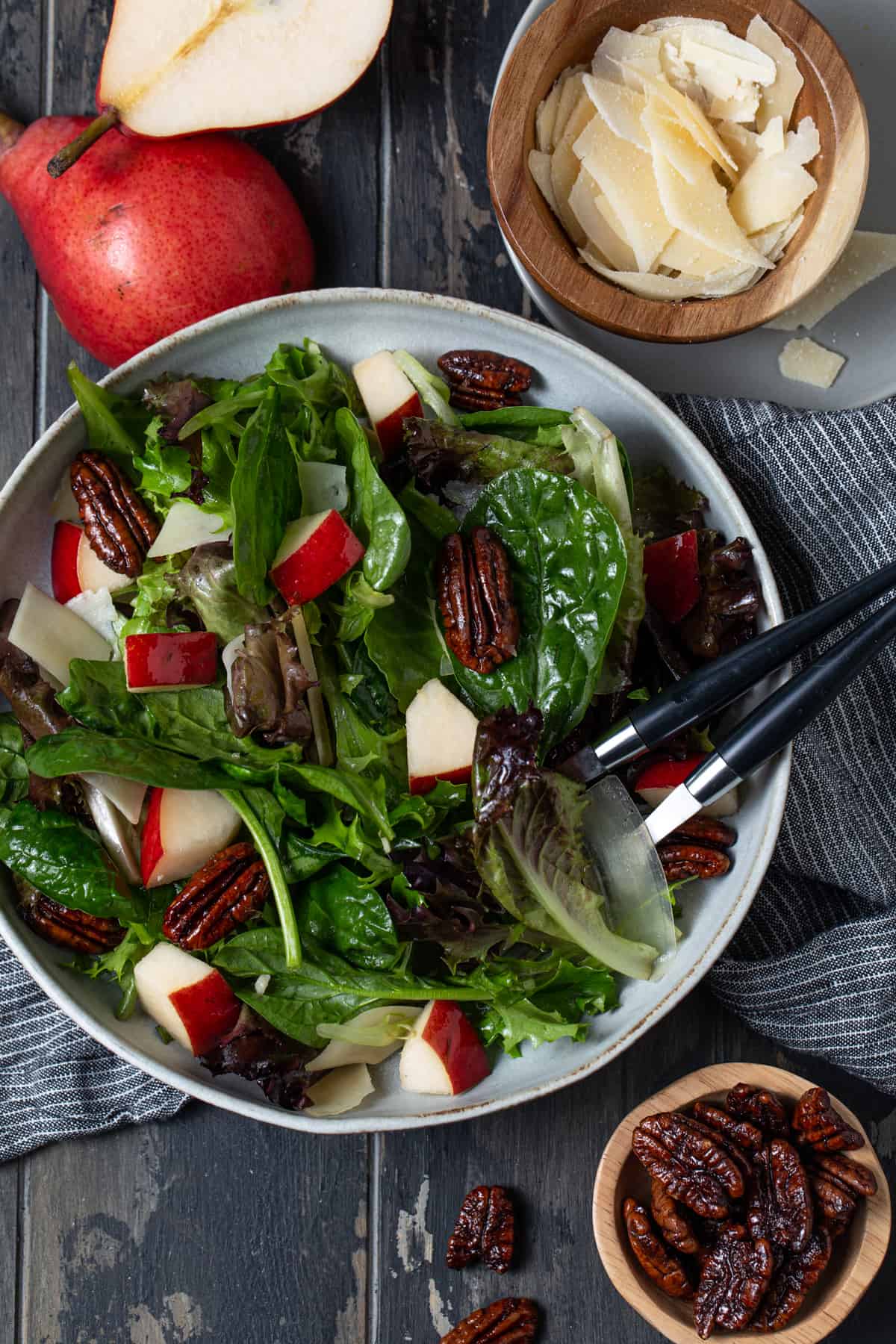 In a salad rut?
Just like the seasons, you need to switch up your salad routine. This gorgeous Pear Salad is a tasty contrast of flavors all dressed with an easy maple vinaigrette. This is our family's favorite fall salad, and I'm betting it will become yours, too!
Jump to:
Ingredients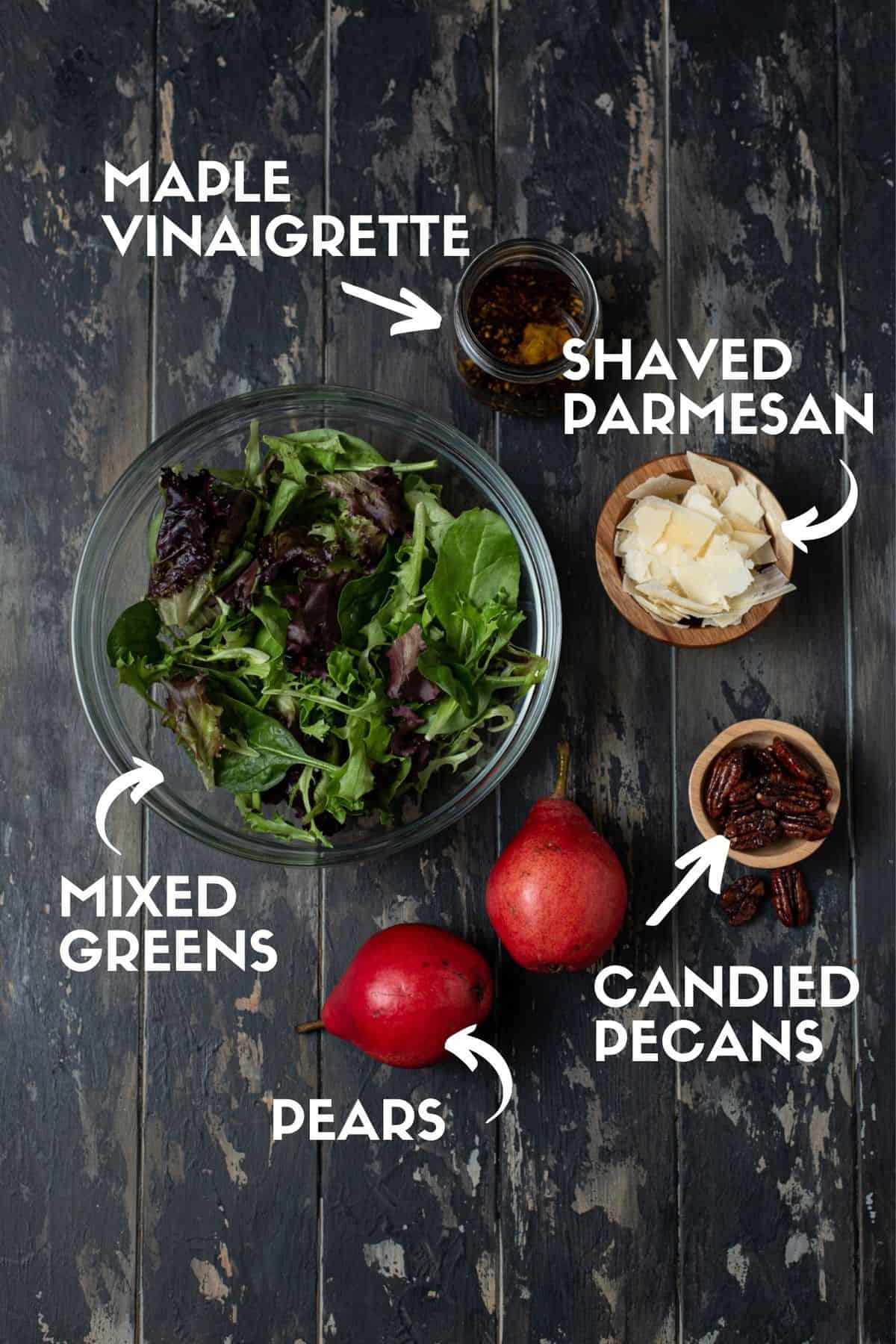 A homemade maple vinaigrette is the star of this salad. It's easy to shake up with just a few simple items from the grocery store. A few other ingredient notes:
Maple syrup: You can't beat 100% real maple syrup for flavor. Skip the imitation pancake syrup here.
Mixed greens: I like the vibrancy of mixed greens for this salad, but you can use any leafy green you like here. Spinach is a great option!
Pears: You can use red or green pears for this salad. I used red for their pop of color.
Instructions
There are no fancy steps needed to make this quick and easy salad. Just a bit of chopping and shaking to make the dressing.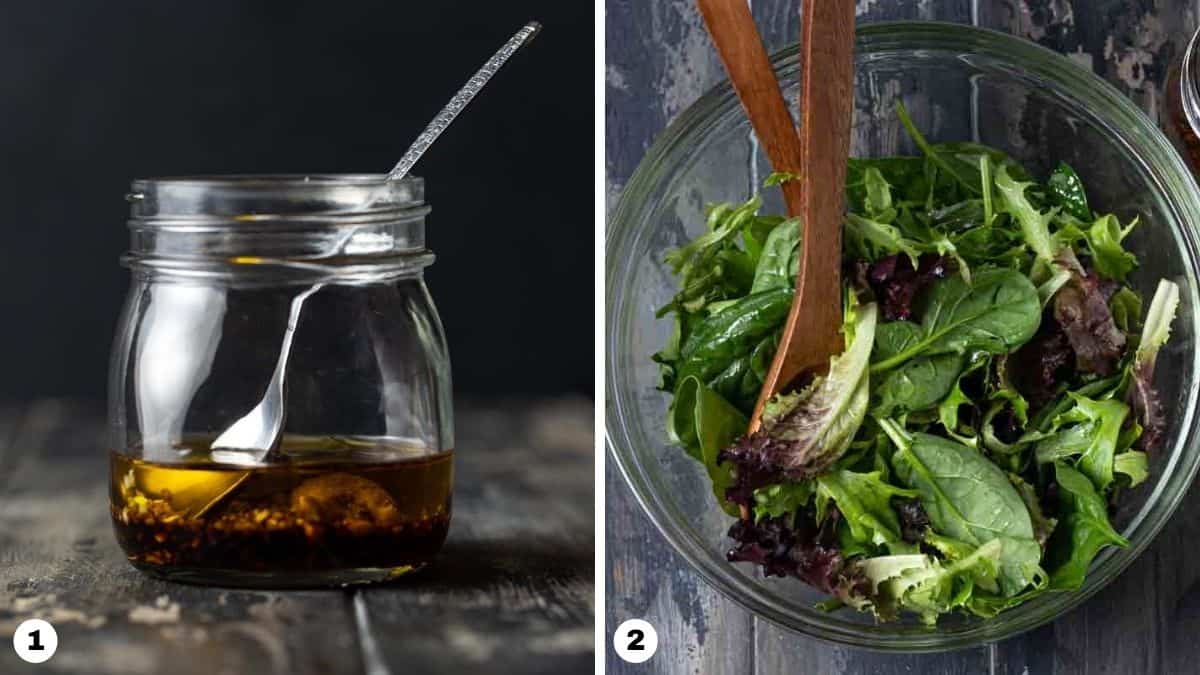 Step 1: Combine dressing ingredients in a small jar and shake until emulsified. Season with salt and pepper.
Step 2: Toss greens with some of dressing.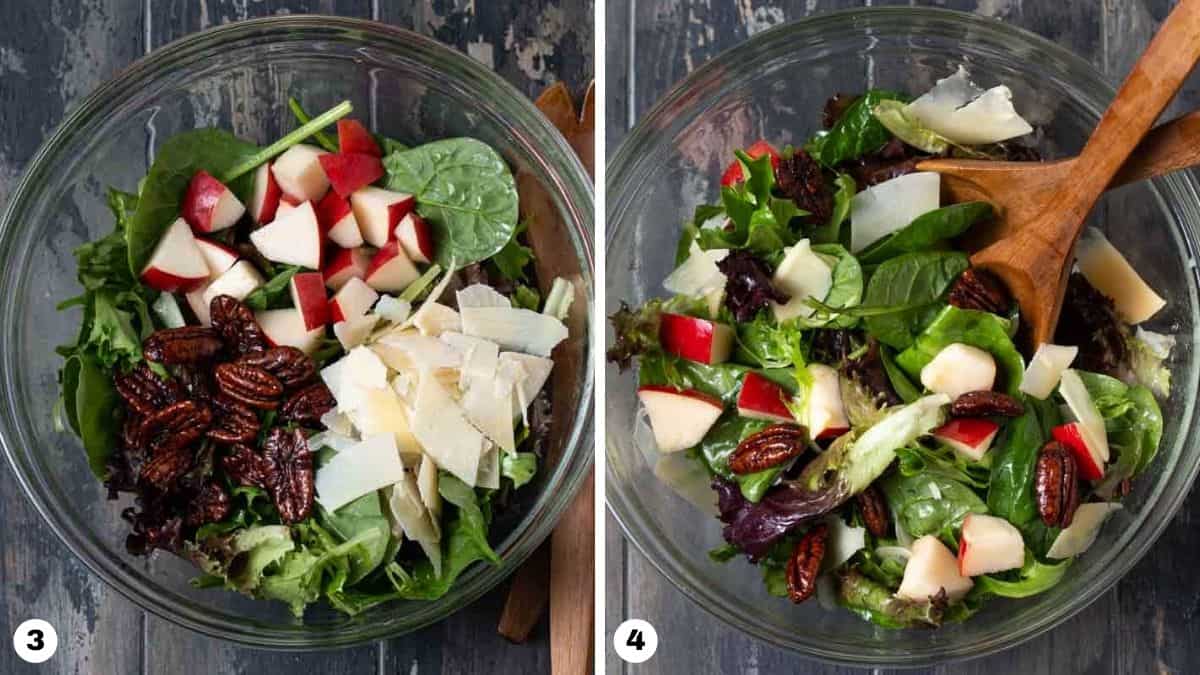 Step 3: Add pears, pecans and Parmesan to the greens.
Step 4: Toss again and add additional vinaigrette, if needed. Serve with extra dressing on the side.
Note: This maple vinaigrette recipes makes more than you need. Save the extra in the fridge for up to 2 weeks!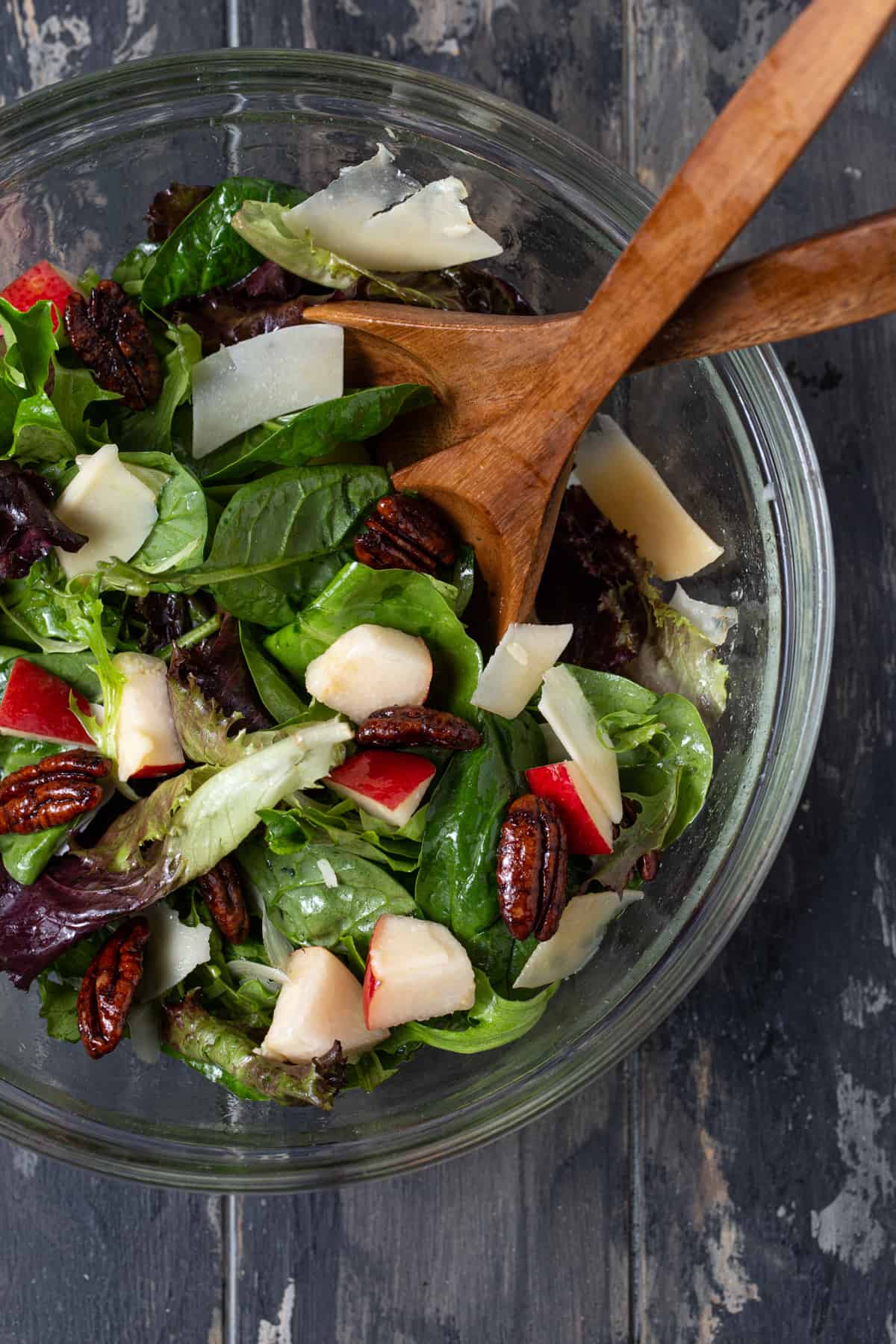 FAQs
Best pears for salad
There are a lot of varieties of pears out there, including Bosc, Bartlett & Anjou. You can choose whatever type of pear you want; they will all work well.
The key is to making sure your pears are just barely ripe when you add them to a salad. If they are underripe, they will be hard and somewhat flavorless. If they are overripe, they will be mushy and fall apart when tossed in the salad.
A barely ripe pear will gently yield to pressure around the stem.
How to quickly ripen pears
Unfortunately there is no immediate way to ripen a pear, so try to find ripe pears at the store if you're having this salad for dinner tonight.
If you have a couple days before serving your salad, pop your rock hard pears in a paper bag with an apple or banana to speed up the ripening process.
Tips for making good salad
Salad seems like a no-brainer recipe, right? In theory, there are not many recipes easier to assemble than a salad. But there are also some tips to follow that will take your salad from good to great in a hurry:
- Add dressing gradually. It's much easier to add dressing than it is to take it away. If you've ever had an overdressed salad, you know what I mean.
- Take the time to thoroughly toss the salad before serving so the dressing evenly coats every piece of lettuce.
- Add a variety of colors, flavors & textures to keep every bite of your salad interesting. Here we have flavors coming from a variety of sweet and savory ingredients like crunchy pecans, juicy pears, salty parmesan and crisp lettuce.
- Want to shave a little time off your salad prep? Make the dressing ahead of time. It will store in the fridge for up to two weeks.
- For this salad, it's best to toss and serve it immediately. The pears will brown and the lettuce will wilt if made too far in advance.
- I usually buy candied pecans at the store (Thank you, Trader Joe's!) but you can also make your own at home.
- Want a complete meal? Top this salad with an easy protein like a grilled chicken breast.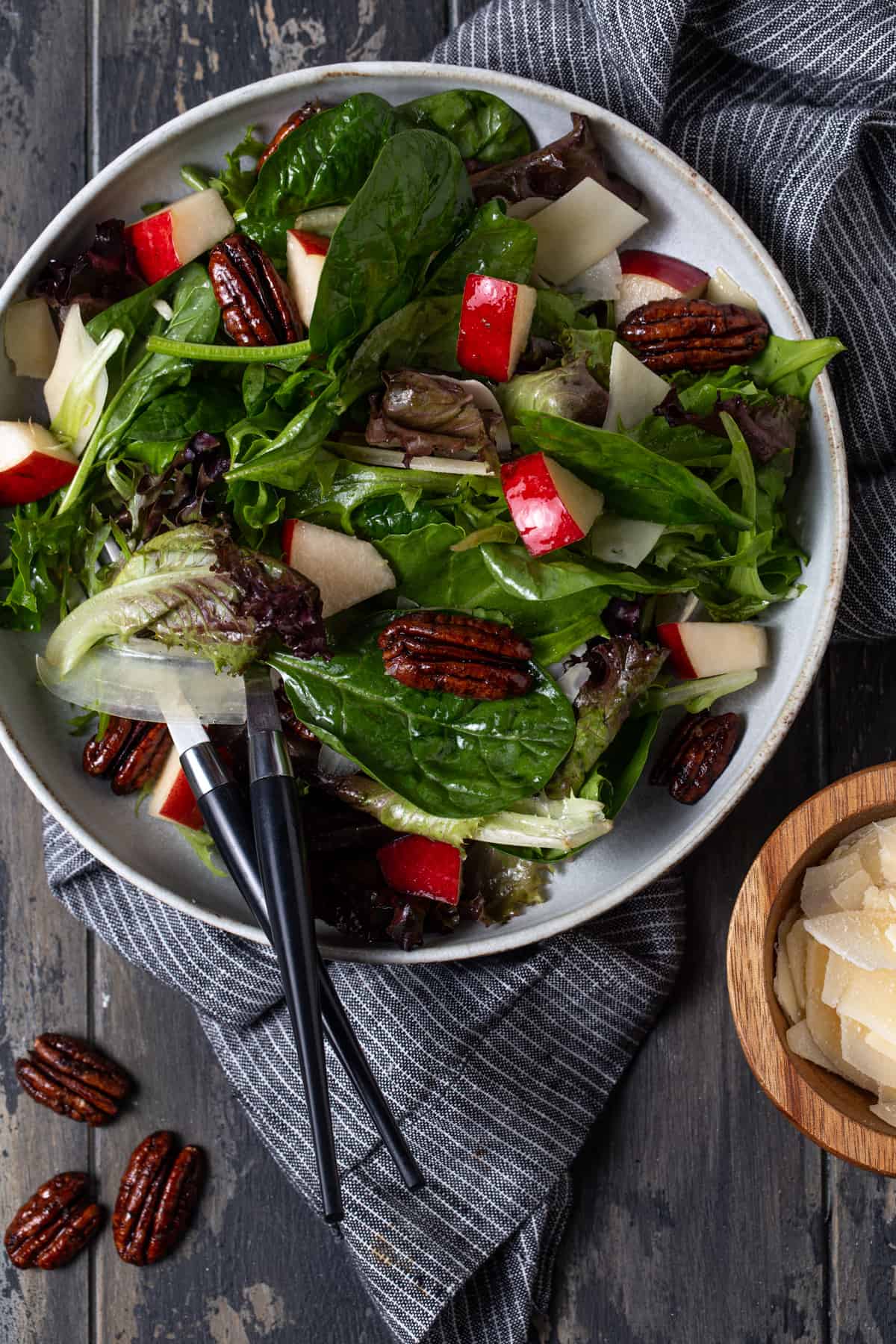 Salad variations
Salads are great ways to use up whatever odds and ends you have in your fridge. Feel free to make any of the substitutions below for this pear salad:
Walnuts instead of pecans,
Apples instead of pears,
Asiago or Manchego instead of Parmesan, and
Spinach or baby kale in place of mixed greens.
Serving suggestions
This pear salad is so versatile, it goes perfectly with almost any main dish, but it's especially nice with comfort food classics like this Pumpkin Pasta with sausage and sage or these crispy Oven Baked Chicken Thighs with lemon, butter and capers.
Make it a complete meal with a fall dessert recipe like these Cinnamon Apple Bars. No time to bake? Our cream cheese Pumpkin Dip comes together in 5 minutes and tastes just like pumpkin cheesecake!
More salad recipes
Recipe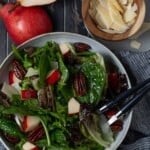 Pear Salad with Maple Vinaigrette
This Pear Salad is my family's favorite fall salad. Made with Parmesan, pears, candied pecans, greens & a maple dressing, everyone ALWAYS asks for the recipe.
Ingredients
Vinaigrette:
1

small shallot

finely diced

1

teaspoon

Dijon mustard

2

teaspoons

balsamic vinegar

¼

cup

extra-virgin olive oil

2

teaspoons

maple syrup

Salt and pepper
Salad:
1

5-oz container mixed greens

1

red pear

chopped

⅓

cup

shaved Parmesan

½

cup

candied pecans
Instructions
To make the vinaigrette:
Add the vinaigrette ingredients (shallot through maple syrup) to a small jar. Shake vigorously until ingredients are emulsified. Season to taste with salt and pepper.
To make the salad:
Toss the greens with just enough dressing to lightly coat the leaves. Add the pears, pecans and Parmesan. Toss again with more dressing, if desired, and serve immediately.
Notes
You will likely have leftover salad dressing. It will keep in the fridge for up to two weeks.
This recipe was adapted from Food Network.
Nutrition
Serving:
1
cup
Calories:
216
kcal
Carbohydrates:
12
g
Protein:
2
g
Fat:
18
g
Saturated Fat:
4
g
Polyunsaturated Fat:
14
g
Cholesterol:
9
mg
Sodium:
152
mg
Fiber:
2
g
Sugar:
8
g
Nutrition info not guaranteed to be accurate.
This Pear Salad is my family's favorite fall salad. Made with Parmesan, pears, candied pecans, greens & a maple dressing, everyone ALWAYS asks for this easy salad recipe.