Bubbles make every occasion special, but this Elderflower French 75 takes cocktails to a whole new level!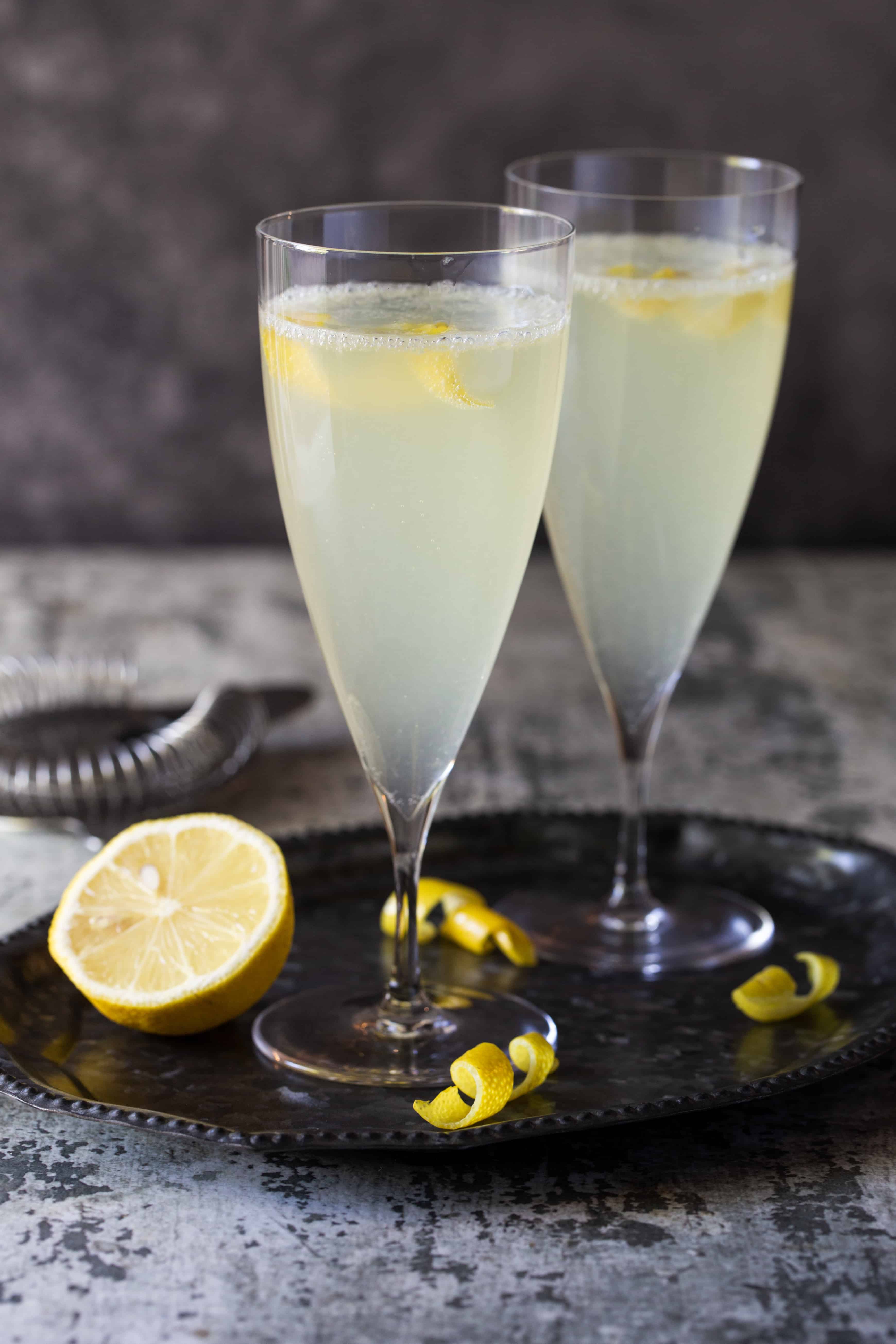 Elderflower French 75
This Elderflower French 75 has 3 of my favorites in it: elderflower liqueur, gin, and Prosecco. And you know you are in for something special with that combination of alcohol.
Bubbles are always fun to sip on. Maybe I find bubbles special because I won't crack open a bottle on a random night and pour myself a glass as I do with wine. I usually save them for entertaining.
But this cocktail is so much more than just bubbles. It's a cocktail you can break out for any special occasion, or just to enjoy with a few friends on a casual night in. Don't let the frilly presentation fool you though, this French 75 packs a punch. Some even say its a strong drink in disguise.
Want to save this recipe for later? PIN IT here!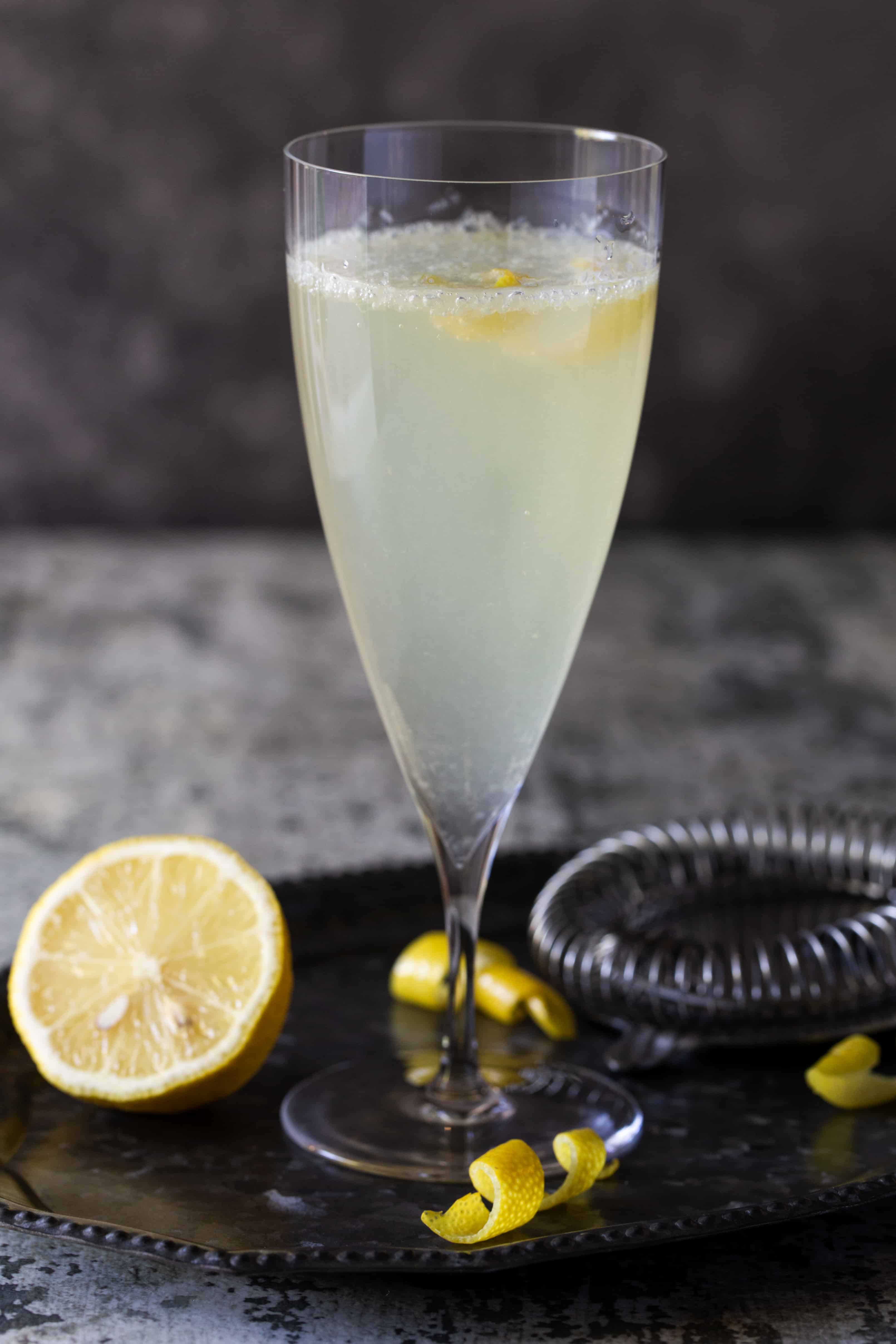 Elderflower? What is elderflower?
If you haven't tried elderflower liqueur before, I'm sure you are wondering what the heck it is! Elderflower liqueur is made from the small, white flowers of the elderflower bush. These blossoms are often handpicked and the liqueur is made with no preservatives (which means it really should be used in about 6 months for best flavor).
And with the number of recipes we have that include elderflower, it isn't a problem for us to go through a bottle in 6 months!
If this brief explanation wasn't enough to satisfy your curiosity about elderflower, be sure to take a look at this in-depth rundown of elderflower liqueur and the best recipes to go with it!
What does elderflower taste like?
The liqueur has a delicate floral flavor that is more subtle than you'd expect. Since elderflower liqueur is rather sweet, you can easily use it to replace other sweeteners in your cocktail recipes like simple syrup, agave and maple syrup.
But don't worry, it's not overly sweet and certainly doesn't taste like you are drinking flowers! It's just an easy-drinking liqueur that takes a good drink and makes it even better!
It's no secret that we love Elderflower liqueur here on Garnish with Lemon. Whether you are looking for an easy batch cocktail, a tasty martini or a margarita with a twist, we have you covered.
And now that you can add this Elderflower French 75 to this list, we have plenty of options for any occasion
If you need more elderflower recipes to finish your bottle check out all of our elderflower cocktails!
Why is it called an Elderflower French 75?
Now if you want to get technical, this cocktail is really called a French 77, but who knows that? I opted for the quick and easy way to let you know that this is so much more than a simple French 75.
Sometimes simple is best, but in this case, we wanted something a little different. And the elderflower is the really the star of this cocktail, so why not call it out? It is really what makes this drink special.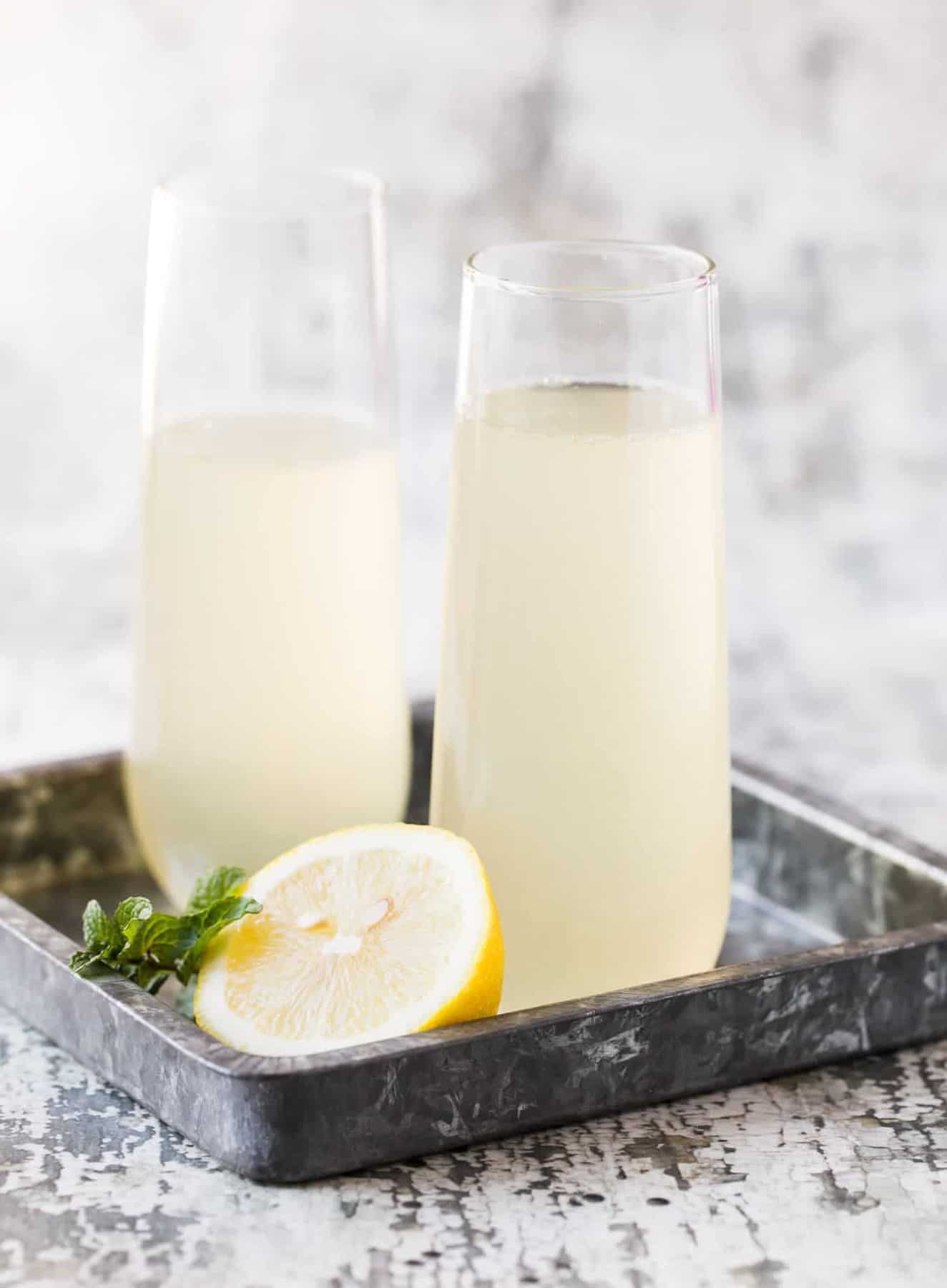 How Do I Make an Elderflower French 75 Cocktail?
Don't worry, this isn't a hard drink to make. Follow these simple steps.
Step 1: Add ice to your favorite shaker
Step 2: Add the Elderflower Liqueur, lemon juice and good gin.
Step 3: Shake vigorously to combine liquids.
Step 4: Divide shaker contents into champagne flutes.
Step 5: Top with Prosecco and serve
Easy, right?
The hardest part is the lemon juice. Make sure you take the time to use fresh lemon juice in this cocktail. It makes all of the difference in the world!
Can I Make These St. Germain Drinks Ahead of Time?
You might be surprised, but yes you can! Even though an Elderflower French 75 is made with champagne, you can still prep some of the mixture ahead of time.
Hosting friends, and don't want to be scurrying to make drinks as the guests arrive?
You can do a lot of the prep ahead of time. Simply mix everything but the prosecco in a shaker and then top with bubbles as people arrive.
After all, who doesn't love to be met at the door with a glass of bubbles? I'll drink to that! Cheers!
Can I Make This Elderflower Cocktail Non-Alcoholic?
As amazing as this recipe is, and how much I wish everyone got the chance to experience it, unfortunately, this recipe is almost impossible to replicate in a non-alcoholic version.
Most of the ingredients contain some type of alcohol, so finding dupes for all of them would fundamentally change the way the drink tastes.
So, if you have a party where you need a fun drink for those underage, I suggest checking out this Watermelon Gin Punch that features a non-alcoholic version the kids will love!
What Do I Need To Make A French 75 Cocktail At Home?
You most definitely do not need a whole set of professional bar tools to make this cocktail with elderflower liqueur come together with ease.
You will need a few special tools to help this recipe making process go as smooth as possible. None of these products are required, but they are recommended.
Lemon Squeezer - Once you stop trying to hand squeeze lemons, and switch to even a basic handheld lemon squeezer, your life will be changed forever. It's one of my favorite cocktail tools.
Measuring cup - If you don't want to use a shot glass or you're making big-batch cocktails, measuring cups are a great substitute and they have so many other uses!
Cocktail shaker - A good cocktail shaker is a tool every good hostess needs in their kitchen. You won't believe the difference it makes for a cocktail when you mix it up in a shaker. You get that perfect ice-cold mixture!
Love Champagne? Then You Have To Try These Recipes!


Yield: 1 cocktail
Elderflower French 75
Bubbles make every occasion special, but this Elderflower French 75 takes cocktails to a whole new level!
Ingredients
2 ounces Gin
1 ounce Elderflower liqueur
1 ounce Lemon juice
2 ounces Prosecco
Instructions
Pour gin, elderflower and lemon juice in a shaker and combine.
Strain shaker contents into champagne flutes.
Top with chilled prosecco.
Garnish with a lemon twist.
Serve immediately
Nutrition Information:
Yield:
1
Serving Size:
6 ounces
Amount Per Serving:
Calories:

269
Total Fat:

0g
Saturated Fat:

0g
Trans Fat:

0g
Unsaturated Fat:

0g
Cholesterol:

0mg
Sodium:

11mg
Carbohydrates:

10g
Fiber:

0g
Sugar:

8g
Protein:

0g
Want to serve the best brunch cocktail in town? Everyone loves bubbles! This tasty elderflower twist with on a French 75 recipe takes bubbles to a whole new level!