Layers of decadent vanilla and pumpkin cheesecake on a graham cracker crust make this Pumpkin Cheesecake Pie the perfect Thanksgiving dessert! Make it days in advance to save time on the big day.
Let's call this layered Pumpkin Pie Cheesecake a dessert for the indecisive.
Is it pumpkin pie? Is it cheesecake?
It doesn't really matter. Quite simply, it's the best thing to happen to your Thanksgiving spread because it's two desserts in one!
Jump to:
Why this recipe works
It's the perfect fall dessert for people who like pumpkin but don't LOVE it as the pumpkin flavor is balanced by the rich cream cheese filling.
You can make this recipe up to three days ahead of time - a real time saver when entertaining.
Don't have a pie plate? Make this same recipe in an 8x8" pan and cut it into squares instead.
Ingredients
You can find everything you need for this pumpkin pie cheesecake at the grocery store: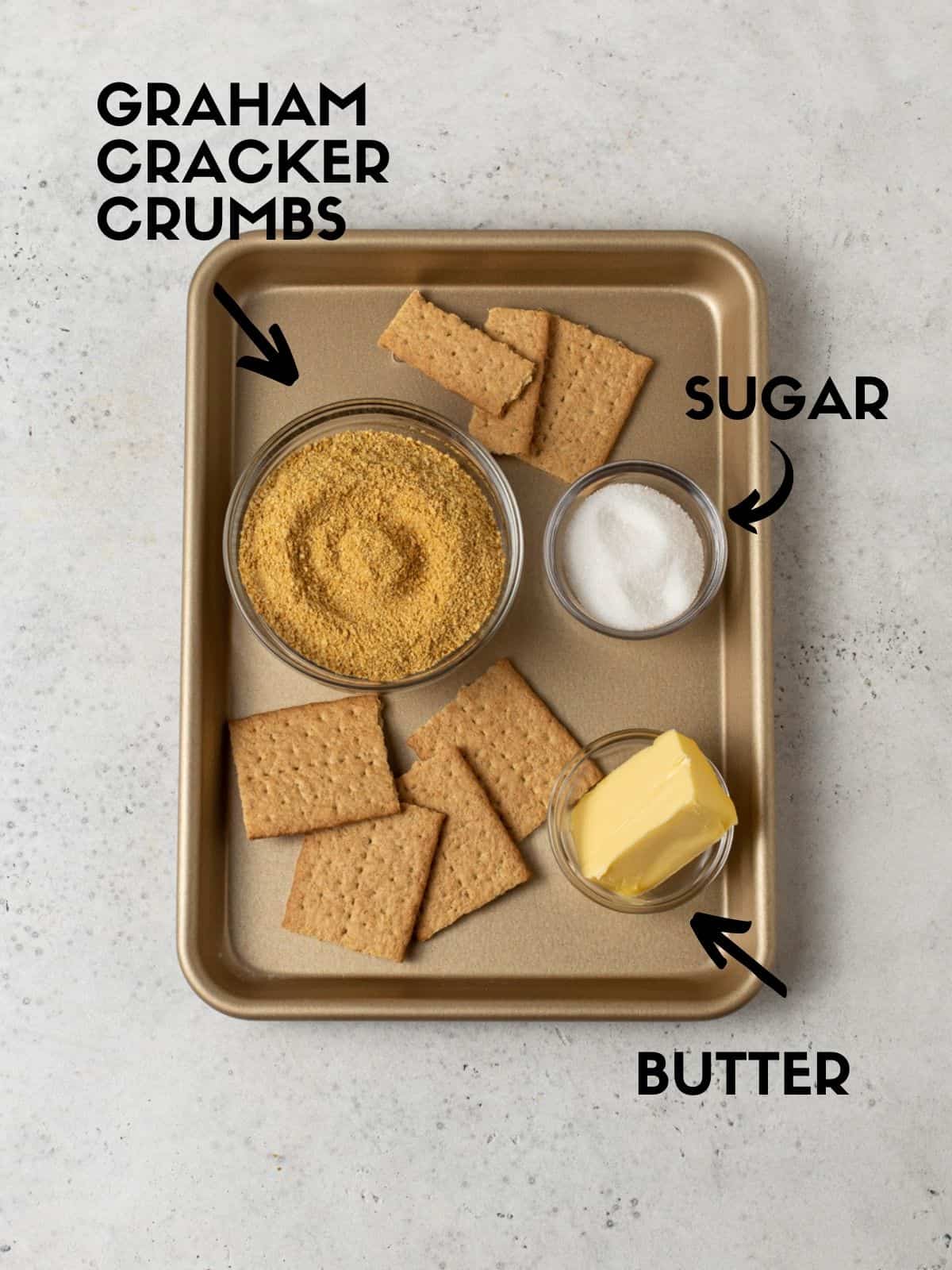 Ingredient note for the crust: You can make your own graham cracker crumbs by crushing up whole graham crackers or you can buy a box of pre-ground graham cracker crumbs (usually in the baking aisle).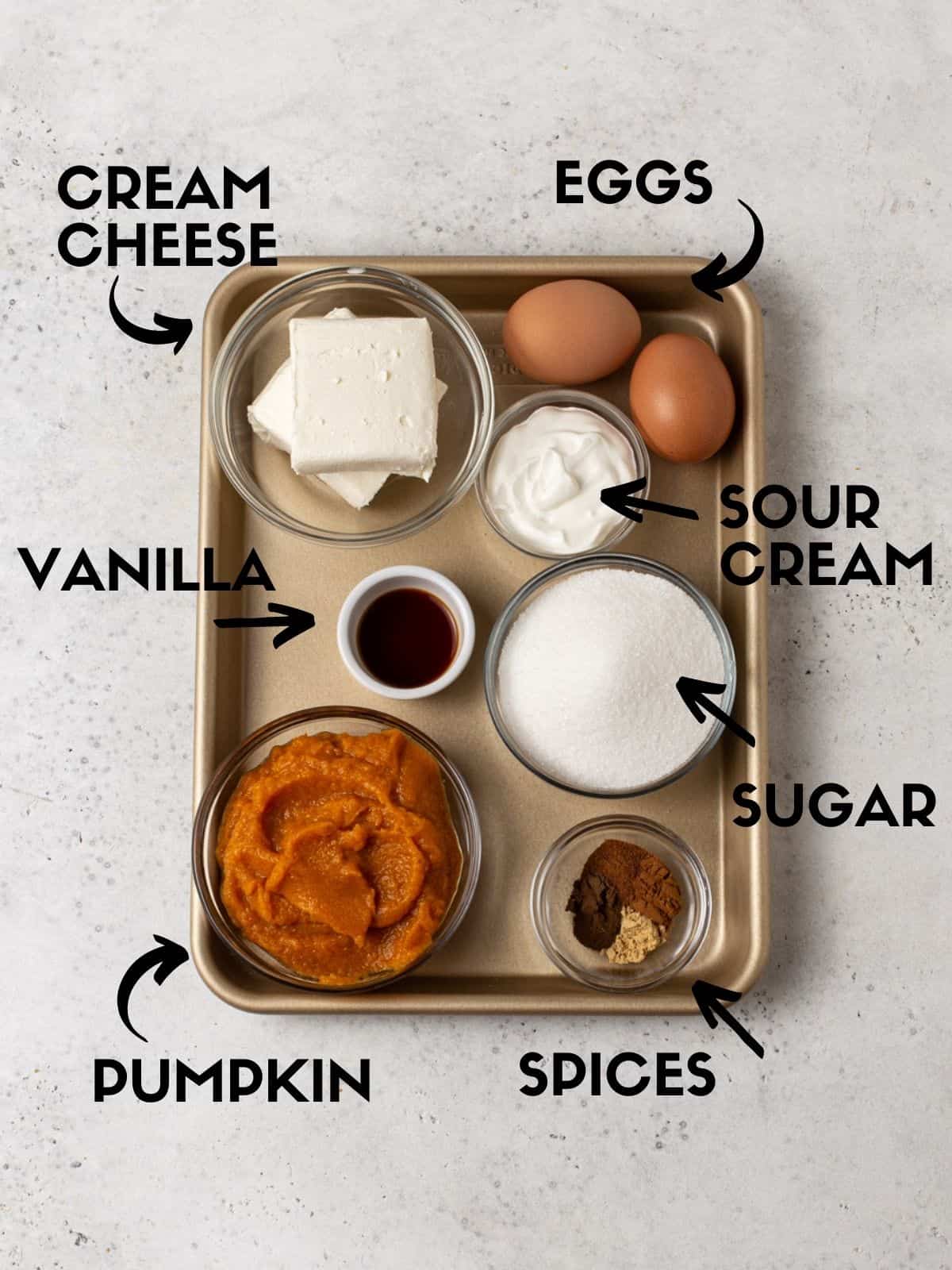 A few ingredient notes for the filling:
Full fat cream cheese will give you the creamiest cheesecake. It also helps keep the layers nice and firm when slicing.
Choose canned pumpkin puree for this recipe, NOT pumpkin pie filling. The plain puree has no added ingredients while the pumpkin pie filling is pre-sweetened and includes spices already.
Instructions
Never made cheesecake before? This recipe is actually much easier than many out there. Plus when you make it in pie form, you don't have to worry about the batter potentially leaking out of the springform pan.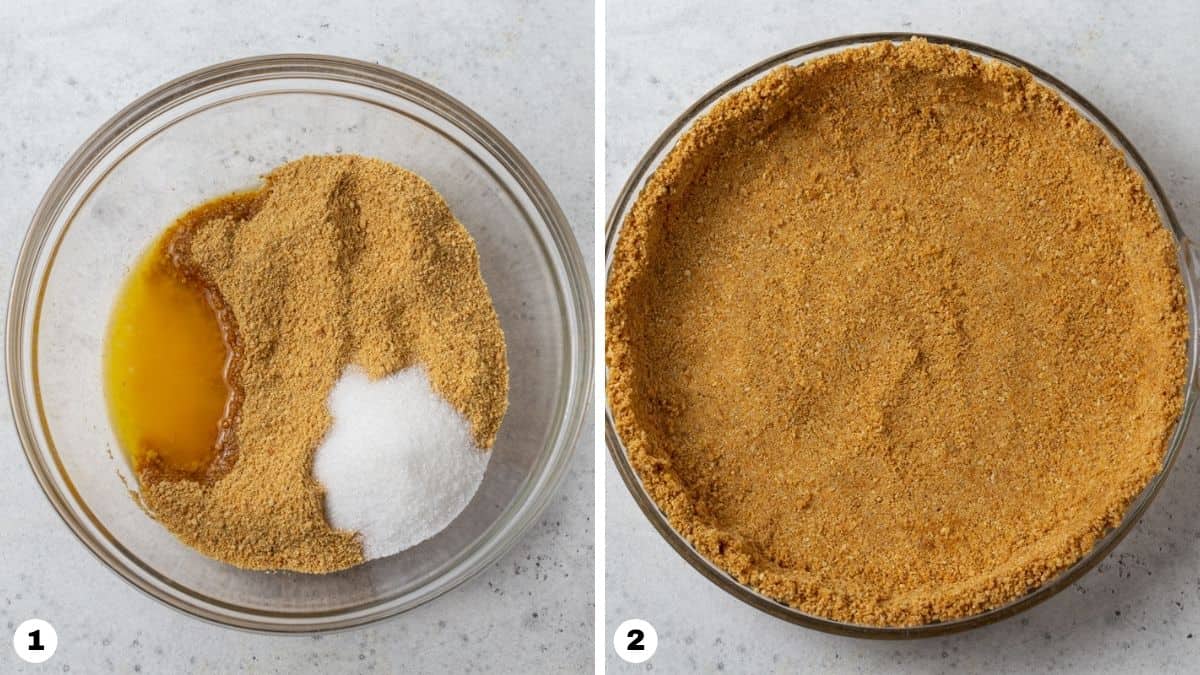 Steps 1-2: Stir together cracker crumbs, sugar and melted butter. Press mixture into pie pan and chill while you prepare the filling.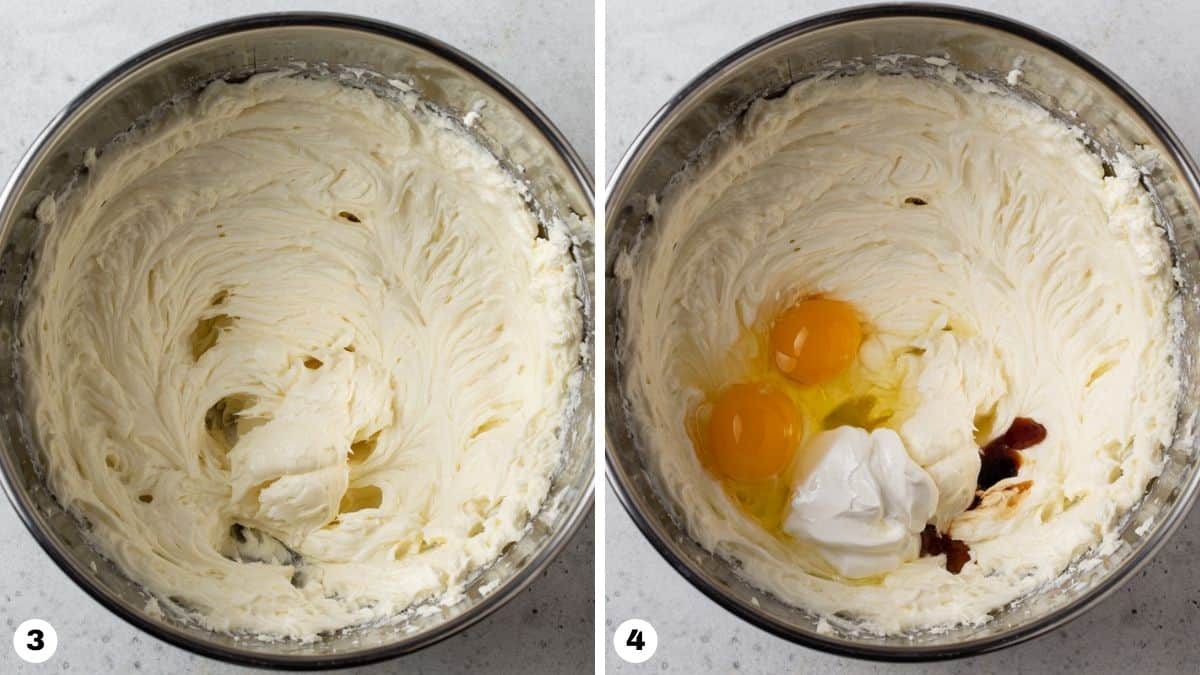 Steps 3-4: Beat cream cheese and sugar until combined. Add eggs, sour cream and vanilla.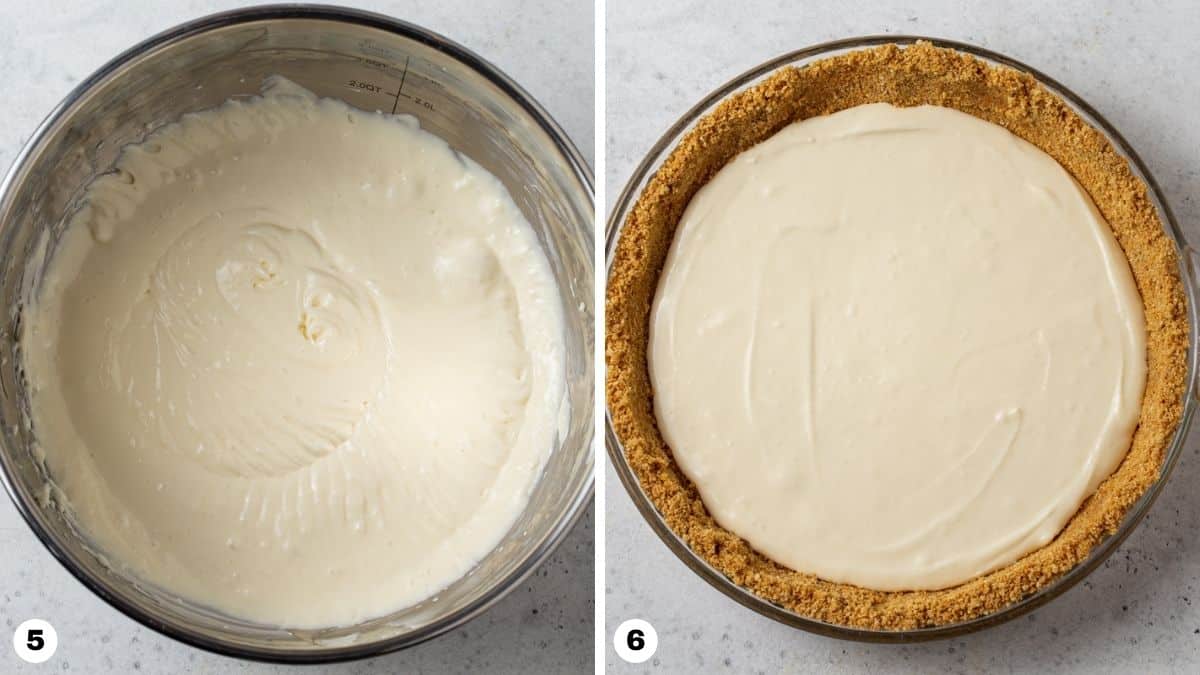 Steps 5-6: Mix until smooth. Add 1 ¾ cup of batter to prepared crust.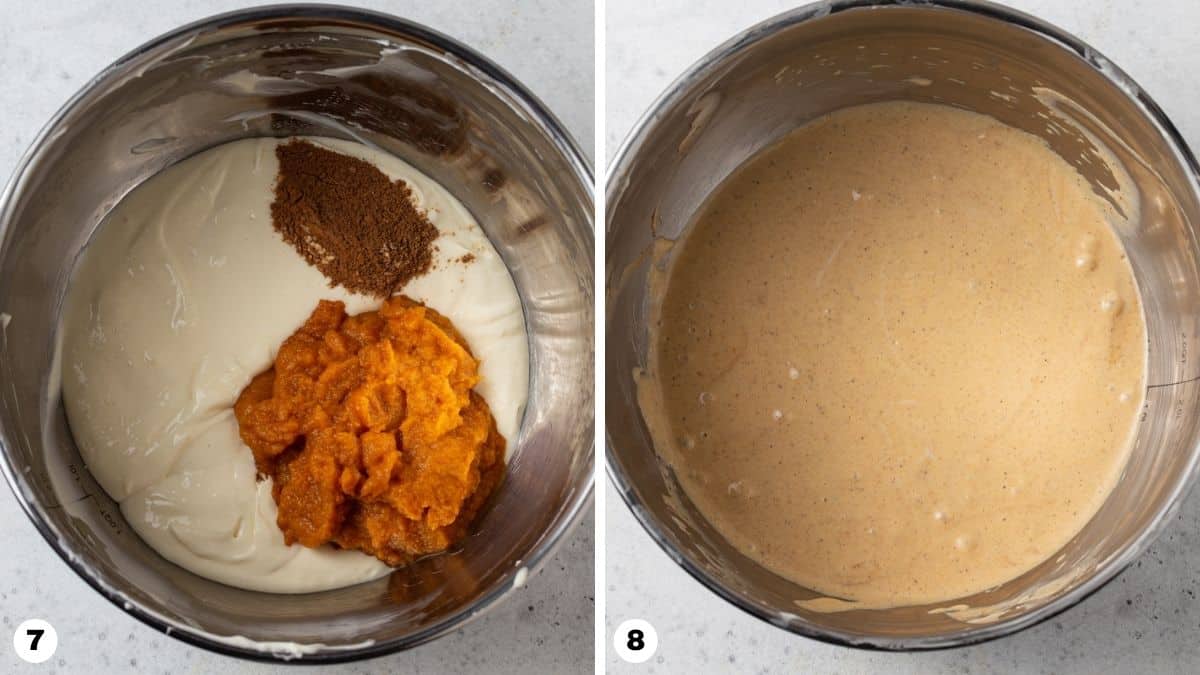 Steps 7-8: Add pumpkin and spices to remaining batter. Mix until smooth.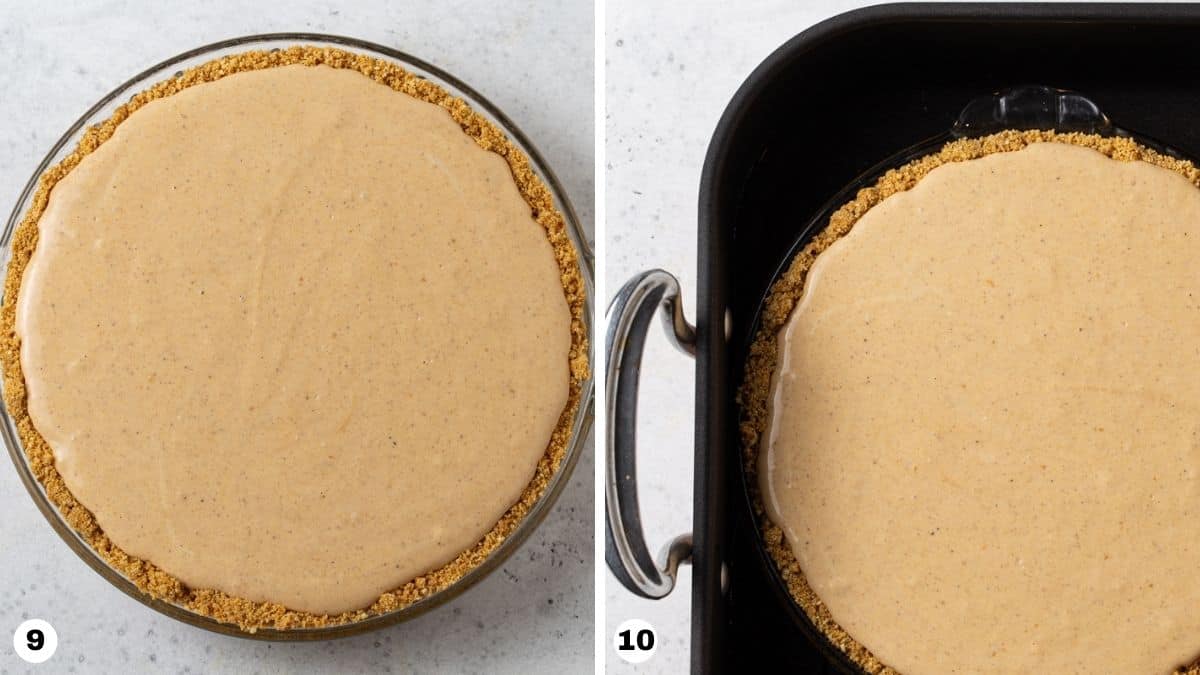 Steps 9-10: Gently spread pumpkin batter over cheesecake batter in pie pan. Place pie pan in water bath and bake.
FAQs
How do you keep cheesecake from cracking?

Use a water bath! Sounds fancy, I know, but don't worry; it's not nearly as complicated is it sounds.

A water bath helps to keep the baking temperature as consistent as possible during the baking process. Even, moist heat ensures the cheesecake is bakes at the same pace (no hard edges and underdone middle pieces). 

Using a water bath when baking cheesecake also minimizes the chance that your cheesecake will crack along the top and/or sink in the middle, both common issues with cheesecake recipes. 

All you need to do is place your pie pan inside a larger pan and fill the larger pan with water until it is about halfway up the exterior of your pie pan. I like to place my larger pan in the oven first before nestling the baking pan inside it and adding the water. This is MUCH easier than trying to slide a pan nestled in another pan of water into the oven without getting water everywhere (including in your cheesecake batter). Trust me on this one. 
 
Can I make this pie ahead of time? 

Cheesecakes are fantastic make ahead desserts and this pumpkin cheesecake pie is no exception. Make it up to 3 days in advance and keep it refrigerated. It will still taste amazing! 
Can you make a gluten-free cheesecake pie?

Absolutely! Substitute gluten-free graham crackers in place of regular graham crackers and follow the recipe as written. These are my favorite gluten-free grahams for baking.
How do you know when the cheesecake is done?

This recipe is nearly foolproof because you bake the bars in a water bath to ensure even heating. The center of the pie should jiggle ever so slightly after the baking time. It cools and rests in the oven for an hour afterwards to gradually bring the temperature down and ensure every last bite of these bars is perfectly creamy and baked through.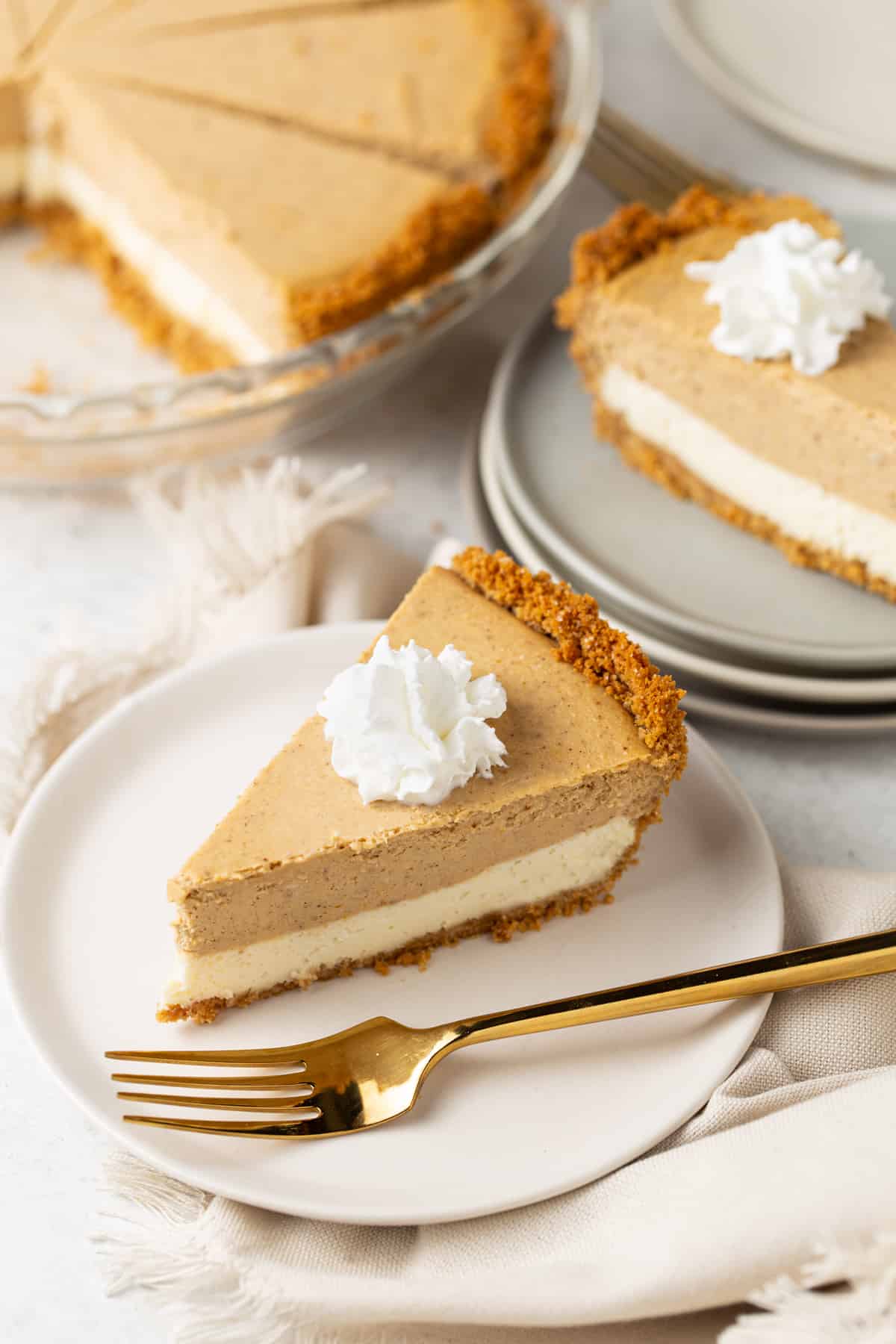 Variations
The easiest way to shake up this recipe is to use a different crust. I went for the standard graham cracker crust, but the options are endless:
chocolate cookies
gingersnaps
shortbread cookies
granola
Follow the recipe instructions for the crust and use your preferred ingredient in place of the graham cracker crumbs.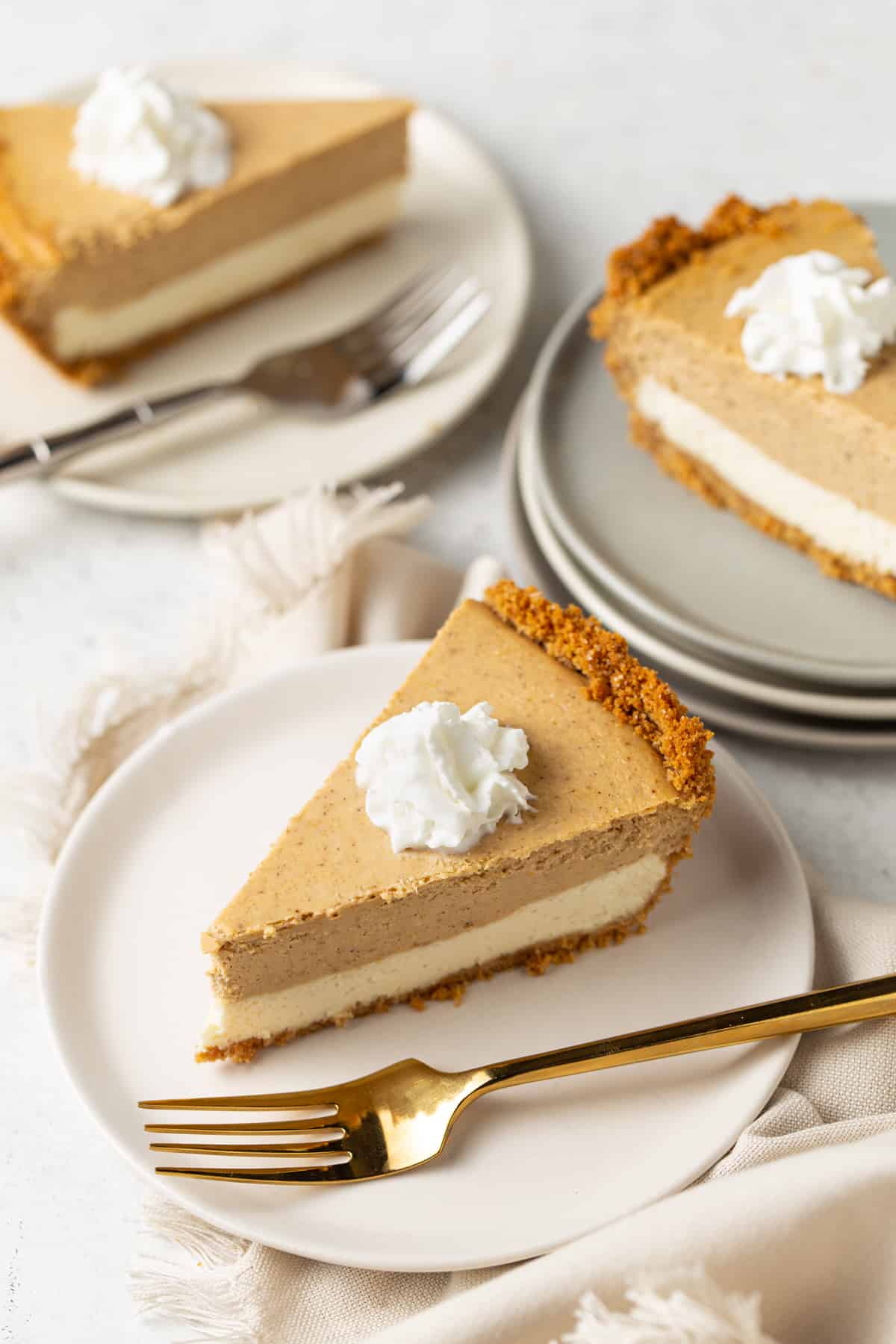 Expert tips for making Pumpkin Cheesecake Pie
✘ Use room temperature ingredients. Softened cream cheese is creamier and will blend more smoothly.
✘ You can substitute pre-mixed pumpkin pie spice for the ground spices in the recipe if you like.
✘ It may sound like a bit of an overstatement, but my offset spreader is one my most used kitchen tools. It makes quick work of smoothing the tops of the two cheesecake batters. Great for frosting, too!
✘ A water bath - which is no more than placing your pan in a larger pan and filling the larger pan with water about half way up the sides of the smaller pan - will keep your cheesecake from cracking on the top or slumping in the middle as it evenly regulates the temperature when baking.
✘ Keep the oven door closed when baking. No peeking! This will help avoid the dreaded crack and sunken middle that plague many cheesecakes.
✘ Give your completely cooled pie at least four hours in the refrigerator before serving it. Eight is better and overnight is great! This chilling time helps your cheesecake firm up and retain its shape when cut.
✘ I use a long, slim carving knife to cut cheesecake. Make sure you rinse the knife with warm water and wipe dry between every cut for neat, even slices.
✘ Prefer bars to pies? You can also make this exact recipe in a 8x8" square pan and cut the pieces into squares instead of triangular pie slices.
Serving suggestions
It goes without saying that this pie would be the star of any Thanksgiving spread. Here's what we're serving our family this Thanksgiving:
Add the pumpkin cheesecake pie and you have a family feast worthy of the holiday.
Note: If you're a family that enjoys multiple desserts at Thanksgiving, add this Bourbon Pecan Pie to your menu. Made with chocolate sandwich cookies, this pie is decadent and just a tiny bit boozy.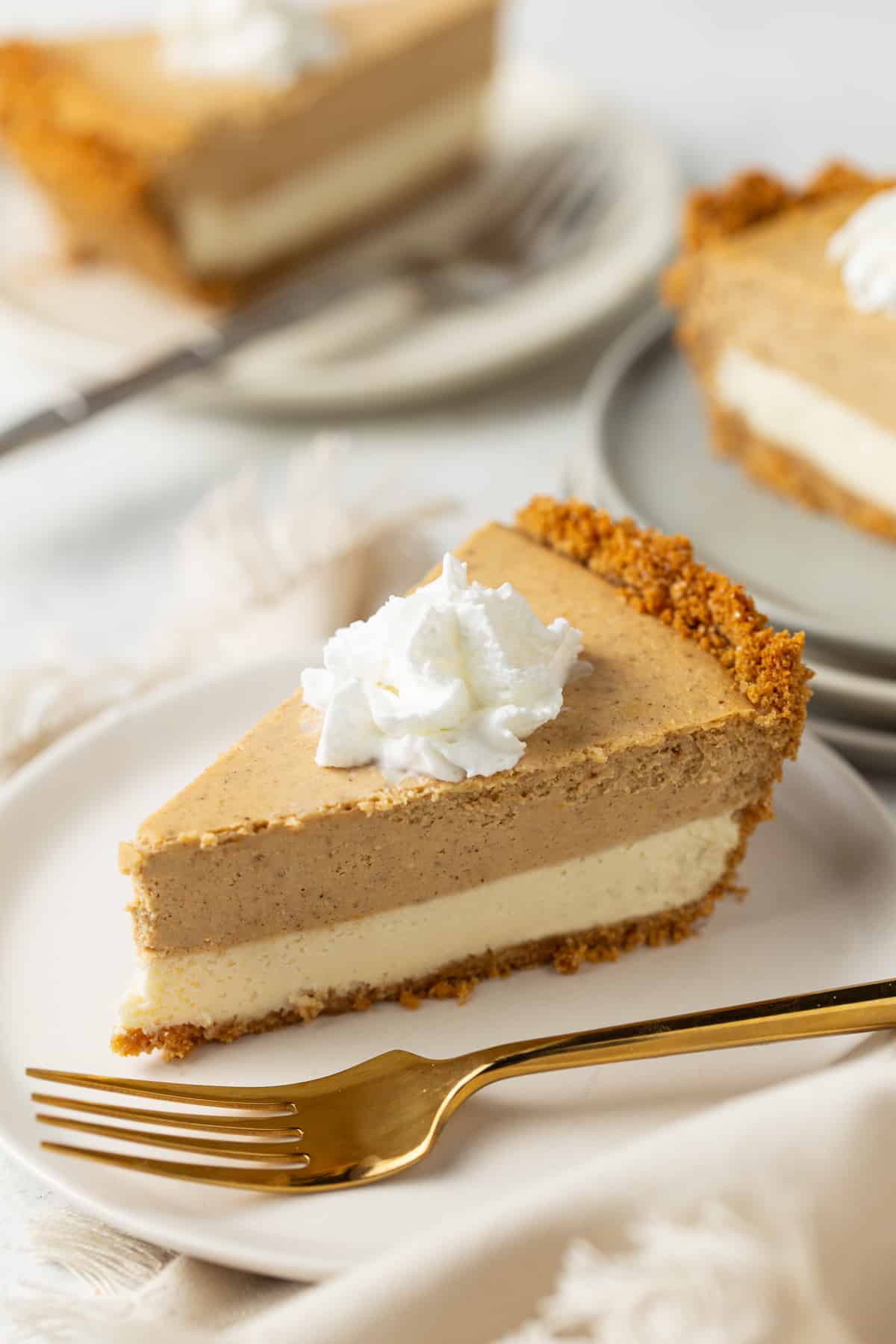 More fall dessert recipes
You can find all of our tasty dessert recipes in our archives.



Did you make this recipe? We'd love to hear your thoughts! 

Please rate the recipe and leave a comment below. Your feedback helps us and your fellow readers! 



Recipe
Layered Pumpkin Cheesecake Pie
Why choose between pie and cheesecake when you can have BOTH in this easy layered Pumpkin Cheesecake Pie - the best Thanksgiving dessert recipe for everyone! 
Ingredients
Crust:
1 ½

cups

graham cracker crumbs

2

tablespoons

sugar

5

tablespoons

melted butter
Pie:
24

ounces

cream cheese,

softened

¾

cup

granulated sugar

1

teaspoon

vanilla extract

2

eggs

¼

cup

sour cream

1

cup

pumpkin puree

1

teaspoon

ground cinnamon

½

teaspoon

ground nutmeg

¼

teaspoon

ground ginger

¼

teaspoon

ground cloves

¼

teaspoon

allspice

Freshly whipped cream,

optional
Instructions
Stir together graham cracker crumbs and 2 tablespoons sugar. Gently mix in butter and pour into pie pan (mine was 9.5"). Use the back of a spoon or the bottom of a glass or measuring cup to evenly press graham mixture onto bottom and sides of pan. Place in refrigerator to chill while prepping pie.

1 ½ cups graham cracker crumbs,

2 tablespoons sugar,

5 tablespoons melted butter

Place cream cheese and ¾ cup sugar in a large mixing bowl and beat until smooth. Add vanilla, eggs and sour cream and beat well. Remove 1 ¾ cups of batter from bowl and evenly spread over crust.

24 ounces cream cheese,,

¾ cup granulated sugar,

1 teaspoon vanilla extract,

2 eggs,

¼ cup sour cream

Add pumpkin puree, cinnamon, nutmeg, ginger, cloves and allspice to the remaining batter and stir until thoroughly combined. Carefully spread pumpkin layer over cheesecake layer in pie crust.

1 cup pumpkin puree,

1 teaspoon ground cinnamon,

½ teaspoon ground nutmeg,

¼ teaspoon ground ginger,

¼ teaspoon ground cloves,

¼ teaspoon allspice

Fill a 9x13" pan about ¼ full with warm water and place in oven. Place pie pan in the larger pan. Adjust the water so it comes about half way up the sides of the pie plate. Bake for 55-60 minutes. Turn off the oven, prop the door with a wooden spoon and allow to cool for another hour.

Remove pie from water bath and refrigerate for at least 4 hours. Serve with freshly whipped cream, if desired.
Notes
This recipe uses a large 9 ½" pie pan. Don't have a pie plate? Make this same recipe in an 8x8" pan and cut it into squares instead.
Use the bottom of a glass or measuring cup to evenly press the graham crust into the pie plate.
Room temperature cream cheese blends much easier than cold cream cheese and will give you a smoother, creamier cheesecake. 
Gluten-free graham crackers can be seamlessly substituted for regular graham crackers to make this dessert gluten-free. 
Use plain pumpkin puree, NOT canned pumpkin pie filling. The pie filling already contains sugar and spices. If you add it to the other ingredients in this recipe, your pie will be way too sweet and overspiced. 
A water bath is essential to even cooking of your cheesecake as well as preventing it from cracking on the top. 
To get neat cuts of pie, use a sharp knife and run it under warm water and wipe dry with a towel after every cut. 
This pie can be made up to three days ahead of time and stored in the refrigerator. 
Nutrition
Serving:
1
g
Calories:
438
kcal
Carbohydrates:
32
g
Protein:
6
g
Fat:
32
g
Saturated Fat:
18
g
Polyunsaturated Fat:
1
g
Monounsaturated Fat:
8
g
Trans Fat:
1
g
Cholesterol:
126
mg
Sodium:
370
mg
Potassium:
192
mg
Fiber:
1
g
Sugar:
24
g
Vitamin A:
4986
IU
Vitamin C:
1
mg
Calcium:
99
mg
Iron:
1
mg
Nutrition info not guaranteed to be accurate.