This Layered Pumpkin Cheesecake Pie with a granola crust is like having two desserts in one! 
I'm calling this Dessert For The Indecisive. 
Is it pumpkin pie? Or is it cheesecake? 
And what is this maple-flavored granola crust business? 
Don't sweat the details, friends. Just grab your fork and get busy digging into this Layered Pumpkin Cheesecake Pie. Whatever you want to call it, it's just stinkin' GOOD! 
This pie is ideal for people who like pumpkin pie but don't looooove it (at least not the way I do, which could be considered mildly unhealthy). The pumpkin flavor is balanced nicely by the vanilla cheesecake, and every bite enjoys a bit of crunch from the granola crust. The recipe is versatile, too. You can make the crust with any flavor granola or choose a graham cracker, gingersnap or shortbread crust. Heck, you can even pour it into a springform pan for a more traditional cheesecake look if that floats your boat. Choices, choices….
So let's not bother ourselves with a silly debate about whether this dessert is a pie or a cheesecake. The only question that really matters is, "Can I have another slice?".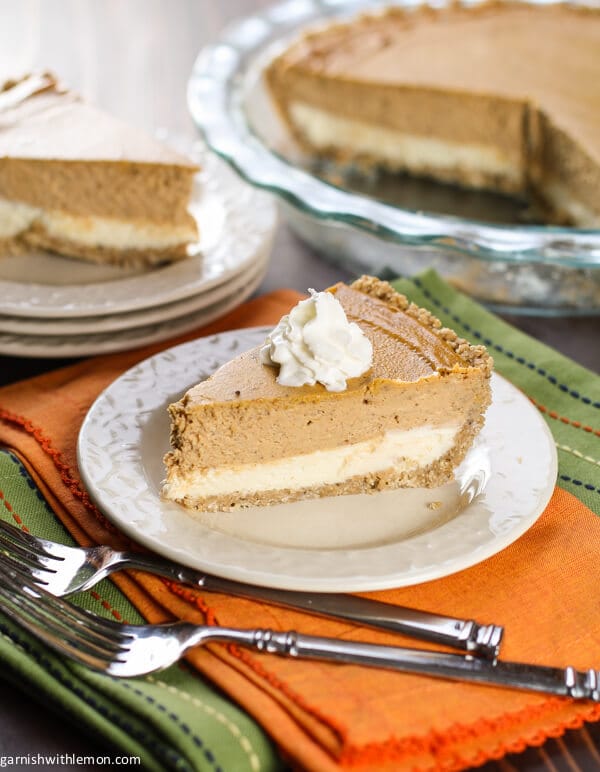 Yield: 8-10
Layered Pumpkin Cheesecake Pie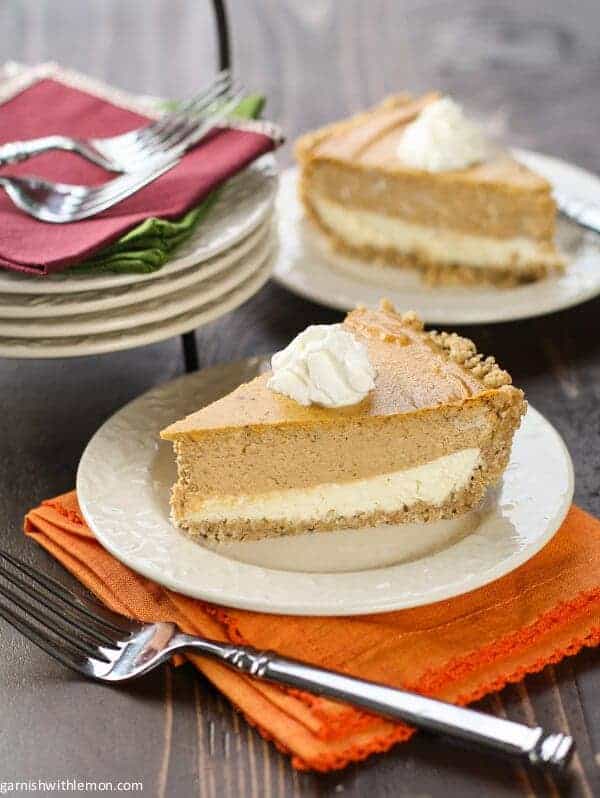 Why choose between pie and cheesecake when you can have both with this impressive Layered Pumpkin Cheesecake Pie!
Total Time
1 hour
25 minutes
Ingredients
Crust:
1 1/2 cups finely crushed maple-flavored granola crumbs (or granola flavor of your choice)
2 tablespoons sugar
6 tablespoons melted butter
Pie:
3 (8-ounce) packages cream cheese, softened
3/4 cup white sugar
1 teaspoon vanilla extract
2 eggs
1/4 cup sour cream
1 cup pumpkin puree
1 teaspoon ground cinnamon
1/2 teaspoon ground nutmeg
1/4 teaspoon ground ginger
1/4 teaspoon ground cloves
1/4 teaspoon allspice
Freshly whipped cream, optional
Instructions
Preheat oven to 350 degrees.
Stir together granola crumbs and 2 tablespoons sugar. Gently mix in butter and dump into pie pan (mine was 9.5"). Evenly press granola mixture onto bottom and sides of pan. Place in refrigerator to chill while prepping pie.
Place cream cheese and 3/4 cup sugar in a large mixing bowl and beat until smooth. Stir in vanilla. Add eggs, one at a time, until blended. Stir in sour cream. Remove 1 3/4 cups of batter from bowl and evenly spread over crust.
Add pumpkin puree, cinnamon, nutmeg, ginger, cloves and allspice to the remaining batter and stir until thoroughly combined. Carefully spread pumpkin layer over cheesecake layer in pie crust.
Place pie pan in a warm water bath in the oven and bake for 55-60 minutes. Turn off the oven, crack the door and allow to cool for another hour.
Remove pie from water bath and refrigerate for at least 4 hours. Serve with freshly whipped cream, if desired.
Notes
I made this recipe using a large 9 1/2" pie plate. I also used a water bath to prevent the pie from cracking. This step is not absolutely necessary, but you may need to keep an eye on your cooking time if you choose not to use one.
Nutrition Information:
Yield:
10
Serving Size:
1
Amount Per Serving:
Calories:

237
Total Fat:

13g
Saturated Fat:

6g
Trans Fat:

0g
Unsaturated Fat:

6g
Cholesterol:

62mg
Sodium:

85mg
Carbohydrates:

27g
Fiber:

2g
Sugar:

21g
Protein:

4g