Layers of decadent vanilla and pumpkin cheesecake on a graham cracker crust make this Pumpkin Cheesecake Pie the perfect Thanksgiving dessert!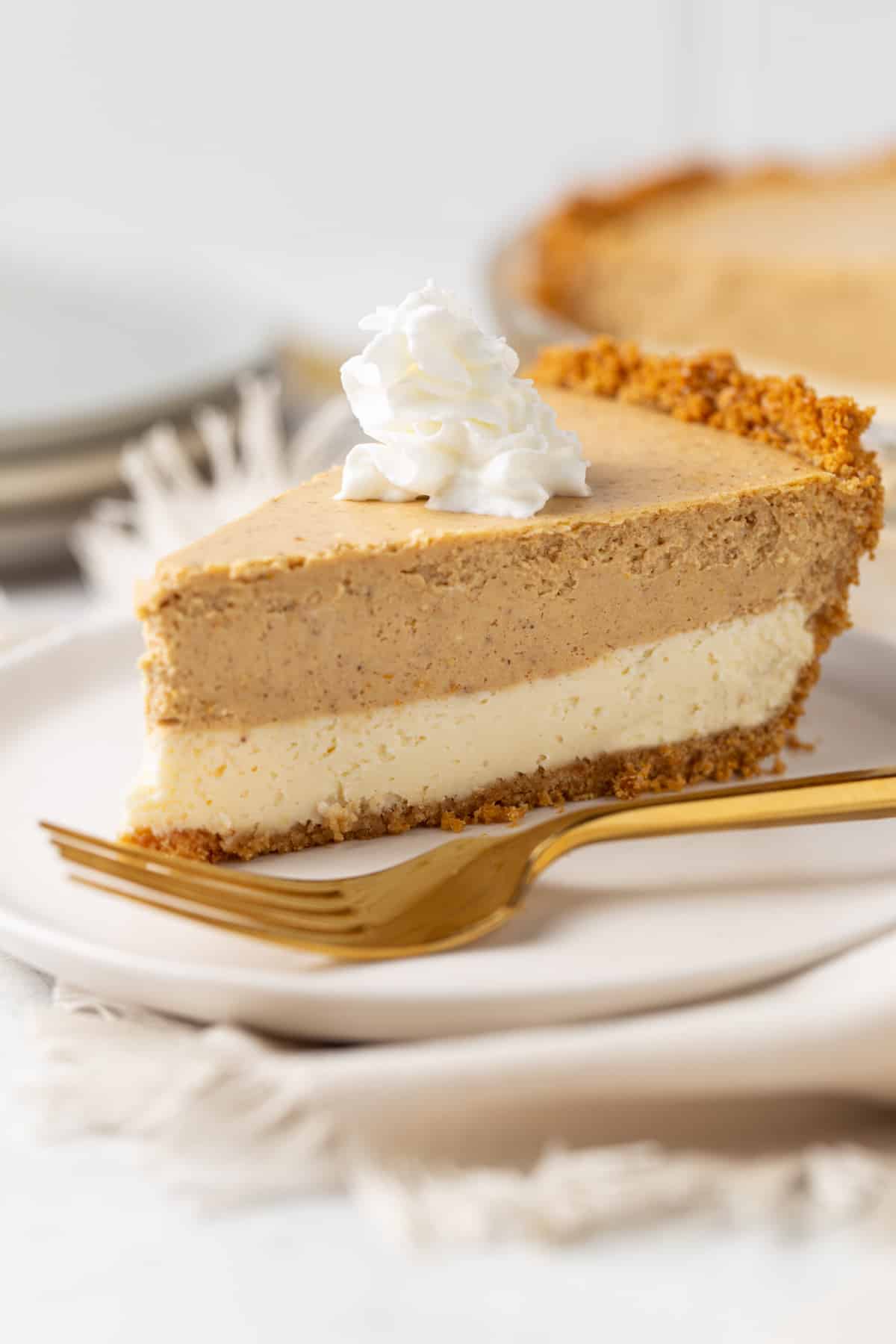 Let's call this layered Pumpkin Pie Cheesecake a dessert for the indecisive.
Is it pumpkin pie? Is it cheesecake?
It doesn't really matter. Quite simply, it's the best thing to happen to your Thanksgiving spread because it's two desserts in one!
Jump to:
Ingredients
You can find everything you need for this pumpkin pie cheesecake at the grocery store:
Graham cracker crumbs
Sugar
Butter
Cream cheese
Eggs
Sour cream
Pumpkin puree
Vanilla extract
Spices, including cinnamon, nutmeg, cloves, ginger & allspice
Whipped cream (optional but highly recommended)
Instructions
Never made cheesecake before? This recipe is actually much easier than many out there. Plus when you make it in pie form, you don't have to worry about the batter potentially leaking out of the springform pan.
1
Gather crust ingredients: graham cracker crumbs, sugar & butter.
2
Combine crumbs, sugar & melted butter.
3
Press graham mixture into lightly greased pie plate. Chill while preparing filling.
4
Gather pie ingredients: cream cheese, pumpkin, eggs, sugar, sour cream, vanilla & spices.
5
Beat cream cheese & sugar together until smooth.
6
Add vanilla, eggs & sour cream.
8
Remove 1 ¾ cup of cheesecake batter from bowl & evenly spread over crust.
9
Add pumpkin & spices to remaining batter.
11
Carefully spread pumpkin layer over cheesecake layer in pie crust.
12
Place pie pan in water bath. Bake for 55-60 minutes. Turn off oven, crack door & cool for 1 hour.
13
Chill for at least 4 hours. Serve with whipped cream.
FAQs
What is a water bath and why do you use it for baking cheesecake?

A water bath helps to keep the baking temperature as consistent as possible during the baking process. Even, moist heat ensures the cheesecake is bakes at the same pace (no hard edges and underdone middle pieces). 

Using a water bath when baking cheesecake also minimizes the chance that your cheesecake will crack along the top and/or sink in the middle, both common issues with cheesecake recipes. 

I like to place my larger pan in the oven first before nestling the baking pan inside it and adding the water. This is MUCH easier than trying to slide a pan nestled in another pan of water into the oven without getting water everywhere (including in your cheesecake batter). Trust me on this one. 
 
Can I make this pie ahead of time? 

Cheesecakes are fantastic make ahead desserts and this pumpkin cheesecake pie is no exception. Make it up to 2 days in advance and keep it refrigerated. It will still taste amazing!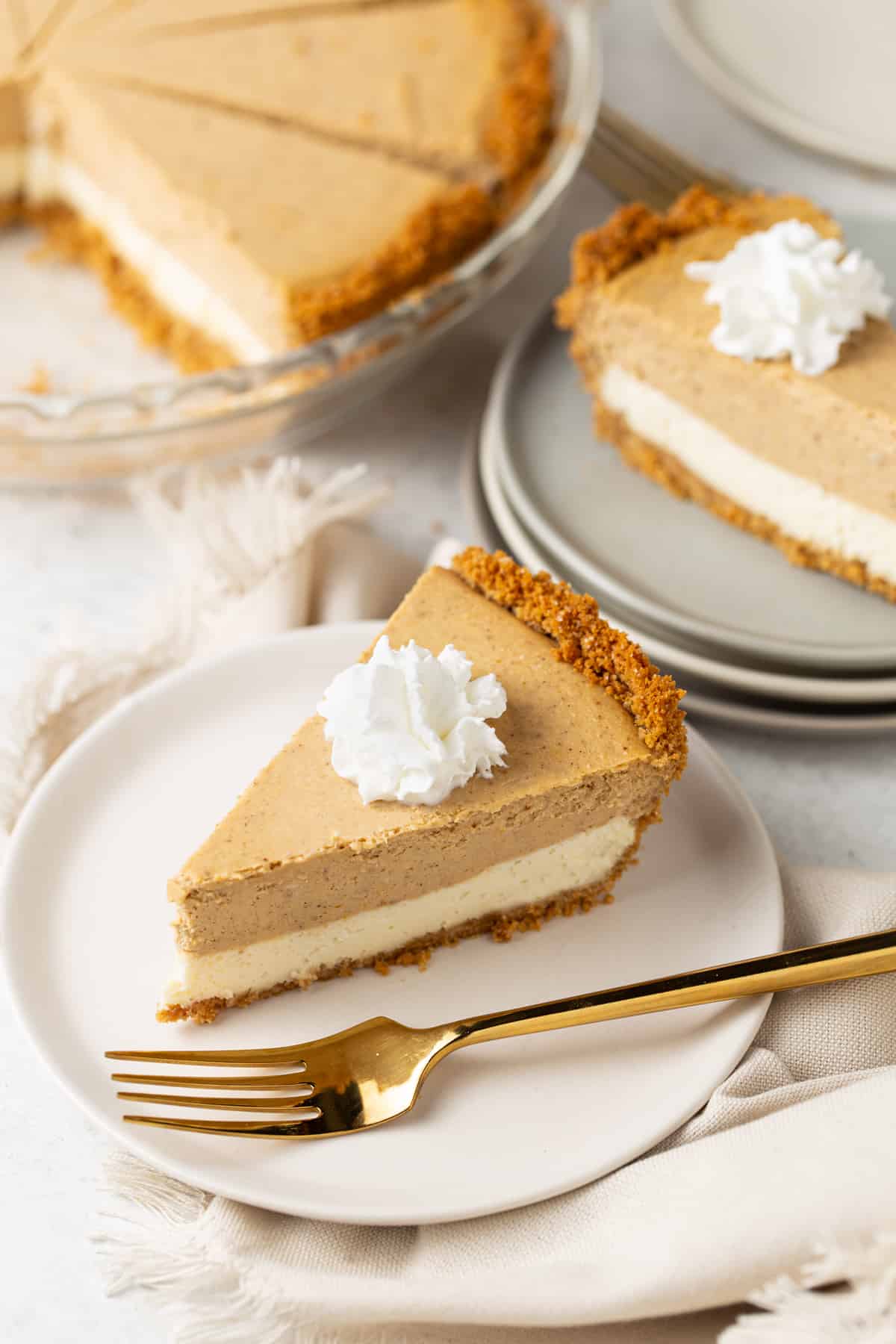 Variations
The easiest way to shake up this recipe is to use a different crust. I went for the standard graham cracker crust, but the options are endless:
chocolate cookies
gingersnaps
shortbread
granola
Prefer bars to pies? You can also make this exact recipe in a 9x9 square pan and cut the pieces into squares instead of triangular pie slices.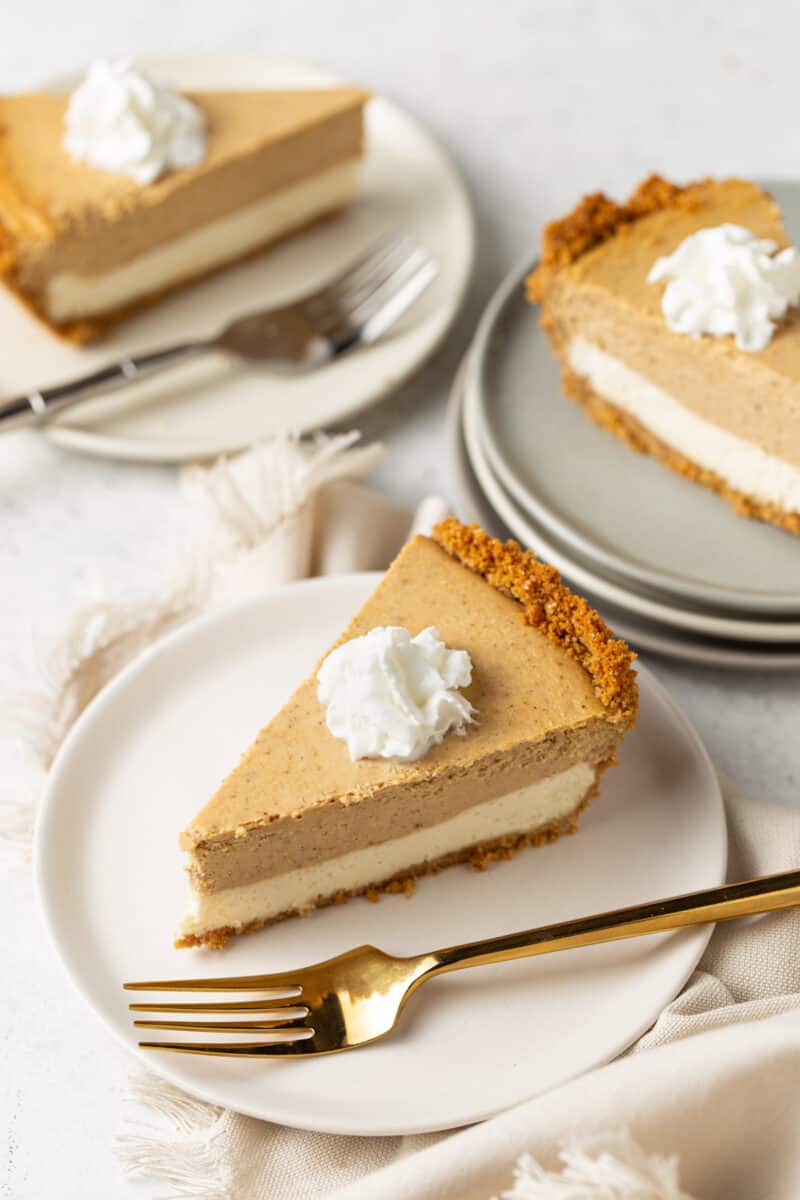 Serving suggestions
It goes without saying that this pie would be the star of any Thanksgiving spread. Here's what we're serving our family this Thanksgiving:
Add the pumpkin cheesecake pie and you have a family feast worthy of the holiday.
Note: If you're a family that enjoys multiple desserts at Thanksgiving, add this Bourbon Pecan Pie to your menu. Made with chocolate sandwich cookies, this pie is decadent and just a tiny bit boozy.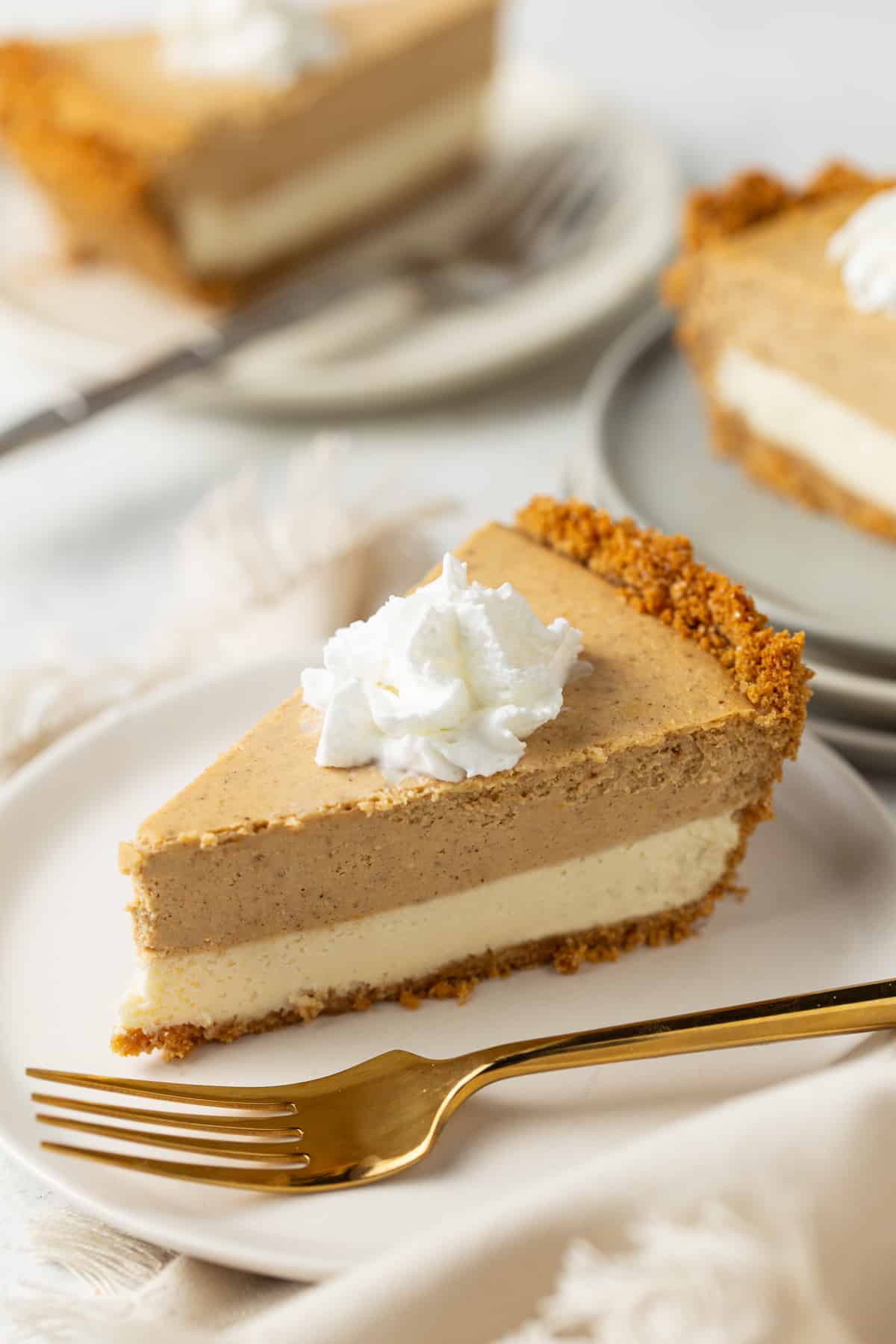 More cheesecake recipes
You can find all of our tasty dessert recipes in our archives.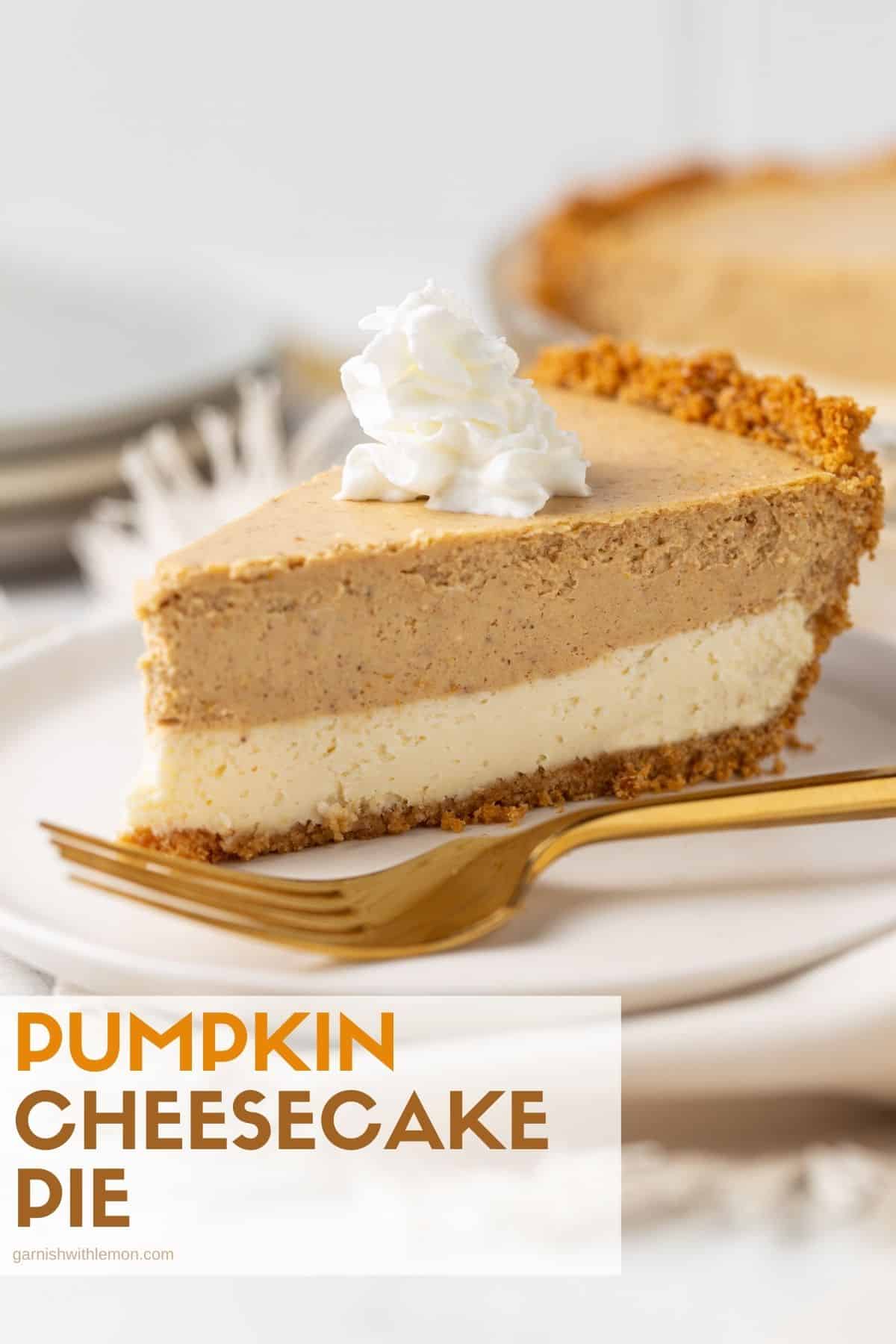 Recipe
Yield: Serves 10
Layered Pumpkin Cheesecake Pie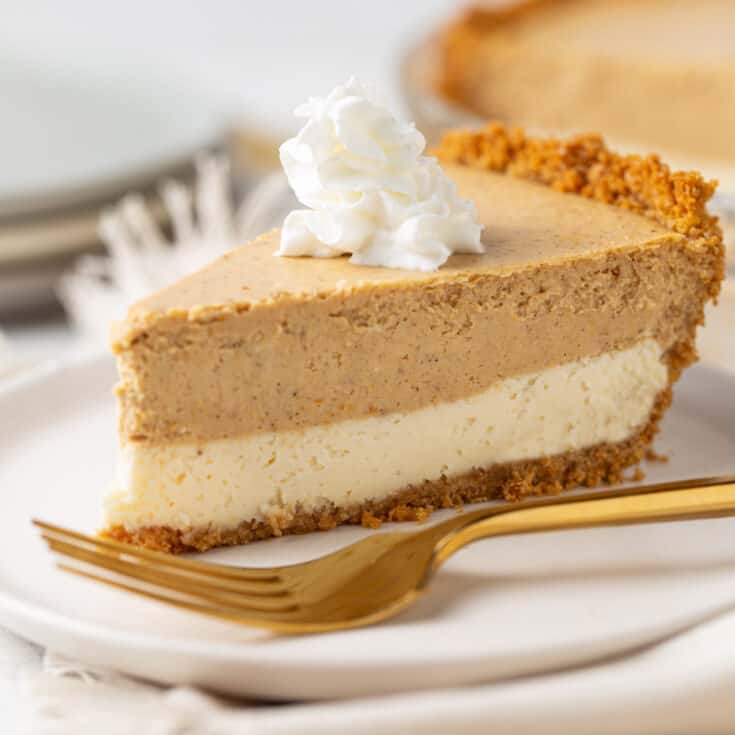 Why choose between pie and cheesecake when you can have BOTH in this easy layered Pumpkin Cheesecake Pie - the best Thanksgiving dessert recipe for everyone! 
Total Time
1 hour
25 minutes
Ingredients
Crust:
1 ½ cups graham cracker crumbs
2 tablespoons sugar
5 tablespoons melted butter
Pie:
24 ounces cream cheese, softened (3 packages)
¾ cup white sugar
1 teaspoon vanilla extract
2 eggs
¼ cup sour cream
1 cup pumpkin puree
1 teaspoon ground cinnamon
½ teaspoon ground nutmeg
¼ teaspoon ground ginger
¼ teaspoon ground cloves
¼ teaspoon allspice
Freshly whipped cream, optional
Instructions
Preheat oven to 350 degrees.
Stir together graham cracker crumbs and 2 tablespoons sugar. Gently mix in butter and pour into pie pan (mine was 9.5"). Use the back of a spoon or the bottom of a glass or measuring cup to evenly press graham mixture onto bottom and sides of pan. Place in refrigerator to chill while prepping pie.
Place cream cheese and ¾ cup sugar in a large mixing bowl and beat until smooth. Add vanilla, eggs and sour cream and beat well. Remove 1 ¾ cups of batter from bowl and evenly spread over crust.
Add pumpkin puree, cinnamon, nutmeg, ginger, cloves and allspice to the remaining batter and stir until thoroughly combined. Carefully spread pumpkin layer over cheesecake layer in pie crust.
Place pie pan in a warm water bath in the oven and bake for 55-60 minutes. Turn off the oven, crack the door and allow to cool for another hour.
Remove pie from water bath and refrigerate for at least 4 hours. Serve with freshly whipped cream, if desired.
Notes
I made this recipe using a large 9 ½" pie plate.
I also used a water bath to prevent the pie from cracking. This step is not absolutely necessary, but you may need to keep an eye on your cooking time if you choose not to use one.
Use the bottom of a glass or measuring cup to evenly press the graham crust into the pie plate.
Recommended Products
As an Amazon Associate and member of other affiliate programs, I earn from qualifying purchases.
Nutrition Information:
Yield:
10
Serving Size:
1
Amount Per Serving:
Calories:

449
Total Fat:

33g
Saturated Fat:

19g
Trans Fat:

0g
Unsaturated Fat:

11g
Cholesterol:

125mg
Sodium:

335mg
Carbohydrates:

34g
Fiber:

1g
Sugar:

24g
Protein:

7g
This layered Pumpkin Cheesecake Pie with an irresistible graham cracker crust is like having two desserts in one. It's the perfect Thanksgiving dessert recipe for everyone!