Oven roasting brings out the sweetness in these Rosemary Roasted Sweet Potatoes and Onions. These crispy potatoes have a caramelized exterior while staying light and and fluffy on the inside. They are a delicious, easy side dish recipe for nearly any occasion from a weeknight meal to your Thanksgiving table.
If you're like me, you're always on the hunt for easy, versatile side dish recipes.
Salads are great, but sometimes you crave something a little more substantial – but not heavy. Oh, and it needs to be quick to pull together.
Enter these Oven Roasted Sweet Potatoes and Onions with fresh rosemary. This recipe ticks all the boxes for great side dishes – seasonal, simple and flavorful. Plus cooler autumn evenings are perfect for roasting ALL.THE.VEG.

Are roasted sweet potatoes healthy?
Roasting sweet potatoes highlights their inherent sweetness but that doesn't mean they aren't good for you! Sweet potatoes are chock full of antioxidants like beta-carotene and vitamin A. They are also rich in fiber to keep you feeling fuller longer.
This delicious, 4-ingredient, healthy sweet potato recipe is simple enough to add to your weeknight meal planning but fancy enough to earn a spot on your Thanksgiving table. Plus it's gluten-free and perfect for anyone looking to add more plant-based foods to their diets. 

How to roast sweet potatoes in the oven
Sweet potatoes are tasty no matter how you cook them (hello, sweet potato fries!) but roasting them is one of the easiest ways to prepare them. 
There are a couple tips to remember when you make oven roasted sweet potatoes (or any other roasted vegetable):
You need a hot oven. This recipe calls for 400 degrees and that's probably the minimum for roasting veggies. The high heat ensures you get a crispy, caramelized exterior and soft, fluffy interior. 
Add your sheet pans to the oven when you preheat it. Placing your prepared sweet potatoes on an already hot pan jumpstarts the cooking process and helps achieve that lovely sear we all crave. 
Cut your potatoes and onions in similar sizes to ensure even roasting. If your potatoes are cubed unevenly, they will be cooked through at different times and some might burn before others are fully cooked. 
Don't crowd the pan. It's tempting to try to fit everything on one pan, especially if you're in charge of dishes, but try to refrain. Crowding the pan with veggies will result in more steaming than roasting because the veggies don't have as much air circulating around them. Use two sheet pans instead and rotate them halfway through cooking. 
Can I eat sweet potato skin?
Absolutely! Skin-on potatoes have more texture, so if that doesn't float your boat, feel free to peel your sweet potatoes before roasting them. 
Do I need to parboil sweet potatoes before roasting?
I usually don't parboil my sweet potatoes as long as I've done a good job of evenly cubing them. The only time I usually parboil sweet potatoes is if I have larger wedges that I want to roast faster. Parboiling them cuts down on the cooking time in the oven. 

What kind of onion do you use in this roasted sweet potato recipe – sweet onions or regular onions?
You'll notice that I specify sweet onions in the ingredient list.
Sweet onions are just what they sound like – an onion with a mild flavor due to a higher sugar content. Popular varieties of sweet onion include Vidalia, Maui and Walla Walla. Regular onions (white, yellow and even red) are typically more pungent in flavor and aroma.
I've used both types of onions in this recipe depending on what I have on hand. Though they both results in a tasty side dish, my personal preference is to use sweet onions in this savory roasted sweet potatoes recipe. Feel free to use whatever you have on hand, but definitely try them with sweet onions at least once.

Can I use a different herb or seasoning for these roasted sweet potatoes? 
Sweet potatoes are an ideal canvas for lots of flavors. I love to roast veggies with fresh herbs like the rosemary in this recipe. Not a rosemary fan? Try swapping in thyme or oregano instead. 
Dried spices like cumin and chili powder are also fantastic with roasted sweet potatoes. 
How long do roasted sweet potatoes last?
These potatoes (once roasted) have a max shelf life of about 3-5 days. Make sure you completely cool them to room temperature before covering and storing in the refrigerator.
Lucky for us, these roasted sweet potatoes make excellent leftovers. Gently reheat them in the oven, toss them in a salad for lunch or save them for breakfast on the weekend.
I often use my leftover roasted potatoes and onions as the base of a "hash" along with some sautéed mushrooms, a fried egg and parmesan cheese on top – heavenly!
Craving more simple, seasonal side dishes? These savory sweet potato recipes fit the bill nicely!
Spicy Sweet Potato Wedges
Find all of our side dish recipes
HERE
!
Yield: Serves 4-6
Rosemary Roasted Sweet Potatoes and Onions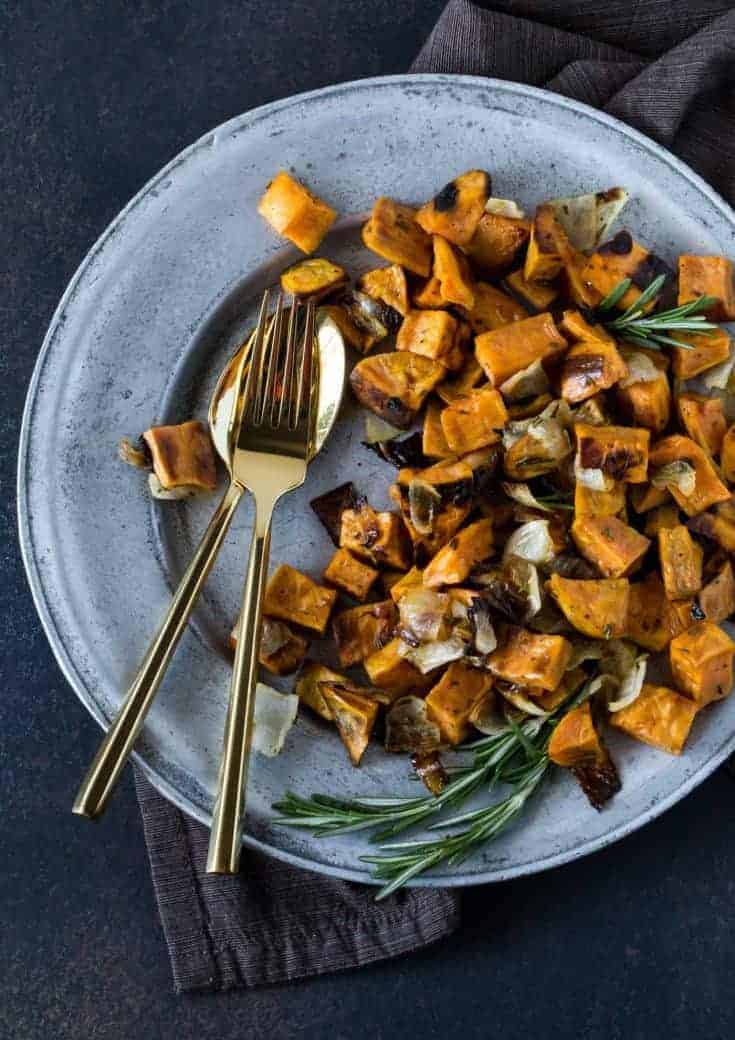 This seasonal recipe for Oven Roasted Sweet Potatoes & Onions with fresh rosemary looks impressive but comes together in minutes. It's the perfect potato side dish for Thanksgiving or any weeknight meal. 
Ingredients
4 medium-sized sweet potatoes, peeled and cut into bite-sized pieces
1 large sweet onion, chopped into similarly sized pieces as potatoes
2-3 tablespoons olive oil (or other neutral oil)
1 heaping tablespoon chopped fresh rosemary
Kosher salt
Freshly ground black pepper
Instructions
Preheat oven to 400 degrees. Place two baking sheets in the oven to preheat.
Combine potatoes and onion in a bowl. Add olive oil and toss to coat evenly. Sprinkle rosemary, salt and pepper on potato mixture and stir to combine.
Divide potato mixture on preheated baking sheets and roast in the oven for 25-30 minutes, rotating sheets and flipping potatoes and onions halfway through. Depending on the size of your potato and onion pieces, they may cook faster or slower. Keep an eye on them so they don't burn.
Remove from oven and season to taste with additional salt and pepper.
Notes
Leftover potatoes and onions make a fantastic breakfast hash!
Recommended Products
As an Amazon Associate and member of other affiliate programs, I earn from qualifying purchases.
Nutrition Information:
Yield:
6
Serving Size:
1 portion
Amount Per Serving:
Calories:

174
Total Fat:

7g
Saturated Fat:

1g
Trans Fat:

0g
Unsaturated Fat:

6g
Cholesterol:

0mg
Sodium:

132mg
Carbohydrates:

26g
Fiber:

4g
Sugar:

8g
Protein:

3g
Side dishes don't get much easier (or versatile) than these 4-ingredient Rosemary Roasted Sweet Potatoes & Onions. Each well-seasoned bite has a deliciously caramelized exterior and a soft, creamy interior. Perfect for Thanksgiving or any weeknight meal!