Side dishes don't get much easier than these savory Rosemary Roasted Sweet Potatoes & Onions. Paleo-friendly, too! 
I had a tough time writing this post. I don't want anyone to think I'm cheating by putting up a recipe with only a handful of ingredients. Can you really call these Rosemary Roasted Sweet Potatoes and Onions a "recipe"? But the more I thought about it, the more I realized that you totally can if only because it's a super easy, extremely versatile dish that can be used in a bunch of different ways.
Cooler evenings in autumn are perfect for roasting all kinds of veggies in the oven, and sweet potatoes and onions are a tasty, crowd-pleasing combo. You can use any variety of fresh herbs in this recipe, but, in my mind nothing beats fresh rosemary, especially in the fall.
These Rosemary Roasted Sweet Potatoes and Onions are flexible enough to be an excellent side dish with chicken, beef, pork or even a sturdy fish. But I really recommend that you make more than you'll need for dinner as they make excellent leftovers. Gently reheat them in the oven, toss them in a salad for lunch or save them for breakfast on the weekend. I used my leftover roasted potatoes and onions as the base of a "hash" along with some sautéed mushrooms, a fried egg and parmesan cheese on top – heavenly! 
Whether you're a creative experimenter or a by-the-book cook, nearly everyone can find a way to enjoy this "recipe" for Rosemary Roasted Sweet Potatoes and Onions.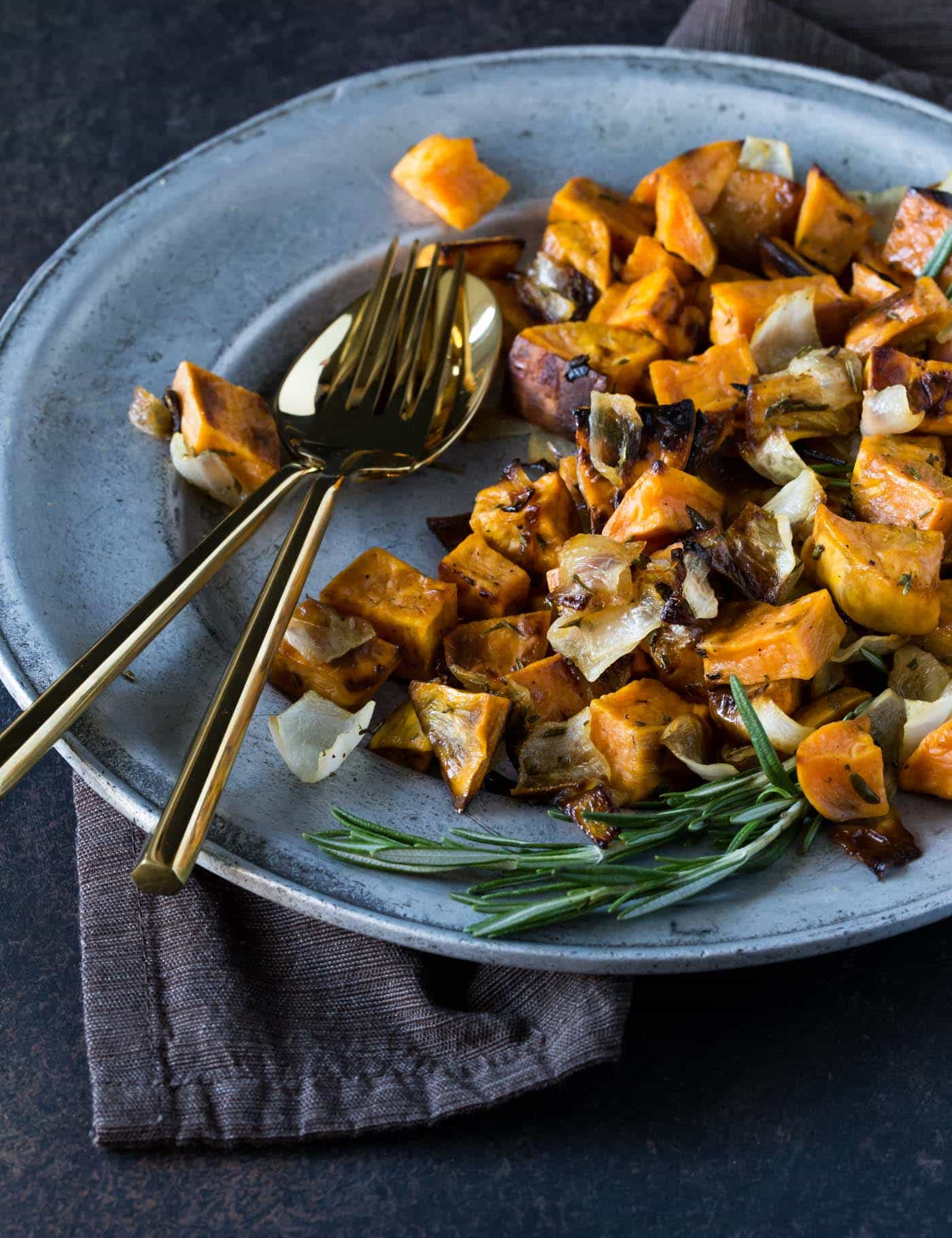 Rosemary Roasted Sweet Potatoes and Onions
4-6
adjust servings
Ingredients
4

medium-sized sweet potatoes, peeled and cut into bite-sized pieces

1

large sweet onion, chopped into similarly sized pieces as potatoes

2-3

tablespoons olive oil

1

heaping tablespoon chopped fresh rosemary

Kosher salt

Freshly ground black pepper
Instructions
Preheat oven to 400 degrees. Combine potatoes and onion in a bowl. Add olive oil and toss to coat evenly. Sprinkle rosemary, salt and pepper on potato mixture and stir to combine.
Pour potato mixture on a cookie sheet and roast in the oven for 25-30 minutes, flipping potatoes and onions halfway through. Depending on the size of your potato and onion pieces, they may cook faster or slower. Keep an eye on them so they don't burn.
Remove from oven and season to taste with additional salt and pepper.
Did you make this recipe? We'd love to see it! Snap a pic of your creation and tag it #GarnishWithLemon. We might even feature your photo on social media!