Jazz up your summer appetizer spread with this quick and easy Balsamic Bruschetta recipe!
We're just on the brink of summer here in Minnesota. Warm temperatures are here to stay, schools are starting to dismiss for break, and that means it's time to shift to lazy summer days and dining al fresco with friends. But don't worry; hosting happy hour doesn't need to be futzy, especially when you can stock up on fresh produce at your local farmer's market. This Balsamic Bruschetta recipe is a lip-smacking way to let all of those fresh flavors shine. Add a loaf of crusty french bread, some fresh ricotta a nice glass of Rosé, and you are in business.
Now I'm a fan of pretty much any sort of crostini (especially this Sugar Snap Pea Crostini and this Crostini with Bacon, Tomato and Apple Jam), but there is something about fresh bruschetta that gets me every.single.time. When tomatoes are ripe and plentiful and the basil is going crazy in my herb garden, it makes a regular appearance on my table. But you know what makes it even better? The addition of the balsamic vinegar. Plus there is a balsamic glaze drizzled on top of the crostini (which is basically just balsamic vinegar reduced down to its sweet and tangy goodness). You really can't ask for more. It's the perfectly simple way to add a special touch to any gathering but especially happy hour.
Now where is my glass of Rosé?
Tip: Be sure you use a high-quality balsamic vinegar in this bruschetta recipe. It only uses a little, but believe me, it makes a world of difference. Save the less expensive stuff for marinades.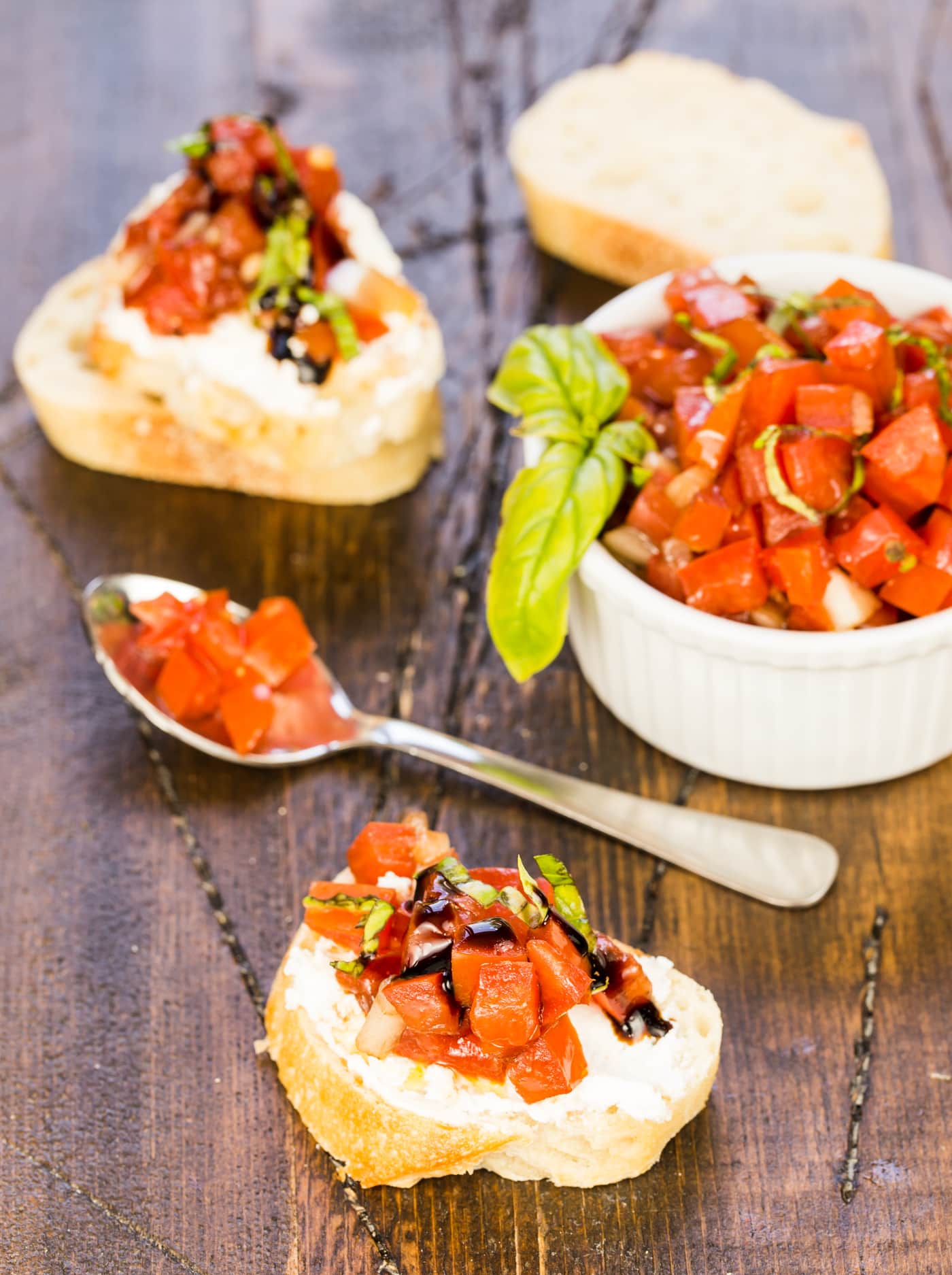 Preparation Tip: This
tomato knife
 makes dicing all of those tomatoes a breeze! It is an absolute workhorse in my kitchen. I use it All. The. Time.
Yield: 2 cups
Balsamic Bruschetta
Jazz up your summer appetizer spread with this quick and easy Balsamic Bruschetta recipe!
Ingredients
Tomato mixture:
8 Roma tomatoes, seeded and diced
2 cloves minced fresh garlic
1 small shallot, diced
1 1/2 tablespoons balsamic vinegar
1 1/2 Tablespoons olive oil
1/3 cup fresh basil, julienned
salt and pepper to taste
Bruschetta:
Balsamic glaze (which is readily available at most grocery stores)
Ricotta cheese
French bread, sliced
Instructions
To make the tomato mixture:
Place tomatoes, shallots and garlic in a bowl. Season to taste with salt and pepper. Add balsamic vinegar and olive oil and stir to combine. Add basil and stir.
To serve:
Top slices of french bread with ricotta cheese and then spoon on tomato mixture. Drizzle with balsamic glaze and serve.
Nutrition Information:
Yield:
16
Serving Size:
1
Amount Per Serving:
Calories:

45
Total Fat:

2g
Saturated Fat:

1g
Trans Fat:

0g
Unsaturated Fat:

1g
Cholesterol:

2mg
Sodium:

54mg
Carbohydrates:

5g
Fiber:

1g
Sugar:

2g
Protein:

2g