There's nothing like summer in Minnesota, especially when it involves a Bootleg Cocktail. It's the perfect way to quench your thirst on a hot summer day.
Summer is a great time to get out of your cocktail rut and one of our summertime favorite drinks is the Bootleg Cocktail.
Have you ever had one?
It is fresh, citrusy and the perfect way to use some of the abundant mint growing in my garden.
If I could get everything to grow as well as my mint does, my garden would rock!

What is a Bootleg Cocktail? I've never heard of it.
This recipe needs to go to the top of your must-make list. Trust me.
A Bootleg is a cocktail staple at any country club in Minnesota, but no one will give you the recipe.
Not even a hint.
You can guess at the ingredients: lemon, lime, mint, club soda….sounds simple, right?
It is – once you get the proportions down (which took us many enjoyable tries. No complaining here!)
Like your drinks a little sweeter? Add a little more mix.
Prefer them a little drier? Add more club soda or another splash of alcohol.
What equipment do I need to make this cocktail?
Not a lot, but these few items make it much easier.
1. A good blender. Now I know not everyone can splurge on a top-tier blender, but I highly suggest you save up your birthday gift cards because they make a huge difference in how quickly you can pull together one of these minty cocktails.
I own Blendtec and love it, but many people are also thrilled with their Vitamix blenders. They do a much better job of tackling that mint and pulverizing it so you don't end up with green things stuck in your teeth.
2. We forego old school traditional bar jiggers and always use these OXO Liquid Measuring Beakers. They are easy to read and have multiple sizes to take the guesswork out of measuring smaller amounts.
Any bartender knows that proper proportions make or break a cocktail.

What kind of alcohol do you use in this drink recipe?
Whenever you order a bootleg, the next question is always gin, vodka or rum?
I prefer mine with gin, but don't worry if you aren't a gin lover like me. Vodka and rum are both delicious options.
The Bootleg is a great way to serve the same drink to many people while being able to add a personal touch to suit their alcoholic tastes.
Can I make this recipe as a batch cocktail?
Absolutely!
Don't want to mess around with mixing drinks individually?
Pour two parts Bootleg mix to one part gin, rum or vodka and mix in a pitcher. Pour over ice and add club soda when serving.
So bring on the patio party and make a batch of bootleg mix to soak up every last bit of time with friends and family. I know we are so ready to enjoy our oh-too-short, but magical summer weather.
One of the best things about summer in Minnesota? It makes you forget winter pretty quickly. I'll drink to that!
Need some more ideas for summer cocktails? Here are some of our favorite drinks to shake up happy hour!
Raspberry Palomas– Garnish with Lemon®
Frozen Peach Champagne Cocktail– Spend with Pennies
Aperol Gin Cocktails– Garnish with Lemon®
Prosecco Margaritas– A Farmgirl's Dabbles
Elderflower Vodka Sodas– Garnish with Lemon®
Watermelon Gin Punch– Garnish with Lemon®
Yield: 6 ounces
Bootleg Cocktail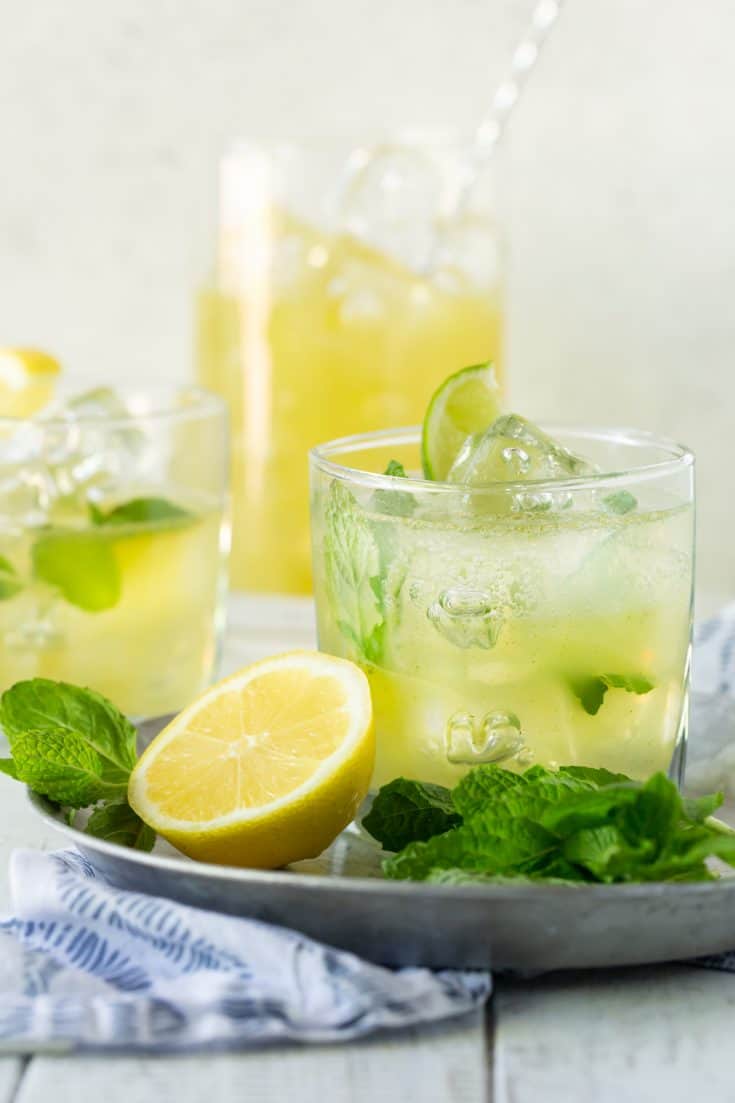 A citrusy, minty Bootleg cocktail that can be made with gin, vodka or rum.
Ingredients
Bootleg Mix:
1 - 12 ounce can lemonade concentrate
1 - 12 ounce can limeade concentrate
1 cup packed mint plus additional for garnish
Bootleg Cocktail:
1 1/2 ounces Gin (vodka or rum can also be used)
3 ounces Bootleg mix
splash of club soda
Mint for garnish
Instructions
To make the Bootleg Mix:
Place all ingredients in a blender and blend until mint is chopped finely. Pour into jar and refrigerate for at least 2 hours to let flavors develop. The chopped mint will rise to the top and it settles, I scoop most of it off before mixing the cocktails.
To make Bootleg Cocktail:
Pour gin and Bootleg mix into low ball glass filled with ice. Top with club soda, stir and garnish with mint.
Notes
The bootleg mix will make 12 cocktails.
Recommended Products
As an Amazon Associate and member of other affiliate programs, I earn from qualifying purchases.
Nutrition Information:
Yield:
12
Serving Size:
6 ounces
Amount Per Serving:
Calories:

156
Total Fat:

0g
Saturated Fat:

0g
Trans Fat:

0g
Unsaturated Fat:

0g
Cholesterol:

0mg
Sodium:

9mg
Carbohydrates:

37g
Fiber:

0g
Sugar:

26g
Protein:

0g