There's nothing like summer in Minnesota, especially when it involves a Bootlegger Drink. It's the perfect way to quench your thirst on a hot summer day. This Minnesota summer staple cocktail comes together in less than 15 minutes. Just measure, shake, and pour!
Bootleg Cocktail
Summer is a great time to get out of your cocktail rut! One of our summertime favorite Cocktails is the Bootlegger Drink.
If you aren't from Minnesota, you're probably wondering what in the world it is. If you are from here, you're most definitely convinced you know exactly where the original bootleg recipe was poured.
Made with lemon and limeade, fresh mint, vodka, and club soda, the Bootleg Drink is a Minnesota staple and needs to go to the top of your must-make list. Trust me.
Why you'll love this recipe
✘ It's versatile. This cocktail can be tailored to any palate. It can be made with vodka, gin, rum, or even makes a tasty mocktail.
✘ It's easy to make. All you'll need are 5 simple ingredients.
✘ It's perfect for parties. The Bootlegger Drink stores well in the fridge, which means you can easily make an entire pitcher for your next barbecue.
✘ It's bright and refreshing. Full of citrus and fresh mint, this vibrant beverage looks just as good as it tastes.
Jump to:
Ingredients & Substitutions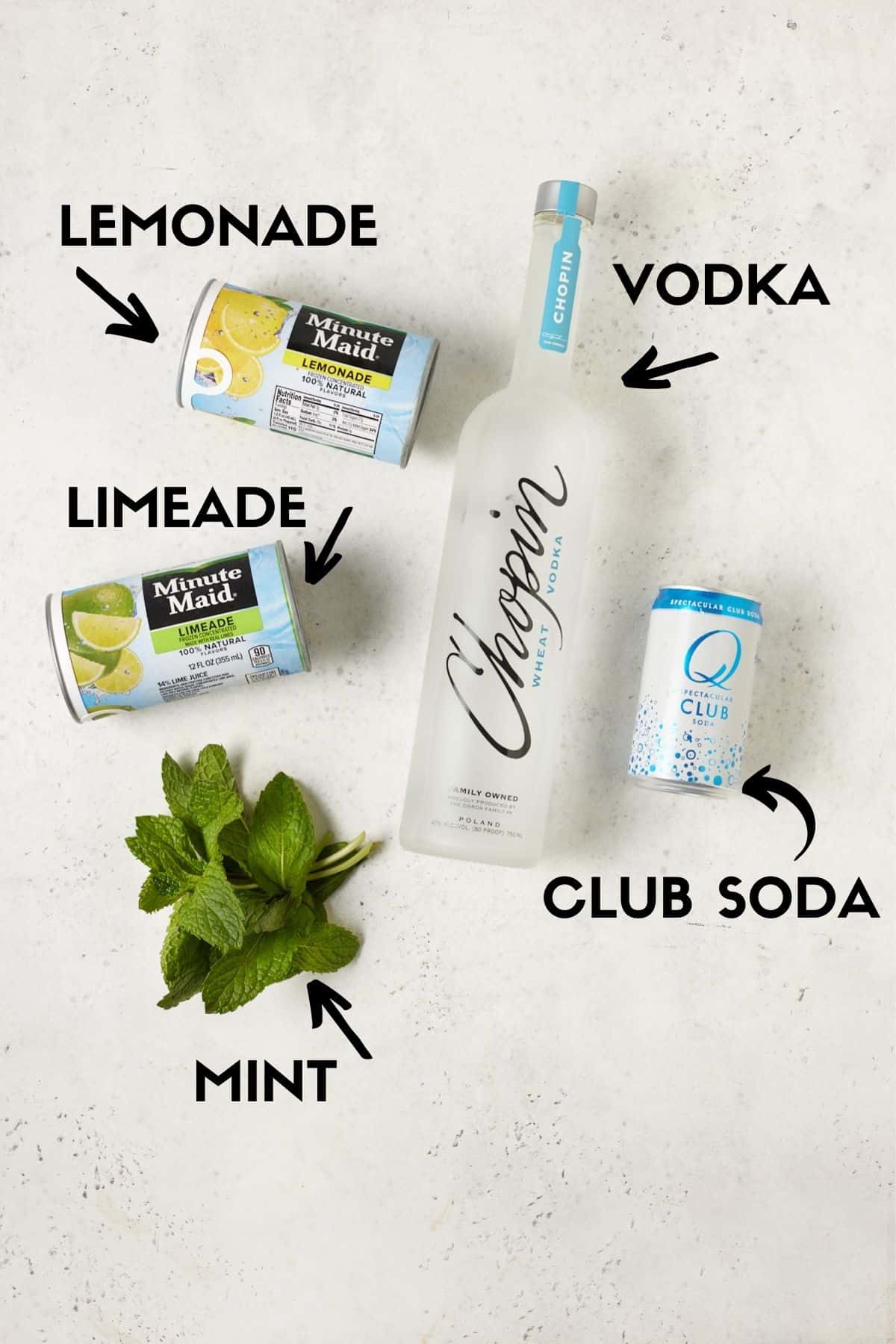 Ingredient Notes:
Frozen Lemonade & Limeade Mixes: As much as we love working with freshly squeezed juice, don't use fresh lemonade here. You need to use the 12-ounce frozen cans for the best results.
Fresh Mint: A key ingredient in this bootleg recipe, it does double duty as a garnish, too.
Club Soda: You only need a splash, so be sure to use the best! We love Q Club Soda because it comes in small cans.
Instructions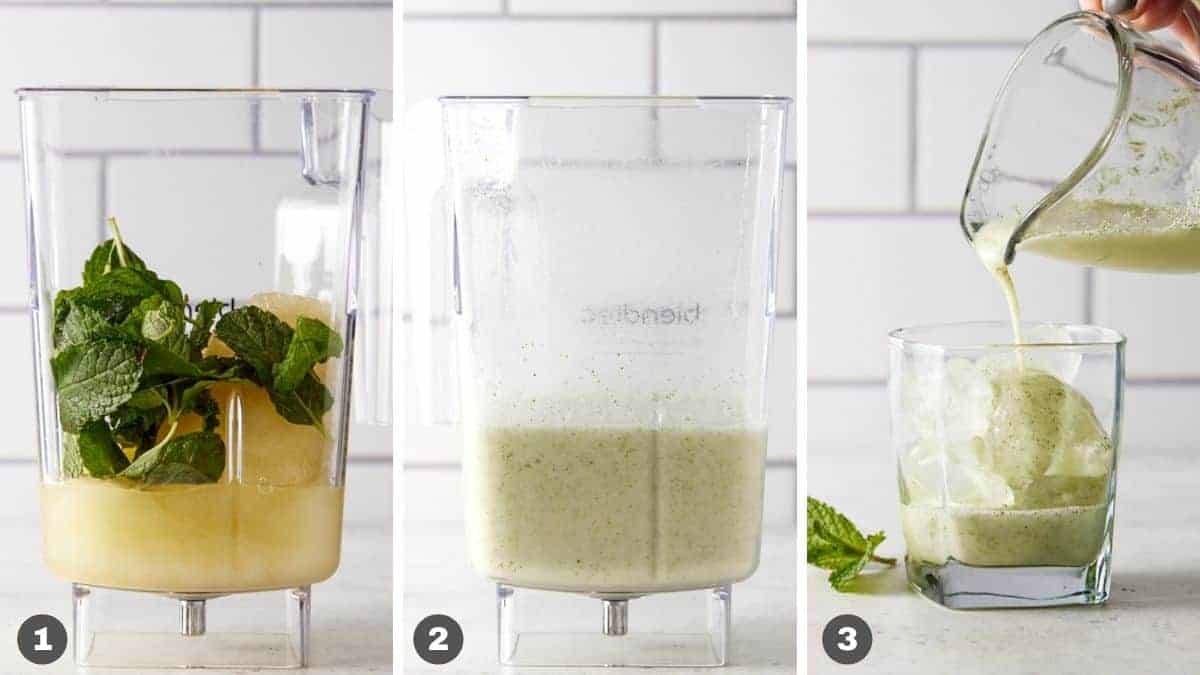 Make the mix. Add the fresh mint, frozen limeade, and frozen lemonade to your blender. Blend until the mint is pureed.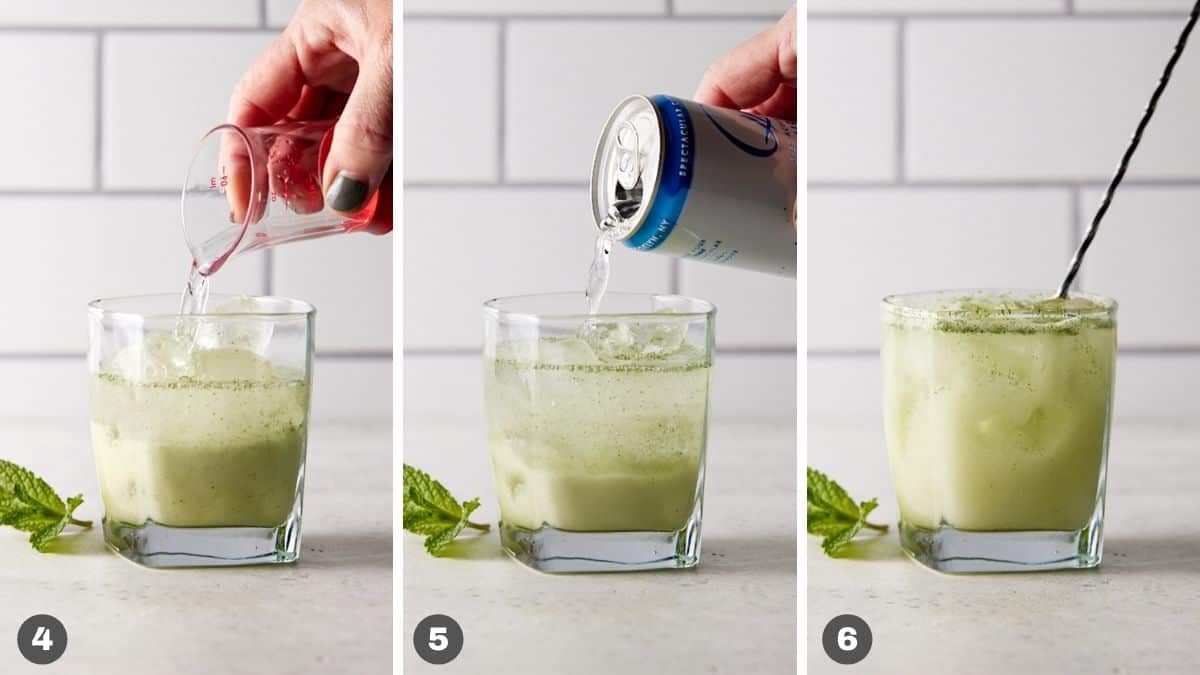 Make the cocktail. Add the bootlegger cocktail mix and vodka (or spirit of choice) to the glass and top it with a bit of club soda. Stir, garnish, and serve!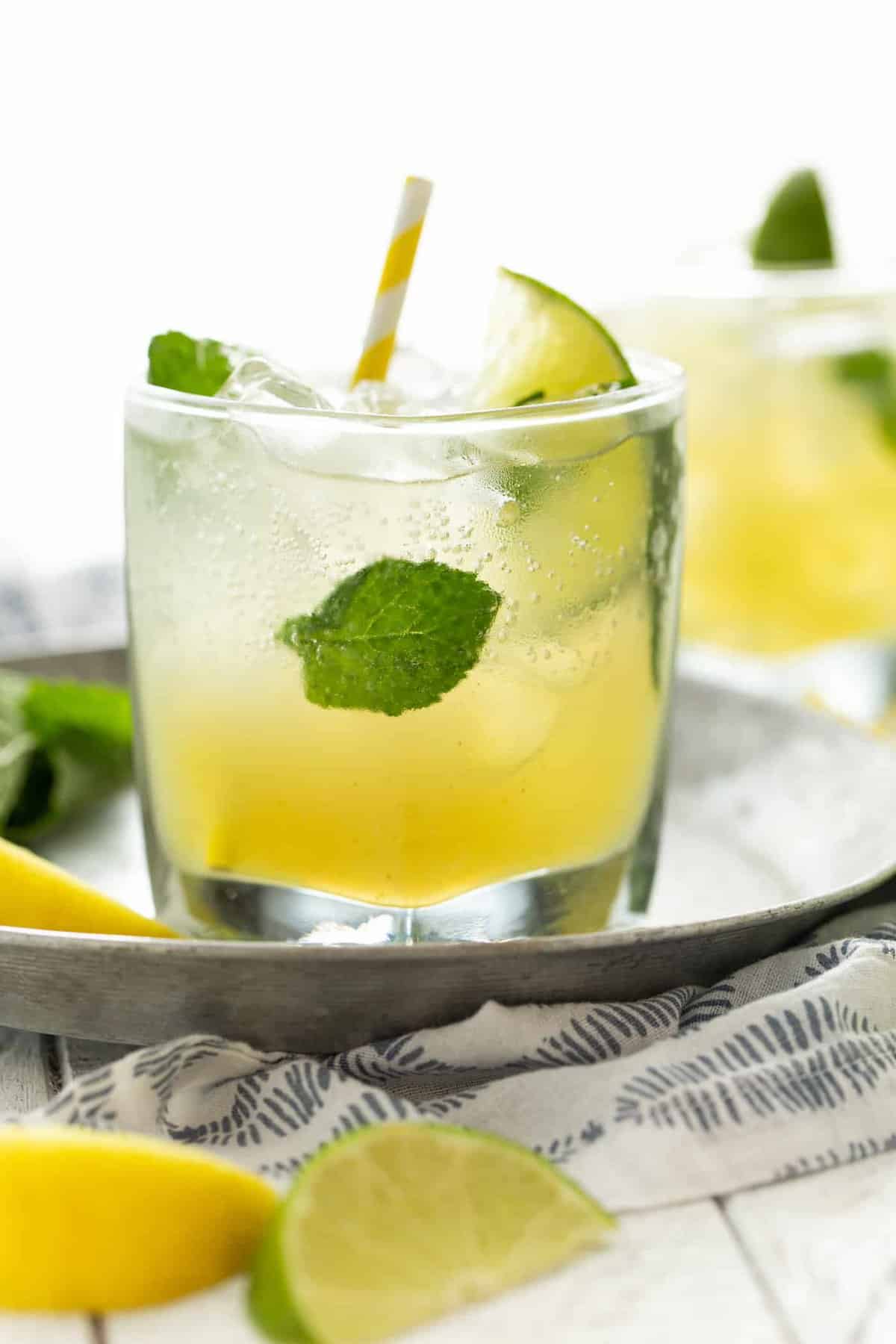 FAQs
How did the Bootleg Drink get its name?
We asked around, and no one is quite sure. But, we do know that it emerged during prohibition when the "bootlegged" booze needed to be covered up. We also know that every single country club in Minnesota has its own (best) version of a Bootleg drink!
Can you make this a mocktail?
Not everyone likes to drink alcohol, but that doesn't mean they need to miss out on fun drinks. It's a snap to make a nonalcoholic version of this Bootlegger drink for anyone to enjoy. Simply put 3 ounces of bootleg mix in a pint glass filled with ice, top with club soda, stir and serve!

Don't forget the garnish! We love to use lemon slices, lime wedges, or fresh mint leaves to add the finishing touch.
What is the best spirit to use in this drink?
Whenever you order a Bootleg Cocktail, the next question is always: do you want gin, vodka, or rum? 

I prefer mine with gin but don't worry if you aren't a gin lover like me. Vodka and rum are both delicious options. 

The Bootleg Cocktail is a great way to serve the same drink to many people while being able to add a personal touch to suit their individual tastes.
Expert tips for making the best Bootlegger Cocktail
✔️ Like your drinks a little sweeter? Feel free to add a little more mix.
✔️ If you prefer them a touch drier, add more club soda or an extra shot of alcohol.
✔️ Use the right blender. You need a high-powered blender to properly pulverize the mint leaves.
✔️ Easily make it ahead. Make the mint and citrus mix ahead of time so that you have it on hand. This also gives you the opportunity to scoop the mint off the top if desired!
✔️ Make sure to stir the mix well before adding your spirit of choice and club soda to your Bootleg Cocktail.
Helpful Equipment for Making This Bootleg Recipe
You don't need a lot of equipment to make this Bootlegger Cocktail, but these few items make it much easier.
A good blender. Now I know not everyone can splurge on a top-tier blender, but I highly suggest you save up your birthday gift cards! They greatly affect how quickly you can pull together one of these minty cocktails.

I own Blendtec and love it, but many people are also thrilled with their Vitamix blenders. These high-powered blenders do a much better job of tackling that mint and pulverizing it so you don't end up with green things stuck in your teeth.
We forego old-school traditional bar jiggers and always use these OXO Liquid Measuring Beakers. They are easy to read and have multiple sizes to take the guesswork out of measuring smaller amounts.

Any bartender knows that proper proportions make or break a cocktail.
Best Happy Hour Snacks
Happy hour isn't complete without the addition of some tasty nibbles to nosh on. Here are some of our go-to summer bites, all of which pair perfectly with this refreshing Bootlegger drink:
Caprese Bites - A Caprese salad on a stick, everything about it screams summer!
Healthy Avocado Dip - Just say no to boring dill dip. The smoky avocado cumin yogurt dip is a great way to increase your veggie intake.
Avocado Feta Salsa - Avocado, tomatoes, and feta cheese tossed in an olive oil/vinegar/herb dressing. Need we say more?
Layered Greek Dip - This Mediterranean spin on the 7-layer dip is filled with all of the Greek flavors you want. Bonus points for being healthy!
Bacon Cream Cheese Bites - Crispy bacon bites filled with cream cheese and chives. One bite and you will fall in love.
Cucumber Bites - So crisp and refreshing!
Favorite Summer Cocktails
Check out all of our drink recipes.
What are you waiting for? Hosting happy hour in the summer couldn't be any easier or more delicious. We'll drink to that!
Cheers!



Did you make this recipe? We'd love to hear your thoughts! 

Please rate the recipe and leave a comment below. Your feedback helps us and your fellow readers! 



Recipe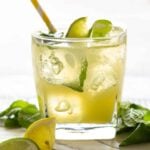 Bootlegger Drink
There's nothing like summer in Minnesota, especially when it involves a Bootlegger Drink. It's the perfect way to quench your thirst on a hot summer day. This Minnesota summer staple cocktail comes together in less than 15 minutes. Just measure, shake, and pour!
Ingredients
Bootleg Mix:
12

ounce

can lemonade concentrate

12

ounce

can limeade concentrate

1

cup

packed mint plus additional for garnish
Bootleg Cocktail:
1 ½

ounces

Vodka

3

ounces

Bootleg mix

splash of club soda

Mint for garnish
Instructions
To make the Bootleg Mix:
Place all ingredients in a blender and blend until mint is chopped finely. Pour into jar and refrigerate for at least 2 hours to let flavors develop. The chopped mint will rise to the top and it settles, I scoop most of it off before mixing the cocktails.
To make Bootleg Cocktail:
Pour vodka and Bootleg mix into low ball glass filled with ice.

Top with club soda, stir and garnish with mint.
Notes
This cocktail tastes great with vodka, gin or rum. Use your favorite. 
Looking for a mocktail? Omit the alcohol and replace with Club Soda or sparkling water.
To Make 12 Bootleg Cocktails:
One can frozen lemonade concentrate
One can frozen limeade concentrate
20 mint leaves
Club soda
12 ounces vodka, rum or gin
Nutrition
Serving:
6
ounces
Calories:
156
kcal
Carbohydrates:
37
g
Sodium:
9
mg
Sugar:
26
g
Nutrition info not guaranteed to be accurate.