Looking for an alternative to your traditional dill veggie dip? Try this heart-healthy Avocado Cumin Yogurt Dip at your next potluck.
I come from an extended family of dippers, which means there is almost always a dip at every family function. Chips, veggies, pitas, bread sticks, fruit, you name it, we dip it. I'm not entirely sure where this obsession with dips originated, but I'm proud to introduce another dip to our already considerable repertoire: Avocado Cumin Yogurt Dip.
Our Avocado Cumin Yogurt Dip is loaded with cumin which adds a lot of warmth and depth to each bite. Dial the heat up or down by using as much jalapeño pepper as you like. I used plain Greek yogurt and loved how it thickened the dip. (The extra protein was a bonus, too.) Heart-healthy avocado gives this dip a gorgeous green color, and the cilantro and lime juice keep the taste fresh and bright.
Tip: Pop everything into the blender or food processor, give it a few pulses, and it's ready to go. Making the Avocado Cumin Yogurt Dip ahead of time? Place plastic wrap over the surface of the dip to prevent browning and refrigerate until ready to serve.
Slice up some veggies, cut some fresh pitas into wedges or grab a bag of baked pita chips at the store and you have fantastic option to take to parties where you want to be assured that a healthier snack is available. I don't think anyone will suspect it's healthy nature, though. My family certainly didn't. And they are kind of dip snobs.
Looking for other dip ideas? Check out some of our favorite dips and salsas below:
Tomatillo Salsa – Garnish with Lemon®
St. Louis Veggie Dip – A Dash of Sanity
Avocado Feta Salsa – Garnish with Lemon®
Skinny Buffalo Dip – Wine & Glue
Almost Chipotle's Corn and Roasted Poblano Salsa – Garnish with Lemon®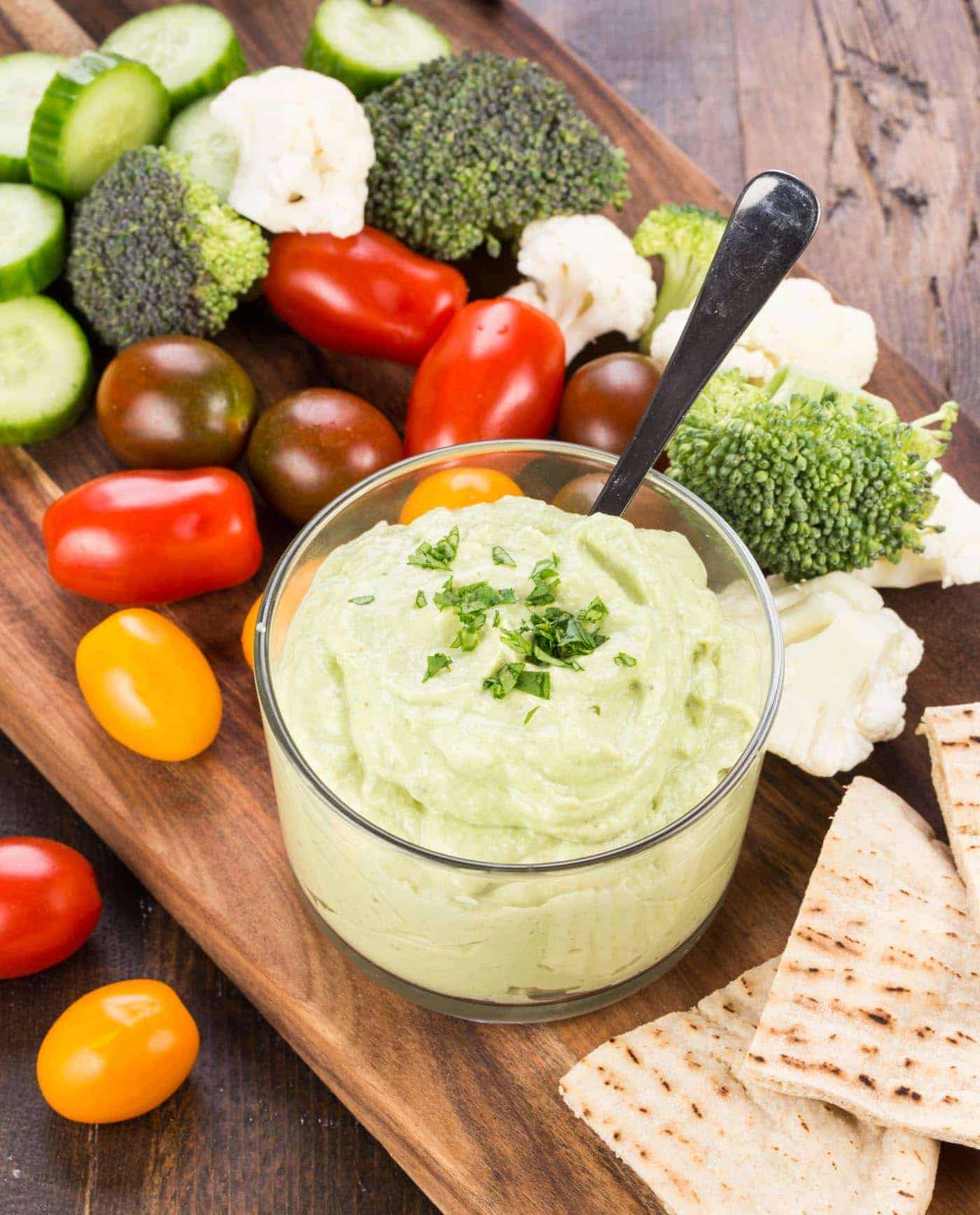 Avocado Cumin Yogurt Dip
Ingredients
3/4 cup plain Greek yogurt (whole milk, low fat or fat-free)
1/2 cup chopped onion
3 tablespoons chopped fresh cilantro
1 tablespoon chopped seeded jalapeno pepper
2 tablespoons fresh lime juice
1 tablespoon ground cumin
1/2 teaspoon salt
3 ripe peeled avocados, seeded
1 garlic clove, minced
Instructions
Place all of the ingredients into a blender or food processor and pulse until smooth.
Refrigerate if not using immediately.
Nutrition Information:
Amount Per Serving:
Calories:

62
Total Fat:

3g
Carbohydrates:

4g
Protein:

6g