Make healthy snacking a snap with this easy appetizer recipe for Healthy Avocado Dip. Made with Greek yogurt and the vibrant flavors of the southwest, this make-ahead dip is perfect for potlucks.
I come from an extended family of dippers, which means there is almost always a dip at every family function. Chips, veggies, pitas, bread sticks, fruit, crackers and cookies…you name it, we dip it.
I'm not entirely sure where this obsession with dips originated, but I'm proud to introduce another dip to our robust repertoire: this Healthy Avocado Dip that is made with Greek yogurt!
Jump to: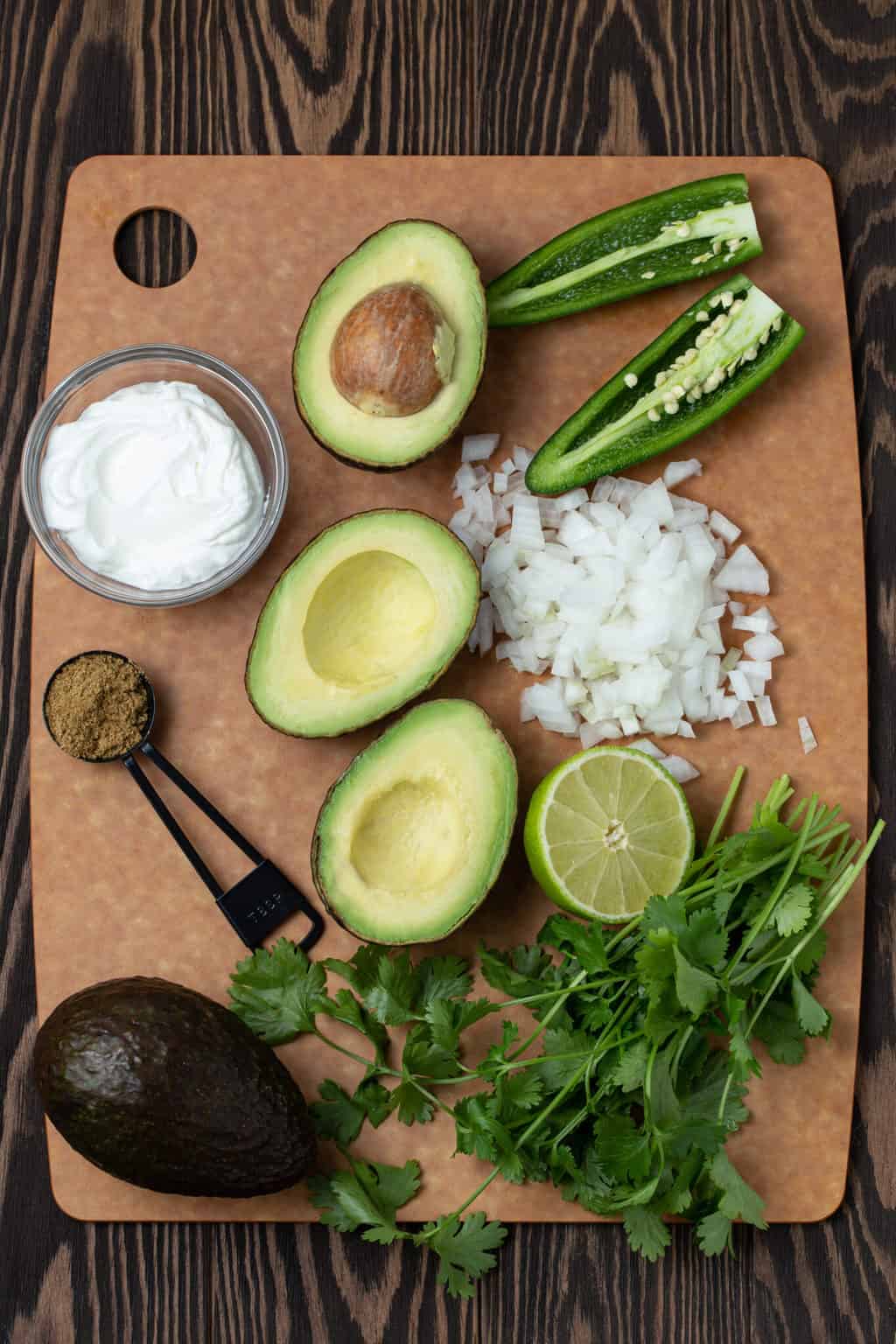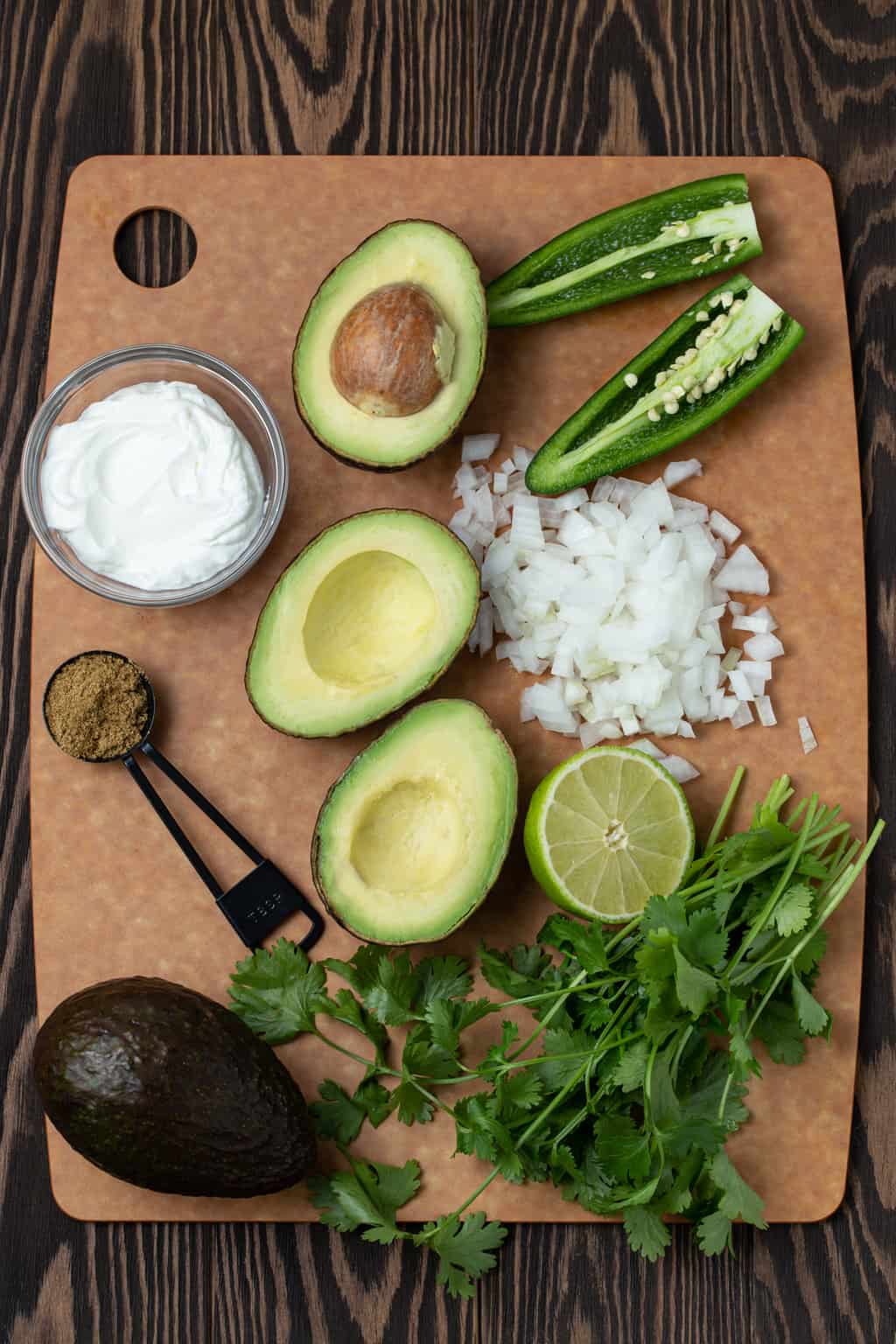 Ingredients
This creamy dip is made with a slew of good-for-you foods, including:
Avocados
Greek yogurt
Onion
Jalapeño pepper
Fresh cilantro
Fresh lime juice
Garlic
Ground cumin
It's the perfect healthy party snack that no one will suspect is healthy!
Flavorful AND Healthy Snack Recipe
Can a veggie dip taste good and still be good for you? YES!
A lot of veggie dips are loaded with sour cream or mayonnaise. While they may be tasty, they can easily derail my efforts to snack smart.
You can't deny the healthy resume of some of these avocado dip ingredients. For example, avocados are loaded with good-for-you fats and Greek yogurt provides an extra boost of protein (while also giving the dip a thick and creamy texture).
But the supporting cast is no stranger to flavor. This dip has a generous amount of cumin, a savory spice that is often found in other spice blends including chili powder and curry powder.
The recipe calls for just one tablespoon of chopped jalapeño pepper, but feel free to add more if you want a bit of kick to your munchies. A handful of cilantro and just-squeezed lime juice keep the taste of every spoonful fresh and bright.
These are all delicious, real food ingredients on their own, but together they pack a serious flavor punch.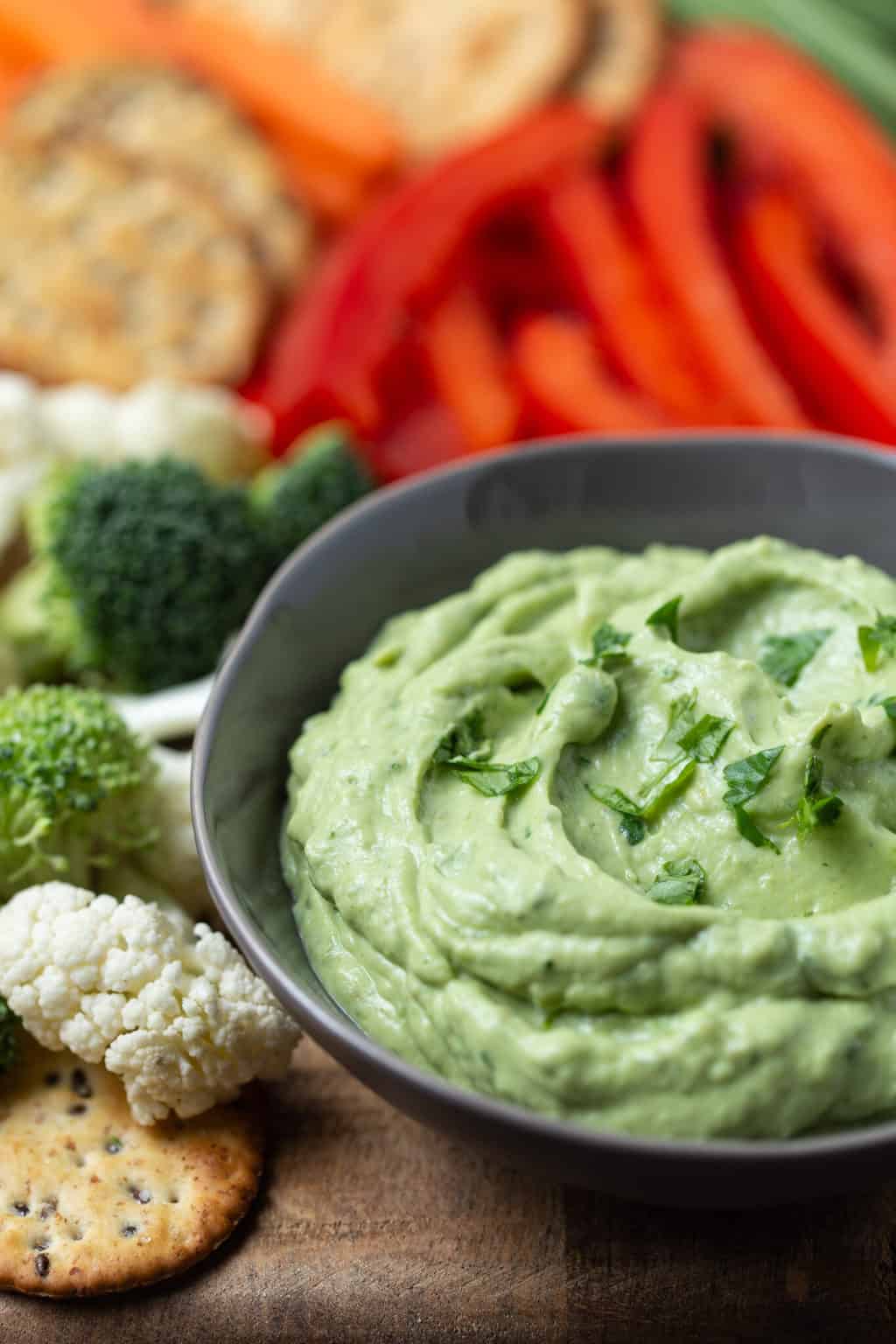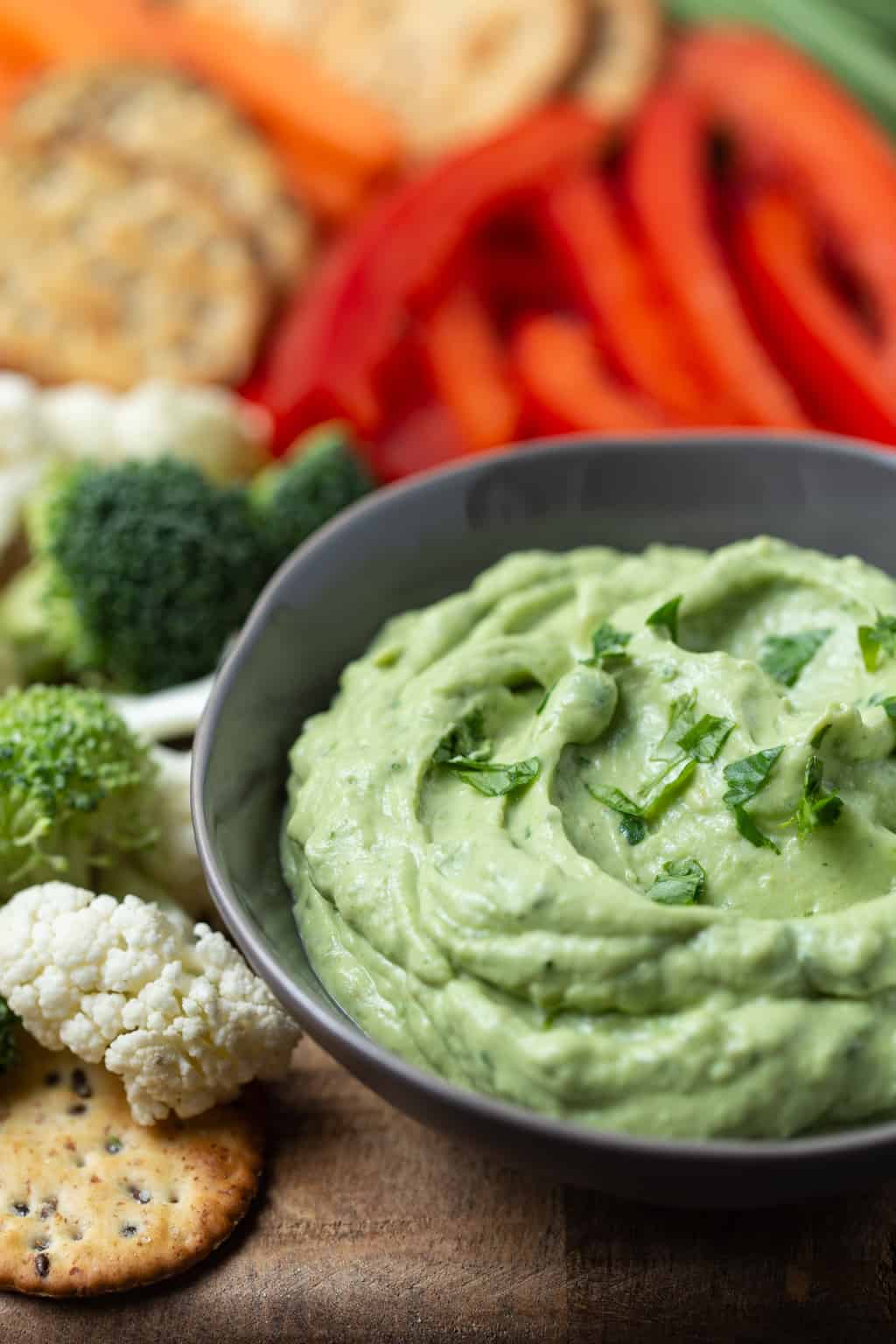 Avocado dip vs. guacamole
This avocado dip is NOT guacamole, even though it uses some of the same ingredients. Guacamole is traditionally made by mashing avocados with salt using a mortar and pestle (plus a little cilantro, lime juice and jalapeño.) This dip is smooth and contains one very unfriendly guacamole ingredient, Greek yogurt
If you're looking for a killer guac recipe, I HIGHLY recommend our Pico Guacamole. (Fair warning: you have to enjoy chunky guac!) Looking for a vegan avocado dip? Check out Cookie & Kate's recipe here.
Instructions
One of the best parts of this recipe is how easy it is to make. Pop everything into a blender or food processor and whirl away. If you have a high-powered blender like a Blendtec or Vitamix, you don't even need to chop the ingredients before you put them in the blender jar. It couldn't be simpler!
Note: I personally have a Blendtec (an older model that is similar to this one) and that thing is a workhorse. Not only does produce velvety smooth dips, dressings and soups, but it tackles the hard stuff like frozen fruit with ease. Smoothies have never been simpler to make. Highly recommend!!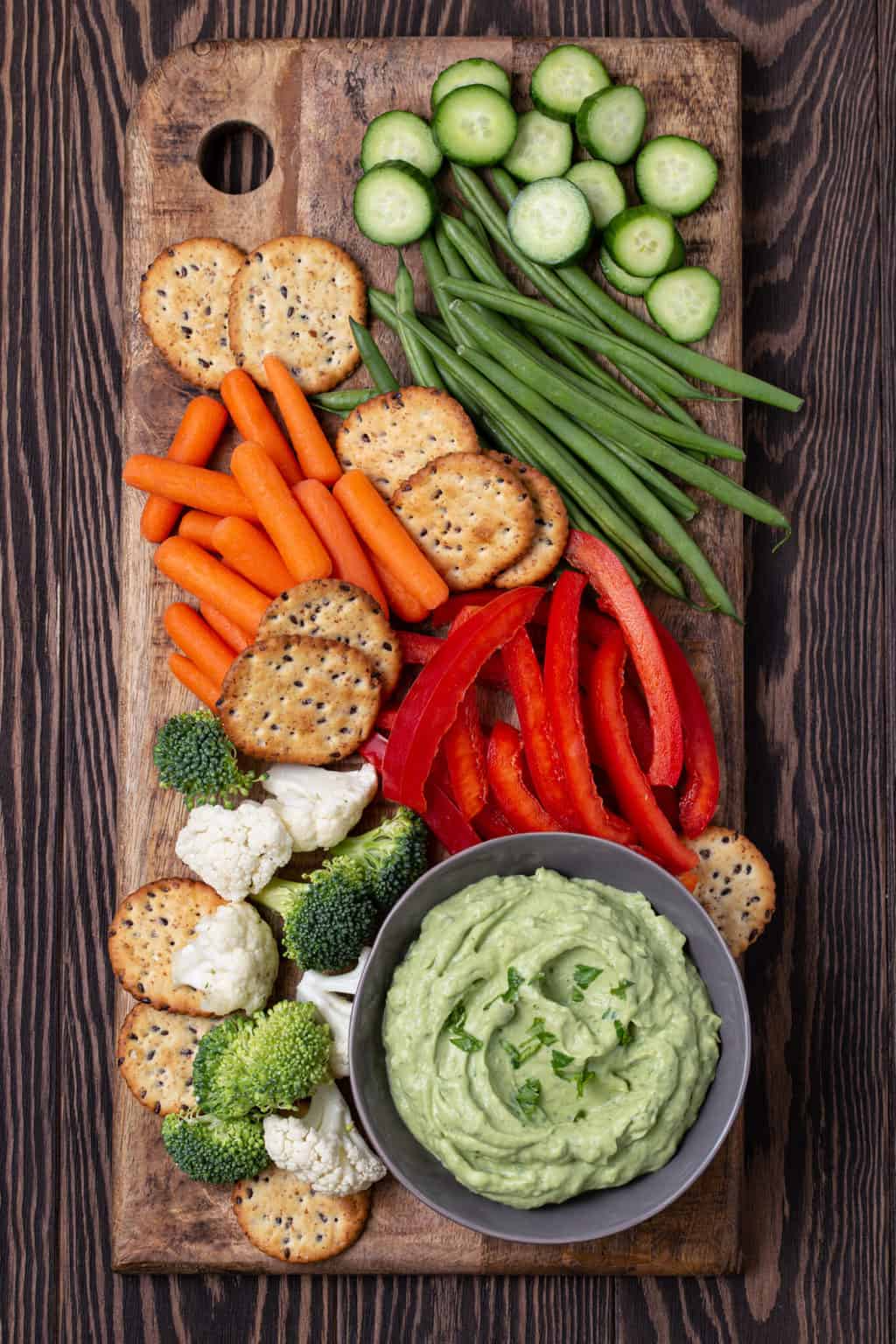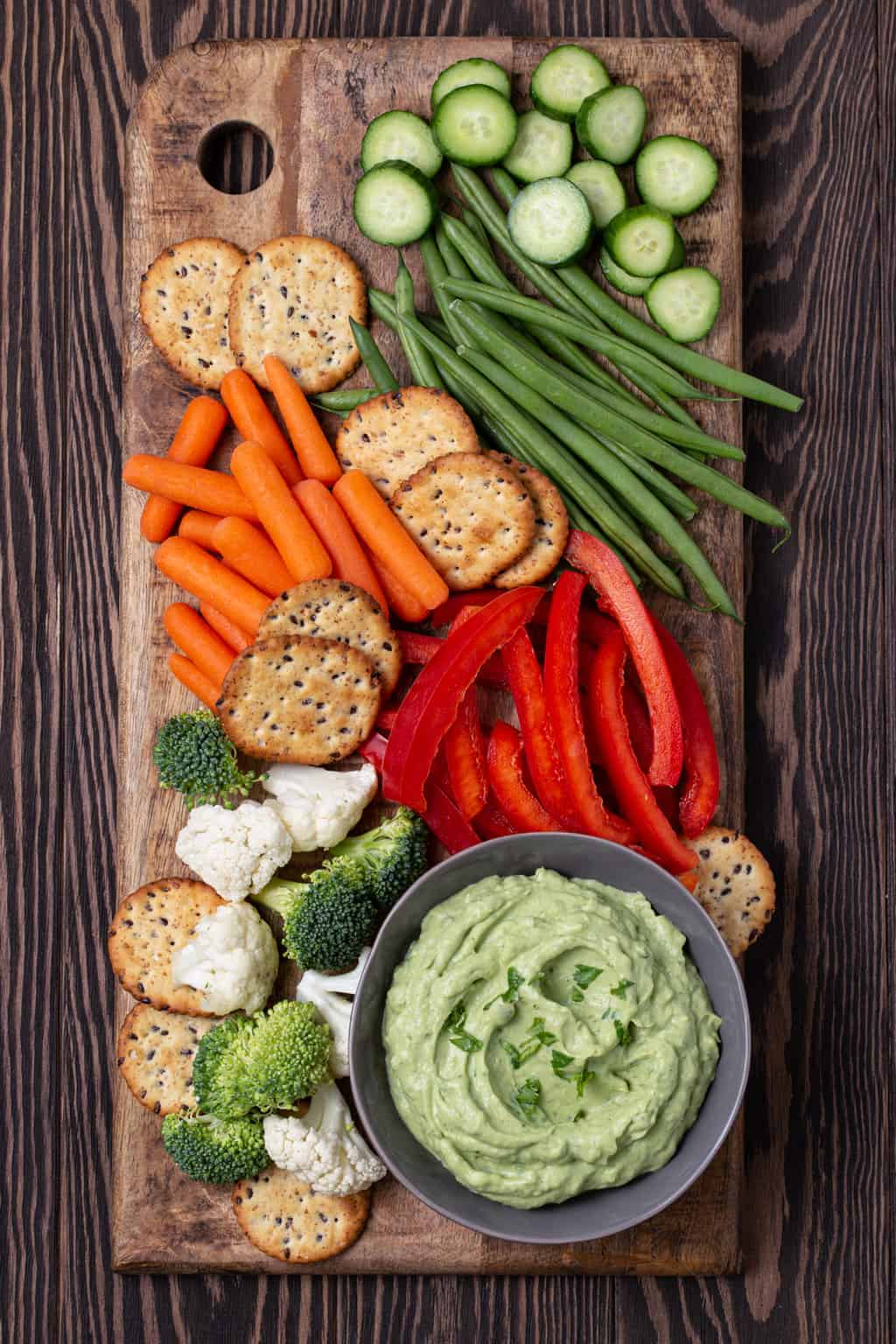 Healthy party snack
The sky is really the limit when serving this Avocado Dip. I love to set out an assortment of colorful, bite-sized veggies - everything from carrots to jicama to bell peppers to cucumbers. Choose your favorites!
But I also like to include a little salty crunch to the spread so there is usually a bowl of multi-grain crackers or tortilla chips nearby, too. Pretzels and pita wedges work great, too.
Storing Tips
Most party snacks lean more toward the indulgence than good for you. This recipe is one of my go-to's for a heathy game day snack. Paired with an assortment of veggies, it's a perfect counterbalance to other, more sumptuous fare.
But the best part about this dip recipe is that it can be made up to two days ahead of time. What time-starved host can argue with that?!
Note: The one thing you have to watch out for when making this dip in advance is avocado browning. Avocados naturally oxidize when their flesh is exposed to air. Fortunately this dip includes lime juice which helps to slow this process but it does not eliminate it entirely.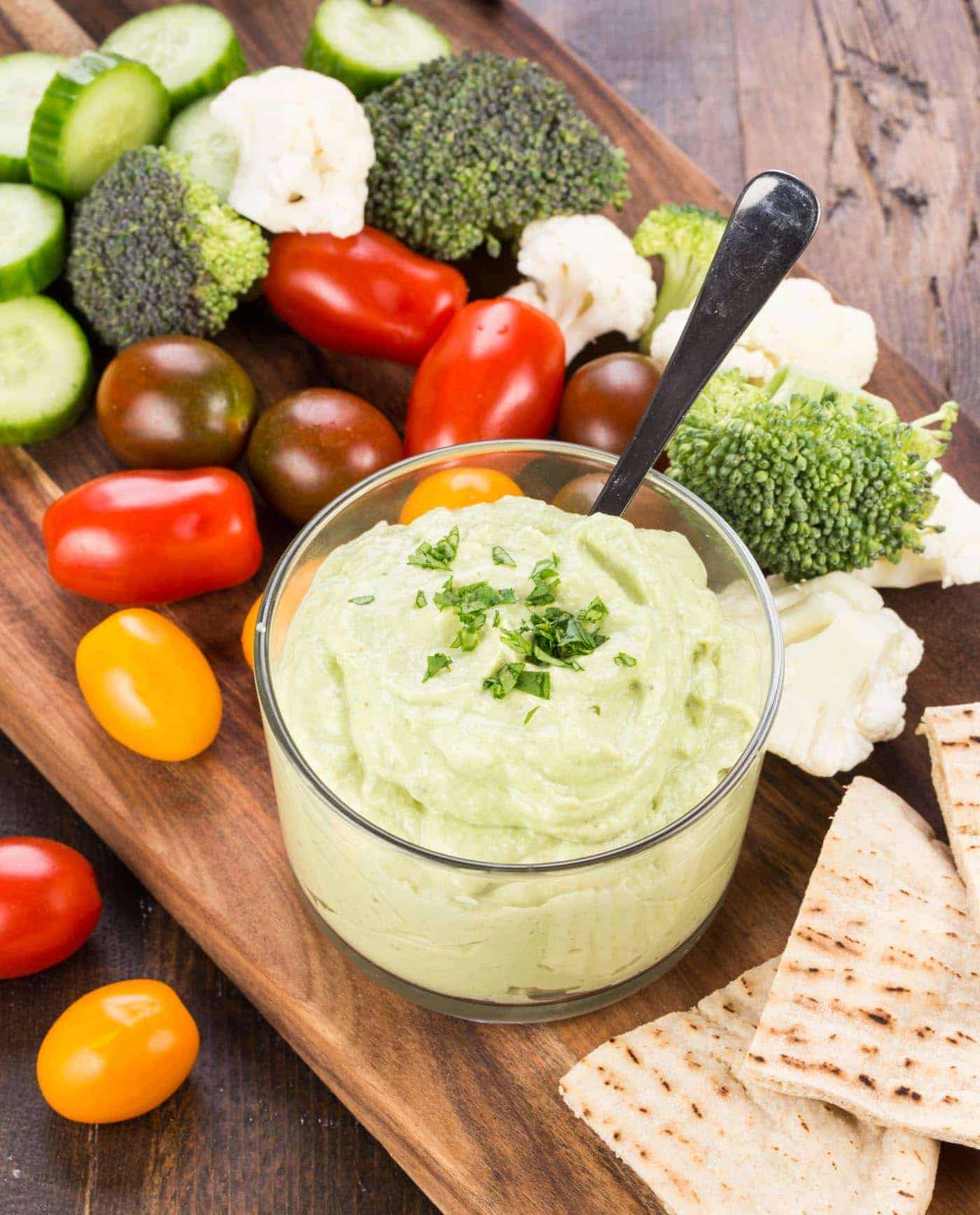 Make Ahead Tips
Make the dip as directed in the recipe and place in a container.
Press a piece of plastic wrap firmly over the top of the dip making sure that the surface area is completely covered.
Seal the container with an airtight lid and put in the refrigerator until ready to serve.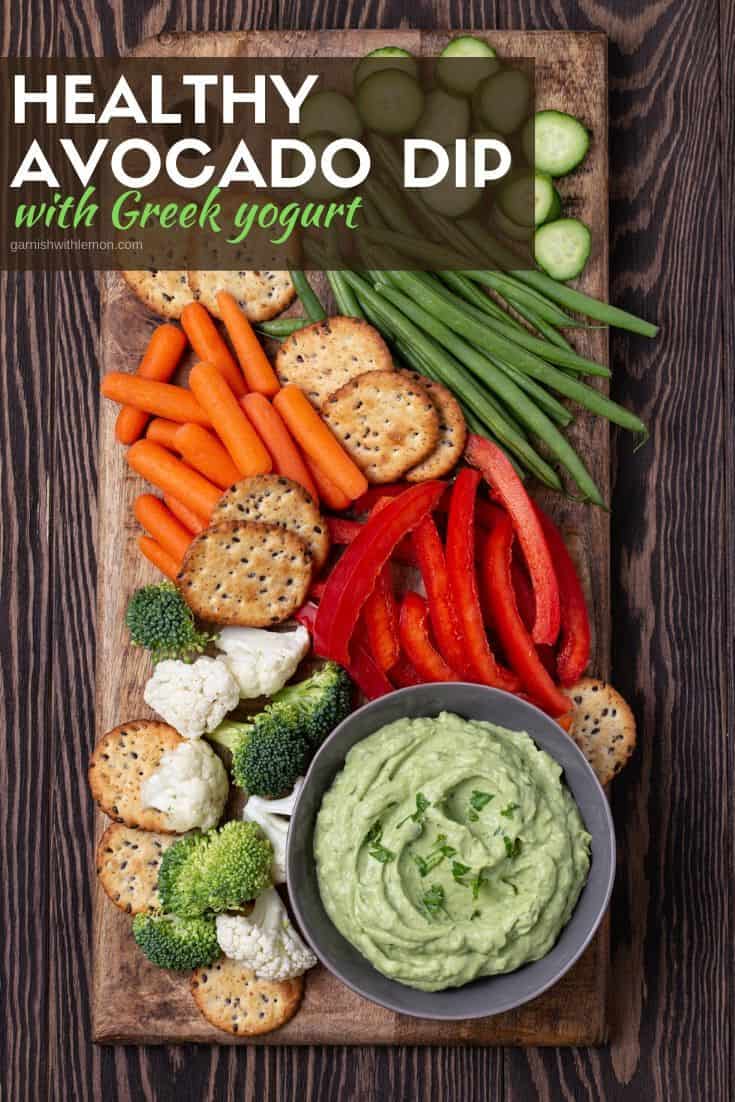 More party snacks
These Chipotle and Rosemary Roasted Nuts pack a flavor punch in every bite. Just a handful will satisfy your grumbling stomach.
Our Layered Greek Dip has been going crazy on Pinterest lately - with good reason. This Mediterranean spin on a traditional 7-layer taco dip is veggie-packed and feeds a crowd with ease.
Craving a salad? These Greek Salad Skewers have all the flavors of a popular Greek salad but in bite-sized form. Can be made ahead of time, too!
We have a major crush on certain 3-layer hummus from Trader Joe's. Since we couldn't get enough of our favorite hummus flavor, we made our own at home! This Cilantro Jalapeño Hummus tastes darn close to the original but just a bit brighter thanks to some extra lime juice. Love!
Recipe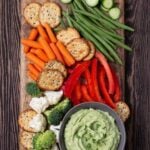 Healthy Avocado Dip with Greek Yogurt
This creamy avocado dip is packed with rich, southwest flavors. Plus it's made in the blender and comes together in minutes. Perfect healthy party appetizer!
Ingredients
¾

cup

plain Greek yogurt

whole milk, low fat or fat-free

½

cup

chopped onion

3

tablespoons

chopped fresh cilantro

1

tablespoon

chopped seeded jalapeno pepper

2

tablespoons

fresh lime juice

1

tablespoon

ground cumin

½

teaspoon

salt

3

ripe

peeled avocados, seeded

1

garlic clove

minced
Instructions
Place all of the ingredients into a blender or food processor and pulse until smooth. If needed, add additional water and/or lime juice to reach desired consistency.

Serve with veggies, crackers and/or pita wedges.
Notes
Makes about 3 cups of dip.
If not using right away, press a layer of plastic wrap directly on top of the surface of the dip to keep from browning prematurely and then pop it in the refrigerator. If you do get a little browning, feel free to either scrape the layer off or mix it into the rest of the dip.
Adapted from MyRecipes.com
Nutrition
Serving:
4
ounces
Calories:
96
kcal
Carbohydrates:
6
g
Protein:
3
g
Fat:
8
g
Saturated Fat:
1
g
Polyunsaturated Fat:
6
g
Cholesterol:
1
mg
Sodium:
98
mg
Fiber:
4
g
Sugar:
1
g
Nutrition info not guaranteed to be accurate.
Need to bring an appetizer for your next party? Look no further than this easy, creamy Healthy Avocado Dip made with Greek yogurt. Pair it with some veggies and crackers and it's a fantastic make-ahead recipe to take to parties where you want to be assured of a healthier snack option.