Just say no to boring vodka soda cocktails with this easy, 4-ingredient Elderflower Vodka Soda recipe!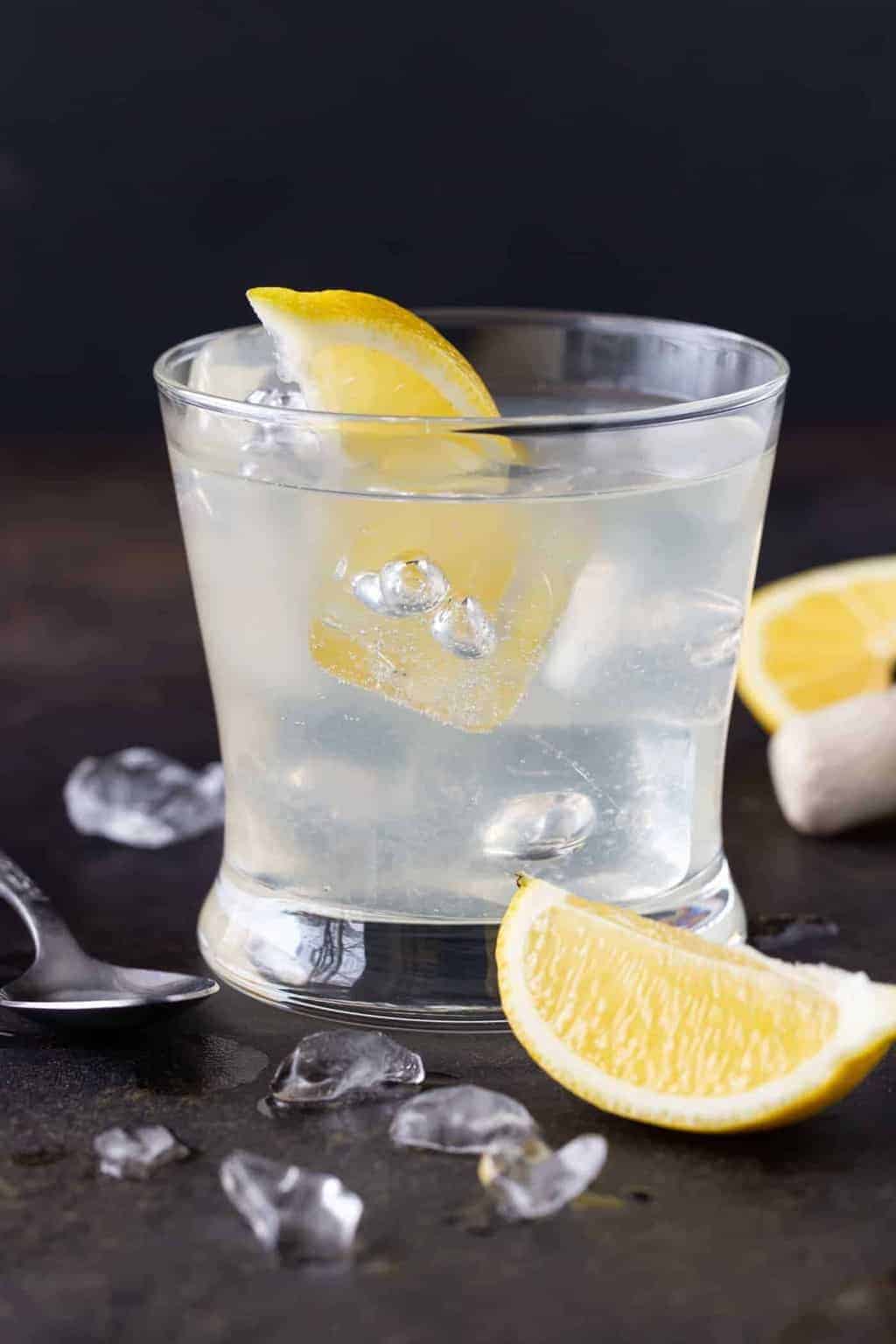 Love a classic vodka soda? You're going to flip for this Elderflower Vodka Soda recipe.
The small amount of elderflower liqueur added to this drink gives it the perfect bit of sweetness to take the edge off the crisp (and sometimes biting) vodka and soda combination.
What is a Vodka Soda cocktail?
In its simplest form, this cocktail is essentially vodka and soda water with a squeeze of citrus fruit. Many people choose a vodka soda cocktail because it is typically lower in calories and/or carbs than other mixed drinks.
Now don't confuse a vodka soda with a vodka tonic cocktail. A vodka tonic is very similar but uses tonic water in place of the club soda. The result is a different flavor because of the somewhat bitter quinine flavor of the tonic water.
That said, unless you really enjoy the straight up taste of vodka, I find the traditional vodka soda recipe a bit lacking in flavor – hence this Elderflower Vodka Soda recipe.
So do I really need a recipe for a simple cocktail like a Vodka Soda?
Ever had a bad vodka soda? My guess is yes. The correct proportions of alcohol are key to any enjoyable cocktail – simple or not.
Consider this Elderflower Vodka Soda recipe a solid base for you to build a cocktail that satisfies your tastebuds. Tweak it however you like!
Elderflower Vodka Soda Ingredients
Four ingredients are all you need to make a delicious Elderflower Vodka Soda:
Vodka
Elderflower liqueur
Fresh lemon or lime juice
Club soda
Are club soda and soda water the same thing?
I use club soda and soda water interchangeably in my cocktail recipes. They don't have enough of a flavor difference for me to specify one over another.
That said, many people say that club soda has a slightly saltier taste than carbonated soda water because of the addition of minerals. The choice is totally up to you.
What is Elderflower Liqueur?
If you've never had elderflower liqueur before, you're in for at treat. It is made from the blossoms of the elderflower bush and has a bit of a sweet, floral flavor to it.
But don't be dissuaded by the floral description. It is SUPER versatile and gives great depth and flavor when paired with a variety of other spirits.
Curious to learn more about elderflower liqueur? We've got a whole post dedicated to elderflower liqueur that includes other cocktail recipes you can use it in. Check it out!
What kind of glass do you make a vodka soda cocktail in?
Opinions abound on this topic. There are two schools of thought: one is highball glass and the other is lowball (or double old fashioned) glass. I'm firmly in camp lowball for a couple of reasons:
1. You're making a cocktail, not drinking a glass of lemonade. It shouldn't be super-sized.
2. A highball glass ensures you are either going to have too much of something, whether it is ice, soda or vodka. All of which contribute to an unbalanced drink.
Do you add lemon or lime to this vodka soda recipe?
I prefer the flavor of lemon in this drink, but if you're more of a lime lover (or if that's all you have on hand), feel free to make the substitution.
It's all about making a drink that works for you!

How to make an Elderflower Vodka Soda
Follow these tips to make the perfect Elderflower Vodka Soda:
Fill a low ball glass with ice. Lots of ice. Not just a few cubes. Fill the whole darn glass. There is nothing worse than sipping on a lukewarm cocktail because all the ice has melted.

Keep your spirits proportional. It's tempting to just pour in an amount that looks good, but you own a jigger for a reason. Use it. (Or if you don't, for heaven's sake, buy one!)

Fresh lemon juice is also a must. There isn't much here, but don't be tempted to grab the squeeze bottle from the grocery store shelf. The flavor just isn't the same.

Top with club soda and give the whole thing a gentle stir. Garnish with a lemon wedge and sip happy!
Here's what I use to make an Elderflower Vodka Soda:
Some lowball glasses are HUGE. I love the smaller size of these glasses. Perfectly sized for this cocktail!
These measuring beakers are essential tools in our home bar. Rarely is a cocktail made without them. Plus they can easily be put in the dishwasher.
This citrus press makes juicing fresh lemons and limes a breeze. No more excuses for using that bottled stuff!
Looking for more easy vodka cocktails?
Strawberry Basil Vodka Cocktails
Lemon Blueberry Vodka Spritzer
Metropolitan Cranberry Martini
See all of our Vodka Cocktails HERE!
Yield: Makes 1 drink
Elderflower Vodka Soda recipe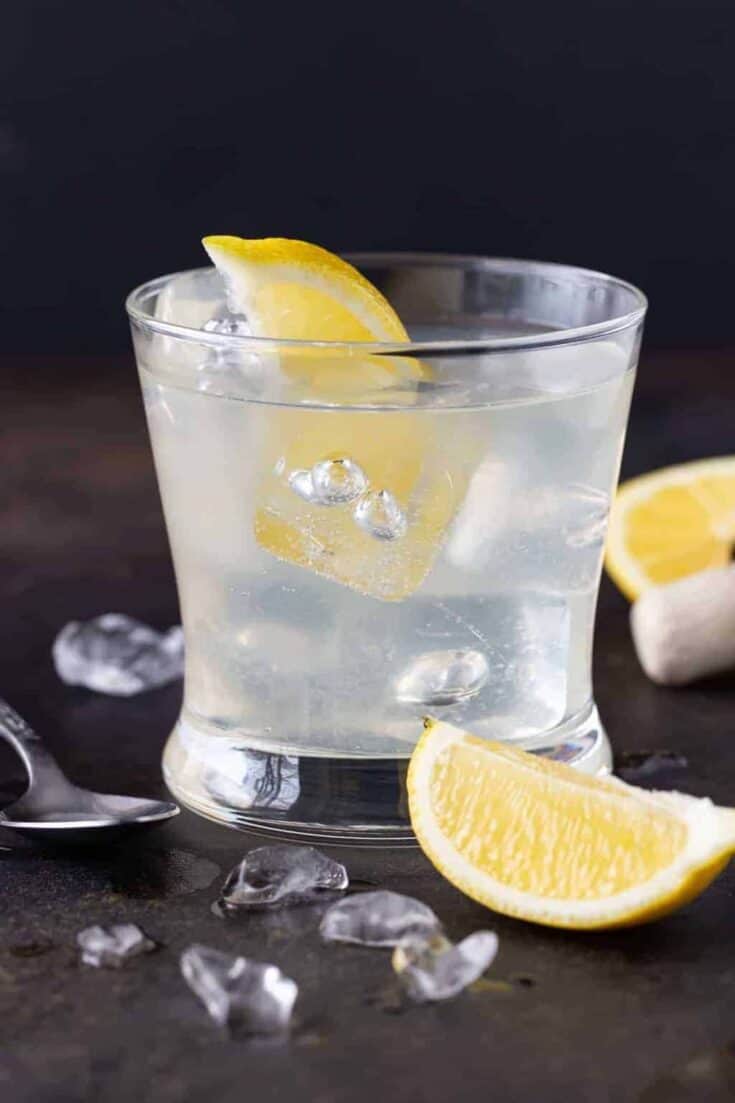 Even classic cocktails can be improved. Take this easy, 4-ingredient Elderflower Vodka Soda, for example. The small amount of elderflower liqueur added to this drink gives it the perfect bit of sweetness to take the edge off the crisp (and sometimes biting) vodka and soda combination.
Ingredients
2 ounces vodka
1 ounce elderflower liqueur
1/2 ounce freshly squeezed lemon juice
2 1/2 ounces club soda
Instructions
Fill a lowball glass with ice. Add all ingredients to glass and gently stir to combine. Garnish with lemon wedge, if desired.
Recommended Products
As an Amazon Associate and member of other affiliate programs, I earn from qualifying purchases.
Nutrition Information:
Yield:
1
Serving Size:
6 ounces
Amount Per Serving:
Calories:

219
Total Fat:

0g
Saturated Fat:

0g
Trans Fat:

0g
Unsaturated Fat:

0g
Cholesterol:

0mg
Sodium:

5mg
Carbohydrates:

8g
Fiber:

0g
Sugar:

7g
Protein:

0g
Even a simple cocktail recipe like a Vodka Soda can be improved. This easy, four-ingredient Vodka Soda recipe takes your standard cocktail from average to outstanding!