Impress your guests with this easy Elderflower Vodka Soda recipe. It takes your classic vodka soda from average to AWESOME with the addition of one simple ingredient.
This post was originally published on 4/8/2019 and updated on 2/5/2020.
A vodka soda is a go-to drink for a lot of people. It's super easy to make, has only three ingredients and never goes out of style.
But it's also kind of boring.
Don't get me wrong; some people consider a vodka soda healthy because it's low in carbs and calories. But that also makes it low in flavor, in my opinion, unless you really dig the taste of plain vodka.
You can make a much, MUCH better vodka soda - one that you will crave - with this Elderflower Vodka Soda recipe. A small amount of elderflower liqueur gives this classic drink the perfect bit of sweetness to take the edge off the sharp aftertaste of the traditional version.
Your friends will definitely ask for the recipe!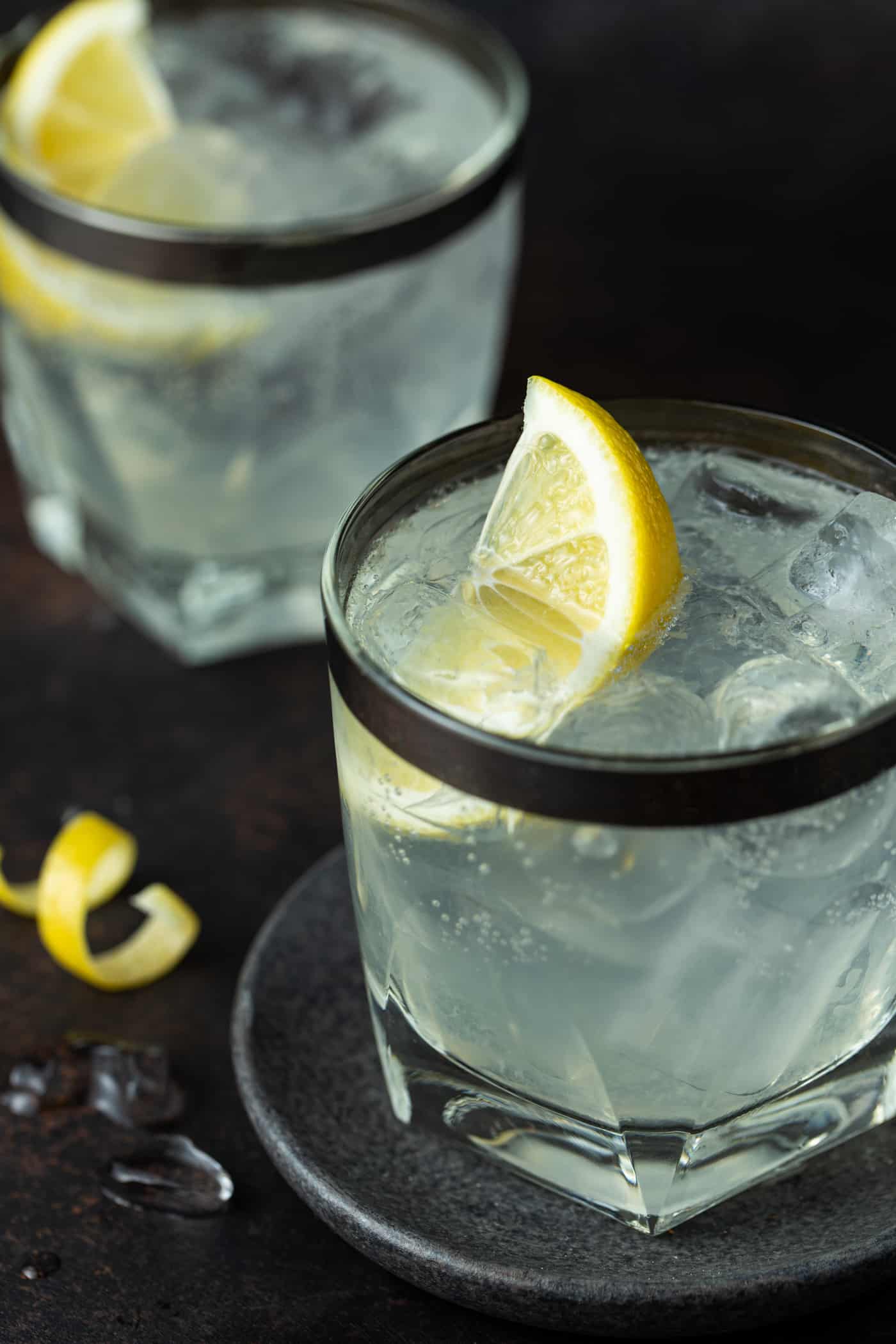 What is a Vodka Soda?
It's basically three ingredients: vodka, club soda (or seltzer water) and a squeeze of lemon or lime juice. That's it. You can see why people love this drink because it's so easy to make.
But don't confuse a vodka soda with a vodka tonic cocktail. A vodka tonic also has vodka and lemon or lime juice but instead of club soda, it uses tonic water, which has a bitter quinine flavor. Most people prefer one over the other.
What's in an Elderflower Vodka Soda?
This simple drink has only four ingredients:
Vodka
Elderflower liqueur
Fresh lemon or lime juice
Club soda or seltzer water
What is elderflower liqueur?
It is made from the white flower blossoms of the elderflower bush and has a sweet, slightly floral flavor.
Don't be turned off by the floral description! This liqueur is SUPER versatile and just a little bit adds smoothness to almost any spirit, like in this vodka soda.
Vodka soda with lime or lemon?
You can't go wrong with either lemon or lime in a vodka soda, but I prefer the flavor of lemon in this elderflower version.
If you're more of a lime lover (or that's all you have in the fridge), feel free to use that instead. Just make a drink that works for you!
Are club soda and seltzer water the same thing?
Many people claim that club soda has a slightly saltier taste than seltzer water because it has added minerals. Plain seltzer water doesn't have any additives. If you're unsure, try them both and use the flavor you prefer.
I personally use them interchangeably in my cocktails because I can't tell a huge difference in mixed drinks.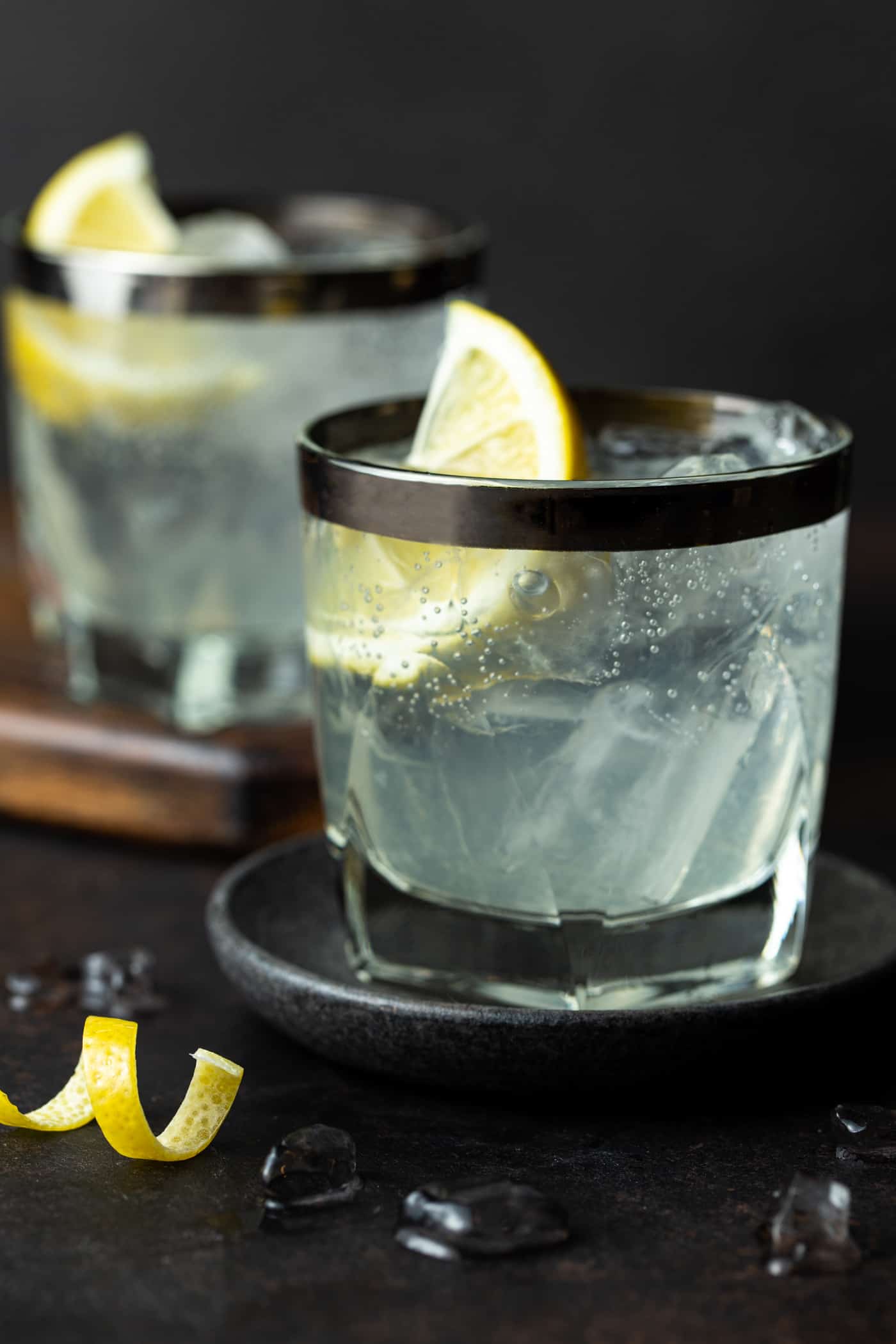 How much vodka do you use in vodka soda cocktails?
Ever had a bad vodka soda? My guess is yes. The correct proportions of alcohol are key to ANY good cocktail.
My recipe recommends using 2 ounces of vodka in each vodka soda. I find that amount keeps the drink well-balanced, but you can tweak it either up or down if you like. Consider this Elderflower Vodka Soda recipe a starting point to build a cocktail that works for you.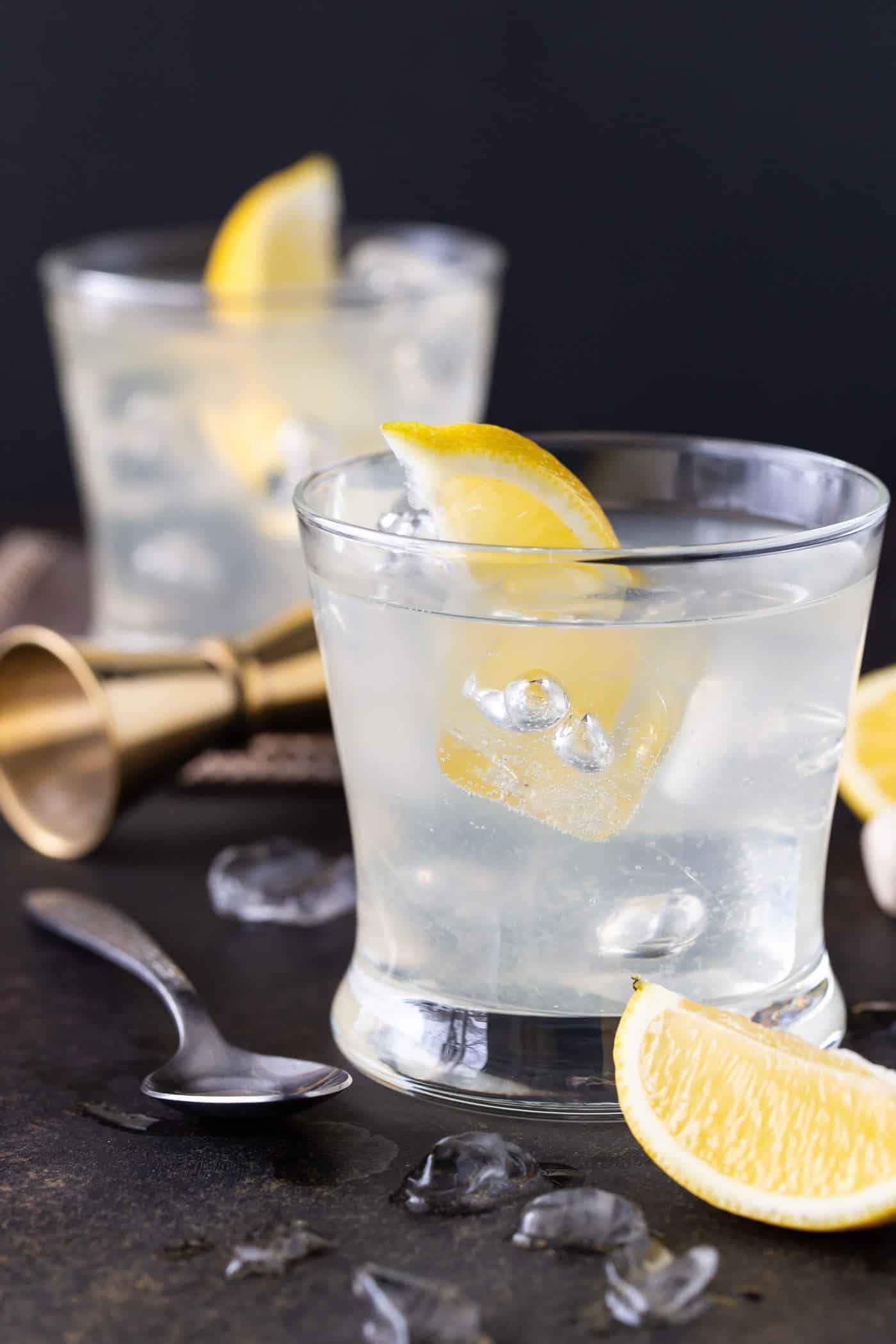 What glass do you drink vodka soda cocktails in?
If you order a vodka soda in a bar, it will be served in either a highball or lowball glass. Everyone has an opinion as to which glass is right to use, but I'm firmly in camp lowball for a couple of reasons:
You're making a cocktail, not gulping a glass of lemonade. It shouldn't be super-sized.
A vodka soda made in a highball glass usually means you are either going to have too much of something, whether it is ice, soda or vodka - all of which contribute to an unbalanced drink.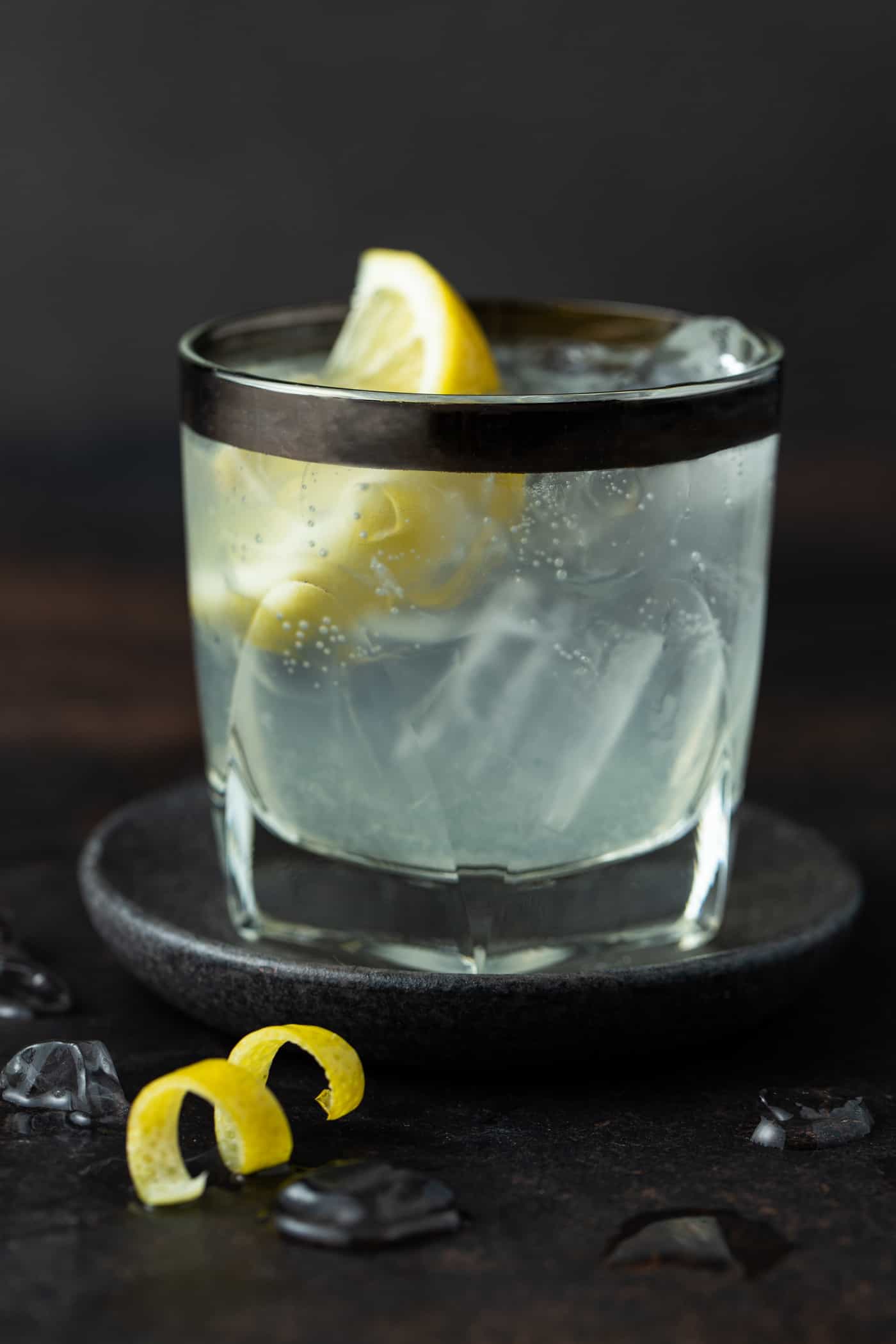 How to make the BEST Elderflower Vodka Soda
Making a classic vodka soda at home is EASY when you follow these simple steps:
Fill a lowball glass with ice. Lots of ice. Not just a few cubes. Fill the whole darn glass. There is nothing worse than sipping on a lukewarm cocktail because all the ice has melted.

Keep your spirits proportional. It's tempting to just pour in an amount that looks good, but you own a jigger for a reason. Use it. (Or if you don't, for heaven's sake, buy one!)

Fresh lemon (or lime) juice is also a must. There isn't much here, but don't be tempted to grab the squeeze bottle from the grocery store shelf. The flavor just isn't the same.

Top with club soda and give the whole thing a gentle stir. Garnish with a lemon (or lime) wedge and sip happy!
Here's what I use to make this drink
These inexpensive items make it easy to create bar-worthy cocktails at home:
Some lowballs are HUGE. These lowball glasses are more modest in size and work well for a variety of cocktails.
These measuring beakers are essential tools in our home bar. Rarely is a cocktail made without them. Plus they can be easily put in the dishwasher.
This handy citrus press makes juicing fresh lemons and limes a breeze. No more excuses for using bottled juice!
Craving more easy cocktails? We've got so many tasty options!
If you're a fan of easy vodka drinks, you should also try our batch cocktails. These make-ahead drinks are perfect for a party!
Don't forget the snacks! These easy appetizer recipes never fail to impress:
Cream cheese, bread & BACON?? Heaven never sounded so good. These Bacon Appetizers are always the first ones gone from the snack board.
Our easy copycat Chipotle Corn Salsa Recipe can go head to head with the restaurant version any day. It's an awesome addition to a spread of game day dips or a DIY taco bar.
Yield: Makes 1 drink
Elderflower Vodka Soda recipe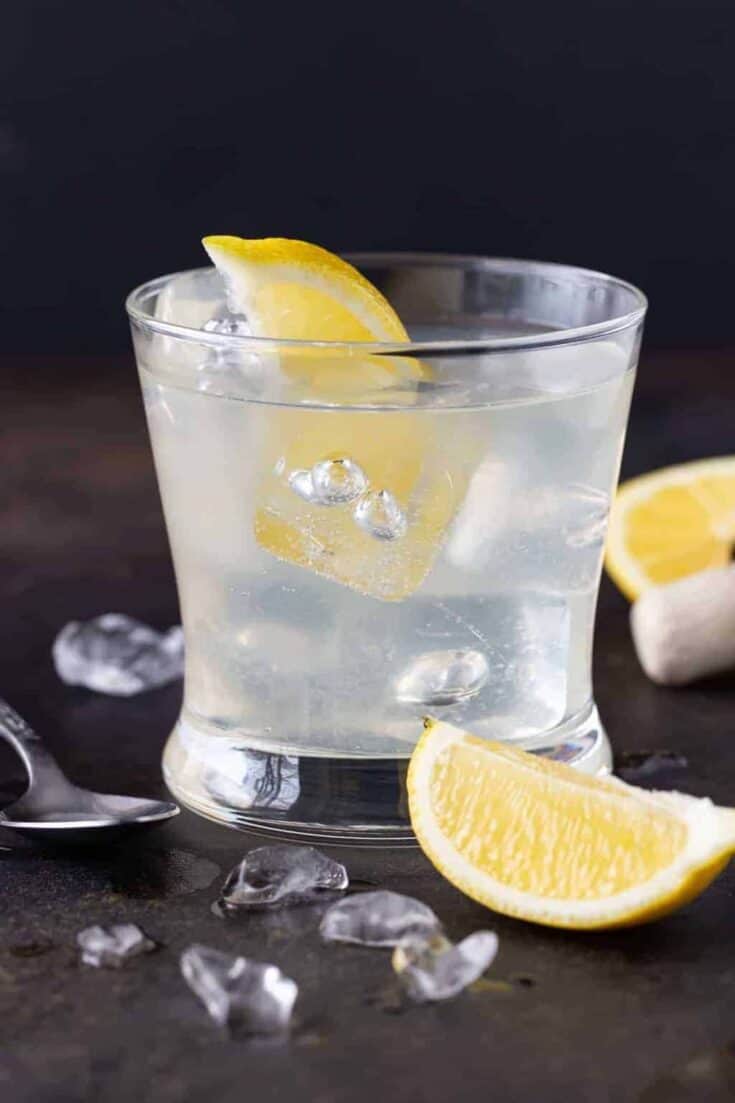 Even classic cocktails can be improved. A small amount of elderflower liqueur takes an easy vodka soda from average to awesome!
Ingredients
2 ounces vodka
1 ounce elderflower liqueur
1/2 ounce freshly squeezed lemon juice
2 1/2 ounces club soda
Instructions
Fill a lowball glass with ice. Add all ingredients to glass and gently stir to combine. Garnish with lemon wedge, if desired.
Notes
Feel free to swap in lime juice if you prefer.
Recommended Products
As an Amazon Associate and member of other affiliate programs, I earn from qualifying purchases.
Nutrition Information:
Yield:
1
Serving Size:
6 ounces
Amount Per Serving:
Calories:

219
Total Fat:

0g
Saturated Fat:

0g
Trans Fat:

0g
Unsaturated Fat:

0g
Cholesterol:

0mg
Sodium:

5mg
Carbohydrates:

8g
Fiber:

0g
Sugar:

7g
Protein:

0g
Think you can't improve on the classics? Think again! This easy Elderflower Vodka Soda recipe uses a bit of elderflower liqueur to give this simple cocktail a major flavor boost. Your friends will definitely want the recipe!