Break out of your breakfast rut with Blueberry Baked Oatmeal. It's nutritious and delicious and guaranteed to start your day on the right foot.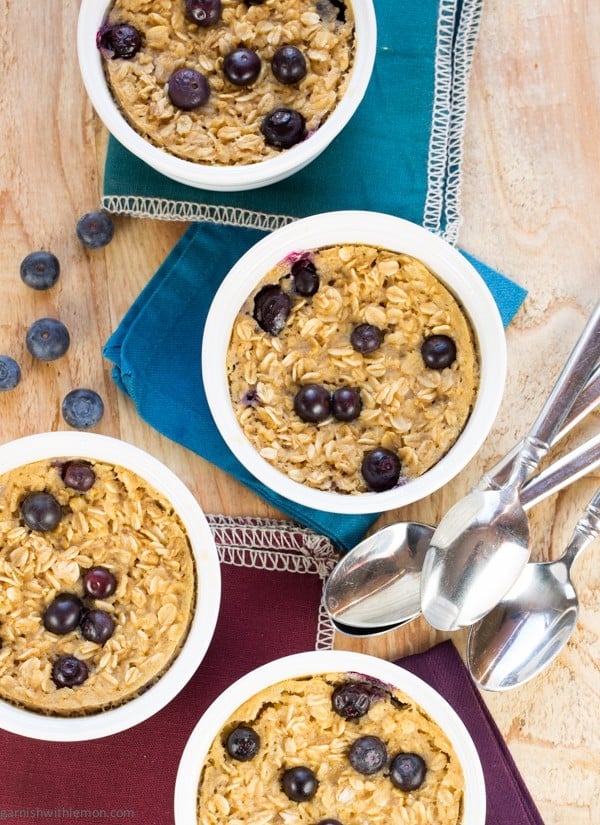 Can we talk breakfast?
I always start the school year with a bang and make great breakfasts for the kids. Then October comes, and we have resorted to ready-made oatmeal, frozen waffles and bowls of cereal. Fast forward to January, and I won't even tell you what we are eating for breakfast. But, let's be realistic; getting out of bed for a bowl of cold cereal when its 10 degrees outside isn't really enticing. So it's time to up my game and add a few more items to my standbys. I'm a sucker for oatmeal, especially when it's cold out. And since I always have blueberries on hand, this Blueberry Baked Oatmeal is perfect addition to our breakfast rotation.
I don't need to plan ahead with this Blueberry Baked Oatmeal – it's ready in just 20 minutes. The blueberries add the perfect amount of sweetness, and each bite is filled with blueberry goodness. The recipe makes 6 individual ramekins of oatmeal and reheats like a champ in the microwave. Just add a splash of milk  and you are on your way to a fabulous berry-filled day.
I can never have too many options for my most challenging meal of the day. Share your secrets with me. How do you fuel your kids (or yourself!) in the morning?

[mpprecipe-recipe:808]
A few more tasty ways to start your day!
Cheesy Apple Bacon Breakfast Quesadilla