Our simple Spinach Salad with Goat Cheese, Craisins and Homemade Balsamic Vinaigrette is our go-to side dish for entertaining!
I love to eat a great salad for lunch or serve one as a side for dinner. And this Spinach Salad with Balsamic Vinaigrette makes a frequent appearance on our table.
I generally have spinach on hand for smoothies and to add to other dishes, so it is a snap to make this salad without having to race to the store. This balsamic vinaigrette in particular is my go-to dressing; it mixes up quickly and uses ingredients from the pantry. So easy and flavorful you'll never go back to the bottled stuff again. It has a little dijon mustard in it to add some depth without overpowering it. Add some goat cheese, craisins and nuts, and you have yourself a fabulous salad. It's packed with nutrients, full of flavor and so tasty – you really can't go wrong.
Goat cheese not your thing? Feel free to add whatever you have on hand – feta, parmesan, gorgonzola – this spinach salad is so versatile, it goes with just about anything. Add some grilled chicken, and you have dinner already done. Be creative and do what works for your family. Spinach salads are a great (and tasty) way to get your greens in. Do you have a favorite dressing? Share it with us! We love new flavor combinations!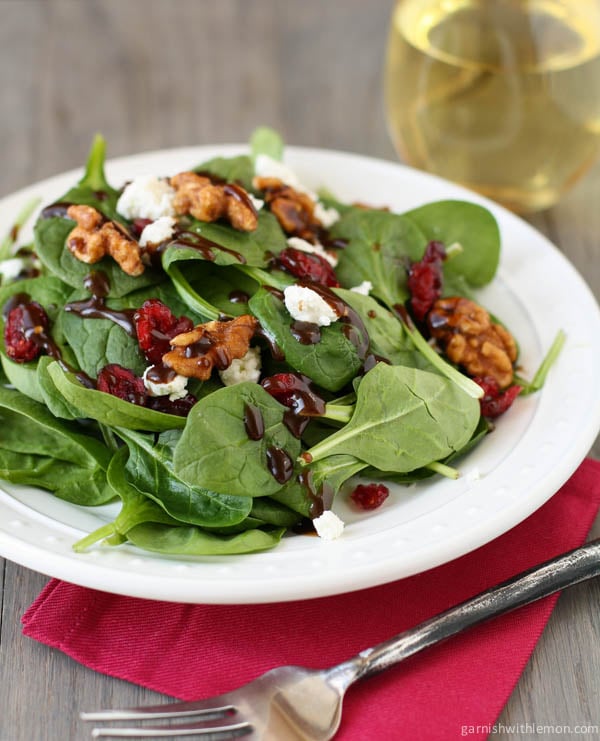 Yield: 4 servings
Spinach Salad with Goat Cheese, Craisins and Balsamic Vinaigrette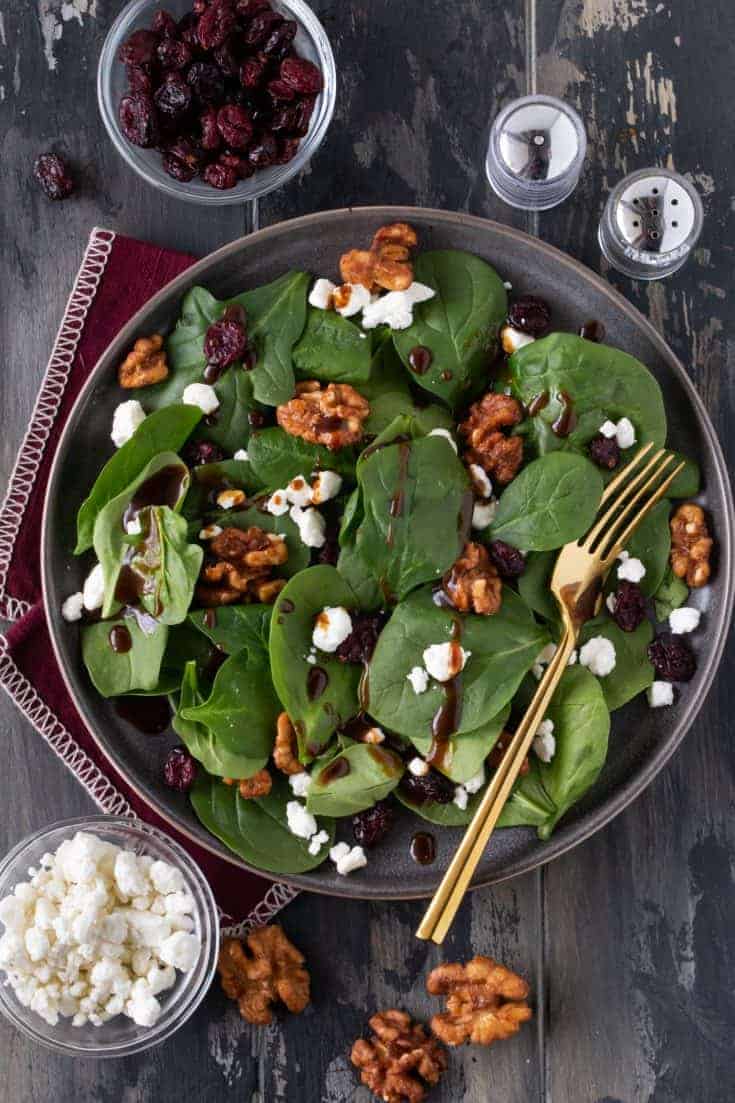 This versatile vinaigrette will become a staple in your kitchen.
Ingredients
Salad:
8 ounces baby spinach, washed and dried
3 ounces goat cheese, crumbled
1/2 cup toasted walnuts
1/2 cup craisins
pepper to taste
Balsamic Vinaigrette:
1 tablespoon Dijon mustard
3 tablespoons balsamic vinegar
5 tablespoons extra virgin olive oil
1/4 teaspoon salt
1/4 teaspoon pepper
Instructions
Place spinach, goat cheese, craisins, and nuts in a salad bowl.
Whisk dressing ingredients together and drizzle over greens.
Season to taste with fresh ground black pepper.