Our simple Spinach Salad with Goat Cheese, Craisins and a Homemade Balsamic Vinaigrette Recipe is our go-to side dish for entertaining!
Spinach Salad With Balsalmic Vinaigrette Recipe
Need an easy way to add greens to your entertaining menu? This Spinach Salad with Homemade Balsamic Vinaigrette Recipe makes a frequent appearance on our table.
I generally have spinach on hand for smoothies and to add to other dishes, so it is a snap to make this salad for dinner without having to race to the store.
You will love all of the simple toppings that add tremendous flavor and a little extra crunch. Don't forget the goat cheese crumbles too, you'll love the range it adds to this balsamic vinegar topped spinach salad. Don't miss out on this easy healthy and delicious salad that will amp up any dinner, or lunch!
Ingredients Needed For A Spinach Salad With Goat Cheese
This spinach salad with goat cheese has that restaurant-quality flavor without any of the complicated ingredients. Just a handful of ingredients is all you need and they can be found with ease at pretty much any basic grocery store.
The only added step with the ingredients is toasting the walnuts. Most of the time stores do not sell pre-toasted walnuts, and if they do they are more expensive, so it's best to just toast your own. Here is a great article that goes through two ways to toast walnuts.
Baby spinach washed and dried
Goat cheese, crumbled
Toasted walnuts
Craisins
Pepper
Do I Have To Use Baby Spinach?
Technically you can use regular spinach for this salad recipe. Baby spinach and regular spinach are the same in every way except for their size. I do recommend baby spinach because it's small more delicate leaves are better suited for salads whereas regular spinach leaves are better for cooking.
If you come home and realize you mistakenly got full-sized spinach instead of baby, don't think you have to make another trip back up to the grocery store, you can still make do. Just take the large leaves and tear them up a bit to make them into smaller portions that are more suitable for a salad.
How to Make a Balsamic Vinaigrette
It's so easy and flavorful you'll never go back to the bottled stuff again. This balsamic vinaigrette recipe, in particular, is my go-to dressing; it mixes up quickly and uses ingredients from the pantry. It has a little dijon mustard in it to add some depth without overpowering it. Simple and delicious.
Next time you think of opting for the bottled dressing, just remember how easy this recipe is. All you have to do is gather together a few simple ingredients together and whisk them together. It's just that simple. Going to the dressing aisle searching for your go-to dressing bottle probably takes up more time than it does to mix up this dressing recipe from start to finish.
Can I Store Extra Balsalmic Dressing For Later?
Absolutely! If you want to make extra dressing and save some for later you can! Simply place the homemade dressing in an airtight container, or sealable jar, and store in the refrigerator. The dressing will stay fresh for up to two weeks. Just be sure to shake it up before every use as some of the ingredients tend to settle at the bottom.
While you can store this in the refrigerator, I do not recommend freezing it. The oils in this recipe do not freeze well, so it best to only make as much as you can use in the two weeks it will keep fresh in the refrigerator.

What Add-ins are Good in a Spinach Salad?
Add some goat cheese, craisins, and nuts, and you have yourself a fabulous salad. It's packed with nutrients, full of flavor and so tasty – you really can't go wrong. Add some grilled chicken, and you have dinner already done. How's that for easy?
To make this into a summer spinach salad with goat cheese, try adding some fresh strawberry slices, and mandarin orange slices. It adds just the right amount citrus and fruity flavor that will transform the salad into a dish you will want to serve at any summer party.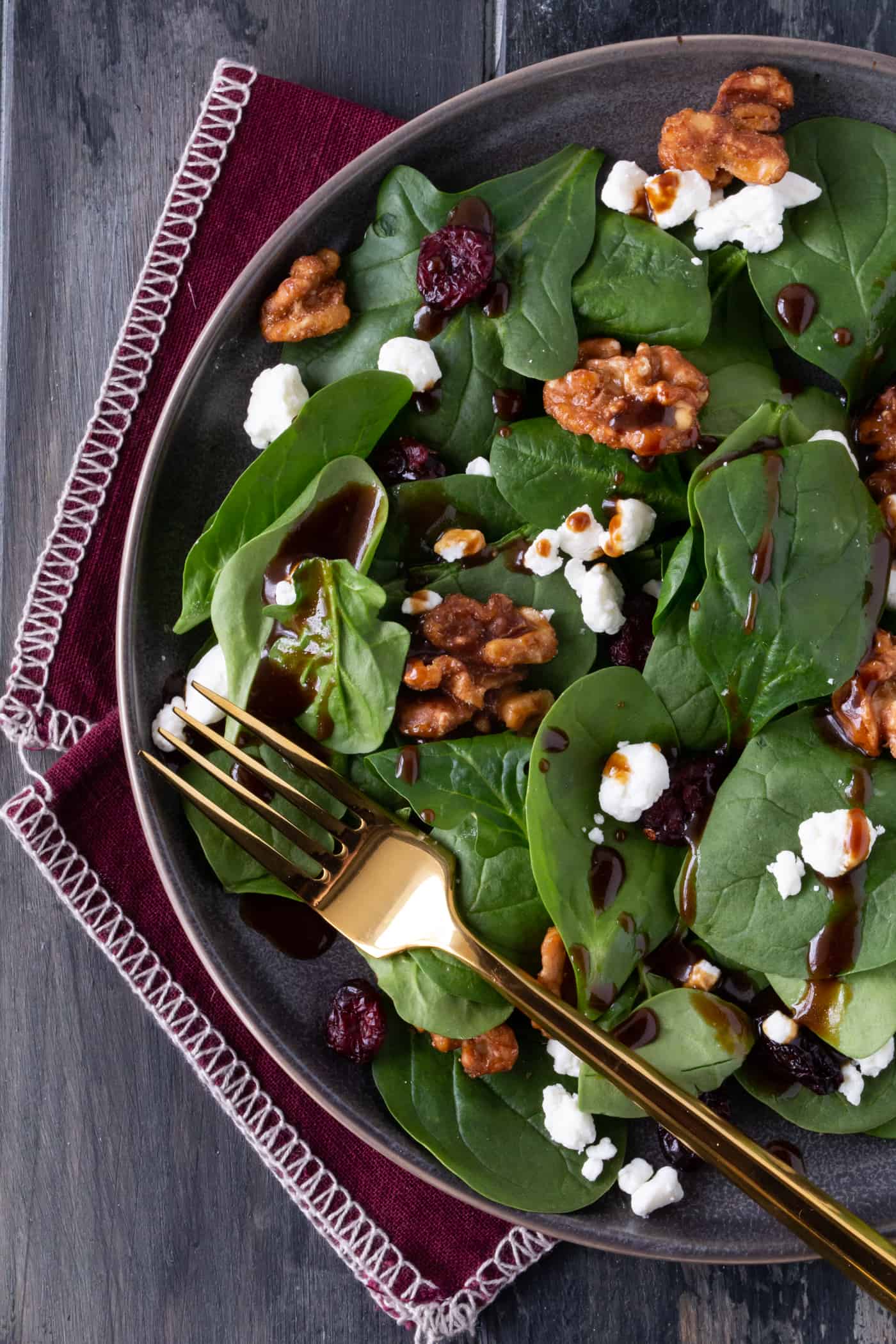 Can I use a different kind of cheese in this spinach salad?
Goat cheese not your thing? Feel free to add whatever you have on hand – feta, parmesan, gorgonzola – this spinach salad is so versatile, it goes with just about anything. Be creative and do what works for your family.
Spinach salads are a great (and tasty) way to get your greens in.
Do you have a favorite dressing? Share it with us! We love new flavor combinations!
What Pairs Well With Spinach Salad With Goat Cheese?
As mentioned above, you can make this spinach salad into a full meal by adding some protein, like grilled chicken, but it also pairs well with a number of different dishes when served as a side, or first course.
To make your dinner into a night full of amazing food, try serving up this spread, and whoever is lucky enough to eat it will be in heaven.
Start the night off with some Strawberry Basil Vodka Cocktails, then serve up Cheesy Grilled Bruschetta Grilled Chicken alongside your spinach salad with goat cheese and balsamic vinaigrette. Lastly, leave things on a sweet note with this Easy White Chocolate Tart.
Need more ways to get your greens? Check out some of our faves!
Arugula Salad with Lemon Vinaigrette – Garnish with Lemon®
Spinach Salad with Warm Bacon Dressing – A Family Feast®
Apple Blue Cheese and Candied Walnut Salad – Garnish with Lemon®
Easy Kale Salad with Lemon Dressing – Spend with Pennies
Arugula Salad with Roasted Grapes – Garnish with Lemon®
Yield: 4 servings
Spinach Salad with Goat Cheese, Craisins and Balsamic Vinaigrette Recipe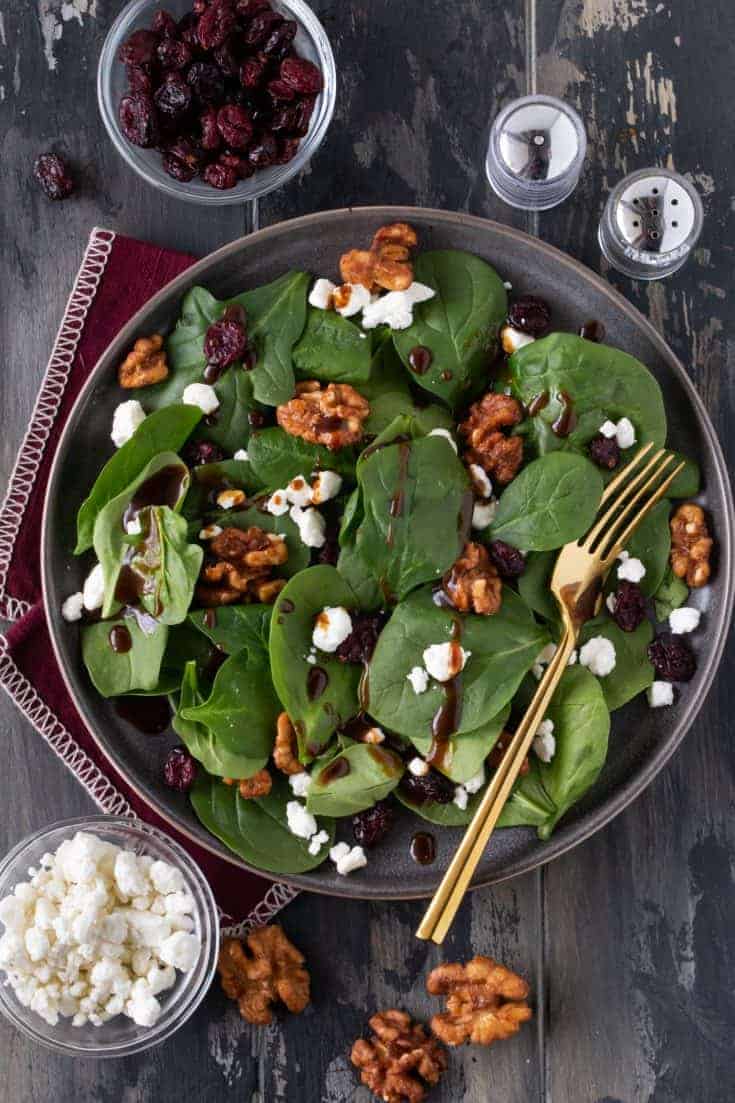 This versatile vinaigrette will become a staple in your kitchen.
Ingredients
Salad:
8 ounces baby spinach, washed and dried
3 ounces goat cheese, crumbled
1/2 cup toasted walnuts
1/2 cup craisins
pepper to taste
Balsamic Vinaigrette:
1 tablespoon Dijon mustard
3 tablespoons balsamic vinegar
5 tablespoons extra virgin olive oil
1/4 teaspoon salt
1/4 teaspoon pepper
Instructions
Place spinach, goat cheese, craisins, and nuts in a salad bowl.
Whisk dressing ingredients together and drizzle over greens.
Season to taste with fresh ground black pepper.
Nutrition Information:
Yield:
4
Serving Size:
2 ounces
Amount Per Serving:
Calories:

380
Total Fat:

30g
Saturated Fat:

6g
Trans Fat:

0g
Unsaturated Fat:

23g
Cholesterol:

10mg
Sodium:

380mg
Carbohydrates:

23g
Fiber:

4g
Sugar:

17g
Protein:

8g