We combined two of our summer loves – watermelon and mojitos – to make these easy, refreshing Watermelon Mojito Cocktails!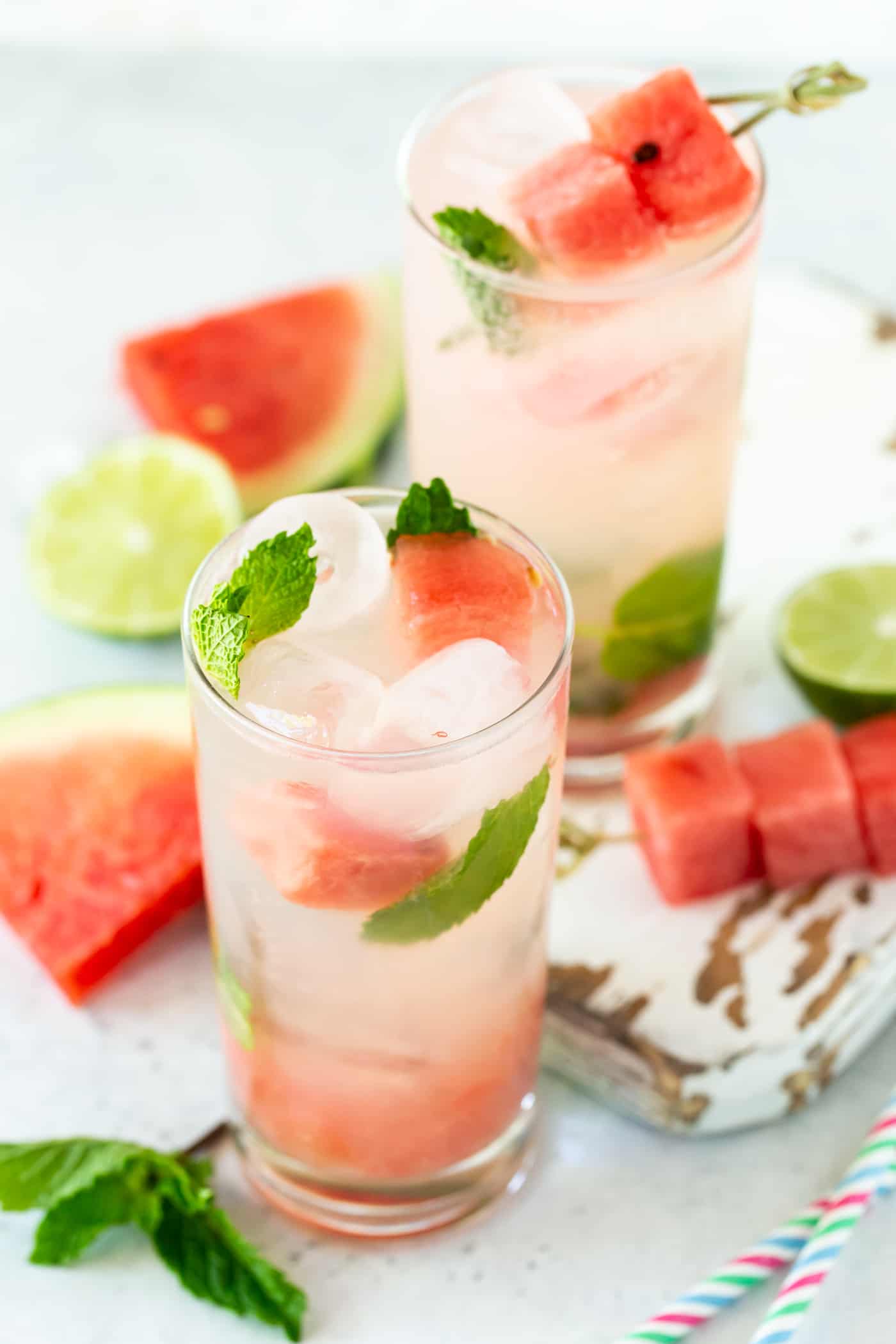 I'm not sure there is a more quintessential summer cocktail than a mojito. The combination of mint, sugar, lime juice, rum and club soda gets me every time.
So what do you get when you create a mash up of summer's most refreshing fruit and summer's most refreshing cocktail? A thirst-quenching Watermelon Mojito recipe that you'll be sipping all season long.
Ingredients for Watermelon Mojitos
White rum – Leave that bottled of spiced rum in the cabinet. A traditional mojito recipe alway uses white rum.
Mint – This herb is a central flavor component of mojitos. Luckily mint grows prolifically (or invasively, depending on how you see it), so plant it in its own pot if you can or it might take over other plants. Large, just-picked bundles are always available at the store or farmer's market, too.
Lime juice – Only the fresh stuff will do here. None of that bottled stuff, please.
Superfine sugar – You'll find this in this in the baking aisle. It has a finer grain than regular sugar and is often used in cold drinks and some baking recipes because it dissolves quicker. Some recipes call for simple syrup as a sweetener in mojitos, but I'm a firm advocate of using superfine sugar instead. Just make sure you dissolve it completely in the lime juice before adding the remaining ingredients. No one likes a slightly gritty mojito.
Fresh watermelon – Follow my tips below for how to pick a ripe watermelon.
Club soda – The bubbly effervescence of club soda is the perfect topper for this refreshing cocktail.
How to choose a ripe watermelon
Ever bit into a watermelon slice and been disappointed? Sure, it looks red and juicy, but it ends up being bland and almost flavorless.
The best watermelons are those that are grown in season, so that means July for us northerners and a few weeks earlier for warmer climates. My first choice for picking a ripe watermelon is to buy direct from the farmer at the farmer's market. I always ask for a ripe melon, and they never steer me wrong.
Can't make it to the farmer's market? Follow the tips for choosing a ripe melon at the grocery store:
The watermelon should feel heavy for its size. A heavy melon is a juicy melon.
Look at the underbelly of the melon where it has been sitting in the field. What color is it? You want a creamy yellow color. Any other color (green or white) means it's not fully ripened yet.
Give the melon a good thump. If it has a full, hollow sound, you're in for some sweet, juicy melon. If you hear a dull thud, the melon will not likely be as ripe.
How to make a Watermelon Mojito
My Watermelon Mojito recipe is a bit different from others because you muddle the the melon directly in the glass rather than puree the watermelon separately and add it to the cocktail. Less effort, less dishes but still the same great flavor. Win-Win!
(If you're looking for a watermelon cocktail, check out our Watermelon Gin Punch. It's another tasty summer sipper for a party.)
Traditional mojitos use a tall Collins (or highball) glass. Add the lime juice and sugar to the glass and stir until sugar is dissolved. Then add the watermelon and mint and muddle.
Fill your glass with ice, pour in rum and top with club soda. Garnish with additional mint leaves and watermelon cubes. (The boozy watermelon cubes are my favorite part of this cocktail!!)
You can also make this mojito recipe in a pitcher for a crowd. Multiply the recipe by your number of guests, and add the ingredients to a pitcher rather than an individual glass.

What I used to make these Watermelon Mojitos
Muddler and Cocktail Spoon Set – I love this set because the muddler is extra long so it makes getting into those skinny collins glasses a bit easier. Also the stir spoon is great for pitchers and tall bar glasses alike!
Collins glasses (also called highballs) are a must for mojitos. They usually average between 11-13 ounces, which is less than your average tall drinking glass. You can certainly use one of your favorite drinking glasses. Just know the glass may not be completely full because it has a larger capacity.
Can I make non-alcoholic Watermelon Mojitos?
Absolutely! Simply omit the rum called for in the recipe and top with a bit more club soda. You still get all the juicy, minty, melon flavors without any of the alcohol.
Mojitos and summer were made for each other. Don't miss some of these other thirst-quenching mojito recipes!
Elderflower Mojitos – Garnish with Lemon®
Grapefruit Mojitos – Melanie Makes
Tequila Mojitos – Garnish with Lemon®
Frozen Coconut Mojitos – A Spicy Perspective
Bubbly Strawberry Rosé Mojitos – Garnish with Lemon®
Yield: makes 1 cocktail
Watermelon Mojitos
Quench your thirst this summer with this easy, refreshing Watermelon Mojito cocktail recipe!
Ingredients
2 teaspoons superfine sugar
1 ounce freshly squeezed lime juice
6 pieces of watermelon, seeded and cut into 1 x 1" cubes, divided
10 mint leaves, divided
3 ounces white rum
club soda
Instructions
Place sugar and lime juice in a collins/highball glass. Stir until sugar is dissolved. Add 3 watermelon chunks and 5 mint leaves to the glass and muddle. Fill glass with ice, pour in rum and top with club soda. Garnish with remaining watermelon and mint leaves.
Notes
Barely adapted from Food Network.
Recommended Products
As an Amazon Associate and member of other affiliate programs, I earn from qualifying purchases.
Nutrition Information:
Yield:
1
Serving Size:
1 drink
Amount Per Serving:
Calories:

184
Total Fat:

0g
Saturated Fat:

0g
Trans Fat:

0g
Cholesterol:

0mg