Juicy summer tomatoes, creamy burrata cheese, fresh herbs and a generous drizzle of olive oil and balsamic vinegar make every bite of this simple and savory Burrata Caprese salad melt in your mouth. It's the perfect appetizer or side dish for any occasion - and can be made in just 10 minutes!
When tomato season hits, this quick and easy Burrata Caprese salad is on repeat at our house. Nothing beats the combination of tomatoes, cheese, herbs, oil and vinegar. It's like summer on a plate - simple, light, fresh and absolutely delicious.
Jump to:
Why you'll love this recipe:
➤ Fresh & seasonal: This tomato burrata salad is simple summer eating at its best!
➤ Quick & easy: You can have this salad on the table in just 10 minutes.
➤ Versatile: Serve it as an appetizer, a side dish, or pair it with bread and a green salad for a light vegetarian meal. It's the perfect recipe for warm weather entertaining.
Ingredients
This recipe has very few ingredients so use the best quality items you can!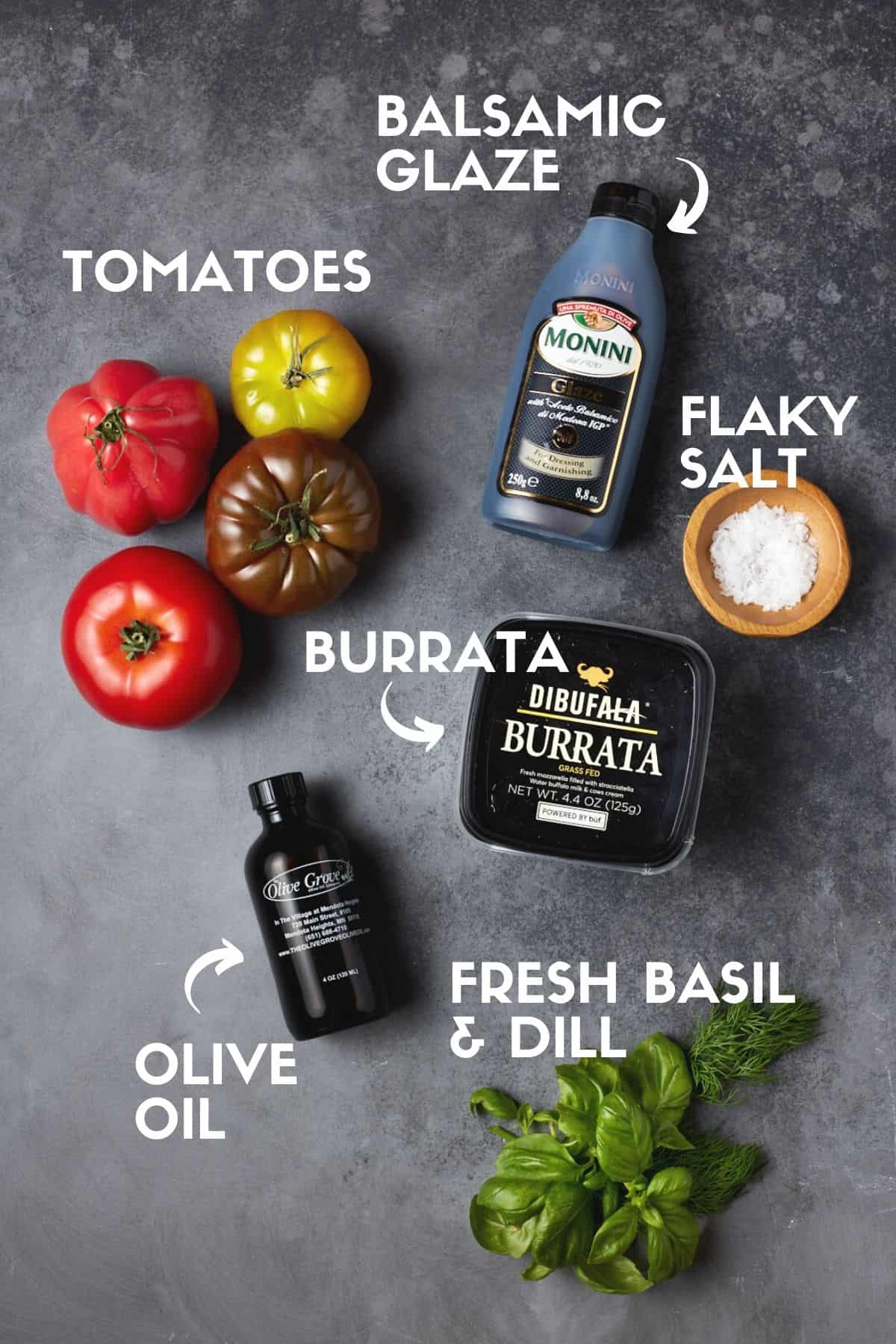 A few ingredient notes:
Burrata: This semi-soft fresh Italian cheese is part mozzarella and part cream. Its rich taste makes this salad extra indulgent. You'll find it readily available at most well-stocked grocery stores. Fresh mozzarella can also be substituted.
Tomatoes: Any combination of tomatoes can be used, but I recommend seeking out heirloom varieties for best flavor when they are in season.
Balsamic Glaze: This is basically a thicker version of balsamic vinegar that has been reduced to make it concentrated and syrupy. A quality aged balsamic vinegar also works well.
Olive Oil: Pull out your best, most flavorful oil for this salad.
Herbs: Fresh basil is the obvious choice to pair with tomatoes, but dill makes a surprisingly good addition to the salad. Never substitute dry spices for the fresh herbs in this recipe.
Salt: I like to use a finishing salt like a flaky sea salt for this Burrata Caprese. Avoid iodized table salt.
Instructions
You can make this salad in less than 10 minutes!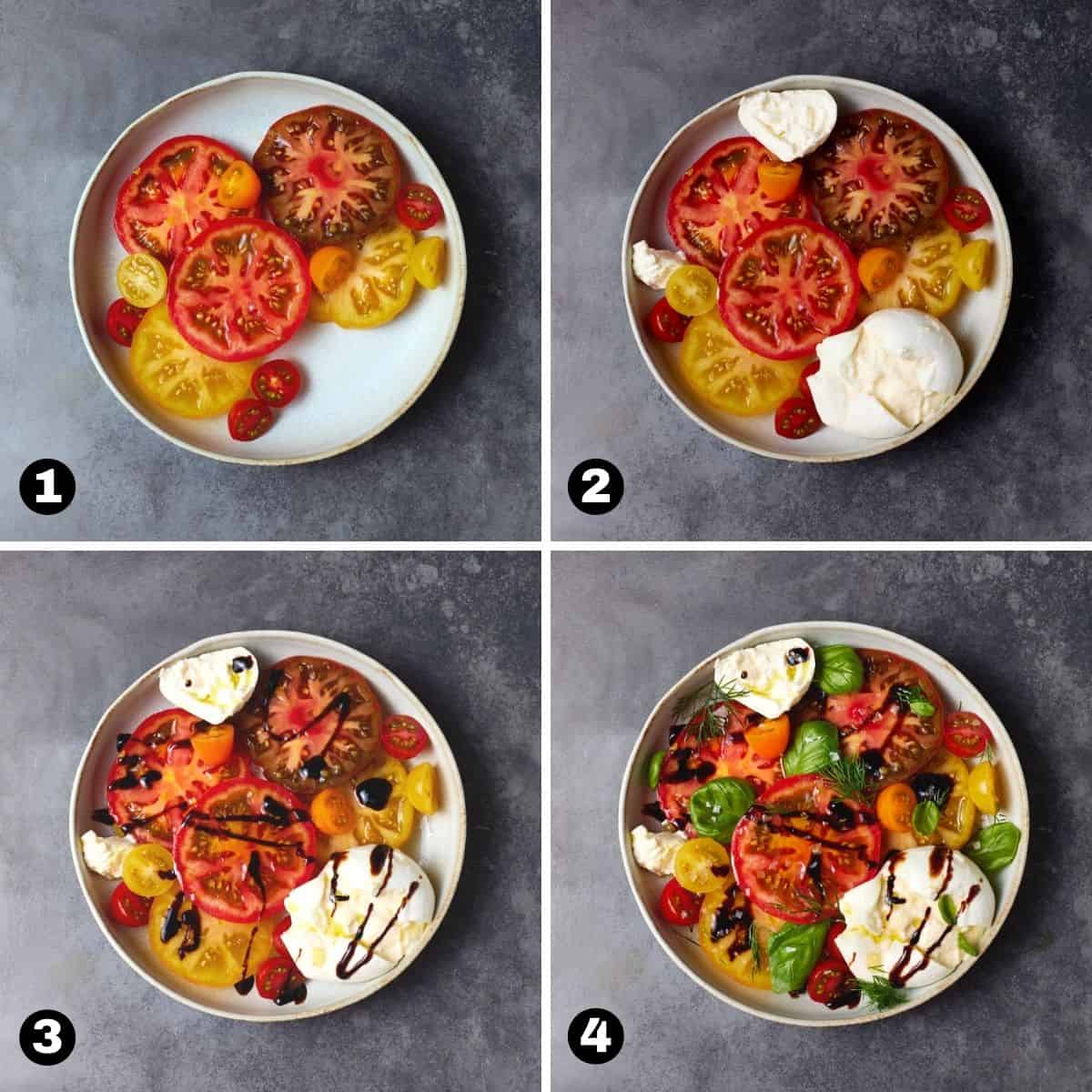 Start by layering your sliced tomatoes on a serving dish. Add the burrata, pulling it apart into pieces, if desired. Drizzle cheese and tomatoes with olive oil and balsamic vinegar. Top with fresh herbs, sprinkle with plenty of flaky sea salt and serve immediately.
FAQs
What is caprese salad?
This simple Italian salad is made with sliced tomatoes, fresh mozzarella, basil, salt and a drizzle of olive oil. It's named after the Italian island, Capri, where it's rumored to have originated.
What is burrata cheese?
This decadent, semi-soft ball of cheese is actually two cheeses in one. The outside casing is fresh mozzarella and the interior is a mix of cream and cheese curds made from cow and/or water buffalo milk. It is readily available at most grocery stores and comes in a brine solution of water and salt. Keep the cheese stored in this brine until ready to use so it doesn't dry out.
What's the difference between burrata and mozzarella cheese?
Fresh mozzarella is firm all the way through. You can cut it into slices, and it will retain its shape. Burrata cheese has a thin mozzarella cheese "shell". Once you cut into burrata, you see the interior is a mix of cream and stringy curd that is spreadable.
How do you store leftover caprese salad?
Caprese salad does not keep well, so only make as much as you plan to eat. Fortunately it only takes minutes to make if you do need a second batch!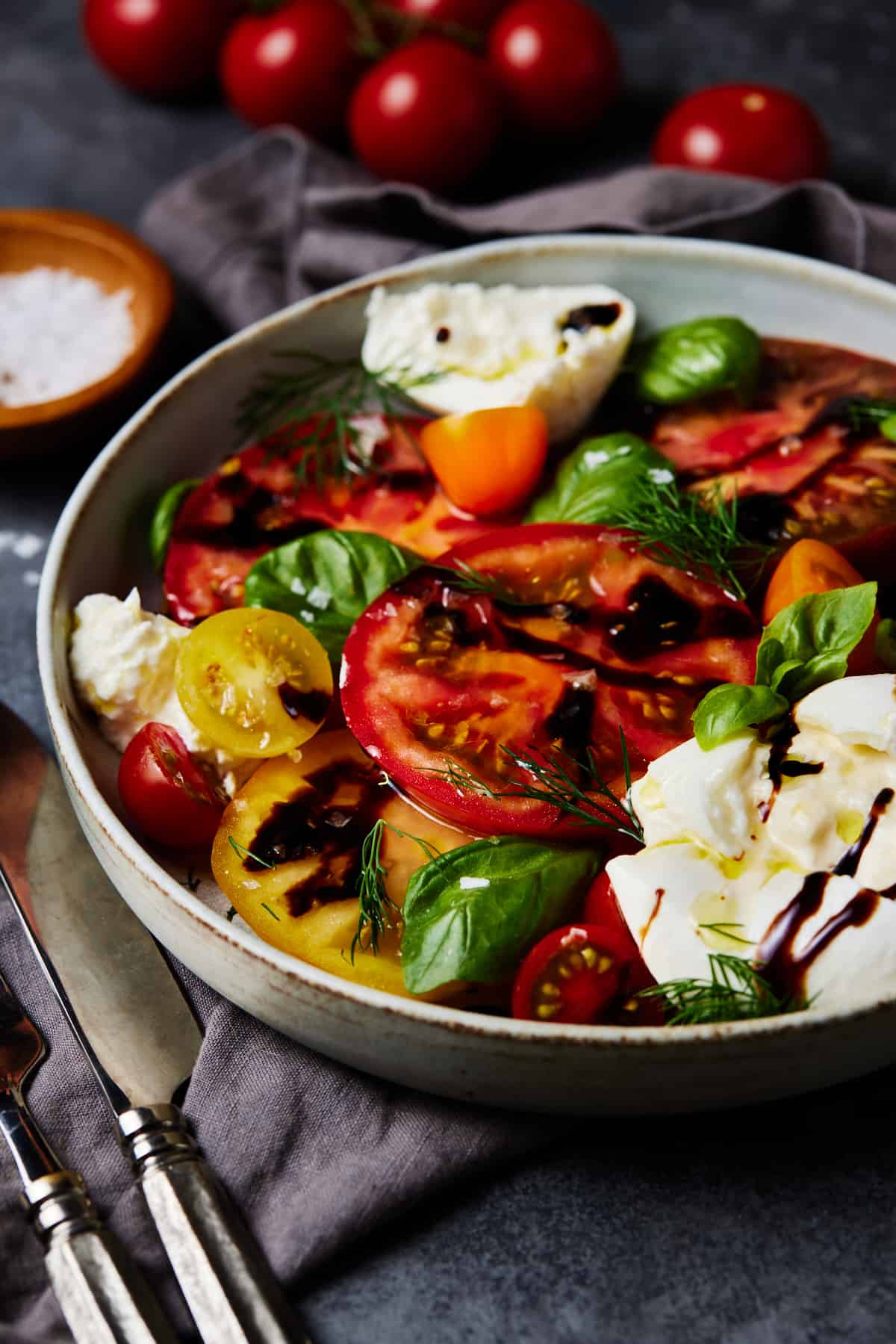 Tips for making the BEST Burrata Caprese
✔︎ Use a mix of large, slicing tomatoes and halved cherry or grape tomatoes for best presentation. If you can find them, heirloom tomato varieties are the most flavorful.
✔︎ Burrata made from water buffalo milk is the most indulgent and rich tasting, but cow's milk burrata as well as fresh mozzarella work well in this recipe.
✔︎ Use an aged balsamic vinegar. It's typically thicker due to the aging process and coats the tomatoes and cheese more easily. A concentrated balsamic glaze can be used here, too.
✔︎ Salt liberally! Salt and tomatoes are best friends, so don't be shy with your salt. Taste as you go if you're unsure of the amount to use.
✔︎ Choose just one herb or a combination of herbs: Basil, dill, parsley and oregano are all delicious choices.
✔︎ Serve this salad as an appetizer, as a light entree with toasted crostini or as a side dish with our Flank Steak with Chimichurri Sauce for a complete meal.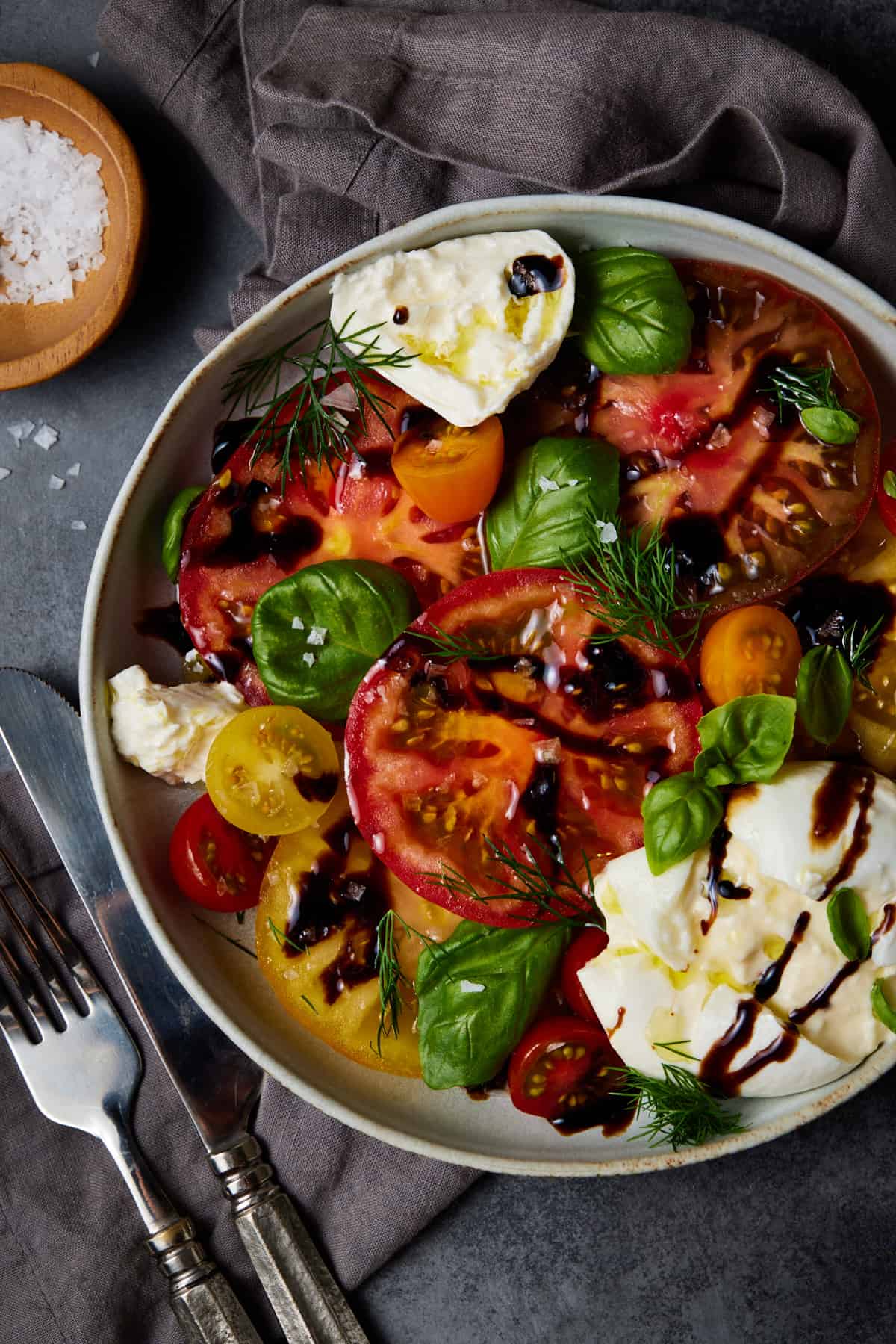 More fresh tomato recipes



Did you make this recipe? We'd love to hear your thoughts! 

Please rate the recipe and leave a comment below. Your feedback helps us and your fellow readers! 



Recipe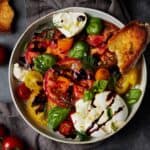 Burrata Caprese
This juicy tomato and creamy burrata cheese salad is filled with summer's best produce! Enjoy this quick & easy recipe as an appetizer, side dish or light main meal.
Ingredients
1¼

pounds

heirloom tomatoes

8

oz

burrata cheese

2

tablespoons

olive oil

2

tablespoons

aged balsamic vinegar (or balsamic glaze)

1

handful

fresh basil and dill
Instructions
Slice tomatoes about ⅓" thick and layer onto serving dish.

1¼ pounds heirloom tomatoes

Add burrata cheese to serving dish, keeping whole or breaking into pieces and scattering around dish. Drizzle dish with oil and vinegar.

8 oz burrata cheese,

2 tablespoons olive oil,

2 tablespoons aged balsamic vinegar (or balsamic glaze)

Scatter herbs over tomatoes and cheese. Generously sprinkle the salad with flaky sea salt.

1 handful fresh basil and dill
Notes
Ingredient notes:
Heirloom tomatoes provide the best flavor. If you don't have heirloom tomatoes, look for the freshest tomatoes you can find. You can also add cherry and grape tomatoes for additional color. 
Burrata cheese made from water buffalo milk is my #1 choice for this salad, but burrata made from cow's milk is delicious, too. Can't find burrata cheese? Use fresh mozzarella instead. 
An aged balsamic vinegar that is thicker and syrupy is ideal for this recipe. It coats the tomatoes and cheese nicely. You can also use a concentrated balsamic glaze for a similar result. 
Use a high quality olive oil for superior flavor. This one from Bono is great for drizzling on salads. 
Tomatoes and salt are a match made in heaven so don't skimp on the salt. Flaky sea salt (like Maldon) gives the best presentation. Kosher salt works, too. Avoid using iodized table salt. 
Feel free to mix up the herbs. Not a dill fan? Use oregano instead or solely use fresh basil leaves. 
Serving suggestions: 
Serve this salad at room temperature.
Make only the amount you think you'll need as leftovers do not keep well. 
Add a side of bread or crostini for a heartier salad or pair it with nearly anything off the grill for a more substantial meal. 
Nutrition
Serving:
1
g
Calories:
236
kcal
Carbohydrates:
7
g
Protein:
11
g
Fat:
21
g
Saturated Fat:
9
g
Polyunsaturated Fat:
1
g
Monounsaturated Fat:
5
g
Cholesterol:
40
mg
Sodium:
9
mg
Potassium:
346
mg
Fiber:
2
g
Sugar:
5
g
Vitamin A:
1604
IU
Vitamin C:
20
mg
Calcium:
318
mg
Iron:
1
mg
Nutrition info not guaranteed to be accurate.