This homemade, sweet and tangy Tomato Jam recipe is a tasty new way to use that bumper crop of summer tomatoes. This jam is so easy to make - chop, dump and stir - and goes with everything. No canning experience required!
Calling all canning wannabes! Love the idea of canning your own jam but not the idea of all the work? This easy recipe for sweet and savory Tomato Jam is for you! It's a perfectly balanced mix of sweet tomatoes, tangy vinegar and savory spices that will hook you after just one bite.
What makes this recipe unique
No canning experience required! This tomato jam recipe cooks in one pot on the stovetop and reduces down to less than 2 cups of jam which is the perfect amount to keep in the fridge for a few weeks.
You can use any type of tomato you like: Romas, vine-on, beefsteak, heirloom, the sky is the limit! The only type of tomato I would steer clear of is a small, grape tomato.
After chopping the tomatoes and onion, this recipe is basically hands-off. Stir together the ingredients and let it cook down on the stove. No need to stir constantly!
This sweet and savory jam is extremely versatile. Use it on everything from crackers and cheese to grilled meats.
Ingredients
This jam has just a handful of simple ingredients but together they make one irresistible jam.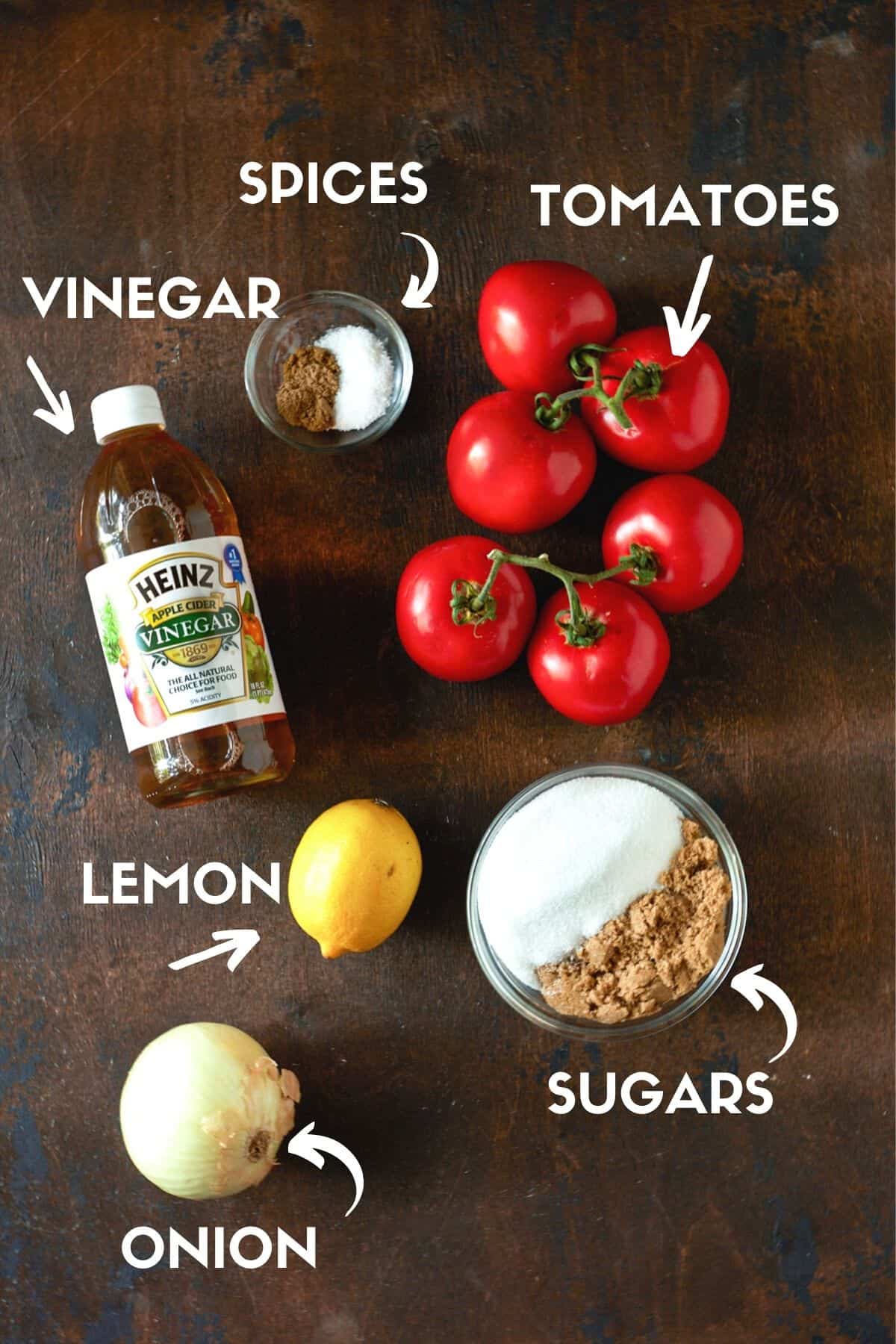 Note: you can use any type of tomato you like: vine-on, Beefsteak, Roma, etc. Try to avoid cherry or grape tomatoes as they do not have as much tomato flesh.
Instructions
Aside from a bit of chopping, this is a super easy jam recipe.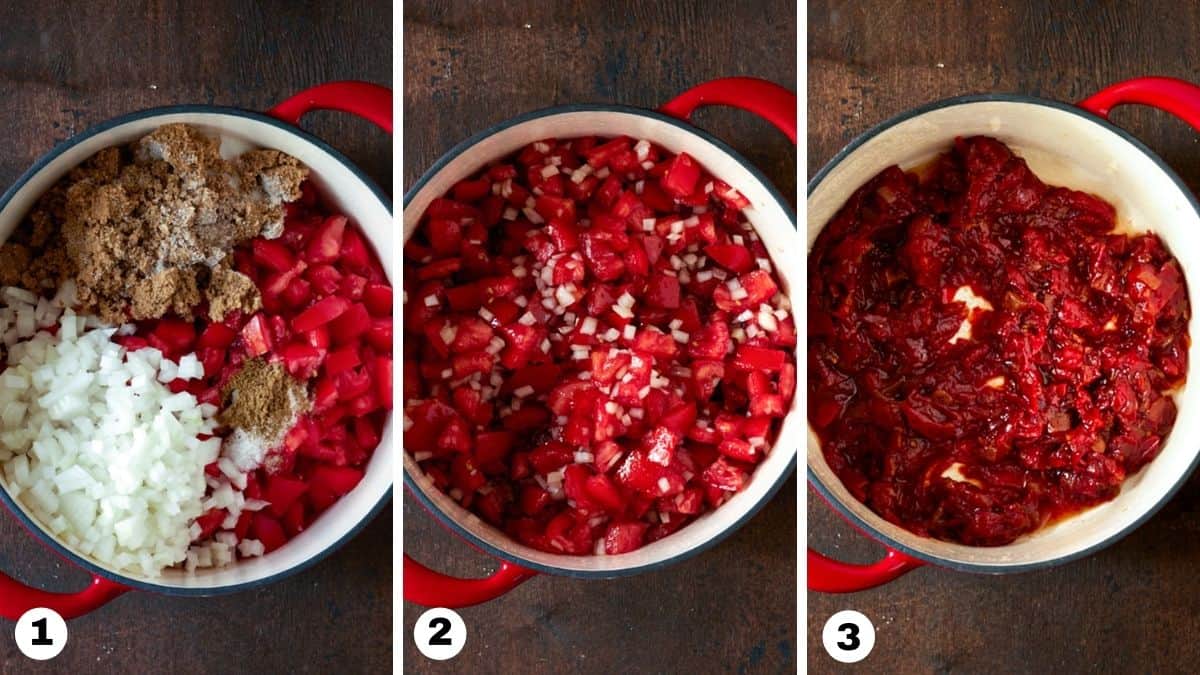 Place all your ingredients in a large pot or dutch oven. Stir to combine and cook over medium low heat for about 3 hours or until the liquid has reduced and the jam has thickened.
FAQs
Do I need to peel the tomatoes to make tomato jam?

This one is hotly debated question. Many people prefer to peel their tomatoes before making the jam. I'm lazy and almost always skip this step. The choice is yours.
Can you freeze tomato jam?

Absolutely! This jam will keep in the freezer for up to 3 months. Simply defrost overnight in the refrigerator before using.
How long will tomato jam keep?

This jam has a limited fridge life since it's not canned. But since the recipe only makes about 2 cups of jam, it's pretty easy to eat your way through that amount in about 3 weeks.
Do you seed tomatoes for tomato jam?

I usually remove a good portion of the seeds from the tomatoes before adding them to the jam but I'm not die-hard about it.
Tomato jam uses
I wasn't kidding when I said you can use this jam in variety of different ways:
Slather it on a sturdy grilled fish or pork tenderloin
Add it to any meat and cheese tray for a tasty twist
A delicious addition to a grilled cheese or fried egg sandwich
Swap ketchup for this jam on your burger for an instant flavor boost
Smear it on baguette slices with a creamy goat cheese or a salty Parmesan.
You can even whisk a bit into a bloody mary to give your brunch beverage a unique flavor kick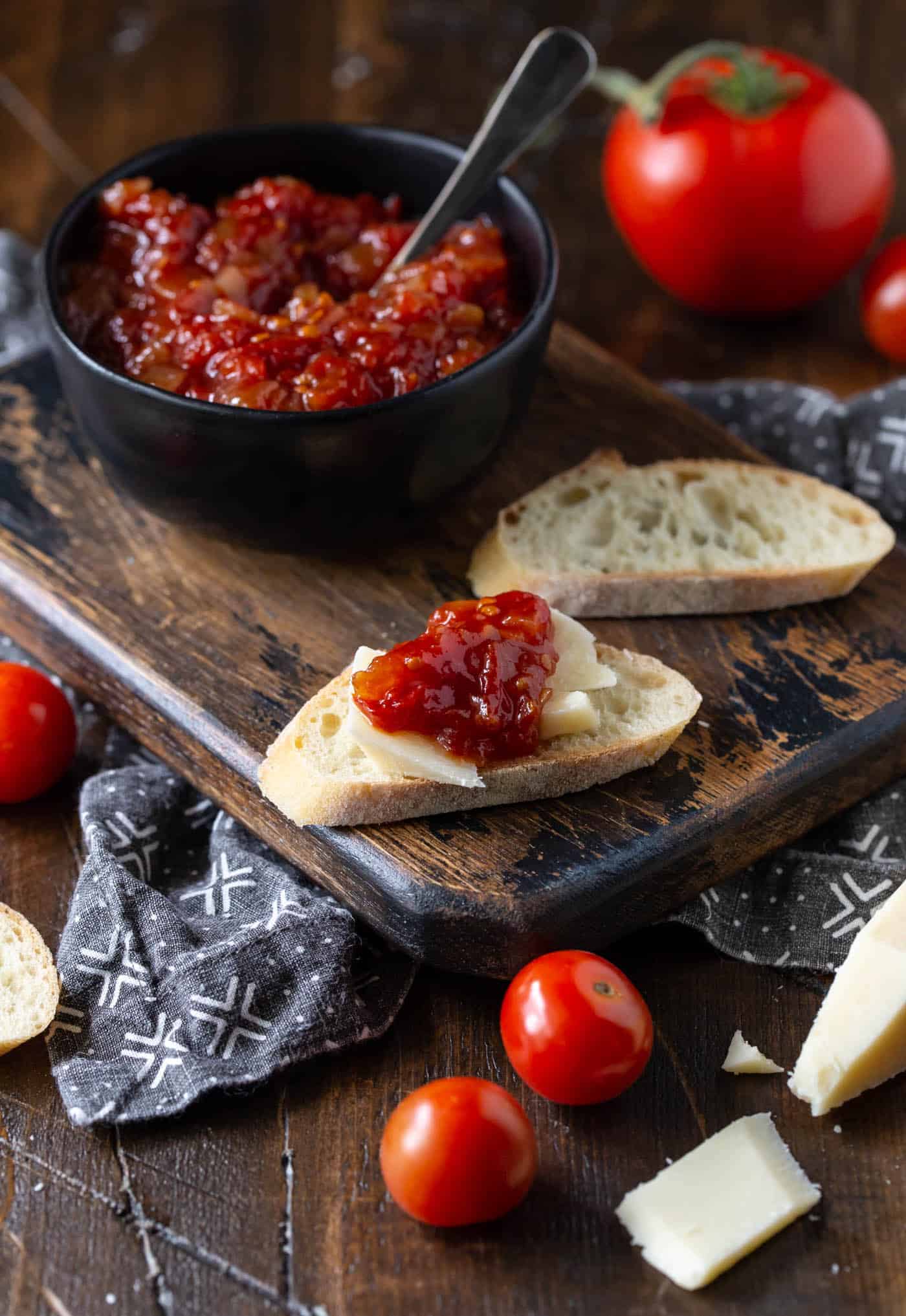 Expert tips for making tomato jam
✔︎ You will be surprised at how much your tomatoes cook down after 3 hours. That said, make sure you chop your tomatoes for the type of jam you prefer. Like chunky jam? Do a rough chop. Prefer less chunks? Opt for diced tomatoes.
✔︎ You'll want to core the tomatoes but seeding and peeling them is completely optional. I don't peel my tomatoes but I do take a majority of the seeds out. The choice is yours.
✔︎ Several people have commented below about adding balsamic vinegar to the finished jam for an added flavor kick. I haven't tried it yet but it sounds amazing.
✔︎ I have adjusted the sugar amounts in this recipe over the years and now use less sugar than the recipe originally recommended. In-season tomatoes will be naturally sweeter, so adjust your sugar amounts as needed based on the flavor of your tomatoes.
More tomato recipes



Did you make this recipe? We'd love to hear your thoughts! 

Please rate the recipe and leave a comment below. Your feedback helps us and your fellow readers! 



Recipe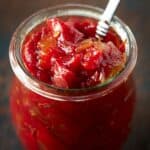 Easy Homemade Tomato Jam
Don't be afraid to make jam! You don't need to know how to can to make this sweet and tangy tomato jam recipe.
Ingredients
3 ½

pounds

tomatoes,

cored, chopped & most of seeds removed

1

medium onion,

diced

½

cup

brown sugar

½

cup

granulated sugar

1

teaspoon

salt

½

teaspoon

coriander

¼

teaspoon

cumin

¼

cup

cider vinegar

3

tablespoons

freshly squeezed lemon juice
Instructions
Place all ingredients in a dutch oven. Bring to a boil and reduce heat to medium low. Cook until mixture is thickened like jam, at least three hours. Stir occasionally.

You can proceed to can the jam in a hot water bath at this point or allow the jam to cool and store in the fridge for up to three weeks.
Notes
You can use any type of tomato you like in this recipe. I prefer Roma or Plum tomatoes, but Beefsteak and vine-on tomatoes work well, too. I'd avoid grape of cherry tomatoes as they don't have as much tomato flesh. 
Core and remove most of the seeds from your tomatoes but peeling them is optional. 
You can either finely dice or roughly chop your tomatoes depending on if you want a more refined or more rustic jam. Both are delicious!
Stir your jam occasionally over the course of its cooking time. If at the end of three hours, your jam is not as thick as you like, increase the heat a bit and stir more frequently until you reach your desired consistency. It will also thicken as it cools in the refrigerator. 
Your jam will keep in the fridge for up to three weeks or in the freezer for up to three months. Thaw overnight in the fridge before using. 
Nutrition
Serving:
0.25
cup
Calories:
145
kcal
Carbohydrates:
35
g
Protein:
2
g
Fat:
1
g
Saturated Fat:
1
g
Polyunsaturated Fat:
1
g
Monounsaturated Fat:
1
g
Sodium:
306
mg
Potassium:
521
mg
Fiber:
3
g
Sugar:
32
g
Vitamin A:
1655
IU
Vitamin C:
30
mg
Calcium:
36
mg
Iron:
1
mg
Nutrition info not guaranteed to be accurate.