Think Bloody Marys are hard to make? Think again! This is the Best Bloody Mary recipe that will have your friends begging for the recipe.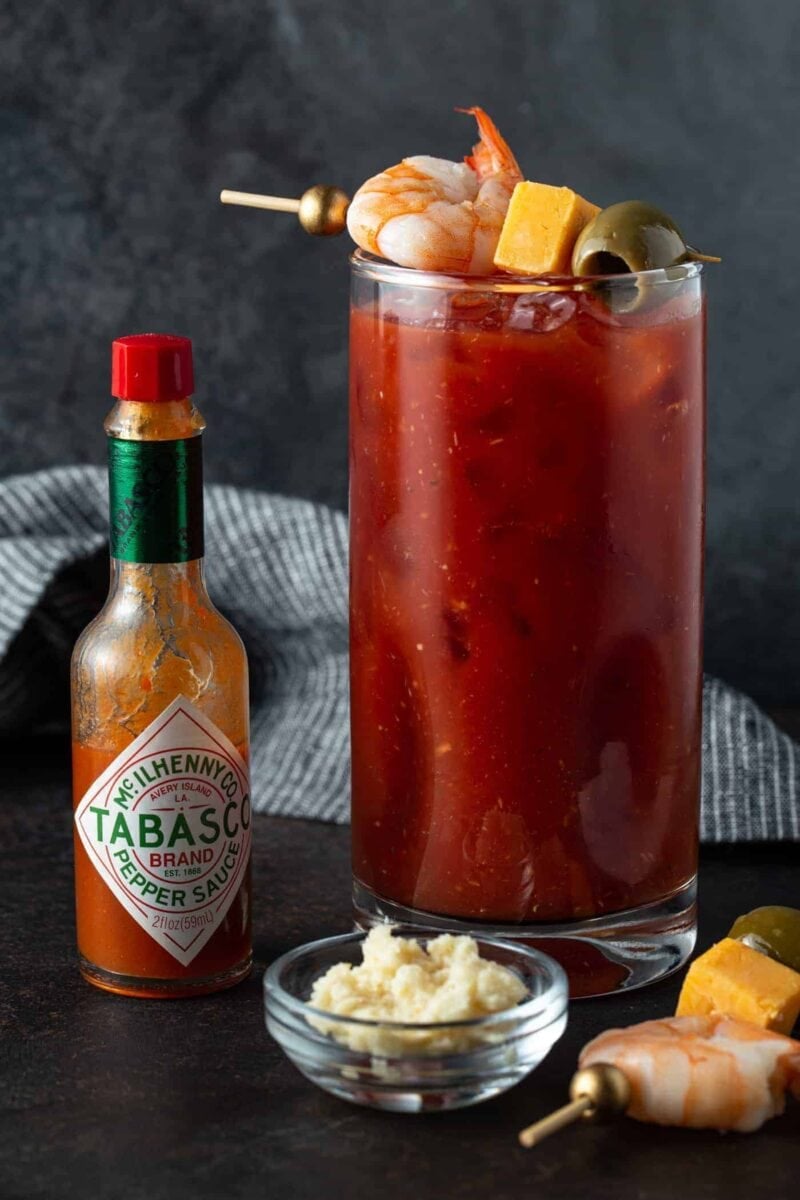 The BEST Bloody Mary Recipe
Bloody Marys.
Either you love them or you hate them. I LOVE them and kinda believe that brunch and Bloody Marys were made for each other. Who's with me? 
But let's start with the basics of this famous brunch cocktail.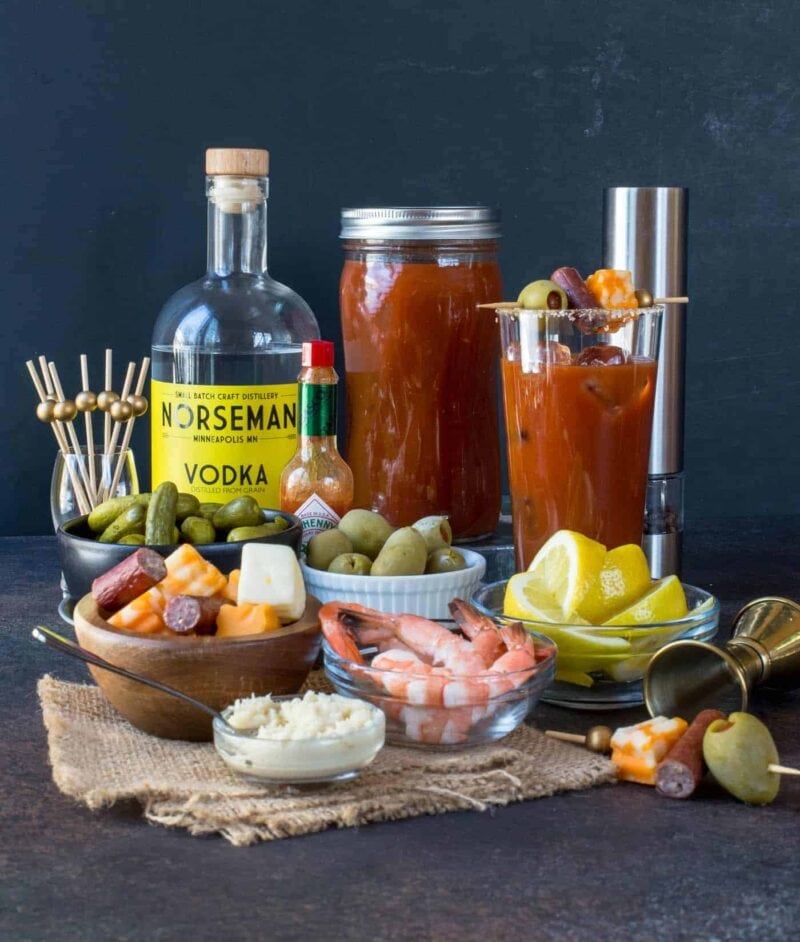 Why is it called a Bloody Mary? 
There are a couple of theories on the origin of the popular brunch drink. However, most agree that this story about an American bartender in Paris is the closest to the truth.
American bartender Fernand "Pete" Petiot created the drink in the early 1920s while bartending at the famous Harry's New York Bar in Paris.
After prohibition, he brought the tomato juice and vodka concoction to Manhattan and renamed it the "Red Snapper" to appeal to Americans while working at the King Cole bar at the St. Regis Hotel.
While there, he played around with seasonings. He added lemon juice, Worcestershire sauce, and black pepper, the Bloody Mary as we know it today.
It's still a "Red Snapper" at the St. Regis in NYC, but it's a Bloody Mary everywhere else.
Of course, other people believe that it dates to the ruling time of the ruthless Queen Mary I of England.  The tomato juice representing "spilled blood" and the vodka "firewater" symbolic of the queen's brutal executions.
However you believe this classic cocktail was created, brunch was forever changed. 

There are a lot of good mixers out there, but nothing beats a homemade bloody mary especially one that is so easy to make!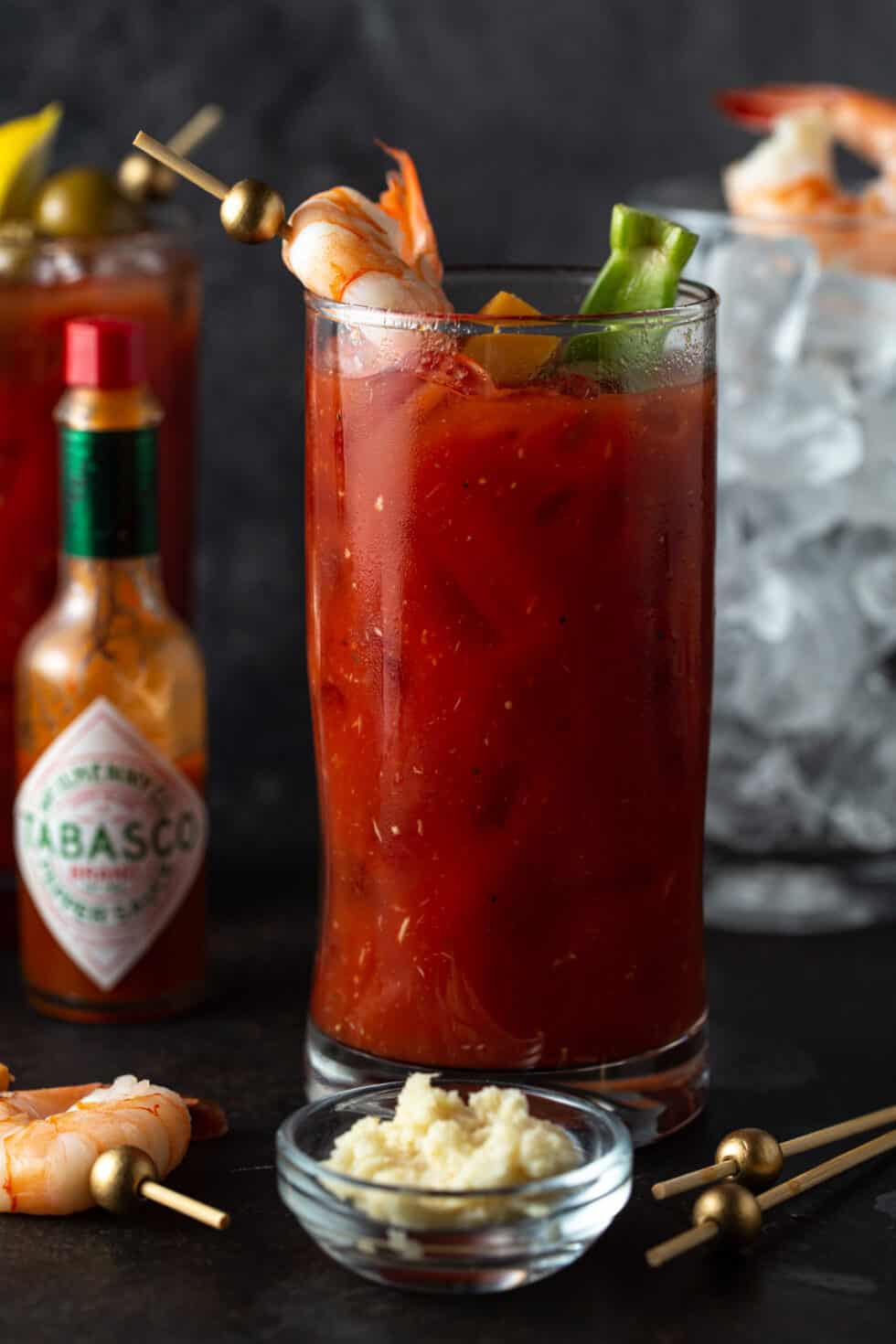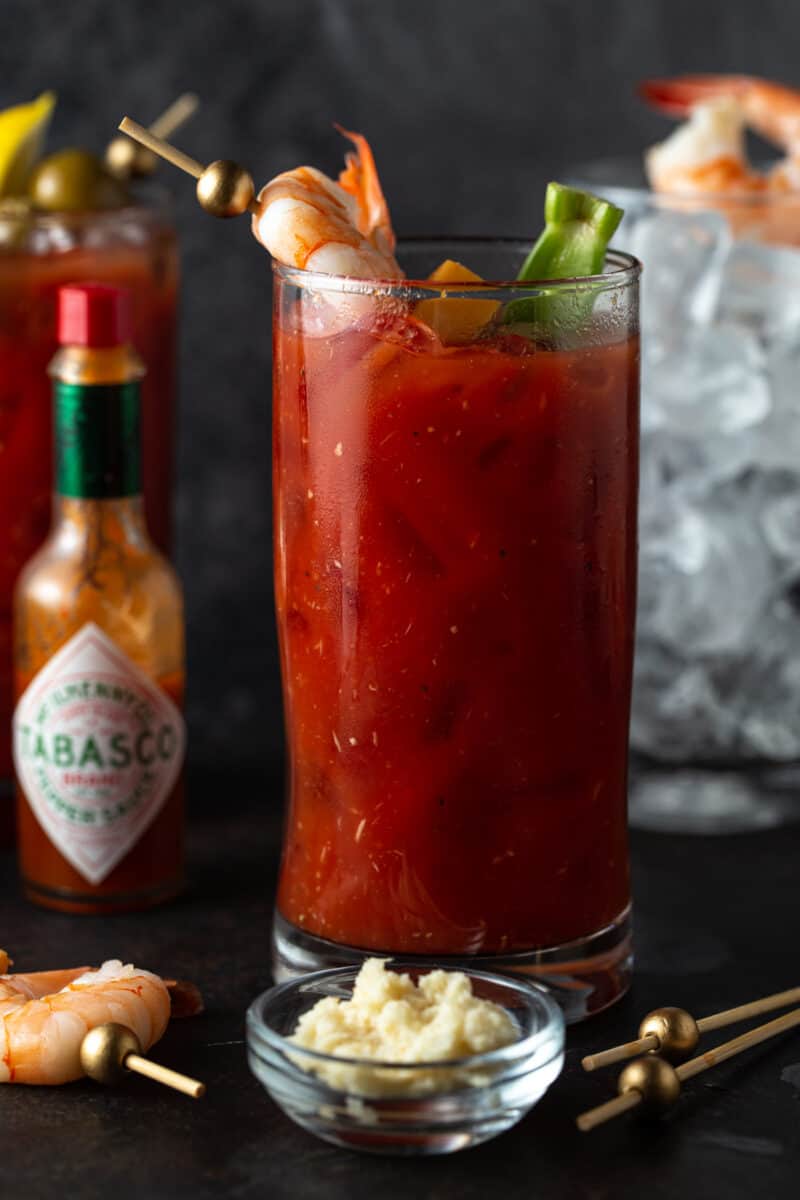 What's in a Bloody Mary?
While the options for garnishes are endless, there are only a handful of ingredients in this drink:
Tomato Juice
Worcestershire Sauce
Black Pepper
Lemon Juice
Fresh Horseradish
Tabasco Sauce
Dill Pickle juice (optional)
What tools do I need to make this drink?
The beautiful about this easy drink is there really isn't any special equipment required. You can make restaurant-worthy bloodies with nothing more than a:
jigger
cocktail shaker
bar spoon
And if you don't have those, use a measuring cup, mason jar and spoon. See, I told you it was easy!
What kind of vodka should I use?

The type of vodka you use is entirely a personal decision. If you like a little more heat in your drink, Absolut Peppar is a perfect choice. Otherwise, use your favorite vodka. Titos, Tower, Stolichnaya or Norseman Vodkas are a few of our faves.
For the dill pickle die-hards, there is even a Dill Pickle Vodka you can try. Who knew that was a thing?
How to Make the Best Bloody Mary Drink
It's easy when you follow these simple steps:
Fill a cocktail shaker with ice
Add tomato juice, fresh lemon juice, black pepper, tabasco, horseradish and vodka to shaker.
Cover and Shake it well to chill thoroughly and mix all ingredients together.
Taste it to make sure it is seasoned the way you like it. Adjust seasoning as desired.
Pour into a glass and place Garnish on top.
Serve immediately. These drinks are the best ice cold!
Remember: The best drinks start with the best ingredients.

Now that you know how to make a bloody mary it's easy to tailor to your own tastes.
Like it a little spicier? Up the black pepper or tabasco. 
Looking for something a little milder, omit the horseradish or add more lemon juice. 
I love to add a little tang to mine and pour a little bit of dill pickle juice before serving. If you're a dill pickle fan like me, you will love it too!
One universal rule with Bloody Marys:  Make sure you serve it COLD with lots of ice.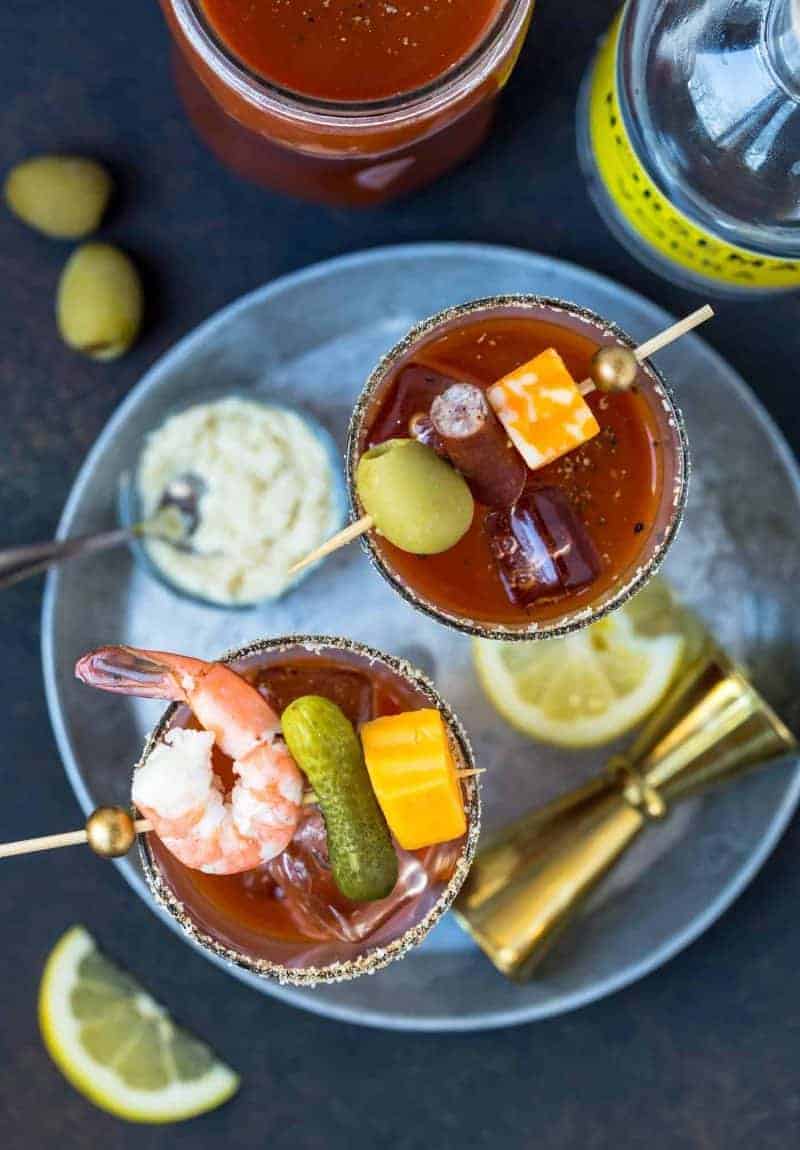 What glass do I use for this brunch cocktail?
Bloody Mary drinks are most commonly served in pint glasses. Don't have any on hand? We love to use high ball glasses, and for a smaller cocktail, a low ball is a great option. 
Do I have to rim the glass with celery salt?
Nope, not at all. That is completely a personal preference. I'm not a huge fan of the celery salt so I omit it. But it's easy to do with these simple steps.
Pour celery salt on a small plate.
Rub rim of a glass with a lemon wedge.
Invert rim into celery salt.
Set aside until ready to serve.
Now let's get to the FUN part! The garnishes! We love to keep it simple and garnish with a simple make-ahead skewer of shrimp, pickles and olives. But many bloody mary drinks have garnishes that are equivalent to meals so let your creative juices flow!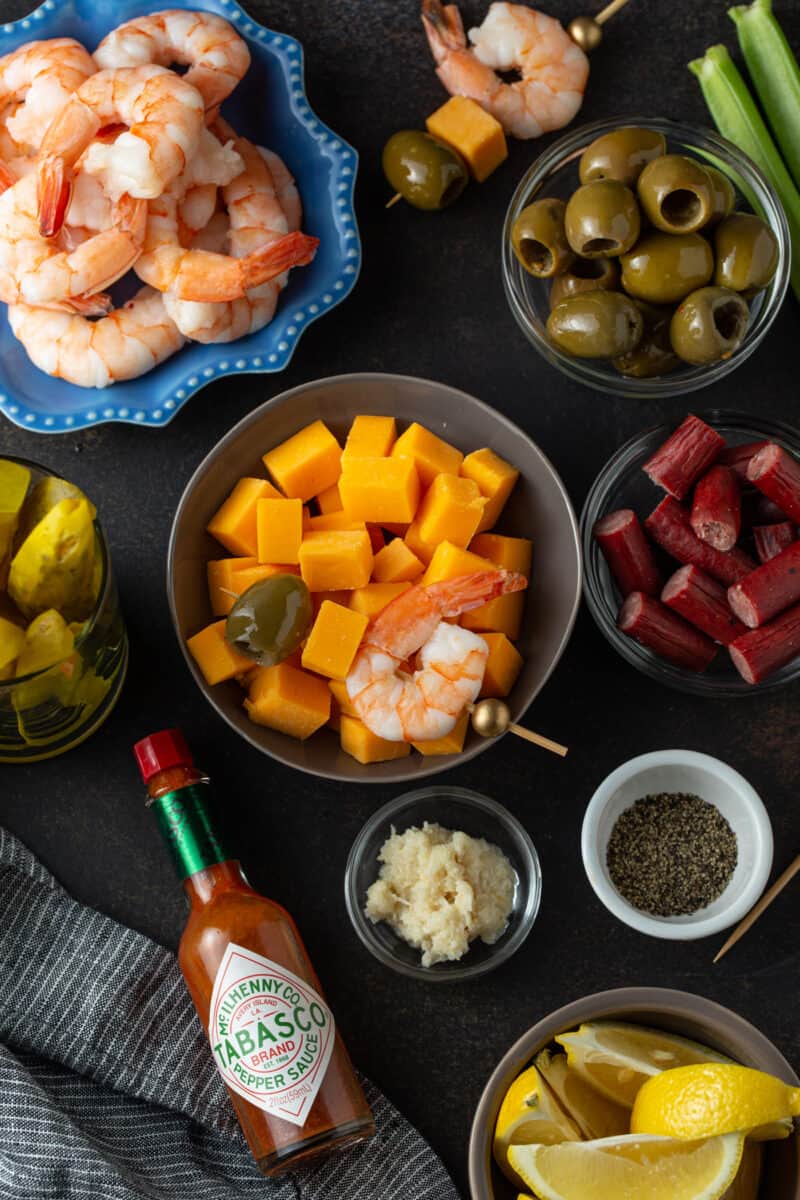 Popular Bloody Mary Garnishes
Green Olives
Shrimp Cocktail
Dill Pickles
Celery Salt
Celery Sticks
Bacon
Cheese Cubes
Beef jerky
Remember, there is no wrong way to garnish this tasty brunch cocktail.  Your way is the best way.
What is a beer chaser?
In the Upper Midwest, you will always get a little beer chaser called a beer back with your bloody mary. This little 3-ounce beer is a perfect companion to your brunch cocktail but don't expect to get one when you are any place else.
No one knows why they aren't served that way in the rest of the country, but here in Minnesota, it's a thing. Don't try and serve one without it.
And unless tomato juice isn't your thing there is a way to make a Bloody Mary for anyone! 

5 Popular Variations:
Virgin Mary- The best non-alcoholic brunch drink! The Bloody Mary is so full of flavor, you won't even miss the alcohol.
Bloody Caesar- Popular in Canada, this version swaps out the tomato juice with Clamato juice.
Bloody Maria- Tequila makes everything better. This popular south of the border drink replaces the vodka with tequila.
Michaleda- This light cocktail swaps out the vodka and replaces it with a light beer like Corona.
Bloody Bull- Add some beef broth for a richer, more savory flavor.
So don't wait for a special occasion to host brunch!   With these easy Bloody Mary variations and the Best Bloody Mary recipe in hand, you can make restaurant-worthy brunch cocktails at home all the time!
Don't miss these other brunch favorites!
Chocolate Chip Coffee Cake - Garnish with Lemon®
Yield: 1 cocktail
Bloody Mary
You can never go wrong with a homemade Bloody Mary. One sip of this recipe and you will never buy a mix again!
Ingredients
2 oz Vodka
8 oz Tomato Juice
1/4 tsp black pepper
1/4 tsp Worcestershire sauce
1/4 tsp. Tabasco Sauce
3/4 tsp fresh squeezed lemon juice
3/4 tsp horseradish
olives and celery for garnish
Instructions
Fill a shaker with ice
Add all ingredients to the shaker.
Cover tightly and shake vigorously to combine ingredients.
Taste and adjust seasonings as needed.
Strain into a highball glass filled with ice and garnish.
Serve immediately.
Notes
If desired add 1/2 ounce of pickle juice before serving for added tang.
Recommended Products
As an Amazon Associate and member of other affiliate programs, I earn from qualifying purchases.
Nutrition Information:
Yield:
1
Serving Size:
11 ounces
Amount Per Serving:
Calories:

187
Total Fat:

1g
Saturated Fat:

0g
Trans Fat:

0g
Unsaturated Fat:

0g
Cholesterol:

0mg
Sodium:

738mg
Carbohydrates:

12g
Fiber:

2g
Sugar:

8g
Protein:

3g
Think Bloody Marys are hard to make? Think again! This is the Best Bloody Mary recipe that will have your friends begging for the recipe.