This 5-ingredient Tomato Feta Salad with Sweet Onion recipe is one of my go-to BBQ side dishes - quick, easy and perfect for potlucks.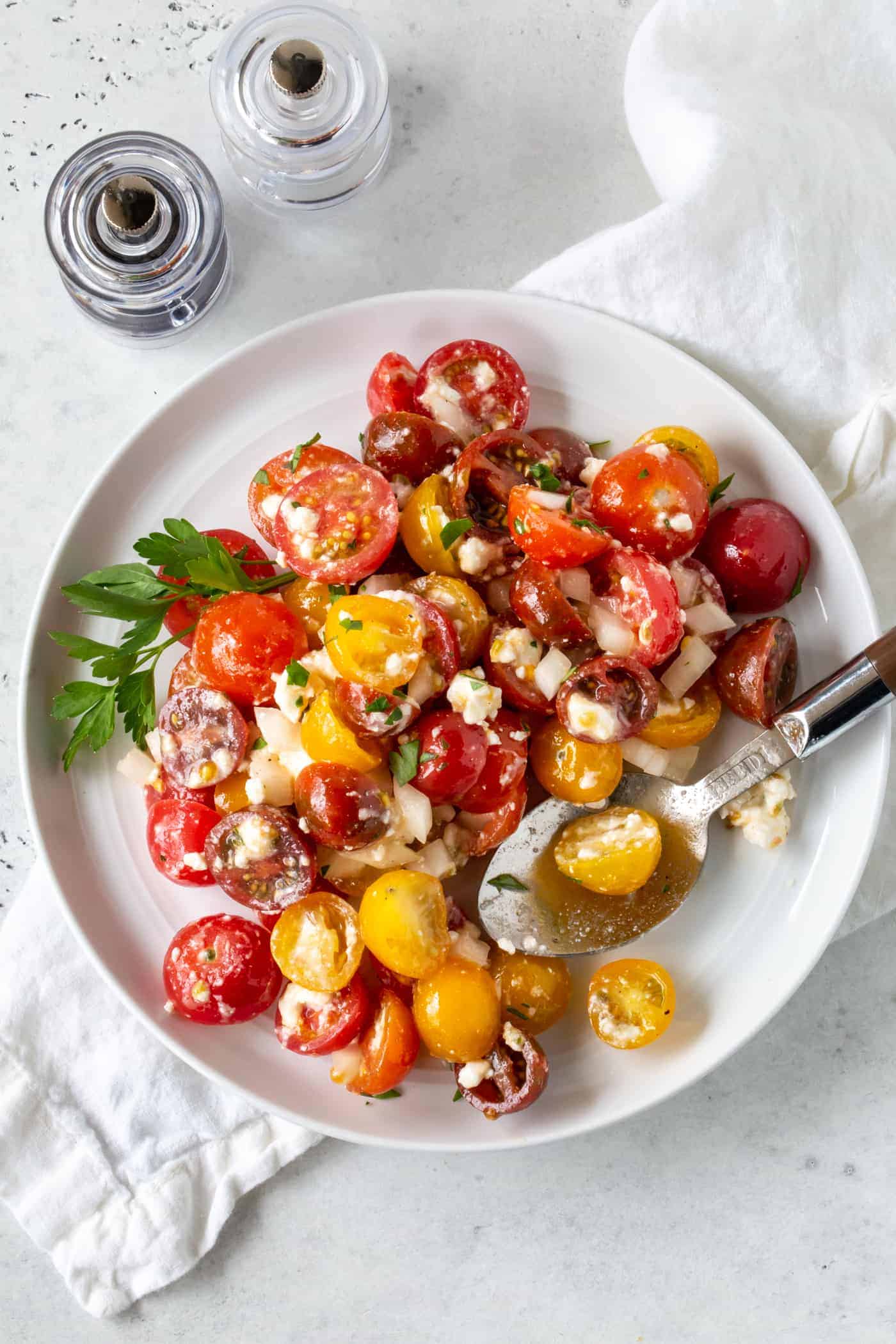 I found this recipe for
Tomato Feta Salad with Sweet Onion
in Cooking Light (RIP, old friend) a number of years ago. It was one of those side dish suggestions buried in the sidebar of an actual recipe. I can't even remember why it caught my eye, but thank goodness it did because I've been making it ever since.
Hands down, this Tomato Feta Salad is my go-to summer side dish. It's super easy to throw together and tastes fantastic at room temperature.
Did I also mention its versatility? This tomato and feta salad recipe goes with nearly any meal from humble burgers and brats to fancy steaks and salmon.
Clearly you have to like tomatoes to enjoy this recipe, but I think the combination of juicy tomatoes, salty feta and sweet onion (balanced with a little oil and vinegar) is swoon-worthy, especially when tomatoes are at their peak.
I'm telling you, put this in your recipe rotation, and you'll marvel at how many times you serve it.

Tomato Feta Salad ingredients
With only five ingredients in this tomato salad recipe (not counting salt and pepper), splurge on quality in your ingredients:
Tomatoes
Sweet Onion
Feta Cheese
White wine vinegar
Extra virgin olive oil
What is a sweet onion?
Sweet onions are just what they sound like - an onion with a milder flavor due to a higher sugar content. Popular varieties of sweet onion include Vidalia and Walla Walla.
Some people claim you can eat a sweet onion raw like an apple. I've never tried that, but I do enjoy sweet onions in this tomato and feta salad. The relatively mild flavor of a sweet onion means you can eat them raw in this recipe without the typical sharp, pungent taste of a regular onion.
Sweet onions are available nearly year round, but they seem to flood the market in summer - perfect for this salad recipe!
Block vs pre-crumbled feta cheese: is there a difference?
Absolutely! Although I love pre-crumbled feta cheese for its convenience, there is no question that I prefer block feta for flavor. Do a side by side test yourself and see what you think!
Block feta is packaged in brine which keeps it a bit more milky and moist. That little bit of brine also seasons the cheese and imparts extra flavor.
Pre-crumbled feta cheese is often packaged with additives to keep it from clumping. Not the end of the world, but if you plan to use the feta in any sort of sauce or dip (like in this Avocado Cilantro Dip or
Chicken with Feta Cheese Sauce
recipe), you're better off picking the block feta.
Feta cheese doesn't ever whip up or melt completely smooth, but your end product will be better with block cheese that doesn't have additives.
What tomatoes do you use for this Tomato Feta salad recipe?
I love to use cherry or grape tomatoes in this salad because they are readily available in a rainbow of colors at either the grocery store or farmer's market. I love how they look like colorful little gems in the bowl.
If you're lucky enough to have heirloom varieties in some beautiful hues, by all means use those. But really, any ripe, juicy tomato will do well here.

Can I make this Tomato Feta Salad with Sweet Onion ahead of time?
Yes, you can prep this salad ahead of time - to a point. The moment you add salt and vinegar to the tomatoes, they will start to break down and release their juices. After 8 hours, the whole thing looks pretty messy.
To avoid a soupy side dish, prep all your ingredients individually and then toss together up to an hour ahead of time. I've even been known to season to taste with salt just before serving to avoid a bit of the tomatoes releasing their juices.
Do you serve this salad chilled or at room temperature?
I'm definitely a room temperature fan for this Tomato Feta Salad because I think the flavors of the ingredients really shine when they don't have that bit of chill from the fridge on them. But I encourage you to try it both ways and see what you prefer!

Craving more easy summer side dish recipes? We've got 'em!
Antipasto Salad with Red Wine Vinaigrette
Green Bean Cherry Tomato Salad
Or search all of our side dish recipes HERE!
Yield: Serves 6
Tomato, Feta and Vidalia Onion Salad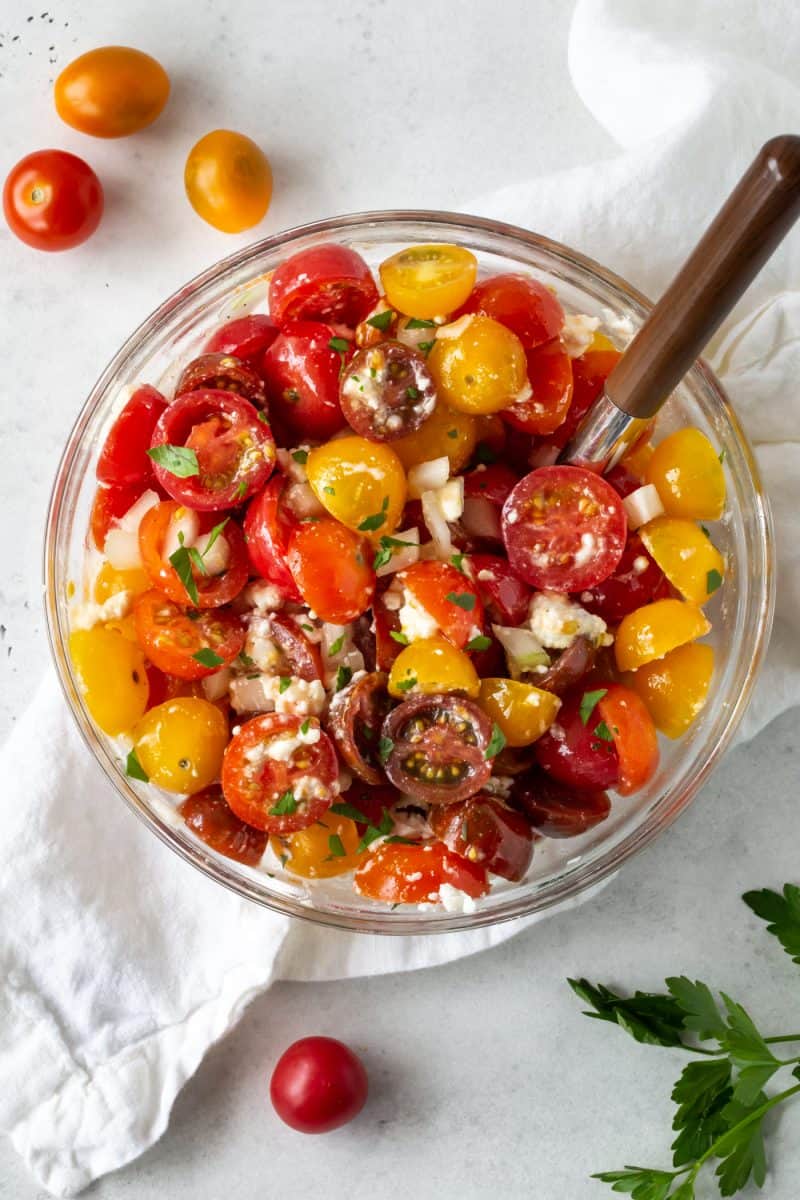 This 5-ingredient Tomato Feta Salad with Sweet Onion recipe is one of my go-to BBQ side dishes - quick, easy and perfect for potlucks. Bonus: it tastes delicious when served at room temperature!
Ingredients
6 cups halved grape tomatoes
2/3 cup diced sweet onion
2 1/2 teaspoons white wine vinegar
2 tablespoons extra virgin olive oil
1/2 cup feta cheese
Kosher salt
Freshly ground black pepper
Instructions
Place tomatoes and onion in a bowl. Whisk together vinegar and oil and pour over tomato and onions. Stir to combine.
Sprinkle with feta cheese and gently fold into tomato mixture. Add salt and pepper to taste. Garnish with freshly chopped parsley, if desired. Serve immediately or allow to sit for up to one hour.
Notes
Barely adapted from Cooking Light Magazine.
Recommended Products
As an Amazon Associate and member of other affiliate programs, I earn from qualifying purchases.
Nutrition Information:
Yield:
6
Serving Size:
1
Amount Per Serving:
Calories:

107
Total Fat:

7g
Saturated Fat:

3g
Trans Fat:

0g
Unsaturated Fat:

5g
Cholesterol:

11mg
Sodium:

221mg
Carbohydrates:

8g
Fiber:

2g
Sugar:

5g
Protein:

3g
Need a last minute side dish for a summer party? This 5-ingredient Tomato Feta Salad with Sweet Onion is quick, easy and pairs perfectly with any menu. Plus it tastes delicious when served at room temperature!