Roasted summer sweet corn and ripe, juicy tomatoes join forces with fresh mozzarella and creamy avocado to make this Tomato, Mozzarella and Grilled Corn Salad one of my all-time favorite BBQ side dishes.
Now that the warm weather has officially arrived, my thoughts immediately turn to easy meals, mainly comprised of grilled foods and salads. (No turning on the oven if it's not necessary!)
But not every salad has to be a traditional greens and dressing option. Take this Tomato, Mozzarella and Grilled Corn Salad recipe, for example.
This grilled corn salad recipe is hands down one of my favorite summer side dishes. Perfect for anything of the BBQ - and not a leafy green in sight.
What's in this grilled corn salad recipe?
Love summer flavors? You're going to adore this easy corn salad.
One of my favorite things about this BBQ side dish is you can grab many of the ingredients on a run to the farmer's market: juicy summer tomatoes, fresh corn on the cob and fistfuls of fragrant cilantro. If you're lucky enough, you can even grab the fresh mozzarella cheese and avocados there, too.
After roasting the corn on the cob on the grill, the corn, tomatoes, mozzarella and avocados are stirred together with a 4-ingredient, tangy cilantro lime dressing.
Yes, you need to like cilantro to enjoy this summer salad, but don't be put off by the amount of cilantro in this recipe. A quick spin in the blender with lime juice, olive oil and a generous sprinkling of salt ensures the flavor is lively but still well-balanced.
Plus that vibrant green color is a real showstopper on the buffet table.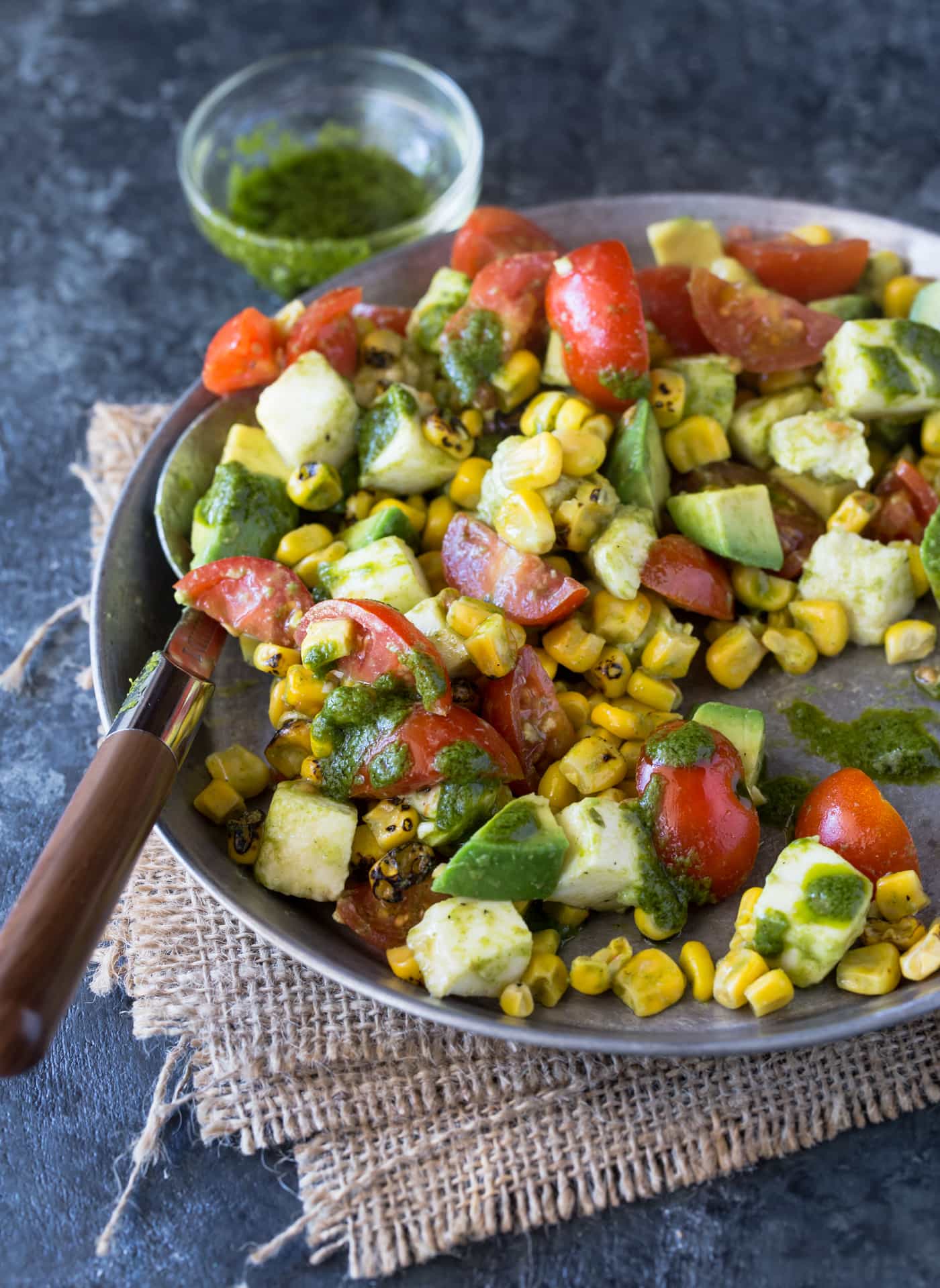 How do you grill corn?
Opinions abound for the best way to cook corn on the cob on the grill. Do you leave the husks on or off? Remove the silks or leave in place? Steam first and finish on the grill?
I personally love the bit of smoky char that corn on the cob gets when directly placed on the grill grates, so I almost always opt to remove the husks and silks from the cobs, rub them with olive oil and then pop them right on a grill that has been preheated to medium high heat.
Keep an eye on your corn when using this method. Cooking time can vary depending on the size of your corn and if you're cooking anything else on the grill at the same time. Turn the cobs frequently so the kernels are evenly roasted.
Tip: No time to roast corn on the grill? Try this "grilled" corn hack. Simply add defrosted corn to a skillet with a little bit of oil. Cook until the corn kernels are roasted, stirring frequently.
Easy way to cut corn off the cob
Cutting corn off the cob can be a messy affair. The corn kernels fly everywhere and you end up spending a bunch of time trying to corral all the bits of corn.
My favorite method for taking corn off the cob couldn't be simpler:
Grab two bowls; one larger and shallow than deep and another smaller bowl about the size of a ramekin.
Turn the ramekin upside down and place it in the center of the larger bowl.
Set one end of your ear of corn on the ramekin (the flattest side is preferable).
Use a sharp knife to cut down along entire length of the cob. Rotate the cob and continue cutting until all the corn kernels have been removed.
The kernels will (mostly) gather in the bowl rather than fly all over the countertop.
Can I make this grilled corn salad ahead of time?
This Tomato, Mozzarella and Grilled Corn Salad is one of my favorite BBQ side dishes. It never fails to make an appearance at our dinner table at least a few times a month during the warmer months, especially when summer produce is at its peak.
To save time the day of your meal or party, you can prep the cilantro lime dressing a few days in advance. Simply blend the dressing ingredients together and store in an airtight container until you are ready to assemble the salad.
You can also grill the corn earlier in the week and save the kernels for the salad. You can even chop the mozzarella ahead of time, too. But hold off on the tomatoes and avocado. The flavor and texture of both are best when freshly cut.
Stir together all the salad ingredients up to one hour before guests arrive. I prefer to serve this salad at room temperature, but you can also serve it chilled if you like.
However you serve it, this Tomato, Mozzarella and Grilled Corn Salad is certain to become one of your go-to BBQ side dishes, too. It never fails to please a crowd!
More Grilled Corn recipes:
Arugula, Goat Cheese & Corn Salad
Other Summer Sweet Corn recipes:
Sweet Corn Soup Recipe with Crispy Pancetta
Corn and Mushroom Tacos with Avocado Crema
Quinoa Salad with Corn, Tomato and Cotija Cheese
See all of our side dishes HERE!
Yield: Serves 8
Tomato, Mozzarella and Grilled Corn Salad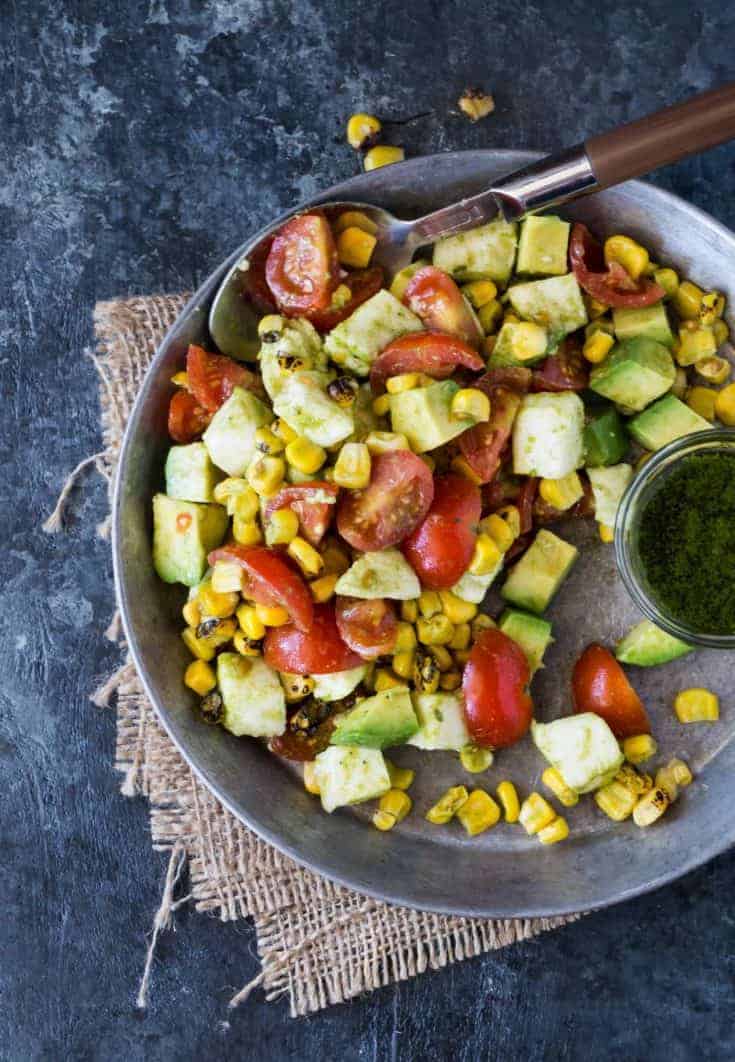 Savor the flavors of summer produce with this easy Tomato, Mozzarella and Grilled Corn Salad. The perfect BBQ side dish!
Ingredients
Dressing:
1 1/2 cups packed fresh cilantro
1/2 cup olive oil
2 tablespoons fresh lime juice
Kosher salt
Salad:
5 teaspoons olive oil
5 large ears of corn, silks and husks removed
1 1/2 pounds of grape or cherry tomatoes, halved or quartered (depending on size)
1 pound fresh mozzarella, diced
2 large avocados, diced
Instructions
Dressing:
Combine all of the dressing ingredients in a blender and blend until dressing is smooth. Add salt (up to 2 teaspoons) to taste and pulse until combined. Refrigerate until ready to use.
Salad:
Preheat grill to medium high heat. Coat corn with olive oil and grill to desired degree of doneness. Allow corn to cool and cut kernels from cobs.
Combine corn, tomatoes, mozzarella and avocado in a large bowl. Drizzle with enough dressing to coat (you may have extra) and gently stir to combine. Serve immediately or refrigerate for up to one hour.
Recommended Products
As an Amazon Associate and member of other affiliate programs, I earn from qualifying purchases.
Nutrition Information:
Yield:
8
Serving Size:
1
Amount Per Serving:
Calories:

494
Total Fat:

35g
Saturated Fat:

10g
Trans Fat:

0g
Unsaturated Fat:

24g
Cholesterol:

36mg
Sodium:

369mg
Carbohydrates:

37g
Fiber:

6g
Sugar:

17g
Protein:

14g
Add some variety to your summer BBQ with this Tomato, Mozzarella and Grilled Corn Salad recipe. It's the perfect BBQ side dish for anything you throw on the grill!