Juicy summer peaches get extra sweet and juicy when you throw them on the grill. Few summer desserts are simpler than this Easy Grilled Peaches recipe that's made in less than 10 minutes!
Ripe summer peaches need little introduction. Sweet, juicy and so gorgeously fragrant, it seems you can hardly improve them - unless you grill them.
Never grilled peaches before? You're missing out on what might be one of summer's BEST - and easiest - desserts.
Jump to:
Why this recipe works:
When you grill a peach over medium heat for a few minutes, the fruit's sugars caramelize and make them even sweeter and juicier.
The whole recipe takes 10 minutes from start to finish. Not many desserts can say that.
If you want to be a little bit "extra", drizzle tangy balsamic glaze over the warm fruit, dollop with a spoonful of rich mascarpone cheese and sprinkle with salty chopped pistachios. Every bite is a delicious combination of sweet, savory, crunchy, juicy deliciousness!
Ingredients
There are only a handful of ingredients needed for this grilled peach dessert: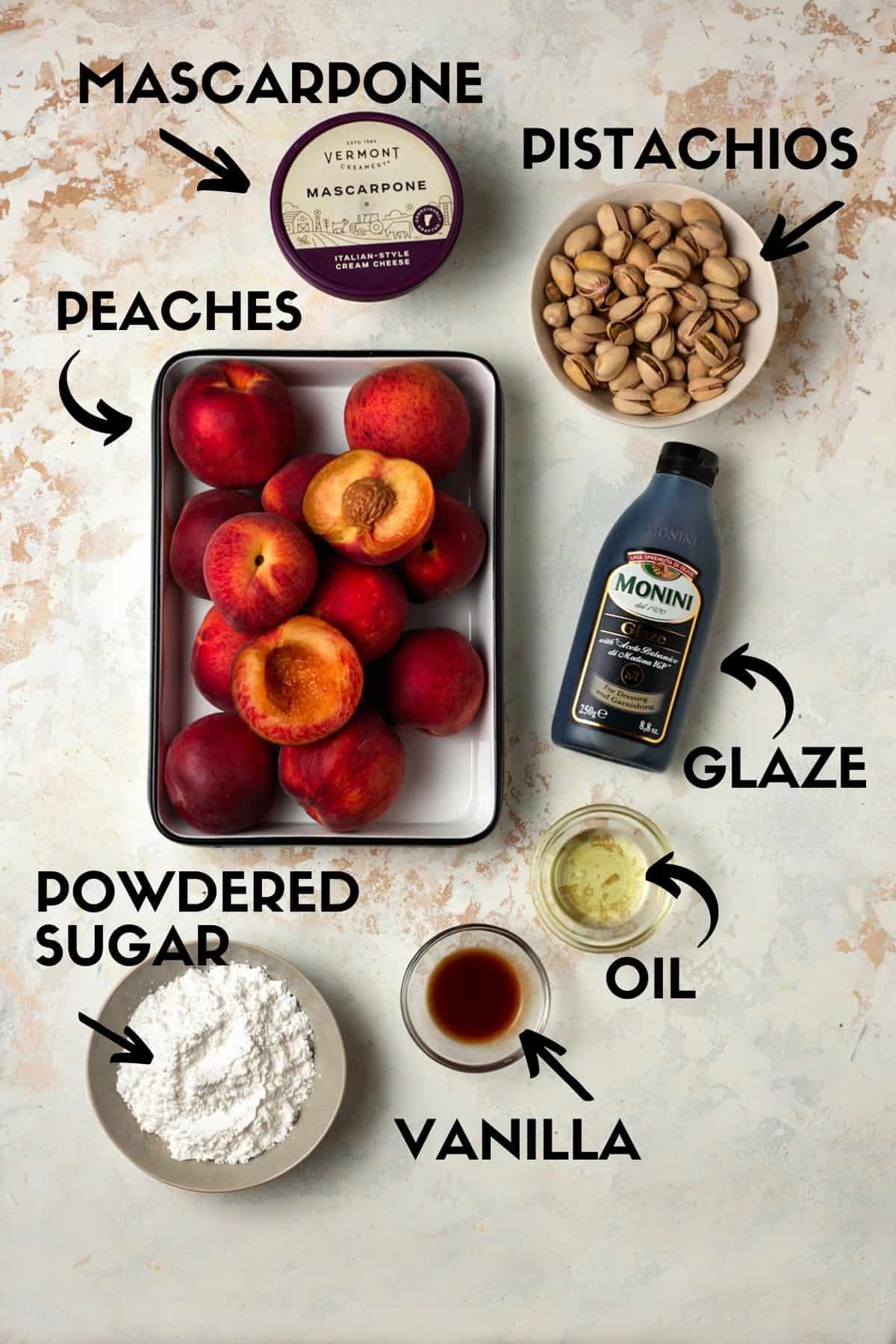 A few ingredient notes:
Peaches: Choose peaches that are fragrant and ripe but still mostly firm to the touch. If you choose peaches that are overly ripe, they will not hold their shape as well after grilling.
Mascarpone cheese: This Italian cream cheese is slightly tangier than American cream cheese. Swap in regular cream cheese if you can't find mascarpone.
Balsamic glaze: You can make your own glaze at home by reducing balsamic vinegar on the stove until thick and syrupy, or you can buy a bottle at the grocery store if you're short on time.
Oil: Choose an oil with a neutral taste and a fairly high smoke point since you'll use it on the grill. I used grapeseed oil.
Instructions
If you have 10 minutes, you can make this easy peach dessert!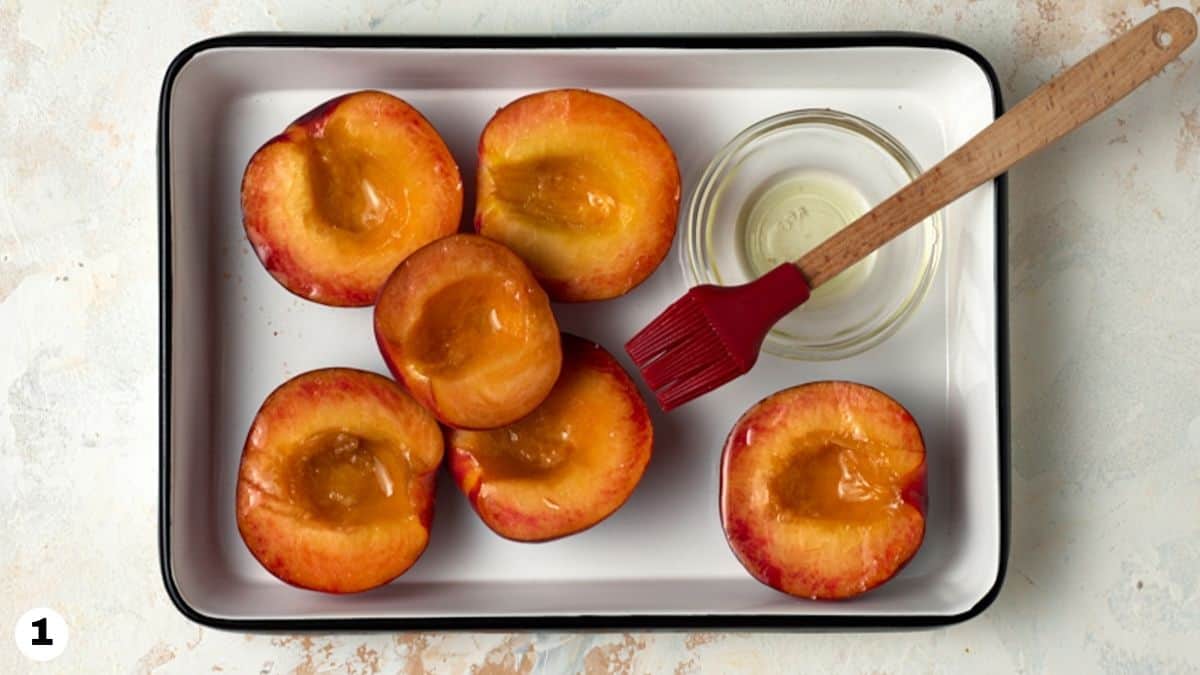 Start by halving and pitting your peaches. Brush each half with a little bit of oil.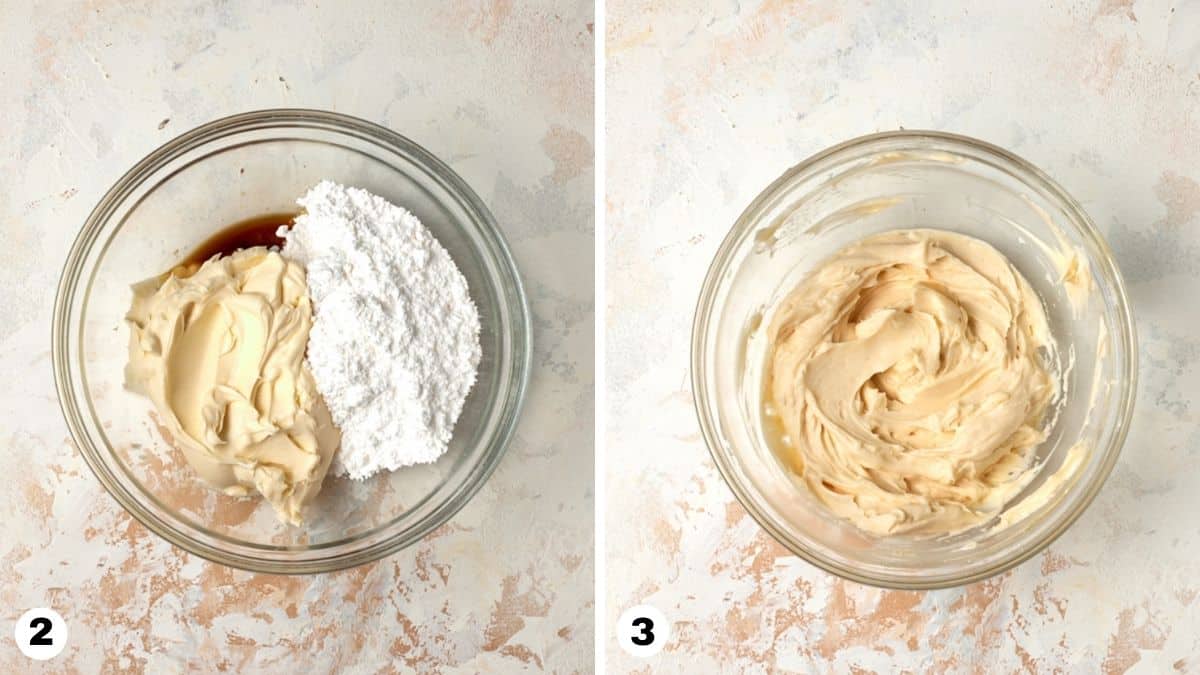 Mix together powdered sugar, mascarpone cheese and vanilla until smooth. Grill peaches for 2-3 minutes, turning once. Serve with mascarpone mixture, balsamic glaze and chopped pistachios.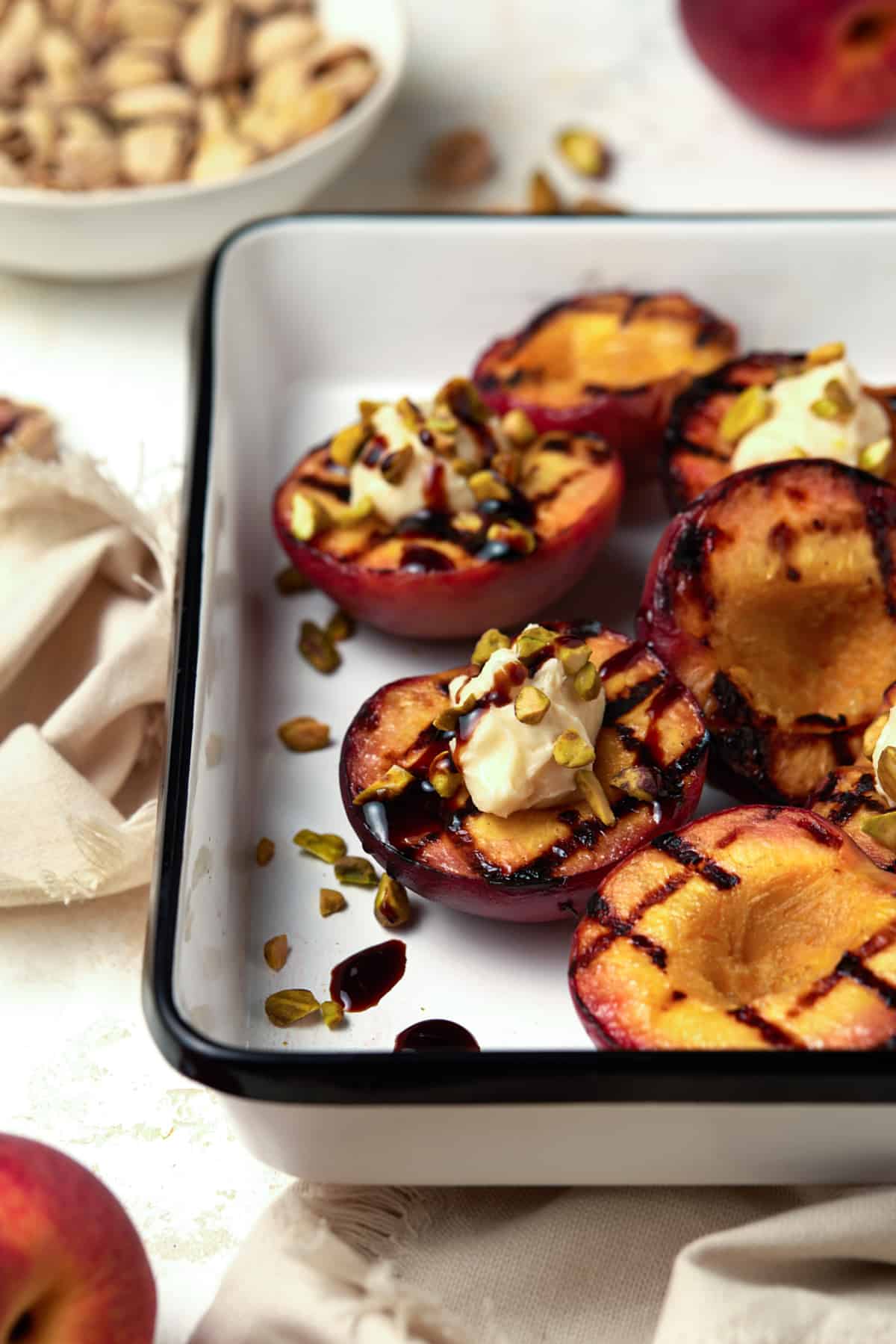 FAQs
Can I substitute regular cream cheese for the mascarpone cheese?

Yes! The taste difference between the two is negligible.
Can I make this recipe without a grill?

No grill? No problem! Use a grill pan on your stovetop instead. Preheat the pan just like you would the grill and follow the recipe instructions.
How do you pit a peach?

The easiest way to pit a peach is to make sure it's ripe. Unripe peaches do not pit as easily.

Hold the peach vertically with the stem facing upwards. Take a paring knife and insert it into the peach until you hit the pit. Roll the knife around the peach, cutting the peach until you reach the stem. Remove the knife and twist the peach halves apart with your hands. One half should be pit free. The pit in the other half should pop out easily with your fingertip.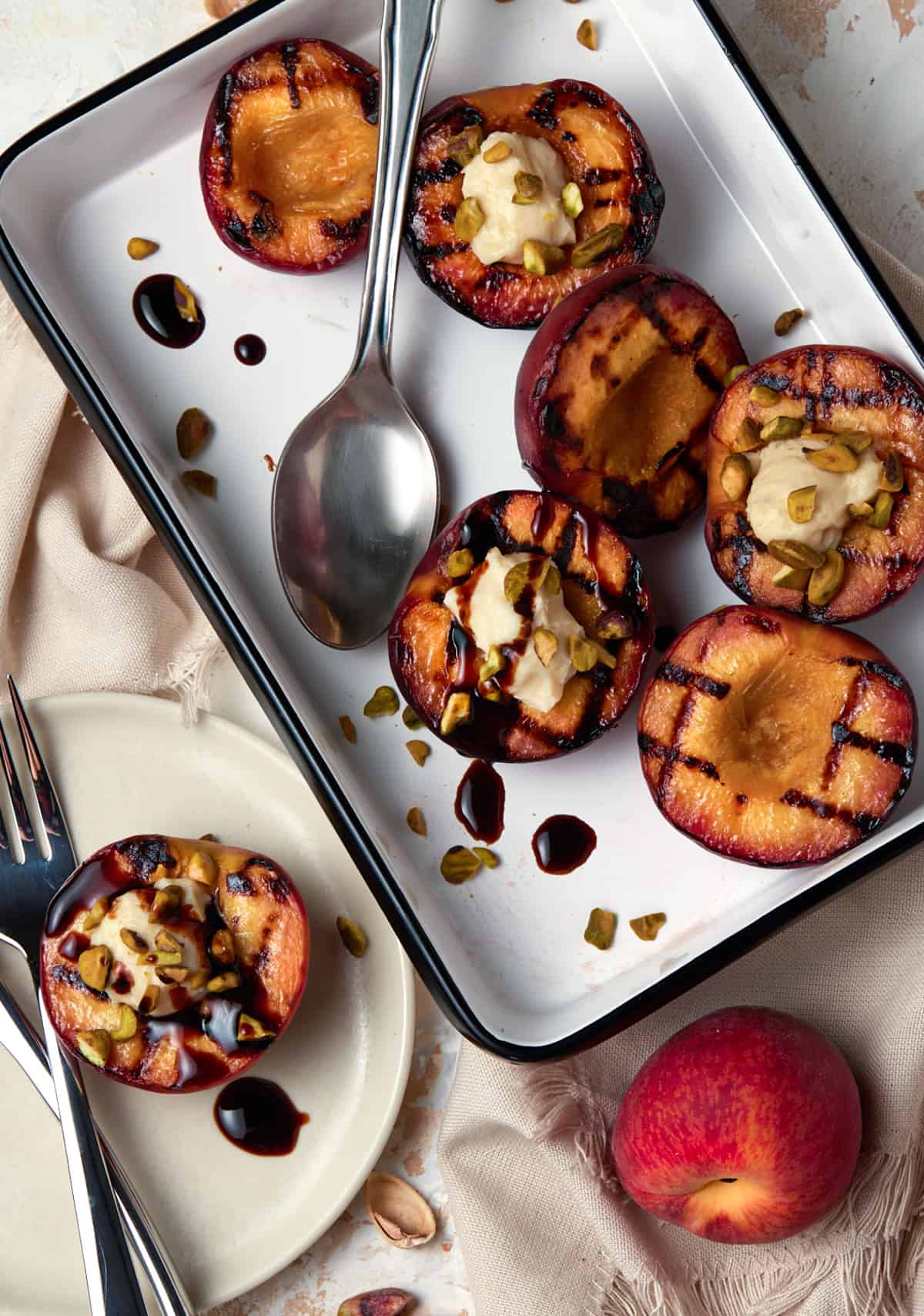 Expert tips for making grilled peaches
✘ Choose peaches that are ripe but not overly soft. This usually means you have to buy them a few days in advance and allow them to continue ripening on your counter top. If you try to grill an overripe peach, it will not hold its shape well once warmed through.
✘ Make sure your grill is hot enough before you add the peaches to the grates. I like to use a pair of tongs to move the peaches around but you can also use a large spatula. Just like meat on the grill, the peaches will release easily from the grates once they are thoroughly seared.
✘ These peaches are best served warm, but leftovers are also tasty when sliced and tossed into mixed greens salad with goat cheese, nuts and a balsamic vinaigrette.
More summer fruit desserts



Did you make this recipe? We'd love to hear your thoughts! 

Please rate the recipe and leave a comment below. Your feedback helps us and your fellow readers! 



Recipe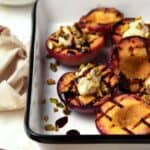 Easy Grilled Peaches
Have dessert on the table in 10 minutes flat with this Easy Grilled Peaches recipe. Perfect summer dessert!
Ingredients
4

ripe but not overly soft peaches,

halved and pitted

2-3

teaspoons

grapeseed oil,

or other neutral tasting oil

4

ounces

mascarpone cheese or cream cheese

½

cup

powdered sugar

½

teaspoon

vanilla

¼

cup

balsamic glaze

Handful of pistachios,

lightly chopped
Instructions
Preheat grill to medium heat. Gently brush each peach half with oil and place it cut side down on the grates. Cook for 2-3 minutes. Use tongs to carefully rotate peaches a quarter turn and cook for another 1-2 minutes. Remove peaches from grill. Cool slightly.

In a small bowl, combine mascarpone (or cream) cheese, powdered sugar and vanilla and beat with a hand mixer on medium speed until light and fluffy. Set aside.

When ready to serve, spoon a small scoop of cheese mixture into the hollow of each peach. Drizzle peaches with balsamic glaze and sprinkle with pistachios.
Notes
Mascarpone cheese is often found in the deli section of the grocery store. Feel free to swap in regular cream cheese if you prefer. 
Choose peaches that are ripe but still relatively firm. Overripe peaches will lose their shape and get mushy once heated on the grill. 
You don't need to add a lot of oil to the peach halves but make sure the cut sides are brushed well with oil so the peaches don't stick to the grates. A hot, preheated grill also helps with this. 
Enjoy these peaches while still warm. They may start to weep and lose shape if made too far in advance. 
Slice any leftovers, refrigerate and toss in a salad. 
Nutrition
Serving:
1
peach half
Calories:
144
kcal
Carbohydrates:
18
g
Protein:
2
g
Fat:
8
g
Saturated Fat:
4
g
Polyunsaturated Fat:
1
g
Monounsaturated Fat:
1
g
Cholesterol:
14
mg
Sodium:
8
mg
Potassium:
143
mg
Fiber:
1
g
Sugar:
15
g
Vitamin A:
443
IU
Vitamin C:
5
mg
Calcium:
24
mg
Iron:
1
mg
Nutrition info not guaranteed to be accurate.